Butterfly feeders provide butterflies with a reliable source of food. They also attract more butterflies to your garden, which pollinates your plants. To help you, here are the four best butterfly feeders for your garden.
The four best butterfly feeders for your garden are the following:
4 Best Butterfly Feeders For Your Garden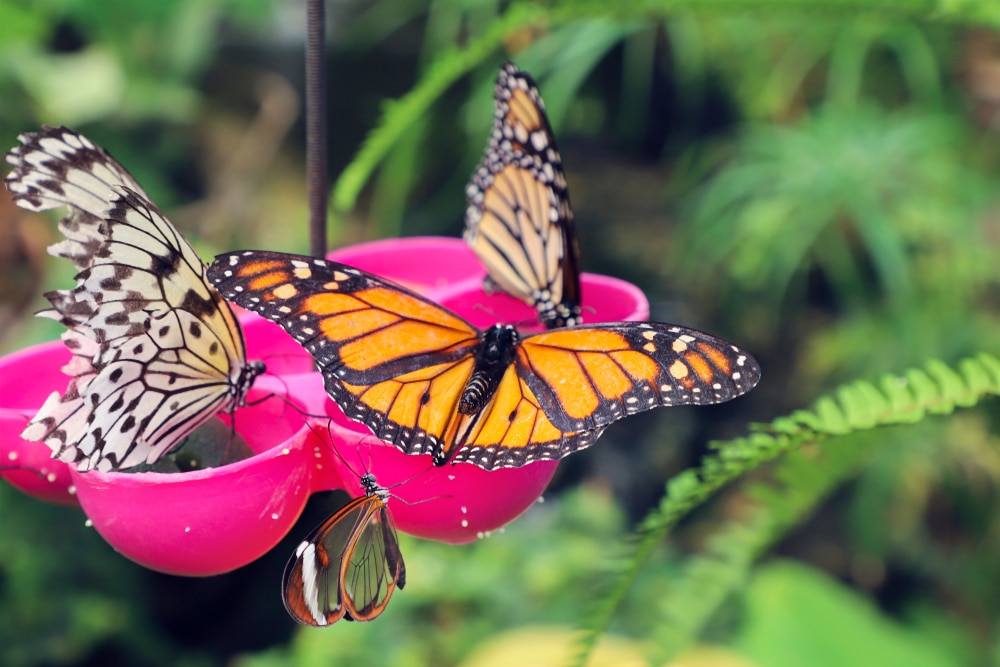 I've been shopping around to find the best butterfly feeder, and I've been delighted by what I've discovered. No matter your budget or the style of feeder you prefer, I'm confident you'll find something in the list below that'll fit your needs perfectly (you can even include it in a butterfly garden!). 
1 – Scypherx Butterfly Puddler Stone 
This beautiful butterfly feeder instantly caught my eye because of its pretty design. It looks like a shimmering open shell with glass marbles, reflecting the sunlight to attract butterflies. 
The Scypherx butterfly feeder also has a mineral sachet to add to the water. These minerals attract butterflies and provide them with the nutrients they need. 
One of the great things about this feeder is it's nice and shallow. Since butterflies can't swim, it's vital that water doesn't pose a risk. 
You'll likely notice this is quite a pricey butterfly feeder, but the eye-catching design and good size of more than 10 inches in length make it worth it. That said, it's essential not to ignore the fact it's made from ceramic, so it's more likely to break than other products on this list. 
Pros 
Beautiful design
No assembly required
Comes with accessories
Cons
Expensive
Could be breakable
2 – Insect Lore Butterfly Feeder 
The Insect Lore feeder is great for those shopping on a budget, and you're still getting a great piece of equipment whose bright colors are sure to attract plenty of butterfly attention. 
That said, this product is designed with children in mind, so if you're looking to give your garden a more mature aesthetic, this might not be the right choice. 
I love that this is a small feeder (6 inches in length), so it's very discreet. What's more, it has six nectar reservoirs, meaning more butterflies can use it at one time. You even get little red wicks that soak up the nectar and attract butterflies with their color. 
The Insect Lore butterfly feeder is made from plastic, so it's lightweight and easy to clean. However, I saw some reports of the cover not being very durable and other people talking about how it leaks when refilling it.
Pros
Comes with nectar recipe and accessories
Great for kids who want to learn about nature
Affordable
Cons
Lacking durability
May be too garish for some tastes
3 – Songbird Essentials Butterfly Feeder 
I'm going to start by pointing out that this butterfly feeder doesn't have the aesthetic value of something like the Scypherx feeder. However, it's more durable, and the bright colors are a viable way of attracting many butterflies. 
One of the things that seems to resound in reviews of the Songbird Essentials butterfly feeder is that it's very user-friendly. The lid comes off, giving you easy access to clean the feeder, and there's a handy fruit tray if you wish to leave out an extra treat. You can also install the feeder on a pole if you don't want it to be free-standing. 
Moreover, a butterfly breeder developed this feeder with tubes to mimic real flowers. This gives you the confidence it will do what it promises. In addition, the feeder comes with a nectar solution that makes up to 104 ounces of nectar. When this runs out, you can buy more. 
Pros 
Made by butterfly experts
Comes with nectar solution
Easy to use
Cons
4 – LOTKEY Butterfly House With Feeder 
Having researched butterfly feeders, the LOTKEY butterfly house with feeder is one of the best. Not only does it have a beautiful design that would look good in any garden, but it's also really well made. 
Constructed from wood, the butterfly house is exceptionally durable, and it's been treated, so it's weather resistant. This gives the butterflies excellent shelter from the elements. Moreover, this is an eco-friendly alternative to some of the plastic feeders on the market. 
Where the feeder is concerned, you may notice it is a little small. Only one butterfly would be able to use it at a time. But I wouldn't let this put you off because the joint house and feeder are ideal for anyone who wants to observe nature in their backyard, and it's great for kids. 
Pros
Mid-range price
Very durable and well made
Easy to clean and no assembly required
Cons
Tips When Buying A Butterfly Feeder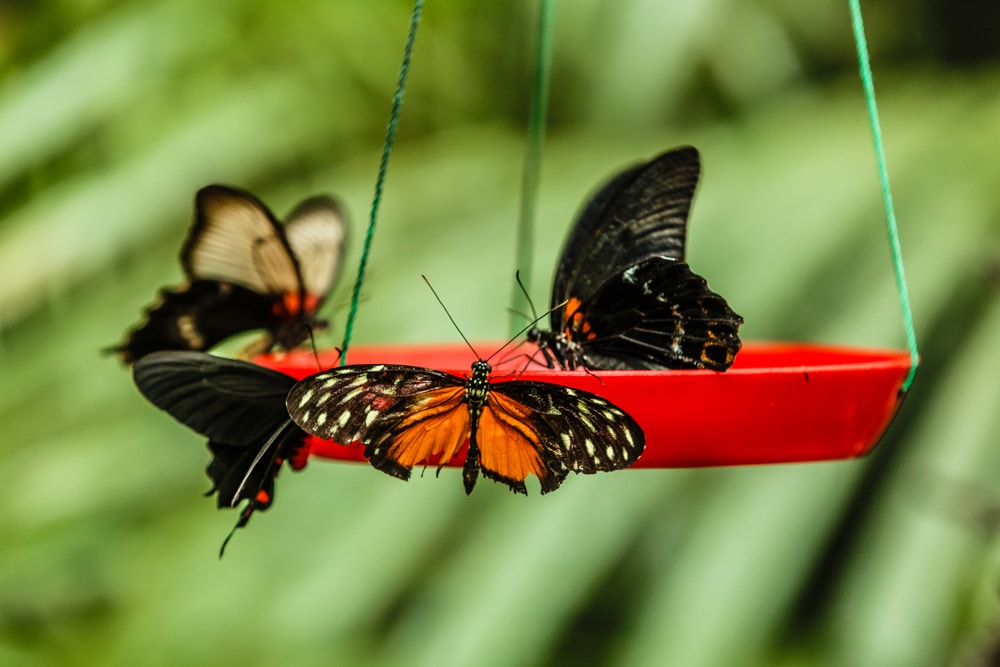 I'm very confident in the butterfly feeders I have discussed above. But I'm not naive enough to think every feeder will suit every buyer. That's why it's imperative to consider certain things when choosing the best butterfly feeder for your garden. 
I've also got some handy tips on installing and taking care of your new butterfly feeder. 
What Type Of Feeder Should You Get?
There are typically two different types of butterfly feeders. While they're both intended for the same thing, the design varies slightly. 
There are typically two different types of butterfly feeders. While they're both intended for the same thing, the design varies slightly. 
Decorative butterfly feeders tend to be more expensive, but they have an aesthetic element that adds some real flair to your garden. You usually hang them using metal chains, and they have a decorative glass bowl where you place the food. 
Hanging butterfly feeders made from plastic is one of the most popular choices. Less expensive than the decorative option, they're ideal if you work on a tight budget. They all have a nectar compartment, but some also have a shelf to place fruit. 
Feeders With Fruit Dishes
Some butterfly feeders come with a fruit dish, allowing you to put out overripe fruit that's hugely attractive to butterflies and other insects. Usually, there will be more than one fruit dish on the feeder, but it is worth remembering that using this could attract pests like wasps. 
How Much Should You Spend?
As someone who loves to shop, I always set a budget. It's so easy to overspend when there's really no need to. 
Generally speaking, you can get a good quality butterfly feeder for around $20. The recommended ones cost between $10 and $30, so deciding what you want to spend is essential. 
The more you are willing to invest, the better quality and more attractive the butterfly feeder will likely be. However, that isn't to say a cheap feeder won't be worth it. There are many budget-friendly options; just be sure to check the quality of the materials and always read customer reviews. 
Where To Place Your Butterfly Feeder
You'll need to consider a location for your butterfly feeder that offers the butterflies protection from predators as they feed. Choosing somewhere away from trees and bushes where predators can hide is a good start. 
However, it's also worth remembering that butterflies prefer a sunny spot. These insects are cold-blooded and require heat from the sun. Choosing a spot that gets some shade during the day is okay, but full sun is ideal where possible. 
Regardless, choosing a location that isn't exposed to strong winds is crucial. 
What You Should Fill Your Feeder With
Different butterfly species will feed on different things in the wild. Some are attracted to overripe or even rotting fruit, but most butterflies feed on nectar. They have a long tongue-like structure called a proboscis, which they use to suck nectar from flowers. 
For this reason, it's best to use a nectar substitute in your feeder. You can make this product, known as sugar syrup, by adding equal parts sugar to equal parts water and boiling the mixture to ensure the sugar dissolves. 
It's easy to make, and you can boil it in batches as once cooled, the sugar syrup will keep in the fridge for up to three weeks.
That said, you can buy ready-made butterfly food if you don't want to make your own.
While adding some overripe fruit to your butterfly feeder is possible, it's worth considering that this can attract pests like wasps. If you're happy for these visitors to come to your garden, that's fine, but most people want to avoid stinging insects. 
How Often To Refill And Clean Your Feeder
Typically, you won't need to change the butterfly food more than once a week. Of course, if they consume everything, you'll need to replace it sooner. 
On top of this, it's essential to consider the outside temperature, as this can affect the quality of the food. If it gets warmer than around 85ºF, I suggest changing the food between two and three times weekly. 
In terms of cleaning, keeping your butterfly feeder well-maintained is vital. If you don't do this, mold may grow.
The good news is cleaning is easy, and you can do it using a solution of hot water and 10% bleach. Once clean, it's vital that you thoroughly rinse the feeder to remove all traces of your cleaning solution. 
I recommend cleaning the feeder every three to four days in hot weather. However, in all other circumstances, it's okay to clean the feeder at the same time as doing your weekly food change.
What To Do If You Want To Make A Butterfly Feeder Instead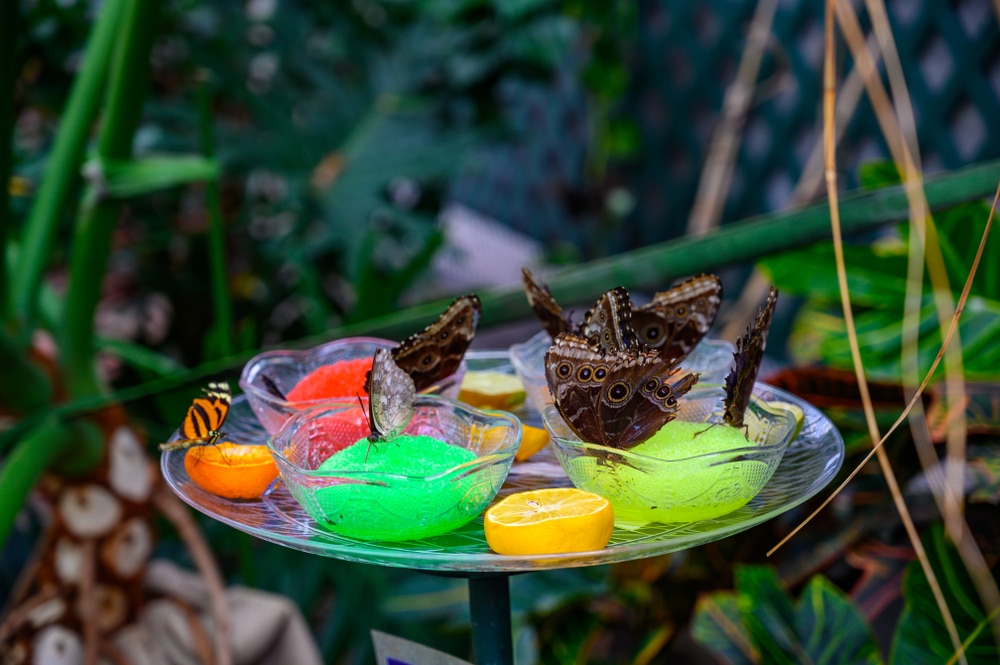 Buying a butterfly feeder might not be for everyone. In fact, if you're looking to save a pretty penny, making a DIY butterfly feeder is an excellent option. You can do it with things you probably already have at home.
Steps
Here are the steps to make a plastic bottle butterfly feeder (there are many more kinds, but this is an excellent one to start with):
Start by taking a length of string that measures around 8 inches.
Tie your string around the neck of a plastic bottle, and then tie the ends together to make a loop that will allow you to hang the feeder. 
Next, take a sharp object such as a pin or nail and use this to poke two holes in the bottom of the bottle. These holes do not need to be large; in fact, the smaller, the better!
Now, take a bowl, and place the bottle in the center. Fill the bottle with a sugar syrup solution (you can see details on how to make this in the What Should You Fill Your Feeder With section of this article).
Keep the bottle in the bowl as you transfer it to your chosen location, as this will prevent any spillages. 
Then simply hang your bottle, and the sugar syrup will slowly drip out, attracting butterflies.