As you know, the pointy grass, known as crabgrass, can be pretty stubborn and hard to get rid of, but fortunately, several herbicides can take care of this nuisance of a grass.
And if you're unsure which one to choose or what to look for in a crabgrass killer, we've got you covered.
So, let's take a look at some of the best crabgrass killers you can find in the market.
Comparison Table
| | | |
| --- | --- | --- |
| Product | Type | Size |
| Tenacity Turf Herbicide | Pre and post-emergent | 227g |
| Scotts Halts Crbgs Preventer | Pre-emergent | 5kg |
| Ortho Weed B Gon Plus Crabgrass Control | Post-emergent | 1.18kg |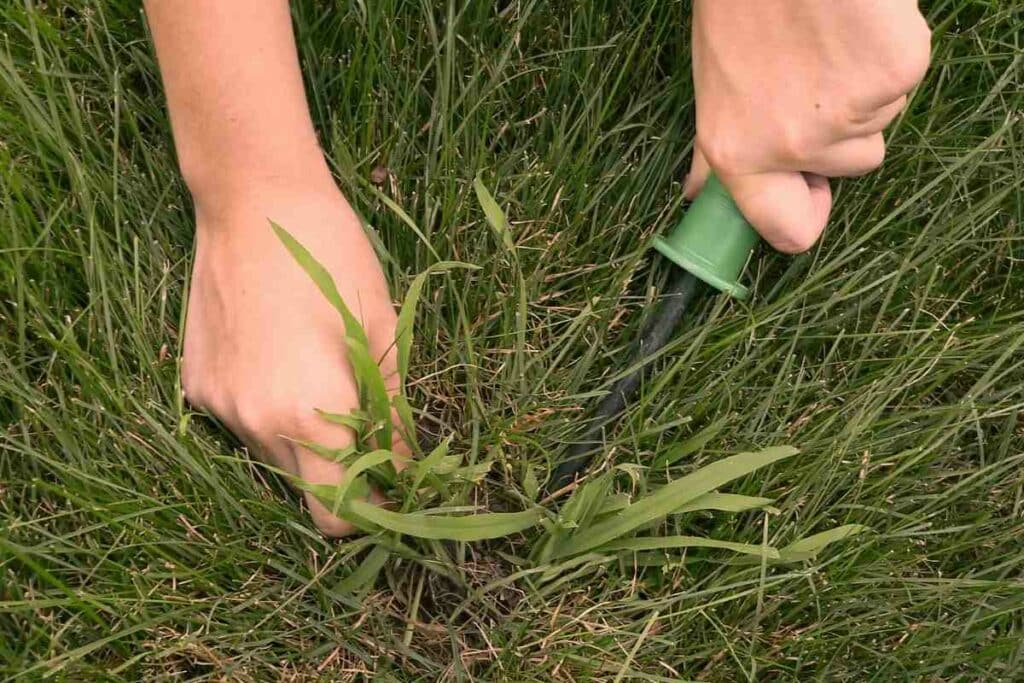 The 3 Best Crabgrass Killers in 2021
Finding the suitable crabgrass herbicide is crucial if you want to treat your infested lawn.
Below, you'll find some of the best crabgrass killers on the market today.
Often referred to as Tenacity, Tenacity Turf Herbicide has been considered one of the best crabgrass killers in the herbicide market for years.
It works both as a pre-emergence and post-emergence herbicide, which essentially means that it'll take care of crabgrass creeping in your garden regardless of whether it has germinated or not.
Accordingly, if you apply Tenacity on crabgrass seeds, they'll absorb the chemicals from the herbicide, halting their growth progress.
And a major plus for Tenacity Turf Herbicide is that, alongside being a crabgrass killer, it also deals with other intruding weeds, including dandelions, foxtails, and carpetgrass.
Not to mention, the herbicide is compact, but that means it runs out relatively fast.
Pros:
Works both as a pre-emergent and post-emergent
Can deal with other stubborn weeds
Easy-to-store, compact container
Cons:
Runs out quicker than other herbicides
Tenacity Turf Herbicide – 8 ounces
Tenacity is a systemic pre-emergence and post-emergence herbicide for the selective contact and residual control of weeds in turfgrasses.
Final Verdict
The Tenacity Turf Herbicide is an all-around solid option if you want a herbicide that'll get rid of your crabgrass, whether it has emerged or not.
The compact container can also be a plus when storing it at home.
---
2. Scotts Halts Crbgs Preventer – Runner Up
Similar to Tenacity, Scotts Halts Crbgs Preventer is also brought by a famous brand when it comes to killing crabgrass weed in lawns. It's a durable option for you, and it'll work seamlessly in sunny, rainy, and snowy conditions.
Moreover, this Scotts product needs to be applied once to your crabgrass during spring, and you'll have removed it for the whole season.
Also, if you need to take care of your other stubborn weeds during wintertime, you can use this crabgrass preventer to kill off winter weeds, including chickweed and poa annua.
There are some weeds that this crabgrass killer won't kill, though. Also, keep in mind that it won't work on grown weeds.
Pros:
Weather-durable, so it can withstand all sorts of harsh weather
Can deal with winter weeds
A single application is enough for the entire season
Cons:
Only a pre-emergent, so it won't work on weed that has emerged
Doesn't cover that many weed types aside from crabgrass
Final Verdict
If you happen to live in a region where it rains or snows a lot, Scotts Halts Crbgs Preventer should be your go-to option. It's durable, maintaining the treatment process in various weather conditions.
---
3. Ortho Weed B Gon Plus Crabgrass Control – Best for Economic Use
A significant advantage of Ortho Weed B Gon Plus Crabgrass Control is that it covers almost double the area that some other herbicides might cover for about the same amount of liquid.
So, it'll be a while before you run out!
Moreover, the Weed B Gon crabgrass killer by Ortho does precisely what it claims to. So, you get a reliable product that's sure to keep your lawn clean from any unwanted weeds.
In addition, this product makes sure to wipe away your crabgrass, not only from the tips but all the way to the roots. And after an hour of application on your weed, it becomes resistant to rain as well.
Nevertheless, note that you can only use this crabgrass killer for grown weeds, not seeds. And it's best used for home purposes.
Pros:
Becomes rain-resistant in about an hour
Covers about 6000 sq ft of area with just a little over 1 liter of usage, so it's efficient
Cons:
Not a pre-emergent
Only for home-use purposes, so you can't use it for larger projects
Final Verdict
If you're looking for the best bang-for-your-buck herbicide, the Ortho Weed B Gon Plus Crabgrass Control might be the one for you.
It treats almost double the area that other herbicides in the market do for the same amount of product, making it very efficient.
---
Factors to Consider When Buying a Crabgrass Killer
Before deciding on which herbicide you want, make sure you understand the nature of the crabgrass situation in your lawn. And we're here to help you ask all the right questions.
Crabgrass Growth Stage
This is a crucial factor you need to consider before making your purchase. Based on whether the crabgrass seeds are emerging or have already emerged, you need to buy a pre-emergent herbicide or a post-emergent one, respectively.
Lawn Size
There are various herbicides in the market, and all of them work for different sizes of lawns and treatment areas. Make sure that you've measured the total area of the land requiring treatment, so you can purchase the herbicide that fits your lawn size.
Affordability
If you don't want to spend much or want the best value out of your money, then we'd recommend going for a herbicide that is just enough to cover the grass area and is either a pre-emergent or post-emergent.
Bottom Line
Ultimately, a proper crabgrass killer is necessary if you want your lawn to look neat and pleasant.
Of course, you can opt for any of our picks, but we can't help but recommend the best herbicide, which is, in our opinion, Tenacity Turf Herbicide.
Operating as a pre and post-emergent, this crabgrass killer can eradicate even the most stubborn weeds!