If like me, you are looking for a pressure washer to tackle those grimy jobs on your property, the Bosch Universal Aquatak 135 pressure washer could be the ideal match for your needs. 
Well, I've taken the plunge, bought one and am getting to grips with using it on the long list of messy jobs I have been putting off in and around my garden.
Read on for a 100% authentic review of the Bosch Universal Aquatak 135 pressure washer – the best in its class! 
Getting to Grips with the Bosch Universal Aquatak 135 Pressure Washer!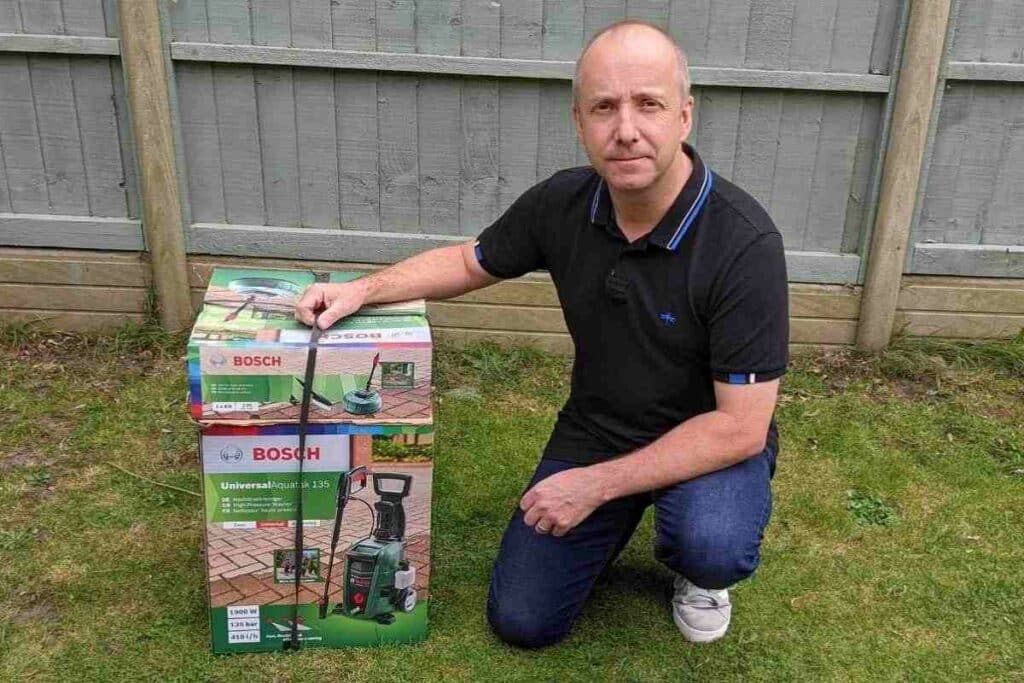 I've packed this review with the key points you'll need to know so you can be sure that the Aquatak 135 is going to do the job for you including:
Detailed product specification
Features
Pros and cons
Frequently asked questions from myself and fellow owners of this pressure washer.
I will also give you my own unbiased opinion on whether or not I think the Bosch Universal Aquatak 135 pressure washer is a good buy.
And if you want to see this pressure washer in action, why not watch my video review where I'll unbox, assemble and get the Aquatak 135 straight to work in my garden:
Want to know more about the Bosch Universal Aquatak 135 pressure washer (Link to Amazon.co.uk) or thinking of buying one?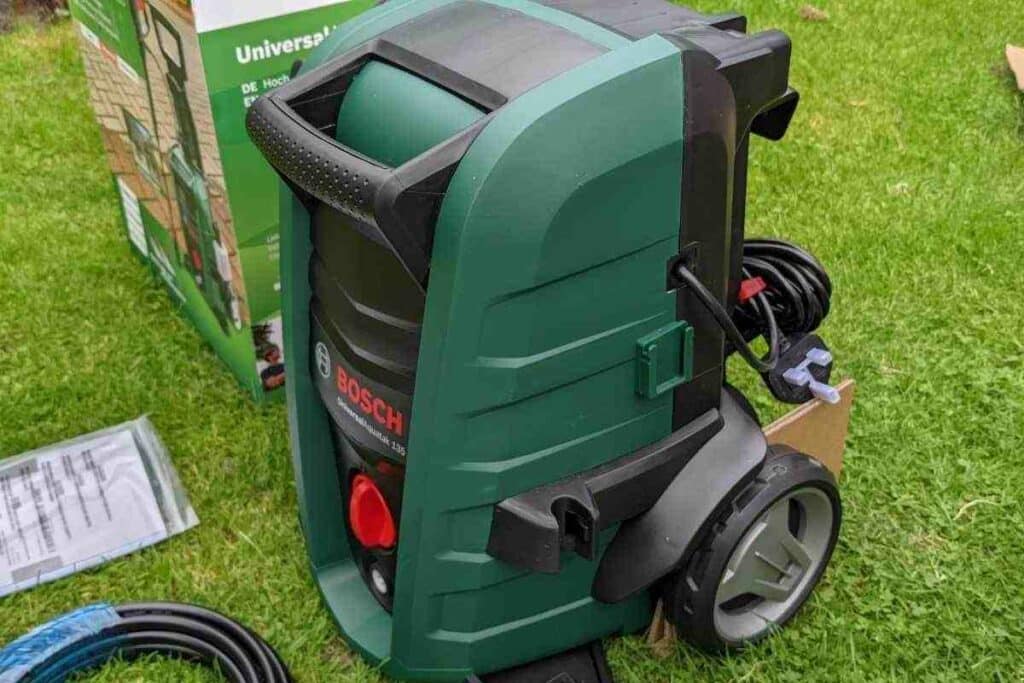 You've come to the right place. 
Let's get into this!
About Bosch Pressure Washers
The Bosch Universal Aquatak 135 pressure washer is part of Bosch's Home and Garden consumer range, which is distinct from its professional range of high-pressure washers that have specialist, "pro" features. It has not been designed and manufactured for professional use. 
However, this does not mean that the Aquatak range of pressure washers is not impressive, after all, I intend to put it through its paces in my garden.
I chose it because Bosch says it's up to providing "effortless cleaning for a wide range of jobs" and should be able to tackle even heavy-duty cleaning in my home. 
You definitely benefit from the famed Bosch engineering with metal pumps, aluminum casings and steel pistons being a feature of all Bosch High-Pressure washers.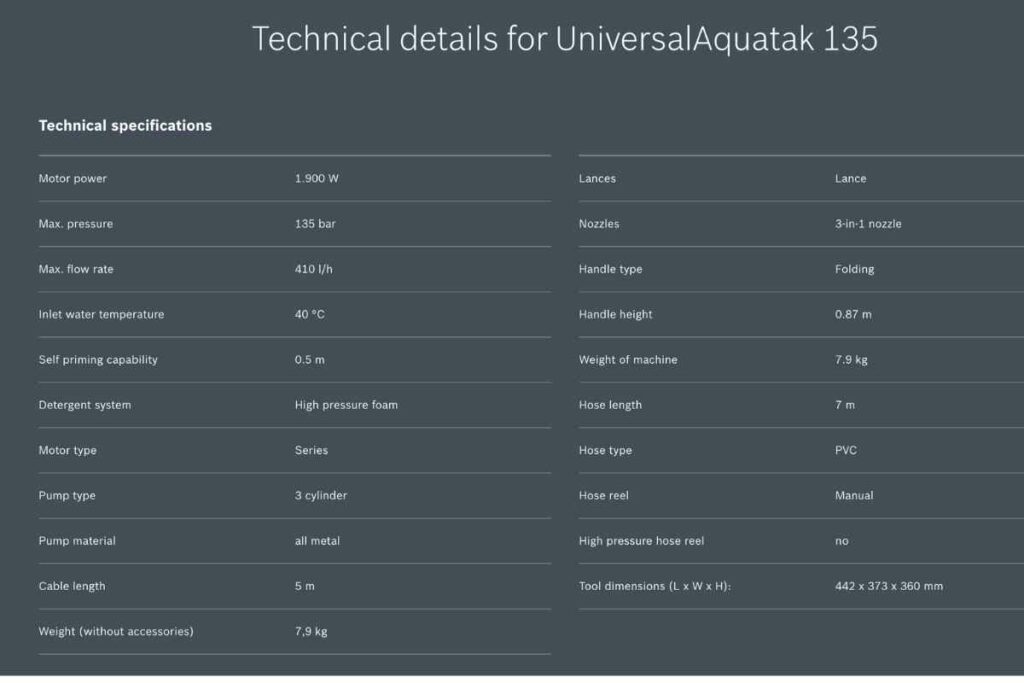 The Bosch Aquatak range has "Easy", "Universal", and "Advanced" pressure washers. The universal pressure washer is a real all-rounder and intended for moderate, regular use.
I purchased the most powerful model in the Aquatak range – at 135 bar pressure, this pressure washer exceeds Bosch professional pressure washers like the GHP 5-65 X PROFESSIONAL, so I am looking forward to really putting it through its paces.
The Bosch Brand
The German Robert Bosch GmbH commonly known as Bosch is well known for its power tools and home appliances.
For over 100 years Bosch has been a manufacturing powerhouse, so I want to benefit from their expertise with this premium purchase.
Bosch Universal Aquatak 135 Pressure Washer Specifications
Here is the breakdown of the Universal Aquatak 135 pressure washer:
Motor power: 1900-Watt series motor
Power: corded electric
Operating voltage: 230 V AC, 50 Hz
Electric cable length: 5 meters – hardwired into the pressure washer
3-cylinder pump
Pump material: all metal
Max: 135 bars (1958.01 pounds per square each)
Max inlet pressure: 1 MPa
Max flow rate: 410 litres per hour (7.5 litres per minute)
Max water temperature: 40 degrees Celsius
Noise level: 70 decibels
Dimensions: 44.2 by 37.3 by 36 centimetres
Weight: 10.5 kilograms
Colour: green and black
High pressure hose length: 7 meters (22.96 feet)
Hose weight: 800 grams
Hose material: PVC
Hose connections: SDS Quick connect (no tools required)
3-in-1 nozzle: fan jet / rotary jet / straight jet
Detergent container supplied
Unboxing the Bosch Universal Aquatak 135 Pressure Washer 
I was pleased to get on with the unboxing of my new pressure washer.
If you regularly order online like me, you'll know that packaging and the state of your orders when they arrive can be pretty hit and miss.
Bosch has ensured that this pressure washer is securely boxed with cardboard blocks and strapping to prevent shifting in transit and cabling and smaller components properly packaged.
---
Be Aware Of: The main pressure washer is a little on the heavy side (10.5 kg assembled) so make sure you have plenty of room to haul it out and assemble everything.
---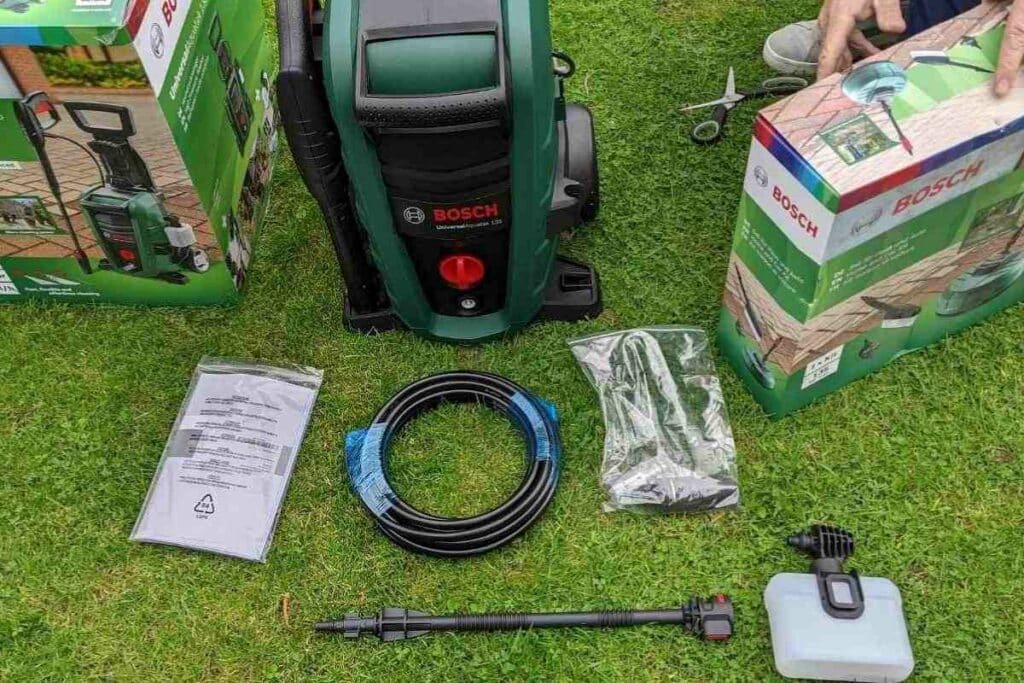 So, what's in the Box?
Here's what you will get with your Bosch Universal Aquatak 135 pressure washer:
The pressure washer itself
A Bosch high-pressure gun
A Bosch lance
A 3-in-1 nozzle
A high-pressure detergent nozzle
A 450 ml detergent bottle
A 7 m high-pressure hose
A plastic water filter
A patio cleaner attachment 
The only immediate problem is a lack of an instruction manual with the washer.
I don't know if this is routine or an omission, but I have hunted around online and left a link to the Universal Aquatek manual further down in this review.
Using Bosch Universal Aquatak 135 – First Impressions 
I was looking for a handy and convenient pressure washer with high cleaning power.
By no means did I want to skimp on performance, but for doing jobs around my home and garden, I really need the washer to be versatile.
Here are my first impressions:
Solid pressure washer unit: The Universal Aquatak 135 is not very large, which is surprising given the amount of pressure it generates. This is not a juggernaut Karcher or some industrial washer costing over $500+. I was impressed with the minimalist smart green and black unit with clear outlets and connector point and bold Bosch red control switch. It looks like it could take a couple of knocks without breaking down on you!
Not too many parts: it is a really simple setup – there aren't too many parts, and it appears obvious how the components are to be assembled. 
Everything can be stored on the pressure washer unit: helpfully, most parts have a home on the pressure washer, with a holder for your gun, lance, and detergent bottle. There is a loop for your hose and the power cable can be looped. This is great as you know you have everything you need with you when you start cleaning, with no hunting around for missing parts.
Compact design: the fold-down handle and space saving cuboid shape means it will pack easily into a weatherproof garden box or shelf in your garage or shed. 
Decent chunky wheels: moving the pressure washer around the garden is straightforward as the rugged wheels can handle running over your lawn as easily as on your patio or decking. Large extendable handle helps keep this washer portable without you needing to bend. 
Some fittings appear a little flimsy: as with many modern appliances, there is a lot of plastic. The lance and nozzle did appear a little flimsy but were able to be securely and robustly assembled. 
The soap dispenser is a smart idea: this pressure washer can dispense soap, so you don't need to soap items down before you wash them.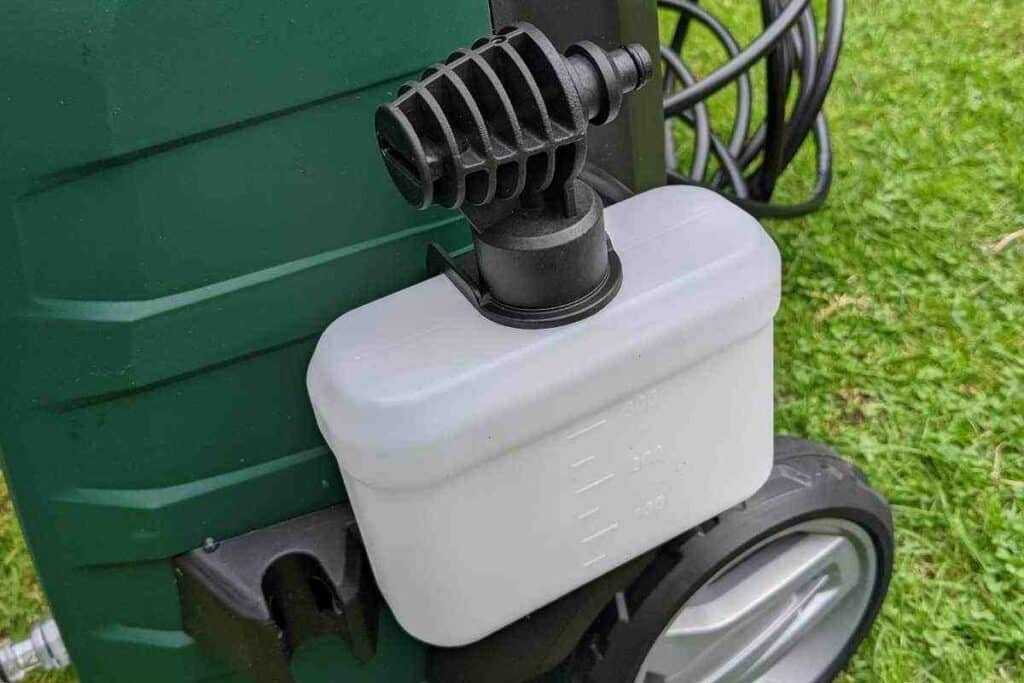 Need to Know Features of the Bosch Universal Aquatak 135
These are some of the standout features of the Universal Aquatak 135:
Powerful pressure washing: As you will see in the video review, this pressure washer does pack a punch with wattage and pressure that is capable of competing with pro models. 
Hand trigger gun control: You don't need to fiddle around with the control switch on the unit as it can be operated via the red hand trigger on the lance. 
3-in-1 nozzle: the trio nozzle is very convenient as you do not need to switch between individual nozzles when actively cleaning. You can switch between fan, rotary, and pencil jet settings. Rotate the head anti-clockwise to the setting you require with the green dot pointing to the setting you need.
Detergent and foam cleaning: The foam detergent dispenser is designed to provide great foam cleaning – perfect for the car or well-loved garden furniture. Choose your detergent, pour it into the dispenser and attach it to the nozzle for targeted foam application.
Self-priming pump:  If you are drawing up water for your Aquatak 135 from a well or tank, the pump inside the pressure water is self-priming, saving you time. There should be an inlet strainer with a non-return valve so you can simply immerse the hose length and inlet strainer into the water and connect the hose to the power washer. 
Autostop function: The Universal Aquatak 135 will automatically switch itself off if the trigger is released on the gun for any reason.
Bosch Universal Aquatak 135 Pressure Washer Assembly 
As you can see in the video, assembling the Aquatak 135 is quick and straightforward – all the connections in this unit are quick-connect meaning that you shouldn't need any tools to get the pressure washer up and running. 
The connectors are all plastic, and to be honest, I did feel like I was going to snap something off as they did seem a little flimsy in places. 
The filter that has to be attached to the front of the washer with every use is made from brittle clear plastic and I am not sure how long it will hold up long term.
The water supply hose can simply be run to your mains water after being securely attached to the machine via the filter. 
Using the Bosch Universal Aquatak 135 Pressure Washer 
After a quick setup, I found getting started with my new pressure washer was easy.
Once the water supply hose is attached, all you need to do is connect the pressure washer to the mains supply, keeping your big red switch in the "OFF" position. 
Your next step is to turn on the water, keeping the trigger on the lance pressed down until you have a constant water flow.
You're then ready to turn on the pressure washer. Turn the front switch to the "ON" position and you are good to go. You'll want to keep the lance pointing down when you do this!
I found the Aquatak 135 easy to control and just as powerful as expected. I have a lot of cleaning jobs around my garden that a less powerful pressure washer simply cannot deal with. I'm sure you know the type. 
Heavy soiling, stained surfaces, and well-aged grime did not stand a chance against the Bosch Universal Aquatak 135. Really it has to be seen!
---
Works Well: The three settings made short work of particularly grimy concrete with the pencil jet setting being particularly powerful and able to cut through the filth with straight lines. 
---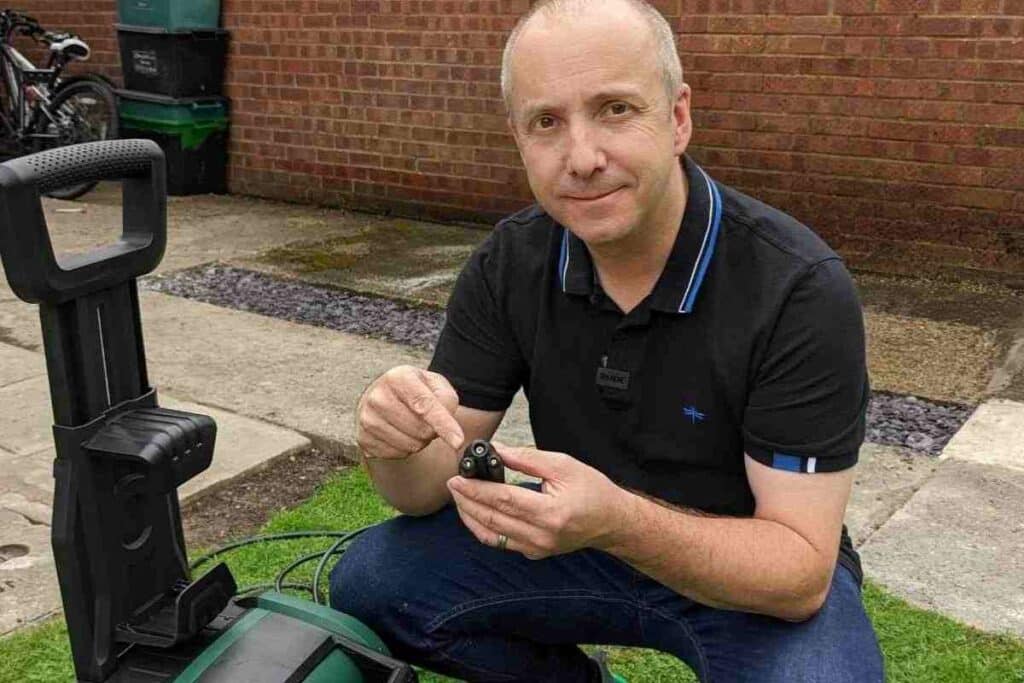 The pencil jet may be a little too strong for glass or double glazing, with the fan nozzle setting great for getting larger areas covered.
The detergent attachment is convenient too and saves on purchasing a separate foamer. I used it with a stone cleaning solution, that I mixed according to the instructions on the bottle. 
The detergent was used up in a matter of seconds, so beware if you are using expensive cleaners with this washer. 
---
Optional: Also, the foam was not that frothy and dramatic, so you may want to use a separate foamer if you like a really rich foam clean.
---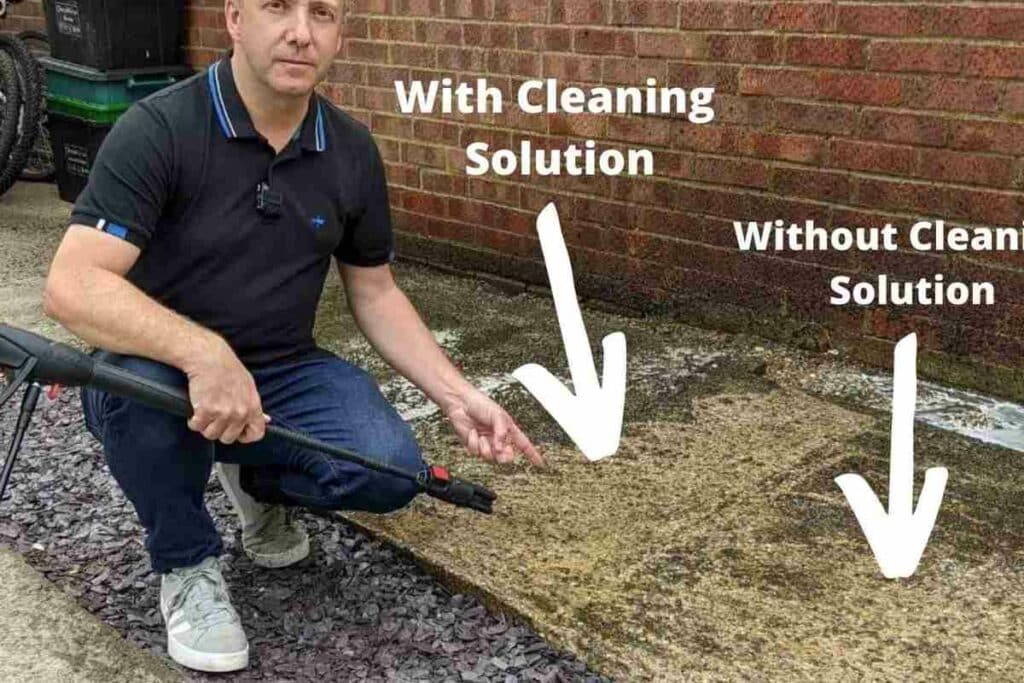 The patio cleaner can be attached to the lance and used just like a floor washer. 
It provides very quick and easy cleaning with a domed head to contain the spray and stop you from making a mess.
Bosch Universal Aquatak 135 Pressure Washer PROS
It is definitely a powerful pressure washer
This pressure washer was certainly as powerful as expected, especially given its size and versatility. The focused pencil jet was extremely strong and definitely separated this model from cheaper competitors. 
The Aquatak 135 cleans fast
I am confident that I can get jobs done quickly with this washer. High pressure means that you do not have to go over areas over and over again and you can be confident that very stubborn areas of dirt will shift. You will also use less water too!
The multi-setting nozzle is a plus
The triple setting on the nozzle means that I can change my cleaning approach without dismantling the nozzles. I'm hoping that this means that my lance will have less wear and tear over time.
The pressure washer is easy to handle
It's clear that Bosch has taken the effort to make this design ergonomic. The lance is easy to hold and not too heavy, and also the fold-up handle means it can be wheeled around trolley-style without stooping. 
The motor is not excessively loud
Let's be honest. A pressure washer is going to be loud but at 70 decibels, I won't be disturbing the entire neighbourhood. 
I found that the patio cleaner does the job
I have to say I was really impressed with the patio cleaner which was really simple to use and deep cleaned my patio in minutes with minimal mess!
Thankfully, spare parts are available
I chose the Bosch brand because they are very good at providing a reliable inventory of spare parts. I am not expecting to have to replace my pressure washer any time soon, but I am glad I can get spare parts if anything becomes broken. More on that below.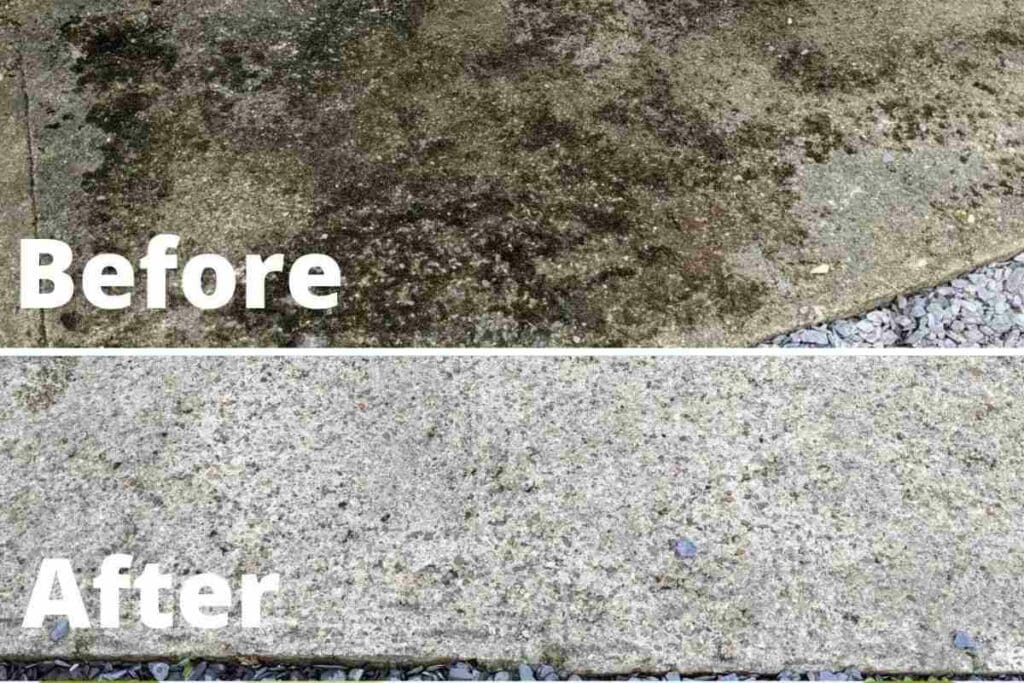 Bosch Universal Aquatak 135 Pressure Washer CONS
The shaky rotating handle on gun
For some reason the lance on the gun is continuously rotating which means that I have to put in extra effort to stabilize the lance. I have noticed that other reviewers have mentioned that the lance connectors rotate at both ends, not just where you change the nozzle setting. 
The connectors are a bit fragile
The plastic of the connectors and lance does seem a bit flimsy. Also, the connectors that will be repeatedly used look like they have the potential to wear.
Soap gets used up quickly
The soap did not last long at all, which is understandable as this pressure washer has a very high flow rate. Refilling the soap for large jobs is a hassle.
Leaking from the pressure washer can be a problem
Elsewhere on the world wide web, some reviewers of this pressure washer have experienced leaking. This is understandable and a common problem in all pressure washers. 
There is no place to store smaller attachments
Though Bosch has done a great job of stowing the major parts, after everything is put away, I'm left with loads of small fiddly connectors which could easily get lost in my garage. 
The hose is difficult to wrap up 
The hose is extremely stiff and is very hard to wrap down to the size needed to store it on the pressure washer. 
Frequently Asked Questions for the Bosch Universal Aquatak 135
Is Bosch a reliable brand?
If you are weighing up the Bosch Universal Aquatak alongside leading pressure washer brands like Karcher, STIHL and Nilfisk, you want to be sure that you are making a reliable investment. 
Thankfully you can buy Bosch with confidence as according to appliance experts it remains one of 2021s most reliable appliance brands, with a decent warranty and exemplary customer service. 
As you will see in the video, this pressure washer gives a pretty decent performance in doing all the cleaning tasks you need on the average property.
It is not a pro-tool, but the specification, handling and quality are consistent with a brand that is internationally recognized for its innovation and engineering.
With this pressure washer you may find that buying it with the right retailer will make the difference, in case you run into problems with your Bosch pressure washer.
You don't want to immediately have to default to the manufacturer, especially if things can be rectified quickly with in-house servicing or a straight replacement that saves you time and hassle. 
Is there a warranty for the Bosch Universal Aquatak 135?
All Bosch pressure washers come with a standard 2-year guarantee which covers private use of your pressure washer.
You can sign up for the MyBosch service platform and extend the guarantee to three years. This needs to be done within 4 weeks of purchase. 
The warranty provides you with access to the Bosch repair service. They will pick up, repair and return your pressure washer if it becomes broken for free.
To use this service, you will need your warranty certificate and proof of purchase for your washer.
Where can I get Bosch Universal Aquatak 135 pressure washer spares and parts?
I am confident about this purchase, given that there appears to be a plentiful supply of Bosch spares and parts for the Universal Aquatak 135 model online.
These spare parts can be used as replacements once the pressure washer is out of warranty.
You should be able to find genuine spare parts for the:
Hand trigger gun
High pressure hose
Variable fan lance
Roto fan lance
O-rings, seals, and clips
These should keep this little workhorse going around your home and garden for a good while, so you get maximum value out of your purchase. 
Where can I find a Bosch Universal Aquatak 135 pressure washer manual?
One of the let-downs of this pressure washer was the lack of paper instructions in the box that I could follow to set it up. 
As you see in the video, I just had to get on with working it out myself.
However, assembling a high-pressure appliance like this without following manufacturer instructions could lead to damage, incorrect use or invalidation of the warranty.
After all, mains and high-pressure water are not a great mix! If you are looking for the Bosch Universal Aquatak 135 pressure washer PDFmanual you can find it here.
Can I use the Bosch Universal Aquatak 135 on decking?
Pressure washers can damage decking, but Bosch has said that you can clean decking with the fan nozzle of the pressure washer.
You should not use the rotary nozzle or the high-powered pencil jet as they can damage your decking surface.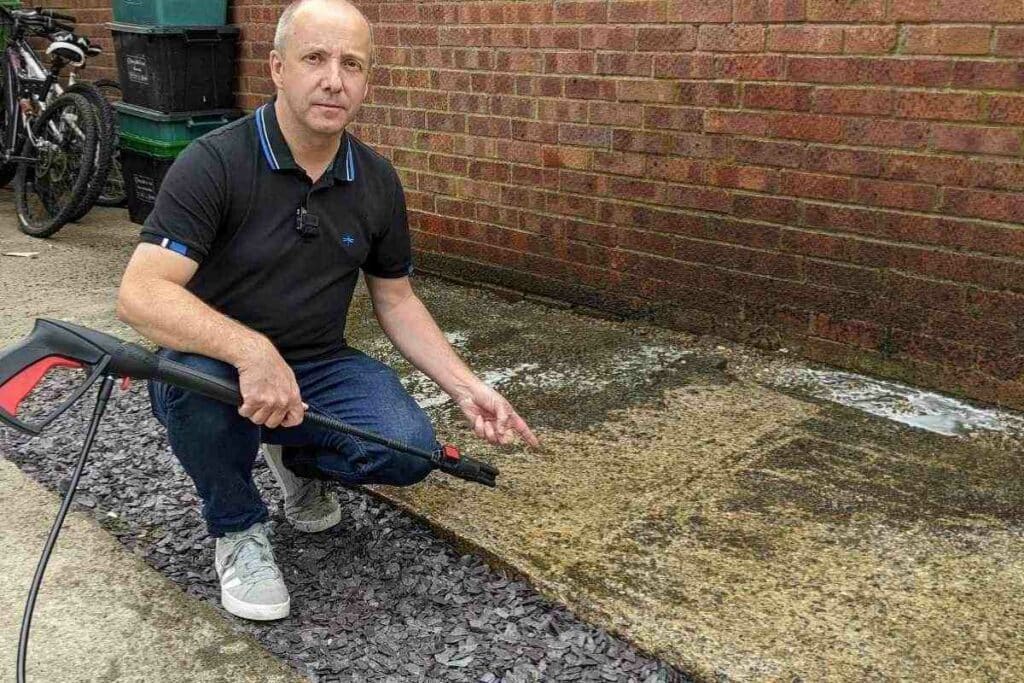 Can I clean my windows with the Bosch Universal Aquatak 135?
Exercise extreme caution when using the Aquatak 135 on windows.
Though it is not prohibited, the pencil jet setting is capable of smashing a pane of glass and high-pressure washing double glazed windows can damage the seal of the windows, allowing water to seep inside.
If you must use this pressure washer on windows, opt for the fan setting. 
Can I use the Bosch Universal Aquatak 135 with my water butt?
Yes. You can either connect your pressure washer hose to a tap connector on the water butt, or use the self-priming filter and hose by submerging it into the water butt and running the pressure washer off that. 
My Own Thoughts on the Bosch Universal Aquatak 135
Overall, I am pleased with the Aquatak 135 model I have purchased. It has done a decent job on my garden cleanup. If anything, I would add that the patio cleaner is not 100% necessary.
It's a good idea, but in my opinion, it makes little difference to the cleaning effectiveness of the unit. 
Obviously, I have not tried the lower pressure models, but I have seen them compared to my pressure washer and the difference in the performance and level of cleaning the Universal Aquatak 135 achieves is remarkable. 
I think it is definitely a decent investment for an active household that needs a portable pressure washer for regular jobs around their property.
It is simple enough to pop in the car boot to travel to clean your boat or caravan too.