Key Takeaways 
The best fall flowers for your garden are:

Chrysanthemum
Sweet Alyssum
Russian Sage
Nippon Daisy
Black-Eyed Susan
Autumn Crocus
Violet
Cockscomb
Petunia
Bluebeard
Joe-Pye Weed
Autumn Joy Stonecrop
Blanketflower
Sneezeweed

Every fall flower requires different care, but you'll need to consider the sun, water, nutrients, and placement each flower needs.
Some fall flowers are annuals, meaning you'll need to replace them, and some are perennials, which means you won't.
For the longest time, I believed I could only have a blooming garden in spring and summer, but I was wrong. Many flowers bloom in the fall. So, what are the best fall flowers for your garden?
22 Best Fall Flowers For Your Garden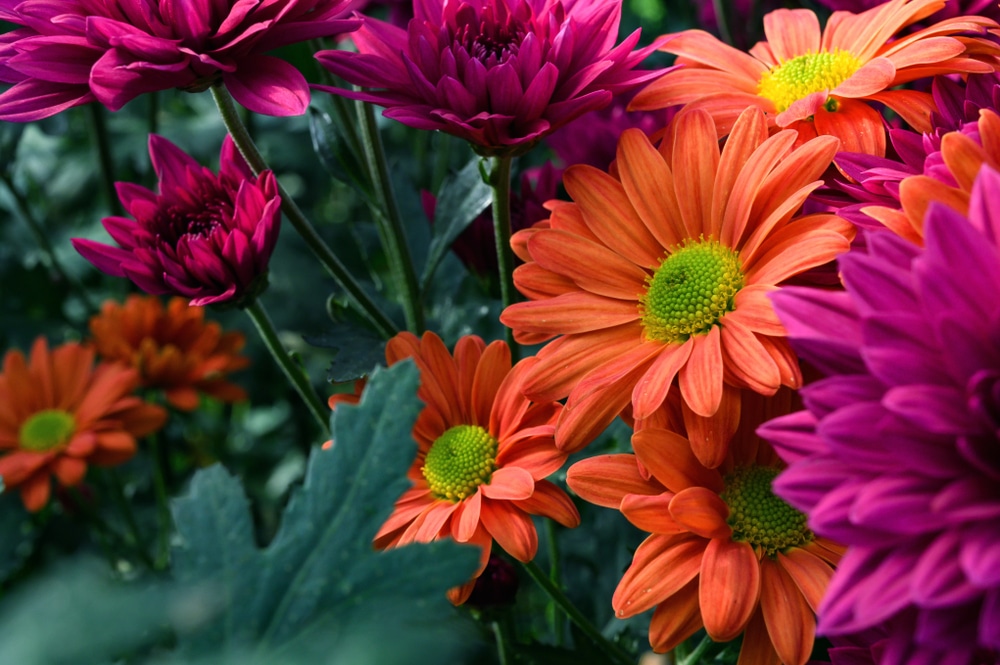 When choosing fall flowers, you really are spoiled for choice. The options are endless, whether you want bright and bold blooms or something more discreet. Below, I've compiled a list of some of the best fall flowers for your garden. I'll also provide you with some helpful care tips for each plant. 
1 – Chrysanthemums (Mums)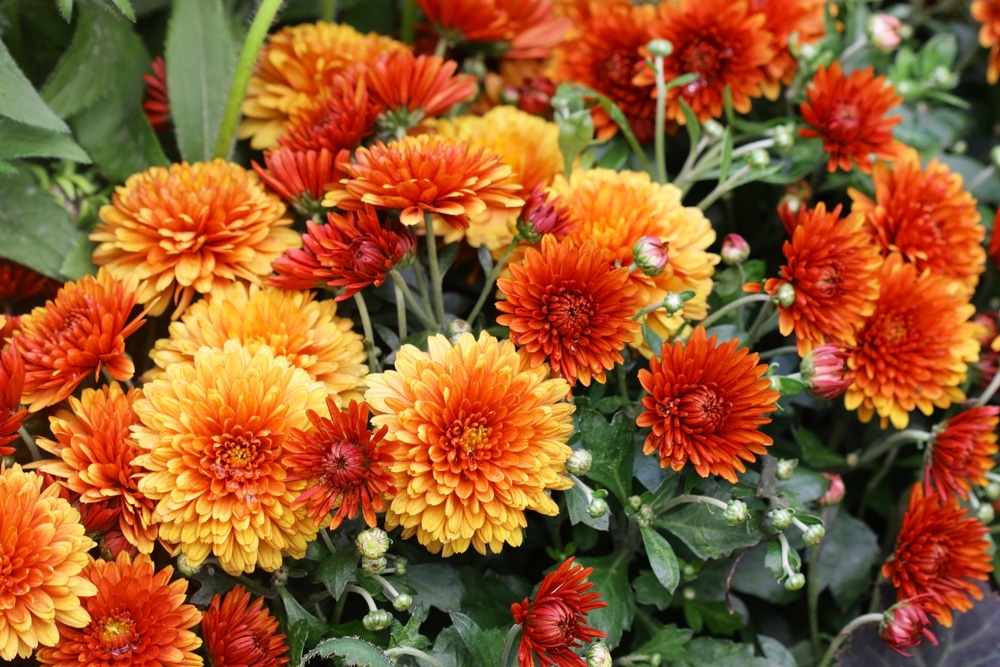 Mums are an excellent choice for the fall garden because they come in many varieties, each boasting brightly colored flowers in yellow, red, orange, white, and purple. I recommend choosing a plant that hasn't already started to flower, as it can handle the stress of you transplanting it much more easily. 
Chrysanthemums typically grow best in hardiness zones 5 to 9, and it's essential to water them well once you've planted them. They must be in well-draining soil, prefer a sunny spot, and are an excellent replacement for fading summer annuals. 
That said, you can also plant mums in containers on the patio, and they'll often continue blooming until the first frost. After this, you can cover the soil in mulch to protect the plant over winter, although many chrysanthemums are short-blooming annuals. 
2 – Sweet Alyssum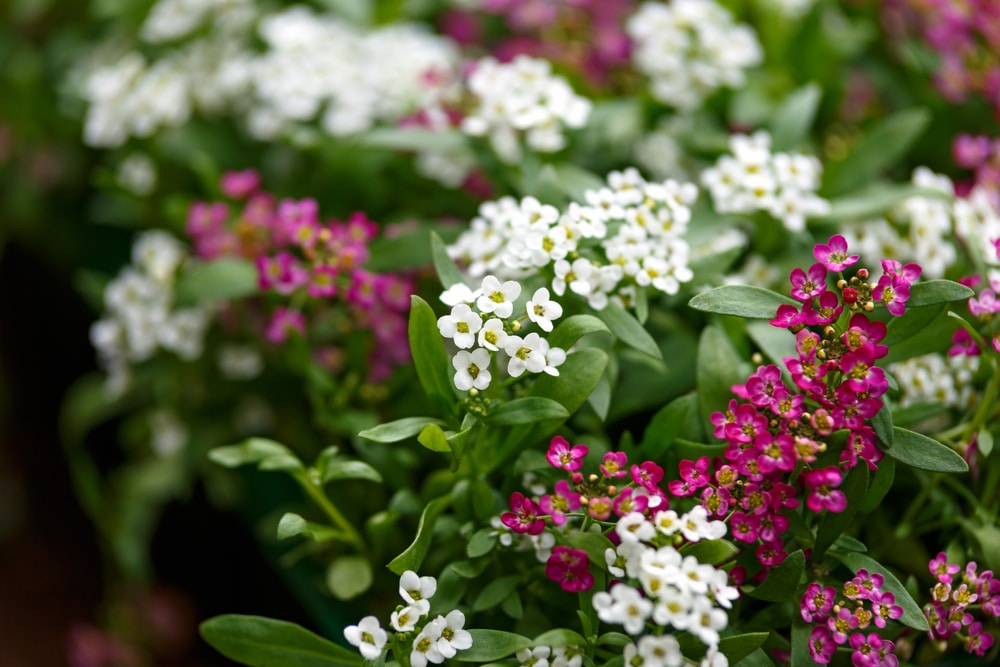 Sweet alyssum is an excellent fall garden plant for people who want something delicate looking. It'll first flower in spring but will die back a little as the weather heats up. If you want it to rebloom in fall, it's vital that you cut the plant back in summer. 
With masses of delicate white to gray flowers, sweet alyssum is great for borders. It needs to be in full or partial sun but will grow in various soil types as long as it's well-draining and not too moist. 
Offer an inch of water every week but be careful not to overdo it, as overwatering these plants can be fatal.
3 – Aster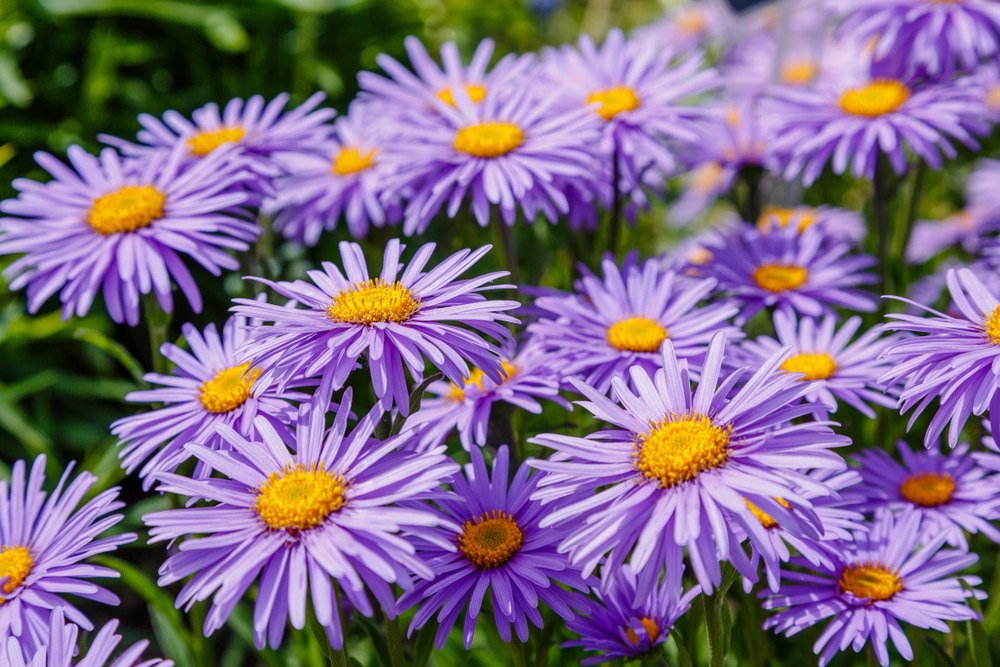 Asters are fantastic for the fall garden for many reasons. They provide a late food source for pollinators, but they're also ideal in warm and cool climates. They boast pretty flowers with long petals and a brightly colored center, so they look fantastic. 
Be careful not to soak the flowers or leaves when watering, as asters can be sensitive to mildew. Otherwise, they're easy to care for, especially in a container with well-drained soil. Be sure to choose a bright location with at least six hours of direct sunlight daily.
4 – Russian Sage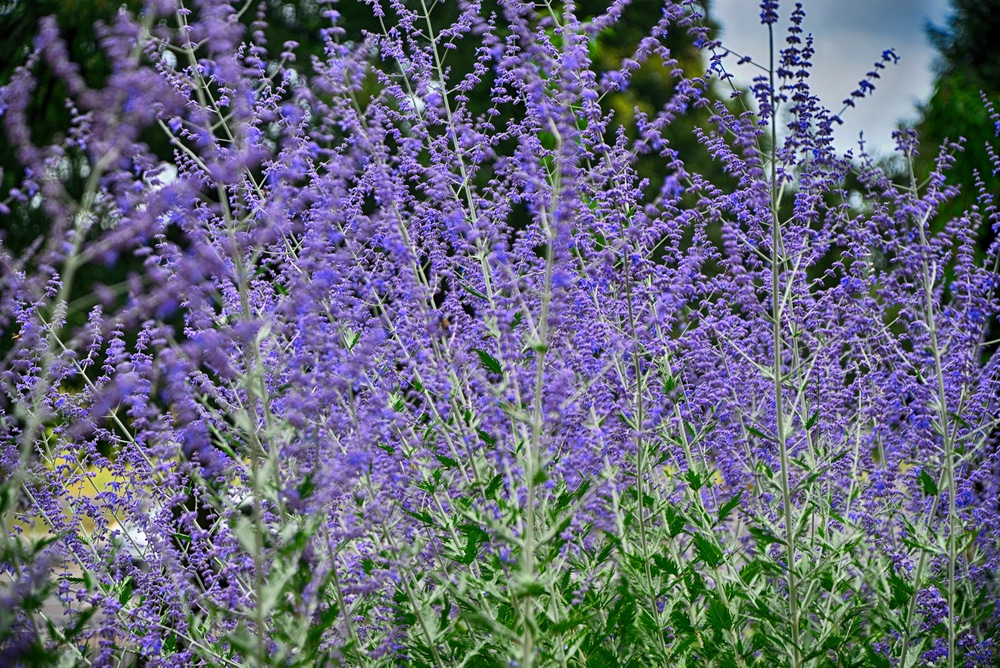 Russian sage blooms with beautiful purple/gray tubular flowers that come out mid-summer and last well into fall, making it an ideal choice for the fall garden. What's more, when crushed, the flowers are highly aromatic. 
If you want to grow Russian sage, keep in mind, it does best in zones 5 to 9, and you'll need to place it in relatively dry soil. These plants prefer a location with full sun. 
You'll need to heavily prune it in spring to get the best results with Russian sage. But that's all the maintenance you'll need to do because the rain will provide all of the plant's watering needs since it's a species that thrives in drier soil conditions. 
5 – Nippon Daisy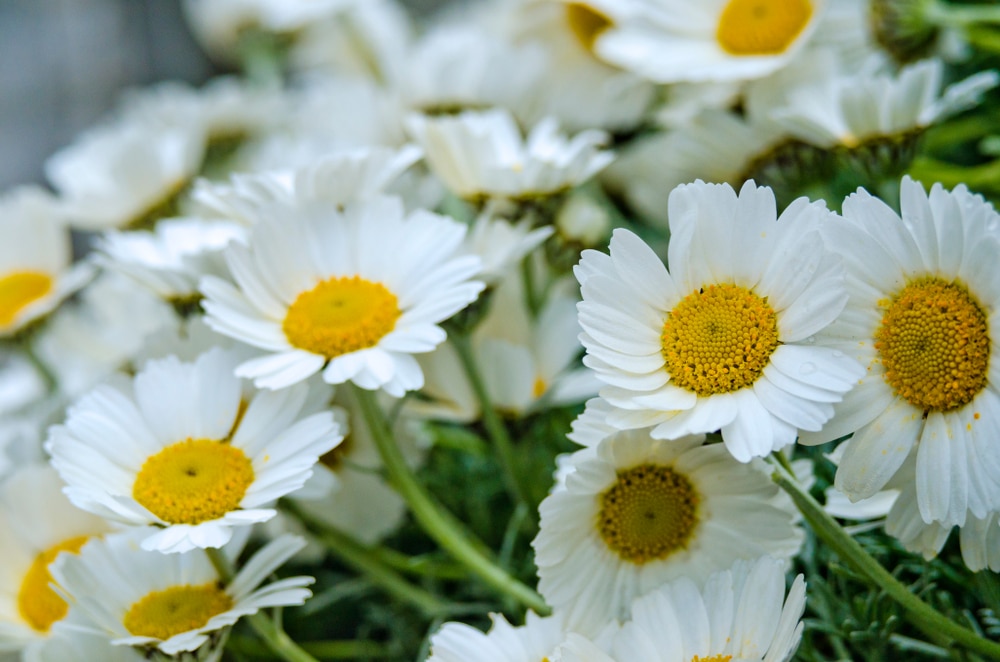 I love the Nippon daisy because it's great if you want to continue cutting flower arrangements in the fall since it lasts well. In the garden, it adds a delicate touch to pots and flower beds and will continue flowering well into the fall. 
But to get the most prolonged blooming period out of the Nippon daisy, you must stay on top of deadheading the plant. 
You can plant Nippon daisies at the beginning of fall or spring, but you should choose well-draining soil and a location with full sun. You won't need to water your Nippon daisies, as rainfall usually provides them with everything they need.
6 – Black-Eyed Susan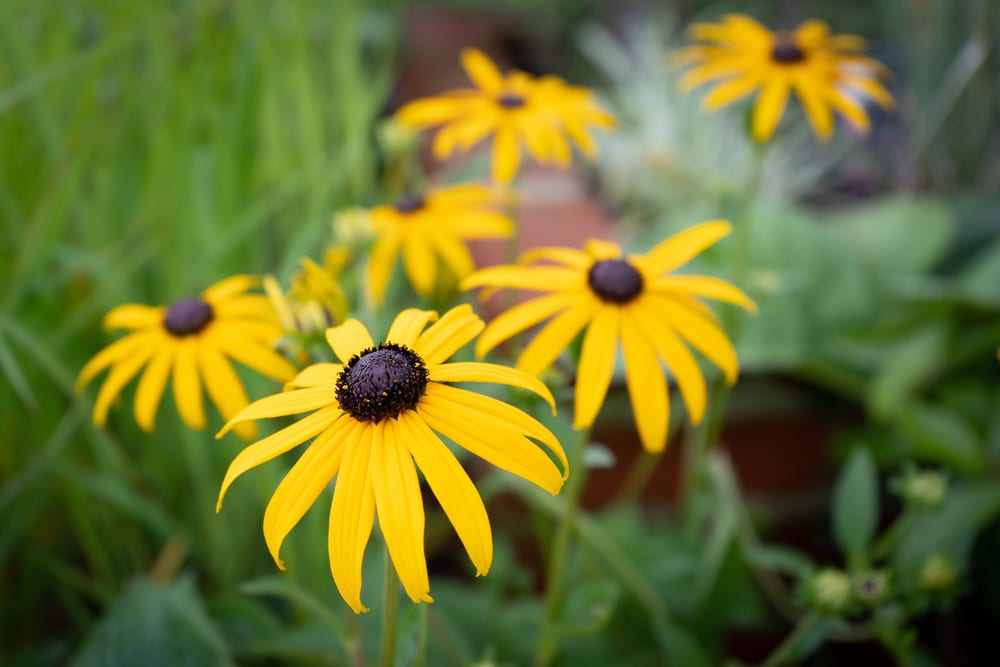 Black-eyed Susan is a bold-looking, rich yellow flower with a dark center. It's part of the Aster family. These plants are great for a fall garden because despite initially flowering in spring, they continue to bloom until October. 
They're also ideal as a pollinator plant and will provide a last important food source for bees preparing for winter hibernation. 
You can plant them in full sun or partial shade, and they come in both annual and perennial varieties. Black-eyed Susan is straightforward to establish since it naturalizes in most locations and doesn't require much care. However, I suggest regular pruning to encourage flowering. 
7 – Goldenrod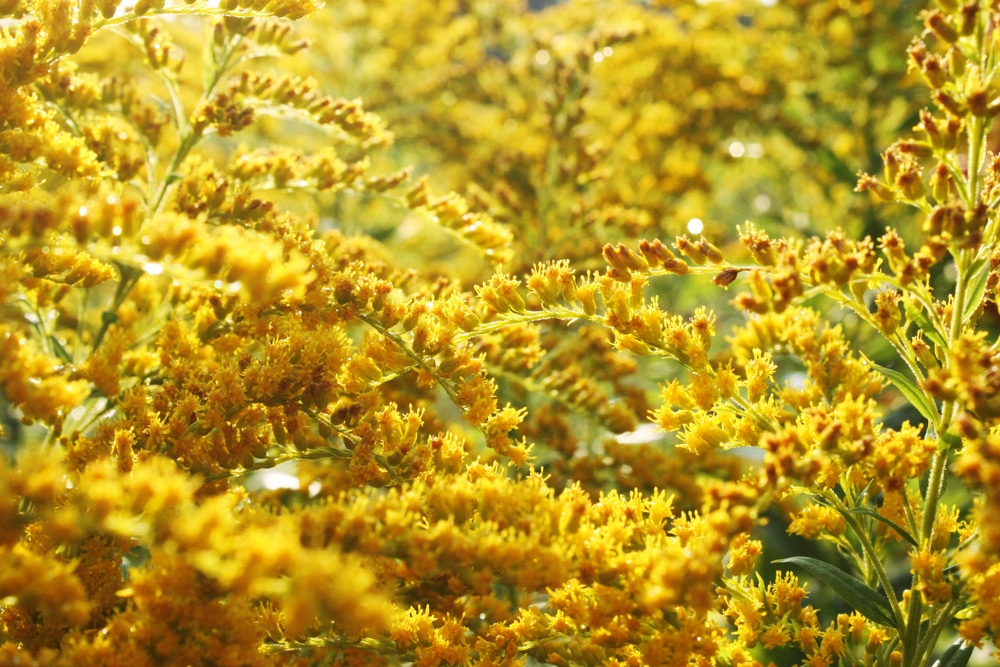 Goldenrod is an excellent choice for your fall garden because it starts blooming in late summer and continues through autumn. Moreover, the rich yellow flowers are a traditional fall color if that's the look you're going for.
I also like goldenrod because it's an excellent pollinator plant. Goldenrod is an important food source for bees and butterflies still flitting around in early fall. 
But what really caught my attention with this plant is that it's very low maintenance and doesn't require fertilizing or watering. Rainfall should provide all its moisture needs, but you must place the plant in well-drained soil in a sunny spot. 
8 – Marigold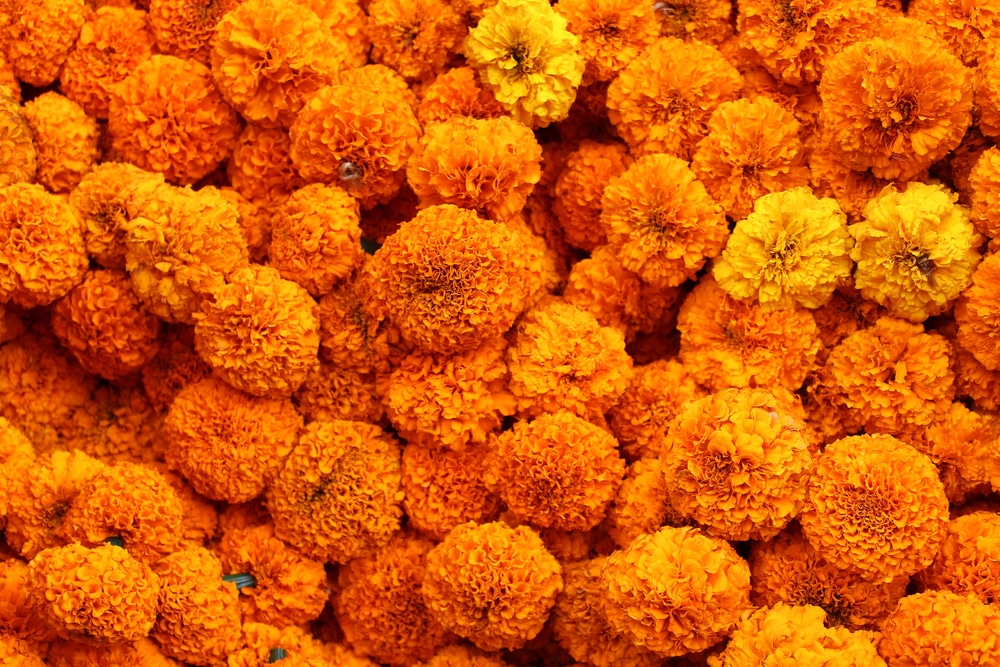 When growing marigolds for the fall, it's easy to grow them in pots because they don't have wide-spreading roots, so they don't need much space. Like chrysanthemums, marigolds are great for the fall garden as they'll continue flowering until frost. Moreover, they're incredibly sturdy plants that don't need much specialist care. 
That said, if you want these rich orange flowers to keep blooming, you will need to regularly remove the dead heads. 
Sellers typically sell marigolds as annuals. However, in some cases, they may self-seed and return the following year.
When caring for marigolds, plant in spring for flowering throughout summer and fall. You'll need to place the plant in a position with full or partial sun and give it an inch of water every week. 
9 – Autumn Crocus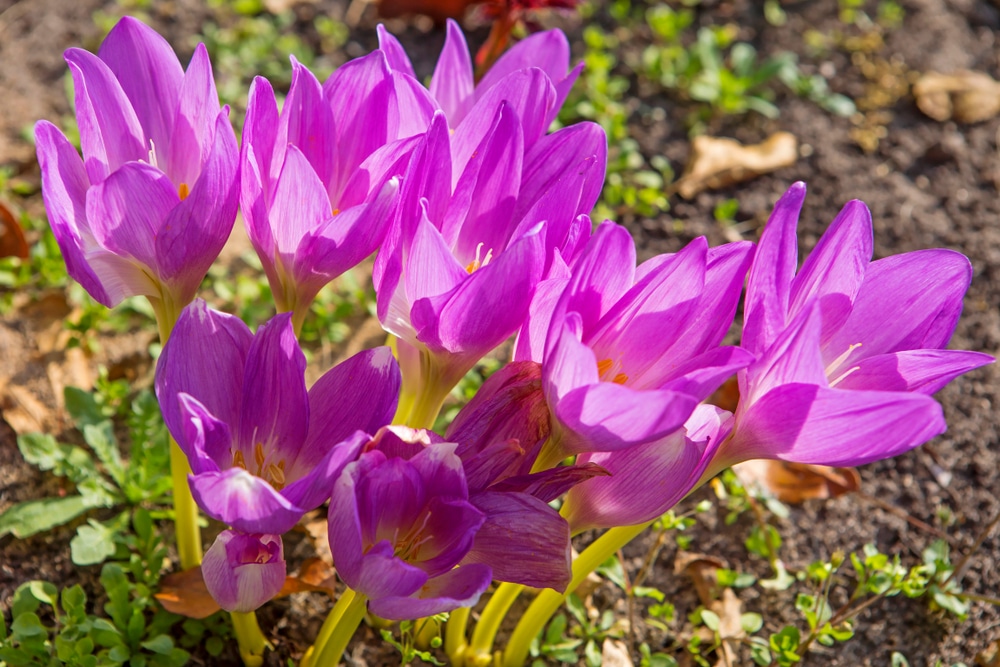 This plant's name tells you it's an excellent choice for a fall garden, but you'll need to remember that it grows in two stages. 
Plant the bulbs at the end of summer, and you'll get late purple fall blooms. However, you'll notice no foliage because these plants only grow this during summer. They die back before the flowers appear in fall. 
Autumn crocus requires rich soil and thrives better when you plant it in the ground than in a container. Since the flowers are delicate, it's best to place autumn crocus below other low-growing plants for shelter and protection. Once the plant is established, it needs no extra care. 
10 – Violet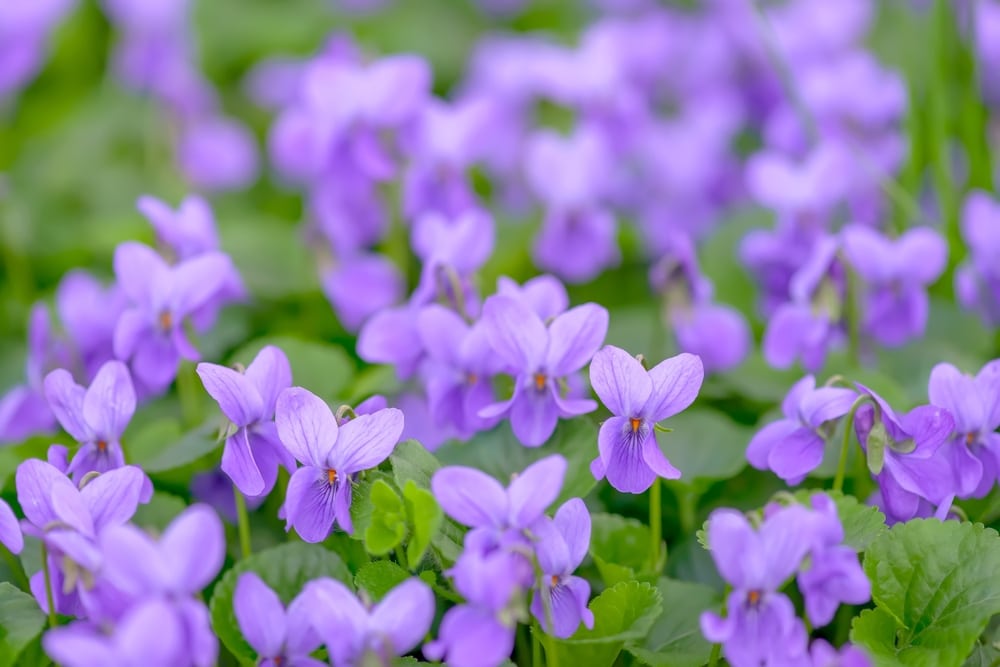 Violets are pretty purple flowers with five petals, excellent if you're for ground cover. But they don't often do very well during the summer, making them perfect for a fall garden since they'll bloom during the cooler season. 
If you want to grow violets, know they do best in zones 3 to 8, and you should plant them in full sun. These flowers are pretty sensitive, so the soil conditions must be right. Keep the soil moist and nutrient-rich, which you can help by using fertilizer in late summer.
11 – Cockscomb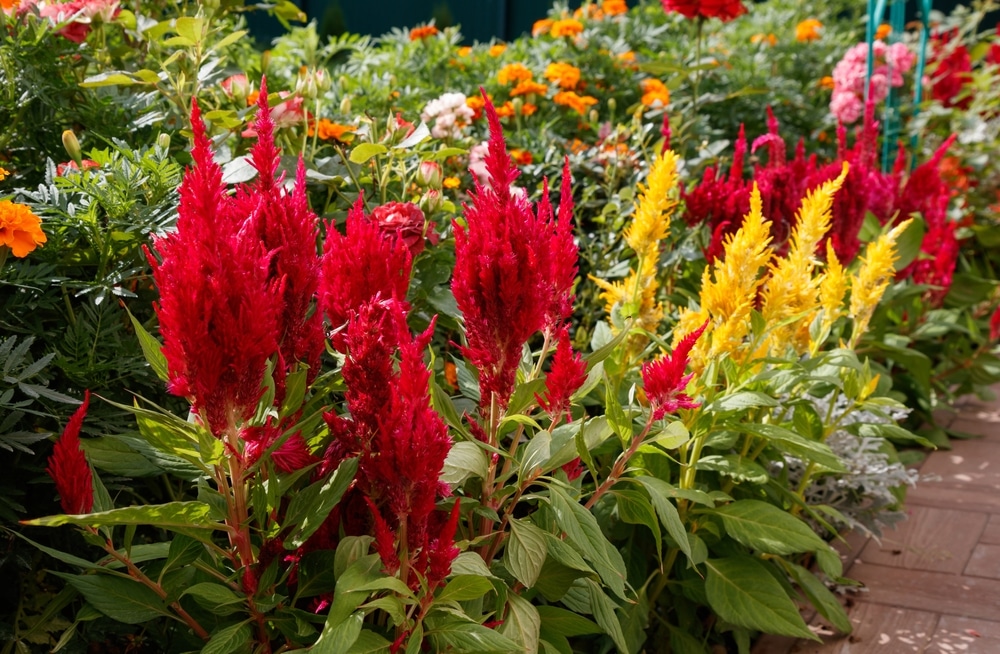 The deep burgundy color of the cockscomb flower adds some real character to a fall garden. This flowering plant also has a unique feathery appearance and will continue blooming until the first frost. 
You should start cockscomb indoors around six weeks before spring's expected last frost date. You can then transfer it outdoors in moist soil in a sunny position so it's ready for flowering around the end of summer. 
However, you need to be careful about how much water you give your cockscomb because the plant is sensitive to root rot. Aim to keep the soil moist but not soggy.
12 – Petunia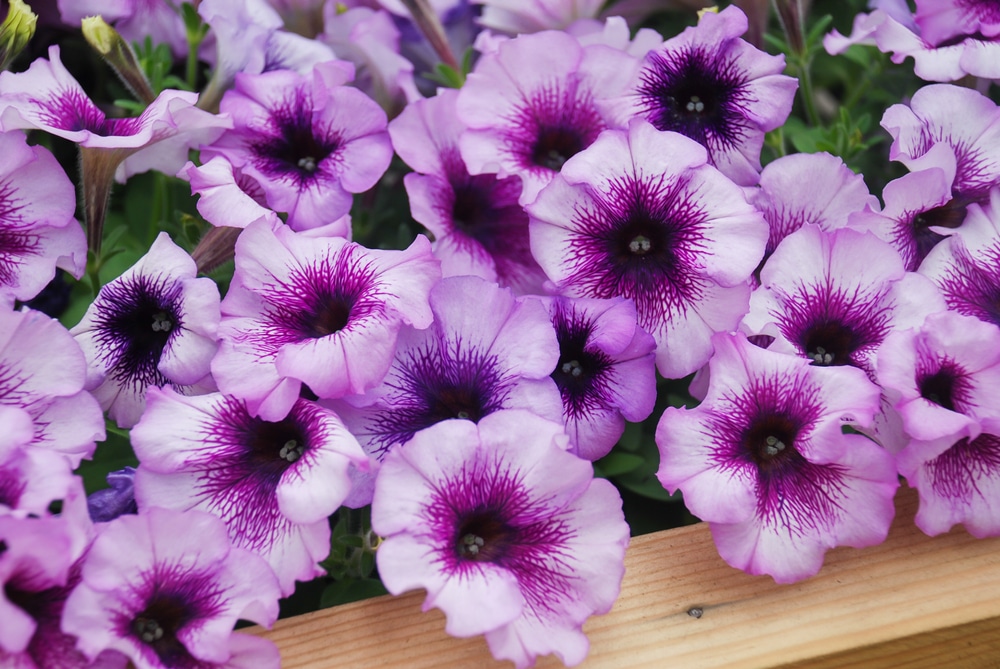 Petunias come in a wide range of colors and boast delicate funnel-shaped flowers. These plants start blooming in spring and continue through fall, right up until the first frost. However, you may notice the growth slows down in summer, which is normal.
If this does happen, prune the plant back to encourage an impressive flowering period in the fall. 
Petunias do best in zones 10 and 11. Plant them in rich, well-draining soil. They can cope with full or partial sun but need at least an inch of water every week. 
13 – Bluebeard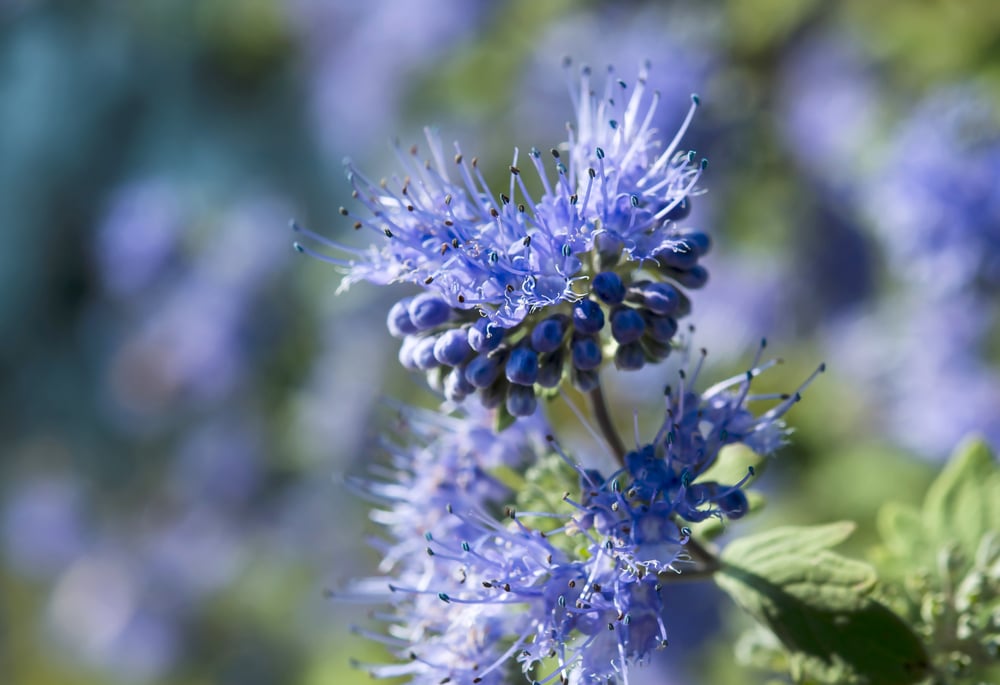 One thing you should remember about bluebeard is that it will only flower in the early fall. However, I still think it's a viable option as it's a great way to get your fall garden going. 
You'll sometimes hear this plant called blue mist, which boasts delicate royal blue flowers that are highly fragrant. 
A degree of special care is involved with growing bluebeard because the plant is very sensitive to overly moist soil. So, choose well-draining soil and a position in full sun. 
While the plant is drought tolerant and won't need any supplementary watering, you should deeply water it in arid periods until the soil is moist. However, allow this to dry out completely before watering again. 
14 – Red Salvia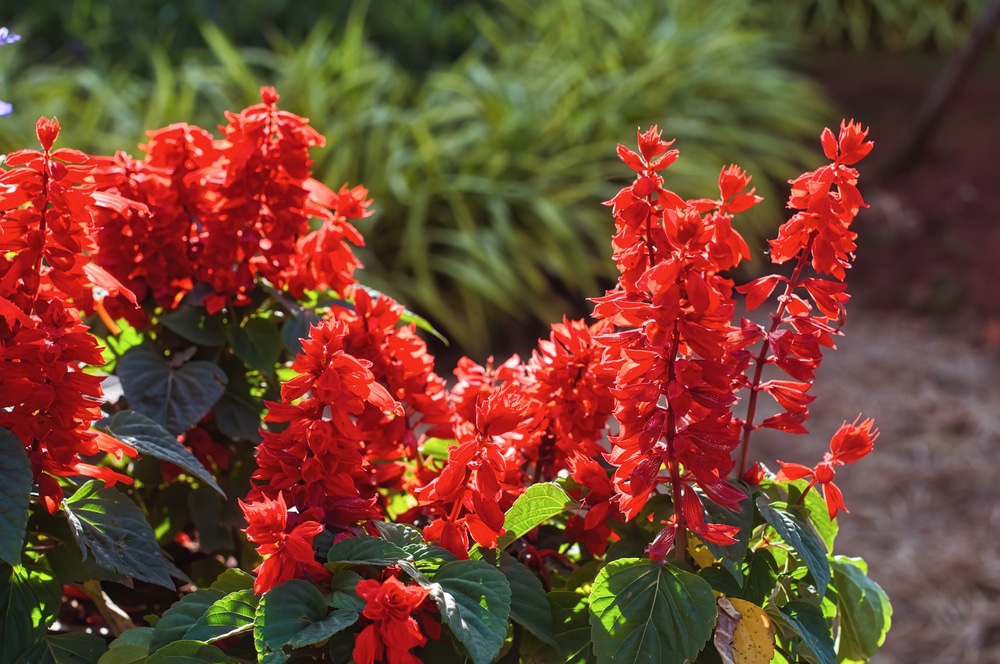 Red salvia is a beautiful addition to the fall garden primarily because of its bright color, adding some character after summer. Moreover, while it'll start blooming at the beginning of June, these hardy plants will continue flowering until the first frost. 
However, it's worth noting red salvia grows best as a perennial in zones 10 and 11. Outside of these zones, you can grow it as an annual or move it indoors during the winter.
Red salvia needs a sunny spot, and you should plant it in moist, well-drained soil.
15 – Joe-Pye Weed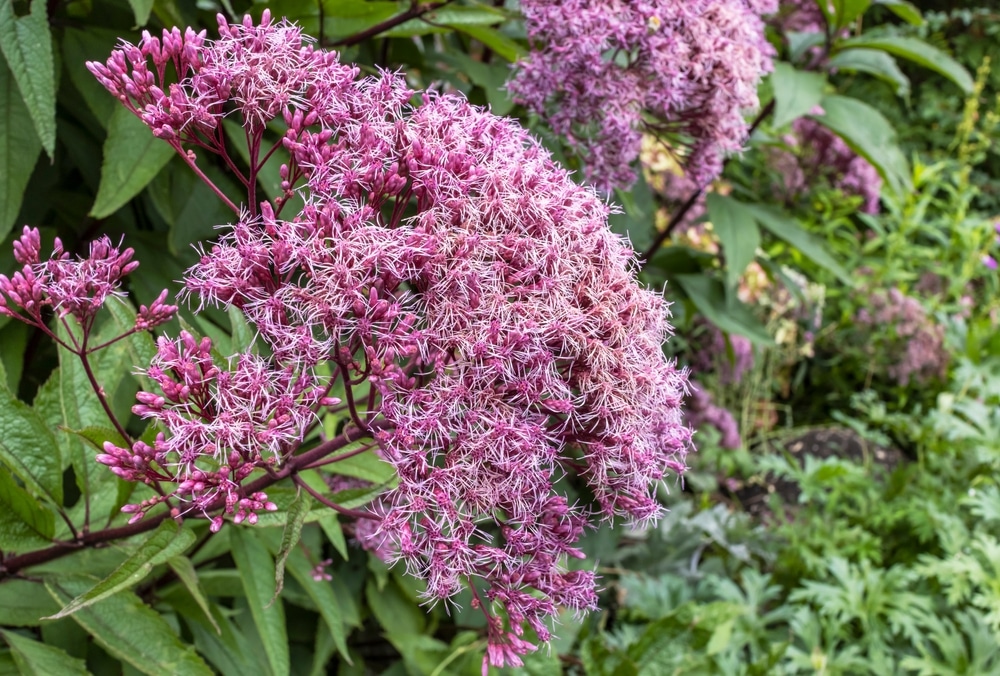 Despite its name, Joe-Pye weed isn't a weed but a beautiful flowering plant that forms clusters of purple and white flowers. It begins flowering in early fall and boasts a lovely vanilla scent, which I think really adds something unique and pleasant to your fall garden. 
Growing Joe-Pye weed is relatively low maintenance, but you should keep in mind that it's a wide-spreading plant, so make sure to give it plenty of room.
If you want to ensure the plant does well in its second year, then it's imperative to cut it back at the end of fall. 
16 – Nasturtium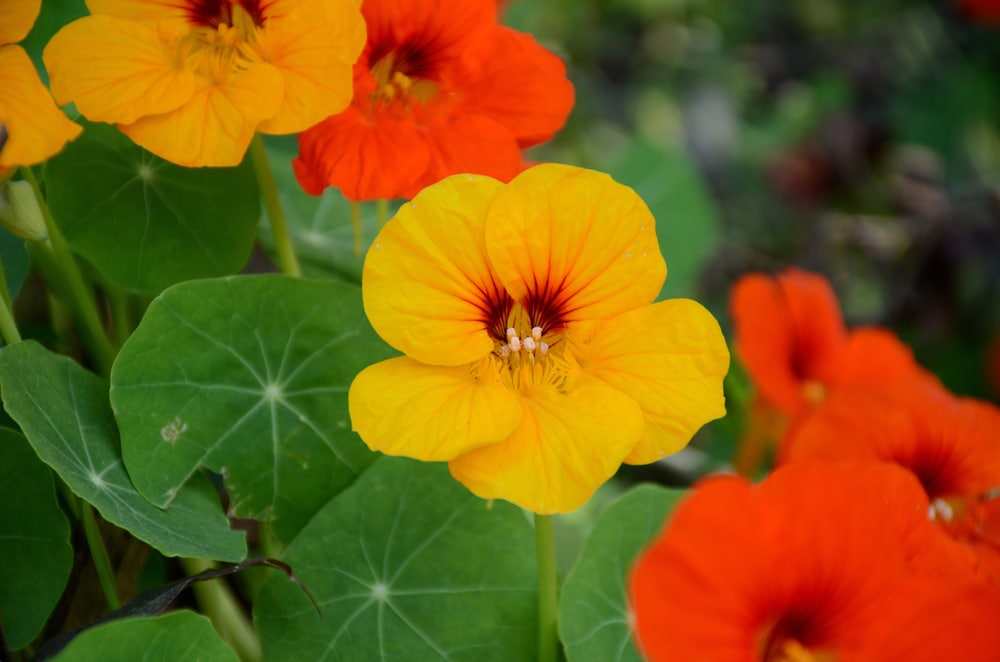 Nasturtiums come in many varieties that produce cream, red, orange, or pink flowers. Moreover, different varieties grow in different ways, from climbing to trailing. Some are even bushy. 
They're great for a fall garden because they're incredibly low maintenance, so if you've had enough hard work in the summer, you won't need to worry about your nasturtiums. 
Once established, these flowers are pretty drought-tolerant and will continue flowering well into September. Of course, they need some water, but you only need to add an inch or so when the soil feels dry to a depth of 5 cm (1.97 inches). 
Plant nasturtium in the ground or containers, and ensure it gets plenty of sun.
17 – Snapdragon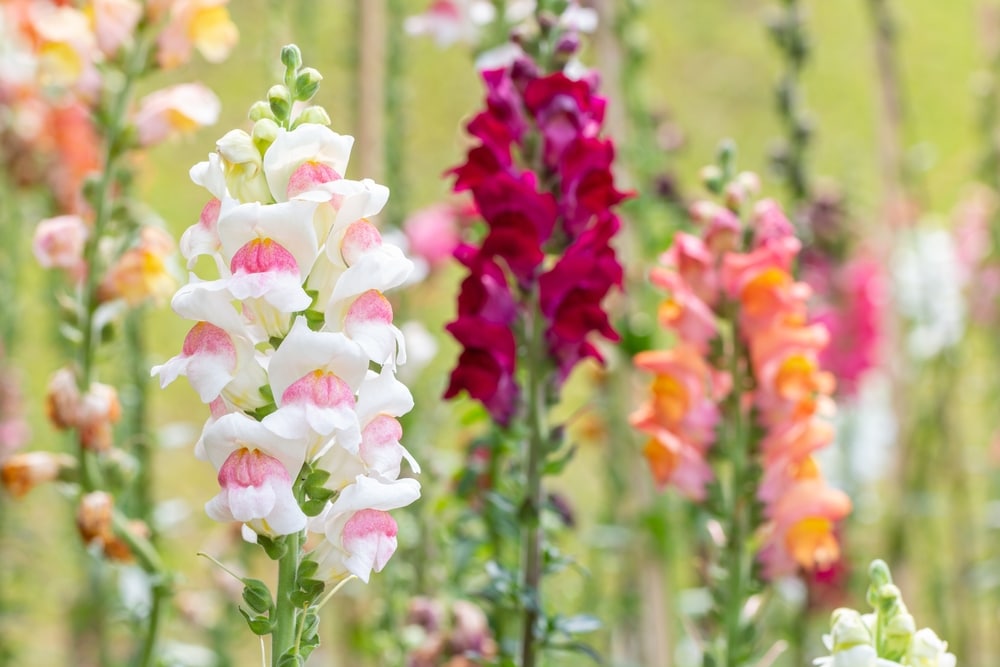 I think snapdragons are one of the most beautiful fall flowers. Snapdragons come in various colors, including pink, white, red, orange, and yellow, so there's something for every taste.  
They flower from spring until fall. If you care for them well, they'll often continue to bloom until the first frost. 
Moreover, in scorching climates, snapdragons don't grow as quickly in summer but will pick up the pace once fall comes around. 
Caring for these plants is easy if you place them in rich, well-drained soil in a sunny spot. You will need to keep the plant well-watered until it's established. After this, just add a little water once the soil is dry to a depth of 5 cm (1.97 inches). 
18 – Autumn Joy Stonecrop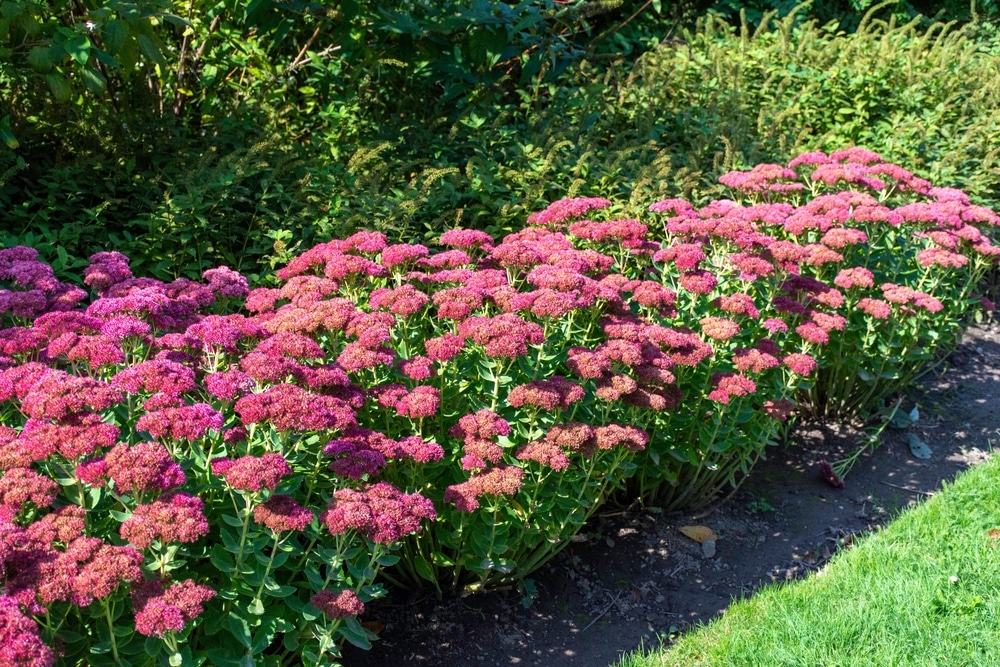 If you're looking for a plant requiring little maintenance and is exceptionally hardy, autumn joy stonecrop is the perfect addition to your fall garden. It boasts beautiful clusters of pink to red flowers and will thrive in various conditions. 
That said, for the best results, you'll want to plant autumn joy stonecrop in sandy soil and give it full sun daily. You won't need to water this plant as it's very drought-tolerant, but in extreme conditions, an inch or two of water every fortnight is more than enough. Too much water can cause root rot. 
You'll need to plant autumn joy stonecrop in spring for the most abundant fall blooms. 
19 – Pansies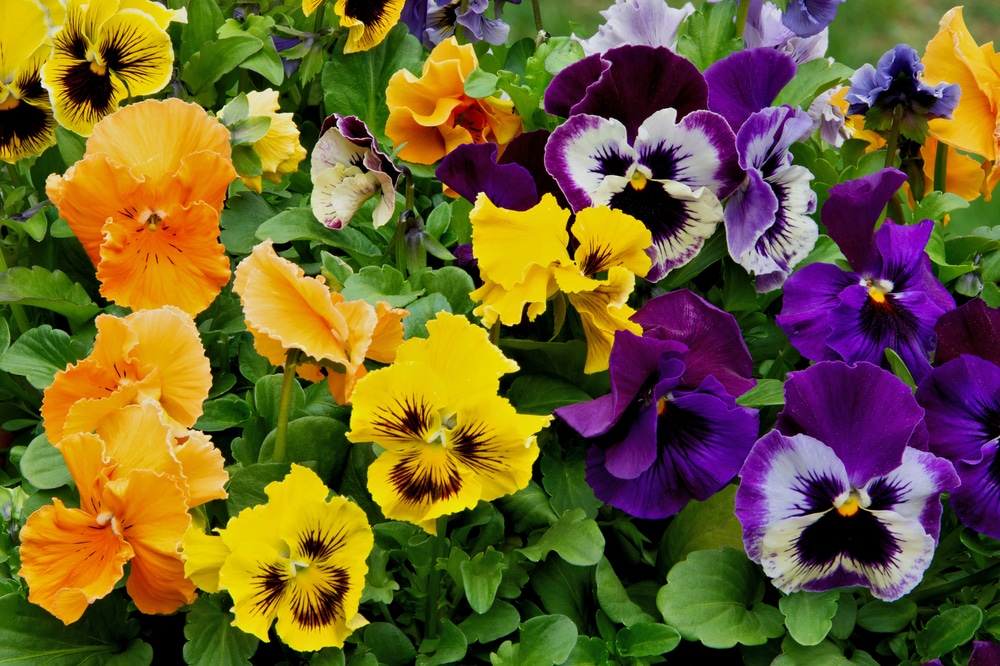 Pansies are one of the easiest fall flowers to care for, so they're great if you're just starting a fall garden. They require nutrient-rich soil and regular deadheading, which keeps them blooming. They are otherwise pretty low maintenance. 
Pansies come in various colors, so you can choose something that fits your garden's theme. Moreover, the flowers look like little faces, so they're definitely a talking point. 
Pansies require consistent watering. Keep the soil moist, especially in dry periods. 
20 – Blanketflower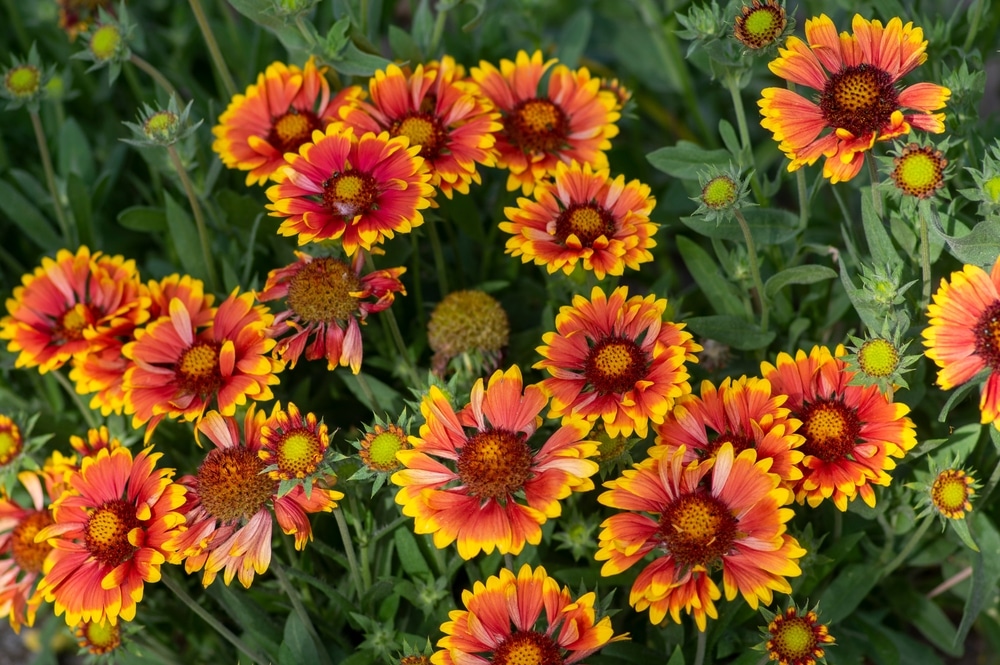 Blanketflowers are a wonderful addition to your fall garden because they bloom right through the season. Moreover, these boldly colored flowers can grow up to 4 inches across, so they make a great showpiece. 
Blanketflowers initially flower in spring, but it's common for them to die back a little in summer. This is the perfect time to cut it back and encourage those beautiful fall blooms. 
Blanketflower likes well-draining soil containing a moderate amount of moisture. Plant it in full sun. This species tends to do better in hot climates and is very drought-tolerant. 
21 – Sneezeweed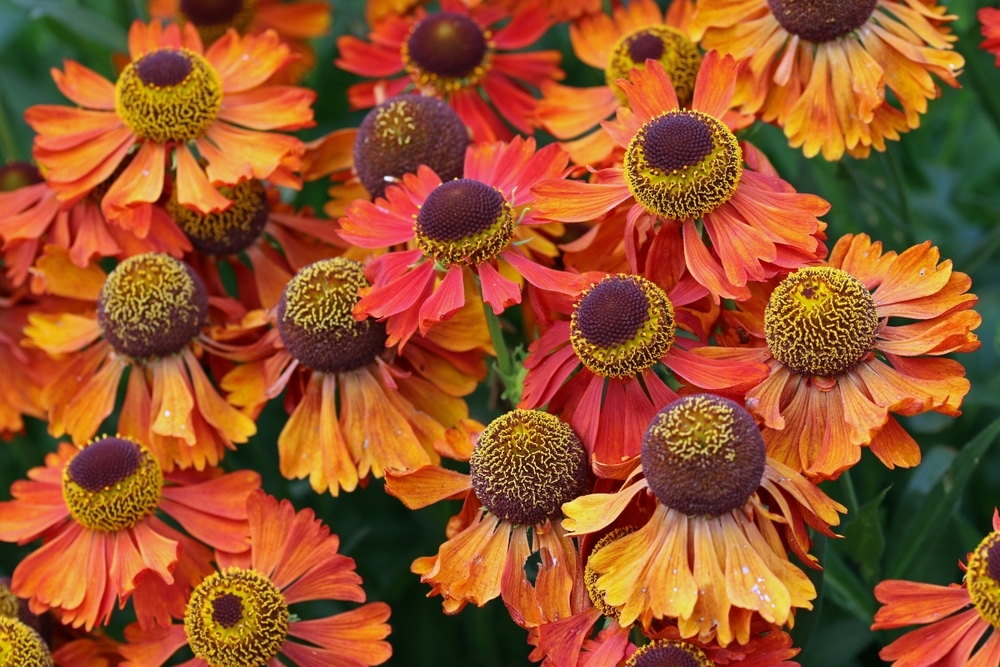 Sneezeweed produces an abundance of yellow flowers in the middle of summer. The flowers last until the first frost. Being a wildflower, sneezeweed is perfect if you want a more natural look for your yard. 
To take care of sneezeweed, you'll need to moderately prune it around six weeks before it blooms, encouraging the most healthy display of flowers. Choose a site open to rain, which will provide most of the plant's water needs. Just make sure it's in full sun. 
Despite its name, having sneezeweed in your garden isn't going to make you sneeze (unless you have allergies). The name comes from the fact that people used to crush the petals to make snuff. They inhaled them, causing sneezing, and were said to get rid of evil spirits!
22 – Sunflower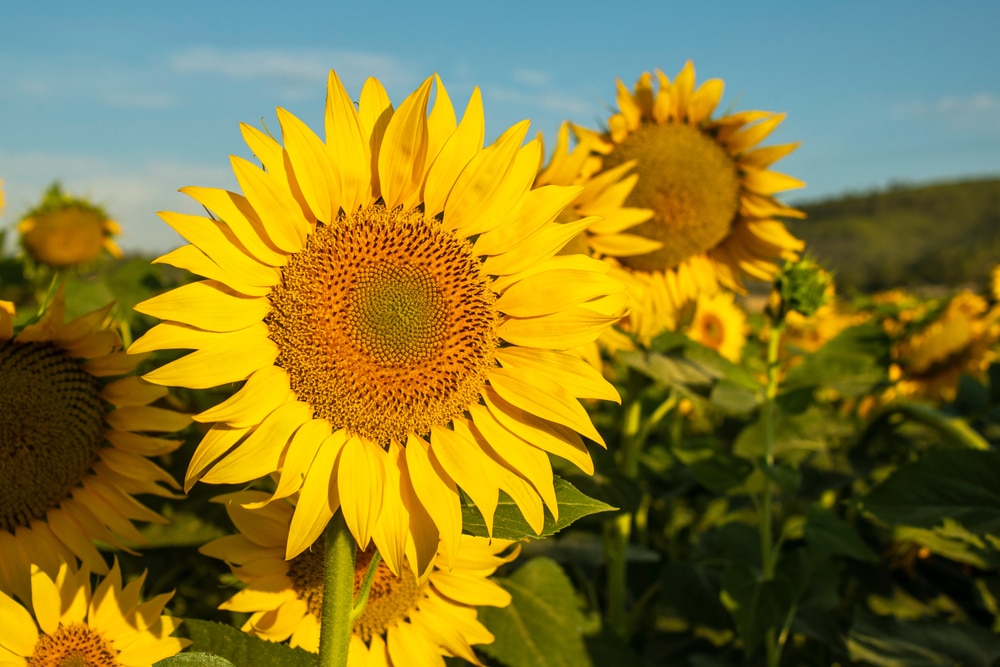 Many would agree the sunflower is one of the most iconic fall flowers, so it would be criminal for me not to include it on this list. These huge plants can grow up to 16 feet in height but don't have a wide spread, so they are still suitable for smaller gardens. 
You can start sunflowers from seed in the early spring, and they'll typically deliver their showstopping yellow flowers at the end of August. 
They like a position in full sun and require moist yet well-drained soil. The seeds are easy to harvest, so you can plant these annuals again the following year.