Sharpening your chainsaw is an unavoidable chore if you want it to do a decent job of cutting.
Getting the cutters or teeth suitably sharpened can be a real hassle if you haven't got the right tools.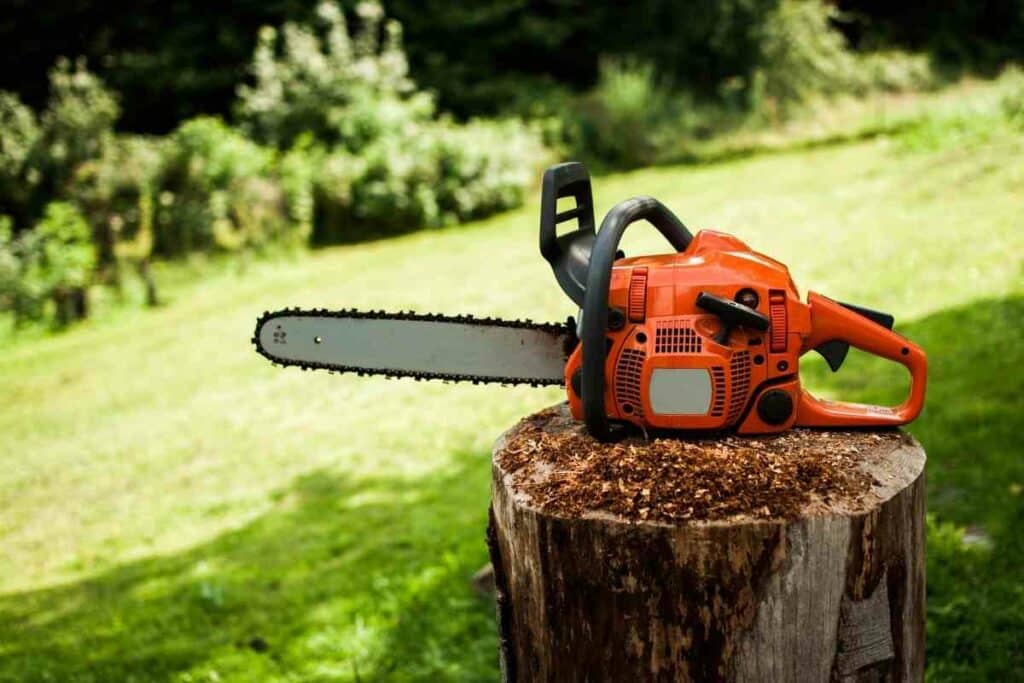 Thankfully, help is on the way with innovative chainsaw sharpening tools that are simple to use and deliver great results. 
In This Guide – We share three of the best chainsaw sharpening tools along with how to sharpen your chainsaw and tips and tricks to keep your saw in tip-top condition. 
Benefits of keeping your chainsaw sharp
Sharpening your chainsaw is one of the best things you can do to keep it operating well (storing your chainsaw the right way is another one).
Neglecting chainsaw sharpening will diminish its performance and limit its lifespan.
A sharp chainsaw cuts more safely and puts less strain on the motor, powerhead, sprocket, and guide bar.
Cuts are cleaner and require less effort from the operator.
And, of course, the chain itself remains in better condition.
Keep your chainsaw in great condition with the best chainsaw sharpening tools 
A decent chainsaw sharpener will help get your chainsaw cutters properly sharpened.
Tools that hold your chain correctly, file the cutters, and level the rakers make the job easier and reduce the potential for mistakes.
Here are some things to look out for when selecting sharpening tools.
Manual vs electric chainsaw sharpening tools
Basics hand tools like files require time-consuming manual work, whereas electric tools work more quickly and require less effort.
However, manual tools are more portable, can be used in the field, and allow more control.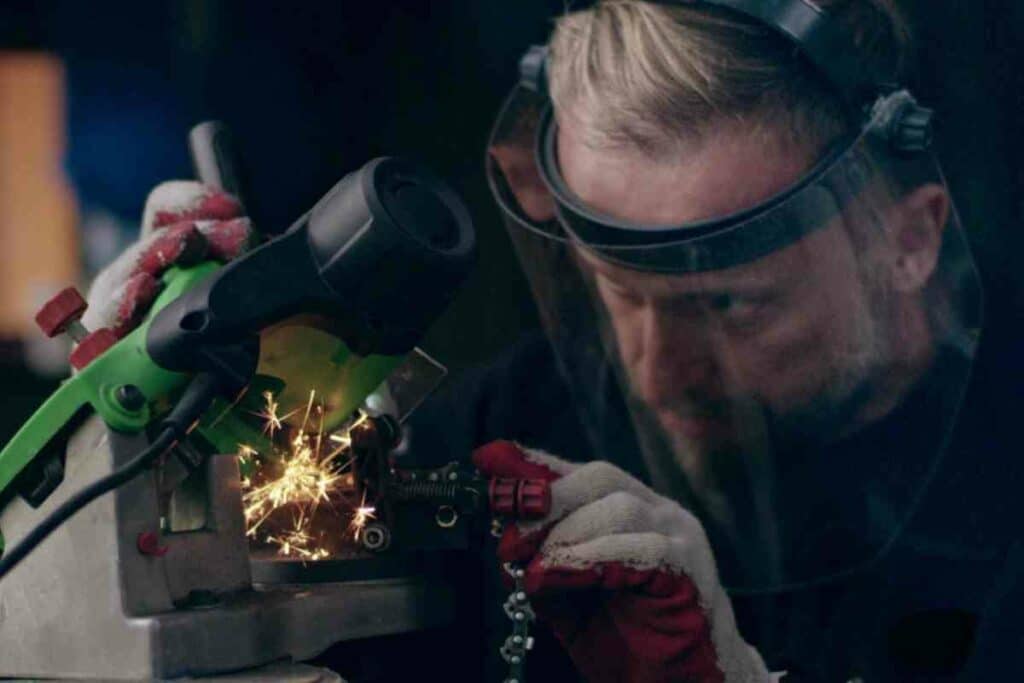 Portable chainsaw sharpening tools
If you are cutting trees for a prolonged period and need to sharpen your blades away from your workshop, a portable sharpening tool is going to be necessary.
Most portable chainsaw sharpening tools are manual, but some electric models are available that can run off a battery.
Adjustability
Getting the height and angle of measurements of the cutters is vital for correctly sharpening the chainsaw.
Look for tools for the precise measurements of your brand of chainsaw, that you can adjust through a range of tooth heights and angles.
3 best chainsaw sharpening tools
1 – Stihl 2 IN 1 EASY FILE CHAINSAW SHARPENER
Specifications
Material: Plastic and metal 
Dimensions: 1.14 in x 3.22 in x 1.9 in (2.9 cm x 8.2 cm x 4.8 cm)
Weight: 12.3 ounces (349 grams)
Description
Chainsaw experts Stihl have shown that the best solutions are usually the simplest ones with this ingenious 2-in-1 file that can sharpen the cutting teeth AND level the depth gauge!
This handheld manual tool completely bypasses the hassle of filing your chainsaw as its single action, significantly reduces the time you'll spend on chain maintenance.
Stihl has configured the sturdy frame for the height and angles of specific chainsaw cutters and accurately and smoothly files the chain.
Choose a file for saw chains that include 1/4″ P, 3/8″ P, .325″, 3/8″ and .404″. You can quickly replace the round and flat files when needed. 
Pros
This chainsaw sharpener is extremely simple to use. Fool proof!
The sharpener is lightweight and portable, so you can easily keep your chainsaw sharpened in the field
The owners of this file love the fabrication quality of Stihl products
Cons
You must get the correct file size for your chainsaw – check the manufacturer's manual before ordering your file
2 – QZTODO Chainsaw Sharpening Jig
Specifications
Material: ABS and metal 
Dimensions: 5.91 in x 5 in x 2.99 in (15 cm x 12.7 cm x 7.59) 
Weight: 14 ounces (396 grams)
Description
This chainsaw sharpening jig is an effective tool for quick and simple portable chain grinding.
This jig sits over your chain with the precise positioning needed to ensure accurate and repeatable tooth placement. 
The jig is made from anodized aluminum and can be used for 12-inch to 20 inch chainsaws. 
This chainsaw sharpening tool grinds to a standard 30-degree front angle, using the detachable hand crank.
To grind the cutters, simply pull the tooth into position on the jig, position the pawl on the tooth and insert the burr into the jig's guide sleeve.
Turning the handle gets a perfect grind, with minimal effort and even results. 
Pros
This chainsaw sharpening tool is highly portable and can be used in the field
The crank action provides consistent sharpening results
This tool is handy for the spot grinding of damaged cutters
Cons
Some purchasers felt ‌this jig was not up to sharpening an entire chainsaw chain
3 – EzzDoo 3 in 1 Electric Chainsaw Sharpener Kit
Specifications
Power: 150 watts
Voltage: 110 volts
Motor: up to 35,000 rpm
Dimensions: 13 in x 6 in x 3 in (33 cm x 15 cm x 7.6 cm)
Weight: 1.4 pounds (635 grams)
Description
If speed and power are your thing, but you still want the portability and control of a handheld device, this power chainsaw grinder is an ideal tool for your kit.
You will get your chain razor-sharp in minutes with this 150W high power sharpener that has 6 speed gears and speeds of up to 35,000 rpm. 
The soft rubber grip makes the grinder easy to hold and absorbs vibrations and shock so that you can control the tool properly.
The titanium-plated sharpening bits can be oriented correctly using the angled metal guide. 
Pros
Compact and super simple handheld device for getting your chainsaw cutters ground properly
A power tool is quick and requires much less effort
Cons
You have to get the bit size or angling right by hand, or you could significantly damage your chainsaws teeth
How to sharpen a chainsaw
Getting your chainsaw sharp does require effort, but with the right tools, it need not be a hassle.
There are three key stages to getting your chainsaw up to scratch:
setting the file
sharpening the cutters
filing the rakers.
Let's run through the key steps.
[A] Setting the file
Get the basics right with decent eye protection, mask, and gloves when handling and filing the chainsaw. Work in an area with good lighting and a worktop and area that is free of obstacles.
For safety and effectiveness, you need to secure your chainsaw to a suitable work surface with a clamp or vise for filing. If the whole chainsaw cannot be secured, remove the chain and work on that instead. 
Once clamped, the chain needs to be tightened for filing with the tension-adjusting screw on the chainsaw. Make the chain tight, with just enough give to be moved around the chainsaw with a little effort.
As a reference, mark the first tooth of the chain with a permanent marker, so you know where you have filed. 
Grab a round file with an identical diameter to the chainsaw's teeth. The manual of your chainsaw usually tells you the size of your saw's chain, which is usually between  3⁄16 inch (4.8 mm), and 7⁄32 inch (5.6 mm) in diameter.
Orienting the file is essential for correctly sharpening the cutters that face alternating directions. A file holder can help you get the correct direction and angle (usually between 25 and 35 degrees) of the file. 
[B] Sharpening your cutters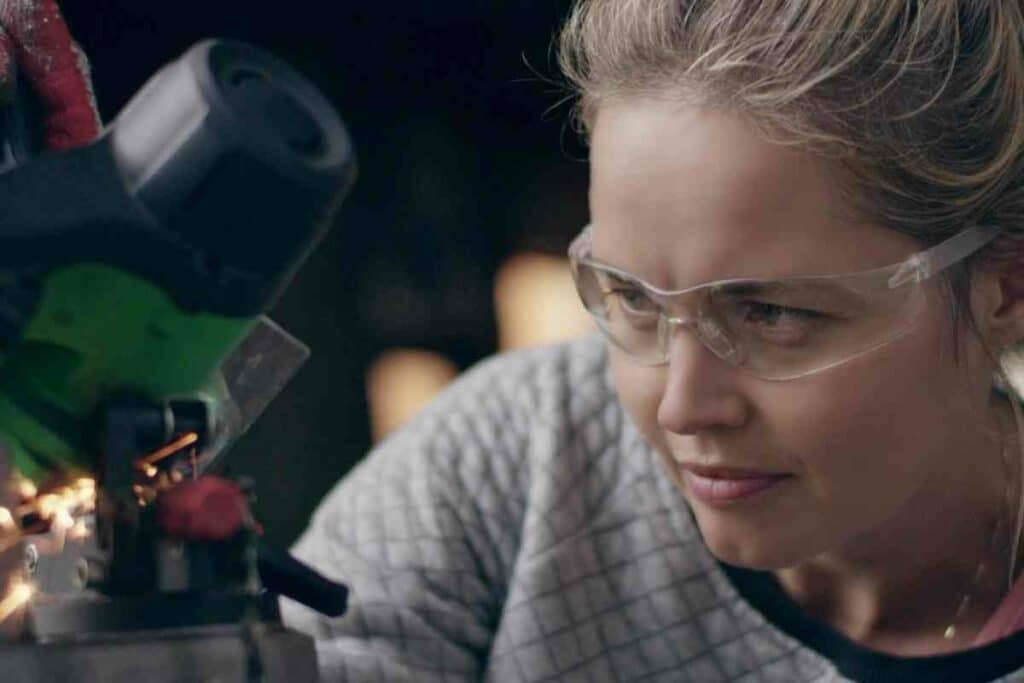 File the cutter by moving the file across its face, keeping it level and flat as you push it through the cutter. File in the forward direction only between 5 and 10 times. When the cutter is sharp, it should be shiny.
File alternate cutters beginning at your marked starting point. Each cutter should be filed the same number of times. Blow away any metal shavings.
Rotate the chain to access further teeth until all the cutters facing one direction have been done.
Once you have filed the cutters in one direction file the alternate cutters in the same way, for a balanced job. Flip the chainsaw 180 degrees and work on the alternate cutters in the same way.
[C] File the rakers
Rakers are the depth gauges on your chainsaw, making sure that the saw cuts the right amount of wood.
Leveling them helps to maintain the best cutting performance.
Take a depth gauge to ensure that the rakers are at the right height. 
Place the depth gauge over the chain and push it up against a raker.  There should be any raker above the top of the depth gauge. Rakers sitting higher need to be filed down.
Level the raker with a flat-file. 
Gently smooth off any squaring of the filed edges of the rakers you file. 
Check and file alternate rakers where necessary, working around the entire chain. 
Blow off any metal shavings.
Loosen the tension and remove the chainsaw from its clamp. It should be visibly sharp and ready to use.
Take a look a look at how it's done in this excellent video by‌ Mr Wranglerstar:
Frequently asked questions for the best chainsaw sharpening tools
How can I clean my chainsaw chain before filing it?
Before filing your chainsaw, you'll need to clean it up.
Dirt, grime, grease, and tree sap build up on the chain and its blades, creating a hot mess, but a clean-up is straightforward with the right cleaning agents.
Here are two popular options.
Cleaning a chainsaw chain with water and ammonia 
Grab your gloves and eyewear and secure your chainsaw like you are going to sharpen it. 
Remove the chain from its guide bar and clean any gunk out of the bar groove.
Soak the chain in a solution of water and ammonia for at least half an hour.
Clean off the loosened gunk with a wire brush.
Hose down the chain and dry it off thoroughly with rags.
Prep your chain by soaking it in chain and bar oil before reattaching it to the guide bar.
Cleaning a chainsaw chain with WD-40
WD40 is also an effective cleaner. After removing the chain and cleaning the bar, soak the chain in warm water and a WD-40 degreasing agent.
Take a wire brush and scrub off the scum, then rinse the chain with clean water and dry it off with a rag. Reattach the chainsaw and lubricate it with WD-40. 
What else do I need to do to maintain my chainsaw?
Taking regular care of your chainsaw will ensure that your sharpening work lasts, and your chainsaw performs well.
Here are some quick maintenance tips.
Keep the bar oil reservoir in your chainsaw topped up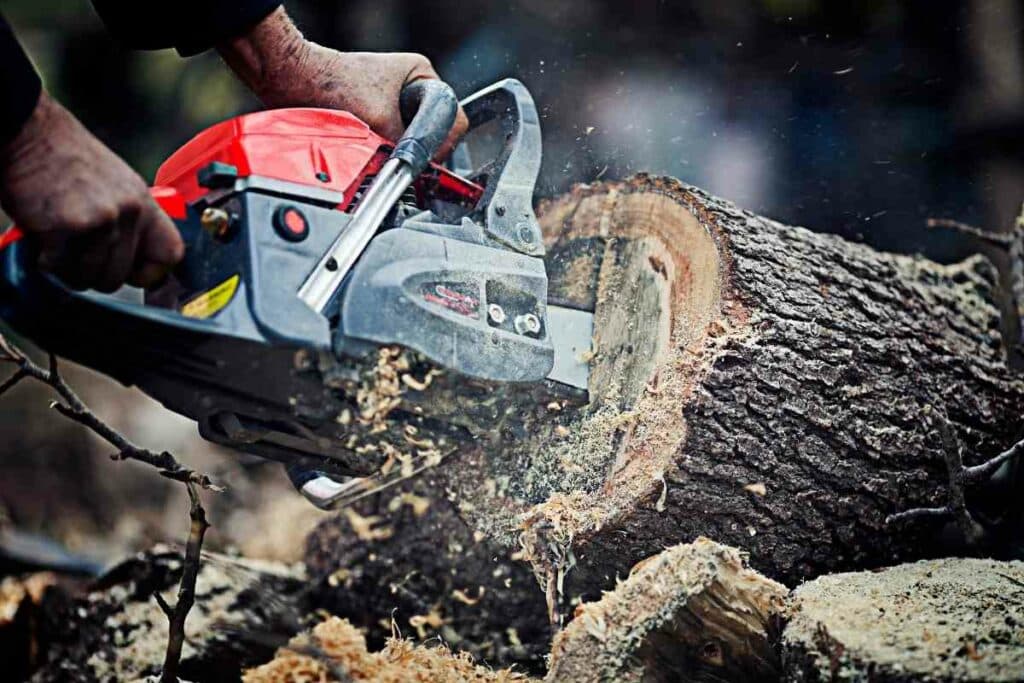 You can find the oil reservoir on the side of most models of chainsaw. Unscrew the reservoir cap and pour in bar and chain oil, replacing the cap securely prior to use.
Clean your filter
Check your filter before you use your chainsaw. Clean it, or even replace it with a new filter if it is dirty and clogged. 
Clean your fuel tank
Getting rid of stale fuel and gunk in the fuel tank will help the engine of the chainsaw run better.
Check the brake-band
Sustained use will wear out the chain brake band that is wrapped around the clutch drum of the chainsaw.
Inspect it for cracks and weaknesses, having a low threshold for replacing it. 
Rounding up 
Sharpening your chainsaw will ensure that it works safely and efficiently in the long term.
Take care of your chainsaw by sharpening it regularly.
The best chainsaw sharpening tools do an efficient and effective job, meaning you can rely on your chainsaw for tasks like cutting firewood, or felling trees time and time again. 
Also Helpful