Arranging your potted plants might not be something you've thought too much about.
But thinking about this space and its arrangement can turn a messy and cluttered-looking patio into a delightful, enjoyable outdoor area.
If you organize your potted plants well, you can highlight each plant's individual beauty while making the patio look attractive and vibrant.
In this article, we'll give you various ideas on how to arrange your potted plants on a patio. Let's go!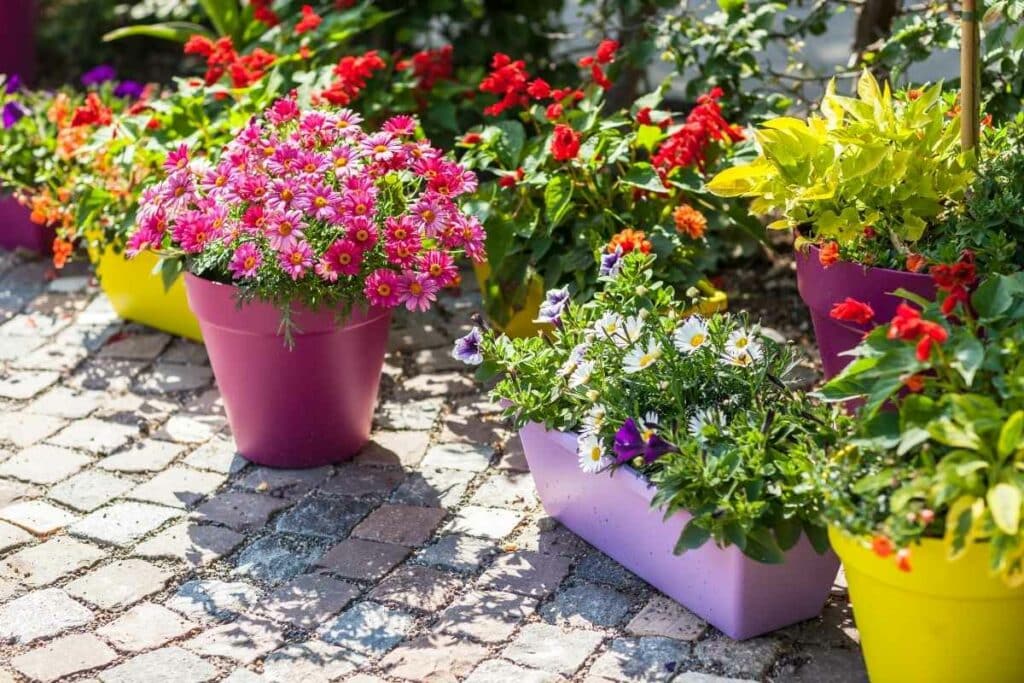 Create different potted plant groups
One good way (and perhaps the easiest way) of organizing your different potted plants is the place them into different groups according to different characteristics.
Grouping them can be done in any way you like. Some people prefer to group by color, others by size or even by how much watering or sunlight exposure they need.
Here are a few ideas on grouping your potted plants.
Grouping your plants by color
This is perhaps one of the easiest (if not the easiest) of all possible plant groupings. You don't just have to group by flower color, however. Leaf and foliage color are important factors too.
Plants can also be grouped by complimentary colors and contrasting colors, or in similar color groupings.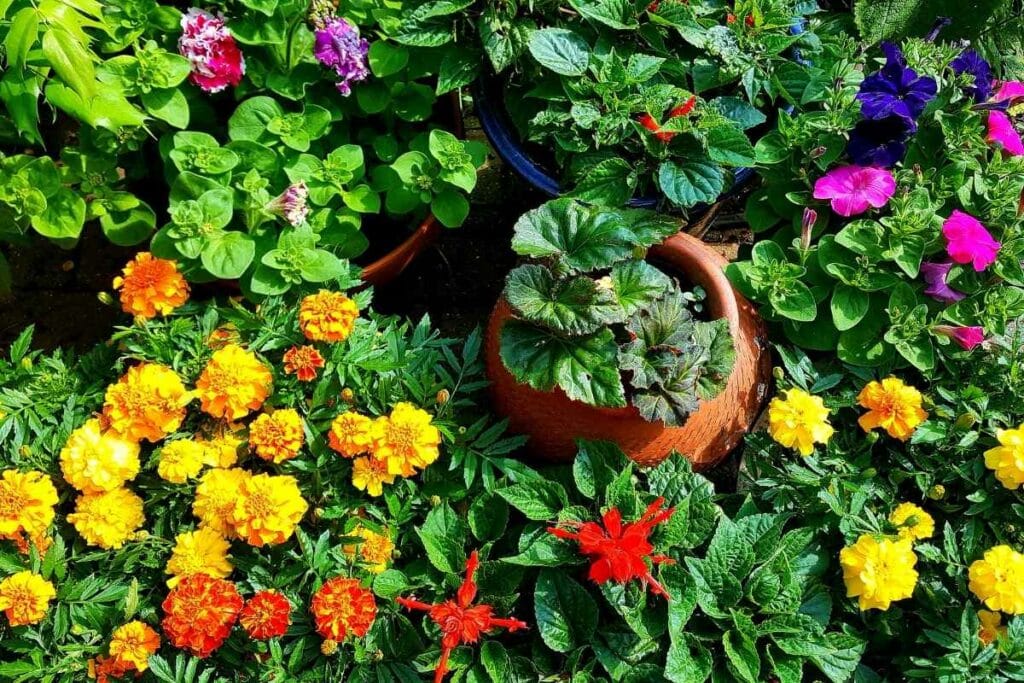 For example, you might want to keep your reds, pinks, and purples together. Alternatively, you might want red, oranges, and yellows together.
Grouping potted plants by color creates a great effect and the plants really stand out both individually and as a group.
Some people will line their potted plants up in spectrum order and from darkest to lightest. Others will use the color for the basic grouping and placement and then decide where to position them depending on height or breadth.
It's usually common practice to place the tallest plants towards the back and the widest ones somewhere close to the side.
If it suits, you could put the most vibrant ones in the middle and surround them with more neutral or lighter shades.
Here are some amazing garden wall ideas
Grouping your plants by size
Another popular way of arranging potted plants is by height or size. This type of arrangement means your smaller plants don't get overlooked, which can happen with other arrangements.
If you've got a level surface, your arrangement can be as straightforward as placing your smaller plants at the front and your bigger plants to the rear.
If you do have lots of different-sized plants, you should make sure they have enough space in between so that the smaller ones are not overshadowed, especially if they require full sun.
If you want to alter plant heights for a better arrangement, you can put smaller ones on higher surfaces or use upside-down empty pots or blocks to raise them up.
You could also use your lower areas to help small plants be more visible as they won't block plants behind them and might just cover their pots, for example.
If you have lots of plants that are the same or similar heights, you can use platforms and risers to add depth and height for the ones at the back of the patio area.
There are so many ways in which you can play about with height and size when arranging your plants!
Grouping your plants according to needs
If you need a helping hand or just like convenience and practicality over aesthetics, you could group your patio plants according to their care needs.
For example, if you have some potted plants that need daily watering, it would be a good idea to group these together.
This means you will always remember which ones need watering and you won't overwater any plants.
Another plant grouping could be those that need full sunlight – and you could ensure they're in a place where they all get it.
If you decide to go for this arrangement, there's no reason why you can't then arrange them by size or color within their smaller groups!
Use plant stands or planters
If you want to go a little further, investing in plant stands or planters will help your potted plants to look orderly, organized, and clean on the patio.
Plant stands are great for providing more arrangement options too. They mean you can arrange the plants into tiers, make some more prominent, and arrange them in ways you otherwise couldn't.
Let's explore different types of plant stand you could use.
Tiered stands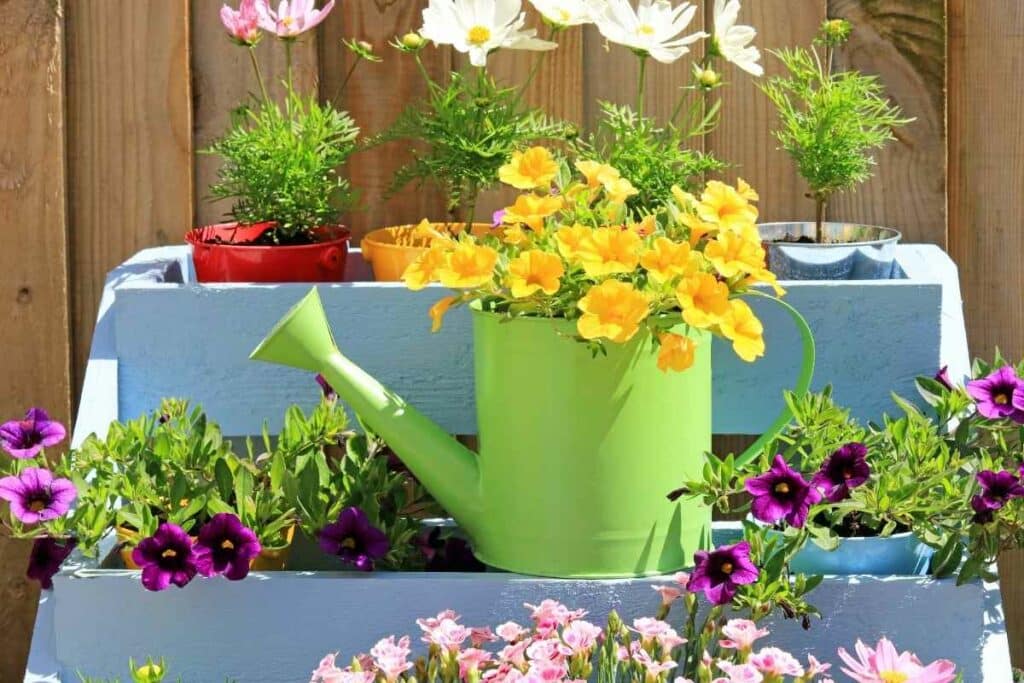 If you have lots of smaller patio plants, a tiered plant stand is ideal. These allow different plants to be elevated and admired.
This is also a way of arranging potted plants with very minimal effort too. Simply put similar-sized plants together and it's a job well done.
What's more, tiered plant stands are great for smaller patios because they hold lots of plants while saving floor space.
Ladder planter stands
For something a little more modern and quirky, try a ladder planter stand. If you like the look of these but don't want the expense of buying something new, you can repurpose an old wooden ladder quite easily.
There are lots of other DIY options to create similar designs too.
Most ladder-style planters hold small or medium plants either in individual pots or in boxes. They're great for organizing plants by type – especially if you've got some draping ones for the higher tiers!
You can also organize them by color and type too.
Vertical-style planters
If your patio space is small, it's a good idea to consider a vertical planter.
Unlike a ladder planter or a tiered planter, with a vertical planter you don't need any floor space. These planters are attached on a wall or fence. By their nature, they can't hold lots of heavy plants but they're great for small ones.
Vertical planters are also great for adding privacy to a garden.
If you choose a vertical planter, it's best to keep all of the plants as the same type of size. Some ideas for plants are climbers or ones whose leaves will spill out nicely.
Like all types of planters, however, it's best to experiment to see how things look.
Patio wall planters
Wall planters are similar in function to vertical planters. However, these are often much wider and can hold a lot more plants than your typical wall planter.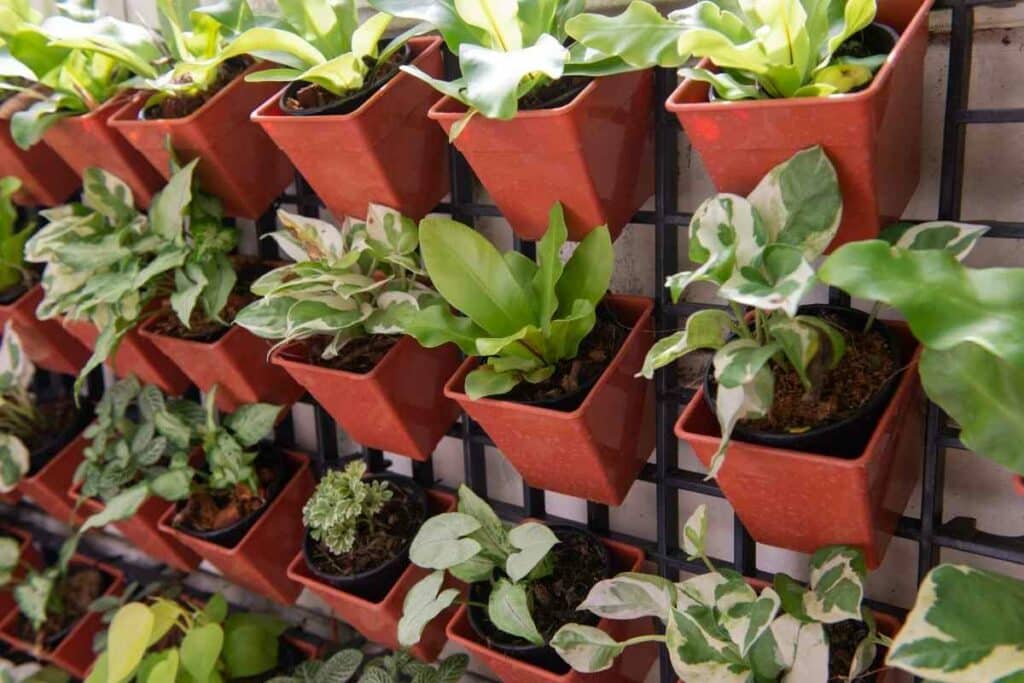 It's even possible to create a wall planter yourself. You can use scrap wood, an old banister, or anything you can think of that would hold a plant.
This is a great wall planter we found on Amazon – Click here
Wall planters are great with succulents and herbs since they're easy to look after and don't get too big.
Other patio plant arranging tips
Here are some other ideas on how to arrange potted plants on a patio:
Create clusters
You don't need to group by type, color, or size! You could just create lots of cohesive clusters that just look good together.
Start with a larger plant and place it in the middle, then see what other plants look good placed around the edge.
Clusters are great because they're easier to add to as you decide to buy more plants. So if you think your cluster is missing something, it's easy to pop to the garden center and get something to fill that gap!
Use different arrangements of pots, planters and stands
When you group your plants, they'll often look better when they're organized in different ways. Lots of people love an eclectic selection of pots, for example, so that their arrangement doesn't look monotonous.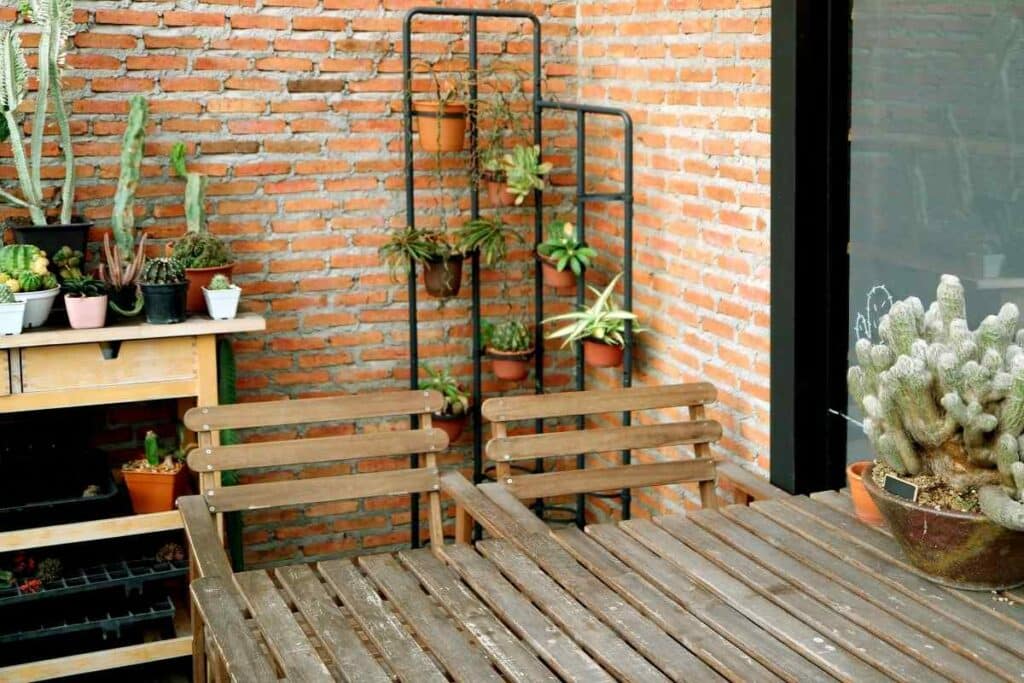 These add variety to the patio and mean that if you break a pot, it can be replaced easily without you having to hunt for the exact same one again.
It's also good to mix different pots with planters and stands too as this gives you lots of different elements to look at.
Add detail and beauty with climbers
Climbers are great for adding detail to your patio arrangements. Some bougainvillea or vines will make your patio more vibrant and colorful. These plants are also good for adding contrast to the rest of the patio look.
Final thoughts on how to arrange potted plants on a patio
As you've seen, there are no set ways how to arrange potted plants on a patio and you have lots of different ways of doing it.
Whether you decide to group by size, color, type or need, you'll no doubt create something beautiful for your space.
Add in a planter, a ladder, or some vines, and you'll create a full-dimension patio that will be the envy of all your neighbors!
Above all, have fun arranging and rearranging your plants until you find a configuration that works best for you.
And remember, the beauty of potted plants is that you can rearrange them and add to them as much as you wish!