If you have had enough of looking at a tired, drab wall in your garden, many renovation projects can turn an overlooked outdoor wall into a real asset!
In this article, we share 21 excellent ideas for what you can do with that outdoor wall to transform it into a haven within your garden.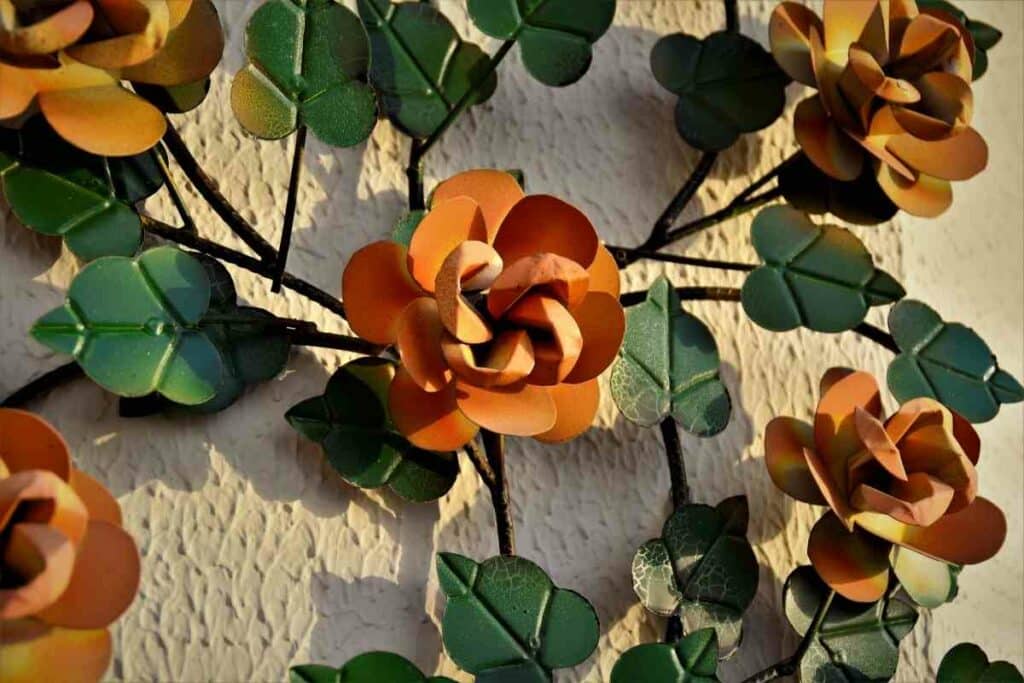 Enjoy these ingenious design ideas and decorative features!
Here Are 21 Amazingly Clever Outdoor Wall Decor Ideas!
These outdoor wall decor ideas are all about variety, meaning that there should be something for everyone.
Scroll through these brilliant garden wall designs for ideas and inspiration for your next outdoor project.
1. Create a Feast for the Eyes with a Captivating Mural on Your Garden Wall
A large wall is a perfect canvas for creating a mural with a completely personalised design.
You can paint it yourself or hire an artist to do it for you. Put up a canvas mural if you want an option that you can easily remove.
If you want to have a go, this helpful video explains the basics.
Murals could include images of family, natural scenes or abstract designs and patterns.
Creating unique artwork at scale requires patience and skill, along with careful preparation of your wall so your images look great.
2. A Vertical Garden Can Transform a Wall into a Productive Vegetable Patch
In a small garden or balcony, you want to use every bit of space to grow the salad leaves and herbs you love.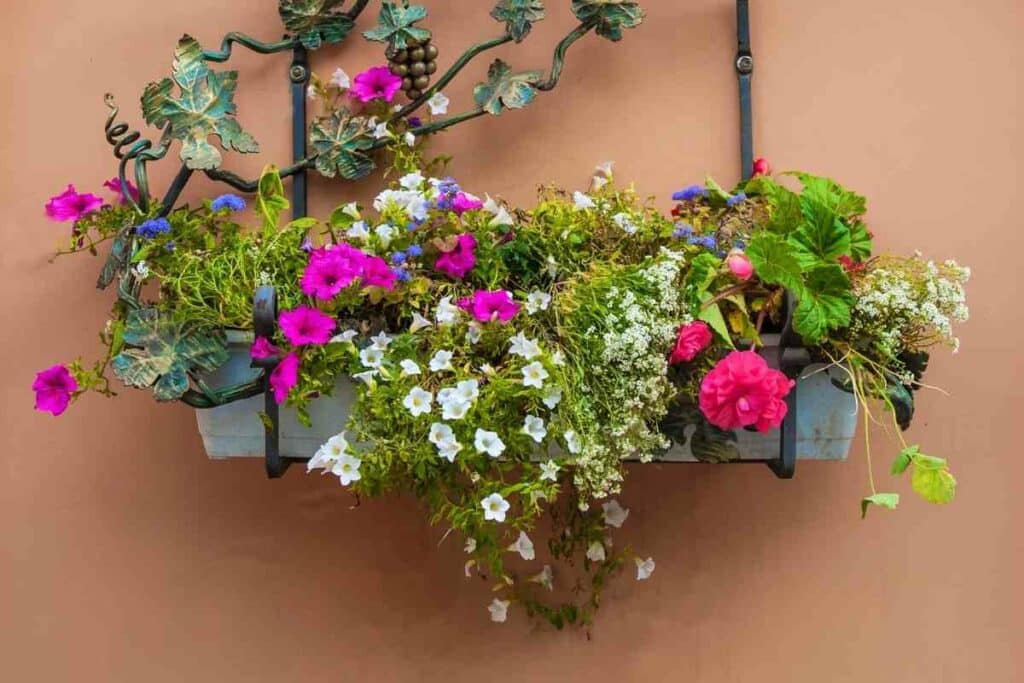 Vertical gardens are an ingenious way of growing plants, fruits and veg using lots of vertical containers attached to the wall.
Your vertical garden can provide you with an abundance of cut and come again salads, strawberries or herbs, grown in suspended bags of soil, hanging pots or built-in tubs.
3. Led Garden Lights Make Your Outdoor Wall a Dazzling Evening Setting
LED lighting is incredibly versatile and resilient enough for long-term outdoor installation.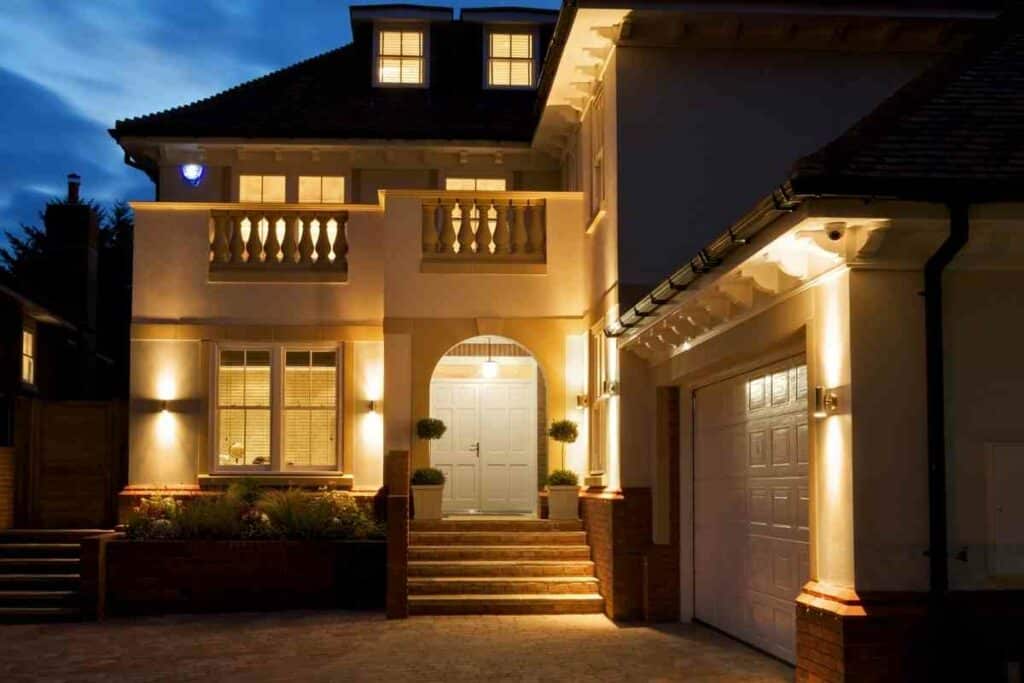 You can festoon an outdoor wall or fence with LED lights or purchase illuminated shapes or letters for a spectacular design, perfect for entertaining. 
4. Add a Pop of Personality to Your Outdoor Wall Decor with a Bold Sign
You can put a sign or banner up on your wall with a slogan, message or your name.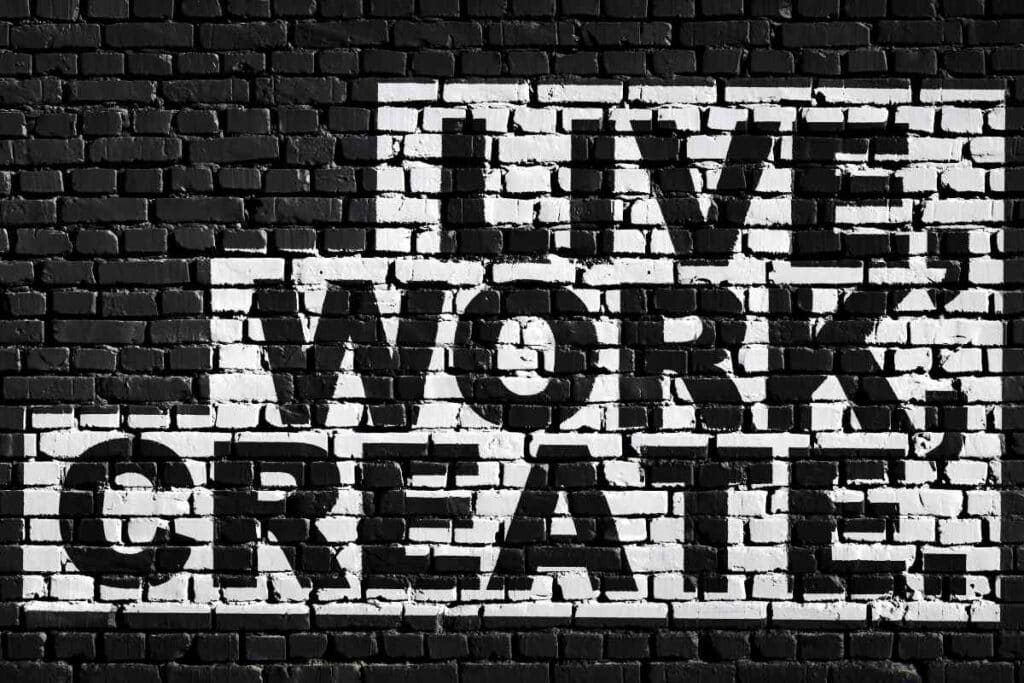 You can create your outdoor wall sign using just about anything, canvas, reclaimed materials, metal or lights.
You can even create a weatherproof photo canvas for a design that is original and unique.
5. Have You Thought about Decorating Your Outdoor Wall with Oars or Other Sporting Accessories?
You can attach all sorts of items to your outdoor wall to create a stunning scene.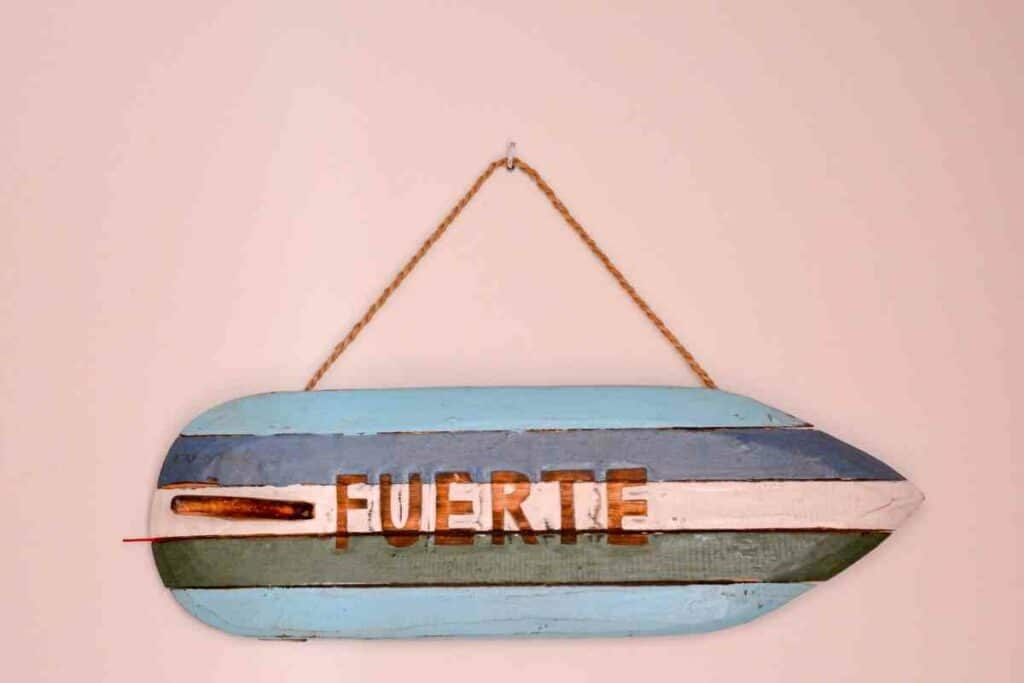 You could use hockey sticks, surfboards, an old canoe paddle or even half a rowing boat with a seat.
Ensure that you safely secure these objects so that they do not cause injury by falling.
6. You Can Create a Tranquil, Sheltered Spot by Fixing an Awning or Shade to Your Outdoor Wall
Installing an awning or sunshade on your garden wall can create a haven where you, your guests and perhaps some shade-loving plants can escape the intense sunlight and heat of summer.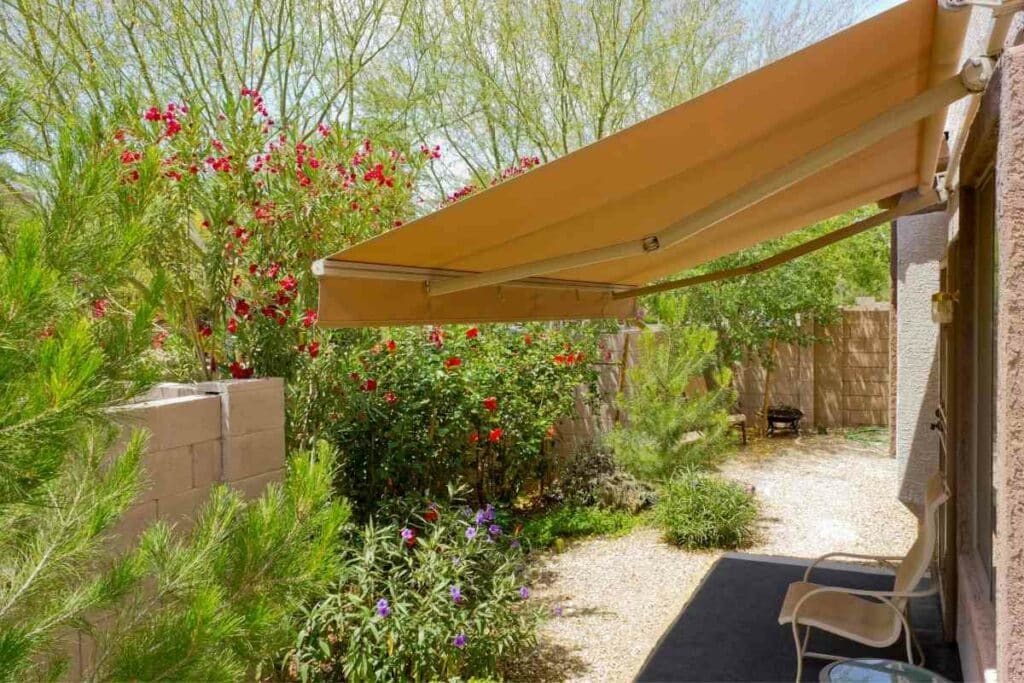 You can create your garden retreat using residential shade fabrics that have been designed to be fade-resistant, mould and mildew-resistant and bleach-cleanable, and can coordinate beautifully with your garden furniture. 
7. Wooden Wall Art Can Add Unobtrusive Rustic Charm to an Exposed Outdoor Wall
Wood is a wonderful material for outdoor wall decor because it ages beautifully.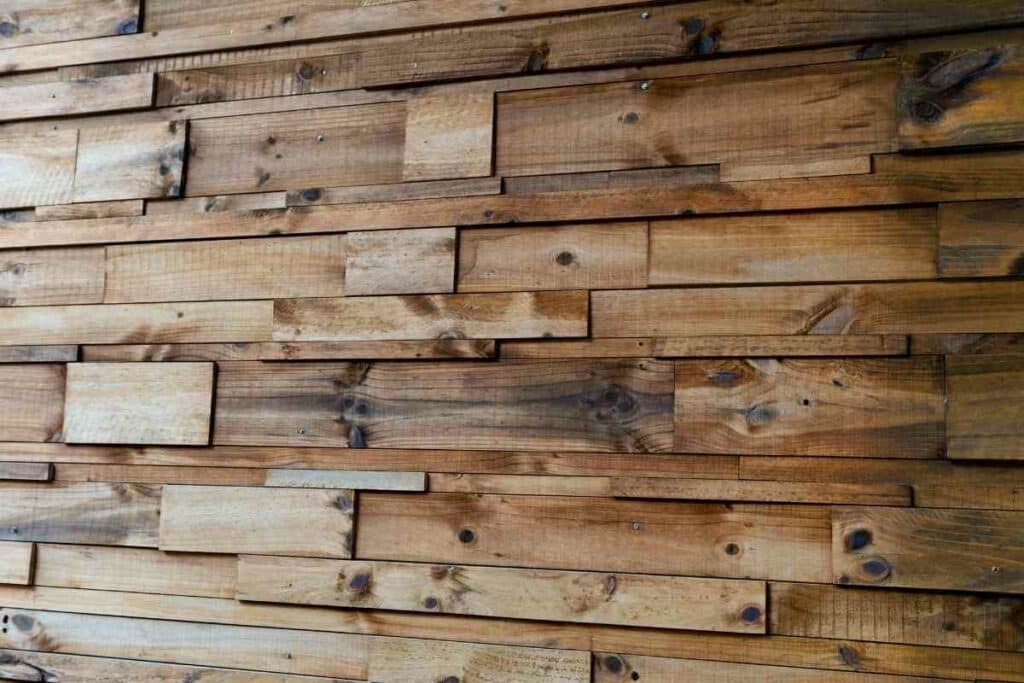 It is also lightweight, meaning that you can install even large pieces of wall art with relative ease.
Purchase a contemporary design or perhaps craft your own from a favourite wood, driftwood or reclaimed board.
8. Metal Wall Art Makes a Striking Statement
Metal plaques and cut out designs also age well with the patina and rust of the changing seasons.
Metal is very popular for outdoor art installation and you can use metals like copper, iron and brass in a variety of ways to create a design that is in keeping with the contemporary home.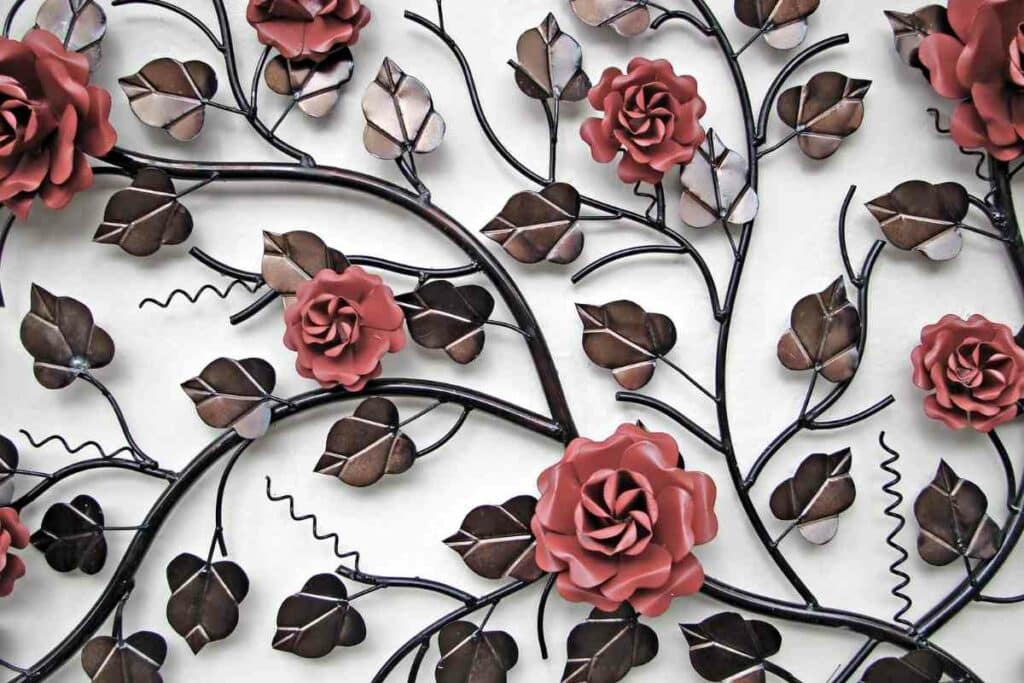 Tree designs are popular and in keeping with the garden setting and come in a range of hammered metal designs.
Metal is so versatile it can be used to create some unusual and quirky designs.
9. Graffiti Is Not Everyone's Cup of Teas but Can Be a Great Alternative to a Mural
Unleash your inner Keith Haring with a bold graffiti design that will add urban chic to your garden.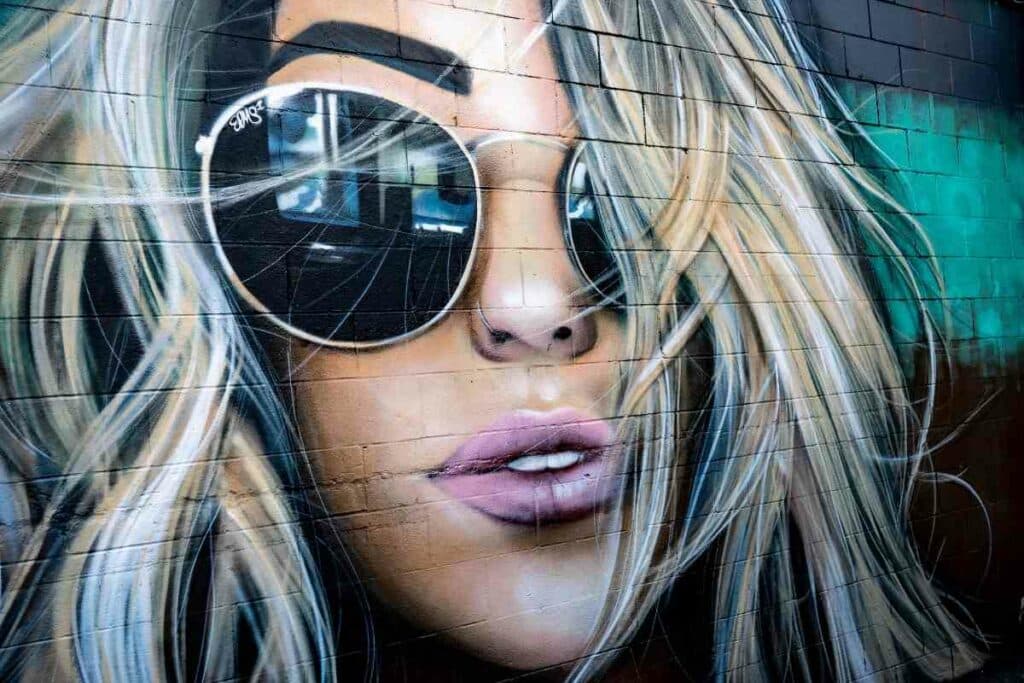 Graffiti on your own walls is permitted provided the design does not create a nuisance or affect public property.
You may want to use a wall in your garden to practice graffiti or hire a local artist to create a nuanced design. 
10. Framed Succulents Are a Clever Way of Adding Greenery to the Vertical Plane in Your Garden
Succulents are so strong and hardy that many forward-thinking artists and gardeners.
These living succulent picture frames can be any size and are great if you are looking for a unique, natural design that is low maintenance.
Here is a great tutorial for succulent picture frames that you can display on your outdoor wall.
The secret of this design is the shadow box that sits behind the frame and adds the depth needed for the soil and plants.
These well-packed jade plants can be lightly watered through the summer months to keep them at their best.
11. You Can Also Purchase Outdoor Framed Canvases for High-end Art in Your Garden
Specialist art companies are branching out into garden wall art in response to the demand for design solutions for outdoor living since the 2020 lockdown.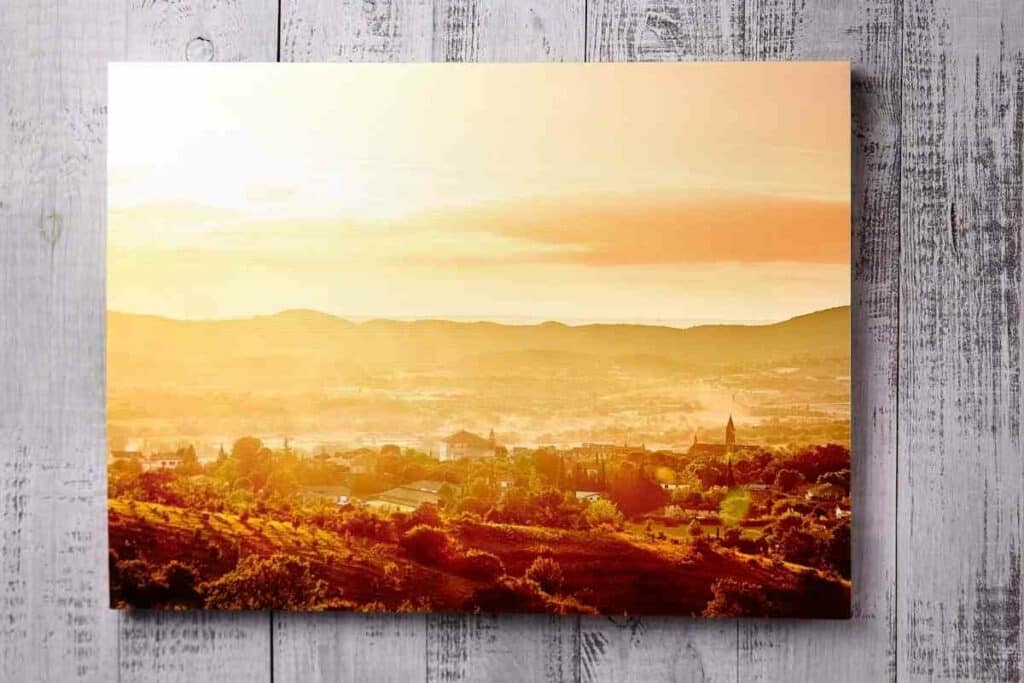 They make these artworks using niche materials like perspex, with waterproof and colourfast inks that can withstand the elements and a range of architectural calibre bolts to secure the art to the wall.
12. Insect Hotels Can Be a Beautiful but Eco-friendly Outdoor Wall Installation
The fall in numbers of beneficial pollinating species is a well-known issue that threatens fragile ecosystems and agricultural productivity.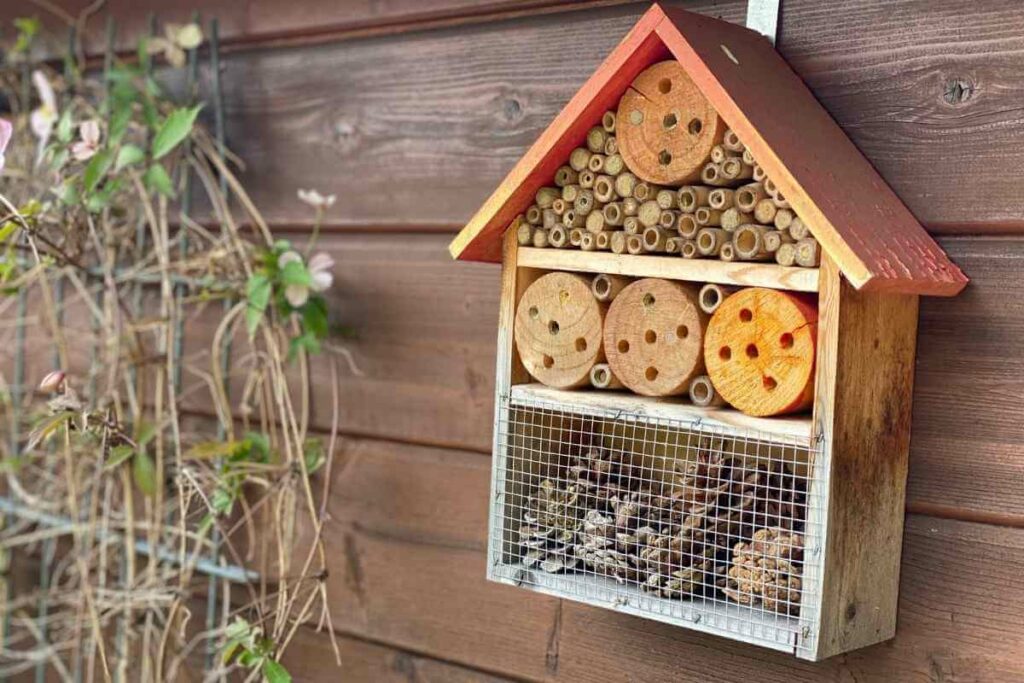 One way you can help valuable insects like mason bees is by creating bug hotels that can be installed on an outdoor wall.
These structures are packed with crevices that provide a warm hiding place for these species throughout the cold winter months.
You can make a bug hotel by following our helpful step-by-step tutorial.
Alternatively, you can purchase insect hotels that are designed to be installed as at installation on your outdoor wall.  
13. You Can Install Birdhouses on a Sheltered Wall That Is Covered by Branches and Shrubs
Wildlife welcomes any opportunity to find a safe, warm and predator-proof location to raise their young.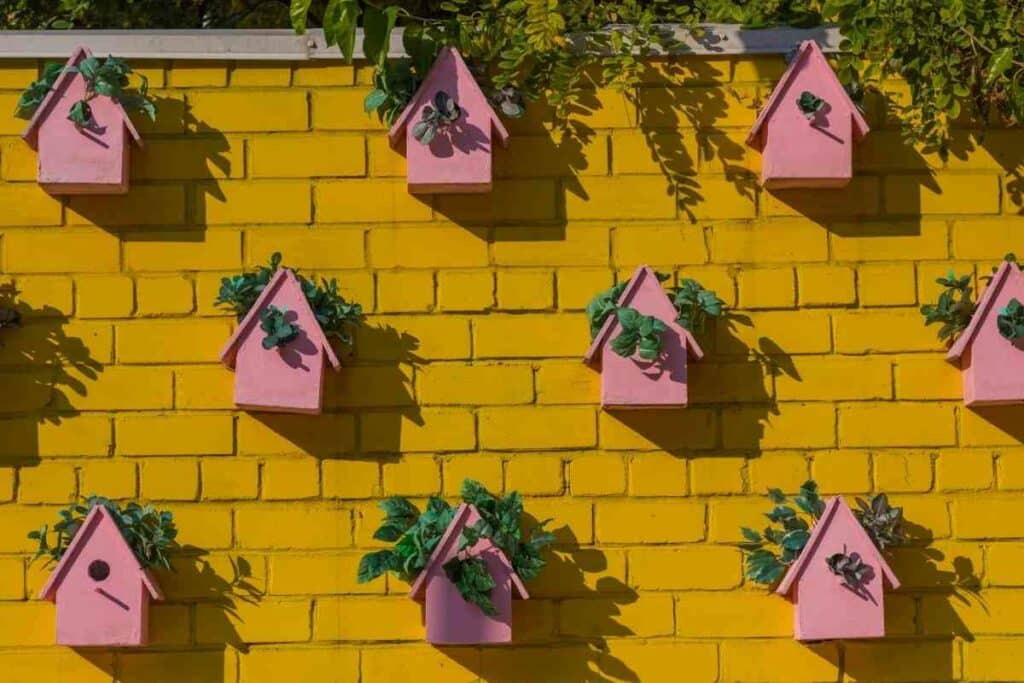 Swallows, swifts, house martins and sparrows routinely look for nesting sites by buildings, so a birdhouse could help them out.
Installing open-faced or enclosed birdhouses on an outside wall can not only help raise the next generation of birds but also potentially squirrels, voles and dormice. 
14. Create a Patterned Living Wall with Moss
You can't go more green than getting a green living wall made from moss installed on your existing outdoor wall.
Moss is relatively simple to install, and could prove to have health and insulation benefits for your home.
Take a look at these green moss walls for inspiration.
Outdoor moss species like Prairie Sphagnum and Smooth Cap Moss can be installed using a frame that takes the weight of the moss and allows access for maintenance.
You can also use artificial moss for a zero maintenance version.
15. You Could Earn Good Money by Turning an External Outdoor Wall into a Hired Billboard
Before you put a fresh lick of paint on your outdoor wall, consider who can see it, not only because of neighbours but also because you may have a location that is ideal for outdoor advertising.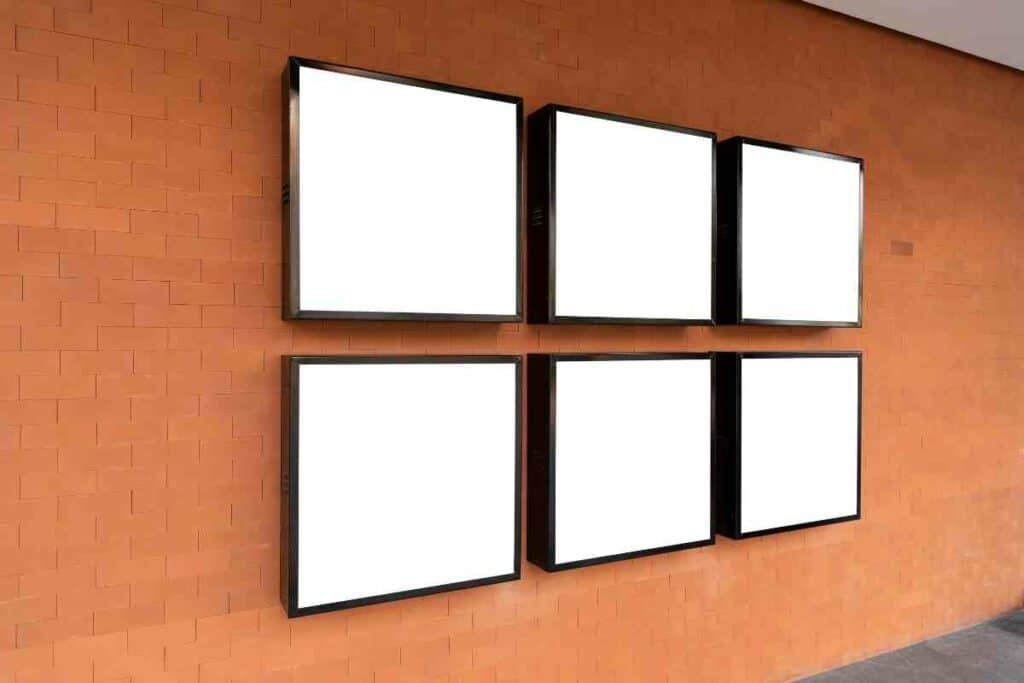 Companies like ClearChannel, iCatch Media and JCDecaux pay for outdoor advertising space with rates that depend on your location and the number of ad impressions that can be achieved.
If you can get planning permission from your local council, a billboard could be a great little earner. 
16. Statement Metal Fencing Can Screen off an Unsightly Outdoor Wall
Decorative metal fencing can screen off an unsightly bare wall and even coordinate with the fencing in your garden.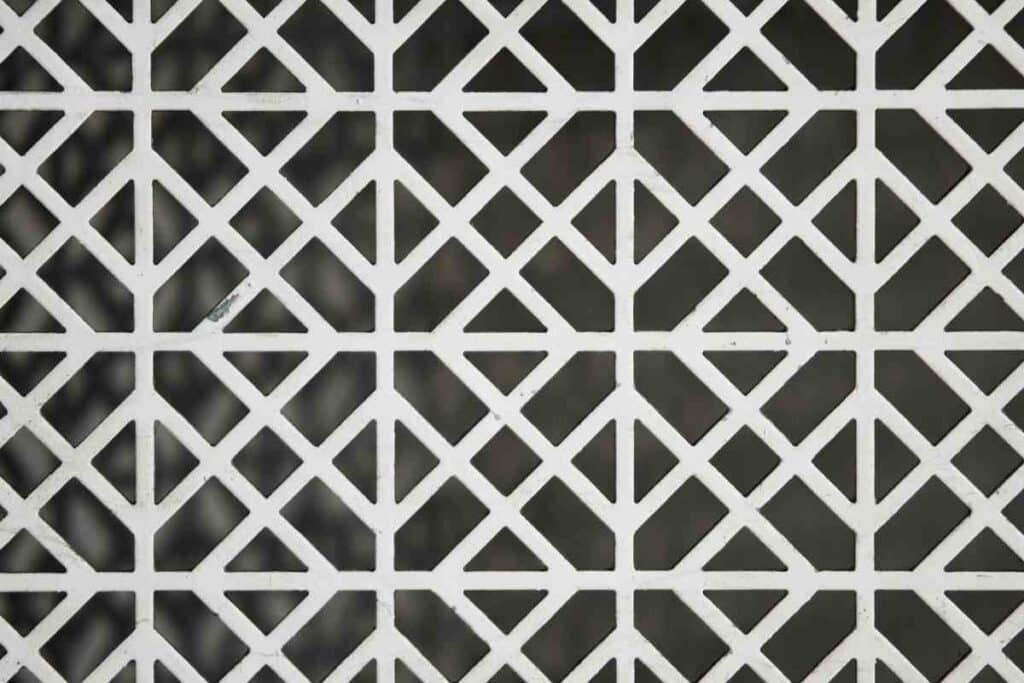 Laser-cut aluminium designs are covered with powder-coated paint in almost any colour.
17. Create a Cosy Nook with Wall-mounted Seating
Once you have beautified your outdoor wall, you will have created a beautiful location in your home where people will want to spend time.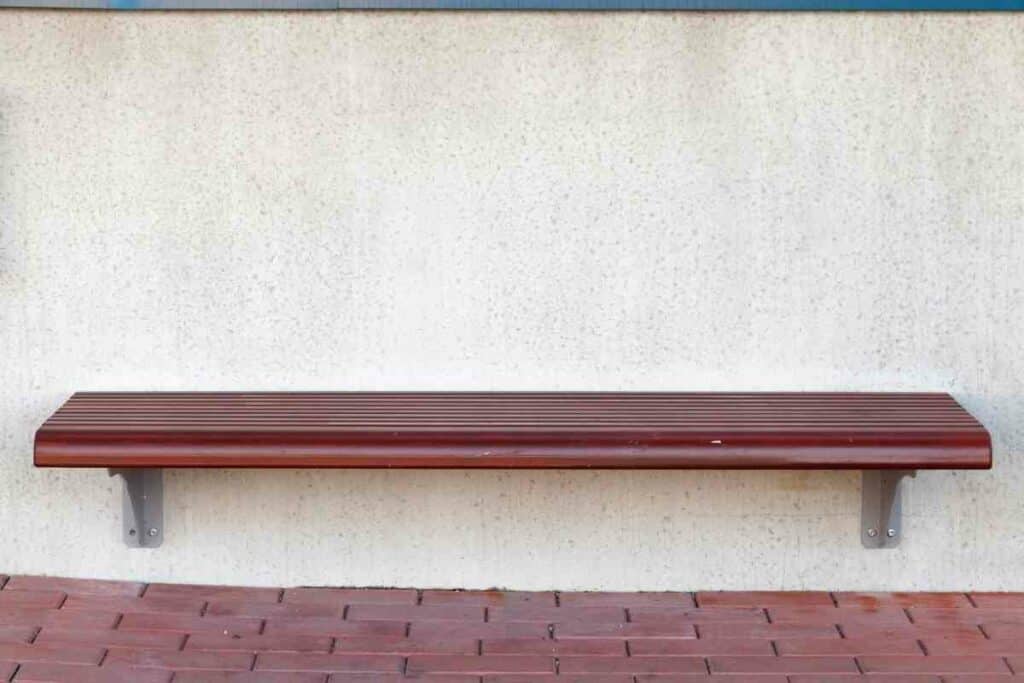 A simple wall mounted seat is a great addition that will enhance your space and make it usable throughout the year.
Create a DIY floating bench.
18. Gabion Walls Add Industrial Style to a Modern Home
Gabion walls are wire cages that are filled with rocks for a striking and structurally integral architectural feature.
Look at how you can build a Gabion wall.
Gabion walls were originally used for civil engineering projects that required structural support but are now a contemporary design feature on many modern properties.
You can add this hardscaping feature yourself or recruit a landscaper or building contractor to achieve the look for you.
19. A Bare Wall in Your Garden Is the Perfect Location for a Refreshing Water Feature
Refresh yourself by turning your garden wall into a stylish modern water feature.
You can build or install a wide range of outdoor fountains or waterfalls that can fit exposed walls of any size.
The most dramatic of these water features are water walls which have a wide panel of running water.
You can also get water features that can be illuminated at night.
20. Unleash Your Inner Patriot with a Flag Design on Your Outdoor Wall
If local zoning prohibits you from flying the flag on your patch, you can always add one to your garden wall.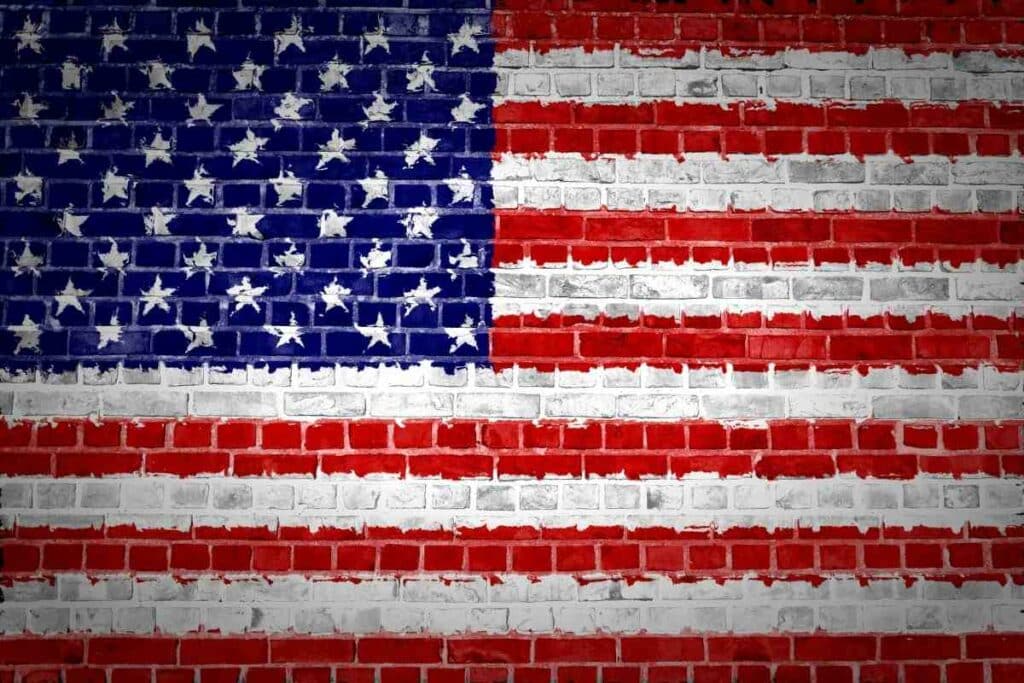 Why not create a national flag design using, paint, plants, canvas or even reclaimed materials? 
21. A Good Old-fashioned Lick of Paint Can Refresh Your Outdoor Wall
A rundown wall with cracked paint and crumbling mortar is going to look unsightly no matter what you do.
Consider starting your wall upgrade by giving a tatty wall a facelift using high-quality masonry paints such as those from Farrow & Ball.
Decorating pros from the Painting and Decorating channel show you how to glam your wall by adding glitter to masonry paint.
Rounding Up
As you can see, there are so many options for making the most of a neglected outdoor wall.
These projects are a great opportunity to update your garden with a variety of contemporary design trends.
Feel free to experiment with these designs and outdoor decorative features to create the haven you expect your garden to be.
You May Also Like