Fire pits revamp our backyards and decks, from cold and dull-looking areas to warm, cozy, inviting spaces.
They transform our backyards from an occasional spot to an everyday favorite. Gone are the days you only set up the deck or backyard to celebrate special events. 
With the added comfy feel a fire pit brings, you and your loved ones will want to spend most nights outdoors. You can eat all your dinners there.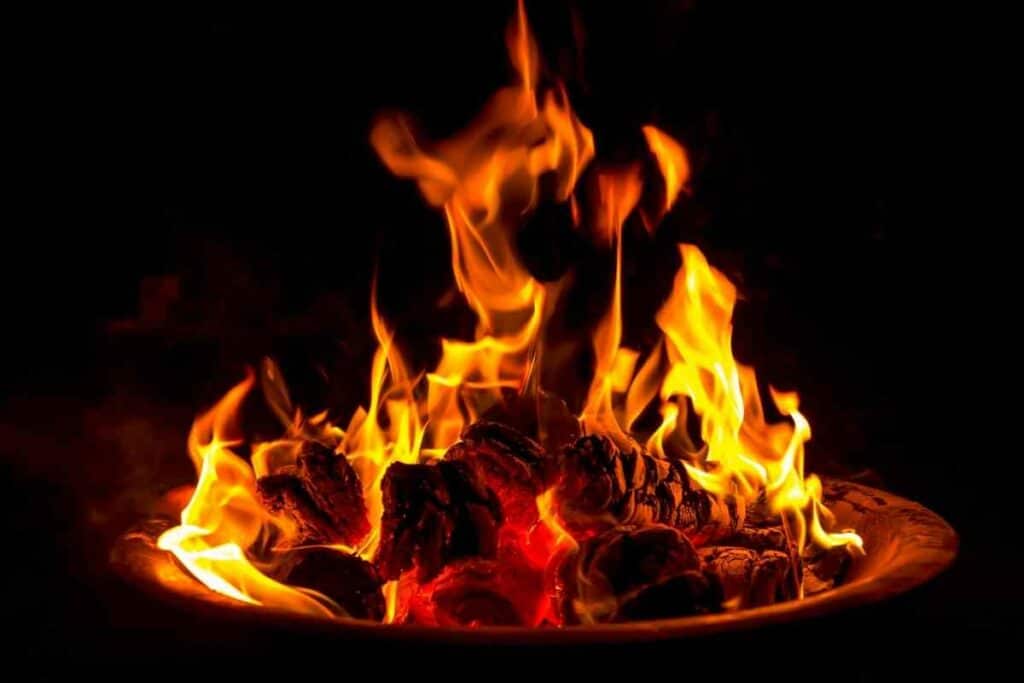 Gather family and friends around the warm fire during cool autumn nights, chat, and make hotdogs and marshmallow treats. These special moments will give lasting memories.
However, setting up a fire pit requires one that is functional and safe.
The safety features include a fire pit mat as the heat from coal or firewood can burn through wood decking and destroy your grass and even tiled floors.
These mats resist heat and allow you to move your fire pit around your home.
You can set your fire pit up anywhere while protecting the ground it sits on.
How Do Fire Pits Mats Work?
Firepit mats are fire-resistant. They are directly exposed to heat from the source of the fire, and they work by ensuring it does not permeate to the surface beneath.
The grass beneath a fire pit can get scorched if set up on the lawn.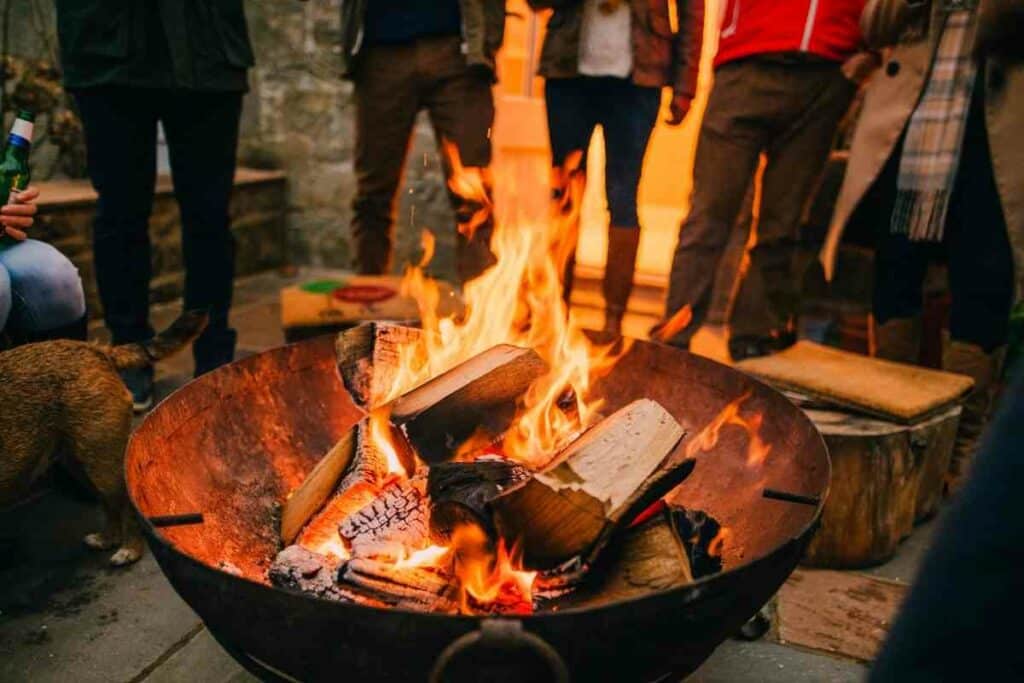 Similarly, wooden decks can burn through if not protected from direct heat.
Fire pit mats have several layers of heat-resistant materials like fiberglass or aluminum fabric.
The mat's top layer fabric is environment-friendly, well absorbent, and simple to clean.
Besides Heat – They handle moisture and ash remains from the fire pit pretty well for long-term regular use.
If you are looking for a fire pit mat for your home, here are a few considerations to pick from.
The 5 Best Fire Pit Mats
If you are looking for the best fire pit mats, below are some of the finest available.
Hopefully, you get one that suits your needs.
1. The Meitola Fire Pit Mat
Top on our list is the Meitola fire pit mat that is 100% silicone, fire-resistant, and safe to use.
It's constructed from durable material quality. You can safely use it on wood decks, grass, or concrete surfaces.
Measuring 70″ by 58″, this fire pit mat is large enough to fit under any fire pit.
If there is a liquid spillage, it does not absorb the fluids as the silicone material is waterproof. 
This helps protect your expensive patio, deck, or outdoor surface from spillages.
Additionally, the mat is flexible, weightless, and portable. You can easily fold it, store it away for later use or move it around.
Lastly, this is an easy-to-maintain mat as you only need to wipe it clean after every use.
Since silicone does not wear and tear easily, it will last long.
2. The Homenote Fire Pit Mat
The home note rectangular-shaped fire pit mat's fabric has fiberglass protection.
It is safe to use under direct wood fires and can withstand hot liquid splashes as it does not catch fire or disintegrate. 
Fiberglass material is hardy. It protects against high heat, oil, and hot liquid spillages. 
The top silicone cover is simple to take care of and fold away.
Additionally, you can use either side as the mat is entirely the same material, and there is no definite downside or upside.
The home note mats are also available in different sizes and shapes. Before purchasing, take actual measurements of your fire pit to get the right fit.
Once you are sure of the dimensions, you can order either a round, square, or rectangular one in shape.
3. The Newtex Fire Pit Mat
The Newtex fire pit mat tolerates high temperatures as it uses an aluminized technology that keeps it cool despite direct exposure to heat.
The Z-flex technology protects your wood decks and patios from getting burnt.
The design and fabric are similar to what firefighters and rocket crew have in their uniforms; an
advanced technology that is guaranteed to protect against heat damage.
The Newtex fire pit mats are available in large sizes.
The main advantage of this particular mat is that it is a well-known brand from a reputable company.
4. The Roaster Q Fire Pit Mat
The Roaster Q fire pit mat comes in a large size of 47″ by 47″ and has a stainless-steel material and finish.
With a layer of fiberglass, your wood floor will be well protected from heat damage.
If you love barbecues, this is a perfect addition to your BBQ equipment.
There is a reflective edge around it when in use during the night. You can see what you are doing even in the dark.
Lastly, this fire pit mat is waterproof, cleans easily, and its compact design makes it easy to store.
5. The DocSafe Fire Pit Mat
The DocSafe fire pit mat combines silicon, aluminum, and fiberglass to give heat-resistant and waterproof protection. This makes the mat an excellent choice for different fire pits. 
If you have invested in a good quality deck and lawn, you do not want any charcoal embers causing damage to it. That's where the DocSafe fire pit mat comes in.
This fire pit mat is certified to withstand fire temperatures of up to 2000 degrees.
You can confidently enjoy cold evenings with family and friends around your fire pit without worrying.
Since it's made of aluminum foil, it is easy to clean greasy stains. Simply wipe it down with a damp piece of fabric after it has cooled down.
Its compact design makes it portable and, thus, ideal for bringing along for camping, picnic, and outdoor parties.
Factors To Consider Before Choosing A Fire Pit Mat
It would help if you considered several things when shopping for your ideal fire pit mat.
They include the following.
Type of fire pit area/surface
Fire pits installation and setup are usually in different areas in our homes.
One may have a wood deck, grass backyard, or brick and concrete surfaces.
Depending on the ground your fire pit is set on, pick the best mat to protect it perfectly.
Type of outdoor fire pit
There are wood-burning, propane/natural gas, and gel/bio-fuel fire pits options on the market.
Fire pit builders build them from concrete, brick, stone, cast iron, or stainless steel.
Choose a mat that can resist all heat sources.
Size of the fire pit
Fire pits come in different proportions and sizes, although the most common large-sized brick builds have about 30 inches in diameter and a depth of 19 inches.
Steel fire pits are about 18 inches wide and 12 inches deep. Choose a mat that fits and leaves enough room around the fire pit.
Cost
Depending on your budget, the cost of most medium-sized fire pit mats averages at $30.
You can spend a bit more than initially intended to get the best fit for your outdoor space.
Installers recommendations
Most fire pit designers and installers have been doing it for years; hence know what product works best.
If your fire pit is getting professionally installed, ask for recommendations on the best fire pit mats. 
How To Use A Fire Pit Mat
Setting up a fire pit mat is quite simple.
Ensure you have the correct measurements of your fire pit before buying to get the ideal size:
Place your mat beneath your movable fire pit. Alternatively, install it on the ground before setting up a permanent stone or steel fire pit.
Confirm that the reflective or protective side is facing up. This side of the mat is what prevents heat from the fire, ash, liquids, and hot grease from passing through.
Always check that the space between the fire pit and the mat on the floor is more than 4 inches.
Do Fire Pit Mats Require Maintenance?
Most fire pit mat material is sturdy and durable, and you must take proper care of it to last even longer.
Wipe it down or clean it every time you use the fire pit.
Food remains, oil grease and wood ash are the most common dirt found on fire pit mats.
Roll it up or put it away to prevent damage during harsh weather.
Frequently Asked Questions About Fire Pit Mats
Can you use an outdoor rug under a fire pit?
The short answer is no. Outdoor rugs are not made from heat-resistant materials and can easily catch fire.
Purchase a fire pit mat, which is safe to use and specifically designed to handle direct flames. 
Do I need a mat under my fire pit?
If your fire pit is portable and you use it on grass or a wooden deck, it's essential to have one.
These materials catch fire quickly, and they need to be protected.
However, if your fire pit is stone or brick, the bottom layer should be thick enough to prevent heat from passing through.
What is best to put under a fire pit?
You should put protective materials under a fire pit to prevent heat damage. You can use flexible silicone and fiberglass fabric mats.
Alternatively, solid protectors are available made from steel and aluminum.
If you prefer a permanent fire pit spot in your backyard, construct one using bricks and concrete. The brick bottom layer offers fire protection.
Wrapping Up
Cozy evenings around fire pits are where we make unforgettable memories with family and friends.
Hopefully, this comprehensive review makes settling on the best fire pit mat for your home possible.
If you have a large fire pit, we recommend going for the larger sizes. For smaller fire pits, the compact models will work perfectly.
Also Useful