When parents are looking for a backyard trampoline, most aren't sure what size trampoline is the best for their needs.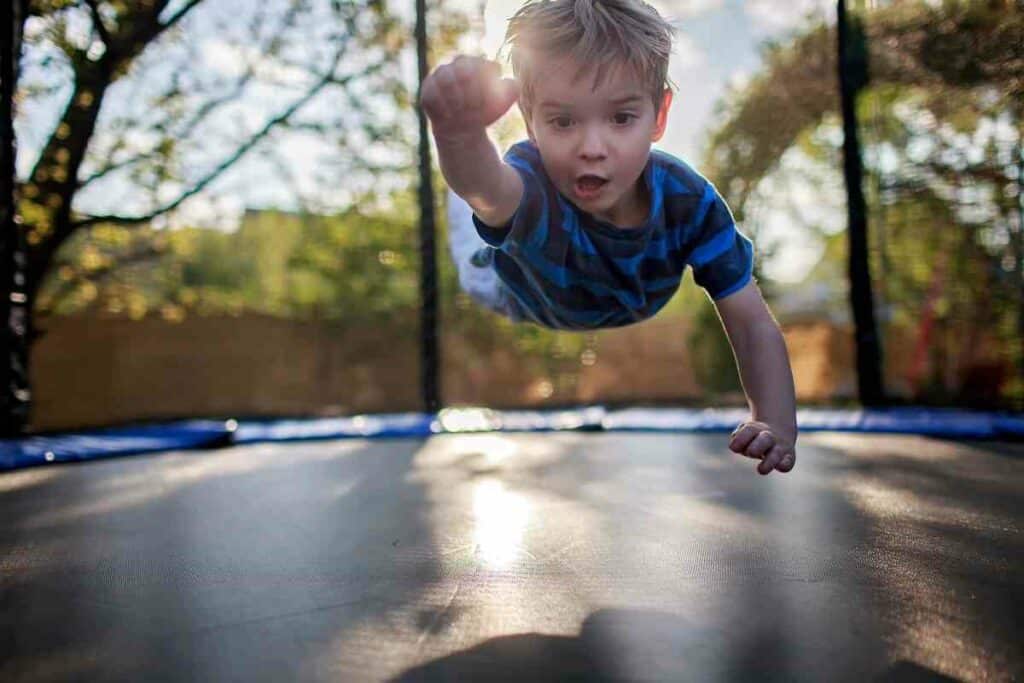 In this comprehensive backyard trampoline sizes guide, we'll discuss all of the factors to consider when choosing the right sized trampoline for your needs.
Ultimately, it depends on who is going to use the trampoline and what they're going to use it for.
Trampoline Sizes Guide – what to consider
When deciding what size trampoline to get, there are many considerations.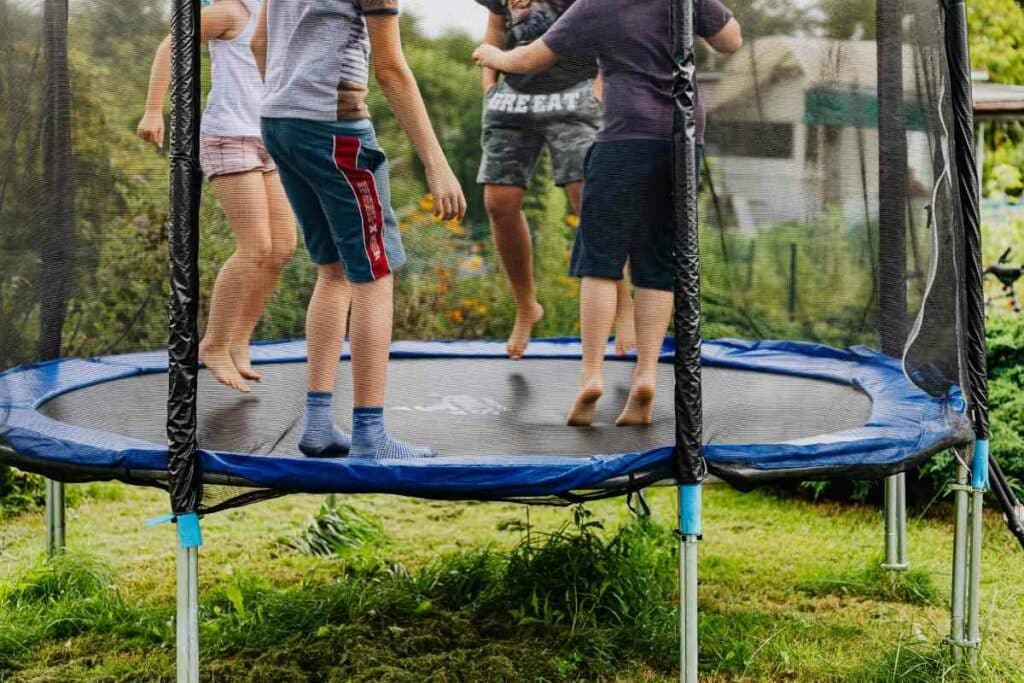 These include:
Safety – Larger trampoline sizes could be dangerous for younger kids.
Weight limit – A smaller trampoline size might not hold the weight of a heavy person.
Available space – You need to find a trampoline that not only meets your requirements but that fits in the space you have available.
The bounce – A bigger trampoline will give a higher bounce. If you're wanting something to learn somersaults on, you'll need a higher bounce.
Cost – You can expect to pay more for larger trampolines.
Typical trampoline sizes
There are various trampoline sizes available on the market.
They range from 3ft all the way up to 24ft and above.
As well as trampoline size, you need to consider its shape.
A circular 12 ft trampoline won't give you as big a surface area as a rectangular 12ft trampoline.
The most common size for a backyard trampoline
Generally speaking, most families buying a backyard trampoline choose something between 8 ft and 15 ft.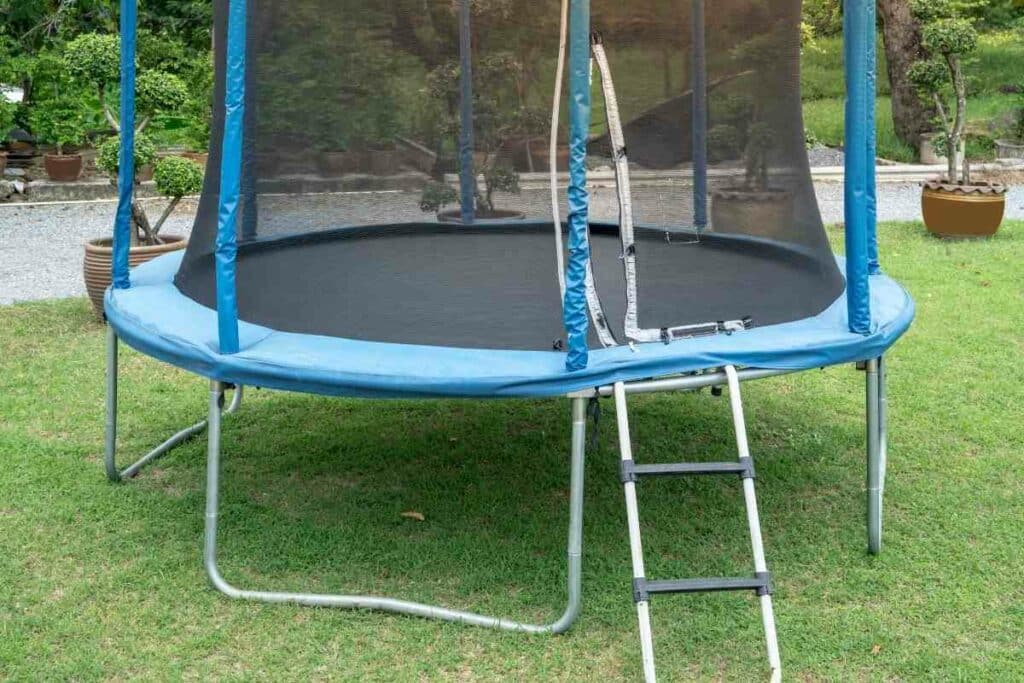 Anything out of this range is rarer to see.
Trampolines in this size range are great for outdoor and backyard use.
They're a fantastic addition to a garden area for exercise and fun combined.
Average backyard trampoline size
In terms of average size, you're looking at a 12 ft trampoline.
This is the most popular size for backyard trampolines.
Trampoline Sizes Guide – Full, medium, and half sizes
Most people consider a full-size trampoline to be an Olympic size.
According to the FIG (Fédération Internationale de Gymnastique), the official trampoline size for gymnastics is 5 m x 3 m x 1.15m.
In imperial measurements, this is 16.5682 ft x 9.54724 ft x 3.78937 ft.
Most manufactures make gymnastics trampolines 17 ft x 10 ft.
A backyard trampoline is considered full size when it's between 10 ft and 15 ft.
The largest backyard trampoline for sale is 16 ft x 24ft!
Medium-sized trampolines
Any trampoline between 8 ft and 10 ft is considered a medium-sized trampoline.
These are great for small backyards.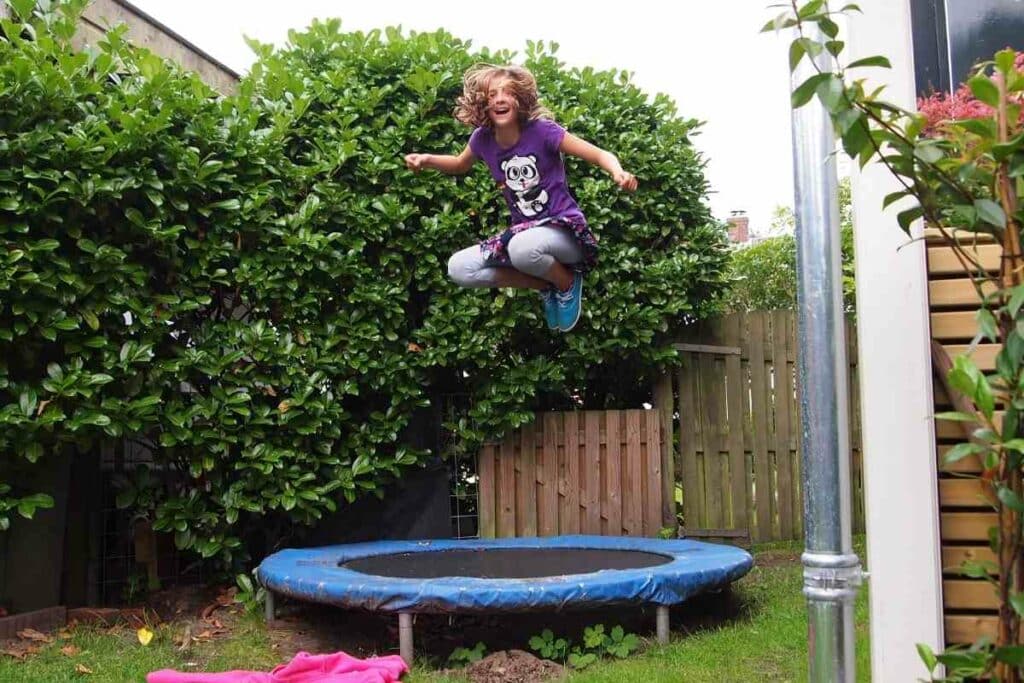 Half-size trampolines
Below 8ft, a trampoline is considered half-size.
These are often small outdoor trampolines for younger children.
Mini, indoor trampolines
After half-size trampolines is the category of mini trampolines.
These are usually between 3ft and 5 ft and are used indoors either for adult exercise or for kids to have fun.
Age and trampoline sizes guide
It's hard to decide what size trampoline to get for your child.
Parents don't want something that their child will grow out of too quickly, yet also need to be wary of not getting something so big that it's dangerous for small children.
For children below six, it's not recommended to get them a full-size trampoline. If you do allow them to use it, you must supervise them at all times.
What's More – There should be safety features like pads and a net in place.
Toddler size trampolines
Little Tikes 7′ Climb 'N Slide Trampoline
Trampoline includes a slide and climbing steps

Two zipper enclosures to promote safe play

Durable, high-quality pad protector covers the safety springs

Safety foam covers all exposed metal

Frame made of durable blow-molded plastic

Maximum number of children: 1

Maximum weight limit: up to 105lbs.

Assembly Required

Designed for home outdoor use only

Product Size: 84.00L x 84.00W x 90.00H, Weight: 86.00l
Toddlers are usually best on small, indoor trampolines with a handle for balance.
These are usually between 3 ft and 4 ft.
Trampoline sizes for younger children
When kids are between three and five years old, a trampoline between 3 ft and 8 ft is recommended.
Trampoline sizes for older children
Trampolines for school-aged children can be larger.
Once a child reaches six years old, they can safely use a 10 ft trampoline.
From ten years old, a 12 ft trampoline is fine.
Teenage trampoline for gymnasts
If your child reaches teen years and is trampolining for a sport, you might want to consider a larger trampoline.
Anything between 12 ft and 17 ft will provide adequate space for gymnastic moves to be practiced with care.
A trampoline for the whole family
So, what happens when you've got a mix of children of different ages and you as a parent would quite like to have a bounce around too?
For a smaller family (3-4 people), you might consider a model that's 12 ft to 15 ft.
But for a larger family, it's best to go for something larger – especially if the grown-ups are on the heavier side!
Trampoline Sizes Guide – mats and springs
When we're talking about the size of the trampoline, it's important to also consider the size of the mats and springs too.
When you have a 6 ft trampoline, the mats will be about 4.75 ft.
With a 15 ft trampoline, you're looking at a mat that's 13.75 ft. Generally speaking, then, the diameter of the mat is around 1.25 ft smaller than the trampoline.
In Terms of Springs – You can expect a huge variety of sizes and number depending on the dimensions of the trampoline.
With smaller trampolines, you can expect the springs to be 3.5 inches. Larger trampolines might have 10-inch springs.
Trampoline Sizes Guide – weight capacity
Garden space and size are obvious considerations for people buying a new trampoline.
However, it's also important to consider the weight capacity – especially if you've got older or heavier individuals using the trampoline.
You should always check with each trampoline's specification what the weight capacity is.
As a rough guide, here are the usual weight capacities of different size trampolines:
8 ft – 200 lbs.
10 ft – 250 lbs.
12 ft – 300 lbs.
14 ft – 350 lbs.
15 ft – 400 lbs.
In general, the maximum weight capacity of a trampoline is related to its shape.
A round trampoline won't hold as much weight as a rectangular one.
Trampoline Sizes Guide – Net Height
The safety net of a trampoline is an important feature for obvious reasons.
Usually, as trampolines go up in size, so does the height of the accompanying net.
In terms of averages, you will see net heights ranging from 5 ft to 10 ft.
Trampoline Sizes Guide – how are they measured?
If you already have a trampoline and need something replacing, you'll need to know how big it is to ensure you get the right part.
To measure your trampoline, you'll need a tape measure.
As a Rule – Always measure twice to make sure you have measured correctly! Measuring a round trampoline can be tricky – make sure your tape measure passes over the center.
Make sure you're measuring the part required accurately – The frame measurement is different from the mat measurement.
Conclusion on backyard trampoline sizes guide
Trampolines are big, expensive, and take a while to install.
So, it's important you know exactly which trampoline size you're buying for your backyard.
As we've seen, there are a number of things to consider: the space available, the age of the people using it, the net height, and the weight capacity.
Once you know what size you need, it's much easier to narrow down which of the numerous trampolines you can buy.
Read Next