Key Takeaways
The eight best lawn dart sets to use at home are:
When purchasing lawn dart sets, consider player safety, material quality, weight and design, target quality, the number of darts, storage and portability, and reviews.
Also, ensure the lawn darts set you choose suits the age groups playing.
---
Many lawn dart sets exist to bring you and your friends and family tons of backyard fun. But just what are the best lawn dart sets to use at home?
8 Best Lawn Dart Sets To Use At Home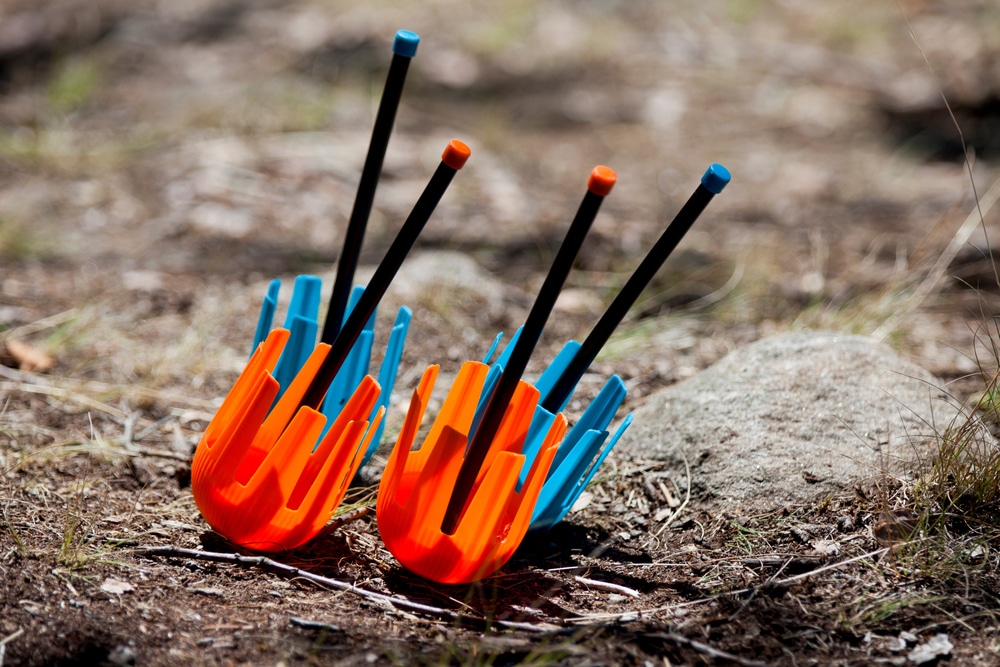 Not all lawn dart sets are the same. Thankfully, whether you're looking for a new game or a replacement set, you've got options.
1 – JOYIN Glow-In-The-Dark Lawn Darts Game
The JOYIN lawn darts set offers great value for money. The set comes with four darts (two blue and two red) and two large target circles. The darts are made from rubber and are round, making them safe for family use. 
One really fun aspect of these lawn darts is that they also glow in the dark – rings included. This means you can continue playing when the sun's gone down!
The materials are high-quality and durable and don't contain any toxic substances. 
These are suitable for players aged three and above (although you'll always want to supervise any children playing lawn darts).
2 – NERF Lawn Darts
We all know the NERF brand from their popular guns, but did you know they also make lawn darts? This set contains four lawn darts with different colored flights (orange and blue), two large hoop targets, and a storage bag.
This set is recommended for players aged six and above. All elements are hazard-free with soft, round heads.
The Nerf lawn darts are lightweight and compact, so you can easily take them on camping trips or visits to see friends and family. 
3 – Giggle N Go Flarts
If you're looking for a fun game for the kids, these Giggle N Go Flarts come either as a monster theme, a unicorn theme, or a traditional target. These are great for playing indoors as well as outdoors.
Unlike most lawn dart sets, these come with a single target mat rather than rings. Each section of the target is numbered with points for a more challenging game for kids. The mat comes with four lawn pegs to pin it into the ground. It's worth noting that these are inflatable darts – and there are only three.
Nevertheless, it's a lightweight and portable set you can use anywhere with no safety concerns, including indoors!
4 – Franklin Sports Soft Tip Target Toss
The Franklin Sports lawn darts set comes with an impressive six scoring rings. This means it's great for larger parties. There are four darts, two green and two blue.  
The lawn darts have soft tips, making them safe for players aged three and over. 
5 – Black Series Glow-In-The-Dark Lawn Darts Game Set 
This set by Black Series is a great, portable game for kids and adults alike. It's a classic game with a bit of added fun of being glow-in-the-dark! To get them glowing, they'll need 45 minutes of UV exposure.
The lawn darts come in a handy storage bag. There are four darts, two blue and two green, and two target rings. 
These are made from plastic and have a 90-day warranty for peace of mind.
6 – Hapinest Fireball Monster Floor Darts
These lawn darts are reasonably priced and safe to use indoors and outdoors. This is a fun design with fireball-themed darts and a double-sided monster-themed target. 
The set comes with four inflatable darts, a dartboard, four lawn spikes to secure the target, and two repair patches should the darts become punctured. This game is suitable for players aged four and above.
Since they're inflatable, these are among the safest lawn darts to be found.
7 – Poof Slinky Jarts
These lawn darts resemble the more traditional lawn darts of the mid-20th century but are much safer. They have slightly pointed tips that are rounded. This makes them suitable for players aged eight and above. 
The game comes with two target rings and four lawn darts in two different colors. The darts are durable.  
8 – NOMNOM TOYS Glow-In-The-Dark Lawn Darts
Our final set of lawn darts is from NomNom Toys. This set comes with four darts and four rings. It's also another glow-in-the-dark set. There is a handy drawstring bag for storage and transportation, which makes this a  great set to take to the beach or on trips to the park. 
What sets this set apart from others is that it also comes with a lanyard bottle holder. This is somewhat of a gimmick and isn't needed for the game, but it's a nice addition. 
This set is suitable for players aged three and over.
Factors To Consider When Choosing Lawn Darts
Lawn darts has a tumultuous history and was banned in its traditional sense over a generation ago. As such, there are essential considerations for you to make before buying a set. 
Let's start with safety.
Safety 
Player safety is the top priority. Due to injuries and fatalities, traditional lawn darts sets with pointed ends are prohibited in many places. When buying lawn darts, look for ones with rubber or rounded tips to minimize injury risks. 
Quality Of Materials 
For long-lasting sets, choose lawn darts made from robust materials. Buying high-quality lawn darts will also make them more accurate and consistent when throwing. 
Weight And Design 
The weight and the design of your lawn darts set will go some way in determining their ease of use and accuracy. Streamlined designs will encounter less wind resistance and will be more precise.
Quality Of Targets
Most lawn dart sets include targets to aim for. Look for ones with targets that are durable and clearly visible. Avoid ones that might dislodge or blow away in a breeze. Some sets have six targets, while others have one dartboard-style target.
Number Of Darts
Consider how many people will want to play at once. Some lawn darts sets are designed for two players, while others have enough for group games. 
Storage And Portability
Consider whether a storage bag or case is important for you. If you intend to transport your lawn darts, consider how portable the set is and how well you could keep it organized during transport.
Reviews
Always look at independent reviews and verified ratings to help you decide whether a set of lawn darts offers sufficient value for your money.