If you're looking to buy a pitching machine for your backyard you may feel overwhelmed and not know where to start.
There are lots of things to consider: the style of the machine, portability, skill level, age suitability, warranty not to mention price.
There are many brands, styles, and types of pitching machines out there and so it's important to consider each aspect before you get out your wallet.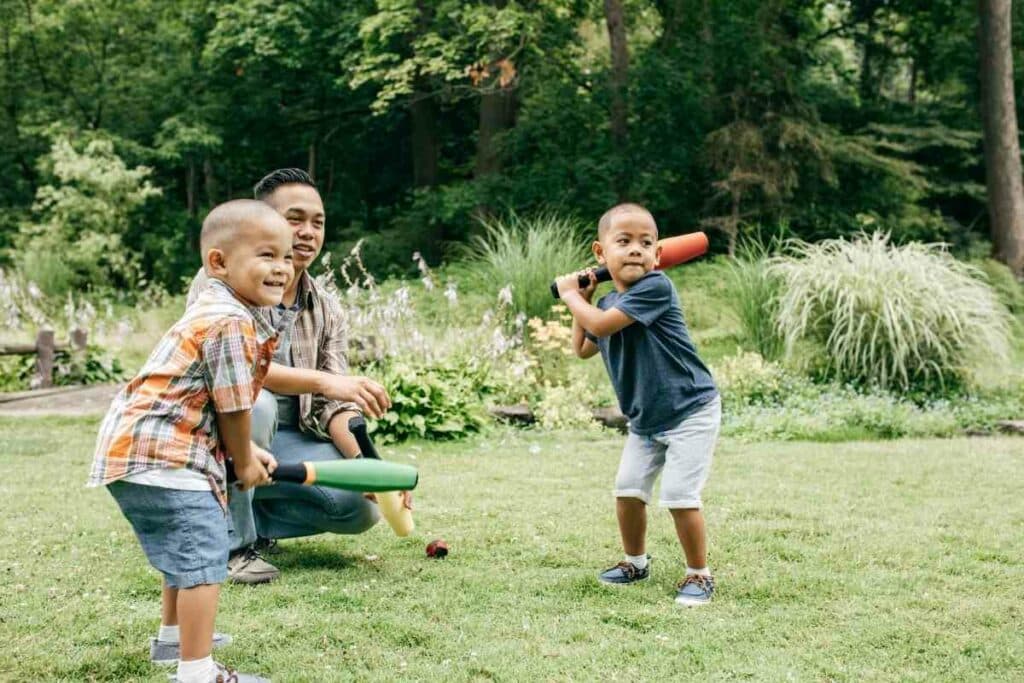 This machine may well be a once-in-a-lifetime investment. Our backyard pitching machine buyer's guide will certainly help you get it right.
What is a pitching machine?
A pitching machine helps you improve your baseball hitting skills.
The great thing about them is that they're always ready for you to practice, even if you're by yourself.
Most pitching machines are portable too and can be attached to standard wall outlets. Moreover, they're much more affordable than they once were.
With innovation and new technology, there is also now more choice! And that's when it becomes difficult to know which one is right for you and your budget.
Styles of Pitching Machine
When it comes to backyard pitching machines there are two distinct styles to consider:
Arm Style
Wheel Pitching
Understanding how both work is vitally important before you choose a pitching machine for your backyard.
Arm Style
For those that have visited batting cages before, you were likely hitting balls from an arm style pitching machine.
This type of pitching machine is known for its consistency – fastballs thrown straight down the line.
This style can't vary its pitches, however. Arm style pitching machines can often hold hundreds of balls thanks to their large hoppers.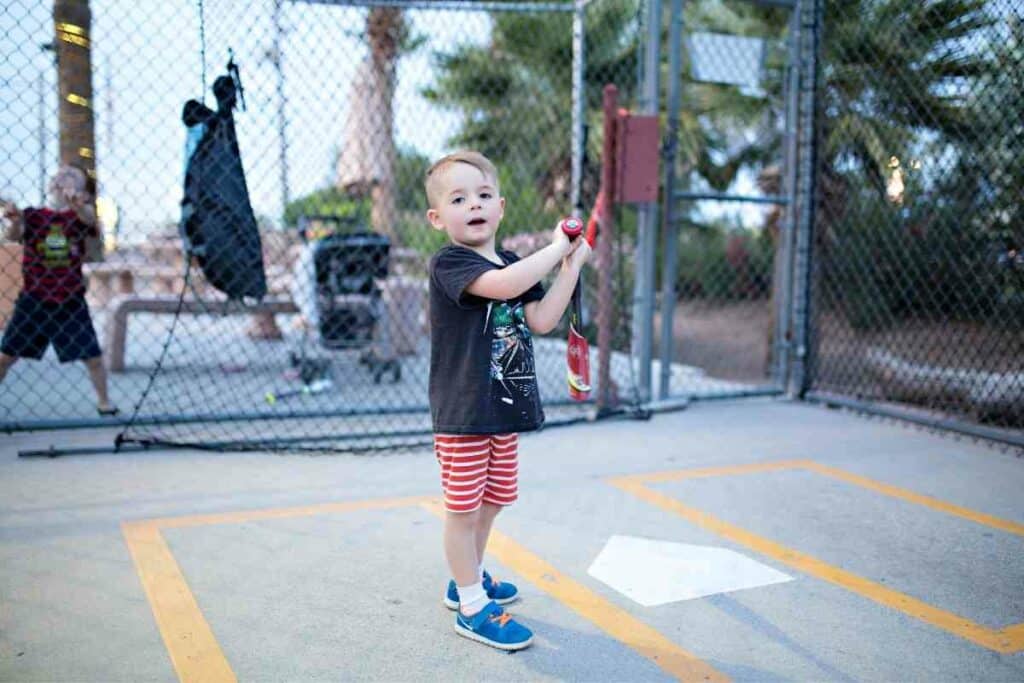 For those that want to work on their baseball swing, arm style machines are the best choice. They are ideal for team practice and batting cages and are easy to set up in your backyard.
On the other hand, this style is usually heavier, more expensive, and not easy to move around.
Wheel Style
Having just mentioned that arm style machines are not that portable, the same cannot be said for wheel style machines.
This is what often wins people over when they're making their choice of backyard pitching machine.
They also offer a much wider variety of pitches rather than consistent fastballs straight down the line.
Wheel style pitching machines aren't all the same though. There are one-wheel, two-wheel and three-wheel pitching machines to choose from.
No wonder choosing a backyard pitching machine is fraught with difficulty!
One-Wheel Pitching Machines
Pitching machines with one wheel are fairly like the arm style machines as they only throw faster balls.
This is because there is only one wheel working to move the ball so there is not as much opportunity for variations in movement.
One-wheel pitching machines are ideal for machine leagues without live pitchers.
When it comes to age range, these machines are a great choice for younger players from five to late teens.
The plus that one-wheel pitching machines bring is that they are much cheaper than arm style pitching machines.
They will stand the test of time and many high-quality one-wheel machines cost less than $1,000.
Two- and Three-Wheel Pitching Machines
By adding a second wheel, there is more power and control behind the pitches that the machine makes.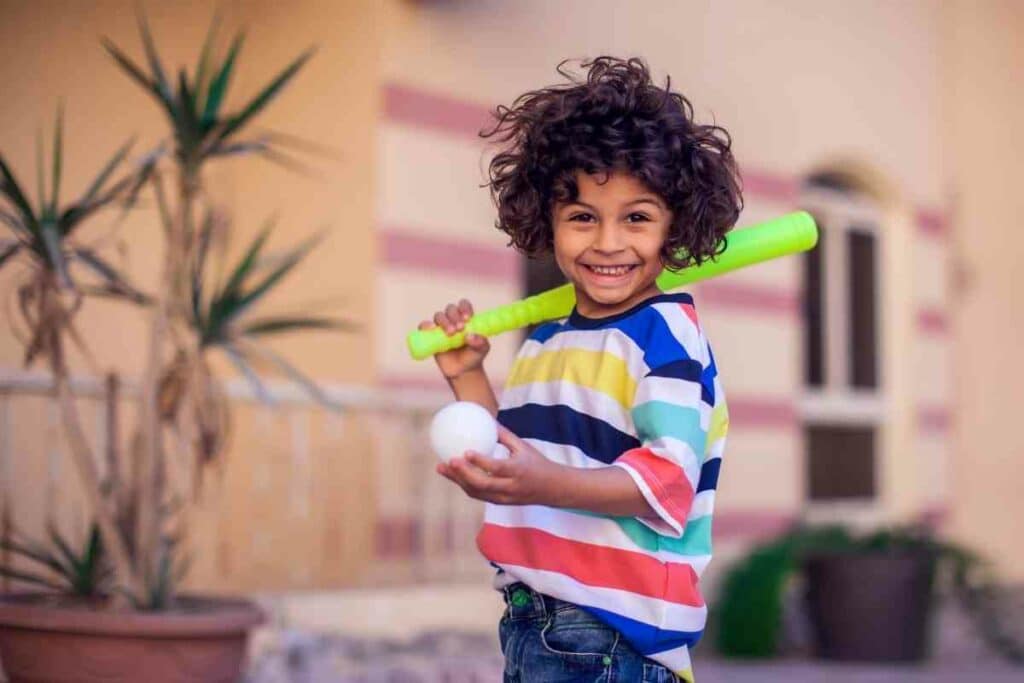 Each of the wheels spin independently and spin at differing speeds. This means that the machine adds spin to the pitches.
The pitches are more consistent and accurate than pitches from one-wheel pitching machines. Most pitching machines with two wheels can throw fastballs at speeds of 90 mph!
As for age, two-wheel pitching machines are ideal for those from 8 years and up. However, it's worth being extra cautious and slowing down the pitch speed for younger kids.
Adding in a third adds to the complexity and range of pitches. The motor is stronger which means there's more power.
The pitches are dynamic and faster. Each of the wheels usually has its own motor and controls and therefore spins independently from the other wheels.
Therefore three-wheel pitching machines can pretty much throw any kind of pitch:
right-handed and left-handed breaking balls
knuckle balls
split fingers
and breaking balls
If you want a pitching machine for older or more advanced players, a three-wheel pitching machine is best.
They're the most accurate and powerful. But, of course, this comes at a price.
They're also larger and heavier, as you may expect.
Most three-wheel pitching machines come with wheels which means that you can transport them more easily from place to place.
Now that we've looked at the different styles of pitching machines, let's take a closer look at their price and value.
Price and Value
Many of us have a budget in mind when it comes to bigger purchases such as a backyard pitching machine.
But you'll be pleased to hear that the most expensive machine is not always the best one. Of course, there is a general correlation with higher prices meaning improved technology and higher quality.
Yet the age of the player and your budget are also worth taking into great consideration.
Keep In Mind – A $3,000 pitching machine that throws out fastballs at 100 mph or left-hand curveballs might not be the best choice if you're playing with kids.
When looking at a pitching machine's value, you need to consider its overall longevity, quality and whether it comes with a warranty.
Only once you've looked at these individual elements can you be sure of its value and whether it's worth the price tag.
6 Best Backyard Pitching Machines
Let's look at a range of pitching machines to suit all needs and budgets so that you can find the best one for your backyard, taking into consideration the quality, skill and age levels, any warranties and, of course, price.
1. PowerNet Launch F-lite Baseball and Softball Pitching Machine
Variable Speed: 4 speed levels, 40-90 mph

Rating: 4.5/5
Accessories: 6 baseballs, 6 softballs, two tripod base legs to change pitching height
Tubular steel legs and stabilizing rubber feet
The PowerNet Launch F-lite is your own personal pitcher. Ideal for batting practice, the pitching machine has some variation in its pitches just like a real pitcher would.
It's easy to set up with no tools required and, once it's ready, it won't need much more attention to keep it doing what you want it to.
The fielding tool allows you to angle the Launch F-lite to work on line drives and fly balls.
You can also set it up to work on framing pitches that are off the plate. It's ideal for parents and coaches training at home or on the field.
With four speed levels, vertical and horizontal adjustments and consistent strikes, this pitching machine is a great choice.
Not only that, but it's also extremely durable. It can be set up quickly in your backyard or your garage.
The downside? You need to feed each ball into the machine, waiting 5-7 seconds before feeding another.
Also, this machine should only be used with branded F-lite balls due to its calibration. Leather game balls and other brands may affect the performance and longevity of the machine.
2. Furlihong Upgraded Electronic Baseball Pitching Machine
Maximum Speed: 19 mph

Rating: 3.6/5
Warranty: 180 days
Runs on 4D batteries or AC adaptor
Accessories: 8 dimpled sting-free plastic balls
Four pitch angles
The Furlihong Upgraded Electronic Baseball pitching machine is a good choice if simple batting and fielding practice is what you're looking for.
The flexibility of the power supply makes this machine a great choice for portability.
When you're in the middle of a field, the last thing you want to be looking for is a socket to plug your machine into!
With this one, the battery power option means you can pitch balls pretty much anywhere!
With a maximum distance of 39 feet and four adjustable speed settings, this machine is a great choice for practice for children.
With a maximum speed of 19 mph, however, it is certainly not the one to choose if you're playing the big game!
This pitching machine can be placed directly on the ground or mounted on a tripod to pitch further and higher.
What's more, there's a red indicator light that flashes before launching a ball, making youngsters ready for their next pitch.
It's also possible to adjust the ball feed time between three and five seconds making it suitable for all abilities and levels.
3. Heater Sports Deuce 75 Two-Wheel Baseball Pitching Machine
Speed: 15-85 mph

Accessories: 12-ball automatic feeder
Weight: 75lbs
Recommended for age 8 plus
Pivot head design for any angle pitch
This two-wheeled pitching machine offers pretty much everything when it comes to types of pitches.
The dual pneumatic tires mean you can pitch sliders, fastballs, and curveballs with no problems.
The wheels are safely enclosed in metal casing, so you do not need to worry about trapped fingers or other injuries.
Each of the two wheels has an independent speed control knob. This means that this machine can pitch balls at any speed – from 15 mph right to 75 mph.
By using a lite ball, the speed can increase to 85 mph!
Its pivot head design means the machine can be tilted to almost any angle, pitching sliders, fastballs, curveballs, grounders, and pop flies!
With 12 balls ready to go in an automatic feeder, the Heater Sports Deuce delivers a ball every eight seconds automatically – no more waiting for your pal to pop another ball in the machine!
The Deuce 75 weighs 75lbs. This means that it is very easy to carry and is portable. It fits easily into the trunk of your car to take to practice.
It's sleek and light with strong, steel tripod legs for stability. It plugs into standard wall outlets, or you can source a battery pack for convenient batting practice anywhere.
4. Heater PowerAlley Pro
Speed: 45 – 60 mph

Rating: 4.2/5
Powerful 1/8 horsepower motor
Adjustable pitch height
Tubular steel tripod design
Can be bought with a ball feeder
The Heater PowerAlley Pro gives you the choice of pitching real baseballs or lite baseballs!
Depending on your choice, its maximum speed varies. For lite balls, the pitches can reach a speed of 60 mph. With real baseballs, it reaches speeds of up to 45 mph.
Whilst this pitching machine might not have as much variety as others, it is one of the most affordable pitching machines out there today.
Its steel tripod legs and nylon-fiberglass housing are both durable and lightweight, making it a great choice for kids and your backyard.
Not only that, but it's also easy to set up and aim. It comes with one yellow dimple ball and can also pitch Wiffle balls.
You can also buy a ball feeder separately so that it doesn't need to be reloaded with a new ball for each pitch. This feeder holds 12 lite balls or baseballs and delivers a ball every 9 seconds.
5. BSN Sports Bulldog Baseball/Softball Pitching Machine
Speed: 30 – 60 mph

Weight: 32 lbs.
Rating: 4.2/5
Single, durable urethane wheel
Heavy-duty legs
One-year warranty
The BSN Sports Bulldog pitching machine is versatile when it comes to balls.
It can pitch baseballs as well as 11" and 12" softballs. The heavy-duty tripod legs also convert between softball and baseball height.
The machine has a single wheel made from durable urethane. This eliminates any air pressure issues that other pitching machines may encounter.
With pitches ranging from 30 mph to 60 mph, this machine can stimulate a variety of pitching styles for the ultimate experience in batting practice.
The machine's lightweight design allows you to move it easily, allowing for greater flexibility when practicing. It is powered by an AC adapter and comes with a one-year warranty.
6. Heater Sports Perfect Pitch 45
Speed: 15 to 45 mph (55 mph for lite balls)

Weight: 12 lbs.
Rating: 3.6/5
Safe for all ages
Mechanical Pitching Machine: No electricity needed
Throws 9" baseballs and 11"/12" softballs
Portable design
Accessories: Steel ground stakes for added stability on grass, dirt, and soft surfaces.
The unique design of this Heater Sports pitching machine is that it does not need a power supply!
It is operated mechanically by spring tension and is therefore super safe to use, even for younger children.
What's more, Heater Sports state that it is the lightest 45 mph mechanical machine on the market at just 12 lbs. You can transport it from place to place with ease, from your backyard to the field.
Despite being light in weight, it has a heavy-duty structure. You can set the speed between 15 and 45 mph by attaching the spring to the foot pedal.
Adjusting the throwing arm height allows for strike, ground ball or fly ball pitches.
Once set up, the operator can load a baseball or softball onto the throwing arm.
The ball is released by simply stepping on the foot pedal to apply tension and then pulling back on the release handle. It'll give the perfect pitch every time – it's not called the perfect pitch for nothing!
Final Thoughts on Backyard Pitching Machines Buyer's Guide
If you make the right choice, your backyard pitching machine should be a once-in-a-lifetime purchase.
Therefore, it's ever so important to read and research all about pitching machines and which one is right for your backyard before you buy.
What's suitable for a six-year-old in a small backyard is not necessarily suitable for an 18-year-old on the team training pitch.
Remember, it's important to consider the following:
Design
Pitching speeds
Pitching styles
Consistency and accuracy
Age suitability
Durability
Portability
Power source
Warranty
Price point
Taking all of this into consideration, you'll be well on your way to deciding which backyard pitching machine would be the best buy for you.