A wooden swing set will last years with the right care. However, since these playground structures are left out all year round, there will be certain times when maintenance is needed.
The wood might become damaged, the metal hardware might rust, and the stain or paint might crack or fade.
If your wooden swing set isn't looking its best, you should probably get on to some restoration work before it ends up beyond repair.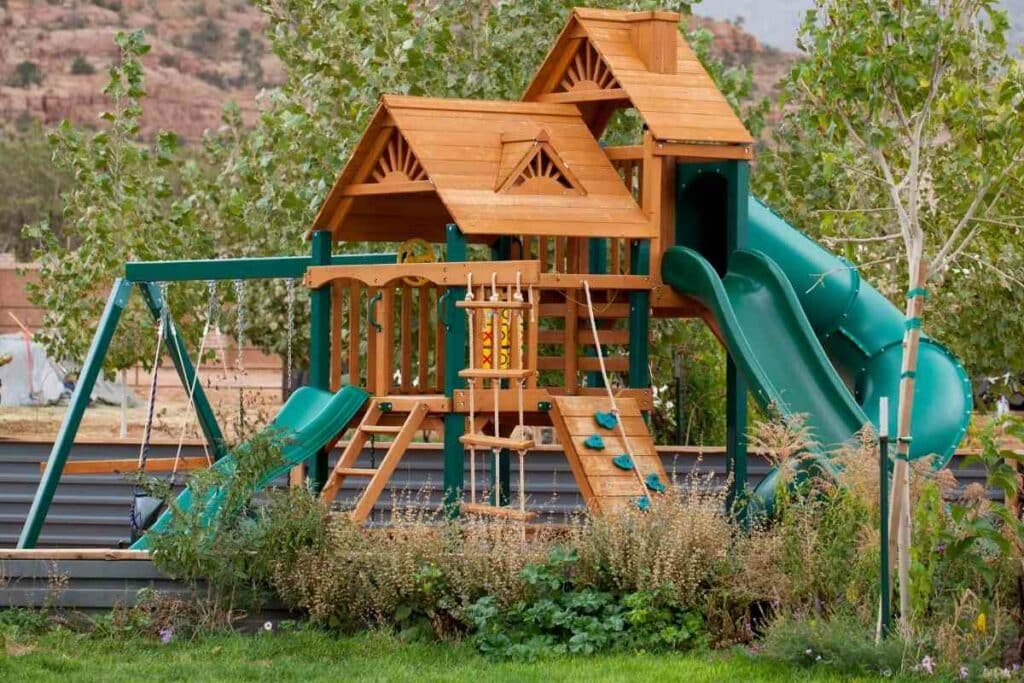 Wooden swing sets are expensive and so it's worth maintaining an existing one before you need to replace it due to it being in disrepair.
Before you condemn a worn-out swing set, consider fixing it up and giving it a new lease or life.
This is the sort of garden project that can be done over a few weekends and the good news is that it won't break the bank!
What to Expect? The main parts you'll need to look at are the condition of the wood, the metal (and potential rusting), and plastics. So, without further ado, here's our guide on how to restore a wooden swing set.
Step 1: Assess the swing set
Before buying anything, you'll need to take a real close look at the swing set from top to bottom.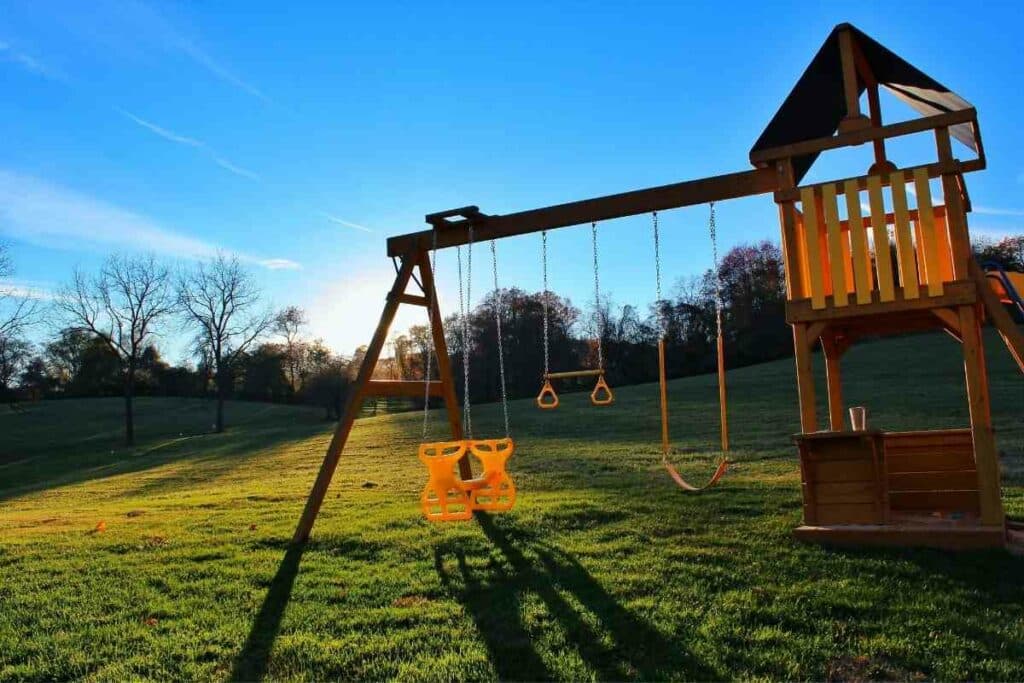 Look at where the stain or paint needs fixing up, look at all the hardware (yes, every screw and nail), and look for any sign of cracks or damage.
Once you know what you're dealing with, you can come up with a plan of action.
Step 2: Price it up
So that you don't get any nasty surprises, you might want to price up your repairs before you begin.
Work out what new tools or equipment you might need and how much replacement parts and hardware will be.
Don't forget to estimate the cost of a new coat of paint or stain too.
Step 3: Start by replacing metal
The first thing you need to do is replace any metal on your wooden swing set.
When you assessed the swing set, you'll have looked for rusty, loose, or missing nails and screws. Now is the time to replace them with new ones.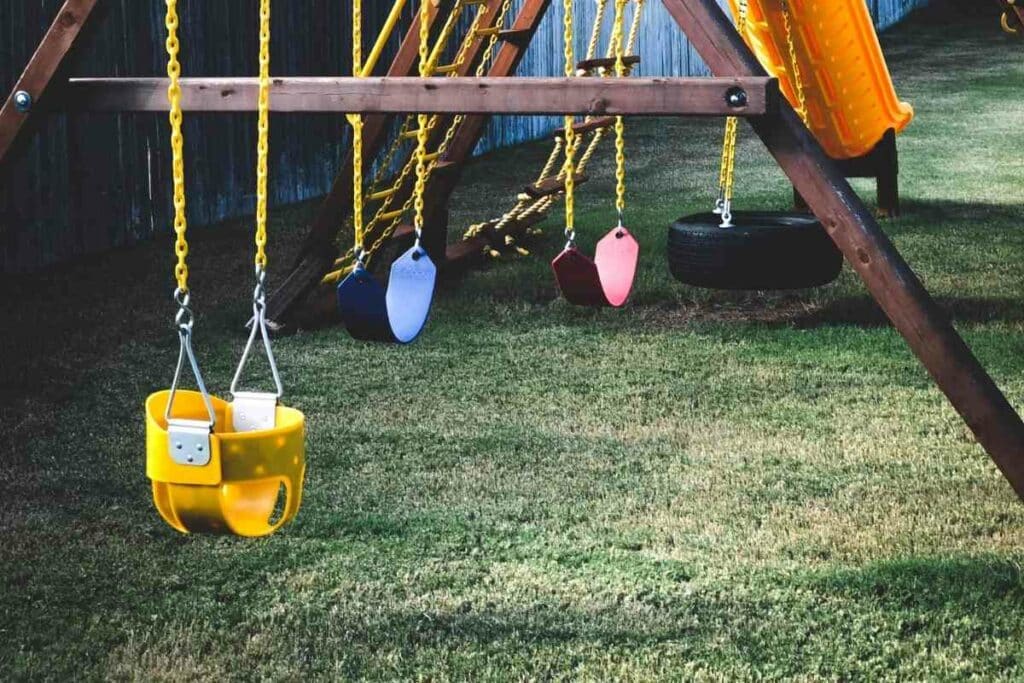 However, you likely won't be able to replace them with ones of the same size because the holes will be bigger than they were original.
This will also be the same for any other hardware like bolts that you're replacing. Remember, if it's loose, rusty, or missing, you need to replace it.
When you're replacing metal, ensure you buy galvanized metal so that it will be good outside and won't rust or corrode.
Step 4: Deal with the slide and anything plastic
A worn-out slide doesn't look great but fear not – it can be painted!
There is a special paint that can be used on plastics.
Firstly, you'll need to make sure all dirt is removed. A pressure washer is ideal. It's important to have the slide free from any bits before painting it!
Once clean, you'll need to give the paint a good sand. 60 grit is the best. This is important because plastic is slippery (and a slide is designed to be so).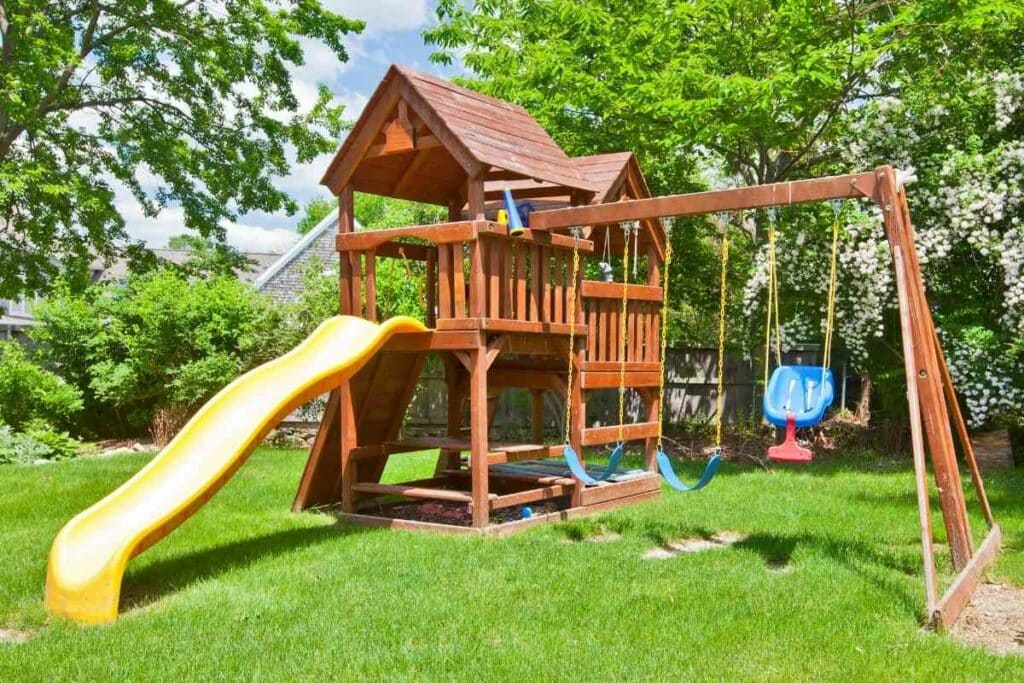 Paint for plastic needs a rough surface in order to bond and not peel.
Once the scuffing is done, you've still got another step to do before you can paint.
All of the surfaces should be wiped with a solvent like Xylene or Solvide.
Once you've done this step, you're ready to paint.
Don't Forget – Make sure you choose a paint that is specially designed to be used on plastic. It should also be UV resistant so that it won't fade with sunlight.
It's possible to get both smooth and textured plastic paint. Go for smooth on a surface like a slide or textured for anything that requires climbing or gripping.
Read the instructions carefully as you'll probably need to do two coats.
Step 5: Remove the old wood paint or finish
If you have a painted or stained wooden swing set, you'll need to use an electric sander to remove this layer.
Sanding by hand is an option, but you'll be there a very long time indeed!
Start off with rough grit sandpaper and then move to a finer grit once the stain or paint has been sanded off.
If the swing set is painted, you should consider scraping off any loose paint and then applying a paint stripper before sanding.
Step 6: Deal with metal stairs or chains
If your wooden swing set has some metal parts, it's now time to remedy these.
Usually, metal parts on outdoor equipment are galvanized so they shouldn't rust.
However, if it's painted, you might want to revive it a little. If there is any rust, you need to deal with it swiftly as rust can cause tetanus infections.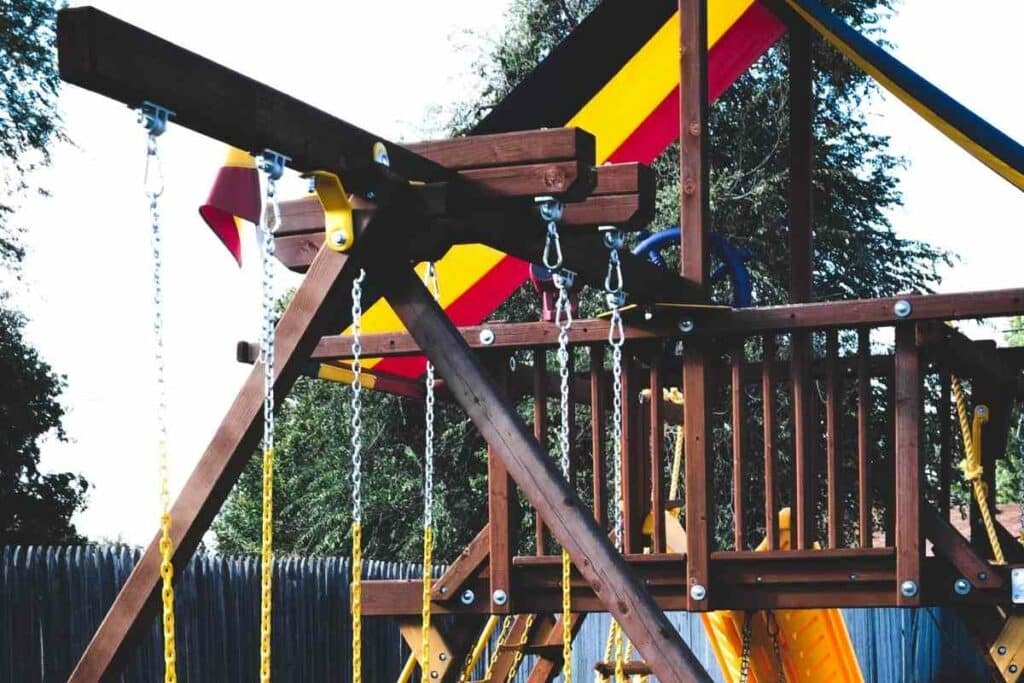 If there is rust, you'll need to use rough sandpaper (40 grit) to remove any loose material. Then, you'll need to use a product that will stop the rust from spreading.
Once the rust is treated, you can then paint it. All metal areas will need scuffing with 40 grit sandpaper before being painted.
If the metal is thin, you'll need to prime it with zinc phosphate or a suitable metal primer.
Then, you're ready to paint with a suitable outdoor metal paint.
Step 7: Fix cracked wood
Even if you've sanded the wood and got rid of small splinters, there might still be cracks remaining in the wood.
To deal with these, you'll need to use sand around the cracks and in them with medium sandpaper.
After This – Use wood filler to plug the crack using a putty knife. After this has dried, sand over the filler so that it is flush with the rest of the surface.
Step 8: Sand down the wooden parts
You're almost there!
One of the biggest problems with older wooden swing sets is splinters. With old, dry wooden frames, it's pretty easy to get a splinter.
The penultimate step in how to restore a wooden swing set is to sand down all of the wood.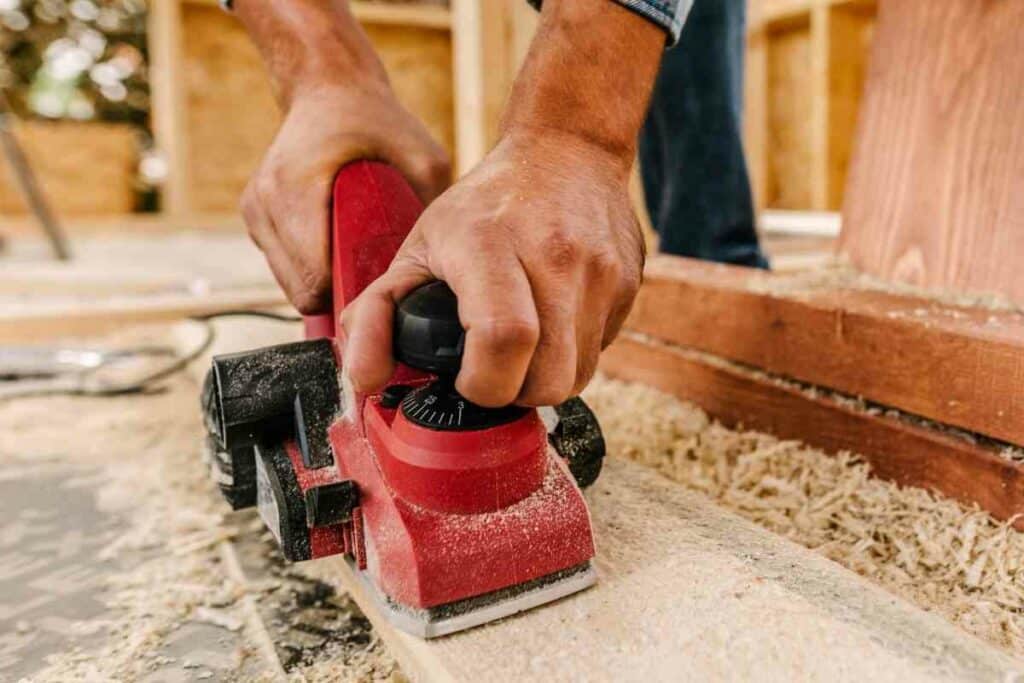 You should use a wood plane to start with as this will pick up any large splinters quickly.
After this, use an orbital sander and 60 grit sandpaper. This will flatten and smooth the surface making it safe and ready for painting.
Once again, ensure the surface is free from dust before moving on to the next stage. Use a solvent and cotton cloth to do this.
If your wood frame is really dry, you might need as many as four coats of paint, which leads us to our ninth and final step.
Step 9: Stain or paint the wooden frame
If you want to stain your wooden frame, you should use a bristle brush to apply this and then use a foam brush to get into any hard-to-reach areas like the corners.
It's also possible to apply a wood stain with a rag.
If you want to paint it, select a good outdoor wood paint, and use a brush to apply it.
Alternatively, you can use a roller for larger areas. You should apply two coats at least.  
Final thoughts on how to restore a wooden swing set
A wooden swing set is a large investment and it's worth looking after.
If your swing set is looking a little tired, there's no reason why it has to go in a dumpster.
A few hours of assessing, sanding, changing, fixing up, and painting will have your swing set as good as new.
Spending this time (and a little bit of money) will keep this valuable asset in excellent condition for many years in the future – just make sure that the kids don't go on it before the paint is dry!
More Related Articles