Swing sets are an awesome addition to the backyard environment when you have kids.
Of course, adults can get a lot of fun out of a swing set as well, especially with the right seats.
But you have to put it together first.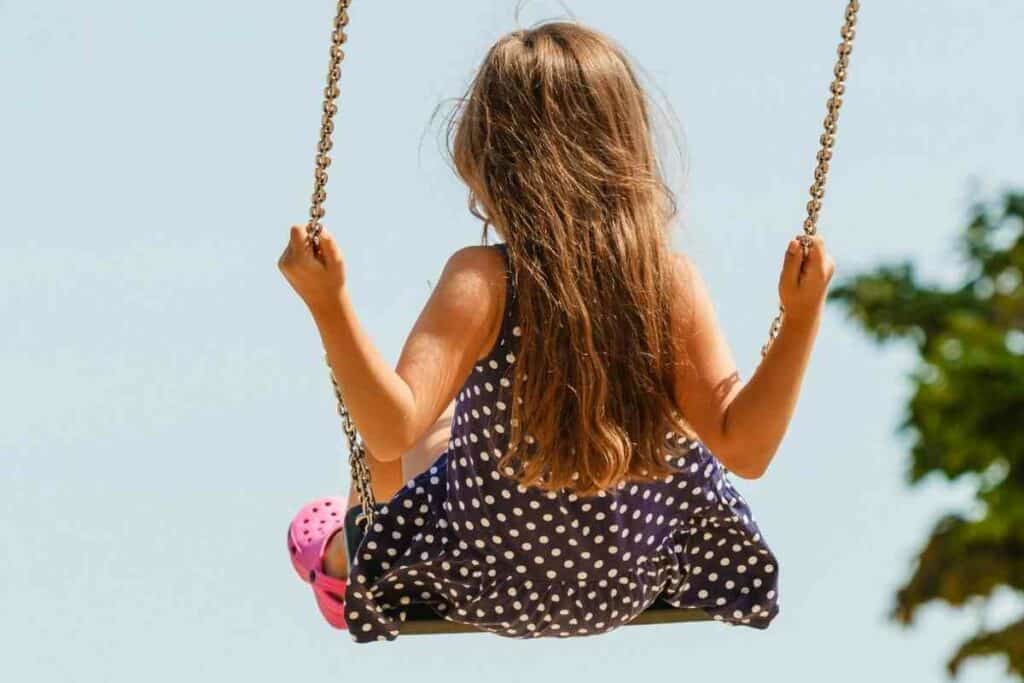 How far apart should swing brackets be?
How much space between chains?
Those are answers you need before you get started and when it comes to the swing brackets,
The optimal safe distance between swing brackets is 18". You can drop that to 16" if you need to add on an extra swing, however, the US Consumer Product Safety Commission recommends 18" to 20". 
You're probably thinking that those numbers vary pretty wildly. The truth is, anything between 16" and 18" is going to be fine.
The CPSC is always going to overindulge on the side of safety to the extent that it goes well beyond practicality.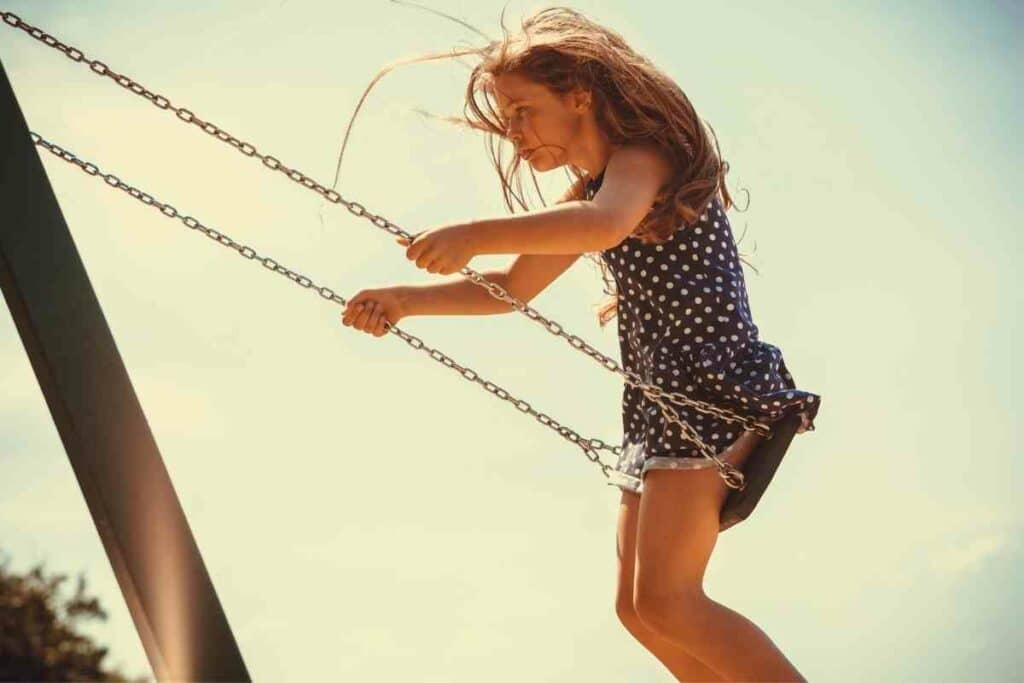 That's not to say that they're wrong, as the safety of children is the driving force behind the reasoning.
However, most swings don't maintain a full 20" between swing brackets, unless you're talking about the kind of swings that you'll find in state parks. 
Always follow the manufacturer's guidelines when installing any equipment.
How Wide Should Swing Seats Be?
Swing seats should be around 17" to 18" long with a width of 8" and at least a 1" dip without any weight being placed on them.
If you're setting up a swing for the first time, you want to mount your swing brackets in an above-mentioned manner while accounting for the width of the seat.
It would look really silly if you had chains too close to each other with a seat that's too long.
---
Remember: The seat is going to bulge downward whenever you, someone else, or a child sits down in it, so you don't want the chains touching your ears when you sit down. 
---
Does the Swing Bracket Distance Determine Beam Length?
The distance that you decide to go with between the swing brackets will definitely dictate the length of the beam.
That is, of course, unless you have a beam that's already cut to size.
In that case, the length of the beam will determine your spacing between the swing brackets.
If you want to go 24" between swing brackets, the CPSC recommends 24" between swing seats an additional 30" between a swing seat and the foundation of the swing set, such as supporting beams and other structures commonly manufactured as a part of a swing set. 
If you're manufacturing your own swing set, you want to determine how many swings you want on a single beam.
If you want more than three, you're probably going to have to add a middle support beam that divides two sets of two swings.
Of course, you'll also have to account for the 30" distance that the swings should be away from the middle support beams as well.
---
Key Takeaway: Depending on how many swings you want, it could result in a lengthy beam to support them all. 
---
How Do You Space Your Swing Brackets?
Getting the proper amount of space and being precise with your measurements is key, especially if you're working with a beam that's already cut to a certain length.
You want to get as many swings as you need on there without compromising on safety. 
Usually, the main beam that holds the swings is going to extend past the final support beam on the outside by about two feet.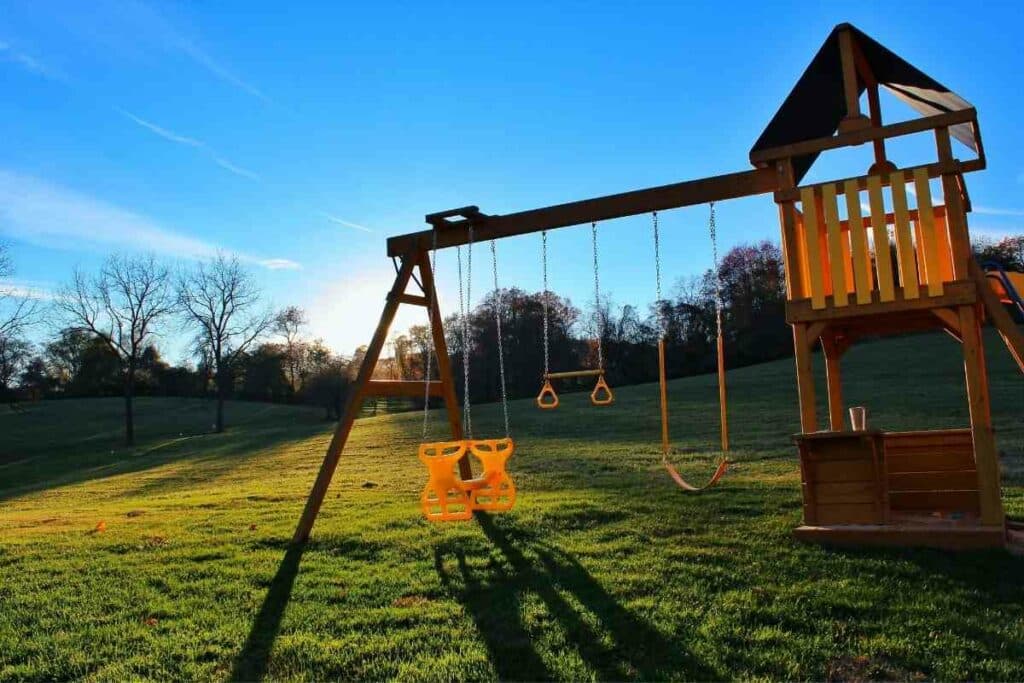 In the other direction, it will butt up against the structure of the swing, which usually includes:
a playhouse
slide
ladder
and other play structures
You want to start by measuring the entire distance of the beam.
From here, you can calculate how many swings you can install between the load-bearing beams that extend perpendicular, downward from the main beam. 
You have to account for 30" away from the structure and 30" away from any additional, load-bearing beams.
Then you can go about installing the brackets along the beam, choosing anywhere between 16" and 20" between the swing brackets and 24" between swings. 
Some websites recommend 8" between swings and you can certainly do that, however, if you have very small kids, accidents are more prone to happen the closer the swings are together. 
If you have a 12' beam, you can easily install 3 swings with 18" to 20" between swing brackets, and 20" between each swing. If you want to add the fourth swing, add 4' to the length of the beam to make it an even 16'.
How Much Distance Should Be Around the Swings?
Distance from the bottom of the swing to the ground should be about 12" for very small children, then increase the distance between the bottom of the seat and the ground by 4" every few years.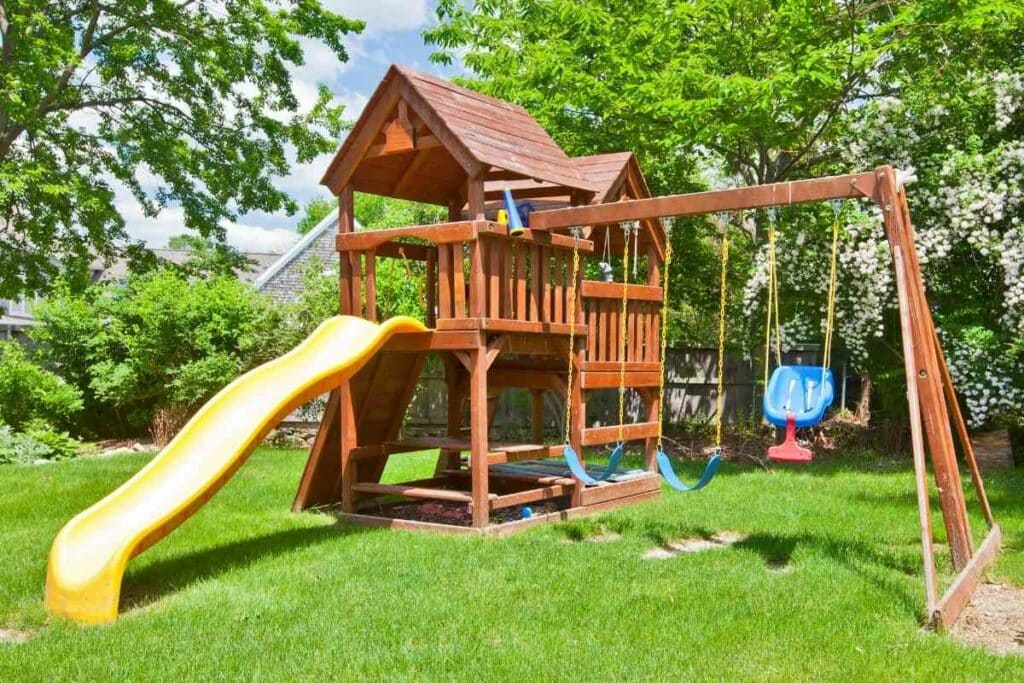 You can also dig channels out beneath each swing, which is a common thing to see at playgrounds and parks. 
There should be a minimum of 6' of empty space all the way around the swing with a 6' deck height if you want to get the most out of the swing set, in terms of kids growing until they reach the point where they no longer play on the swing set.
Final Thoughts
Swing sets are a great thing to have if you have kids and putting together your own is probably simpler than you would expect.
So long as you keep the distances in mind, you'll end up with a nice swing set that the kiddos can enjoy for years to come. 
Also Read