Do you want to grow some strawberries but have limited or no garden space?
Strawberry planters and pots are a great alternative to consider. 
Strawberries grow just as well in these containers as they would in a garden with the right conditions.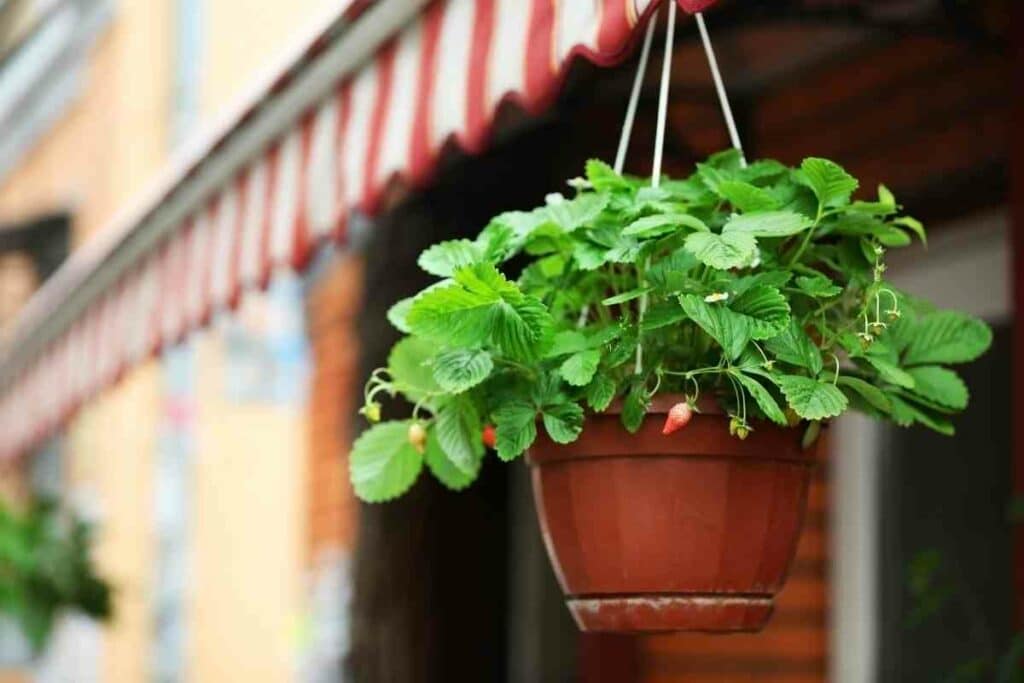 And it doesn't matter what size your balcony or patio is; you can get a pot or planter that fits. 
---
What to Expect: Here are some of the best strawberry planters and pots for you to choose from. With these, you can enjoy a significant harvest in season.
---
Top Strawberry Planters and Pots
Read on to determine which strawberry containers best suit your needs and preferences.
1. Stacky 5-Tier Strawberry Planter Pot
This Mr.Stacky planter helps you maximize space.
With only 12 inches of space needed, you can plant up to 20 plants in it. 
The plants are adequately spaced, making sure they do not overlap.
You can use this planter indoors and outdoors as it's made of robust and food-safe plastic. 
That said, you need to place it on a flat surface to avoid falling over when it's windy. 
If your plant is indoors, the planter has a bottom saucer that holds any excess water during watering.
Using this tiered planter is straightforward. You pot the plants per tier and then stack them together once done. 
In addition, you only need to water the top deck during watering. This is possible due to the drainage holes at the bottom of each tier. 
Pros
Maximizes space
Easy to set up
Ease of watering
Bottom saucer provided
Cons
It needs to be placed on a flat and stable surface
---
The water flows from the top level to the rest of the plants through these holes.
Since the tiers are detachable, you can also use fewer tiers. Also, if you want to do hydroponic farming, this planter works well with it.
2. Amazing Creation Stackable Planter Vertical Garden
This is another fantastic towering planter option. 
The planter has five stackable levels that hold up to 15 plants. You need an area of 13.3 inches to accommodate it.
The planter is made of polypropylene, a high-quality material that is durable resistant to heat, cracking, and fading. 
This makes it ideal for both indoor and outdoor use. The planter has indentations on the last tray to improve its stability. 
The design of the planter aims to provide your strawberries with a conducive environment. It has soil separators on each tier, enhancing air circulation. 
It's essential to have proper airflow to avoid the rotting of plants. The planter also has holes on every level to allow downward water flow. 
Pros
Durable material
Improved stability
Has soil separators
Water flows down with ease
Bottom tray included
Cons
Drainage holes are not as efficient and may need to be enlarged
---
This makes it easy to water the plants. The tray at the bottom of the planter holds any excess flow.
You can get this planter in two colors; off-white or terracotta.
And finally, Amazing Creation offers a money-back guarantee on each purchase if you end up not liking your planter. 
This confirms its one of the best strawberry planters and pots there is in the market.
3. Outland Living Vertical Raised Garden Bed
If you have more space to work with, consider getting this planter. 
The frame is steel, perfect for both outdoor and indoor use. This choice of material means that it remains stable even in harsh windy weather. 
That said, the planter is still light enough to move around if necessary.
The planting bin is also ideal as it's made of BPA-free, food-grade, lead, and mercury-free plastic.
The planter has five 22 inch bins which means that you can grow several plants.
If you decide on 10 inches between the plants, you can have three plants per planting bin. 
You can also choose to plant different varieties of strawberries in each container.
Pros
Good material that makes it sturdy
It offers a large area of planting space
Ease of set up
Minimal bending required
---
It's easy to stack the bins, and you don't require any tools.
The tower's height also reduces the need to bend over when tending to the plants, making it perfect for seniors.
4. BloemBagz Strawberry Planter
At the height of 17.75 inches, this planter gives your strawberries adequate space for root development. 
Better root development may result in a higher yield than strawberries in other planters.
This fabric planter is made of recycled material and comes in eight beautiful colors. 
The fabric is also breathable, hence promoting proper air circulation.
It has mesh grommets at the bottom to ensure that you don't over-water your plants. This reduces the chance of a possible root rot scenario.
You can have up to 12 plants on this planter; four at the top and eight on the side pockets. 
Pros
Use of recycled material
Promotes better root development
Water drainage mesh
Easy to carry
Wide range of colors
Cons
Could use some lift handles
---
Easily rotate the plant for sunlight exposure using the sides handles.
The handles also allow you to move the plants to different locations safely. When not in use, fold and store it.
5. Meiwo Vertical Hanging Planter
If your space is minimal, use a hanging planter.
You can hang it on your balcony wall, fence, or even a door. 
The back and bottom are waterproof, meaning there is no mess.
This wall planter is made of felt material that is breathable, does not rust, and is self-absorbing.
It has seven pouches where you can plant your strawberries. 
These compartments are deep enough for the strawberries to grow as needed.
Pros
Great for small spaces
Acts as décor
Durable material
Easy to use
---
Planting and watering are also pretty easy.
You hang the planter using the hooks and zip ties that come with it. You can also re-use the bag multiple times.
6. 5-Tier Vertical Gardening Stackable Planter
This is another good option if you're looking for a stackable planter. 
This 5-layer planter has enough space for 15 plants with enough space between them. 
The plant arrangement ensures that they do not block each other from receiving sunlight.
The planter is made of durable plastic that will serve you for a long time. Each layer has a filter screen where water passes down to the next row. 
This reduces the amount of time you spend watering, unlike watering per plant.
At the bottom, a dish holds any wastewater and prevents floor stains.
While you can place this planter on the ground, you can also hang it up using the chains provided.
Pros
High-quality material
Easy water filtration
Bottom dish provided
You can also hang it
Cons
The plant opening is a bit small
---
The chains are strong enough to hold all the contents of the planter in place. 
Hanging it also adds to the aesthetics of your space. Since the layers are detachable, you can hang some and leave others on the ground.
The planter comes in three color options; black, ivory, and brown.
7. Reeyox 10 Gallon Strawberry Grow Bag
If you're looking for a more affordable grow bag, this is a good option.
It provides great value for money.
The bag is made of breathable felt textile, lightweight and washable.
You can use it multiple times as it doesn't easily wear out. 
When not in use, fold the bag and keep it safe.
This bag can hold about 11 plants; three at the top and eight on the side pouches.
The 12.6-inch height of the bag gives the strawberry roots adequate growth space.
Pros
Affordable
Good quality material
You can use it many times
Cons
Handles not strong enough
---
The breathable fabric also allows sufficient airflow.
You can pick up and move this grow bag using the sturdy grips on the side.
Advantages of Using a Planter or Pot for Your Strawberries
Using these containers keeps your plants away from the ground. This is essential because strawberries quickly rot when they contact wet soil. It also protects the fruits from attack by pests such as slugs or snails.
You get a higher yield from the containers than you would in the same space in a garden. This is because most pots and planters make use of vertical space.
They are an excellent alternative for those with no garden.
You can move the pots around when you need to. This could include moving them to get more sun or indoors during winter.
The pots and planters also add to the beauty of your home.
How to Plant Strawberries in Your Pots and Planters
The ideal time to plant your strawberries in containers is late spring.
Planting them in early summer is not bad timing as well.
You can either transplant strawberries or start them off as bare-roots.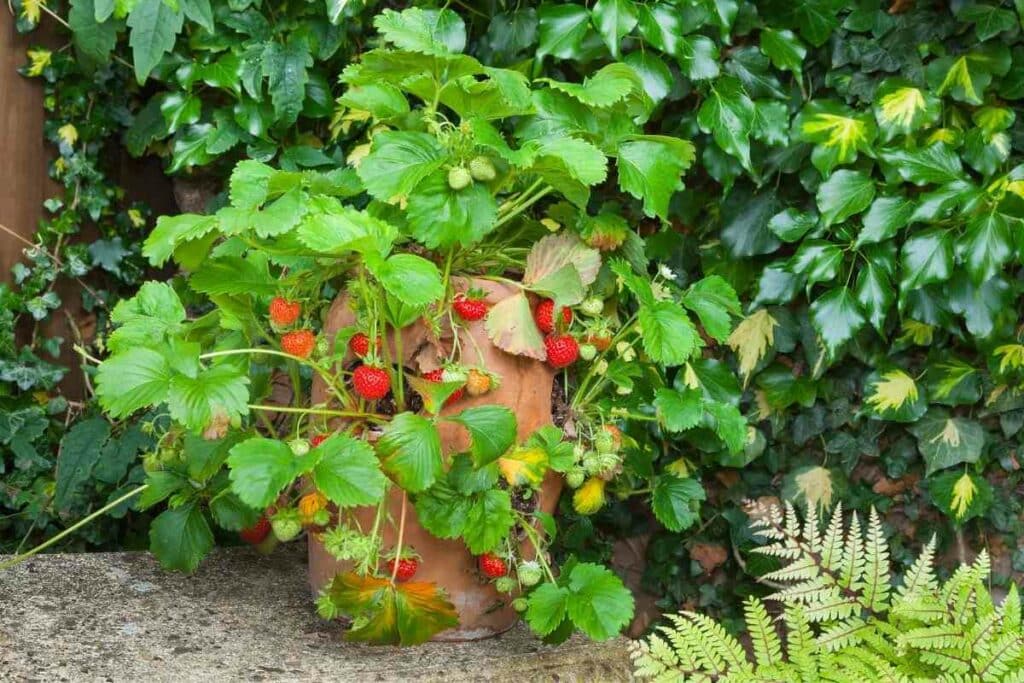 The transplanted ones immediately look good, but the bare-root crowns require some time to produce their leaves.
Things to consider:
The best spacing for potted strawberries is 10 to 12 inches apart since they don't do well in crowded spaces. 
While planting the strawberries, make sure you leave the crown above the soil surface.
You should also spread the roots before covering them with soil. Press them in once you cover them to make them firm, and then water the plant.
You can add more soil if needed after watering as long as you don't cover the crown.
---
Go Easy: Ensure that you don't overwater the plant.
---
Where to Place Your Potted Strawberry Plant
Sunlight is essential to strawberries to help them flower well and produce fruit.
Set your planter in a spot that receives at least eight hours of sunlight. 
If only one side of the plant is on the sunny side, rotate the plant after three days. This ensures even growth.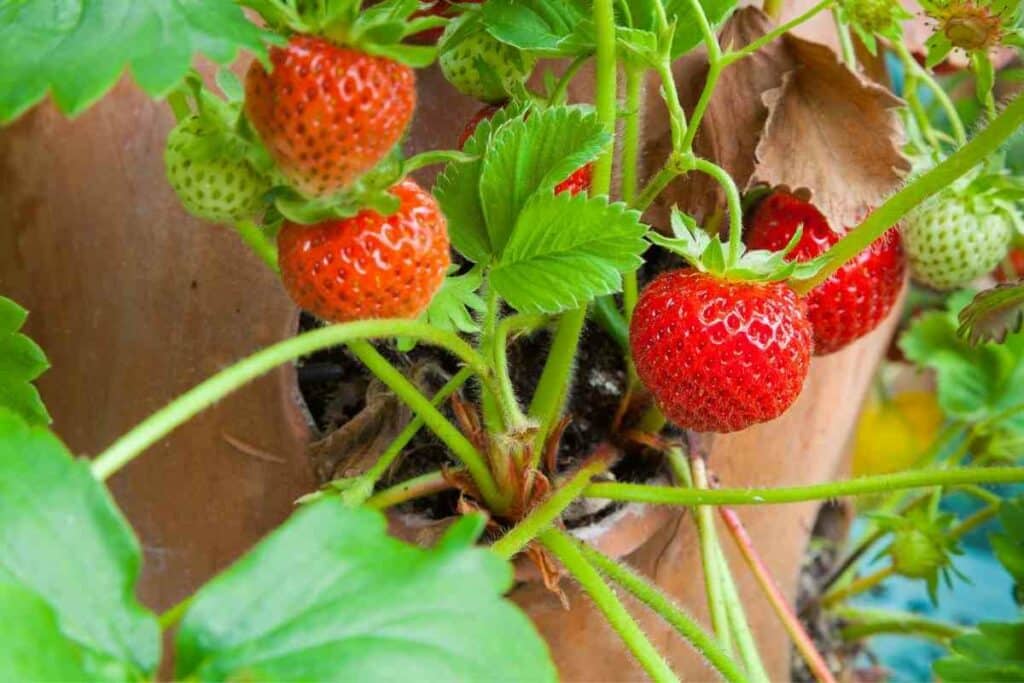 If your planter is a hanging one, keep it in zones that are not too windy. Too much wind may hinder pollination.
It is best to move your plant indoors away from the harsh weather during winter. You can also cover them with some insulating material.
You also need to protect your strawberries from:
The best way to do so is to put a fence or netting around them.
Watering Your Potted Strawberries
You should water your strawberries twice a week or when the soil feels dry about 1 inch from the soil surface. 
The water you add should be minimal as the soil should be damp, not soggy.
---
From Experience: If your area experiences hot, dry weather, you may need to water the strawberries daily, sometimes even twice a day.
---
Conclusion
If you live in a tiny apartment where space feels limited, don't let that deter you from planting your strawberries.
Carefully assess your area and pick the best strawberry planters and pots. 
You'll have fun taking care of your strawberries, watching them flourish, and eventually harvesting them.
Trust me; nothing tastes as sweet as the fruits of your labor(strawberries!)
Read Next