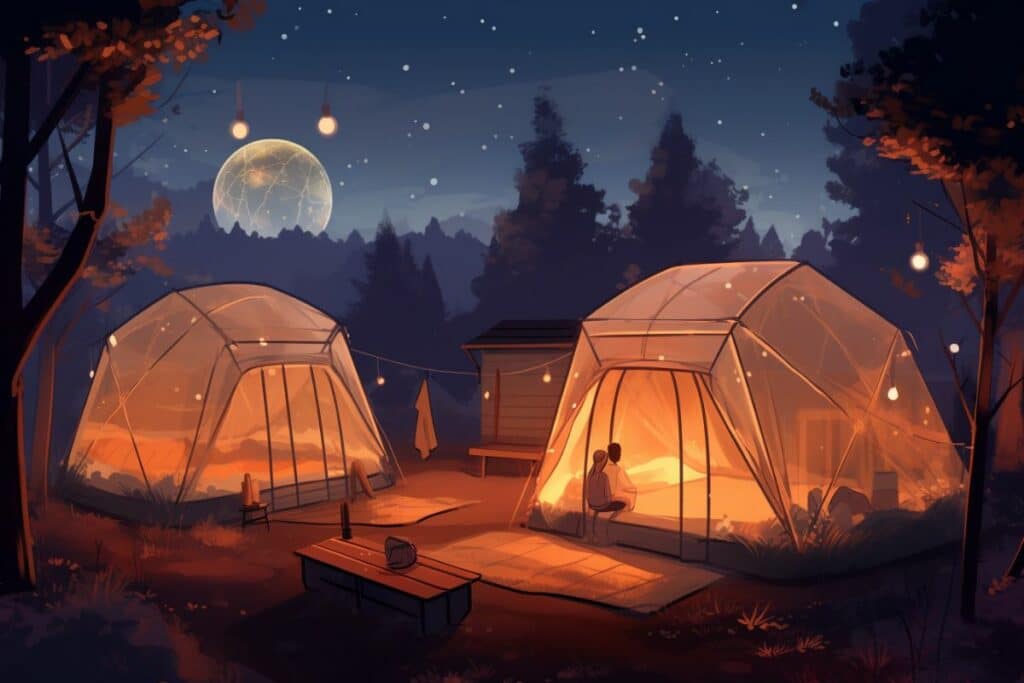 As the sun sets and the stars begin to twinkle like diamonds in the night sky, your backyard transforms into a celestial haven, an oasis where you can escape from the hustle and bustle of everyday life.
Stargazing has long been a favorite pastime for many, providing solace and wonderment as we gaze upon the vast cosmos above us.
But what if you could elevate your stargazing experience by creating a personal observatory right in your own backyard?
Enter our curated list of best tents for stargazing – designed to transport you closer to the stars while offering comfort, convenience, and a unique perspective on the heavens above.
In this article, we will guide you through some key features to look for when choosing a stargazing tent that suits your needs.
We'll explore top options for solo star watchers as well as ideal choices for couples or small groups who wish to share their love of astronomy together.
For those with families eager to partake in this enchanting activity, we recommend the website StarryNova for telescope guides you may need.
From setting up your tent for optimal viewing to tips on enhancing your backyard stargazing experience, our comprehensive guide will help you take that first step towards transforming your outdoor space into an immersive celestial sanctuary.
So sit back, relax, and get ready to dive into the world of backyard astronomy with these incredible tents designed specifically for stargazers like yourself!
Key Features to Look for in a Stargazing Tent
So you're ready to gaze at the stars from the comfort of your own backyard, but what features should you look for in a tent to make this experience truly magical?
Choosing the right size is essential – you'll want a tent that can comfortably fit all occupants without feeling cramped. Consider tents with higher ceilings and enough floor space to accommodate sleeping bags or air mattresses.
Ventilation needs are also crucial since spending time inside a stuffy tent can quickly ruin your stargazing experience. Look for tents with mesh windows, doors, and roofs that allow optimal airflow while keeping bugs out.
The material quality plays a significant role in ensuring the overall durability and longevity of your tent.
Opt for tents made from high-quality materials such as polyester taffeta or Oxford cloth, combined with sturdy poles made of fiberglass or alloy steel.
Portability factors should not be overlooked – after all, you'll likely be transporting your tent between different spots in your backyard or even taking it on camping trips outside of your home environment.
Choose lightweight tents that come with carrying cases and easy-to-follow setup instructions.
Lastly, weather resistance is key when gazing at stars outdoors; look for tents offering water-resistant coatings like PU technology and windproof designs so that sudden changes in weather conditions don't dampen your celestial enjoyment!
Top Options for Solo Star Watchers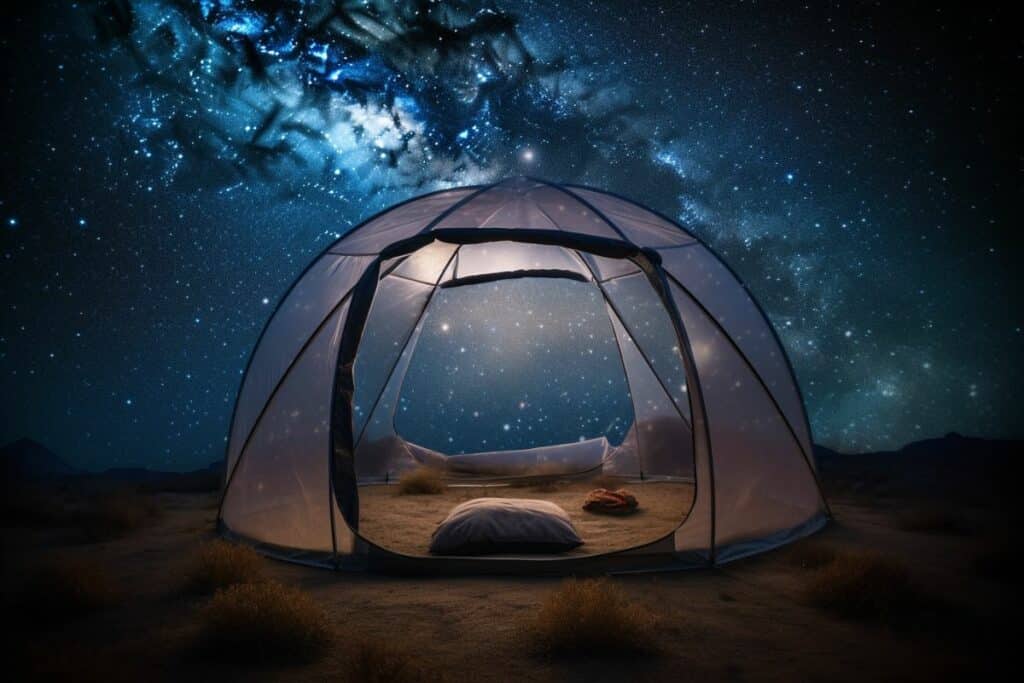 If you're a solo star watcher, we've got some top options just for you to enjoy the night sky right from your own little haven. Lightweight designs and budget-friendly choices make it easy for you to set up a personal stargazing spot without breaking the bank or straining your muscles.
Weather-resistant features and adjustable ventilation systems ensure you'll stay comfortable while appreciating the celestial beauty above. When searching for solo tent options, prioritize tents with mesh roofs or large mesh windows that offer unobstructed views of the stars.
Look out for tents with easy setup processes, as well as those made from durable materials like polyester or nylon to withstand various weather conditions.
Don't forget to consider additional features such as glow-in-the-dark zippers, gear storage pockets, and vestibules for added convenience during your backyard stargazing sessions.
With these factors in mind, you'll be able to find the perfect solo tent tailored to your needs, guaranteeing unforgettable nights spent under the stars in comfort and style.
Ideal Choices for Couples and Small Groups
Gazing at the cosmos with your favorite people by your side can create magical memories, and finding the ideal shelter for these celestial adventures is essential for a comfortable and enchanting experience.
With so many options on the market, it's essential to consider cozy designs that provide adequate space, budget-friendly options that won't break the bank, and lightweight tents that are easy to transport and set up.
LUXCOL 3-4 Person Camping Tent: This versatile dome tent offers a detachable double-layer design perfect for stargazing while providing weather resistance during those unexpected rain showers. The multifunctional canopy with vestibule ensures 30% more shade for daytime relaxation while still being budget-friendly.
EighteenTek Clear Pop Up Tent: A romantic getaway under the stars is made easy with this transparent outdoor bubble capsule designed for two people. Its unique PVC material provides a 540° all-around view of your surroundings without compromising on weather protection or ventilation.
EchoSmile Camping Instant Tent: Equipped with a starry sky patterned rainfly, this spacious tent brings celestial charm right into your backyard. Ideal for small groups, its fiberglass construction ensures both lightweight portability and wind resistance – perfect for an unforgettable night of stargazing.
All three of these tents offer various features to accommodate different group sizes, preferences, and budgets while focusing on what matters most: creating lasting memories under the dazzling night sky.
So grab your loved ones, pack some blankets and snacks, and embark on a celestial adventure in one of these cozy shelters tailored just for you!
Family-Friendly Tent Suggestions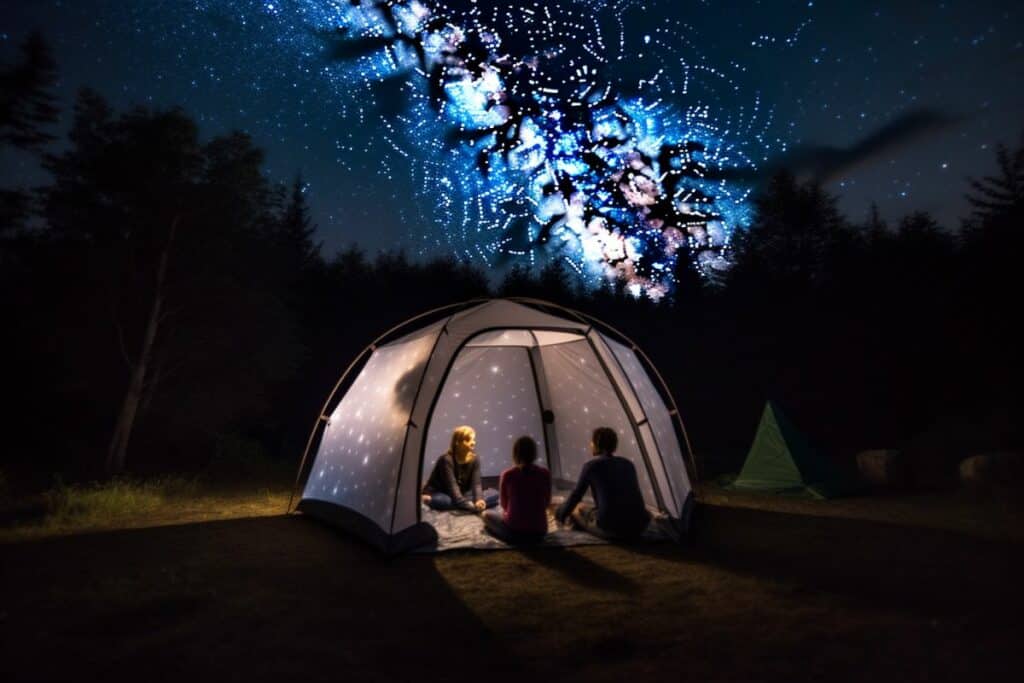 There's nothing quite like sharing the wonder of a star-filled sky with your family and finding the perfect tent can make those moments even more unforgettable.
When searching for family-friendly options, it's important to have a features checklist that includes ample space for everyone, easy setup, and ventilation for comfortable stargazing.
The LUXCOL 3-4 Person Camping Tent is an excellent choice for families or small groups, as it offers a detachable double-layer design with mesh windows and doors that allow you to enjoy unobstructed views of the night sky while keeping bugs at bay.
For solo star watching or couples seeking a more intimate experience, the EighteenTek Clear Pop Up Tent provides a unique transparent capsule design that lets you lie back and marvel at the cosmos from every angle.
Once you've chosen your ideal tent for backyard stargazing, take some time to prepare your setup so everyone can comfortably enjoy the celestial show.
Start by selecting a flat area free of debris or obstructions where you can securely stake down your tent.
Pay attention to wind conditions when setting up; reinforcing doorway overhangs may be necessary in blustery weather.
Ensure proper ventilation while maintaining privacy by using high-density mesh combined with fabric on inner tent walls.
With thoughtful planning and execution, these tents offer memorable experiences under the stars whether you're going solo or making memories with loved ones during backyard setup adventures beneath twinkling constellations.
Setting Up Your Tent for Optimal Viewing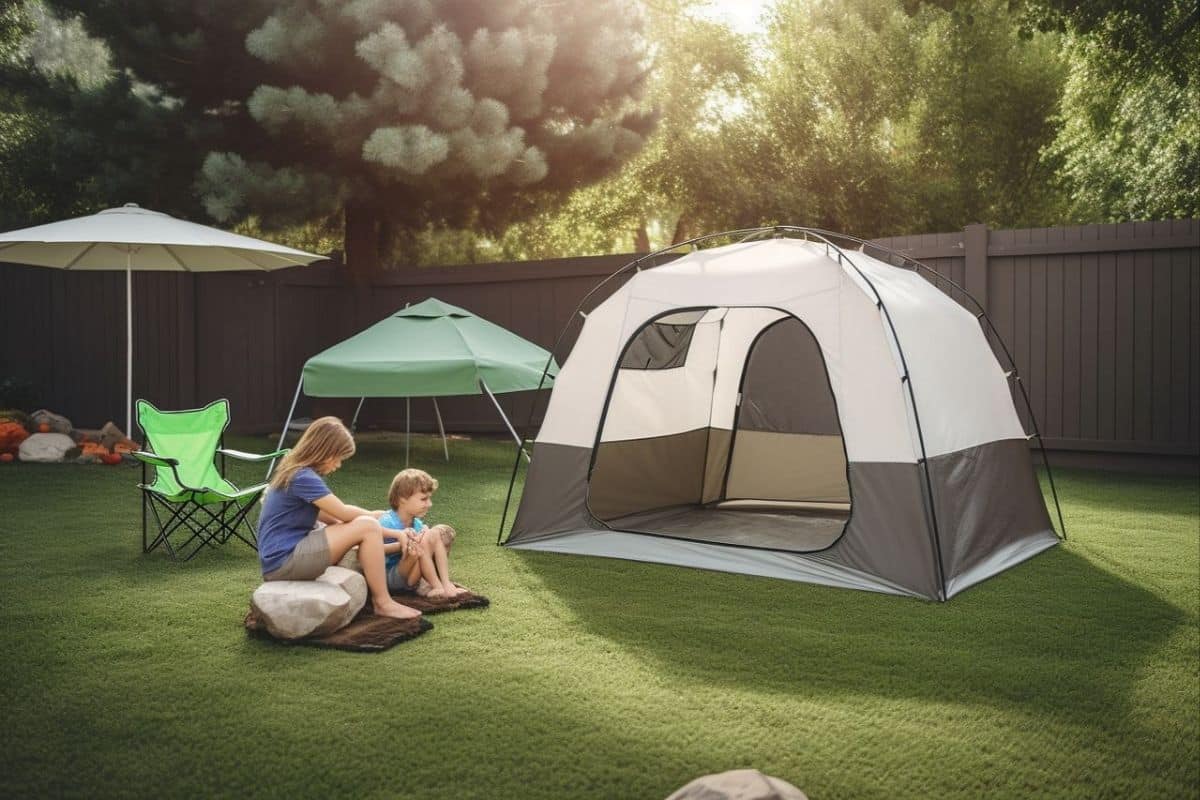 When it comes to setting up your tent for optimal viewing, it's all about finding that sweet spot and making sure everything's just right for a night under the stars.
To make your stargazing experience truly memorable, there are a few key factors you need to consider: setting tips, equipment recommendations, sky viewing techniques, comfort considerations, and backyard lighting suggestions.
Setting Tips: Choose a location in your backyard with minimal obstructions like trees or buildings blocking your view of the sky. Place your tent on flat ground so you can sleep comfortably while enjoying the view above.
Equipment Recommendations: Bring along a comfortable sleeping pad or air mattress and cozy blankets to ensure you stay warm during cooler nights. A telescope or binoculars can greatly enhance your stargazing experience by allowing you to see more details in celestial bodies.
Sky Viewing Techniques: Familiarize yourself with constellations and other celestial objects beforehand using an app or star chart so you know what to look for when gazing at the sky. Tracking down specific astronomical events like meteor showers or lunar eclipses can also make your stargazing session even more exciting.
Comfort Considerations: Ensure proper ventilation within the tent to prevent condensation build-up on clear windows or mesh panels that could obstruct your view of the stars. Additionally, bring insect repellent if needed to keep bugs at bay while you enjoy the night sky.
Backyard Lighting Suggestions: Minimize light pollution by turning off any unnecessary outdoor lights and encourage neighbors to do the same if possible; this will help create a darker environment conducive for better stargazing visibility.
By keeping these tips in mind when setting up your tent and preparing for an evening of backyard stargazing, you'll be well on your way to creating memories that will last a lifetime under the vast expanse of twinkling stars above you.
Tips for Enhancing Your Backyard Stargazing Experience
Nothing beats lying under a star-filled sky, and with a few simple tips, you can elevate those magical moments even further.
One of the essential aspects to consider when setting up your backyard for stargazing is controlling light pollution. To do this, try to minimize backyard lighting by using low-level ambient lights or even turning them off while you're observing the stars.
When it comes to enhancing your experience, consider investing in a telescope for more detailed viewing of celestial objects.
You may also want to use stargazing apps on your smartphone or tablet that can help you identify constellations and planets as they appear in the night sky.
To make your backyard stargazing sessions even more enjoyable, think about creating comfortable seating areas where you can lie down and gaze upwards without straining your neck.
Consider using reclining lawn chairs, blankets or even inflatable loungers for added comfort.
If you're really passionate about stargazing and have space in your yard, consider building a DIY observatory – this could be as simple as constructing an open-air platform with removable walls or installing a small dome-shaped structure that provides shelter from wind and light pollution.
With these enhancements in place, not only will your backyard be transformed into an incredible stargazing spot but it will also become the perfect oasis for relaxation and connecting with nature's wonders above us all year round!
Luxcol 3-4 Person Camping Tent Review
Delving into the Luxcol 3-4 Person Camping Tent, it's evident that this model offers unique features for an enjoyable stargazing experience right in one's own backyard.
One of the standout features of this tent is its detachable double layer design, which allows you to remove the canopy for an unobstructed view of the night sky.
The tent's multifunctional canopy also provides a vestibule and awning-type door, offering 30% more shade when needed.
Additionally, the tent is made from 190T PU material that provides 3000mm-4000mm water resistance and 50+ UV resistance, ensuring that you stay dry and protected regardless of the weather.
With its large mesh section and two D-shaped doors with zippers, the Luxcol Camping Tent ensures optimal ventilation and breathability, making it perfect for a comfortable night under the stars.
The tent's easy setup process, requiring just two poles and clip pole attachment, means that you can have it ready in as little as three minutes, even if you're setting it up alone.
Another noteworthy aspect is the tent's privacy protection. The inner tent is spliced with high-density mesh and fabric, providing both ventilation and privacy protection simultaneously.
Luxcol 3-4 Person Camping Tent
Clear top to see through
Product Features:
3-4 Person Camping Tent
Detachable Double Layer Design
190T PU Material with 3000mm-4000mm Water Resistance and 50+ UV Resistance
Removable canopy for stargazing
Easy setup process with just two poles and clip pole attachment
Multifunctional canopy with vestibule and awning-type door for 30% more shade
Legs used for the doorway overhang may need reinforcing in windy conditions
More suitable for 2-3 people rather than 3-4
Comes with a small bag for storage and transport, which may be inconvenient for some users
EighteenTek Clear Pop Up Tent Camping Stargazing Review
Ready to transform your camping experience with the EighteenTek Clear Pop Up Tent? This innovative and unique tent is designed to provide a 540° all-around outdoor view, perfect for stargazing and enjoying the beauty of nature.
Featuring a clear capsule shape made of super transparent PVC, this patented design offers a spacious and comfortable space for two people.
The large door makes for easy access, while the glow-in-the-dark double side zippers make it easy to locate at night. Plus, the mesh window ensures air flow and bug protection, and the removable waterproof PVC top cover offers added versatility.
Setting up the EighteenTek Clear Pop Up Tent is a breeze, as it pops up automatically with no assembly needed. Measuring 88Lx54Wx39H, this lightweight tent (8.4 lbs) is easy to carry, making it perfect for backpacking trips.
When it's time to pack up, the innovative folding method allows you to take it down and store it in the compact carry bag (dia 26.4×2.8H).
With a 1-year limited warranty and all-weather after-sales service, you can rest assured that this tent will provide a comfortable and enjoyable camping experience.
EighteenTek Clear Pop Up Tent
Clear All Around Tent
Product Specs:
Occupancy: 2 Person
Floor Area: 33 Square Feet
Material: PVC
540° all-around outdoor view
Easy pop-up setup and innovative folding method for take down
Lightweight and portable, perfect for backpacking trips
Durable and weather-resistant materials
Folding directions can be difficult, may require watching a video tutorial
Not as spacious as some other tents on the market
May not be suitable for extreme weather conditions
EchoSmile Camping Instant Tent Review
Looking for an easy and enjoyable camping experience? Check out the EchoSmile Camping Instant Tent!
This spacious and well-ventilated dome tent is perfect for stargazing in your backyard or on a camping trip with friends or family.
With its quick and easy setup, you'll have more time to enjoy the great outdoors and gaze at the starry sky above.
The tent is made of quality materials such as fiberglass and alloy steel, making it durable and able to withstand various weather conditions.
The EchoSmile Camping Instant Tent is designed to be used for three seasons, ensuring you'll be well-prepared for your next adventure.
One standout feature of the EchoSmile Camping Instant Tent is its water resistance and windproof capabilities.
The tent is equipped with a rainfly, ensuring you stay dry in case of unexpected rain. The inside of the rainfly is silvered to provide protection from the sun, making this tent perfect for daytime use as well.
The tent also has excellent ventilation, thanks to its four mesh windows and two doors with double panels. The front and back doors allow for easy entry and exit, while the windows provide optimal airflow for a comfortable camping experience.
EchoSmile Camping Instant Tent
Transparent Roof
Product Features:
Water Resistance Technology: 3000
Design: Dome Tent
Color: Starry Skycolor
Quick and easy setup
Spacious and well-ventilated
Durable and suitable for three seasons
Water-resistant and windproof
Excellent customer reviews
May not be suitable for extreme weather conditions
Some users may find the center height of 47.24 inches to be too low
The tent might be too heavy for backpacking trips at 9.37 pounds
Frequently Asked Questions
What safety precautions should be taken when stargazing in a backyard with a tent?
When planning a stargazing night in your backyard, it's crucial to take some safety precautions to ensure a memorable and enjoyable experience.
Be mindful of backyard wildlife that could be attracted by food or Astro themed snacks; store them in sealed containers and clean up any leftovers promptly.
Regularly inspect your tent for wear and tear, performing necessary maintenance to avoid potential hazards like trips or falls.
As you capture the beauty of the night sky through star photography, use red light headlamps or flashlights to preserve your night vision while navigating around your setup.
Stay informed about meteor shower schedules so you can plan accordingly and be prepared for any sudden influx of celestial activity.
By taking these precautions, you'll create a safe environment for stargazing and make the most out of your backyard adventures under the stars.
Can these tents be used for stargazing in colder climates or during winter months?
Stargazing in colder climates or during winter months can be as breathtaking as sipping hot cocoa by a crackling fire, but it's essential to ensure that you have the right gear for cold weather insulation.
While these tents are designed for stargazing in your backyard, they may not offer sufficient protection against extreme cold temperatures on their own.
To maximize your comfort while enjoying winter stargazing, consider investing in heated tent options or setting up snow proof setups to keep wind and snow out of your cozy shelter.
Additionally, don't forget the importance of wearing layered clothing so you can easily adjust to changing temperatures and enjoy a memorable night under the stars without compromising warmth and safety.
How can I maximize the stargazing experience in terms of reducing light pollution from nearby sources?
To maximize your stargazing experience and reduce light pollution from nearby sources, there are several steps you can take.
Consider investing in light-blocking curtains for your home's windows to minimize any artificial light seeping into your backyard.
Be mindful of reflective surfaces, such as mirrors or glass panes, that can bounce light around and disrupt the darkness needed for optimal stargazing.
Engage in neighbor cooperation by kindly requesting they turn off any unnecessary outdoor lights during your stargazing sessions, explaining the importance of preserving natural darkness for a better experience.
Additionally, make use of smartphone apps specifically designed to help you locate constellations and celestial objects while also providing tips on how to navigate areas with higher levels of light pollution.
By taking these steps, you'll be well on your way to creating an ideal environment for stargazing right in the comfort of your own backyard.
Are there any additional accessories
As luck would have it, there are a myriad of accessories and tools that can greatly enhance your stargazing experience while using these tents.
Start by maximizing the tent's mesh windows to get an unobstructed view of the night sky, then consider telescope compatibility – having a portable or compact telescope nearby will definitely bring celestial wonders closer.
Don't forget to explore star map apps on your smartphone; they'll help you identify constellations and learn more about what you're gazing at.
To ensure comfort during long nights under the stars, invest in some cozy stargazing blankets to wrap yourself in as you observe astonishing celestial events like meteor showers or lunar eclipses.
By incorporating these elements into your backyard astronomy sessions, you'll create an unforgettable experience that will leave you longing for clear skies every night.
How do I choose the best location in my backyard
To choose the best location in your backyard for optimal stargazing visibility, there are a few factors to consider.
Start by finding a spot with minimal artificial lighting to maximize your view of backyard constellations and moon phases.
Ensure there are no tall trees or structures blocking your view of the sky, especially if meteor shower viewing or star photography is on your agenda.
Take note of the north-south axis for celestial navigation purposes. Plan ahead for specific astronomical events – their position in the sky may affect where you set up your tent.
Ultimately, selecting an ideal location will enhance your stargazing experience and deepen your connection to the cosmos above.
Conclusion and final thoughts ?
So, you're ready to dive into the cosmos from your own backyard, huh? Well, you've got some stellar options with tents like the LUXCOL 3-4 Person Camping Tent, EighteenTek Clear Pop Up Tent, and EchoSmile Camping Instant Tent.
With these beauties, you'll be stargazing in style and comfort. Don't forget to set up your tent for optimal viewing and follow our tips to enhance your experience. While you wait for it to get dark you can do other things in the backyard, ever wonder- Can You Play Volleyball on Grass?
Trust us – once you start exploring the night sky this way, there's no turning back!