Wiffle Ball is fun for both kids and adults alike. If you're interested in a new take on baseball, Wiffle ball is right up your street.
When trying to buy sports equipment for your child, it's difficult to find the right size and material.
Plenty of people have bought the wrong-sized baseball bat and have played for a couple of days only to find it broken by day three.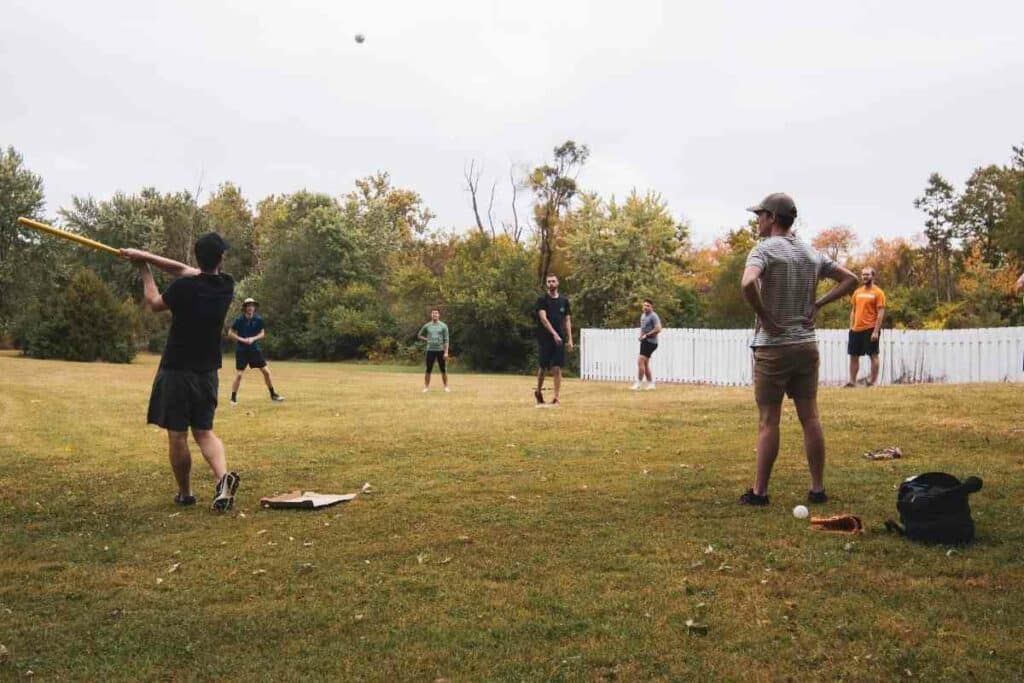 So, before you rush out to buy a new Wiffle ball set, take a read of this comprehensive buyer's guide where we've compiled a list of top Wiffle ball sets as well as information to refresh your memory on the rules of play.
We'll even answer some frequently answered questions.
What Is Wiffle Ball? 
Many have heard of baseball's younger cousin already whereas others are just beginning to get curious about the game and want to shop for a bat so they can have a go.
Either way, Wiffle ball has many similarities with baseball but there are a few key differences.
Wiffle ball started in the 1950s. A man named David Mullany created a ball that could curve easily for his son who was 12 at the time.
His son and his teammates called strikes a 'whiff', therefore this new ball was soon called the Wiffle Ball! It was trademarked not long after.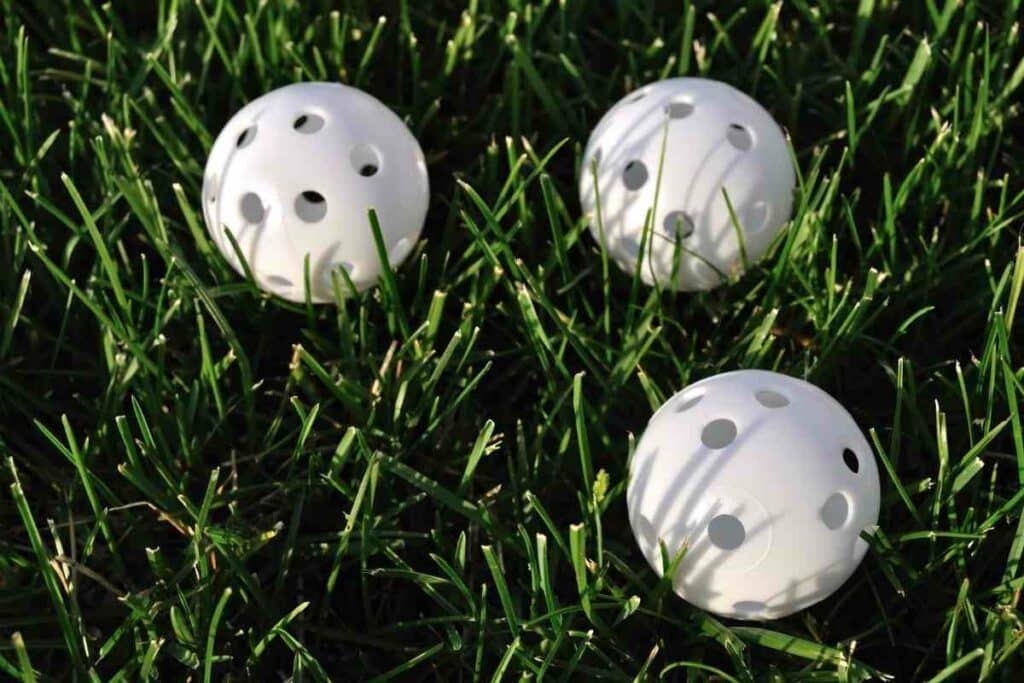 The Wiffle ball pitch is a triangle in shape and has zones for scoring. The pitch does not have to be a particular size as the game was designed to be played anywhere.
Each Wiffle ball team has a maximum of ten players and they must always bat in the same order.
The ball doesn't travel far when it is hit, which means that base running and ball chasing have been virtually eliminated.
To Play – It's recommended you have a minimum area that is 20 feet wide with home run markers about 60 feet from the home plate. There are foul lines marked as well as single, double, triple, and home run areas. Each team has five innings.
A Wiffle ball bat is quite different from your standard baseball bat as its barrel is narrower.
Normally, a standard Wiffle ball bat is used in play and no tape is permitted on the bat. The ball is made from strong, rubbery plastic.
It is a light ball and therefore cannot be hit or thrown very far. The players throw the ball in the same way as a baseball but the ball curls easily.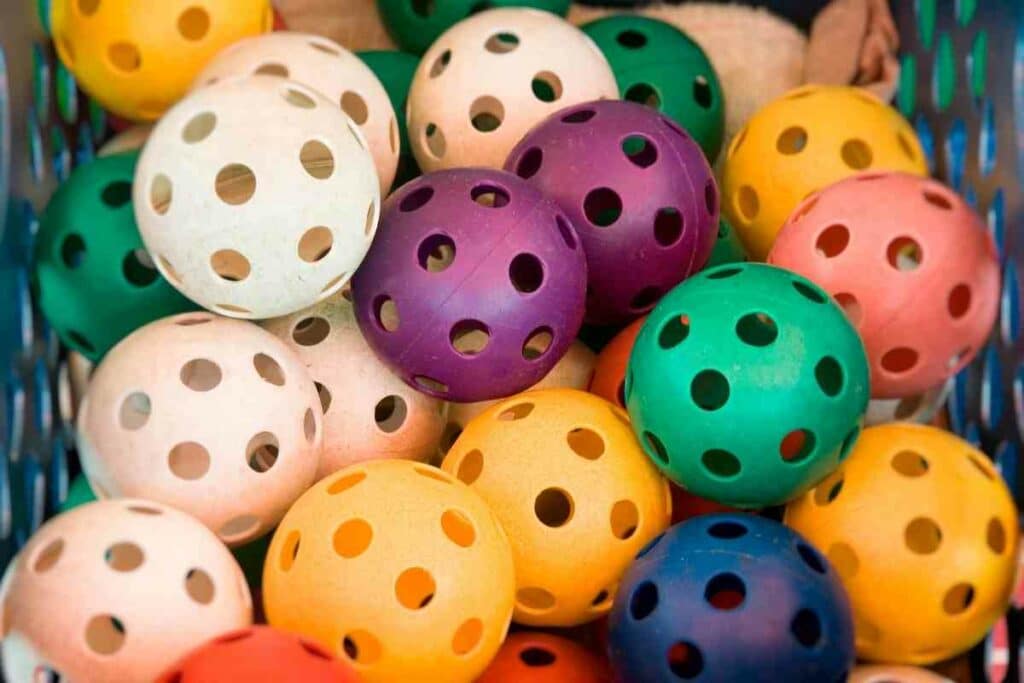 The bat and ball were designed to use in busy areas such as streets and backyards, meaning more children could join in with the sport even if they didn't have access to a large open space.
Whilst Wiffle ball is a great game in itself, it also works well as a training game for kids that are looking to get into more competitive sports such as baseball.
Wiffle Ball Bats and Baseball Bats – What's the Difference?
A baseball bat at its thinnest point has a minimum diameter of 2.5"
On the other hand, a Wiffle ball bat has a barrel that's one size. The barrels are thinner overall and have a longer barrel than a baseball bat.
The handle of a Wiffle ball bat is usually a bit thicker than a baseball bat and the sloping transition from handle to bat in Wiffle ball is much more gradual.
Baseball bats, therefore, tend to give a greater speed and the balls travel further.
Wiffle bats have a greater surface area meaning that the bat is much easier to hold, but the energy from the swing is transferred over a larger area so the ball does not travel as far.
Choosing A Wiffle Ball Set
When choosing a Wiffle ball set you must consider the bat first and foremost.
Grip
A Wiffle bat's grip is important as it offers the player more stability and absorbs some of the shock when batting.
You can move your hand quickly and hold the bat properly with ease. The bats also have little knobs on the handle to help prevent the bat from slipping if you swing too hard.
Durability
Many Wiffle ball bats are hollow and made from interior plastic.
Often, this makes them extremely cheap to buy. However, this often means they may not stand the test of time when you're playing a lot.
When choosing a Wiffle ball bat, choose one that is made from durable materials that will be able to withstand use (and abuse!).
Weight
Heavier bats are not ideal if you're just starting out playing Wiffle ball with smaller children.
Heavier bats also make it harder to get a good swing and good hitting power. You should try to choose a bat that is suitable for the age and size of your child.
Lightweight bats are better for younger, smaller kids.
Length
Choosing a good Wiffle ball bat for your child can be difficult, but you need to make sure you're choosing one that's the right size.
You should measure your child's height before you start adding Wiffle ball bats to your shopping cart.
There are recommendations for the right size bat on most Wiffle ball store websites.
Sometimes – You may wish to choose a slightly longer (or slightly shorter) bat for your child depending on their Wiffle ball or general sporting ability.
Color
If you are just looking to play recreationally in your backyard, then it really doesn't matter what color your Wiffle ball bat is.
However, for teams, the standard rule is that Wiffle bats are yellow.
Price
Generally, Wiffle ball is a fairly inexpensive sport to play, and the equipment needed is not too badly priced.
There are bats, balls and sets out there that are good quality yet extremely good value too.
What about buying a bat within a set?
Wiffle ball sets are a great way of buying everything you need to play all in one go rather than needing to look for individual items.
This will most definitely save you some time. However, sometimes you might want to look at bats and balls separately to make sure it's exactly what you need.
There is no wrong way to do it, so choose the option that is best for you.
Best Wiffle Ball Sets
Now that you know what to look for, our buyer's guide will take you through a few Wiffle ball set options that should suit all players and their budgets.
1. Wiffle Ball USA Bat Set
Features
Durable plastic
Yellow color
Lightweight
Three colors of Wiffle ball
Ideal for children
Costs around $22
Comes with a Dare to Soar wristband
The first set on the list is a Wiffle ball set from the Wiffle Ball USA brand.
It is a practical set that has the standard yellow bat needed to play in a team game and it comes with Wiffle balls in three different colors (the patriotic red, white, and blue!).
The bat is great for children, even those who have just started.
The handle is easy to grip thanks to its excellent design. The plastic of the bat is durable and lightweight, perfect for competitive games as well as ones for fun!
2. SKLZ Wiffle Ball Bat Set
Features
Composite steel bat
Choice of Quick Stick Bat or Power Stick Bat
Quick Stick bat weighs 12 oz. Power Stick bat weighs 30 oz.
Hardwearing, durable material
30" length
Three Wiffle balls
Ideal for hand-eye coordination training
Great for speed
Both bat sets cost around $69.99 each.
Next, we have the SKLZ set. It comes with three yellow balls and a SKLZ Power Stick bat. You can also choose the Quick Stick bat option if you prefer.
The Power Stick bat is ideal if you want to better your skills and want a strong bat. This one weighs 30 oz. The Quick Stick bat is lightweight (weighing 12 oz.) and is less fatiguing.
This means you can perform more swings and have quicker rotation. It's a great choice for kids and adults alike.
These composite bats are made from durable steel and are lightweight yet give good speed on a hit.
The Power Stick can also be used for baseball or softball training too. This one has quite a narrow barrel which helps perfect your coordination.
3. Louisville Slugger Replica Wiffle Bat and Ball Set
Features
Woodgrain look
Black in color
Comes with a plastic Wiffle ball
Baseball bat design (but isn't as strong as one!)
This set costs around $20.
Avoiding the standard yellow bat, the Louisville Slugger is a great option.
This black bat follows a similar C271 bat design in baseball, bringing it to the next level when it comes to cool!
This bat isn't just a basic one; the design has a woodgrain look to make it all the more authentic. The size is also comparable to that of a baseball bat.
Having said that, it's not as strong as a baseball bat, and a couple of too-hard hits if trying to play baseball instead of Wiffle ball could warp the shape – so be careful!
4. AweStar Eagle Wiffle Ball Set
Features
Blue bat
Durable, rubber plastic
Thinner barrel
32" in length
Six white Wiffle balls
Wristband "Dare to Soar."
Costs around $26.
Another option that stays away from the typical yellow design is this AweStar Eagle Set. Why have yellow when you can have blue?
This one is durable and made from rubbery plastic, so it doesn't warp easily if you accidentally hit a ball too hard. The barrel on this one is a little on the thinner side, but that shouldn't pose too much of a problem.
It's perfect for younger kids (the softness of the bat won't hurt too much if they accidentally whack you with it when swinging) and it's a great length too.
It also comes with two balls as well as a silicone wristband with the slogan "Dare to Soar" written on it – AweStar knows how to seal the deal!
With this set, you'll be playing like a pro in no time. Or at least feeling like you are!
5. Joey'z Wiffle Ball Set
Features
Comes with white ball
Durable plastic material
Perfect for slower hits
Yellow bat
Thinner barrel
One of the attractive features of this great Wiffle ball set is that it comes with ten balls! No need to panic if your dreadful aim lands a ball in the neighbor's yard!
The balls and the bat are all made from durable plastic that is designed with easy pitching in mind. Perfect for slower hits and limited distances!
You can go all out on your big swings without the fear of smashing that window 80 feet away.
It does have a slightly thin barrel, which doesn't suit everyone. But it is hard-wearing and won't dent, so you will be able to practice all the time without worry.
6. Franklin Sports MLB Wiffle Ball Bat
Features
Durable design
A great introduction to the sport (and to baseball too!)
Textured grip handle
Perfect for children aged 3 and up
Costs around $14.99.
This Wiffle ball bat is ideal for kids just learning the sport or for those wanting an easier introduction to baseball.
The bat measures 30" and is lightweight, making it perfect for children learning to deliver that swing. The handle has a textured grip and feels like the real deal. It's also a durable bat so you don't need to worry about accidentally making too hard a hit.
This one is made from a blown molded core with a soft foam barrel and comes with a foam ball. It measures 24" in length.
Wiffle Ball Rules
To play Wiffle ball, there are a few rules that should be followed:
Teams should be no more than 10 players, but the number of players can vary (it can be 1 vs 1 if you like!). There should be three players on the field.
A coin toss or rock paper scissors should be used to decide who bats first.
Every batter is pitched three balls and the batter must try and hit all three.
If a batter does not hit any of the three balls, he or she is out.
If the ball lands in the single zone, the player can advance a base, landing in the double zone means they can advance two, the triple zone three, and past this is a home run.
If a player makes it through the bases, they score a run for their team.
A home run is scored if the ball reaches the end of the outfield.
You can be caught out if an opposing team member catches the ball.
Once every batter on a team has had three strikes (or is caught out), it is the opposition's turn to bat.
The teams agree on a number of innings to play. Usually, this is about six innings each.
The winning team is the one that scored the most runs.
You are not usually permitted to use a ball glove during play. Batting gloves can be worn.
FAQs
Do I need to cork my Wiffle ball bat?
You don't need to cork your bat, but if you wanted to, you could make a small hole in the bat with a drill.
Then, use expanding foam to fill the bat. Once it hardens, it's ready to use and gives your bat some extra weight and durability.
How are they made?
Wiffle ball bats are usually made in two stages. The first is via a machine that creates two halves of the bat.
One half is solid and the other has holes. The two sides are combined with a special machine.
Can I tape my Wiffle ball bat?
If you have a bat already, if you want to tape it there are a few steps to take. First of all, the bat needs to be clean.
Use a clean cloth or a sponge with some soapy, warm water to clean the bat. To tape it, use any color duct tape and tape it in small pieces with sections that are long enough to go all the way around the bat.
If you want, you could tape the handle and the barrel, but some people choose to just do the handle. Having warm hands will help you smooth out any bumps in the tape.
Final Thoughts on Wiffle Ball Set Buyer's Guide
If you didn't know much about Wiffle Ball before, you certainly should now! This game is great fun for all the family and can be played pretty much anywhere!
The selection of Wiffle ball sets should include an option for everyone no matter what you're looking for.
Each set comes with at least one ball – though if you know your kids are prone to losing them, choosing a set with more balls or buying extra ones may be the best option!
Once you've decided on your chosen set, head out into the yard and pitch some balls. You're sure to have a lot of fun!
Read Next