Bocce or bocce ball is a classic Italian ball sport that is closely related to English boules and the French pétanque.
It's a game of kings and emperors dating back to Roman times, and now it's enjoyed all over the world, especially in the Mediterranean and Latin America.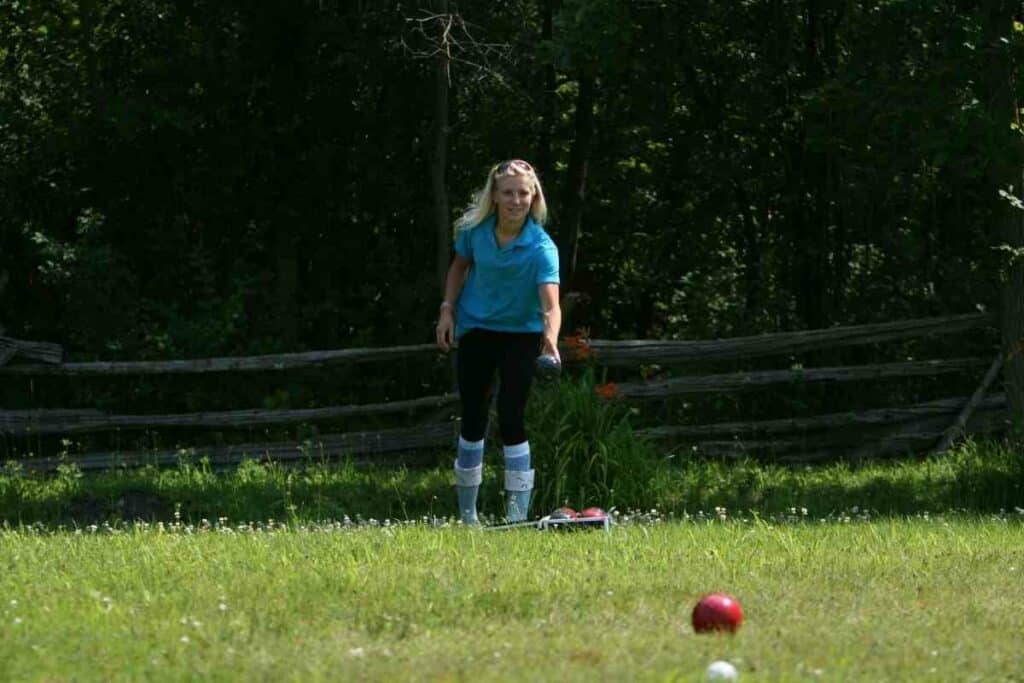 Even if you haven't got a gorgeous clay court in a Sicilian mansion in the hills, you can still enjoy some good old backyard fun playing Bocce on your lawn.
In This Short Article – We run through the basics of the game and show you some great bocce sets for playing the game with family and friends on the grass.
Playing bocce ball on grass
The Italians traditionally play Bocce on clay soil, sand, or asphalt court, but you can also enjoy it on the grass in your backyard.
However, just like any good groundskeeper would tell you, the grass needs to be level and flat.
Without a level and flat surface, you will get random frustrating results playing bocce ball, so if your lawn is looking a little wild, it's time to mow!
What size is a bocce court?
A traditional court for Bocce is long and narrow.
The standard dimensions call for a court length of up to 90 feet (27.5 meters) by 13 feet, bordered by wood or stone.
A formal bocce court is marked out with horizontal lines as various points along its length, but if you're in your backyard, you can agree on the size of the court and the zones you are going to use.
Playing bocce
Bocce is a social game.
The Italians, the Caribbeans, and other people who love this sport make a point of making Bocce an occasion with plenty of swagger and bravado and less of the restraint and protocol of English bowls. 
You can play with teams of up to four players.
The number of players determines the number of balls each player has:
A one-person team has 4 balls each
A two-person team has 2 balls each
A four-person team has one ball each 
Bocce balls 
These are hard, spherical balls that can do a lot of damage if launched at a kitchen window, so remember to keep any throws low!
Bocce balls were traditionally made of wood or clay, but manufacturers make modern sets from steel or plastic.
The game starts with a coin toss and the winning team making the first move.
This involves a team member throwing a smaller ball known as the jack, boccino ('little bocce'), or pallino ('bullet') into a specific 16-foot (5-meter) zone towards the opposite end of the court, known as the playing area. 
You have to get this right because if your team's throw misses this zone twice, the opposing team can place the boccino anywhere they want in the zone.
Play can now start with the side placing the boccino bowling first.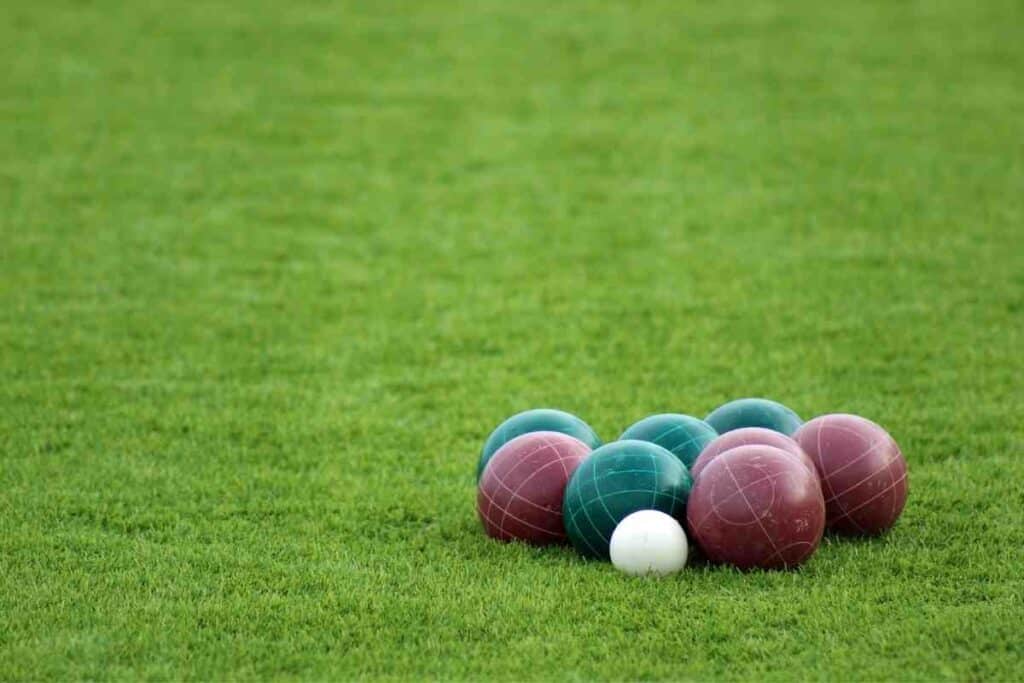 Teams take turns in attempting to get their balls closest to the jack. After everyone has bowled their balls, the team with the ball that is closest to the jack picks up the points for the round. 
The game continues until a winning team gets to a score of between 7 and 12 points. 
Though the rules of the game are simple, expect some Latin fire!
Players can mix things up by throwing their bocce balls with an underarm action to knock the jack or opponent balls.
By using this and other tactics, teams use their balls to outmaneuver each other and get a more favorable position.
So now you know what those old men are getting up to down at the park.
Let the seniors of the Little Italy Association of San Diego show you how it's done:
Best bocce sets for grass
The bocce set you will use to hit your lawn will be different to the professional bocce ball sets used in tournaments.
If you're a newbie, you want to be focused on the basics of handling, bowling, and throwing the balls.
This means that you need a bocce set that you can handle easily. If you have kids, skirt the heavy, hard metals and have fun with a straightforward garden set.
Backyard resin bocce balls are smaller and lighter than traditional clay balls.
They are also more durable than wood.
Here are three popular garden bocce sets that you can enjoy on your grass. 
Ropoda 90mm Bocce Ball Set 
Specifications
Ball material: resin 
Ball diameter: 3.5 inches (90 mm)
Weight: 1.6 pounds (720 grams)
Description
This is a colorful and beautifully finished set of resin bocce balls that will give you and your family hours of fun. It is suitable for ages 5 and up.
The ROPODA bocce ball set includes 8 balls in blue, red, green, and yellow.
Pros
This is a hard-wearing set that your family can enjoy playing with for a very long time
You can carry this set to the beach or park in its handy tote
Cons
These balls are "billiard ball" hard, so they can do some damage if thrown
The glossy finish also chips and scuffs
In addition, you get a single white boccino, measuring rope and a smart carrying case to keep everything together.
Eastpoint Sports Resin Bocce Ball Set  
Specifications
Ball material: resin 
Ball diameter: 3.5 inches (90 mm)
Weight: 1.6 pounds (720 grams)
Description 
The Eastpoint Sports bocce ball set comes in pro or backyard versions, with the backyard set having smaller and lighter resin balls.
Eastpoint has intuitively colored the set with bright or blue team colors.
Pros
Buyers are pleased with the quality of this set
You can use this set at the beach
The set includes a measuring tape for working out whose ball is closest to the pallino
Cons
The pro set has a larger (110 mm)and heavier (3-pound) ball that might be too hard for younger kids to handle
Everything can be stored or carried in the included portable carry caddy. 
Japer Bees Bocce Ball Set
Specifications
Ball material: polyresin 
Ball diameter: 3.5 inches (90 mm)
Weight: 1.6 pounds (720 grams)
Description
This is a smart and durable professional quality bocce ball set that is made of fully solid resin that is impossible to chip or break.
The smart and bold pattern and stylish bag will make you want to take this bocce set to the beach, park or even the local court.
Pros
The stylish white bag will store the balls well
Unbreakable balls that you can confidently use to strike your opponent's balls
Cons
Some purchasers complained about the zipper on the bag breaking
If you have a relative who loves the sport, this would make a fantastic gift! 
Rounding up
Bocce is a classic sport that is one of the most popular sports (by participation) in the world.
Grass play is inclusive and a great way of picking up the skills of this well-loved game. 
If you are looking for some lighthearted fun on the grass with family and friends, a basic bocce ball set is more than enough for having a good time. 
Also Read