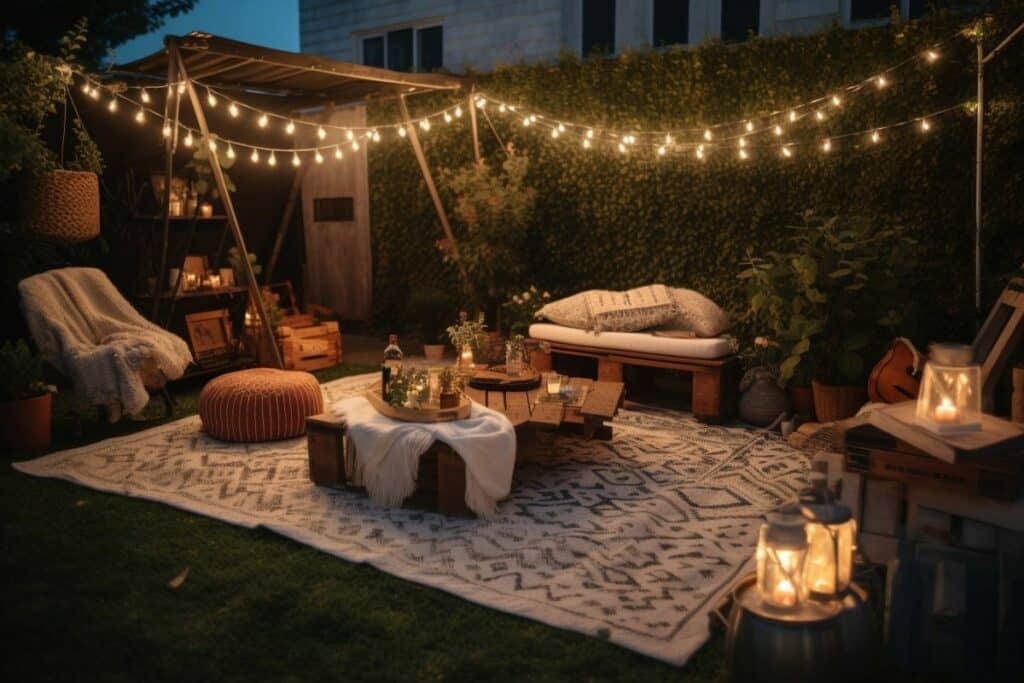 Did you know that couples who regularly spend quality time together have an 85% higher chance of having a successful, long-lasting relationship?
With today's hectic schedules and endless distractions, finding the perfect date night can sometimes seem like an impossible task.
But don't worry. We've got you covered! You don't need to travel far or spend a fortune to create unforgettable memories with your significant other. In fact, you can find romance and adventure right in your own backyard.
In this article, we'll introduce you to a variety of creative and engaging backyard date night ideas that cater to different interests and preferences.
Whether you're looking for cozy intimacy under the stars or adrenaline-pumping fun with some friendly competition, these unique experiences will strengthen your bond and bring out the best in both of you.
So step outside, breathe in the fresh air, and let your imagination run wild as we explore these charming backyard adventures waiting just beyond your back door.
Outdoor Movie Night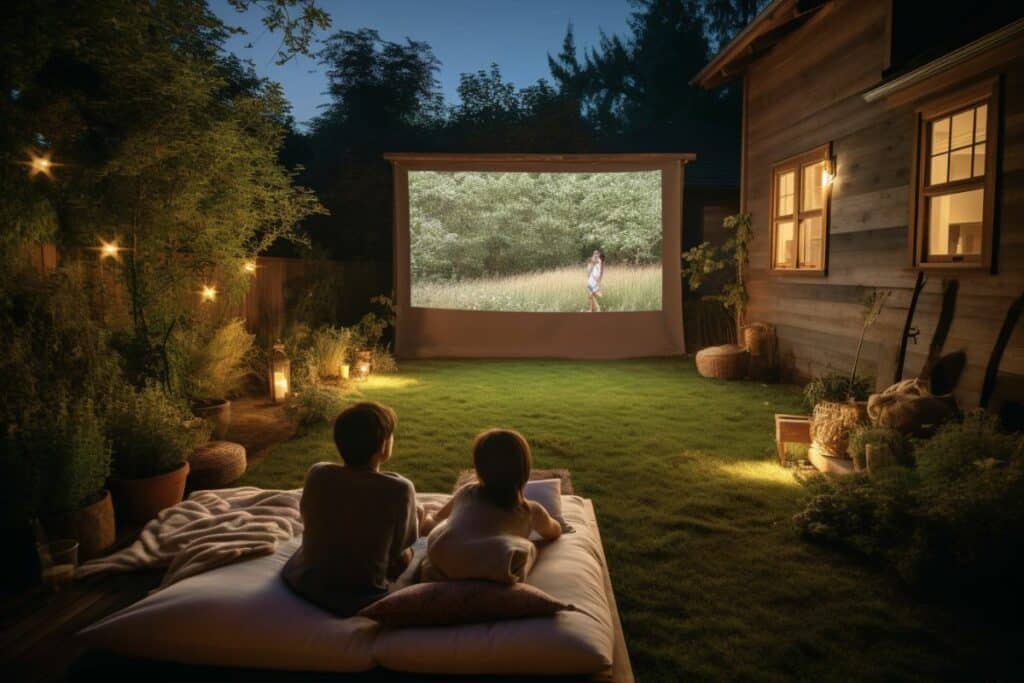 Set up an outdoor movie night for a cozy and entertaining evening with your sweetheart, creating the perfect atmosphere to bond and share laughter.
Transform your backyard into a romantic backyard date oasis by stringing up fairy lights, laying out comfortable blankets, and piling on plenty of pillows to snuggle in. Don't forget to invest in a quality projector and a makeshift screen – whether hanging a white sheet or utilizing an empty wall – so you can enjoy your favorite films under the stars.
To amp up the fun factor for your backyard date night, put together a themed movie night complete with matching decorations, snacks, and beverages.
For example, if you're watching a classic rom-com set in Paris like 'Midnight In Paris,' serve French wine paired with cheese and baguettes while surrounded by Eiffel Tower-themed decor.
18 feet Inflatable Outdoor Projector Screen
This outdoor projector screen with a stand delivers a full blowup inflation with low noise in around 2 minutes.
Easy to inflate and deflate
Large screen
Double sided
Money back guarantee
Or perhaps you're more into action-packed movies – try hosting an 'Indiana Jones' marathon accompanied by jungle-inspired treats and tiki torches throughout the yard.
As your outdoor movie night comes to an end after hours of shared smiles and conversation, take advantage of the magical ambiance around you.
Slow dance beneath glowing fairy lights or simply lay back on your comfy setup gazing at constellations above while sharing stories about each other's lives.
Moments like these are what make backyard date nights special – immersive experiences that bring couples closer together without ever having to leave home.
Candlelight Dinner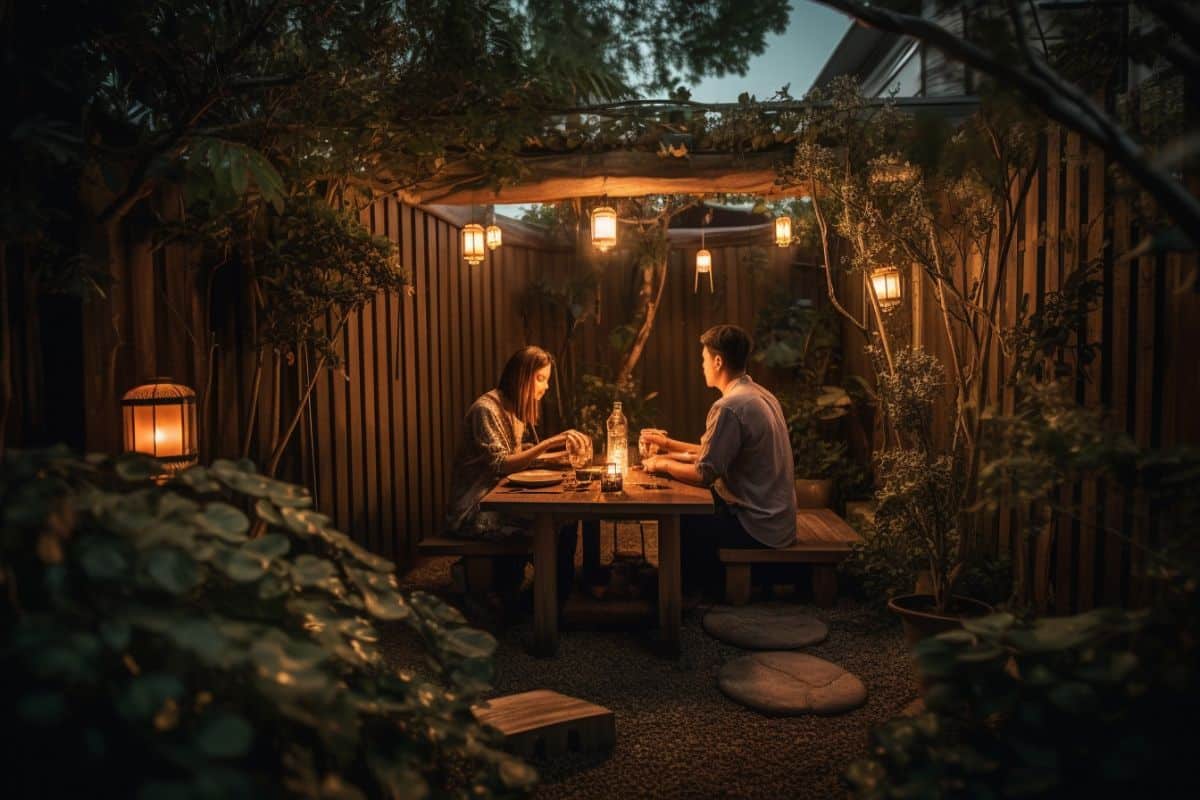 Under a canopy of stars, you'll find that there's nothing quite like sharing a romantic candlelight dinner with your sweetheart right at home.
A romantic backyard date night is an intimate and cost-effective way to create lasting memories without leaving the comfort of your own backyard.
To set the mood, hang twinkling fairy lights around your dining area or string them through tree branches overhead for a magical atmosphere.
ANGMLN Solar Fairy Lantern
2 pack solar lights outdoor garden are the perfect combination of frosted mason jar
TONULAX Solar Garden Lights
Specially designed iron wire only for TONULAX Solar Firefly Lights. 
Set the table with your best dishes, add some soft music playing in the background, and let nature provide the perfect backdrop for an unforgettable evening.
The key to a successful candlelight dinner lies in thoughtful planning and attention to detail. Choose a menu that both you and your partner will enjoy—whether it's cooking dinner together or trying out new recipes for each other.
Selecting dishes that can be prepared ahead of time or require minimal hands-on effort during the date will help keep things stress-free so you can focus on enjoying each other's company.
Consider incorporating aphrodisiac ingredients like oysters or chocolate into your meal to elevate the romance factor even further.
As you savor each bite under the starlit sky, take time to truly connect with one another by engaging in meaningful conversation or simply soaking up each other's presence.
Share stories from when you first met, discuss future aspirations and dreams, or play fun 'getting-to-know-you' games while enjoying dessert by candlelight.
With just a little thought and effort put into creating this romantic setting, you'll discover that hosting an enchanting backyard date night isn't only possible but also incredibly rewarding as it brings you closer together than ever before.
Wine and Cheese Pairing
You can't go wrong with a cozy wine and cheese pairing event in your outdoor space, creating an atmosphere of sophistication and indulgence for you and your partner to enjoy.
This romantic backyard date night idea is perfect for couples looking to spend quality time together while discovering new flavors and expanding their palates.
With just a little bit of preparation, you can transform your backyard picnic into an unforgettable evening filled with delicious wines, cheeses, and great conversation.
Select the perfect pairings: Do some research or consult with a local sommelier to find the best wine and cheese pairings for your date night. Popular combinations include Chardonnay with Camembert, Pinot Noir with Gruyère, and Cabernet Sauvignon with aged Cheddar.
Set the scene: Create a comfortable seating area on a blanket or cushions, surrounded by soft lighting from string lights or candles. Play calming background music to set the mood for this intimate gathering.
Serve everything at its best: Ensure that both the wine and cheese are served at the proper temperature for optimal taste – white wines should be chilled (45-50°F), red wines at room temperature (60-65°F), and cheeses should be taken out of the fridge about 30 minutes before serving.
As you savor each bite of cheese paired perfectly with each sip of wine, allow yourselves to fully engage in this sensory experience – discussing which combinations delight your taste buds most while sharing stories that may arise from these new discoveries.
By hosting a wine and cheese pairing in your own backyard, you'll prove once again that memorable date night ideas don't always require going out on the town; sometimes, all it takes is transforming familiar surroundings into something magical through creativity and intentionality.
So go ahead: uncork a bottle (or two) of vino, unwrap those delectable artisanal cheeses, snuggle up under twinkling lights, and embark on a flavorful adventure together that's sure to make your backyard date night one for the books.
Afterwards, you can even relax in a hot tub. If you don't have one yet, make sure you find the perfect place for the hot tub.
Dance Lessons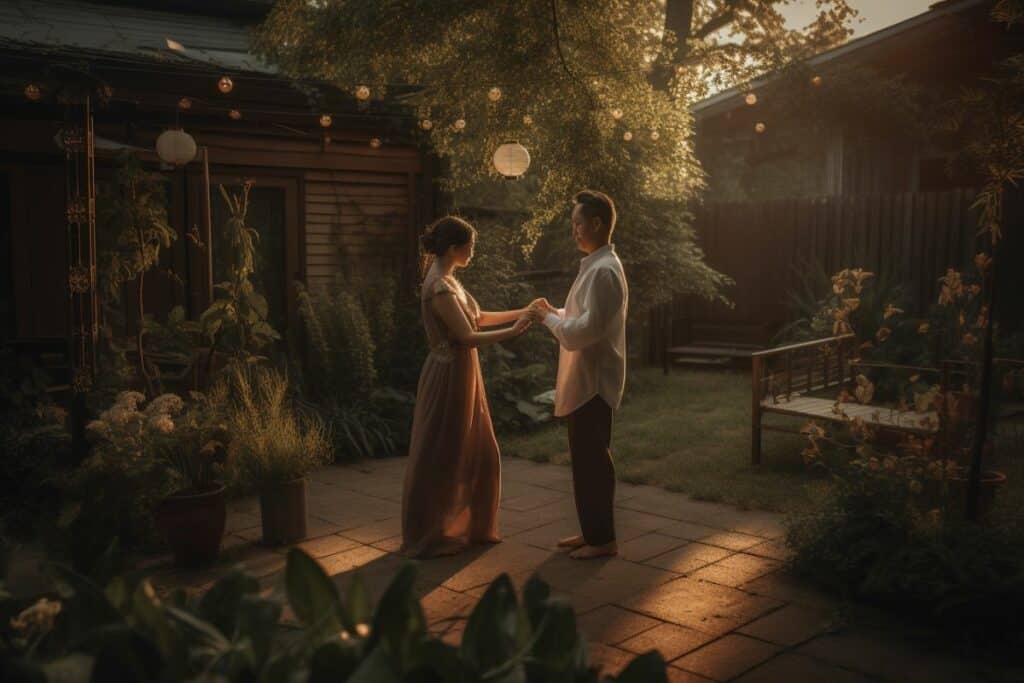 Why not spice things up by turning your outdoor space into a private dance floor, complete with lessons tailored just for you and your significant other?
Dance lessons are an excellent backyard date idea because they combine physical activity, romance, and the opportunity to learn something new together.
Plus, there's no need to worry about feeling self-conscious in front of an audience – it's just the two of you! So whether you're looking to perfect your waltz or try out some salsa moves, transforming your backyard into a romantic date night venue is both fun and memorable.
To create the perfect atmosphere for your dance lesson date night, start by setting the mood with ambient lighting.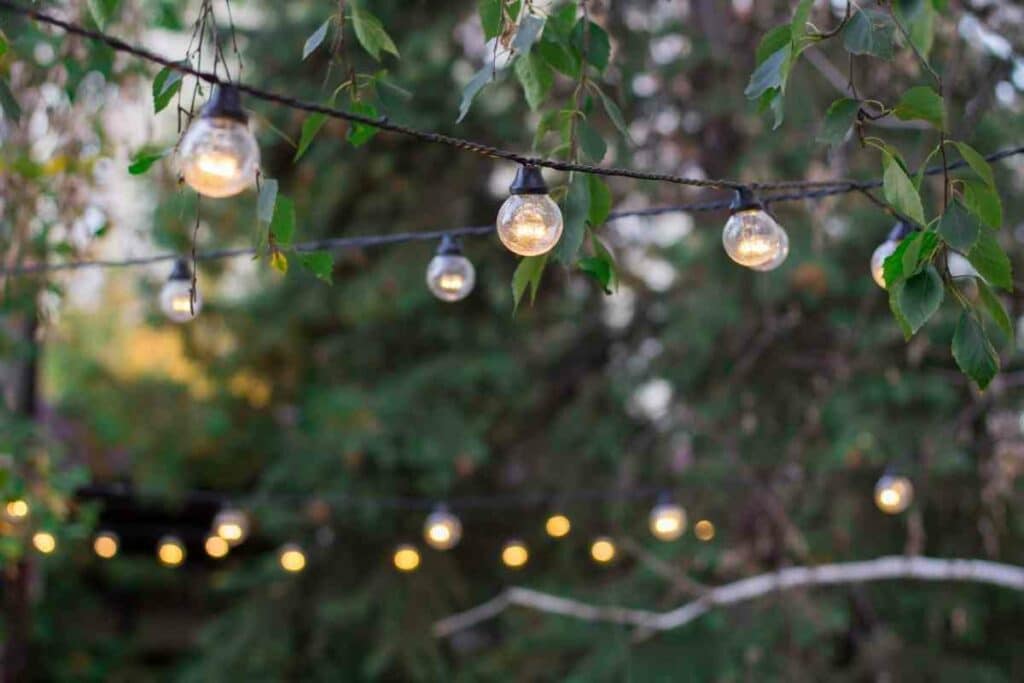 Hang string lights around trees or along fences to create a warm glow that will make it feel like you've been transported to an intimate ballroom.
Next, select your preferred music genre and playlist that best suits the type of dance lesson you'd like to have. Whether it be slow jams for ballroom dancing or upbeat tunes for Latin styles, having the right soundtrack can help set the tone for a magical evening.
After setting up your outdoor space and choosing music that gets you in the mood to groove, all that's left is deciding what type of dance lessons to take on.
There are countless online resources available – from instructional YouTube videos taught by professional dancers to paid subscription services offering live classes – which means finding one that caters specifically to couples should be a breeze.
By dedicating time each week (or even just once!) to practicing new steps together at home as part of these backyard dates, you will spend quality time together and strengthen both emotional and physical connections through this shared experience.
So go ahead: lace up those dancing shoes and transform your backyard into a romantic haven where love takes center stage!
Fun Craft Projects
Diving into creative and whimsical craft projects can add a splash of color and joy to your outdoor rendezvous, making it an enchanting experience for you and your partner.
Fun craft projects are an excellent addition to backyard date ideas, as they allow you to express your artistic sides while spending quality time together.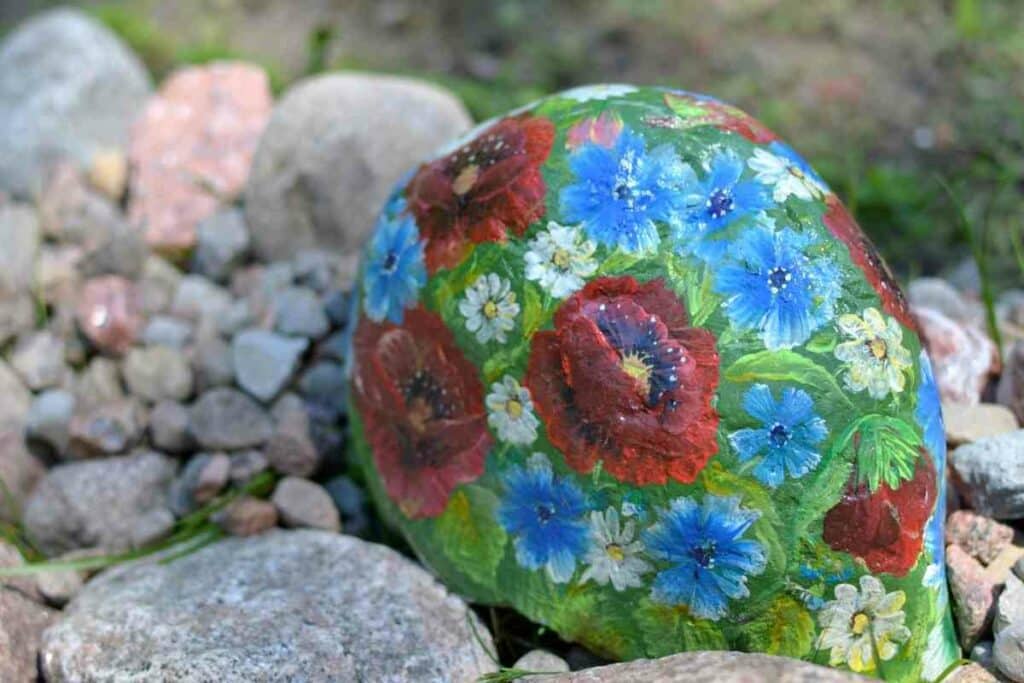 Whether you're painting plant pots or creating dreamy DIY lanterns, the possibilities for romantic backyard date ideas centered around crafts are endless.
Read our article 18 Cute garden rock ideas here!
One cute backyard date idea is to have a 'paint and sip' night under the stars. Set up easels or use large sketch pads, choose a picturesque scene from your own garden, or find inspiration online, then let the creativity flow as you paint side by side.
To make it even more special, prepare some refreshing cocktails or mocktails to enjoy while you work on your masterpieces.
This activity not only encourages communication but also offers a unique bonding experience that will create lasting memories.
For couples seeking more hands-on craft activities during their backyard date night, try assembling small terrariums using mason jars, succulents, and decorative stones found in various colors and sizes at local gardening stores.
Working together to build these mini ecosystems sparks conversation about personal tastes in design and provides opportunities for cooperation—essential elements of any healthy relationship.
Plus, once completed, these terrariums serve as charming reminders of the magical evening spent crafting them with love under the moonlit sky.
Picnic and Games
After flexing your creative muscles with fun craft projects, it's time to switch gears and enjoy a relaxing yet entertaining backyard picnic date.
There's nothing quite like spending time with your significant other while surrounded by the beauty of nature.
A well-planned picnic and some engaging outdoor games will create an atmosphere that encourages laughter, love, and connection.
Create the perfect backyard picnic date by focusing on these key elements:
Comfort: Lay out a large, cozy picnic blanket to lounge on while you dine.
Food: Pack a basket filled with delicious finger foods and refreshing drinks tailored to both of your taste preferences.
Ambiance: Set the mood with soft background music playing from a portable speaker or string up some fairy lights for added charm.
In addition to enjoying each other's company over a delightful meal, incorporating outdoor games is an excellent way to add more excitement to your backyard date night.
Games are not just a fun activity but also provide opportunities for bonding and strengthening your relationship through teamwork or friendly competition.
Some options include cornhole, bocce ball, frisbee golf or even putting together an obstacle course using items you already have in your yard.
With all this said, remember that the most important aspect of any date night is being genuinely present with one another.
Whether you're dining al fresco on a comfy picnic blanket or engaged in exhilarating outdoor games – it's about making memories together that will last long after the sun has set on your magical backyard rendezvous.
Sunset Cocktails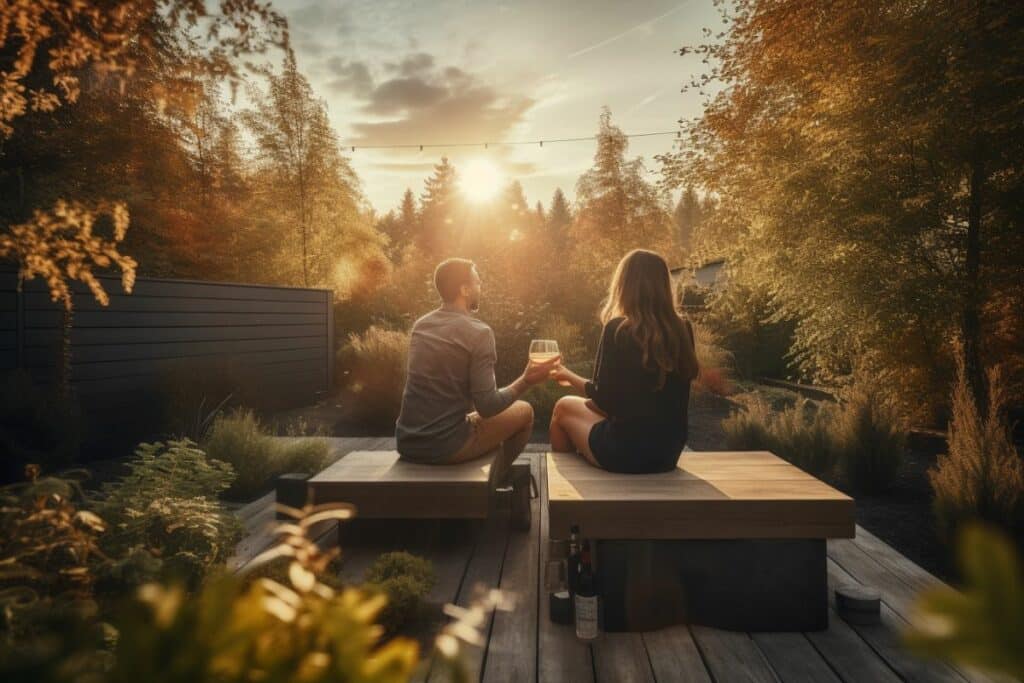 Sip on some refreshing sunset cocktails with your significant other as you watch the sky change colors, creating a dreamy atmosphere for your evening together.
Backyard date nights are all about making the most of the space you have, and what better way to enjoy each other's company than by indulging in some delicious concoctions?
Set up your patio furniture, grab your favorite bottle or ingredients, and create an intimate bar just for yourselves.
You can even play bartender and experiment with new recipes, adding a fun twist to this romantic date. As the sun begins to dip below the horizon, it's time to raise a glass and toast to love.
Get inspired by the colors of the setting sun when choosing your drinks; opt for warm reds like a classic Negroni or Aperol Spritz, or go bold with bright oranges like tequila sunrises or tropical Mai Tais.
Mix things up further by incorporating seasonal fruits such as watermelon or strawberries into your cocktail creations. The possibilities are endless; just remember that balance is key when crafting these tantalizing tipples.
Transforming backyard date nights into memorable experiences doesn't require extravagant plans or expensive outings – sometimes, simple pleasures pack more impact than grand gestures ever could.
As you sip on sunset cocktails hand-in-hand with your loved one, take a moment to appreciate each other's presence and let the conversation flow naturally in this relaxed setting.
This intimate environment fosters connection and allows you both to unwind from life's everyday stresses while enjoying each other's company – proof that magical moments can be created right in your own backyard!
Conclusion
So, as the sun dips below the horizon and twilight envelops your backyard oasis, let these ideas spark a new flame in your relationship.
Embrace the symbolism of nature's beauty – a reminder that love can flourish and grow even in the simplest of settings.
Go ahead, step outside into the night, and paint memories beneath a canvas of stars.
After all, it's those special moments together that truly make life an extraordinary adventure.