A hot tub is a luxurious item that can add a relaxing area to your garden where you, your family, and friends can chill out and enjoy the view.
But since this is something that requires an electrical connection, you have to think carefully about where you will place it.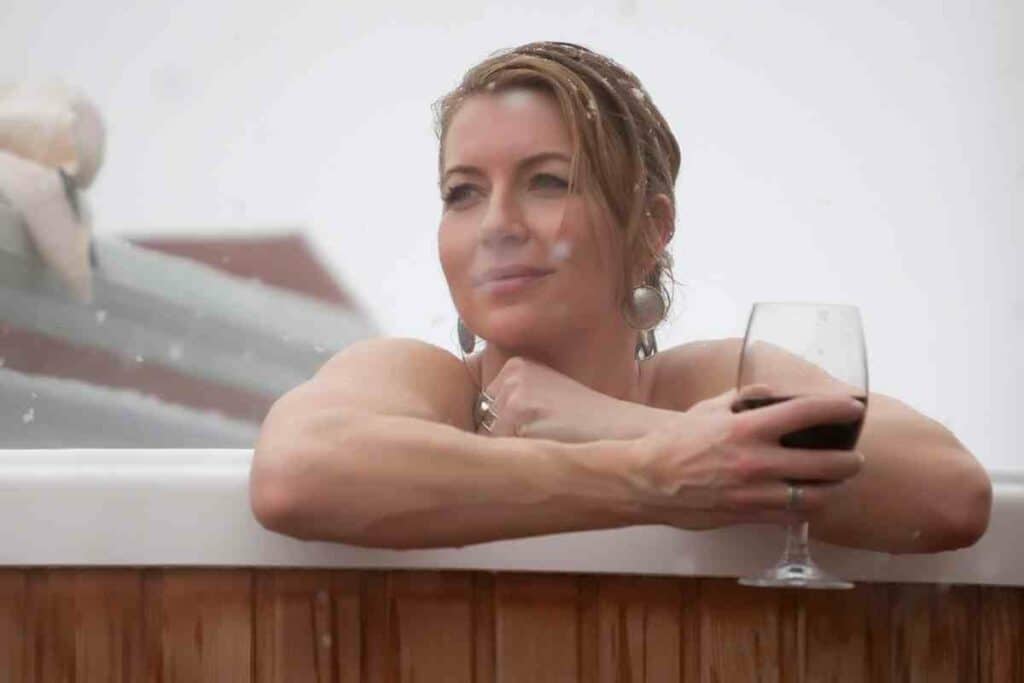 When thinking about the best place to put a hot tub in your garden, there are a few things you will need to keep in mind. 
Most Obviously – You'll need to make sure that you can power your hot tub but you'll also want to place it somewhere with a nice view and a touch of privacy. 
Finding the balance doesn't need to be difficult and in this guide, we'll help you find the perfect spot for your new hot tub. 
Consider The Foundation First
Before you do anything else, you will need to ensure that your hot tub has a stable base.
This is one of the most imperative considerations; you cannot merely place your hot tub on the lawn and expect everything to be hunky dory.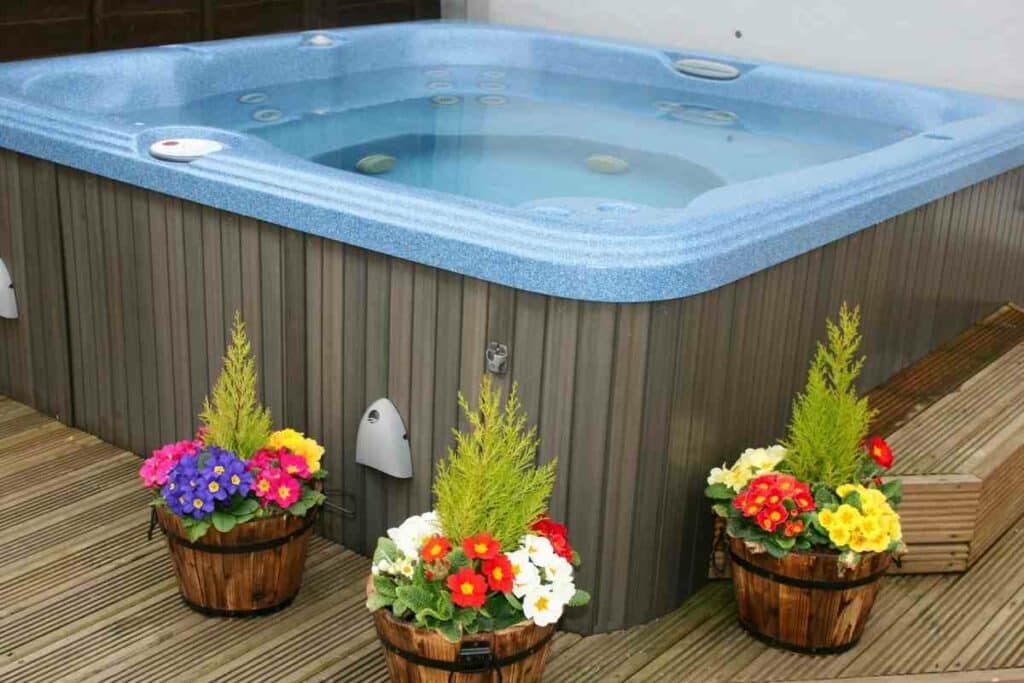 Keep in mind that, when filled with water, your tub is going to be very heavy and needs a base that will be able to support this weight.
Moreover, it needs to be even so that the hot tub is not tilted. 
The best base is concrete as this is level and extremely stable.
Some people choose to locate their hot tub on a deck but keep in mind that this needs to have extra reinforcements to ensure it can support the weight of the tub. 
What's Around The Hot Tub?
When choosing your hot tub placement, keep in mind that it isn't only what is under the tub that counts but what is around it.
If you've placed it on a decked area right next to some grass, you are going to have to enter and exit the hot tub by stepping onto the lawn.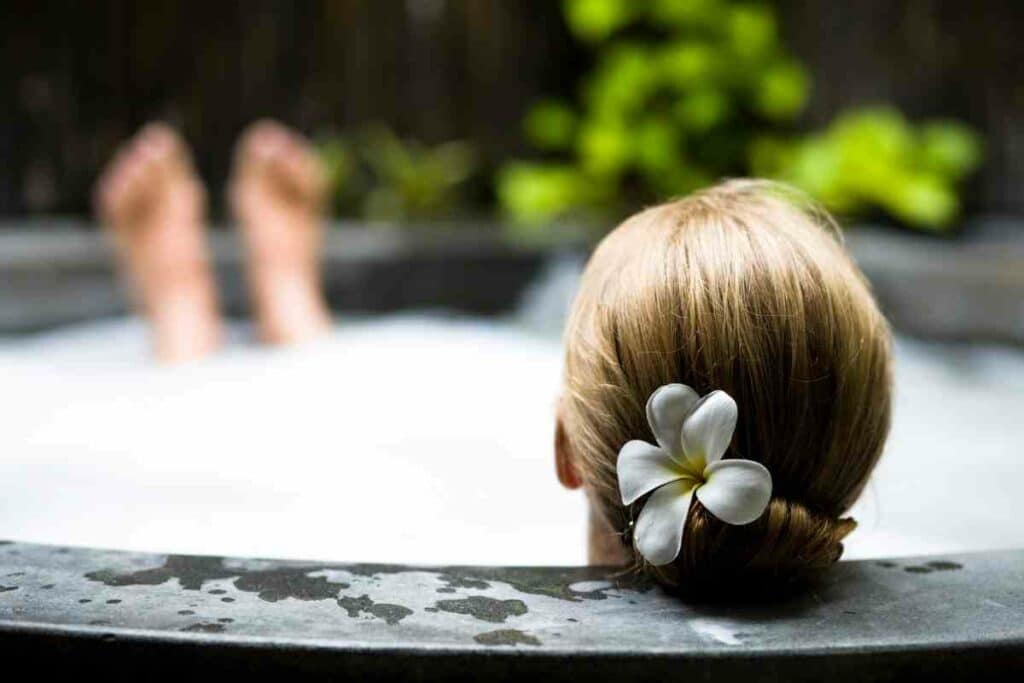 This can make a muddy mess which will end up in your hot tub and is the last thing that anyone wants.
If you have no other option, it is a good idea to place down some sort of waterproof mat or keep a pair of flip flops at the side.
Additionally – You will also need to think about access to the hot tub where other structures are concerned.
If you are placing the tub near to the house, then you will need to ensure that you allow some space around the edges before it meets the wall.
This is for ease of access but will also make maintenance much easier. 
Keeping Your Privacy
When you and your family are relaxing in the hot tub, the last thing you want is a set of prying eyes looking in on your idyllic afternoon.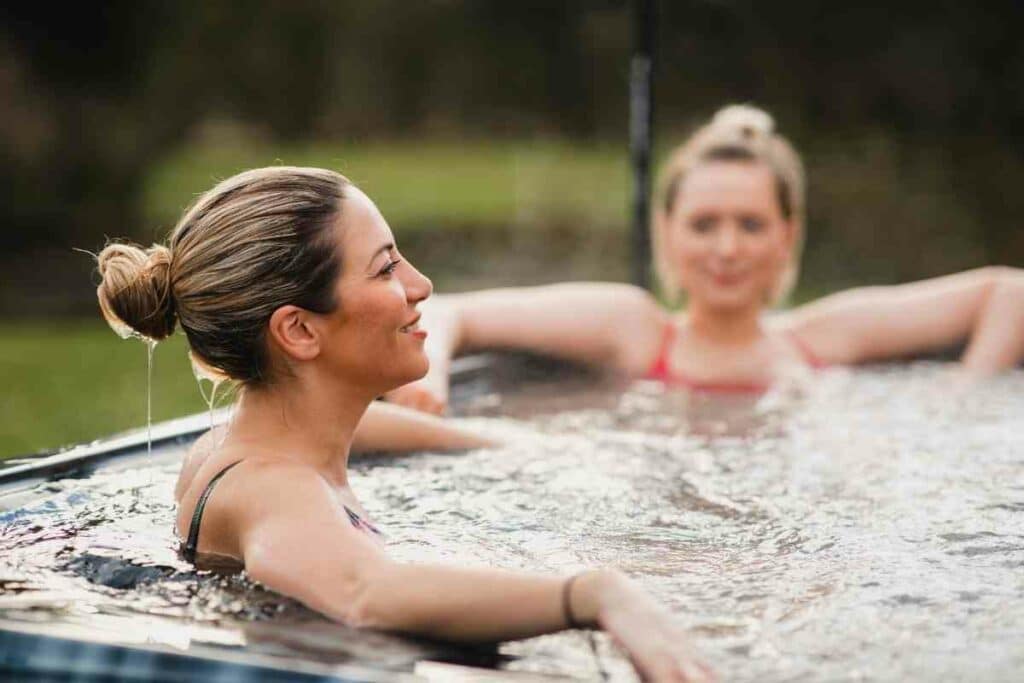 But this largely comes down to the placement of the hot tub.
If your garden is overlooked by a street or other houses then you will want to try to find the most secluded spot possible. 
If there aren't any naturally private areas in your garden then you might consider making one.
You can do this using privacy screens, tall potted plants or trees, trellises with climbing plants and a whole host of other options.
This is a great chance to let your creativity take over and creativity take over and make the perfect spot for relaxing. 
A Beautiful View
When you are kicking back in the hot tub with a cool, refreshing drink you will want something pleasant to look at.
This is why it is important to find a location for your hot tub that offers a beautiful view.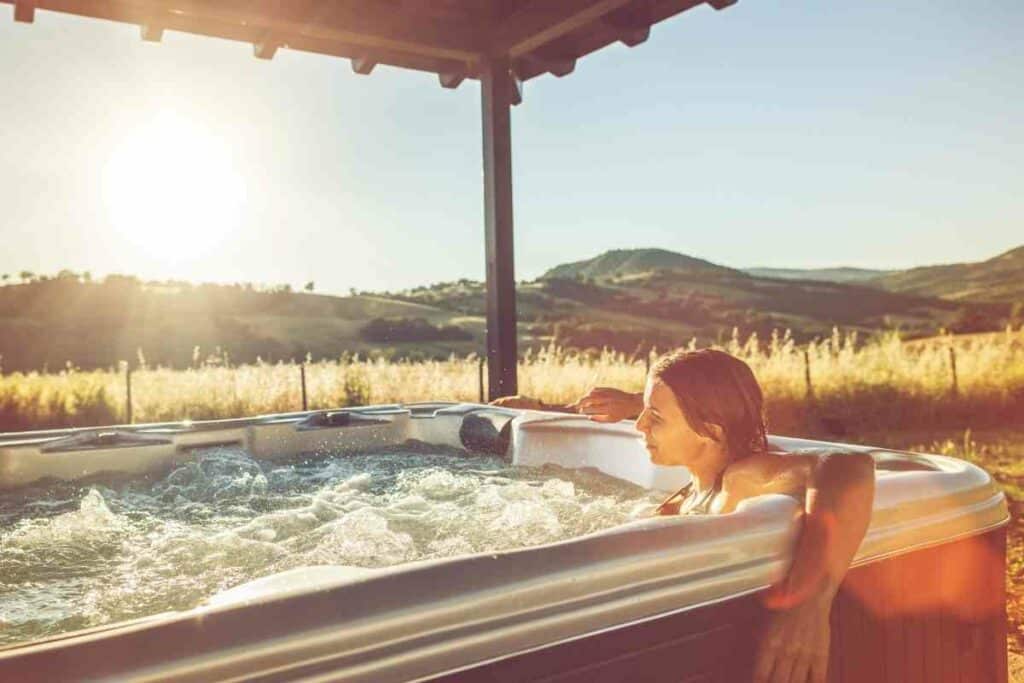 If you are lucky enough to have a garden that backs onto a natural area such as a meadow, woodlands, or anything else, then take this opportunity to face your hot tub this way and take in the stunning views as you relax. 
Alternatively – You can once again use your imagination and creativity to make your own view if there isn't one already.
There are so many options; how about painting a mural on the back wall or adding some layered plants? 
Covered Hot Tubs
Most people think of a hot tub as an outdoor item and that is usually the case.
However, a lot of people choose to have an indoors/outdoors hot tub that can be used no matter what the weather decides to do.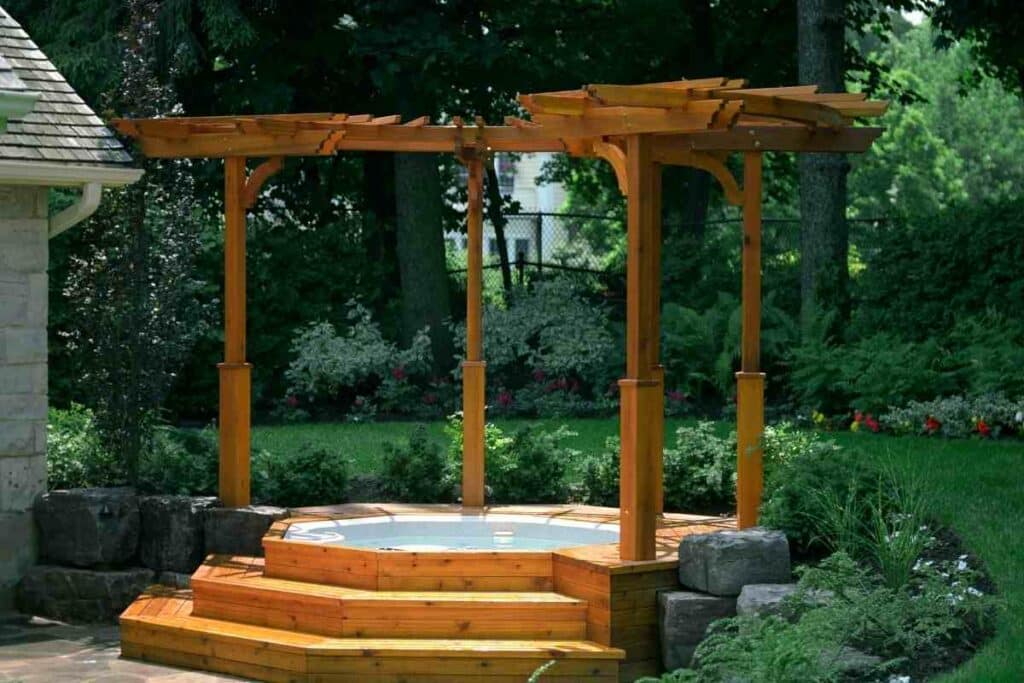 This usually involves building some kind of roofed structure with open sides around the hot tub. It goes without saying that this will involve a lot of extra work.
However, it is worth considering if you live in an area where the weather isn't reliable and you want to get as much use out of your hot tub as possible. 
How Does The Hot Tub Look?
One of the things that matters most when choosing a location for your hot tub is how it will look from different angles.
They say that looks don't matter but nobody wants an eyesore in their back yard yet incorrect placement of your hot tub could certainly lead to this. 
Before settling on a final location and filling your hot tub, take the time to move it around the garden and check out how it looks from different angles:
Does it look good when viewing it from an upstairs window?
Does it look good when viewed from each corner of the garden or a seating area?
It might seem like a minor consideration now but once it's filled and you're sitting on the deck looking at the pipework, you'll soon realize how important this is.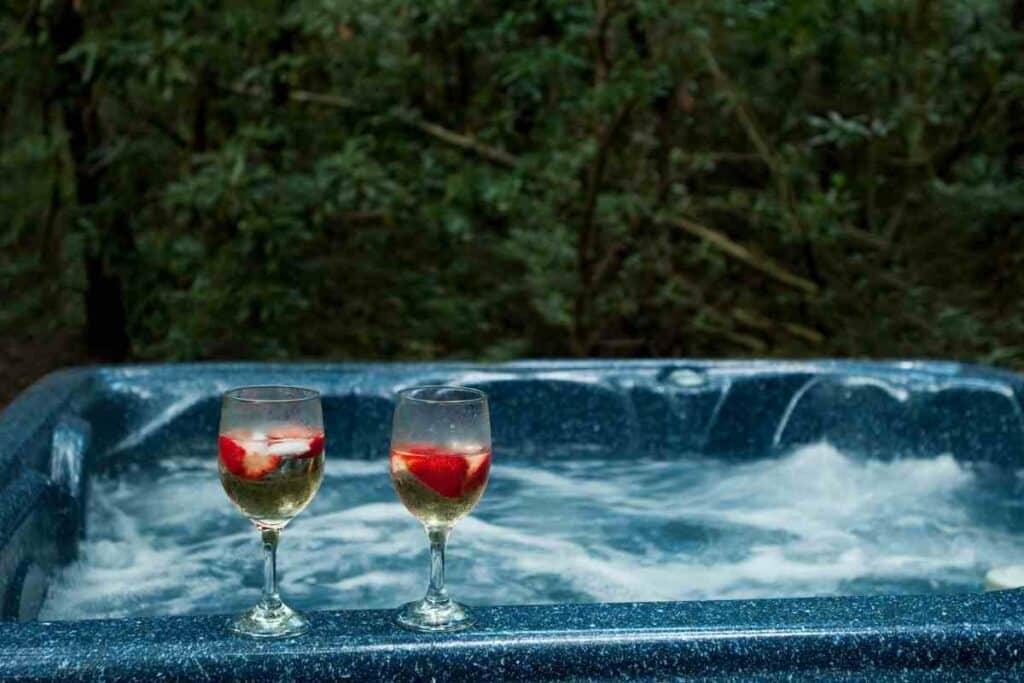 Moreover, you should think about how you'll decorate the area.
Some people like to make a feature of their hot tub and place it next to a seating area with some luxury garden furniture and perhaps a BBQ.
This is great if you like to entertain as it'll give you a space that has everything. 
---
Remember This: As we have already discussed, placing plants and other decorative items around the hot tub can improve aesthetics and there's nothing wrong with coming up with a theme!
---
Practicalities
One of the key things to think about when choosing a location for your hot tub is that the chosen location will not affect the functionality of the tub.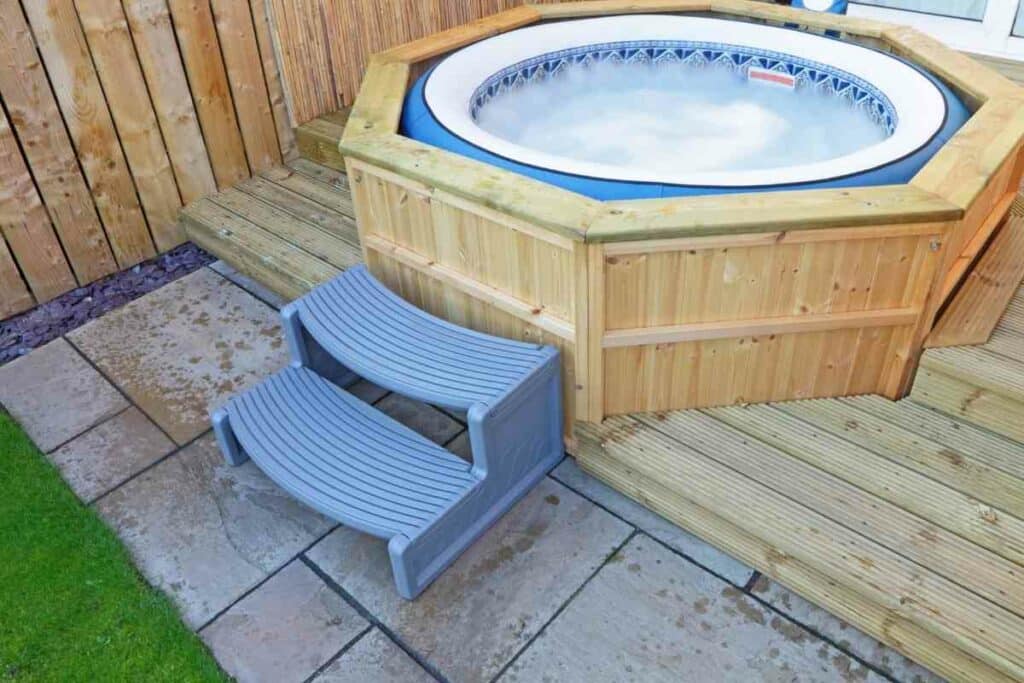 This means choosing somewhere that gives you easy access to power and a water supply. 
If you have your heart set on placing the hot tub somewhere that there isn't access to these things then it is possible to hire contractors to put them in place.
Of course, you must remember that this will require quite a lot of work and will cost you so it's something to weigh up before making a final decision. 
Conclusion
Having a hot tub means that you can destress and relax right from the comfort of your own home.
That said, there are a lot of things to think about before placing the tub and filling it with water.
You will need to make sure that your chosen location offers both practicality, a nice view, and privacy.
Before settling on a location, make sure that you try out different spots to ensure you find the perfect place to relax.
Read Next