If you've got a wooden fence, you might feel like dressing it up a little and breathing life into it.
One of the best ways to do this is to grow some climbing plants.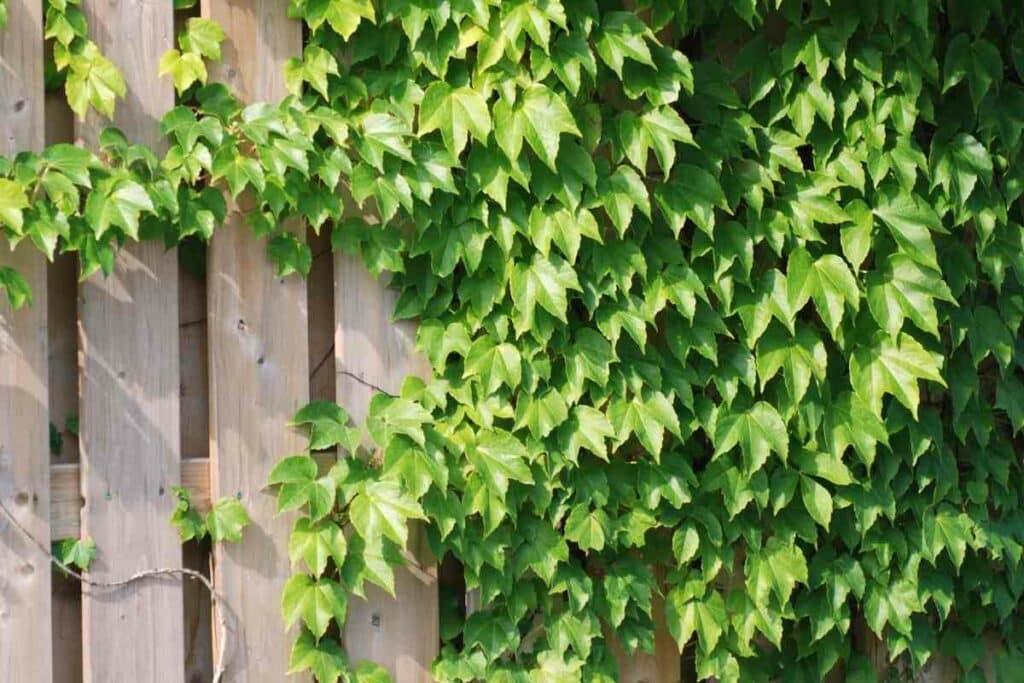 But it's important to make sure that you choose compatible plants that will thrive on your fence. 
In This Guide – We'll be introducing you to some of the best climbing plants for a wooden fence as well as providing you with information on how to grow them successfully. 
What Are The Best Climbing Plants for a Wooden Fence?
Wooden fences take a lot more care and maintenance than other materials so anything you grow on them must be compatible.
Vines and plants that hold onto a lot of moisture can be problematic as they may cause stains at best, rot at worst.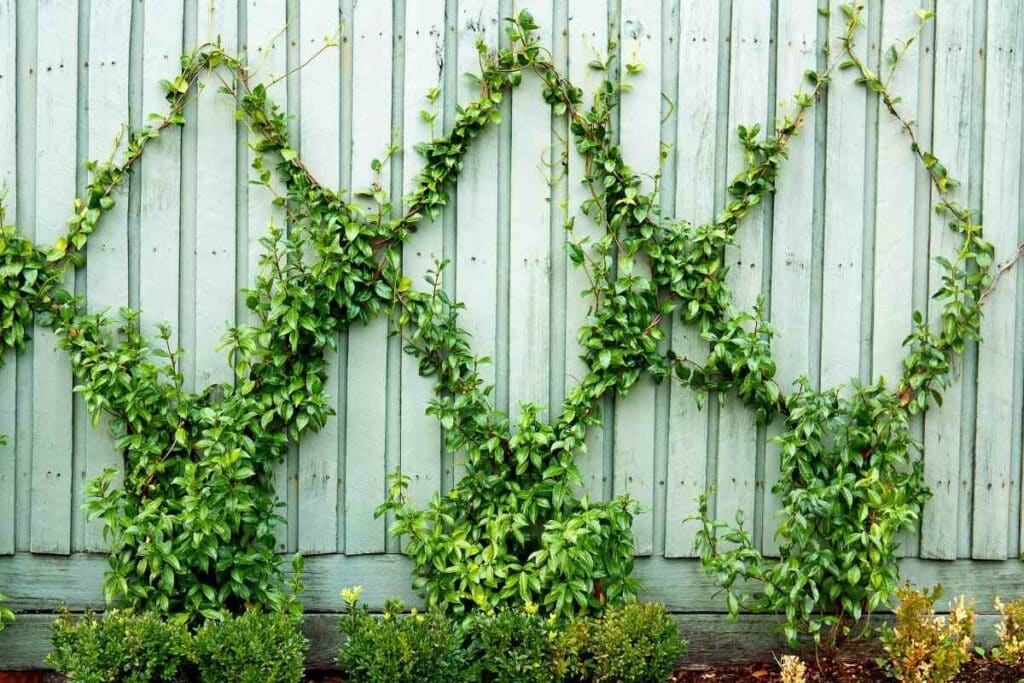 Moreover, you should avoid growing woody vines on your wooden fence as these will grow very rapidly and it doesn't take much before they've totally invaded.
Not only is this difficult to rectify but these plants can cause structural damage to the fence and result in a costly replacement.
Additionally, woody vines are much heavier so even if they don't take over, the mere weight of them could be enough to cause damage. 
The best type of climbing plants for a wooden fence are non-woody annuals and below, we will detail some of the most popular choices. 
Honeysuckle Vine
If you're looking for a plant that will attract a plethora of pollinators to your garden then honeysuckle vine is among the best choices.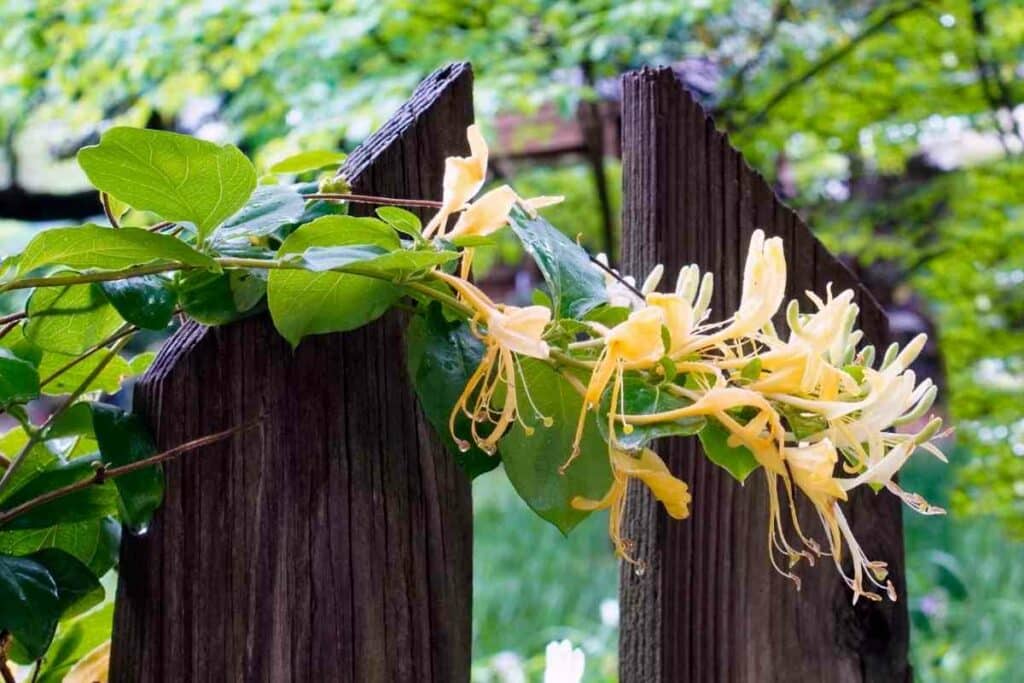 You'll end up with visitors such as butterflies, bees, hummingbirds and many others. 
But this plant is also extremely practical and will provide excellent cover for exposed fences, resulting in much greater privacy in your yard.
The highly fragrant flowers come in a range of colors so you'll find a plant that will fit in perfectly with your garden.
Virginia Creeper
For a lot of homeowners, the idea of having to provide high levels of care to their plants can be off-putting.
But the great thing about Virginia creeper is that it requires very little maintenance.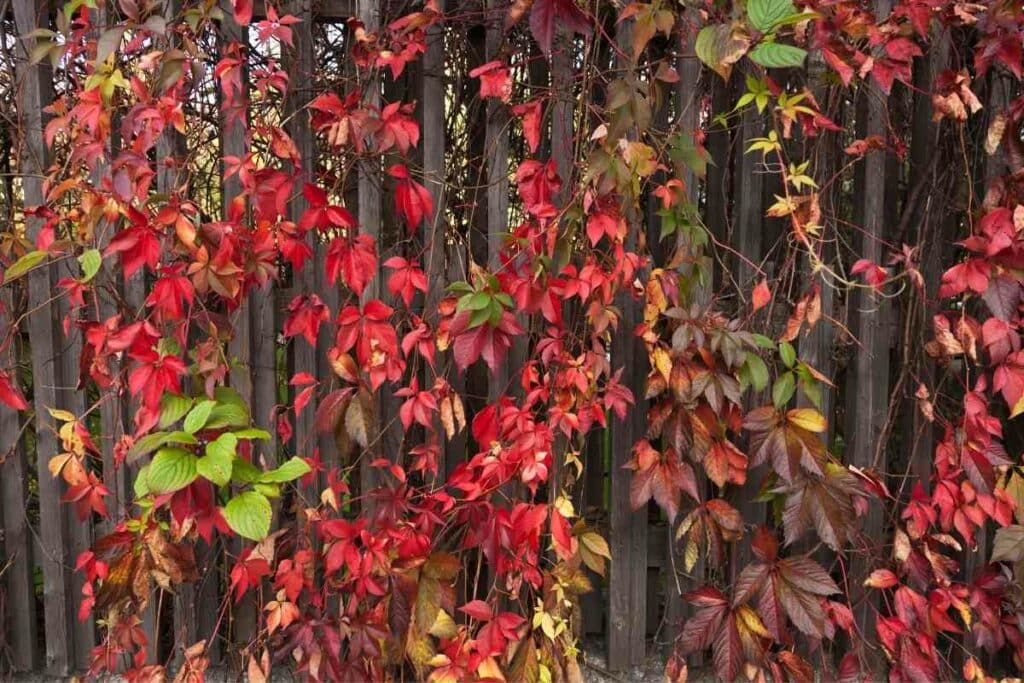 Because of this, you'll have a much more natural looking plant which fits in perfectly to a rustic or cottage-style garden. 
These plants will attract a lot of birds to the garden as they love to feed on the berries.
But do keep in mind that the berries are not edible for humans and so should be removed if there are children in the garden. 
---
Keep In Mind: While this is a low-maintenance plant, you can prune it to suit your needs as these can become rather thick and dense when left alone.
---
Clematis
When choosing a suitable climbing plant for a wooden fence, so many people opt for clematis.
However, there are many different types and each will come in different colors as well as growing to different heights so you will need to think about this before making a decision.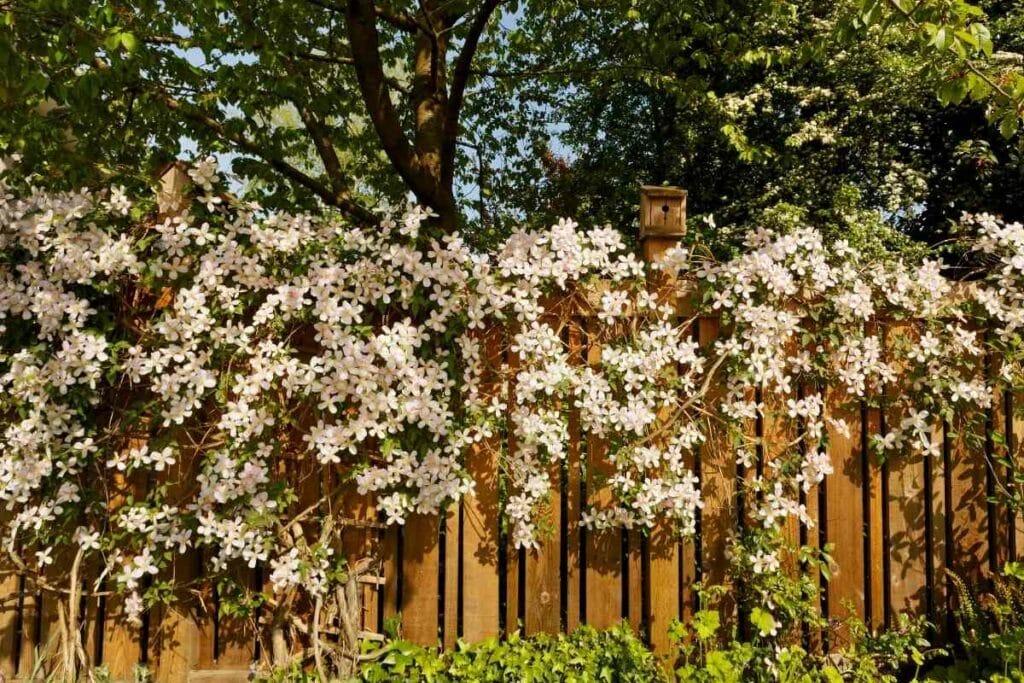 Some clematis plants will cover up to 20 feet once mature and so are great for creating a privacy screen.
These plants also have a stunning display of flowers that come in every color from red to white, yellow to purple and much more. 
The clematis is not the most high maintenance plant on this list but it will require some moderate pruning in the spring to keep it under control.
Star Jasmine
Jasmine is one of the most fragrant plants and this is a huge draw for many people.
But it's also relatively easy to grow and will slowly cover a fence over the course of a few years, so there's very little risk of damage.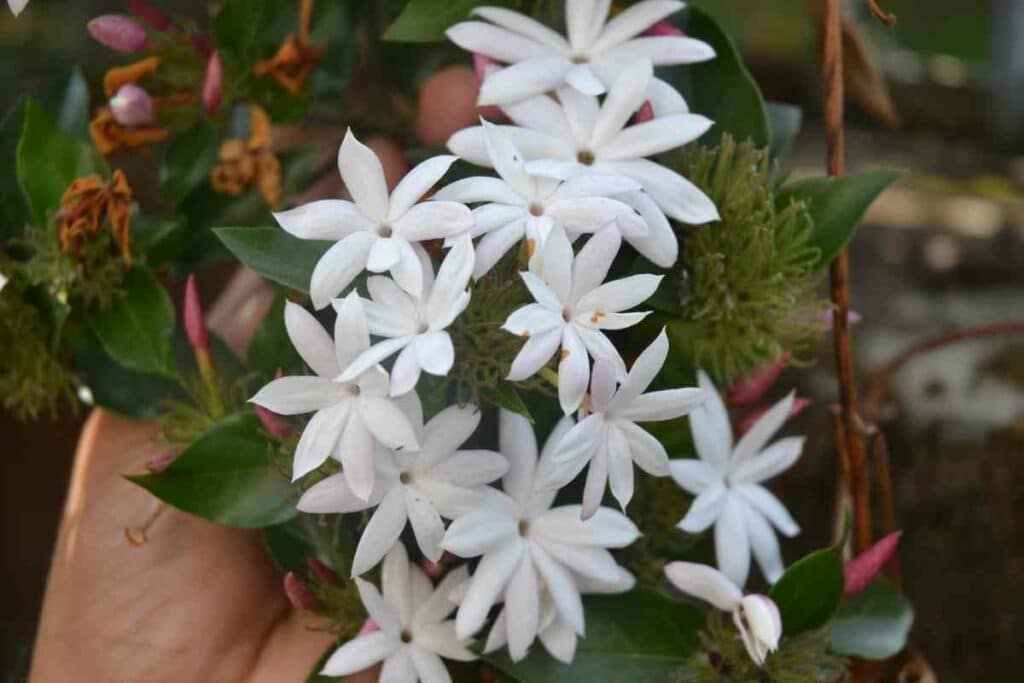 Star jasmine thrives in slightly warmer climates and will thrive best in zone 7 although it's not unheard of for it to do well in zone 6.
---
Key Takeaway: It likes to be in a sunny position but the soil should be kept moist. 
---
Morning Glory
This is a herbaceous vine that will do very well on a wooden fence and what's more, Morning Glory looks incredible.
It's a very vibrantly colored plant that will cover your fence and act as a brilliant privacy screen. 
Moreover, this plant grows quickly but won't damage your fence so you get the best of both worlds.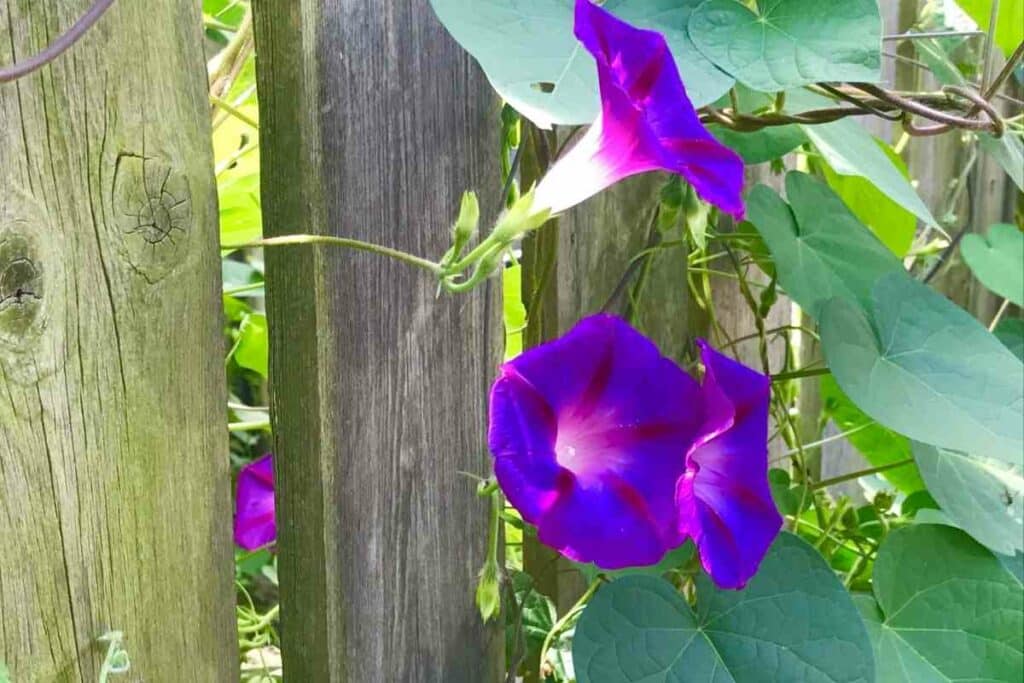 What we really love about morning glory is that it comes in a huge range of colors and will continue to bloom right up to the first frost. 
The downside to these plants is that some people would consider them to be weeds as they will take over very quickly if they aren't well pruned.
This means that you may need to perform a little more maintenance than other types of climbing plant. 
Sweet Pea
Sweet pea is definitely one of the most popular choices when it comes to climbing plants and can be found in gardens all over the world.
But don't let this popularity put you off, sweet pea is widely acclaimed for its stunning flowers and beautiful aroma.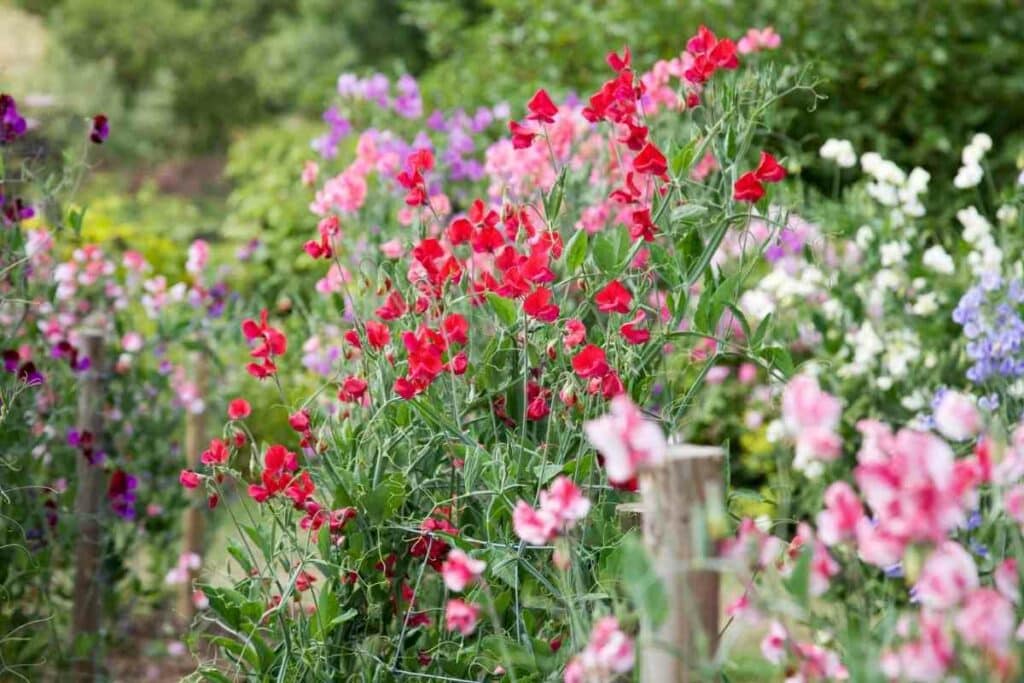 What's great about this plant is that it is very easy to train, so it is an excellent choice for newcomers to climbing plants who don't want a difficult task.
However, you should keep in mind that the vines can turn woody as they get older which could make it more tricky to grow them on a wooden fence.
Pros And Cons of Growing Climbing Plants On a Wooden Fence
There aren't many bad points to growing climbing plants on your wooden fence.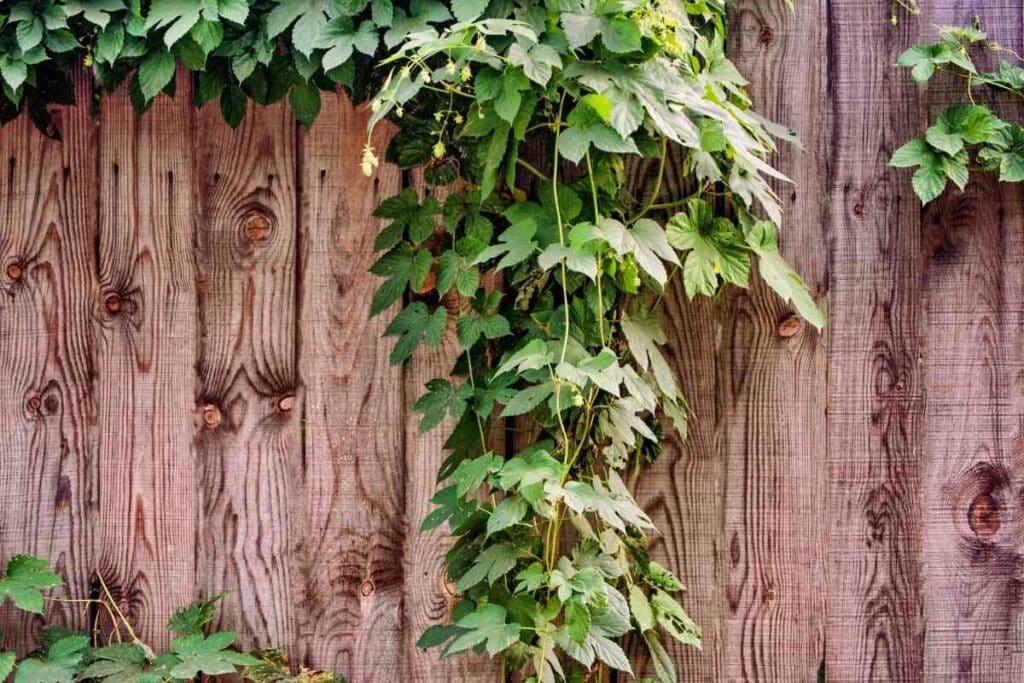 The only real downside is that there is a chance the vines could do some damage to the structure of the fence.
However, as long as you use fence friendly plants, there shouldn't be too many issues. 
On the Plus Side – Having climbing plants growing over your wooden fence will improve its appearance and create a much more lush looking and vibrant garden.
Moreover, many of these plants have a delightful scent that's super relaxing. 
And it isn't only humans that love these plants, if you're looking to attract pollinators to your garden, there are plenty of climbing plants that will do the trick. 
If your fence can be seen through, even just a small amount, climbing plants will improve the level of privacy in your garden.
Tips For Success
When it comes to growing climbing plants and vines on your fence, there are some things that you should keep in mind if you want the best success.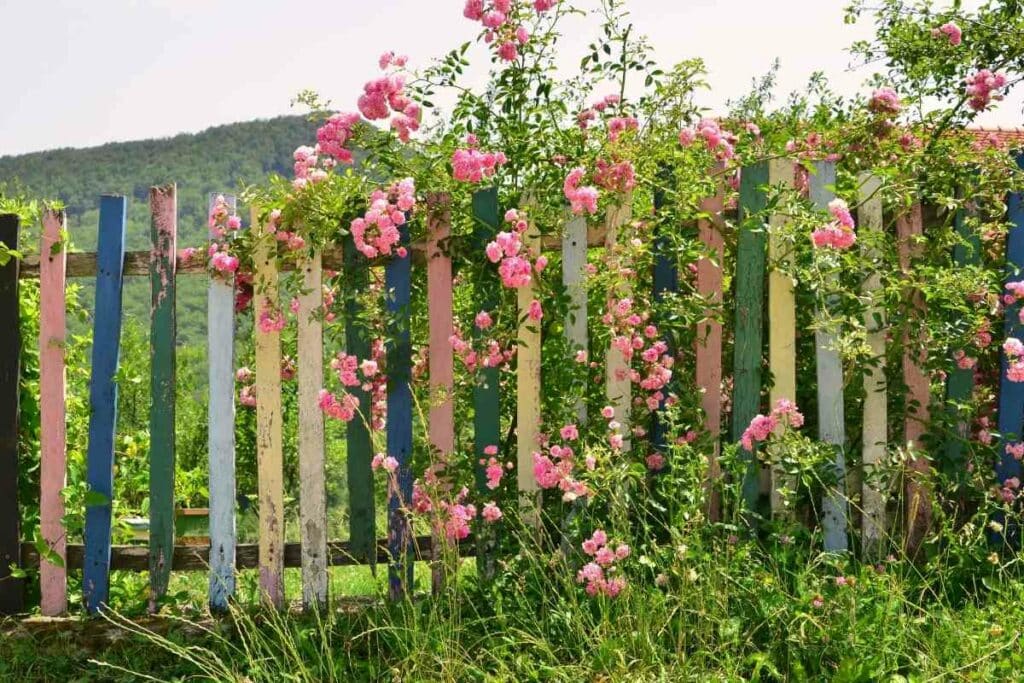 Take a look at our dos and don'ts to make sure your plants will be happy and healthy.
Don't be tempted to take cuttings or plants from wild areas such as woodlands. While this may save you money, you can't be sure that the plants will be suitable for your garden. Many a homeowner has found this out the hard way after an innocent woodland cutting has turned into an invasive plant from their nightmares. Going to a nursery is the only option. 
Do pay attention to the specific needs of your chosen plant. Some plants thrive in full sun, while others require a more shady spot. You'll need to research exactly what your plant needs beforehand because you aren't going to be able to move your fence.
Don't try to force unsuitable plants to grow on your wooden fence. If you have your heart set on something like wisteria, this isn't going to do well on a wooden fence. So, you might need to think about an alternative or perhaps purchase a separate trellis and grow your plant here. 
Do avoid woody vines. There isn't much else we can say about this other than they will take over your fence with a very high risk of damaging it.
Conclusion
Wooden fences are only compatible with certain types of climbing plant.
Anything woody could cause damage while plants that hold too much moisture could result in a rotting fence.
Here, we detail some of the best plants to grow on a wooden fence and how to get the most out of your chosen climber.
You May Also Like