Forget about swimming pools; outdoor bathtubs are the latest trend.
Bathing outdoors is an exciting experience that allows you to drown all your stresses while enjoying the serenity of your surroundings. 
Interestingly, outdoor bathtubs are easy to create, and you have multiple options you can choose from.
Despite being outdoors, you'll still enjoy the privacy you get while bathing indoors.
Here are some of the top ideas for those who want to install outdoor bathtubs in their homes.
1. Enclosed Outdoor Bathtub
Who says that outdoor bathtubs compromise your privacy?
You can keep off passers-by by surrounding your bathtub with a stone wall.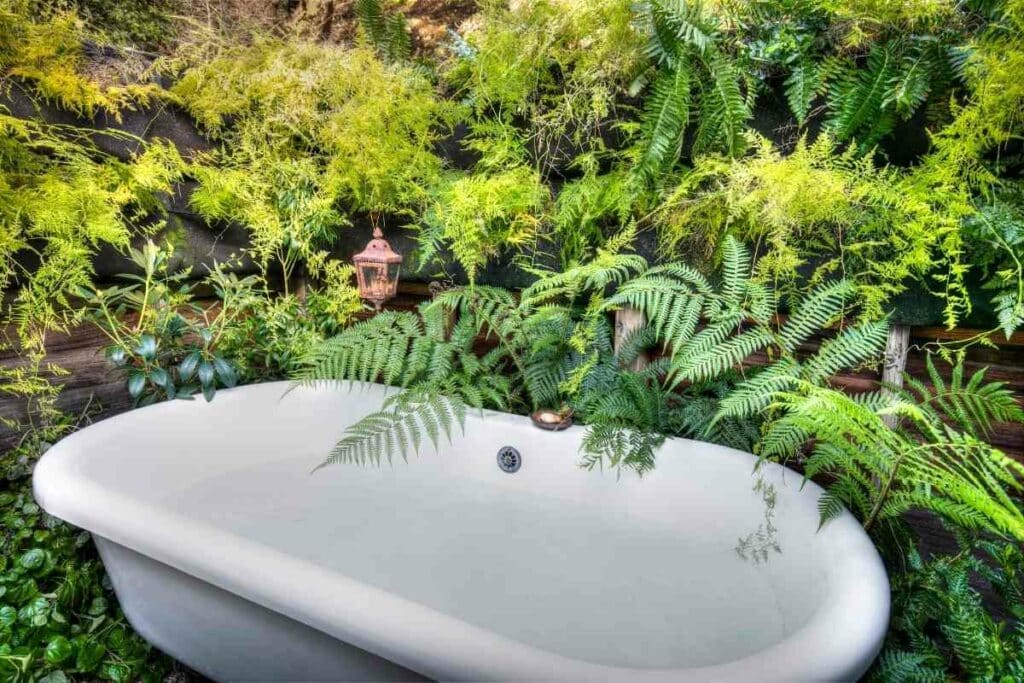 This creates a laid-back natural feel in your backyard. 
You can fix some climbing plants like a trellis to add some life to the space. 
Thanks to its shower head attachment, you can switch between turning it on or dipping yourself in the tub.
The tub's underfoot also has pebbles that ensure you don't get dirty once you step out. 
2. 'Poor Man's Bathtub
You don't need a fat wallet to own an outdoor bathtub unless you want fancy features like bubblers and jacuzzi jets.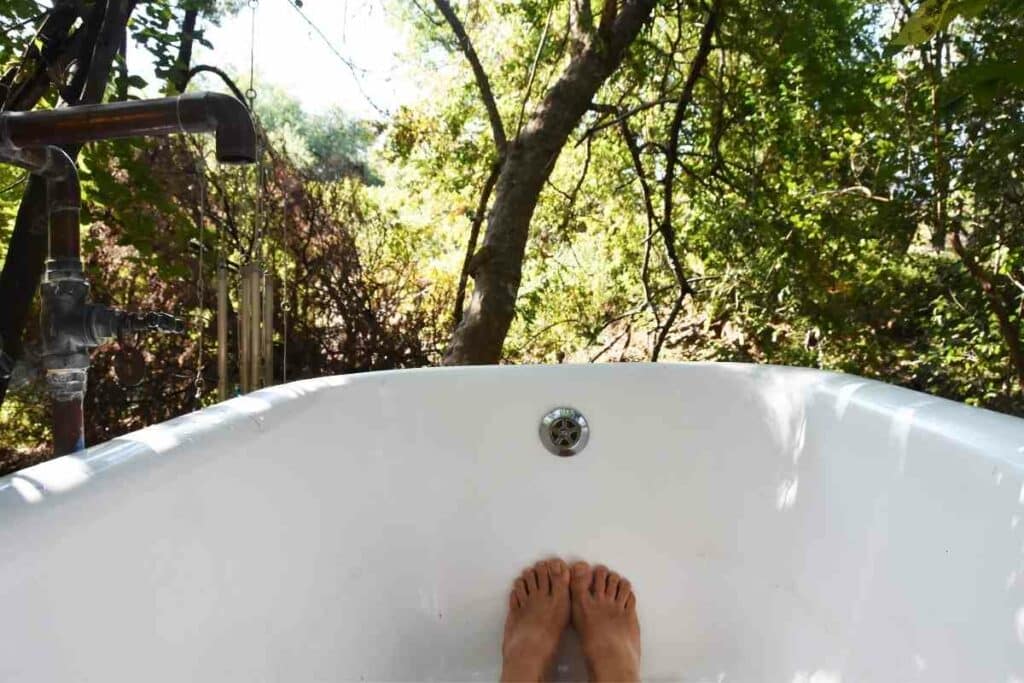 Indeed, you can take a DIY approach and construct the 'poor man's outdoor bathtub. 
When starting, you'll need a used cast-iron enameled bathtub. It should be the model with feet.
Cast iron is the preferred material because of its ability to withstand high temperatures and last long.
These tubs are readily available in neighbors' homes as well as local second-hand items' stores. 
The construction is straightforward.
Start by digging a small hole where you'll place the tub, and ensure that you leave enough space for a firepit and a drainage pipe.
When using the tub, fill it with water before lighting the fire. 
3. Romantic Double Outdoor Bathtubs
Nothing beats the experience of spending cozy sunsets and cloudless nights outdoors while bathing next to your significant other.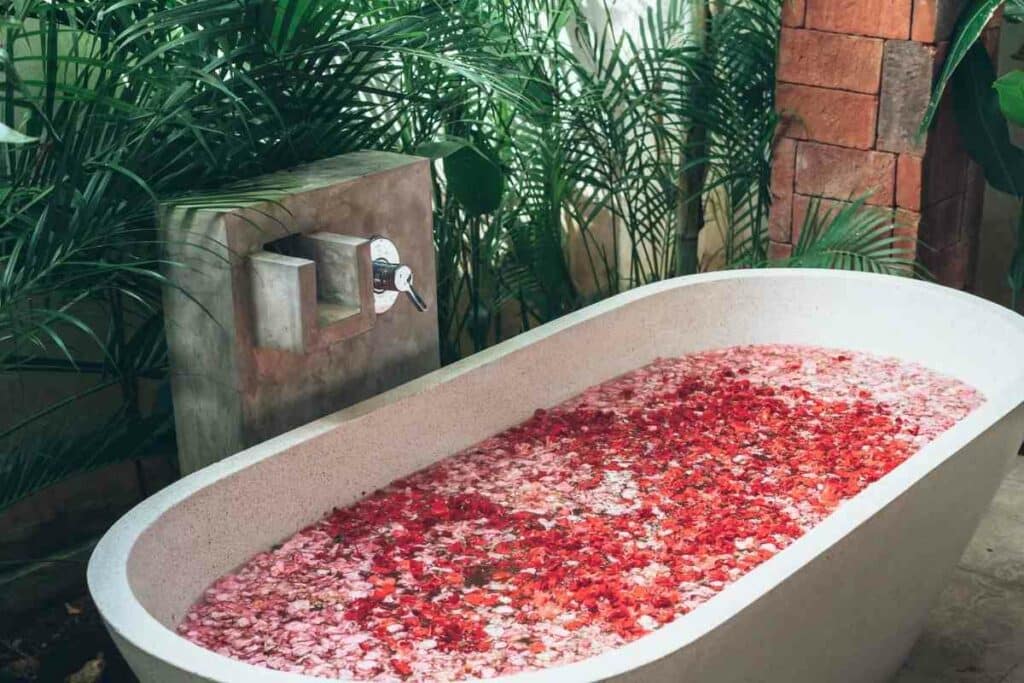 You can add a wooden surface between the two tubs to hide the piping and provide a surface for placing a glass of your favorite drinks.
Double outdoor bathtubs can transform your deck, especially if your home allows for a stunning view of the surroundings.
You can add some potted plants and flowers to breathe more life into your outdoor space.
4. Sleek and Luxurious Outdoor Bathtub
If you have ample outdoor space, allocate a small area for plants and flowers and install pavers in the remaining space to attain a sleek and tidy appearance.
Ensure that the entire space has sandy stones and textures. 
Then, install a glossy gray ceramic bathtub with a gunmetal faucet to add style and functionality to your outdoor space.
---
Amazing Idea: You can also make your backyard livelier by planting a few palm trees.
---
5. Sunroof-covered Outdoor Bathtub
Some people aren't entirely at ease with the idea of bathing in an outdoor tub, but they still find the prospect of doing so enticing.
If you're one of them, you might want to put a sunroof above your outdoor bathtub. This ensures that you enjoy the surroundings' serenity without breaching your privacy.
Besides sunlight, adding some flowers and potted plants to your bathtub décor will make you feel like you're outdoors without being there.
You can accentuate this feeling by using moss and natural stone when constructing the bathtub. 
6. Modern Outdoor Bathtub
For a modern outdoor bathtub, consider choosing a color palette of black, green, and white.
This not only creates a refreshing feeling, but it also blends well with overhead leaves if you have plants in your backyard.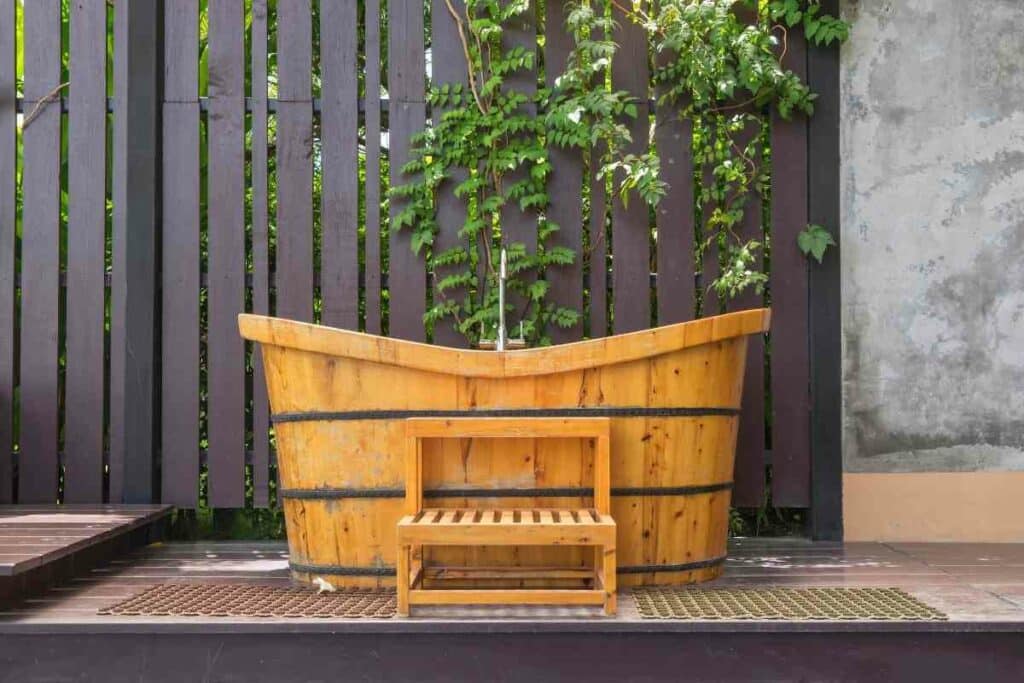 Place pale pebbles next to the tub to add a Zen-like state of peacefulness and calmness.
You can also fix a wall-mounted showerhead to give you bathing area versatility. 
7. Water Lily Bathtub
To create a water lily bathtub:
Throw some of the plant's flowers in a white porcelain tub.
The stark contrast between the tub's white color and the flower's yellow, combined with a few green living water lily plants in the background, is nothing but eye-catching. 
Then, add a seating area beside the tub so that you can admire its beauty while waiting to take a deep soak.
8. Countryside Outdoor Bathtub
Despite its simplicity, a countryside outdoor bathtub offers a perfect blend between the freshness of outdoor air and the privacy provided by the fence.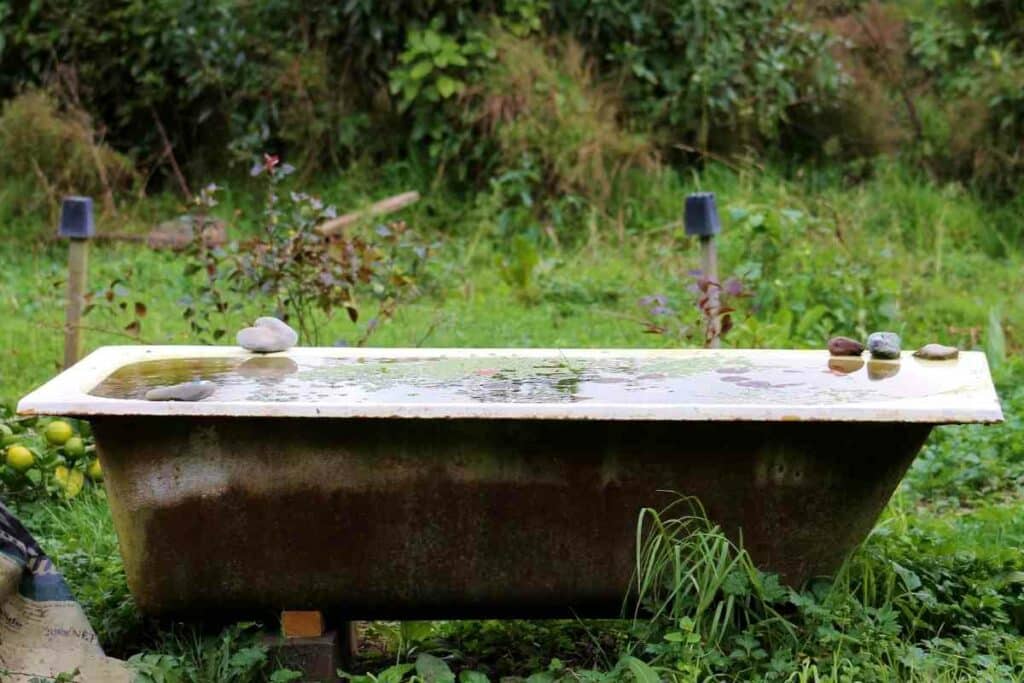 When you add potted plants and woven baskets into the mix, the tone becomes light and playful. 
Like most countryside homes, this tub has a round mirror, a patterned rug, and several pendant string lights next to it.
To add to a touch of class, an antique brass faucet and showerhead are included.
9. Tropical-themed Outdoor Bathtub
Imagine looking at a vintage porcelain tub sitting on an old wooden deck with lush green palm trees in the background – stunning.
Now think of how you would feel when you soak yourself for hours in such a setting – it would be nothing short of delightful.
If you find this setup too modest, you can add some luxury by installing a tiled backsplash.
What's more, this tropical-themed outdoor bathtub looks better after sunset.
---
Be Creative: Light a few scented candles around as you soak in and enjoy a glass of wine or two. Simply put, you have endless customization possibilities.
---
10. Japanese Sunken Outdoor Bathtub
Soaking yourself in a baked clay Japanese sunken tub makes you feel like you're in the hot spa.
The temperatures are warm enough to leave you rejuvenated after a long bath.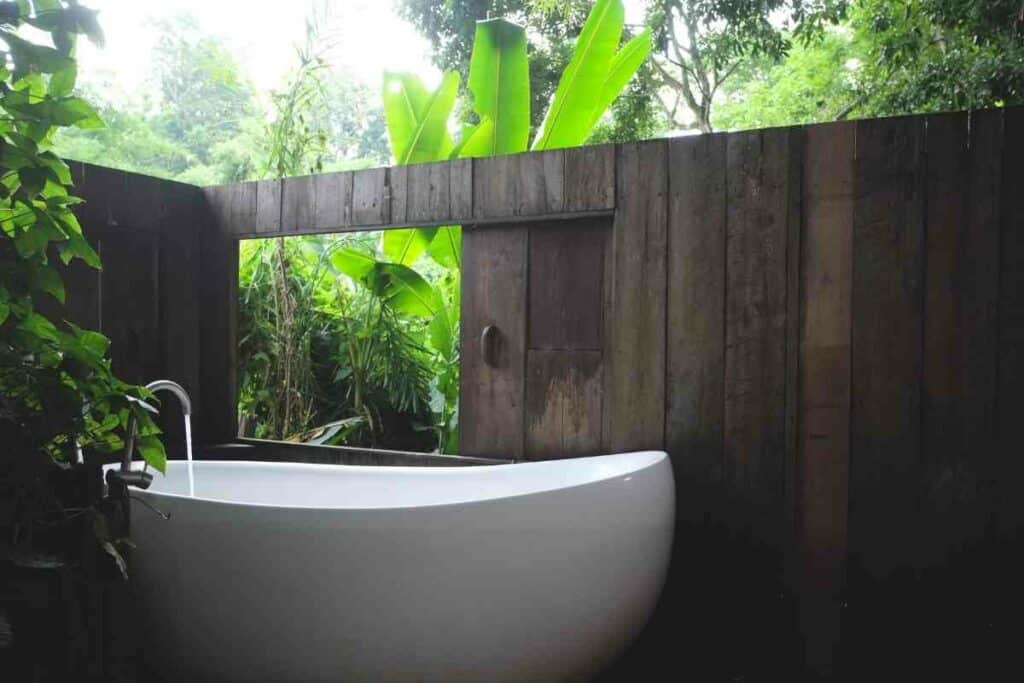 Its surroundings consist of unkempt greenery and languidly decorated stony garden, an approach intended to create a jungle-like environment. 
Above the tub is a rainfall shower head meant to recreate rain in the jungle.
To top off the wilderness experience, this outdoor bathtub has wood framing. 
11. Sink It Into a Decking
If you have ample space in your decking area, why not use some of it to install an outdoor bathtub?
Besides optimizing the space you have, this adds style to your deck.
Once you install the tub, surround it with a slatted timber screen to enhance privacy.
Next to the tub, you can fix a hammock for relaxing after your bath. 
Factors to Consider When Building An Outdoor Bathtub
Here are some factors that you need to consider before installing an outdoor bathtub.
What Is the Best Location?
When choosing the location for an outdoor bathtub, privacy and drainage are the most vital consideration factors.
Since nudity and bathing are inseparable, it's essential to think of your neighbors.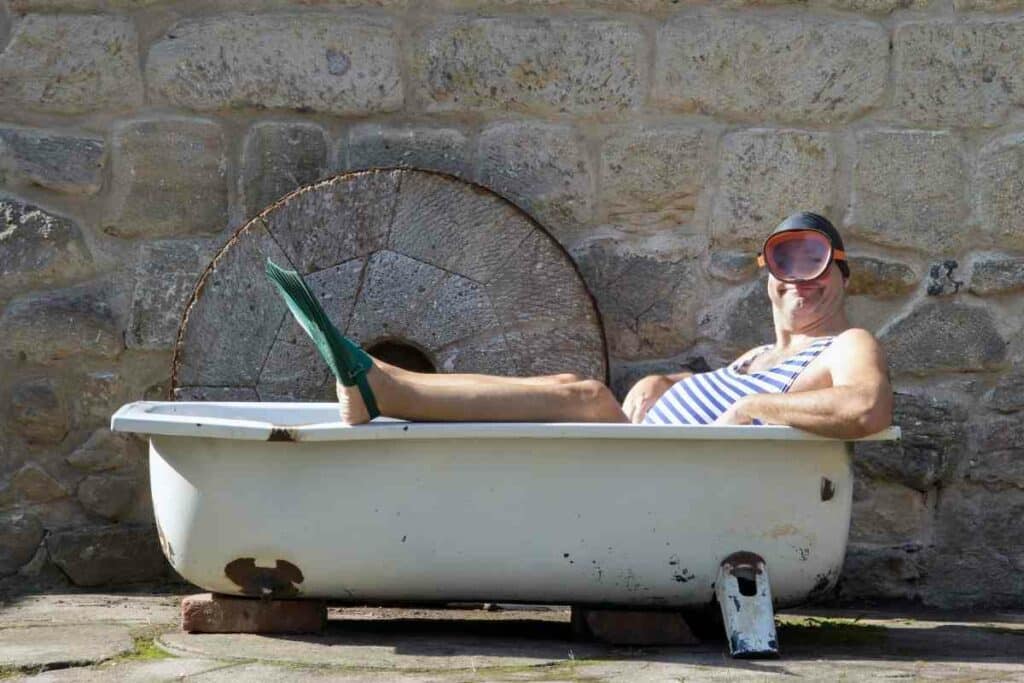 There's no way your neighbors would want to see you enjoying intimate moments with your significant other. And you don't want that either!
Choose a site with a high fence such that your neighbors won't see you while bathing. Regarding drainage, elevated locations are the best.
What About Placement?
Once you have a suitable site, the next step involves the bathtub's placement. A clawfoot tub is easy to install, although you might need a helping hand.
For fiberglass and acrylic models, you must install a supporting frame.
When installing the tub, apply a slightly excess amount of mortar to the tub's position.
The surplus gets displaced during installation, such that the tub receives extra support. It also increases stability and deadens sounds. 
Underground Plumbing
If you want a bathtub that needs little maintenance, you need to install underground plumbing.
It's a simple as fixing a hose bib at the side of your house.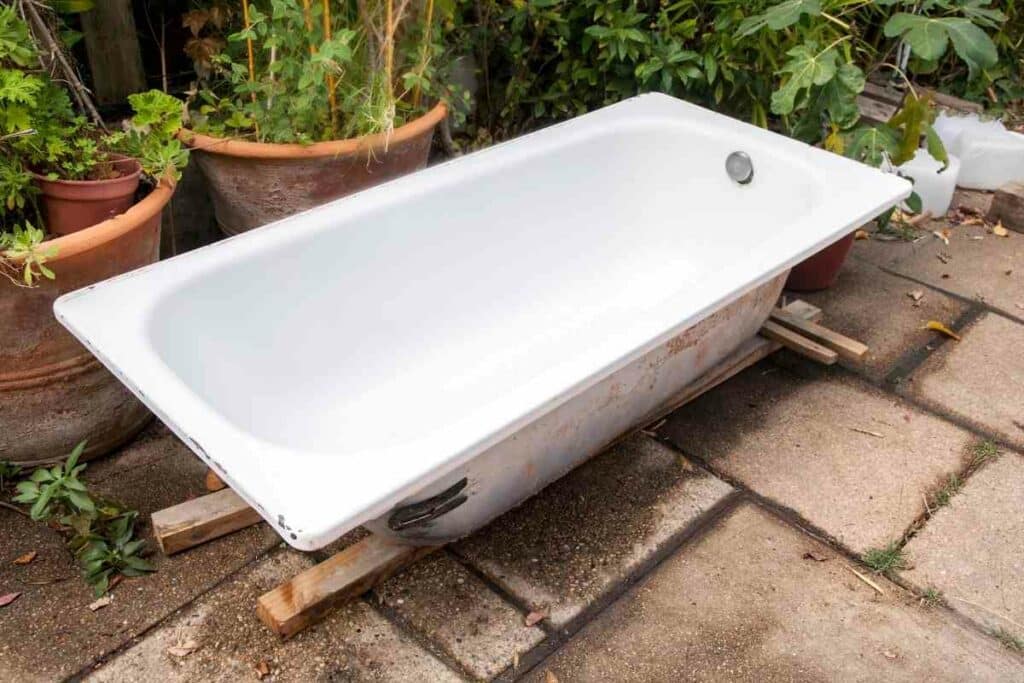 The hose should supply both cold and hot water.
Warm water can run to your outdoor bathtub, while the cold water can perform tasks like watering your garden, cleaning your car, washing pets, etc. 
Budget
Like other domestic installations, your budget determines the kind of outdoor bathtub you install.
Fancy additions like golden faucets and showerheads make the project expensive.
If you have a tight budget, the best option is to choose the DIY approach.
How Do I Keep a Bathtub Clean?
When they clean their bathtubs with soap and water, most people get it wrong because this forms grime over extended periods.
The same applies to household cleaners.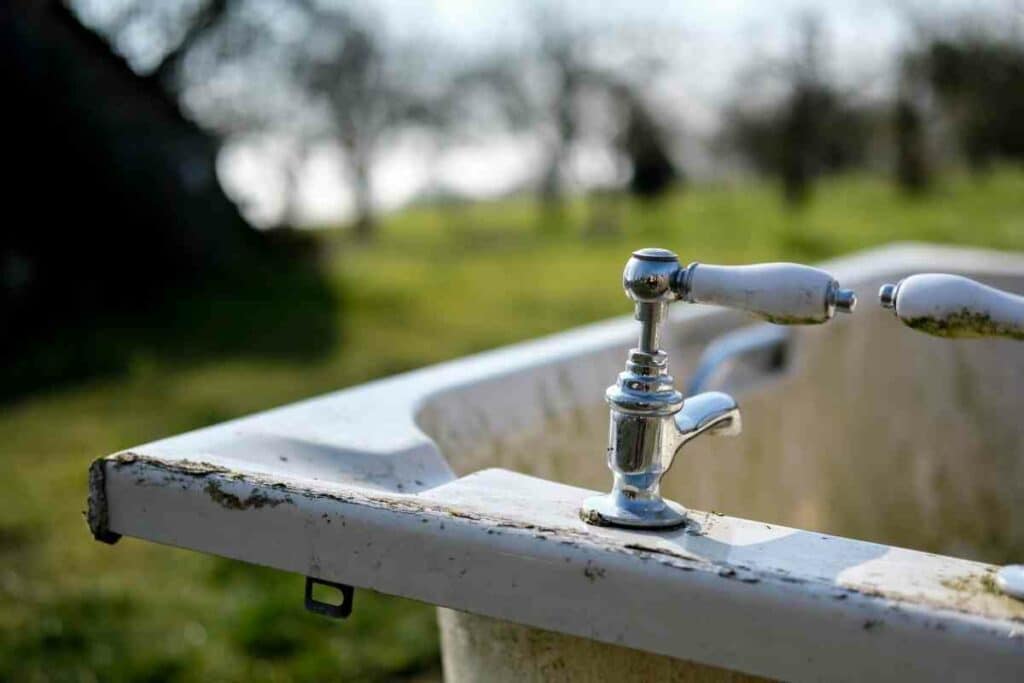 Acidic vinegar is the perfect solution if you want a sparkling outdoor bathtub.
All you need to do is mix it with an equal portion of warm water and leave it for 15 minutes inside the tub before scrubbing and rinsing.
For better results, sprinkle a tinge of baking soda before scrubbing.
Wrapping Up
Are you planning to install an outdoor bathtub on your property? Well, this is the right time to start this project.
Nothing is as refreshing as taking a long bath after completing your day's tasks.
And you can make it better by doing so while gazing at the stars or admiring nature and sipping your favorite drink.
In the past, people focused on bringing the outdoors inside, mainly by adding plants and flowers inside their houses.
Now, the opposite is happening – more people are taking the inside-outside.
Outdoor bathtubs are no longer a preserve of high-end hotels – even with the tightest of budgets, you can create one at your home. 
You May Also Like