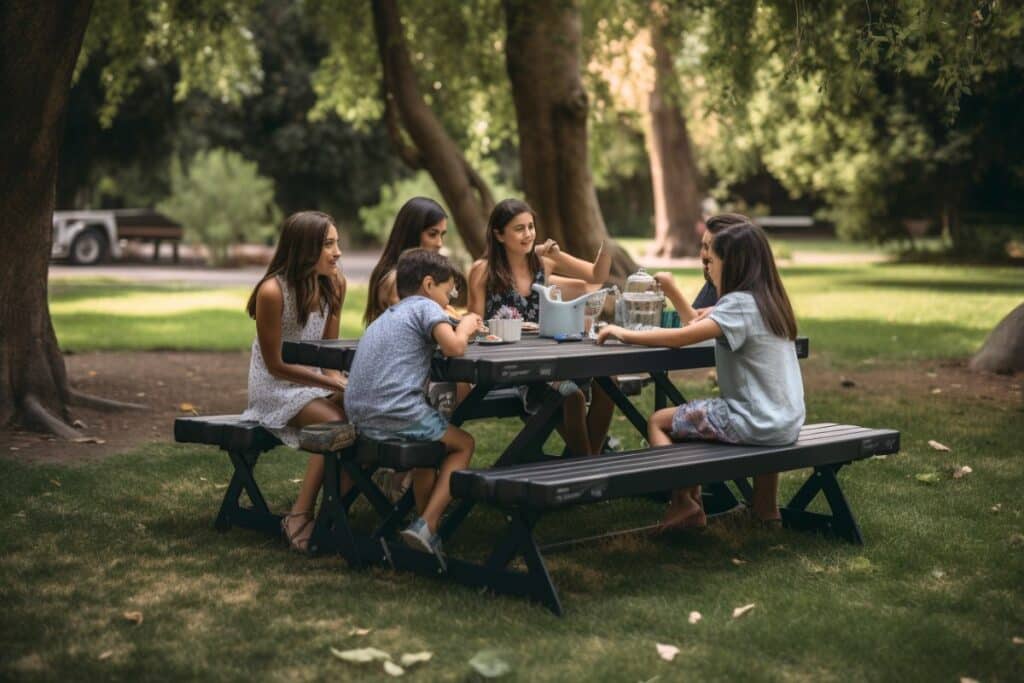 You've been dreaming of those perfect sunny days when you can gather your friends and family for a delightful outdoor picnic. But there's always that one question lingering in your mind: how do I find the best folding picnic table to make these gatherings comfortable, convenient, and enjoyable?
Worry no more! We're here to guide you through the process of choosing the ideal foldable picnic table that will not only meet your needs but also leave a lasting impression on your guests.
In this article, we'll take you through the key factors to consider while picking the perfect folding picnic table, as well as presenting our top three recommendations. Additionally, we'll discuss some of the benefits that come with owning a foldable picnic table – from easy transportation to versatile usage.
So sit back, relax, and let us help you make an informed decision that will elevate all your future picnics and outdoor gatherings.
How To Pick The Best Folding Picnic Table
When looking for the best folding picnic table, consider the material it's made out of to ensure durability and easy cleaning.
Check if it includes chairs or has a compatible seating option, and take note of the size of the table to make sure it fits your needs and can accommodate your group comfortably.
Additionally, pay attention to how foldable it is when not in use for convenient storage and transportation, and don't forget to read reviews from other customers to get an insight into its overall quality and performance.
Material
You'll appreciate that this gem is crafted from durable materials, ensuring it's perfect for your outdoor adventures!
When selecting the best folding picnic table, you should consider the material it is made out of since it plays a significant role in its durability and functionality. Some popular materials used for foldable picnic tables include aluminum, plastic, wood, and medium-density fiberboard (MDF). Each material has its own set of advantages and disadvantages to keep in mind while making your decision.
Aluminum folding picnic tables are lightweight, rust-resistant, and easy to clean – making them an ideal choice for outdoor use. Plastic foldable picnic tables, on the other hand, are also lightweight but may not be as sturdy as their aluminum counterparts.
Wooden folding picnic tables offer a classic aesthetic appeal and can be quite durable if treated properly; however, they tend to be heavier than both aluminum and plastic options.
Lastly, medium-density fiberboard (MDF) is an affordable option that provides some water resistance but may not hold up well under prolonged exposure to extreme weather conditions.
As you weigh the pros and cons of each material type in search of the best folding picnic table for you, remember that choosing quality craftsmanship will ensure your investment withstands countless picnics to come!
Does It Include Chairs?
Can you imagine effortlessly hosting the ultimate outdoor feast with built-in seating that magically appears when needed? Yes, that's possible with a folding picnic table that includes chairs. Keep in mind some do not.
These foldable picnic tables come in various styles and materials to suit your needs, providing both function and aesthetic appeal. A portable picnic table set is an essential addition to your outdoor adventures, making it easy to have a comfortable dining experience anytime, anywhere.
A picnic table set with chairs offers numerous benefits:
Space-saving design: Having a compact and foldable picnic table means you can quickly pack it away when not in use or transport it for offsite picnics.
Integrated seating: Chairs are built into the design of the folding picnic table, which eliminates the need for separate bulky chairs while also ensuring everyone has a place to sit.
Quick setup: With minimal effort, you can unfold and set up your portable picnic table within minutes – no tools required!
Versatility: Whether you're having a casual family cookout or hosting friends at a scenic park location, these tables adapt to various settings seamlessly.
Durability: Modern folding picnic tables are made from sturdy materials such as wood, metal, or plastic – all designed to withstand outdoor elements while offering long-lasting quality.
So next time you plan an outdoor gathering or adventure, consider investing in a foldable picnic table that includes chairs for convenience and functionality. It'll make your alfresco dining experience more enjoyable and hassle-free!
Size
Ready to make your outdoor dining experience even better? Let's talk about finding the right size for your foldable table with chairs!
The best folding picnic table for you will depend on your specific needs and preferences, such as the number of people you typically dine with and how much space you have available.
Folding picnic tables come in various sizes, ranging from small two-person options to larger tables that can accommodate six or more people. When considering which size is right for you, think about not only the number of guests but also the types of meals and activities that will take place at the table.
Quick Fact: The average size of a picnic table is 6 feet.
Another important aspect to consider when choosing the perfect picnic table is how easily it folds up and transports. Some folding picnic tables are lightweight and compact, making them an ideal choice for those who want a portable solution for their outdoor adventures.
Other tables offer additional features like built-in seating or storage compartments to make setup and cleanup a breeze. Keep these factors in mind as you shop around for your perfect folding picnic table, ensuring that its size aligns with both your practical needs and personal preferences while offering convenient portability and functionality.
Foldability
When not in use, it's essential to consider how easily your foldable table collapses and stores away, making the most of your available space. A well-designed folding picnic table should be compact and lightweight when folded, allowing for easy storage and transport.
There are a few key features to look for when evaluating the foldability of a table:
Carrying handle: Many foldable tables come with carrying handles or straps, making them much easier to transport from one location to another. This is especially helpful if you plan on taking the table on camping trips or other outdoor activities.
Simple folding mechanism: The best folding picnic tables will have an intuitive and straightforward folding process that can be done by just one person. Look for models that don't require any additional tools or multiple steps to collapse.
Compact size when folded: When not in use, your foldable table should take up minimal space in your garage or storage area. Some tables even feature a slim profile that allows them to fit comfortably behind furniture or inside closets.
In addition to these features, consider the materials used in constructing the table as this can also impact its overall portability and ease of storage. Lightweight materials like aluminum or plastic often make for more user-friendly folding mechanisms while still providing adequate support and stability when set up.
By keeping these factors in mind as you search for the perfect foldable picnic table, you'll ensure that it's not only ideal for outdoor gatherings but also convenient to store away between uses—making it a smart investment for anyone who loves spending time outdoors with friends and family.
Reviews
Imagine effortlessly finding the perfect foldable picnic table for your next family gathering or outdoor adventure by exploring trusted reviews and recommendations.
Diving into customer reviews about the best folding picnic tables can provide valuable insights into a table's durability, ease of setup, weight capacity, and overall user experience.
By focusing on the aspects that matter to you, like portability, assembly time, or seating arrangement options, you'll be able to find a portable table that meets your specific needs. Reading through both positive and negative feedback from people who have already used these tables will give you confidence in making an informed decision.
Along with customer reviews, expert opinions, and buying guides can offer additional guidance when searching for the ideal foldable design. These sources often include thorough comparisons between top contenders in terms of their features, such as storage size when folded, materials used for construction, weight capacity limits, and more.
They may even provide tips on maintaining your new portable table so it lasts for many picnics to come!
So don't hold back – dive into those detailed reviews and empower yourself with knowledge before purchasing your perfect folding picnic table.
3 Best Foldable Picnic Tables
Considering the best foldable picnic tables, let's discuss the features and benefits of Lifetime 22119 Folding Picnic Table, YITAHOME Picnic Table Folding Outdoor Picnic Table, and SUPER DEAL Folding Picnic Table for Outdoor.
You'll appreciate the durability and low maintenance of Lifetime with its high-density polyethylene top and powder-coated steel frame.
On the other hand, YITAHOME offers a lightweight yet sturdy design that is perfect for outdoor gatherings.
SUPER DEAL provides an affordable option with a space-saving design that can easily accommodate six people.
Lifetime 22119 Folding Picnic Table
The Lifetime 22119 is like a superhero amongst folding picnic tables, with its exceptional strength and durability that can weather any storm, making it an unbeatable choice for outdoor gatherings.
Constructed from high-density polyethylene (HDPE) and a steel frame with a powder-coat finish, this table is lighter, stronger, and more durable than wood while offering excellent resistance to rust and the elements.
Its stain-resistant tabletop is easy to clean and folds flat for convenient storage when not in use. With enough room to seat six to eight people comfortably, the Lifetime 22119 exceeds BIFMA standards for commercial-grade furniture.
This folding picnic table boasts a bench weight capacity of up to 900 lbs., allowing you to accommodate family and friends during cookouts or camping trips without worrying about stability.
The built-in umbrella hole ensures your guests stay shaded on sunny days while the included cap keeps debris out when not in use. Make sure to pick up an umbrella for windy days.
However, some customers have experienced wobbling if the table is not placed on completely flat ground, so be sure to choose a level surface for optimum stability.
Overall, backed by a two-year warranty, the Lifetime 22119 Folding Picnic Table stands out as one of the best foldable options available today.
Lifetime Folding Picnic Table
Solid Folding Table
Product Specs:
Dimensions: 57 W x 72 L x 29.5 H inches (unfolded); 57 W x 72 L x 4.5 H inches (folded)
Tabletop dimensions: 30 W x 72 L inches; Bench height: 19 inches
Weight capacity: Benches support up to 900 lbs.
Exceptionally strong and durable HDPE construction
A stain-resistant tabletop that's easy to clean.
Folds flat for easy storage
May wobble if not placed on completely flat ground
Assembly may require two people.
Some customers found it less sturdy than expected.
YITAHOME 6 Feet Picnic Table Folding Outdoor Picnic Table
You'll love hosting outdoor gatherings with the YITAHOME Picnic Table, as its convenience and durability make it an excellent choice for any backyard or camping trip. This foldable picnic table is designed with high-quality HDPE material that ensures longevity and weather resistance, allowing you to enjoy its functionality through various seasons.
The stable steel frame structure provides anti-rocking and anti-tipping features, ensuring safety for your family and friends during use. Additionally, the sleek wooden texture design allows this table to blend seamlessly into your outdoor scenery.
One of the standout features of the YITAHOME 6ft Picnic Table is its ability to accommodate 6-8 people comfortably while still being easy to assemble and fold down when not in use. With a pre-set umbrella hole on the tabletop, you can add shade easily on those sunny days.
Customers have highly recommended this table for its sturdiness and resistance against harsh weather conditions like high winds near lakesides – all available at an excellent value compared to other tables on the market.
YITAHOME 6 feet Picnic Table
Premium Folding Table
Product Specs:
Dimensions: 71 x 64 x 29 inches
Weight: 71 pounds
Material Type: HDPE, Resin & Metal/Wood Frame
Foldable design for easy storage
Durable materials for long-lasting use
Stable steel frame with anti-rocking & anti-tipping features
Assembly required (though straightforward)
May be heavier than some alternative folding tables
SUPER DEAL 6 Feet Folding Picnic Table for Outdoor
If you're in need of a versatile and portable outdoor table, look no further than the SUPER DEAL 6FT Folding Picnic Table. This modern-style fold-in-half table is perfect for occasions such as picnics, parties, or a casual outdoor dining experience.
Constructed with a high-density polyethylene (HDPE) top and solid steel legs, this table is not only sturdy and strong but also waterproof, scratch-resistant, and impact-resistant.
The arced tube welded between each pair of legs ensures outstanding stability, while non-marring foot caps protect your floors from scratches.
Weighing in at just 25.6 pounds with dimensions of 70.9 x 27.4 x 28.6 inches, the SUPER DEAL folding picnic table is perfect for small spaces and easy to transport thanks to its carrying handle. Whether you plan on using it for game nights or weekend barbecues with friends and family, this multifunctional table covers you.
SUPER DEAL 6 Feet Picnic Table
Budget Picnic Table
Product Specs:
Dimensions: 27.4D x 70.9W x 28.6H inches
Weight: 25.6 pounds
Material: HDPE top; Plastic and metal frame
Compact and foldable for easy storage
Lightweight and portable with a carrying handle
Sturdy construction with premium HDPE top and solid steel legs
Hinged legs may be stiff at first use.
A low bar on the legs might make storage underneath difficult.
NO CHAIRS.
Benefits of a Foldable Picnic Table
Imagine hosting a family barbecue easily, as your compact and portable foldable picnic table offers both convenience and ample space for everyone's favorite dishes.
Gone are the days of struggling to accommodate guests with limited seating options or having to lug around bulky tables that take up valuable storage space. With a foldable picnic table at your disposal, you can transform any outdoor gathering into a comfortable and enjoyable experience for all.
Here are three key benefits that make foldable picnic tables an essential addition to your outdoor events:
Lightweight Design: Made from durable yet lightweight materials, these tables are easy to carry and transport from one location to another without breaking a sweat.
Easily Cleaned: No need to worry about messy spills or stubborn stains – simply wipe down the smooth surface of your foldable table, leaving it ready for its next use in no time.
Space-saving Storage: When not in use, these versatile tables can be folded flat, allowing you to store them effortlessly in tight spaces such as closets, sheds or car trunks.
Don't underestimate the difference a foldable picnic table can make when it comes to enhancing your outdoor gatherings.
As you provide more seating options and create an inviting atmosphere for friends and family alike, you'll find that these versatile pieces quickly become indispensable additions to your collection of outdoor equipment. Plus, their easy-to-clean surfaces ensure that clean-up is never a hassle – so go ahead and enjoy those delicious barbecued treats without worrying about the aftermath!
So revel in the benefits of this practical solution while making memories with loved ones under the sun – because nothing beats good company gathered around a comfortable and functional foldable picnic table!
Frequently Asked Questions
How easy is it to transport and store a folding picnic table when not in use?
Transporting and storing a folding picnic table when not in use is incredibly easy, making it perfect for your on-the-go lifestyle.
Most folding picnic tables are lightweight and designed to fold compactly, allowing you to effortlessly carry them with one hand or tuck them into the trunk of your car without taking up much space.
When it's time to store your table away, simply collapse it down and slide it into a storage closet or garage corner, where it will remain unobtrusive until your next outdoor gathering.
So go ahead and enjoy the convenience of having a portable picnic table that caters to both your practical needs and adventurous spirit!
Are folding picnic tables suitable for different types of outdoor surfaces?
Did you know that roughly 50% of the Earth's land surface is covered by grass?
This means you'll likely encounter a variety of outdoor surfaces when using your folding picnic table. Fortunately, most folding picnic tables are designed to be versatile and suitable for various terrains, such as grass, sand, or even rocky landscapes.
Their sturdy construction and adjustable legs allow them to remain stable on uneven ground, ensuring an enjoyable outdoor dining experience. So whether you're planning a beachside barbecue or a mountain camping trip, rest assured that your trusty folding picnic table will adapt to your chosen setting with ease.
Can folding picnic tables accommodate various seating arrangements?
Absolutely! Folding picnic tables can accommodate various seating arrangements and the number of people, making them a versatile choice for your outdoor gatherings.
Many models offer adjustable seating options, allowing you to choose between bench-style seats or individual chairs, depending on the needs of your group.
Additionally, these tables come in different sizes and shapes, so whether you're hosting a small family picnic or a larger social event, you'll be able to find the perfect fit for your party.
With their portable and adaptable design, folding picnic tables provide convenience and flexibility that will make your outdoor dining experiences enjoyable for everyone involved.
What materials are commonly used in folding picnic tables, and how do they affect durability and weather resistance?
When considering the materials commonly used in folding picnic tables, you'll find that they play a crucial role in determining their durability and weather resistance.
Typically, these tables are constructed from materials like aluminum, plastic or resin, and wood.
Aluminum is lightweight and rust-resistant, making it an ideal choice for portability and longevity. Plastic or resin options offer easy cleaning and maintenance while being resistant to moisture and UV damage.
Wooden tables provide a classic look but may require extra care to protect against weathering and insects.
Ultimately, the material you choose should align with your specific needs in terms of durability, resistance to the elements, and ease of use.
Are there any additional features that can be added to a folding picnic table to enhance its functionality?
Absolutely! There are several accessories and features you can add to your folding picnic table to enhance its functionality and make your outdoor experience even more enjoyable.
Consider investing in a tablecloth or fitted cover for added protection, style, and easy clean-up. A built-in umbrella or shade attachment is perfect for those sunny days when you need some respite from the heat.
Additionally, look for tables with cup holders, coolers areas, or storage pouches to keep your drinks chilled and essentials organized. You might also want to explore benches with backrests or cushioned seating options for extra comfort during long picnics.
By customizing your folding picnic table with these accessories and features, you'll create a personalized outdoor space that caters to all of your needs while maximizing convenience and fun!
Conclusion
So, you're ready to grab the best folding picnic table for your outdoor adventures. Just remember to consider factors like size, material, and durability while making your choice.
With the perfect foldable picnic table in tow, you'll be all set for a picturesque meal under a canopy of trees or beneath a sky full of stars.
Happy picnicking!