If you've ever opened an umbrella on a windy day, you know how challenging it is to hold it firm without getting it destroyed.
If you let go, the wind will carry it to a place far away. Now, picture this happening in your yard. 
Backyard umbrellas allow you to enjoy breezes while protecting against the scorching sun on summer afternoons.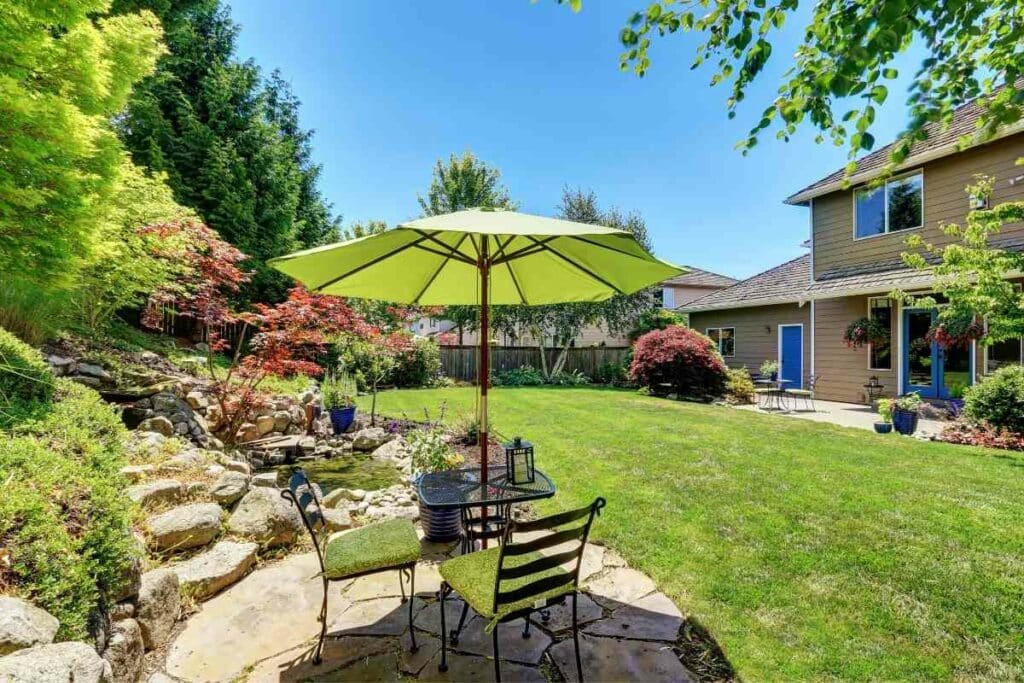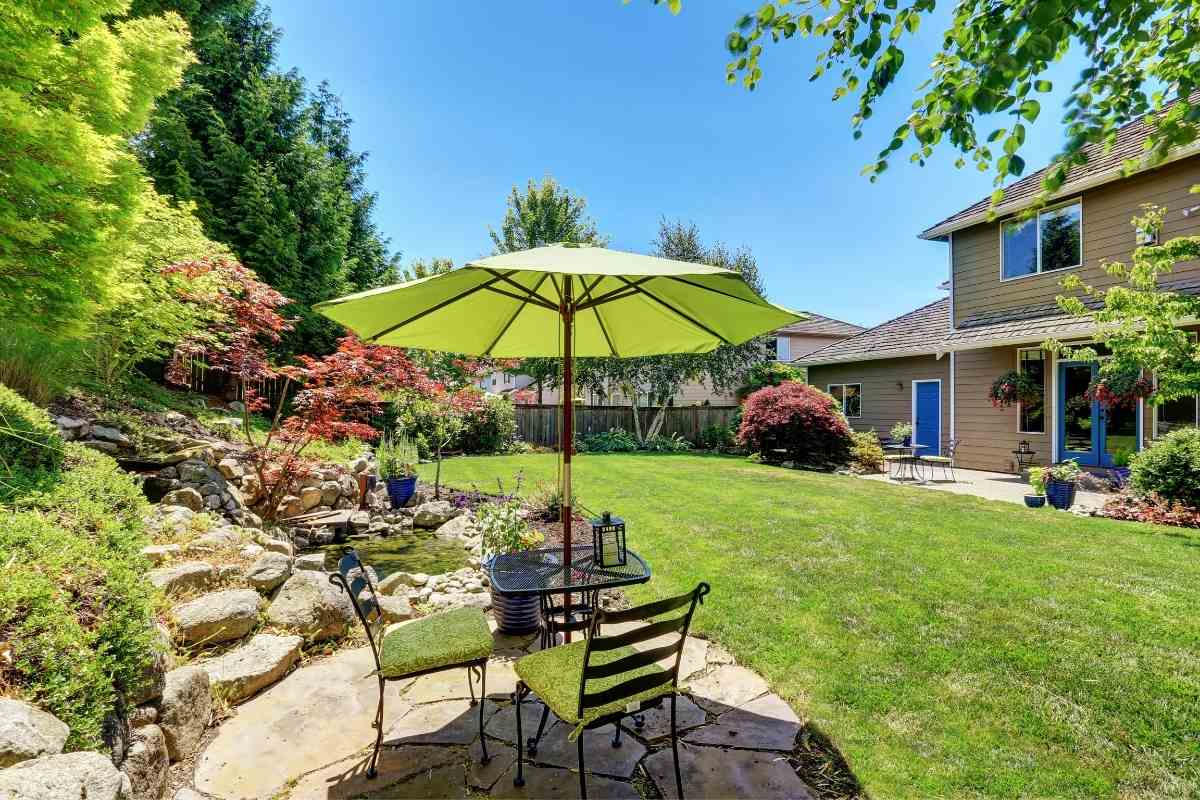 However, strong gusts can turn a pleasurable afternoon miserable. Like an umbrella in your arms, the wind can either carry it away or destroy the fabric, rendering it useless.
For this reason, you should purchase a wind-resistant backyard umbrella. 
What is a wind-resistant backyard umbrella?
There is a widespread misconception that all backyard umbrellas can withstand harsh weather conditions, including strong winds.
In reality, regular outdoor umbrellas are susceptible to damage during heavy winds and storms. Strong gusts can uproot the support pole and destroy the cloth, especially if it's lightweight. 
A wind-resistant backyard umbrella has features that allow it to withstand heavy winds of up to 40 mph.
These features include:
metallic ribs
an anchored base
and heavy fabric
Nonetheless, these umbrellas can get damaged if exposed to strong winds for many hours.
How Do They Work?
Wind-resistant backyard umbrellas fend off the strongest gusts in several ways.
One mechanism involves controlling airflow through the umbrella's canopy.  
Typical windproof umbrellas have vented double canopies.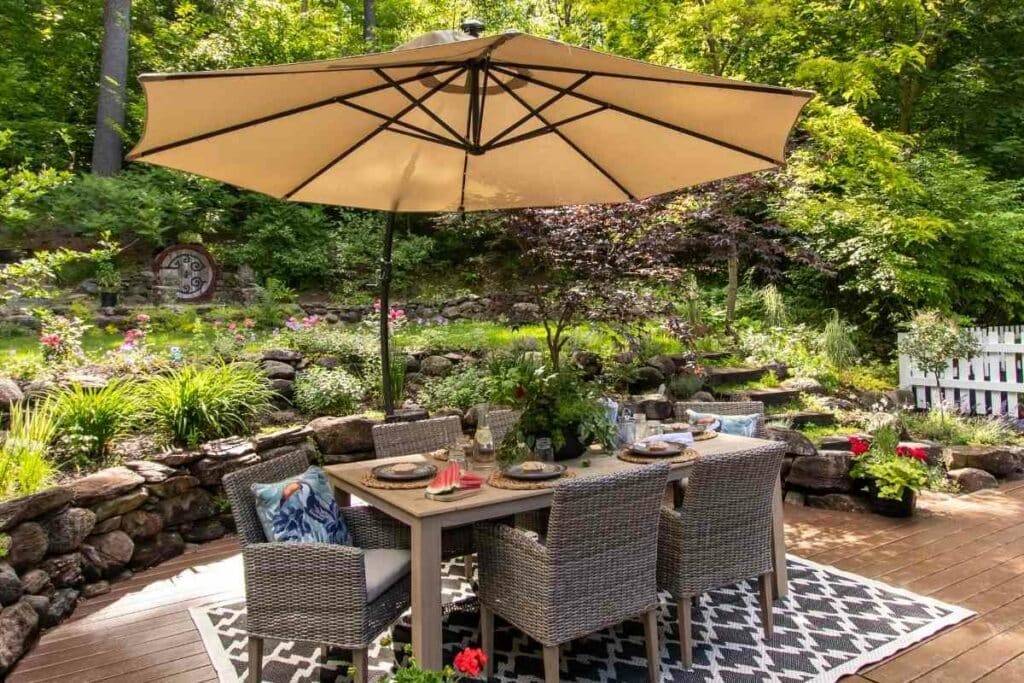 When air goes through the top, the vents allow some to pass through and balance the force exerted by the outer canopy.
The balance reduces strain on the support system. This, combined with the robust base support, ensure that wind doesn't topple or destroy the umbrella. 
Additionally – Wind-resistant outdoor umbrellas have larger ribs than standard umbrellas.
The extra-sized ribs offer additional support to the canopy. The ribs also protect against other harsh elements like heavy rain and snow.
What to Consider When Choosing a Backyard Umbrella
Here's what to consider when shopping for a backyard umbrella.
Fabric Material
Umbrella fabric usually sags when it starts to get windy and restores its normal shape when the airflow reduces.
However, this springing movement can bend and tear the cloth if it's too windy.
The best fabrics for a backyard umbrella are canvas and vinyl.
Although they're costly, they guarantee protection against the strongest winds. They also last longer. 
On the downside, canvas and vinyl aren't easy to clean due to their heavy nature. This means you'll have to hire a professional, which costs money.
If you want a cheaper alternative, choose polyester. These can withstand moderate gusts and last a few seasons before needing replacement.
Moreover, polyester is lighter and easier to clean than canvas and vinyl. 
Frame
The material used on the ribs and supporting poles affects an umbrella's ability to withstand heavy winds.
Wood is a practical option, but its susceptibility to rooting due to moisture exposure makes aluminum a better choice.
In Addition – Aluminum is stronger, more durable, and rust-resistant. However, it's costlier than wood. 
Support design
Backyard umbrellas have two support designs – a single central pole base and a cantilever base.
A single central pole base offers the best protection against strong winds.
Additionally, the reliance on one central support reduces the risk of toppling to one side during strong winds.
Furthermore, these umbrellas allow air to flow and escape from the rims below the canopy.
When this happens, the fabric restores its shape, lowering the risk of wind damage. 
Cantilever base support designs offer reasonable protection against wind damage.
However, they aren't as resilient as single central pole base designs.
This is because they have an offset structural support that relies on an asymmetrical extension arm that can flip under strong winds. 
You can solve the asymmetry problem by purchasing a multi-sided cantilever backyard umbrella. The extra arms add balance and provide better support to the umbrella.
The Best Backyard Umbrellas for Windy Days
Here are the best backyard umbrellas you'll want to add to your outdoor space for windy days.
1. Aok Garden 6.5×10ft Rectangular Patio Umbrella
The Aok Garden rectangular patio umbrella is six feet wide and ten feet long, making it one of the largest backyard umbrellas.
Yet, despite its massive span, it isn't susceptible to strong winds.
Its frame comprises a 1.5″ diameter aluminum pole and six steel ribs. Both have an anti-rust coating to prevent moisture damage. 
The canopy is made using spun polyester waterproof material. It has a 5-year fade-resistance guarantee and can block up to 99% of harmful UV radiation. 
However, solar lights are the best thing about this Aok Garden rectangular patio umbrella.
The product has 26 solar-powered LED lights illuminating your outdoor space for at least nine hours. This ensures you don't cut your party short when the sun sets. 
Moreover, the lights have an average lifespan of 50,000 hours.
Therefore, you can use them for many years without needing replacements, even if you use your backyard umbrella daily.
Operating this umbrella is a straightforward task. It has a crank lift handle that quickly opens or closes the canopy.
Please avoid applying too much force when turning the crank, as this can cause damage.
Besides preventing toppling under strong winds, the aluminum and steel frame guarantees durability.
Plus, the canopy fabric is also made using durable polyester. If properly maintained, this umbrella can last for many years.
Pros
Adjustable canopy
Easy to use
Sturdy and durable aluminum + steel frame
Cons
The lights that come with this umbrella do not last long
Lastly, this Aok Garden umbrella has a tilt function activated using a push button. It allows you to tilt the canopy up to 45o in either direction.
As a result, you can move the roof to correspond to the sun's position at different times of the day.
2. FRUITEAM 10FT Patio Offset Umbrella
The FRUITEAM Patio Offset Umbrella is the ideal accessory for outdoor family gatherings.
With a canopy spanning 10 feet, it can accommodate a six-chair dining table and other large outdoor furniture.
It has a cantilever design with a hand crank for adjusting the canopy to block the sun at all angles and protect your skin.
Besides size, this umbrella packs impressive protection features. First, it has a premium polyester canopy with 220gsm density.
The double-coated fabric has an excellent sun protection rating that reaches AATCC Standard UPF 50+.
This means that it only lets ⅕ of available UV radiation penetrate. The material is also waterproof and fade-resistant.
The smooth crank lift makes opening and closing this umbrella easy and quick.
On hot, sunny days, the vented canopy helps to keep you cool. This is handy when you get sweaty while preparing a meal on your BBQ grill.
Another standout feature of this umbrella is its sturdiness. The frame comprises a spray cast-iron pole, six solid metal ribs, and a metal crossbar.
Pros
Ease of use
A sturdy and durable support frame
Extensive canopy
All are heavy-duty, durable materials that support the canopy and prevent toppling during a windstorm.
Adding a weighted base is advisable for more stability, especially if you live in areas prone to strong gusts.
Ideally, you should purchase weighted bases from FRUITEAM to ease compatibility issues. This backyard umbrella comes with a 12-month warranty on all products.
3. Premium Patio Umbrellas Light Beige by ABCCANOPY 
As the name suggests, the Premium patio umbrella from ABCCANOPY is constructed from premium material.
Its canopy comprises a 100% polyester cloth that's durable, waterproof, and guarantees protection against harmful UV radiation.
In addition, the vented designs allow upward flow, increasing stability and preventing strong winds from blowing the umbrella away.
The Premium patio umbrella spans 9 feet and can accommodate 6 to 9 standard chairs. If you are hosting family and friends, these umbrella works perfectly.
Its chic designs make it suitable for residential and commercial use. You can also carry it to picnics, beach parties, etc.
Additionally, this umbrella has a crank lifting system that makes it easy to adjust the canopy's height.
You can also push the tilt button to adjust the canopy's angle to correspond to the sun's position in the sky. This umbrella allows you to enjoy time outdoors without worrying about the sun.
The support system consists of an aluminum pole and eight aluminum ribs.
Pros
It's sturdy, durable, and functions as it should
It's easy to set up
The frame is strong enough to withstand strong winds.
Cons
The tilt mechanism doesn't hold up quite well
They have an anti-rust coating to prevent rust and extend the umbrella's lifespan while maintaining the ability to withstand strong winds.
Moreover, the central pole has a 1.5″ diameter, making it compatible with most patio tables.
How to strengthen your wind-resistant umbrella
The umbrellas mentioned above can only withstand strong winds to a given extent.
They can give in and get destroyed or blown away when it becomes too much.
For these reasons, investing in the following strengthening measures is essential.
Add a weighted base 
Standard tents use corner wires for support and to prevent toppling.
However, this doesn't work on backyard umbrellas. Instead, wires and tie-downs can hinder functionality and reduce the umbrella's visual appeal.
Backyard umbrellas use bases for support.
These bases can be either solid plates or hollow containers filled with sand.
When choosing a base for your umbrella, consider all options.
For Example – If you live in an area that experiences strong winds, you might need heavyweight bases. 
Generally, the broader the base, the more protection it offers. But, surprisingly, people overlook the size of the base.
Bigger and wider bases give you peace of mind, knowing that winds won't blow away your umbrella.
However, the base can also be a problem if it's too big. So always choose a size that corresponds to your umbrella size.
Make use of anchors 
A large and broad solid base doesn't guarantee 100% protection in areas prone to heavy winds.
The perfect way to prevent damage is to add anchors, such as sandbags and other heavy materials.
Although anchors are helpful, they make work laborious if you like moving your umbrella around regularly.
You can use sandbags as a substitute because they're much easier to move.
Choose a friendly location 
Your umbrella's location affects its susceptibility to strong winds.
For example, if the umbrella is close to a building, it's less likely to suffer the effects of strong gusts when compared to an umbrella in the open.
Similarly, coastal and mountainous regions are likelier to experience strong winds than inland and flat locations.
When shopping for a backyard umbrella, ensure its wind speed rating confirms your area's weather. A low rating is adequate if you live in a calm region and vice versa.
People Also Ask Questions About Backyard Umbrellas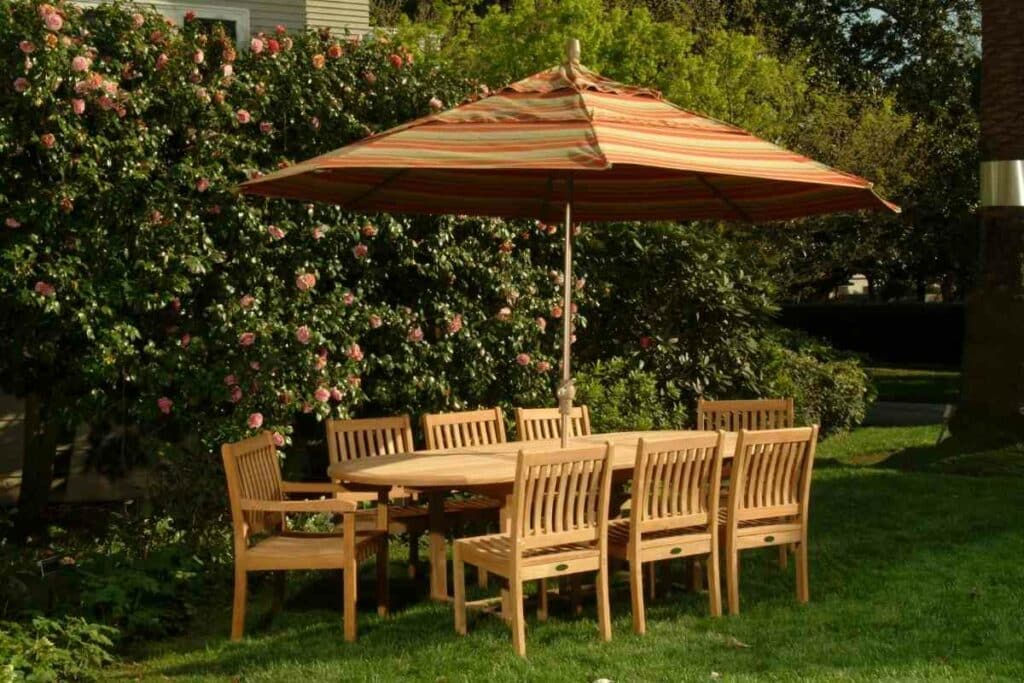 1. Can backyard umbrellas withstand wind?
Most backyard umbrellas can withstand slight breezes. However, you must purchase a special windproof umbrella to protect against strong gusts.
2. Which is better: single pole or cantilever umbrellas?
Single pole umbrellas are more stable than cantilever umbrellas. The latter is prone to toppling due to the angled placement of its support frame.
However, you can add stability by using several cantilever beams.
3. What makes a backyard umbrella windproof?
Backyard umbrellas have a robust support frame consisting of aluminum poles and ribs that can withstand strong winds.
The fabric is also strong and has vents that balance the air around the canopy to ensure it remains intact.
4. How do you ensure your outdoor umbrella doesn't blow over?
Add a weighted base and use anchors if you want to strengthen your backyard umbrella.
The base should be large and wide, but be careful that it isn't too big to cause instability. For anchors, tie the pole to surrounding structures or add sandbags to the base. 
5. How does location affect backyard umbrellas?
Your location determines the best umbrella type. For example, if yor place of residence experiences strong winds, you will need a unit with a high windproof rating.
That said, you also need to find a location that isn't exposed to winds when installing your umbrella. 
Wrapping Up
The thought of a peaceful summer afternoon party disrupted by wind is frustrating.
However, being prepared for anything is wise since the weather is unpredictable.
Investing in a windproof backyard umbrella spares you the embarrassment and frustration of an umbrella being blown away during heavy winds.
Besides, these umbrellas shield you against the sun and beautify your outdoor space. In addition, some have solar lights, ensuring that your parties don't stop when it gets dark.
When choosing a backyard umbrella, consider its support system, design, and fabric material.
Specifically, ensure that it's robust enough to withstand strong winds. Lastly, don't forget to purchase a solid base to add extra support to your outdoor umbrella.