Summer is our best time to hang out outside, making memories with family and friends.
But does your backyard provide the comfortable setting you would like? Make the most of this exciting time by installing the best cantilever garden parasols.
Besides adding a stylish look and portable shade, the umbrella will protect you from skin-damaging UV rays from the sun.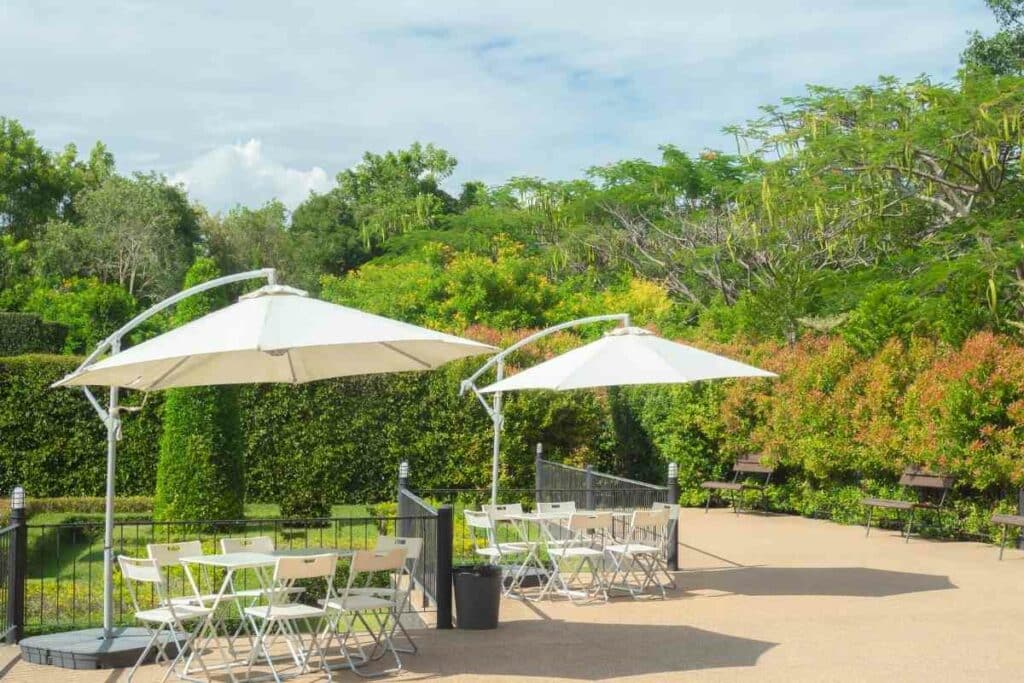 Garden parasols or umbrellas are similar to regular ones but larger and made of studier material.
Commonly referred to as hanging banana parasols or sun loungers, these shades come in various shapes, designs, materials, and sizes.
They provide sufficient coverage and add to the exterior decoration of your backyard.
What to Expect? Whether you are having a midday snack by the pool or hosting a barbecue dinner, they will comfortably accommodate your guests. Pick a colorful parasol to brighten your space further and add to the summer cheer.
What are the uses of cantilever garden parasols?
For extra shade, you can place a garden parasol over the seating area in your deck or backyard.
Additionally, use it to cover your outdoor dining table for a cozy dining experience during hot weather.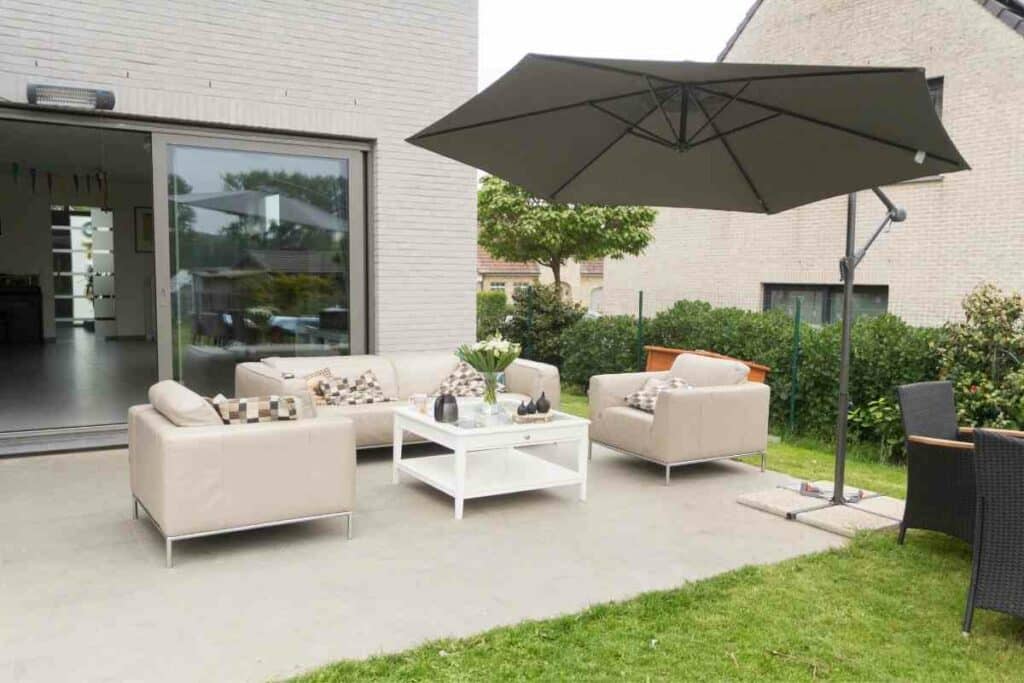 Alternatively, place it over the beach chair next to the swimming pool to relax under after a swim.
The foldable material makes it easy to move around as desired.
Features of the best cantilever garden parasols
Before purchasing a garden parasol, consider the type of product you want in terms of features and functionality.
Below is a detailed list of what to look for before purchasing a garden parasol.
Purpose
Is the parasol for personal home garden use or commercial space?
Garden parasols for your backyard will be different than those for a restaurant.
Commercial garden parasols tend to be larger and, most times, are permanently fixed to withstand the busy environment.
Since they also require more maintenance as they are up through all seasons, they are more costly.
However, if you have the space and prefer a more permanent structure, you can install them.
Size
The size of your garden parasol is the diameter of the canopy. Ideally, it should cover your table or the available outdoor seating space.
However, choosing a small parasol will not provide sufficient coverage and may not be sturdy enough.
Additionally, the pole height is crucial as it determines how high you can adjust the parasol.
Keep In Mind – People should be able to stand comfortably under it without bending. Ensure the pole is adjustable; if not, it should be longer than 2 meters long.
Shape and design
Garden parasols come either in round, square, or rectangle shapes. To find the best fit, check against the size and shape of your outdoor furniture.
It should be a perfect fit to provide the best possible shade. Square shape parasols, however, provide the best coverage as they tend to be larger. 
Cantilever garden parasols are more luxurious than the other garden parasol varieties.
The adjustable pole, with a sturdy base, is usually on the side of the canopy, providing ample shade.
Although they are pricier, their versatility makes them the best choice for your garden space.
Material
A garden parasol consists of the pole, canopy, and base for some types.
These parts are all made using different materials.
For Example – The pole may be wooden, steel or aluminum, while the canopy is acrylic, vinyl, or polyester material. Most manufacturers use plastic, steel, concrete, or granite for the base.
Select the canopy material that will last long while providing maximum protection from all-weather elements.
Mold and mildew-resistant materials are best, especially in high humidity regions.
The pole and base should also be wide enough and of sturdy material to withstand strong winds and frequent movement.
Accessories
Depending on the design and brand, parasols come with varying additional features.
For example, the open and close system may have a pulley, manual winch, or spring button like regular umbrellas.
The bases are also either permanent or movable, depending on the material. 
Additionally, some parasols come with lighting for use after dark and heaters for extra heat during cold weather.
The lights can be removable with rechargeable batteries or solar-powered to save electricity.
Finally, some lighting fixtures come with built-in speakers if you want some music outdoors. 
Remember to store away your parasol using its cover when not in use. It will last longer as you will protect it from mold, wear and tear, and damage by birds.
Price
Is the garden parasol you would like within your budget? If so, settle for the best one you can get at the best price.
Purchasing an expensive but excellent garden parasol will save you money in the future as you will not need a replacement.
Most cantilever parasols range from $200 for the smallest size to over $500 for the large ones.
What is the difference between cantilever and regular parasols?
Regular parasols are round-shaped umbrellas that have a pole in the middle.
They are either permanently fixed through a table or have a base to support the weight.
However, cantilever parasols differ from other types of garden parasols in three distinct ways:
Size
Cantilever parasols are more extensive compared to traditional parasols.
They measure over 2.5 meters, large enough to shade a large outdoor area.
Pole setting
The pole in the cantilever parasols is usually on the side and not at the center of the canopy.
This design provides the most coverage and no barrier obstructing your guest's view.
Pole adjustment
Cantilever parasols are more stable in weather as one can adjust the height of the pole to suit their needs.
The canopy can also rotate to any angle, providing movable shade from the sun all day.
On top of that, the base is removable to avoid carrying it around. You only need to take down and fold away the pole and canopy.
The 3 Best Cantilever Garden Parasols
1. FRUITEAM Offset Cantilever parasol
Canopy size: 10 feet
Base: It does not have a base included, but one should purchase a 230 lb base separately.
Care: Foldaway or cover the parasol when not in use or during harsh weather to prolong its life. A 1-year warranty and full-time customer service are available if you purchase the parasol.
This parasol has a round-shape canopy, perfect for placing over your pool lounger to protect you from direct sunlight.
It is in khaki to match any bright color outdoor furniture you have.
The solid cast iron frame will not rust easily and will last long.
Pros
Large size canopy
Easy to assemble
Quality material is available in various bright colors
Cons
It requires extra support at the base to withstand winds
It does not tilt
In addition, the canopy is water resistant, providing extra cover on a rainy day. 
2. Sunnyglade Cantilever Parasol
Canopy size: 10 feet
Base: The base comes separately, either as a plastic water tank or a sand-filled base.
Care: A 1-year warranty is available for this parasol. To ensure it lasts long, use the cover for proper storage.
Enjoy a relaxed day under the sun with this large garden parasol that is also ideal for commercial spaces.
The tan color has a contemporary feel, and the canopy can rotate 360 degrees as desired.
The polyester fabric is water resistant and will not fade fast.
Pros
It rotates perfectly
The pole has a 4-level adjustable height
The sturdy material can resist strong winds
Cons
The base does not come with the parasol, as it is sold separately
Furthermore, the pole is aluminum, a sturdy material that is corrosion free for longevity.
3. ABCCANOPY Cantilever Parasol
Canopy size: 9 feet
Base: Purchase it separately, ideally 155 lbs minimum weight.
Care: Close the parasol during heavy wind as the light material can easily damage it.
This beige-colored garden umbrella's modern and stylish design makes it excellent for covering outdoor seating.
The 9ft plastic material canopy protects from the sun's UV rays and insulates from heat. The double canopy design also adds beauty to the parasol.
In addition, the robust aluminum and iron pole is thick enough to withstand strong winds.
Pros
Reasonable price for the quality
Large size canopy that is easy to set up
Available in various bright and attractive colors
Cons
The base is light
It sways a lot during strong winds
A four-gear system allows the parasol to turn 360 degrees for maximum coverage.
Cons of cantilever garden parasols
Although they offer the most space compared to parasols with a middle stand, there are some cons to cantilever parasols.
They include the following.
They require more maintenance due to their adjustable parts
For your cantilever parasol to last longer, the movable parts must be cleaned and oiled regularly to prevent rust.
Therefore, taking it down is ideal, especially during the wet season.
However, if you are looking for a low-maintenance garden umbrella, then cantilever parasols may not be suitable.
Closing and opening a cantilever parasol may be tedious
Although the side pole makes the umbrella easy to use outdoors, setting it up is different.
The large canopy is awkward to fold.
Also, check the material of the parasol frame and pole.
To Consider – Aluminum is light and hence easier to carry around or fold away. However, steel can be pretty heavy and requires energy to handle.
Conclusion
Cantilever garden parasols are perfect for every outdoor setting.
Before making a purchase, ensure your umbrella is resistant to all weather elements, is quality material, and has all the accessories you require.
If you need to move it around, choose one with wheels on the base for easy movement