Have you just done up the outdoor garden?
If so, you'll be looking to enjoy your outdoor space with a smart suite of garden furniture that coordinates beautifully with your patio or decking.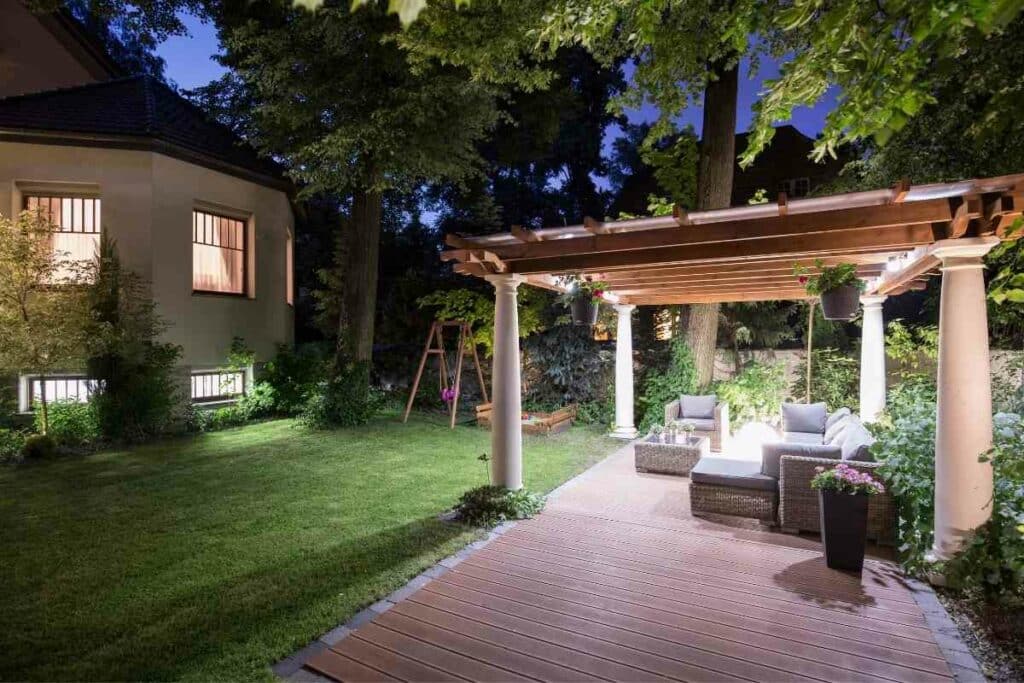 However, great patio furniture doesn't come cheap, and if you want a beautiful set for a fair price, you will have to be an extremely savvy shopper. 
It's hard to miss that outdoor furniture is expensive, often eclipsing the cost of indoor couches and suites. 
Did You Know? The time of year can make a difference of as much as 70% on the price you'll pay for patio tables and seating?
Let us let you in on a little-known trade secret that can save you $$$ with the best time to buy outdoor furniture!
What's the best time to buy patio furniture?
The quick answer is anytime you'll not want to be outdoors. 
It makes sense.
If you hit the great weather of spring and summer and your patio is bare, your mind will immediately turn to getting some garden furniture in for long sunny days lounging in the yard, outdoor grilling, and entertaining.
And if you're thinking that way, it's more than likely that millions more feel just the same as you.
So during the outdoor seasons of spring and summer, demand is going to be high. 
The wise buyer of patio furniture hits the market when it is at a low ebb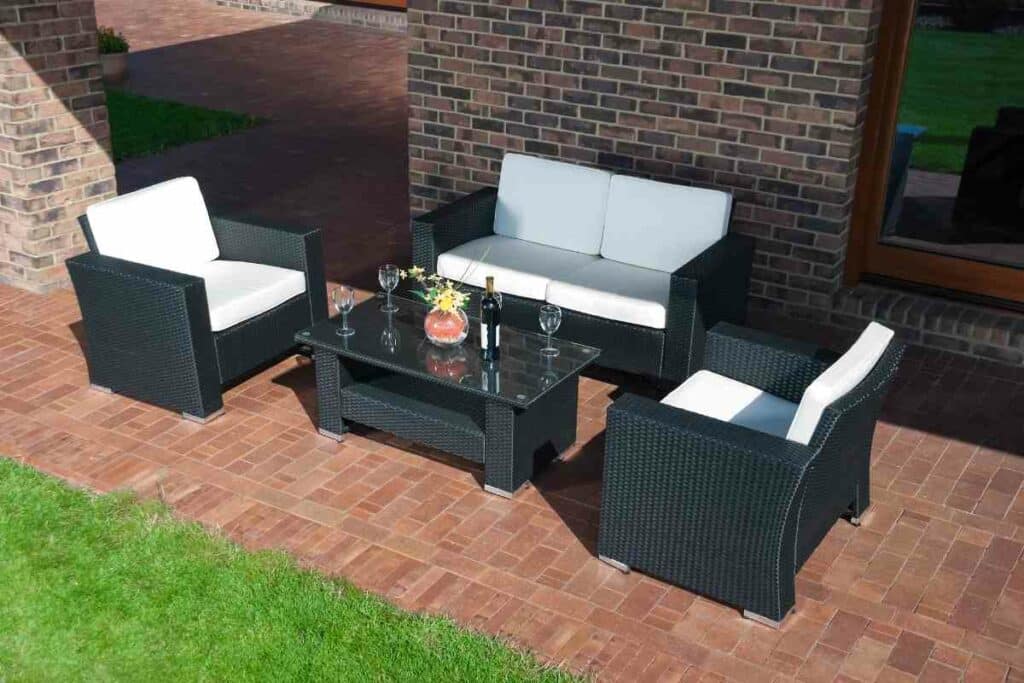 When demand drops off in the face of cold and bad weather, garden furniture retailers are going to be desperate to ship their outdoor furniture.
Low demand equals the opportunity for low prices, and this is when you should shop.
Let's pinpoint some of the best times of the year.
Retailers become desperate from late August to October
After the excitement of summer, most people are returning to work and study, to buy patio furniture is the last thing on their minds.
Patio furniture retailers in stores become desperate to move their products and struggle with almost zero buying demand.
The problem is that the physical stock needs to be shifted to make way for next years outdoor inventory.
Floorspace will be needed too for autumn and winter retail.
What to Expect? To offload the years existing stock quickly, these retailers will offer billboard discounts of 50% or more!
The mid-winter pickings are slim but dirt cheap
By the end of the year, many retailers will have managed to sell off a lot of their outdoor stock, so your options for new patio furniture may be limited.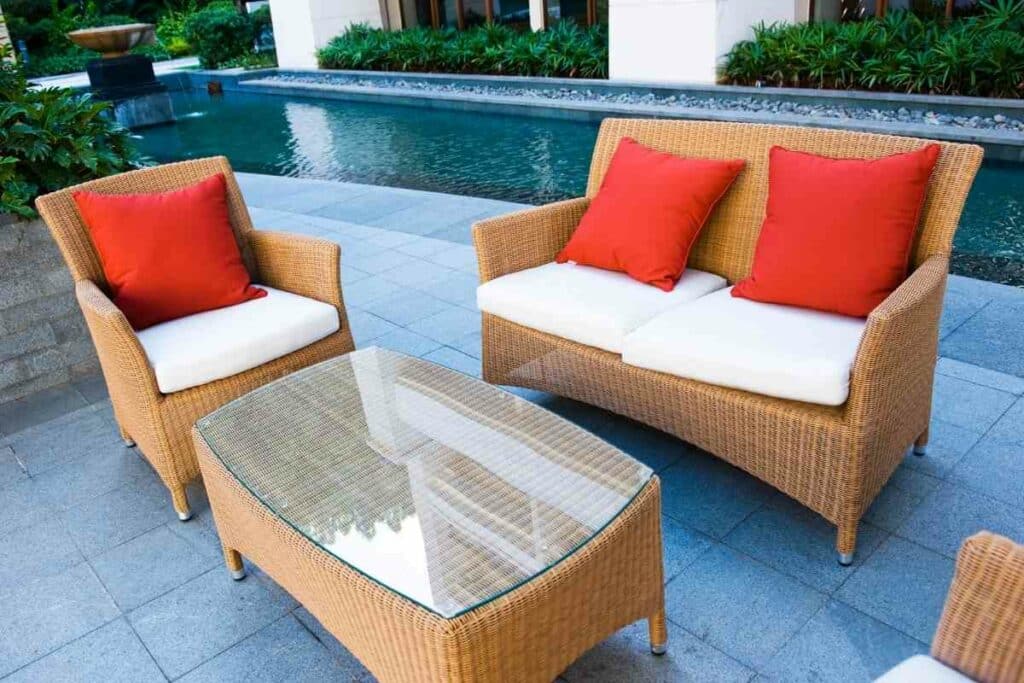 However, this is the time of year online retailers become pressed to transition their stock and create warehouse space for new designs.
You'll have to wait some months to enjoy the furniture, but when online retailers want outdoor stock gone, the prices will be seriously slashed!
Early Spring Time can be great for enticing new season offers 
Buying patio furniture in fall and winter can be a hassle because you have six month or more of storage to sort out.
If you keep a close eye on prices, there may be just one more time to score a deal before the spring and summer rush.
You're not going to get an astounding bargain, but you can get a new season, on-trend patio sets at a reasonable price.
You also get to enjoy the furniture for the whole spring and summer and perhaps even immediately start using it.
6 tips for getting the best deals for patio furniture – all year round!
No one should pay for those eye-watering patio furniture when there are reliable ways of getting quality garden furniture at a great price all year round.
Take a look at these six top tips for landing yourself a beautiful suite of outdoor furniture with change from your dollars.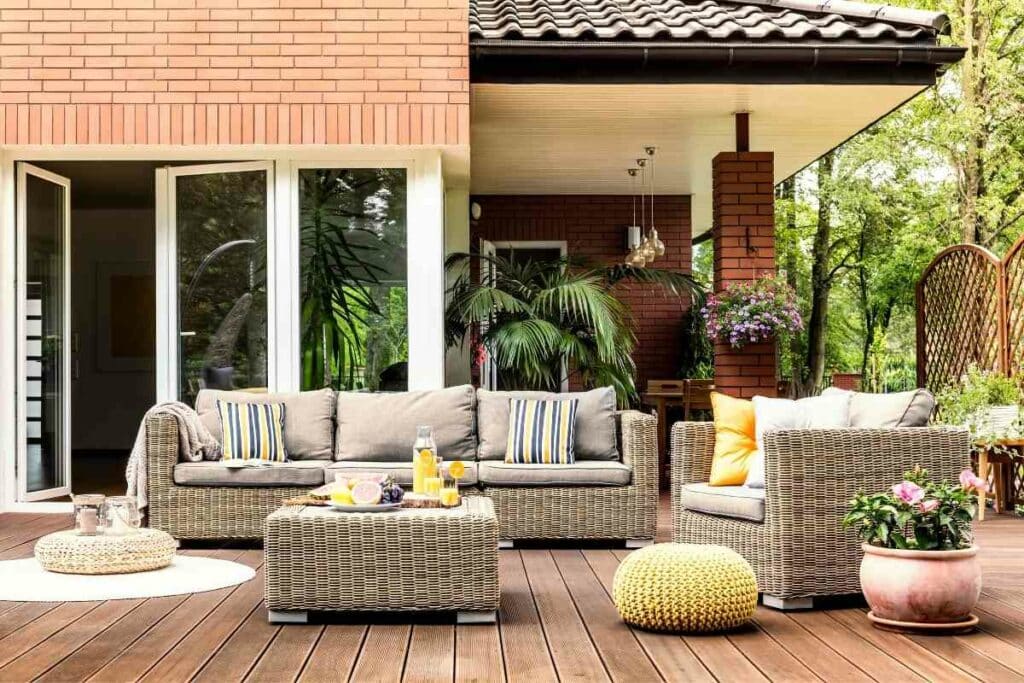 1. Look out for a sale on specific days
Discounts on patio furniture are not just seasonal.
Shop retailers will get out big discounts when they think footfall will be high.
Holidays and special days are particularly good for getting the best deals.
Expect to corner a sizable discount on buying outdoor furniture set on the following days:
Earth Day
Mother's Day
Labor Day
4th July
Black Friday
2. Take your time When You Buy Patio Furniture
Simply keep your eyes peeled for offers on the outdoor set that you want.
Keep checking in-store or online, to see if there are price changes.
The frugal shopper will bide their time. If you can hold your nerve, eventually, the price will drop.
3. Sign up for a newsletter from retailers you prefer
If you are serious about a specific suite or manufacturer, why not sign up for a newsletter from relevant retailers.
You may be able to obtain a voucher code or special offer that lands you a decent discount.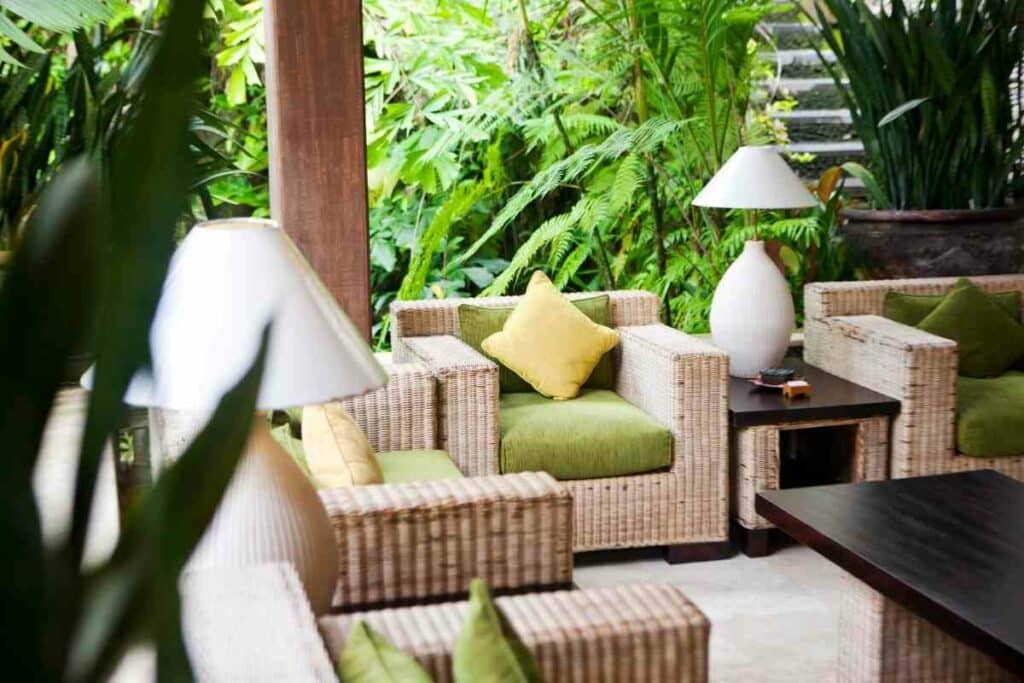 4. Shop the clearance section
Clearance and outlet sections of stores may be just what you need if you want a massive discount on furniture for your backyard.
In the Clearance Section – You'll find designs from previous seasons that have not yet been sold.
5. Ex-display
If you don't mind some minor scuffs or scrapes on your patio suite, purchasing an ex-display set can land you the biggest savings.
The retailer has to get rid of display sets of patio furniture to make room for new designs and seasonal changes.
This means that when it's time for a set to go, it must go immediately, so you ‌can land your outdoor furniture at rock-bottom prices.
You may even be able to go in-store and ask about buying ex-display furniture ahead of time, leaving your details so they can contact you when the furniture is ready to go. 
6. Online auctions
Retailers and distributors of the leading brands of outdoor furniture may also put clearance, ex-display, or old season stock on online auctions like eBay.
You can then bid for the right patio furniture set you like, hopefully getting a huge discount. 
Rounding up
Anytime but summertime is usually the best time to buy outdoor furniture.
There are so many ways to save on the prices that there isn't much need to pay the full price at all.
If you undertake a thorough online and offline search, you'll find the best deals throughout the year.
Then when the season is right, you get to sit outdoors in your patio chairs and have a great time at your home knowing you got some great deals and saved yourself some money. 
Also Helpful