Lounging on a comfortable patio suite with a cold beverage and a long summer evening stretching ahead is one of the best things about the backyard.
And comfortable, deeply upholstered patio cushions make your seating even more luxurious.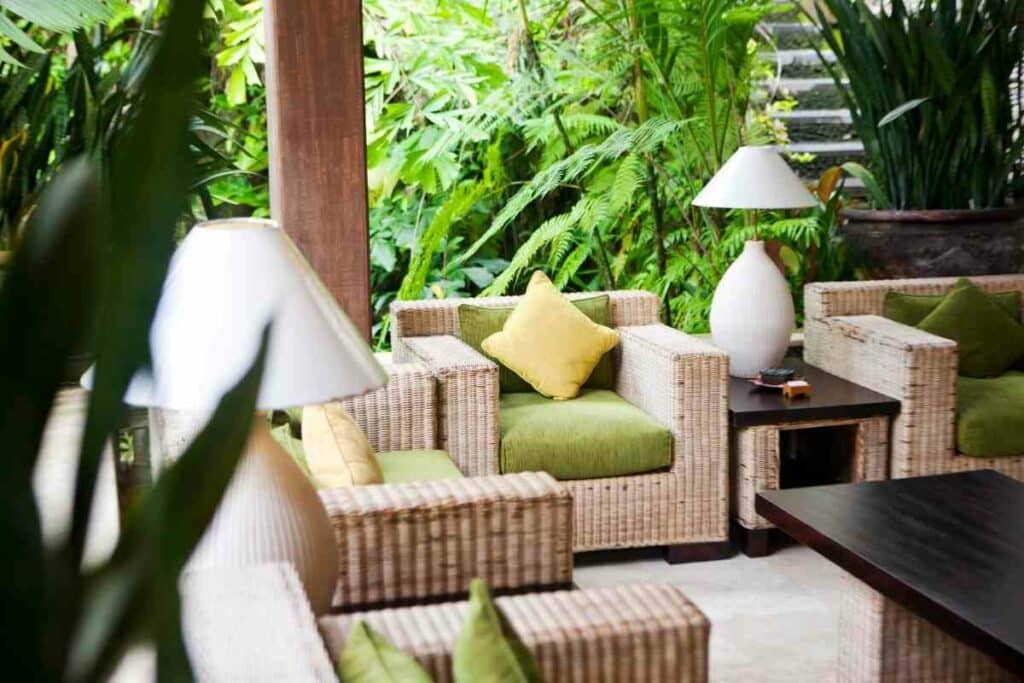 So the last thing you need when you want to use your patio sectional are weather-beaten patio cushions that have been left to the elements and may even grow mold.
Unfortunately, they are going to be less than fresh even‌ after a few days of exposure.
If are looking for hand cleaning solutions for patio cushions that are less than their best, we're here to help!
In This Article – We'll share how to clean patio cushions, including the best methods and cleaning products for reviving your cushions quickly and easily. 
How to clean patio cushions 
If you want to get your patio cushions clean, your outdoor fabrics are on your side.
Hard-wearing patio cushions are already prepped for the rigors of outdoor use.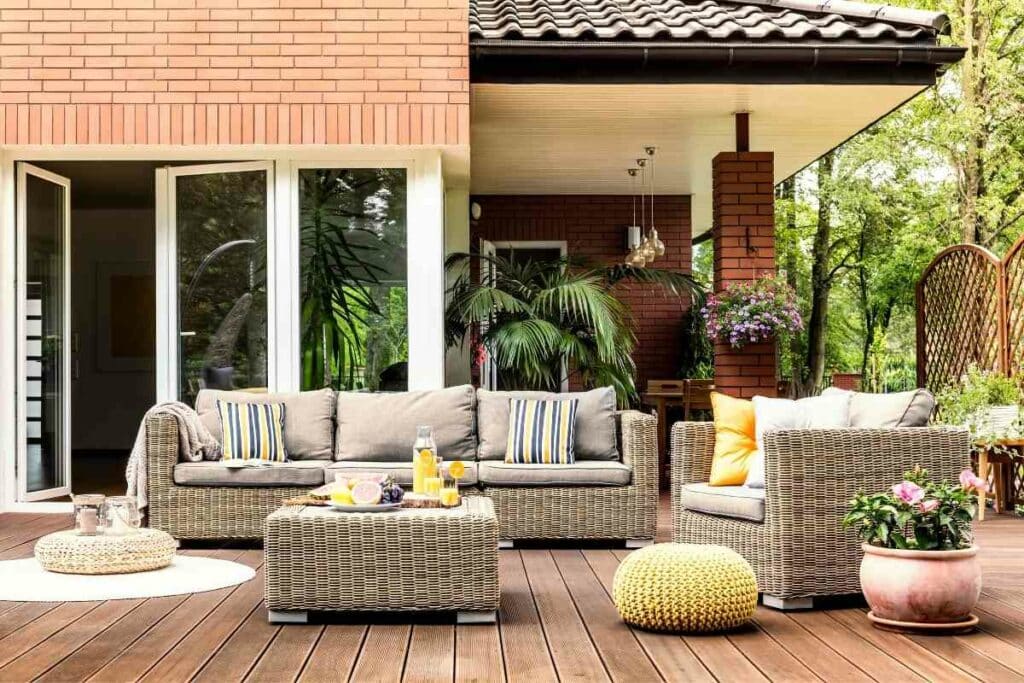 They are made from tough fabrics that can cope with staining, bad weather, and moisture.
Key properties of outdoor fabrics and upholstery include:
Resistance to fading 
Resistance to mold and mildew
Stain resistance
Weather resistance
Water resistance
UV resistance
Breathability 
Can be washed – by machine or by hand
This means that your cushions are going to be straightforward to clean, and if they have good quality foam, they will drain moisture and dry out quickly once you are done. 
What you'll need to hand-clean your patio cushions
A couple of towels or a clean surface
Your vacuum cleaner
A brush (soft or hard bristle depending on the fabric)
Cleaning cloths 
A bucket 
Cleaning solutions and water
A step-by-step guide to cleaning your patio cushions
Hand-cleaning patio cushions is a quick and easy task.
The steps are generally the same whichever detergent or cleaning solution you use.
Here are the steps you need to do.
Use a stiff-bristled brush to remove grime
Place the patio cushion on one of the towels to prevent damage and brush them down.
A rough brush down will lift and loosen any stuck-on grime like algae or food.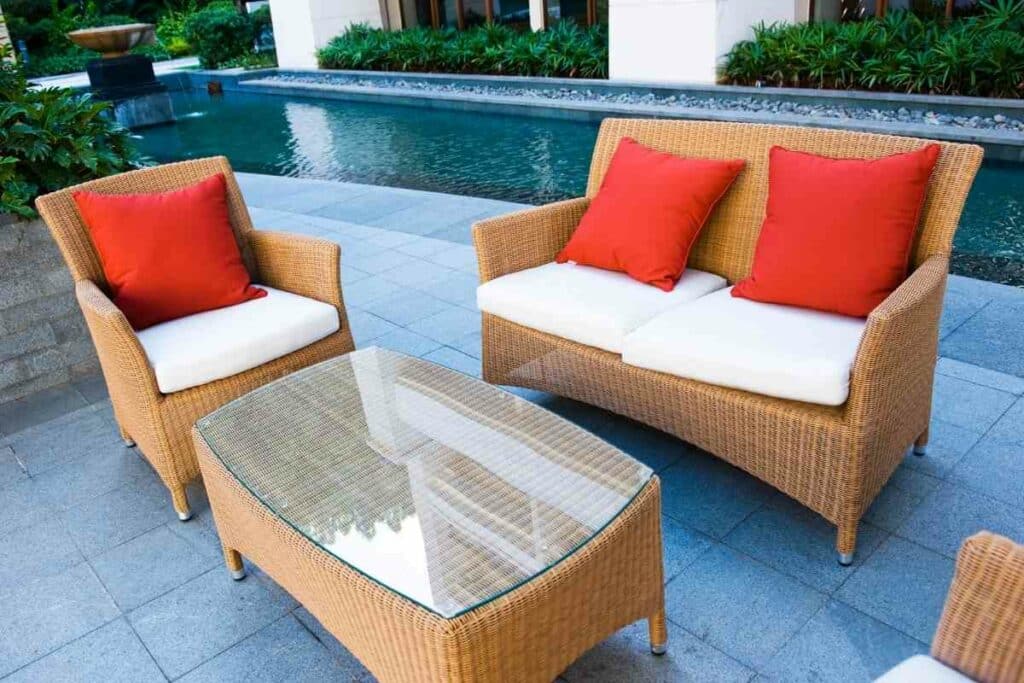 Vacuum dust and surface dirt
Vacuum the cushions just like you would your regular couch with an upholstery attachment.
This will remove a lot of the surface dirt and debris like crumbs, fallen leaves, and pollen.
Try to get into the crevices and seams of the cushions. 
Hose down the cushion
Most cushions will cope with being hosed down with water.
This creates a damp surface you need to start scrubbing the cushion with the detergent of your choice.
Avoid using your pressure washer as it can damage the cushion.
Scrub the patio cushion with a cleaning solution
You can clean patio cushions with a variety of cleaning solutions.
Options include:
Cleaning agents 
Sprays and solution
White vinegar
Borax
Dish soap
Laundry detergent
Apply the detergent or spray to the damp cushion.
Leave it in place for a few moments so it can work on breaking down ingrained dirt. Then it's ready to be scrubbed down.
Take a soft-bristled brush and work the detergent into the fabric of the cushion, including seams and buttons.
Rinse off the patio cushions
Use the garden hose to rinse off the detergent thoroughly. 
Allow the cushions to dry completely
This is in some ways the most important step.
If the patio cushions don't dry out thoroughly, they quickly become moldy.
Place the cushion on a clean towel and squeeze out excess water.
You can then lean them up in a sunny spot to dry them out completely. 
10 of the best hand cleaning Solutions for cleaning patio cushions
Using a cleaning solution that is specifically formulated for patio cushions helps you to get your cushions cleaned thoroughly and quickly cleaned.
We've rounded up 10 of the best products on the market for getting your cushions clean and fresh. 
1. Carbona Pro Care Oxy Powered Outdoor Cleaner
Product Features
Product number: 2
Format: Brush top applicator
Volume: 22 fl oz (650ml) per bottle
Description
You can confidently hand clean your patio furniture with the powerful oxy cleaning power of this reputable brand.
Just like your carpet stain remover this patio cushion cleaner has a handy brush top applicator that agitates fabrics for a thorough clean. 
The oxy formulation is safe for pets, plants, and kids.
It provides great cleaning results on plastics like PVC and vinyl as well as canvas and even the rattan and wicker of your furniture.
As well as using it for cushions, you can use this cleaner for spot cleaning of:
Patio furniture covers
Outdoor rugs
Sunshades
Umbrellas 
Planters
Play equipment
2. 30 SECONDS Outdoor Mold & Mildew Stain Remover Spray
Product features
Product number: 2
Format: Spray bottle
Volume: 32 fl oz (946 ml) per bottle
Description
Mildew is the primary target of this powerful bleach-containing spray that is famed for its 30-second action.
This is a worthwhile buy if you want to be confident that you have sanitized your patio cushions from a variety of organic growth including:
This formulation is not concentrated and ready to use.
Simply spray down the cushions, wait 30 seconds and wipe them down for a clean finish.
Test your fabrics before use, but this is a great buy for materials such as waxed cotton, PVC, and vinyl where the fabric fibers aren't going to be penetrated by the bleach.  
3. AL-NEW Patio Cushion Cleaner
Product features
Product number: 1
Format: Spray bottle
Volume: 32 fl oz (946 ml) per bottle
Description
If you need a quick fix for your patio cushions ahead of a barbecue or get-together, this patio cushion cleaner does a great job of lifting dirt and making your cushions look clean and presentable.
You can use AL-NEW patio cushion cleaner on a wide range of outdoor fabrics including:
Furniture covers
Awnings
Sailcloth 
Sunshades & Sail Cloth
Umbrellas
Hose down your cushions with water to rinse off surface dirt, then spray them down with AL-NEW and scrub the cushions with a brush.
Rinse away the dirt and your cushions should be stain-free!
4. Scotts Outdoor Cleaner Plus OxiClean Heavy Duty Wipes
Product features
Product number: 1
Format: wet wipes
Volume: 25 wipes
Description
These are ultra-tough, dual-sided cleaning wipes that have a powerful oxi action that will get your outdoor cushions fully clean.
They provide a high surface area for active cleaning of grime from patio cushions.
The Scotts Outdoor wipes not only work on the fabric of your cushions but also can clean frames, seating, tables, and planters.
Use the tough textured side with polyester scrub nubs to agitate the cushion and wipe the dirt away with the soft side of the wipe.
5. CLR Outdoor Furniture Cleaner  
Product features
Product number: 1
Format: spray
Volume: 26 fl oz (768 ml)
Description
If you need to hand-clean your patio furniture, this spray will make things less of a chore.
The CLR Outdoor Furniture Cleaner is specifically formulated for patio furniture including cushions and shades. 
This product works quickly to penetrate and lift dirt and grime.
It is a non-abrasive formulation that won't damage the fabric as it cleans.
Along with cleaning the spray also provides a protective finish that prevents UV damage to the furniture – keeping your cushions from becoming faded or discolored.
6. Star brite 54132 Heavy-Duty Fabric Cleaner Spray
Product features
Product number: 1
Format: spray
Volume: 32 fl oz (946 ml) per bottle
Description
Star brite is an outdoor fabric spray that works on common fabrics including canvas, acrylic, and polyester.
It's a great choice for cleaning your patio cushions because it will clean them without the fading that is common with outdoor furniture sprays.
In addition, it contains protective PTEF polymers that help to repel future stains and fade from UV rays.
To use this spray simply, spray the cleaner directly onto the fabric and leave it for 30 seconds to one minute.
Then, rub the cushion down with a cloth or soft brush. Finish off by rinsing or thoroughly wiping down the cushion. 
7. Outdoor Furniture Cleaner + UV Protectant 
Product features
Product number: 1
Format: spray 
Volume: 16 fl oz (473.1 ml)
Description
If you have neglected your patio cushions and are looking for a hand cleaning solution that can handle the toughest stains, this extra-strength spray will make short work of mold, mildew, dirt, and grime without wrecking your fabrics.
Not only does this spray clean, but it also protects too.
It has a professional-grade UV protectant that delivers exemplary protection from the sun and protects against common problems like fading, cracking, drying, discoloration, and wear to keep all of your favorite pieces looking brand new!
You can also use this outdoor spray-on common garden furniture material including:
Steel
Aluminum
Wood
Wicker
PVC
Rattan 
 It also works great on boats and RVs.
8. Amazing Patio Furniture Cleaner – Natural Enzymes 
Product features
Product number: 2
Format: spray
Volume: 32 fl oz (946 ml) per bottle
Description
Get a powerful clean from natural ingredients with this effective patio furniture spray with enzymatic action.
The natural enzymes not only tackle dust but also digest odor molecules so your cushions stay fresh.
They can also lift tree sap, suntan lotion, and other unusual stains from outdoor furnishings of all kinds.
Simply spray the furniture you want to clean, wait for two to three minutes then bush the cushion down with a soft-bristled brush and hot water for a further 30 seconds.
Wipe clean and see the amazing results for yourself. 
9. Goo Gone Patio Furniture Cleaner
Product features
Product number: 2
Format: spray
Volume: 24 fl oz (709 ml)
Description
If you have deep down, grimy, and slimy neglected stains on your patio cushion, like last summer's BBQ sauce, you need a powerful spray that can make short work of the mess and get your cushions usable quickly. 
Goo Gone specializes in tackling some of life's stickiest and grimiest stains and their patio furniture spray lives up to its reputation.
Spray down the soiled cushions and let the powerful cleaning agents get to work stripping down the stains and eating away at ingrained dirt.
Scrub the cushions then hose them down for a satisfying clean. 
10. Scotts Plus Oxi Clean Outdoor Cleaner RTS
Product features
Product number: 1
Format: spray hose attachment
Volume: 32 fl oz  (946 ml)
Description
This is an oxi-action cleaner that is ideal for cleaning large garden cushions with a hose and plenty of water.
Simply attach the spray hose to your yard hose and let the concentrated detergents create a cleansing froth that can tackle:
Moss 
Algae
Mould
Stains
Bird poop
…and more! 
Spray the solution directly onto the surface to be cleaned.
Let it foam and sit for a few minutes then you are ready to scrub the cushions down. Rinse for a brilliant clean. 
With 32 fl oz, you have more than enough to get not only your cushions but also your awning, umbrellas and covers clean too.
It will also clean your patio stones, decking, and brickwork, so you can get your whole patio sparkling clean and ready for summer in one session!
Last-minute tips for cleaning your patio cushions
Here are some last-minute tips for getting those patio cushions to sparkle.
Test your fabrics 
Test your cleaning agents on a small, discrete area of your cushion to ensure that they won't damage the color or finish of your patio cushion.
Clean often
Don't neglect your patio cushions by letting them go dirty all summer long.
After weeks of entertaining, lounging, sun, and rain, they will look like a hot mess!
Surface clean them often with a quick spray and wipe down, to keep them at their best. 
Tackle stains with spot cleaning 
Don't let common garden stains linger on your clean patio cushions. Tackle stubborn stains with these spot cleaning quick fixes: 
Mold: scrape off the mold and spray the area with white vinegar and leave for 15 minutes. Clean with your usual cleaning spray, rinse and dry thoroughly.
Oil or suncream: Cover the stain with talc, cornstarch, or baking soda. Leave for an hour and vacuum off. Repeat until the stain fades.
Tree sap: Tree sap is notoriously difficult to get rid of, but a good enzyme-based cleaner may do the job, along with oxi-bleach to tackle discoloration. 
Grass stains: Borax and laundry detergent a good go-tos for lifting grass stains from fabric. 
Don't go overboard with water
Soaking patio cushions in water increases the chance that they will generate mold. Surface cleaning ensures that your patio cushion foam does not become waterlogged. 
Cover your patio furniture when it is not being used 
You'll keep your cushions and suite in great shape if you cover your patio furniture when you're not using it.
A decent patio furniture cover will protect the furniture all year round. Why not take a look at our guide to the best affordable L-shaped furniture covers.
Rounding up
Aso you can see, it's really easy to keep your patio cushions in great shape.
TLC will prolong the lifespan of your cushions and keep your patio furniture clean and sanitary for many seasons of relaxation and entertainment!
Read Next