Here is a brief overview of how to make cornhole boards slick in 8 simple steps.
Clean the board
Apply the polyurethane or polycrylic
Let the layer dry
Gently sand the layer
Repeat steps 2 through 4 until the last layer
Apply the last layer
Let the layer dry
Apply one layer to the rest of the board
When making your own cornhole board you want the best finish. A low-quality finish can ruin your fun if it isn't slick enough. Below, I will guide you through the best way to finish your perfect cornhole board.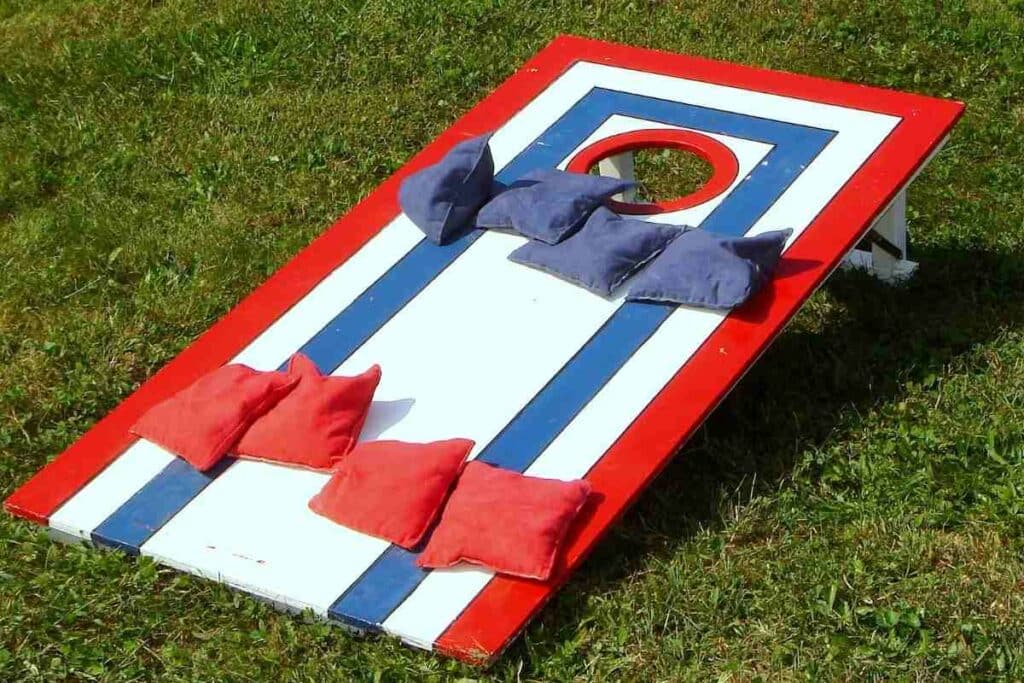 What is the best finish for a cornhole board?
The first thing to consider is the type of finish you want to use. While there are a lot of different possibilities, there are two types that are generally considered the best. They are polyurethane and polycrylic.
Polyurethane is further divided into oil-based and water-based while polycrylic is only water-based. These three are fairly similar but have quirks that make them better for certain jobs. 
Oil-based polyurethane has several great benefits. It is the most durable option and does the best at high temperatures. However, it will dry slightly yellow and is rather toxic. 
Water-based polyurethane is still durable, but not as much as oil-based. To make up for the reduced durability it is quick-drying and less toxic. Best of all, it will dry perfectly clear.
Polycrylic on the other hand is the weakest of the three. It will dry clear but can appear milky. It is also quick-drying although it is more likely to damage if you use it before it finishes curing.
What polycrylic has going for it is the fact that it isn't toxic. Additionally, it is the cheapest option.
Since these three work better with different colors of wood and circumstances you will know best which option to choose. That said, I would recommend water-based polyurethane for most cornhole boards.
How will paint effect the finish?
If you have painted your board before applying the finish, be aware that it can impact the finish. Luckily for your customization desires, the effect is usually small. 
If you use polycrylic over latex paints it can take longer to dry. Occasionally, they can also make it harder for the finish to adhere.
What do I need to make my board slick?
Preparation is key. In addition to the tools and materials I will list below, you will need to set up a workspace.
Your workspace should ideally be well ventilated (especially if you use oil-based polyurethane) and dust-free. You should also put down a tarp underneath your board to prevent messes.
The tools and materials you will need include:
Finish of your choice
Foam paintbrush
Tarp
Washcloth
320 grit sandpaper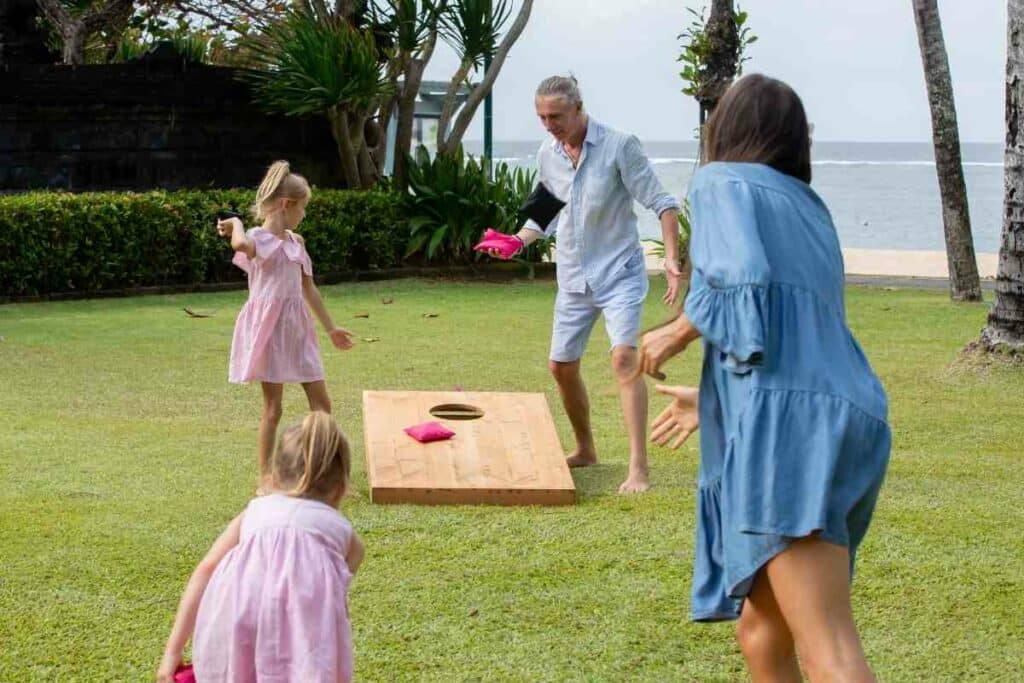 How do I make my cornhole board slick?
#1 Clean the board
This first step is one of the most important. Make sure your board is completely clean as any dust, dirt, hair, etc. that is on the board will be sealed in. One good way to do this is to use a damp washcloth. Be sure to dry it afterward.
This is also why it is important to have a dust-free workspace. If anything gets in the finish as it is drying it will be a pain to remove.
#2 Apply a layer of finish
Be sure to follow any instructions on the container of finish. Remember that you don't need to shake it as you would paint. 
Lay the board flat and apply the finish with your foam paintbrush. Take your time to apply an even layer for the best results.
#3 Let the layer dry
In most cases, this will take a couple of hours. One possible way to speed up the process is to use a small fan on a low setting. However, it is important to let the poly settle for a bit first. Typically 20 to 30 minutes should do.
#4 Gently sand
Once the poly is fully dry you should very gently sand the surface with 320 grit sandpaper. This helps the next layer adhere to the previous. It is also a chance to smooth out any imperfections. Be careful to avoid decals.
#5 Repeat steps 2 through 4 until the last layer
No matter which material you're using, you will want multiple layers. A good average is between 5 and 10. Apply closer to 10 layers if you are using less durable materials.
#6 Apply the last layer
Apply the last layer just as you have before. 
#7 Let the layer dry
Give it several hours to dry. If you want to speed it up consider using a fan as mentioned above. If you're working outside you may not need to.
#8 Coat the rest of the board
If you want to stop at coating the top you are more than welcome to. That said, it is best to apply finish to the rest of the surfaces.
You don't have to do many, but at least one layer would be beneficial. By fully sealing it you will make it much more resistant to humidity. Additionally, it will look more professional.
Final Thoughts
After your cornhole board is sealed, wait for about three days for the finish to fully cure. Now you know how to make cornhole boards slick!
It is a rather time-consuming project due to the drying times, but it is very worthwhile.