Painting garden rocks is a great project for beautifying your backyard.
You can use this simple creative pastime in your garden in a variety of ways, including creating colorful borders, using stones to label your veg plants, or decorating your walls.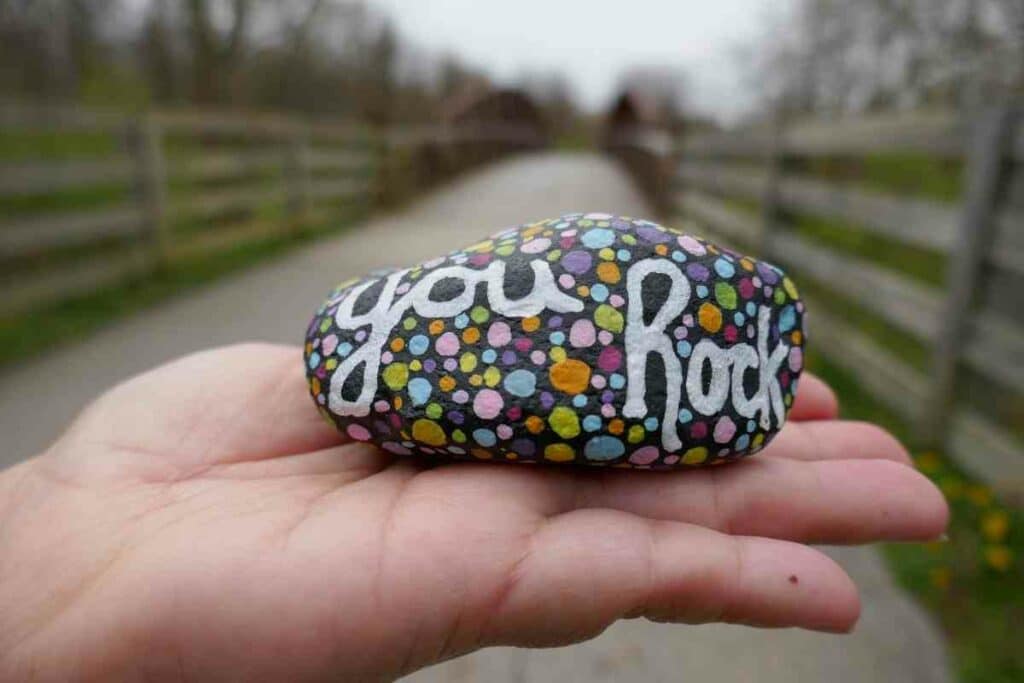 To get great results from painting garden rocks, you'll need the right paint.
Without decent paint‌, your rocks won't look very bright and, at worst, the color will run in wet weather.
What to Expect? Let us help you find the best paint for garden rocks in this concise guide that includes some excellent paints that are perfect for your rocks!
So, which paint is best for garden rocks?
To get bold, bright, and weatherproof results from your garden rocks the paint you use needs the following qualities:
Thick but easy application
Opaque coverage
Bright color
Weatherproof and fade resistant
Long-lasting finish
For rock painting, one type of paint stands out from the rest – outdoor acrylic paint.
What is outdoor acrylic paint?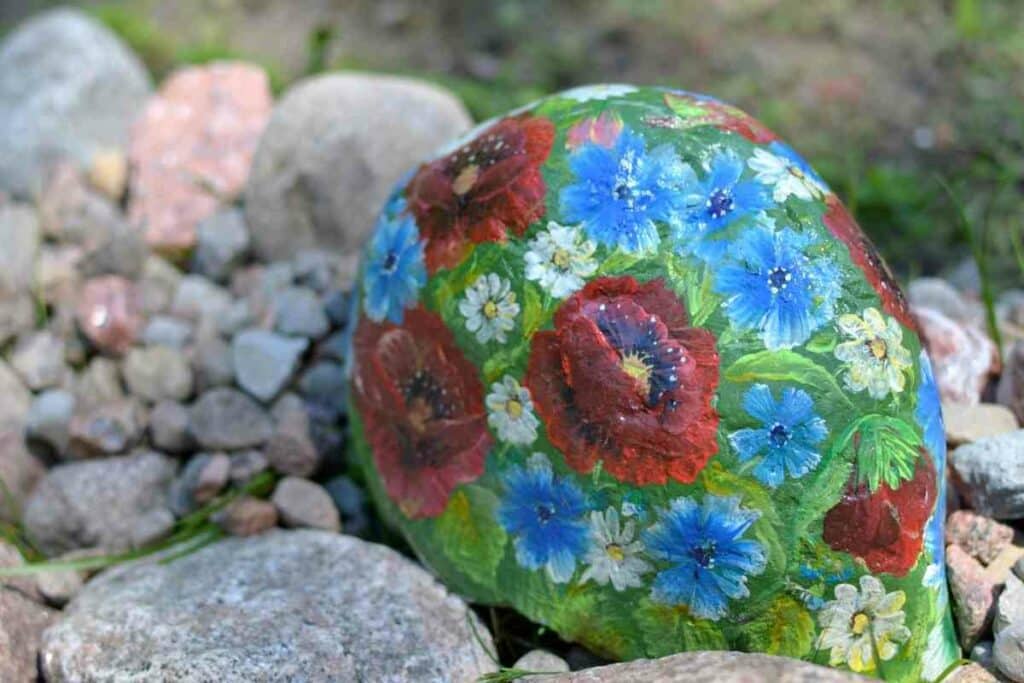 Acrylic paint is a type of paint that produces a bold, water-resistant, fast-drying finish while being water-soluble when wet.
It is halfway between watercolors and oils and is made from a special acrylic polymer emulsion.
Did You Know? Outdoor acrylic paint is formulated for long-term outdoor use and will maintain its color and hold even in changing weather conditions.
It can be applied to garden rocks with beautiful results. 
Get the best results from outdoor acrylics by using a base coat and varnish
To keep your stones looking great, you want to prepare and finish them properly.
A base coat creates a plain surface for the paint and an outdoor acrylic varnish protects painted garden rocks long-term. 
Here is a selection of the best paints for garden rocks
These high-quality primers, paints, and varnishes cover every stage of making your rocks look beautiful.
They are mostly non-toxic, but adult supervision is always best if young children are going to use acrylics and varnishes.
Here are our top picks.
Sargent Art 16-Ounce Gesso Surface Primer, White
Specification
Format: Liquid paint
Volume: 16 oz (463 grams)
Number of colors: 1
Description
This is a white base coat paint for prepping your rocks for the application of color.
It is safe and non-toxic so you don't have to worry about the kids using it!
Pros
Quick and easy thick consistency which will get a lot of rocks primed for painting quickly.
Cons
Some purchasers have found it thinner than expected.
The consistency is thick so you won't need many coats to cover your rock.
Liquitex BAICS Gesso Surface Prep White
Specification
Format: Liquid paint
Volume: 16 oz (463 grams)
Number of colors: 1
Description
This is another quality primer from a company that has a great reputation for acrylics.
Expect to have your pebble or stone primed in one coat.
You can also mix this base with other acrylic paints.
Pros
You can use this basic white acrylic gesso for priming canvases too!
Cons
Some more technical reviewers complained that the paint is not a gesso, but it does the job for amateurs.
It is non-toxic and safe for your kids, pets, and plants!
Magicfly Outdoor Acrylic Paint
Specification
Format: Liquid paint 
Volume: 2 oz (56.7 grams) – per bottle
Number of colors: 30
Description
Your painted rocks will bring a kaleidoscope of color to your backyard with this set of 30 bright and bold outdoor acrylic paint.
Each bottle is 2 ounces and they even include three brushes to get you started. 
These are a good choice for painting garden stones because they have UV protection which means that the color does not fade with long-term exposure to sunlight.
Pros
This is a versatile outdoor acrylic that works great on leather, ceramics, and canvases for other fun backyard projects.
Cons
People were generally pleased with the thick consistency, but some found the colors a little dull. 
These thick and creamy non-toxic and eco-friendly paints have a consistency that makes them easy to apply without multiple applications. 
U.S. Art Supply Professional
Specification
Format: Liquid paint 
Volume: 2 oz (56.7 grams) – per bottle
Number of colors: 24
Description
This is a complete set for transforming your outdoor rocks.
It includes 24 bright acrylics that are non-toxic and formulated for outdoor use.
Pros
This outdoor paint set comes with a color mixing wheel so you can create even more vibrant shades.
Cons
Surprisingly several purchasers found this paint too thick!
The pain is thick and provides great coverage with a fade-resistant. 
Glow in the Dark Paint Reflective Acrylic Paints for Outdoor
Specification
Format: Liquid paint 
Volume: 0.7 oz (20 grams) – per bottle
Number of colors: 8
Description
Have a vibrant display in your yard by day and by night with these crazy cool neon glow outdoor acrylic paints.
The 8 bold shades absorb plenty of sunlight by day and at night releasing a luminous glow that will amaze everyone.
Pros
This is a great choice for something different to add to the mix when you are painting garden rocks.
Best used for detailing.
Cons
The individual paints are available in small quantities, so you may have to double or triple up if you want a lot of glow-in-the-dark rocks.
The pain is thin.
You can use it for detailing or make the whole color glow rocks in red, orange, green, blue, pink, purple, and white. 
Liquitex Professional High Gloss Varnish
Specification
Format: Liquid varnish
Volume: 4 oz (113 grams) – per bottle
Number of colors: clear
Description
This is the archival permanent varnish which is the strongest stuff you can have around for sealing your beautiful painted rocks.
The formulation is low-odor and should be used with adult supervision to create a permanent and durable clear finish.
Pros
The finish of this varnish is resistant to moisture, heat, and fading.
This varnish is also non-fogging.
Cons
Can be gooey, as it dries quickly.
How to paint rocks for your garden with your new paints
Once you have assembled some garden rocks and a decent set of outdoor acrylic paints, you're ready to unleash your inner artist and get painted.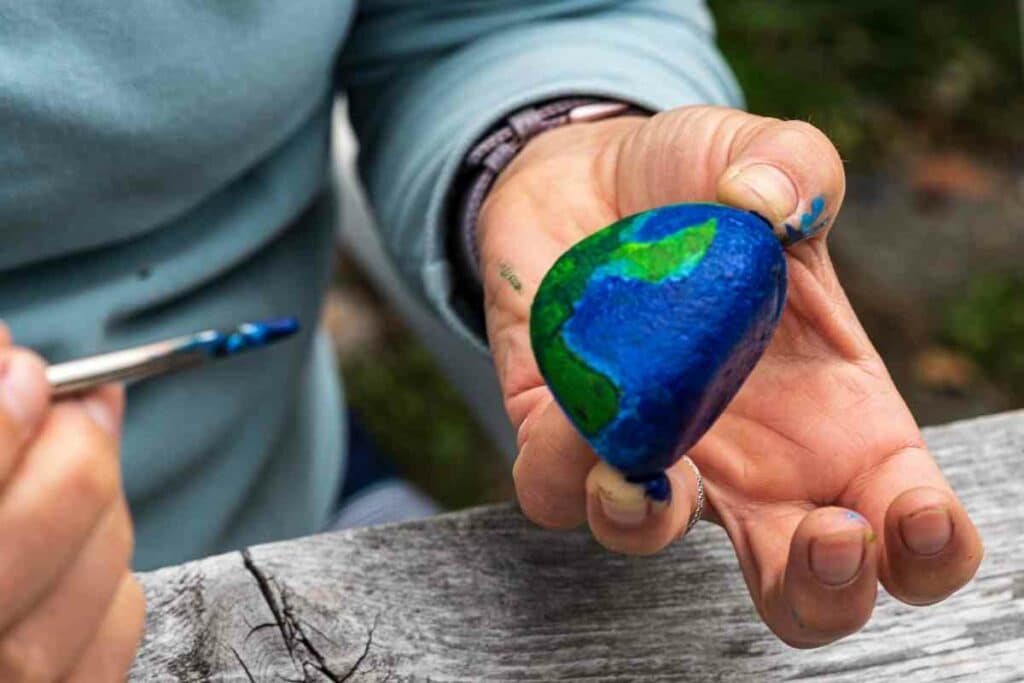 Remember to work in a clean, well-ventilated area and protect surfaces from the paint.
Here are the steps for getting great results when painting garden rocks. 
Clean down your rocks
It's a boring job but it makes all the difference to the finish you'll enjoy.
Warm soapy water and a scrubbing brush are all you need to get them cleaned up.
Make sure they are fully dry before you start working with them.
Apply your base coat
Painting a white base coat onto your rocks gives you the smooth matte blank canvas you need to be creative!
It adds to the longevity of the painted rocks as well.
You can paint or spray on your primer and allow it to dry fully.
Line up your paints and brushes and paint!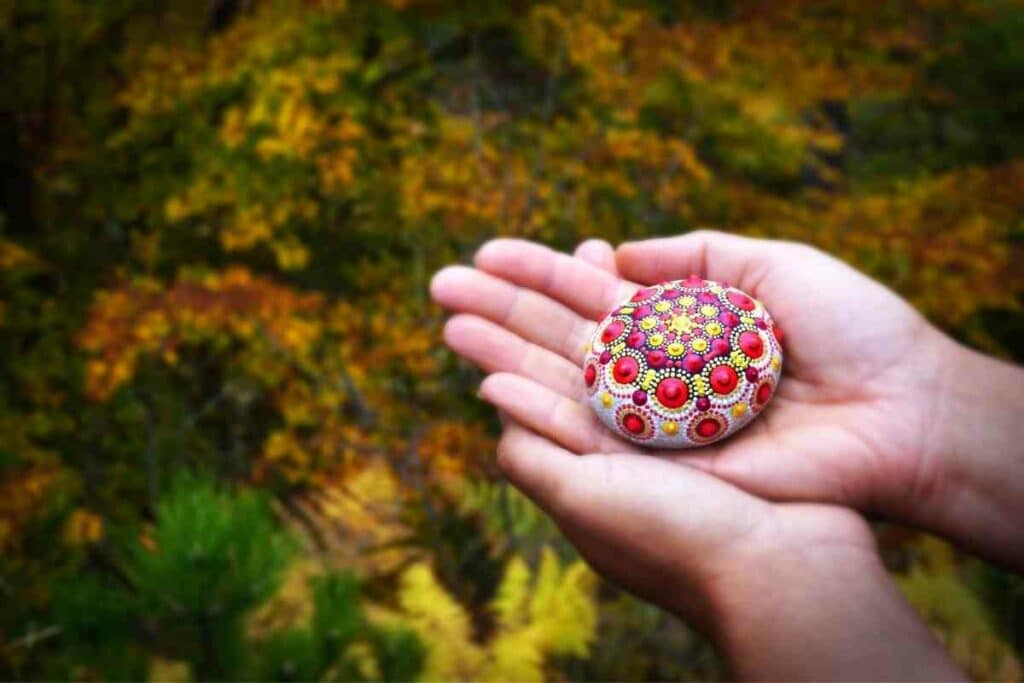 Select the colors you want for your rocks and draw the design you want to paint onto the rock lightly in pencil. 
A standard set of acrylic paintbrushes should be fine for painting your design.
Have some water on hand to clean your brushes and mix paint colors in a palette. Once you've painted your design, allow it to air-dry completely.
Seal your design with varnish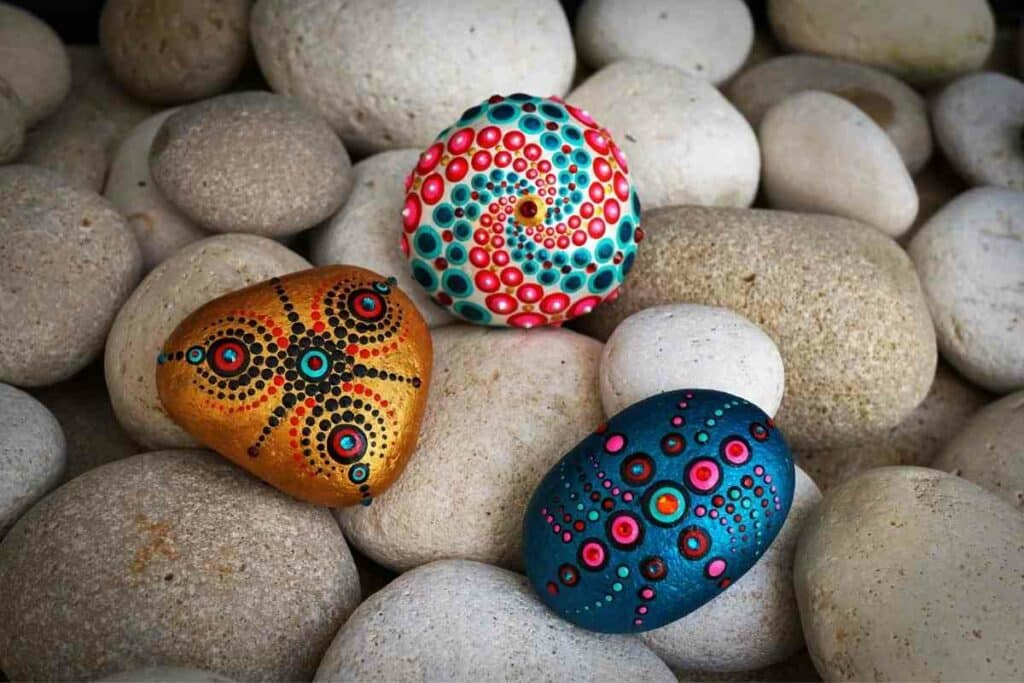 Once your painted rocks are dry, you are not ready to preserve your art with a good-quality acrylic varnish.
Final Step – Weatherproof your painted rocks with a sealing spray, varnish, or gloss. Allow this transparent layer to dry and place the rocks wherever you want in your yard!
Rounding up
We think painting garden rocks is a fabulous pastime that will add some beautiful pops of color to your garden.
As you can see, with the right paint, you can transform a dull rock into an artistic masterpiece!
Also Read