Glow pebbles are decorative pieces made from natural or synthetic resin.
They absorb and store energy from the sun or other light sources and light up in the dark.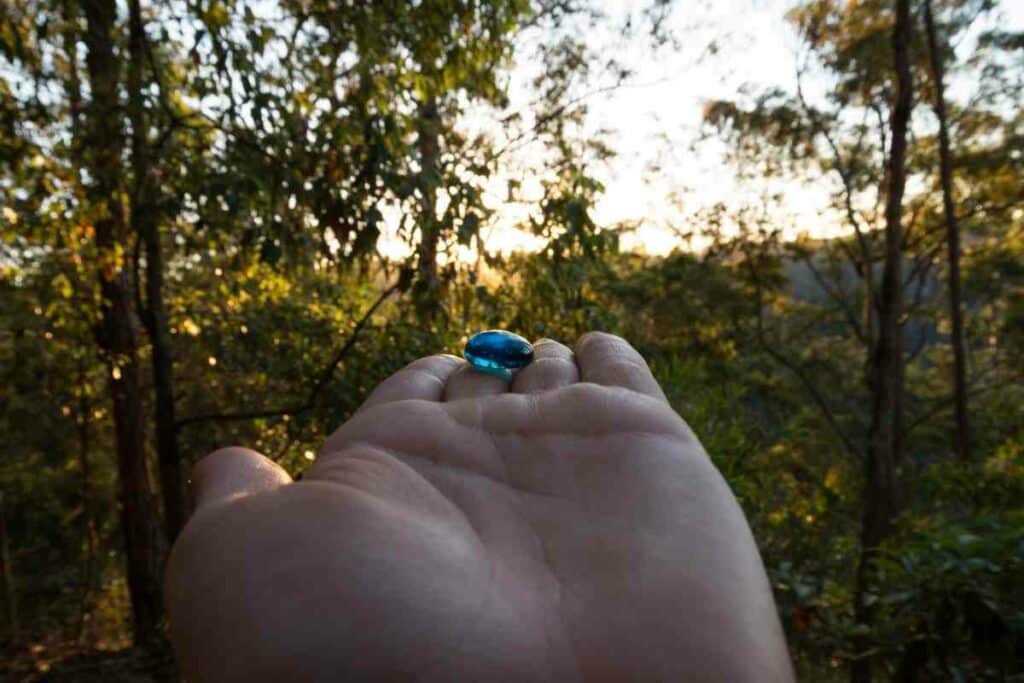 The purpose of glow rocks is to liven up your outdoors, but they sometimes turn out as the garden's focal point.
It can set the mood for an evening garden party or create a fairy environment for your kids.
What to Expect? We will review some of the best glow-in-the-dark garden pebbles on the market today. But first, let's start by finding out how they function and what to consider before making a purchase.
How Do Glow Stones Work?
Glow stones are usually plastic molds that contain luminescent materials called phosphors.
Luminescence causes items to glow brightly in the dark without needing any light source or heat.
Phosphors will soak up the energy from the sun or an artificial source and then radiate this energy as light.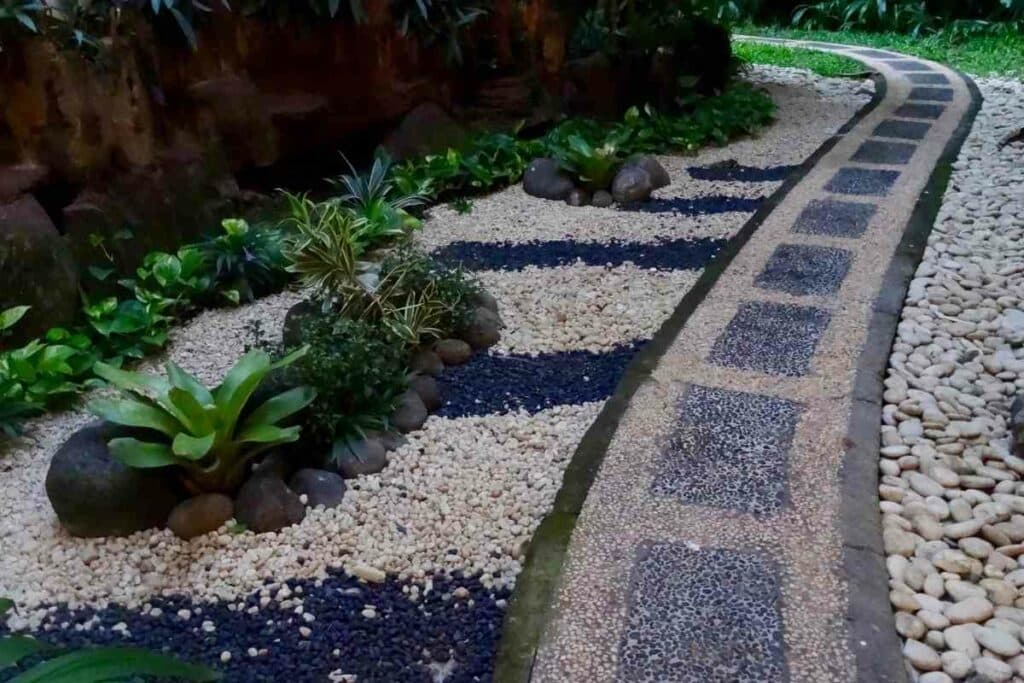 When the stone starts to glow, it is actually the release of incident energy from its phosphor atoms.
A glowing garden stone may glimmer for minutes or hours, depending on the degree of light exposure and the pigment concentration.
Glow stones usually shine the best in pitch-black environments or at night.
To maximize the glowing effect of the rocks, place them away from any competing light sources.
Nearby streetlights or patio lights tend to tone down the glow. If the lights are strong, they can neutralize the glow effect altogether.
Natural light is sometimes not sufficient, especially during the winter season. The glow is not constant; it diminishes steadily as the night carries on.
Only a few high-grade glow stones made from Strontium Aluminate can last till sunrise.
Factors to Consider When Choosing Glow Pebbles
Material
The type of material primarily determines the brightness and persistence of the pebbles.
Persistence refers to the long these stones will glow after being energized.
The material also determines the safety of the product.
Glow stones can either be phosphorescent, chemiluminescent, or radioluminescent. Phosphorescent pebbles are safer and have no emissions.
However chemiluminescent and radioluminescent emit light through chemical and radioactive reactions, respectively.
Therefore, their use is highly discouraged since it comes with a myriad of health concerns for humans and pets alike.
We endeavored to only use phosphorescent glow pebbles in this review with that in mind.  
Here are the common phosphorescent materials used in glow in the dark pebbles.
Zinc Sulfide
Zinc sulfide has been used to produce phosphorescence products since the 1930s.
Its particles charge quickly under exposure to sunlight or any suitable artificial light.
Copper chloride is added to the mix for the compound to emit a bright green glow in the dark.
Strontium Aluminate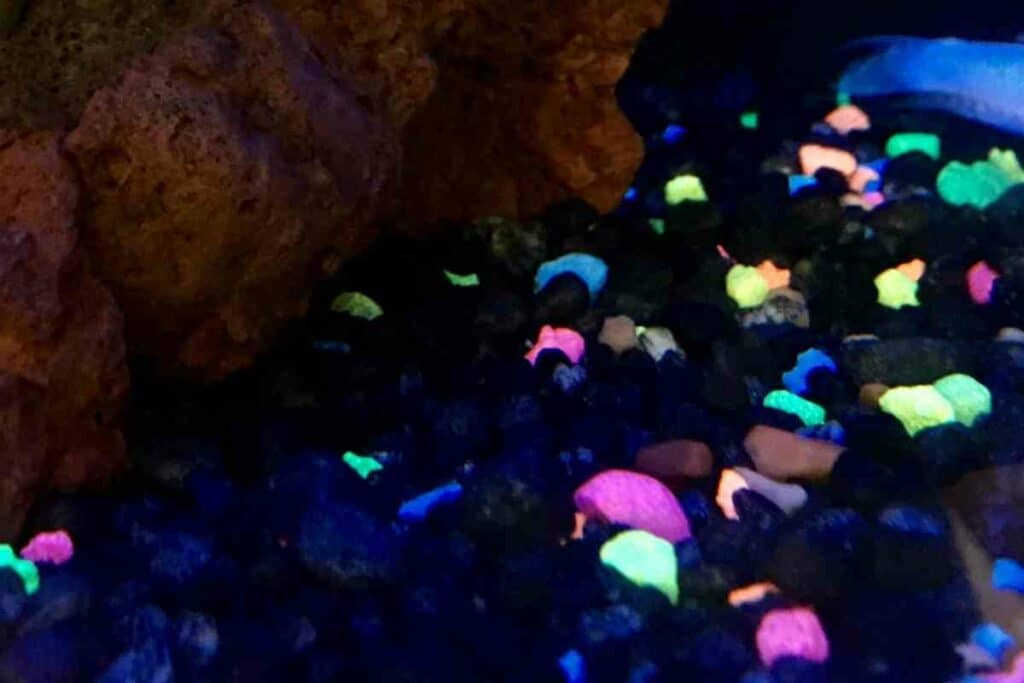 This monoclinic crystalline powder is the active compound in most current glow stones.
It glows up to ten-time brighter than the traditional zinc sulfide.
Moreover, when combined with europium, it has a very long persistence.
Size
The size of your glow in the dark pebbles depends on your individual needs.
Do you need the stones for décor, line up your sideways or create fairy and magical scenes for your kids?
The number of pebbles to get also depends on their application.
Small pebbles are more versatile, and you can juggle them to form various patterns and shapes.
However, they should not be scattered. Individually, they don't glow much, but they'll produce a brilliant hue with 5-10 stones put together.
If you want to cover a larger garden area, bigger pebbles may be ideal. They absorb more light, making them glow much brighter and for longer.
To achieve the same effect with small-sized pebbles will require a large number of stones. Moreover, they are much safer if you have small children.
Color
The color of the glow determines the pebble's ambiance.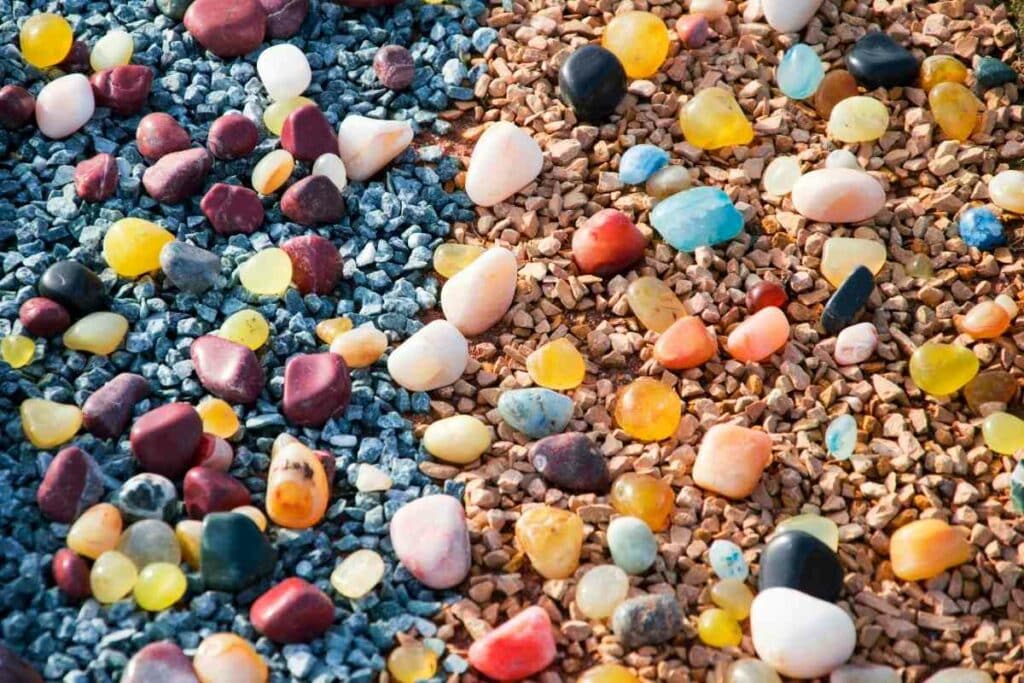 Dull colors usually don't provide vibrant illumination since they require more exposure to glow.
You can create your unique environment by blending the different color shades of the glow pebbles.
The majority of pebbles are either green or blue:
Green pebbles usually appear brighter since the human eye is more receptive to green light in the dark.
Blue pebbles imitate gemstones giving your garden an expensive and pleasurable setting.
Other colors such as yellow and red are also available.
Durability
Always check for how long will your glow pebbles last and if they are self-luminous.
This information is usually found on the manufacturer's website or printed on the packaging.
The service life of the products in this guide ranges from 15 to 20 years.
Additionally, the pebbles have high corrosion resistance and are waterproof. 
Multi-Purpose
A good glow pebble ought to be versatile.
It can be placed anywhere in a garden setting and still be able to spruce it up.
Its usage should cover landscaping around:
trees
potted plants
aquariums
pathways
Best Glow In The Dark Garden Pebbles
1. Graham Products Glow in The Dark Rocks
Key Features
Made of plastic resin
1 inch in diameter
2 hours minimum charging time
Environmental-friendly
Our top choice is a no-brainer. It is among the highest-ranked glow in the dark pebble on Amazon and comes in 10th on the Best Sellers in the Outdoor Decorative Stones category.
The 1-inch pebbles come from quality plastic resin rich in photoluminescent pigments.
These pebbles require a minimum of 2 hours to be fully functional. It usually portrays the brightest glow within the first hour, which dissipates steadily for up to 12 hours.
The multi-colored floral designs create beautiful scenery around your garden during the day and night.
You can also use the pebbles to brighten up your fish tank. The rocks are harmless to aquatic life, easy to clean, EN71 approved, and non-radioactive.
Pros
Strong, durable glow
Versatile
Reasonably priced
The pebbles are also available in white and blue shades. However, they both produce an electric blue glow.
Due to their miniature size and resemblance to candy, keep away from children below 6 years to avoid choking hazards.
2. NAMTSO Blue Glow Rocks
Key Features
Made of natural resin
Roughly 1 inch
1 hour minimum charging
Namtso Blue Glow Rocks productions stem from natural, odorless resin material.
Each bag has 500 pebble pieces which add a unique aesthetic to your garden.
They are waterproof and can withstand extreme outdoor conditions for years without fading.
Expose the rocks to a direct and intense light source for at least an hour.
When charging the pebbles, spread them out on a flat surface. Airing them out will ensure that each piece receives maximum light exposure. An overcast charge will be
Pros
3-5 hour glow
100% fish tank safe
Polishing makes the pebbles have smooth edges.
They can be used on driveways and are safe for use around small children and pets.
3. Chic Style Glow in The Dark Garden Pebbles
Key Features
0.8 -1.2 inches
Made from polystyrene resin
100% money-back guarantee on defects
15-minute minimum charging using lamps
Multiple colors
If you are on a budget, then these pebbles might just be what you are looking for.
Chic Style pebbles are made from premium polystyrene material.
The size of the garden stones varies from 0.8″-1.2″. You pick a suitable size depending on the desired effect of the decorative stones.
Besides the azure hue, the pebbles also come in Green, Pink, White, Blue, and Purple.
For optimum glow, charge the pebbles using a UV lamp light.
A 15-minute charge easily supersedes the 2-3 hour florescence when left a whole day in the sun.
A few hours on lamp charging can produce up to 10 hours of radiance.
Pros
Safe for kids and pet
Durable glow for up to 10 hours
Value for money
Cons
More receptive to lamplight
Chic Style will offer you a 100% money-back guarantee if you are unsatisfied with the glow effect.
This guarantee will also cover accidental damages and defects.
Alternatively, you can replace the pebbles without incurring any extra charges.
4. Koltose by Mash Glow in the Dark Pebble Stones
Key Features
20-year lifespan
Require 2-3 hours of direct sunlight before glowing
Smooth edges
Our next pick is these amazing-looking pebbles from Koltose.
The pebbles are usually white and start to exude a blue glow after 2-3 hours under direct sunlight or an LED light.
If these pebbles aren't to your liking, you can opt for the Mixed Colored or the Pink Stones, which have a soothing Orange glow.
Koltose glowing stones are best suited for flowerbeds, fish tank pebbles, and vase filler for potted plants.
Two hundred pebbles are insufficient to cover a small garden, and scattering them isn't an option.
Pooling them together increases their brightness and extends their perseverance by 60-90 minutes.
Pros
Money-back guarantee
Non-toxic
Koltose is a family business, and its commitment to customer satisfaction is unparalleled.
They offer quick refunds to any unsatisfactory products without requiring returns.
5. Oubest Glow in The Dark Pebbles
Key Features
Made from polystyrene resin
0.6 -1.1 inches
450 NM maximum wavelength
Reusable for up to 15 years
8-10 hour dim glow
Oubest pebbles are a combination of luminous powder and polystyrene resin.
They provide a radiant green glow for 2-3, but the dim afterglow can generally last 6-8 hours.
Non-toxic and durable, the rocks offer high-intensity brightness for up to 15 years.
The pebbles are suitable for most plants, walkways, and aquarium decorations.
For permanence, glow rocks can also be slabbed into concrete surfaces.
Stick them onto shallow curing concrete, and any residue is washed wash off from the surface of the glow stones.
Other available color patterns are; White, Blue, and multi-colored. Best introduced a new design, Starfish.
These are shapes of little sea fish and crustaceans specifically made to illuminate aquariums and fish tanks.
6. Kaiyuan Dynasty Glowing Pebbles
Key Features
0.6 -1.1 inches
Expert craftsmanship
Lightweight
Non-radioactive and odorless
Finally, but definitely not the least, we have these amazing pebbles made by Kaiyuan.
These luminous stones will absorb light from any light source with a wavelength of between 400nm to 700nm.
After charging, the 300 pebbles will emit a dreamy pink light for 2-3 hours until it becomes faint.
These Pebbles work optimally for both garden and indoor decorations. Use them to light up your patio on the edge of your garden.
Due to their small size, it is a little harder to pick from the gravel.
It will help against pilferage and small children picking them up.
Frequently Asked Questions
1. Are Our Glow In The Dark Garden Pebbles Safe?
Yes, glow in the dark products made from phosphors are perfectly safe for plants and animals.
They are non-toxic with no mercury and any radioactive materials of any sort. Regardless, keep the pebbles away from toddlers to avoid choking or suffocating.
2. Natural or Artificial Light?
The closer and more consistent the light source, the stronger the pebbles will glow.
In this regard, artificial light sources are more efficient. A 2-3 hour artificial charge will typically produce a stronger glow than a whole day's charge in the sun.
Natural sunlight provides inconsistency during charging, affecting the pebble's ability to glow.
The rays are usually blocked by clouds or objects, not to mention the declining intensity as the sun gradually sets.
3. How Long Do The Pebbles Glow After Being Charged?
Luminescent pebbles can glow between 2- 8 hours under maximum charge.
The quality and the material also limit the energy they can hold. However, please note that the glow will not be consistent. Immediately after charging, the shine will be bright and strong, but it will faint over time.
4. Do Glow In The Dark Pebbles Emit Light During The Day?
Yes. Phosphorescent materials continuously emit and absorb light.
During the day, the glow of the pebbles is less visible, but it is actually giving off some light. The darker the surrounding is, the more visible the glow to the naked eye.
5. Are Glow Rocks Biodegradable?
No. If the rocks were to be biodegradable, they would have a shorter lifespan and be susceptible to corrosion in the garden.
However, glow in the dark pebbles are somewhat eco-friendly.
The phosphors enable them to emit consistent and various hues more efficiently.
This helps save power that you would have used to illuminate your garden. It reduces overreliance on fossil fuels and consequently reduces the carbon footprint.
Final Thoughts
Glow in the dark pebbles are an inexpensive way of revamping your garden.
They require no installation or wiring whatsoever. After a few hours of exposure, these garden stones will be up and running.
Besides, little or no maintenance is required to keep the rocks glowing and your garden gleaming.
Your biggest concern rests on ambient lighting.
It would be best to position the pebbles in an unobstructed path to receive light during the day. During nightfall, to ensure efficiency, no nearby light sources should be around these pebbles.
Read Next