If you are looking for a new look for your garden, including rocks is an effective way to transform your outdoor space.
You can use rocks of various sizes in so many smart projects, and their rugged, hard-wearing physical properties mean that your garden look should last and last.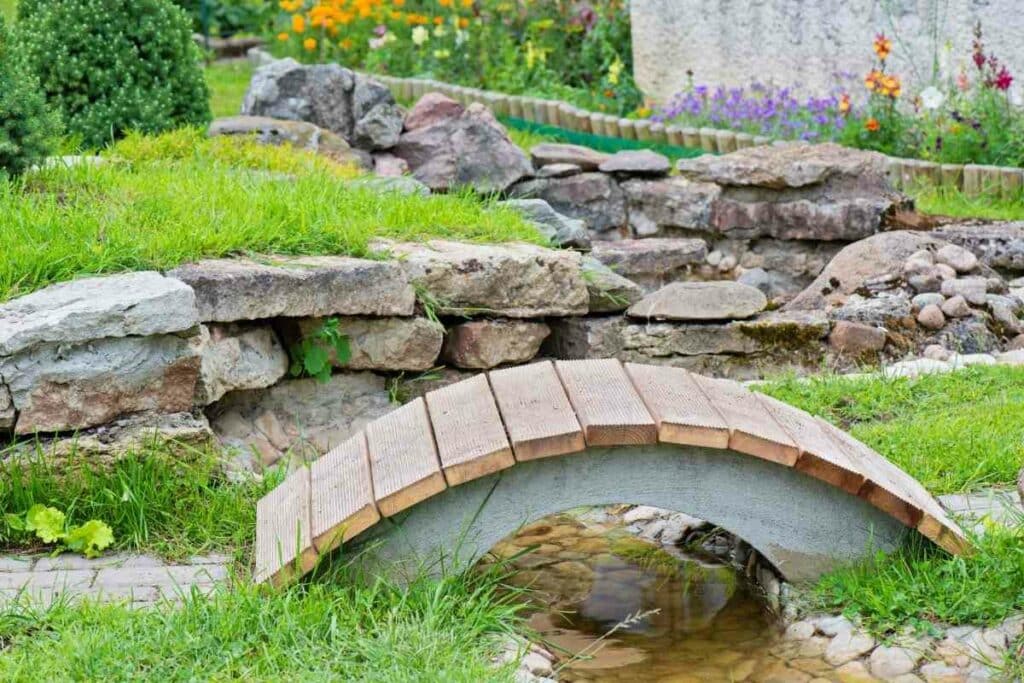 So if you are browsing for inspiration for your upcoming rock garden project, we share 18 cute rock garden ideas ‌you can incorporate into your garden design. 
Gabion walls Rock Garden Ideas
Gabions are giant cages that you can fill with rocks to make a retaining wall, seating, or decorative feature in your rock garden.
When fully staked with the stones of your choice, they add a striking architectural detail to your rock garden that many landscapers use to stack against slopes or create a protective boundary in areas that are prone to erosion.
Gabion design is a flexible, permeable, and non-permanent way of using rocks.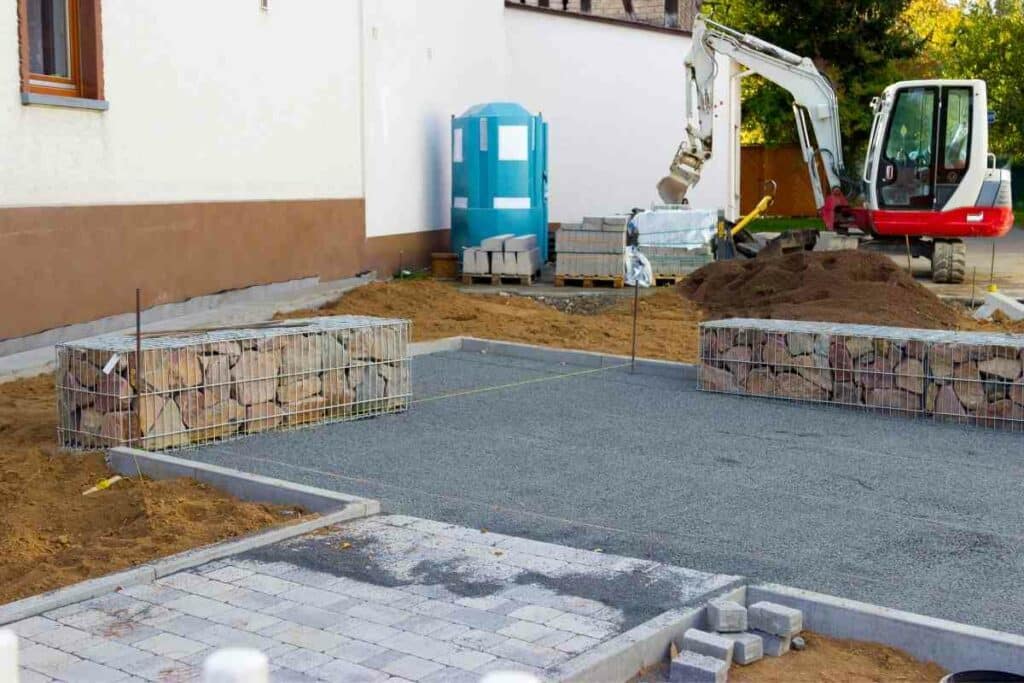 You can switch up your design anytime by removing and rearranging the cages, and they also age beautifully in place.
The great thing about using Gabion walls is that you can do it yourself!
Build your wire cages and join them up in an arrangement that works for you.
It's hard work, but the results are amazing – ‌look at these neat Gabion wall gardens.
1. Curved Gabion Rock wall
The beautiful curved wall is perfect for supporting an outdoor pizza oven and fire pit. It makes a tidy and accessible area for entertaining guests outdoors.
2. Gabion Rock wall with seating
The beautiful gabion wall in this video has smart integrated seating.
This short video explains more about the benefits of contemporary gabion wall design for gardens.
3. Front yard Gabion Rock wall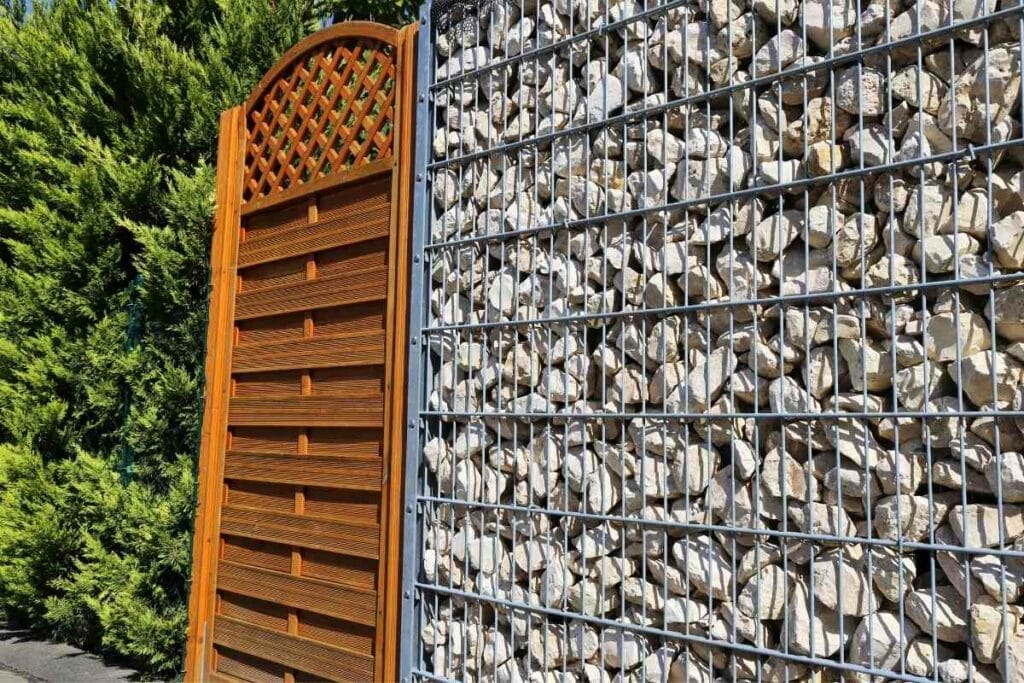 This gabion wall structures and screens an otherwise open front yard.
The smart letterbox attached is a clever detail. 
Border Rocks
Edging is a classic use of garden rocks and stones.
The diversity of stone colors, shapes, and textures means you can create a wide range of effects with as much or as little height as you want.
Here are some creative ideas you can use for garden rocks in borders.
4. Boulder edging
Large sandstone boulders set off this stunning border with colorfully mulched shrubs.
The boulders are an effective alternative to more generic brick and block edging. 
5. Cream river rock
Cream river rock is used to create this classy low edging that beautifully separates the lawn from the flowerbed.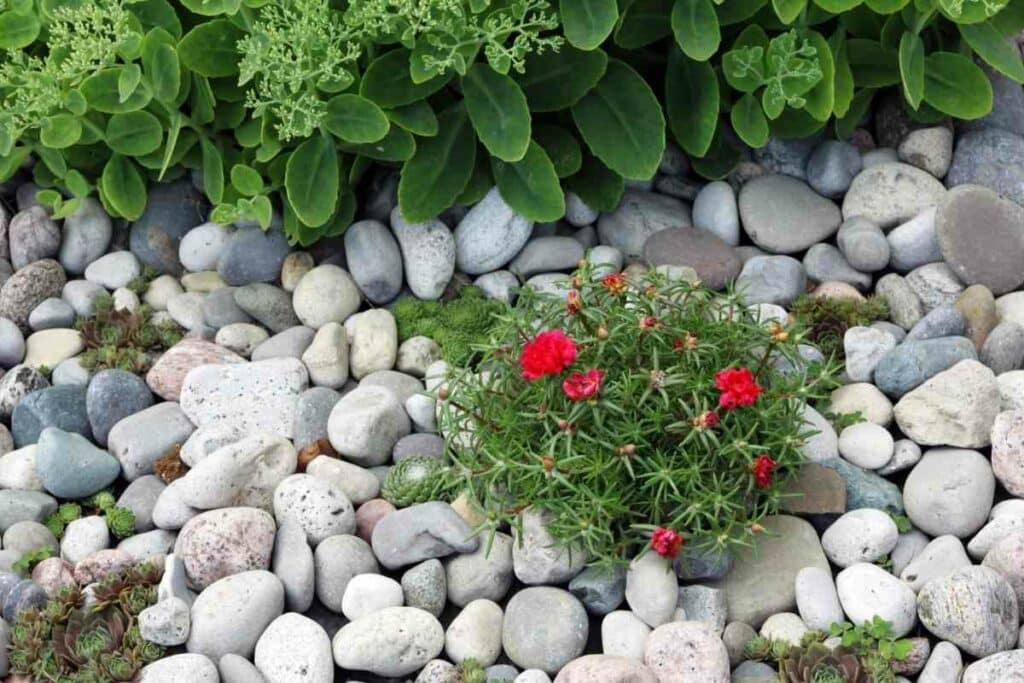 River rock is a great pick for borders and edging because it is very smooth and is available in a range of colors. 
6. Fieldstone rock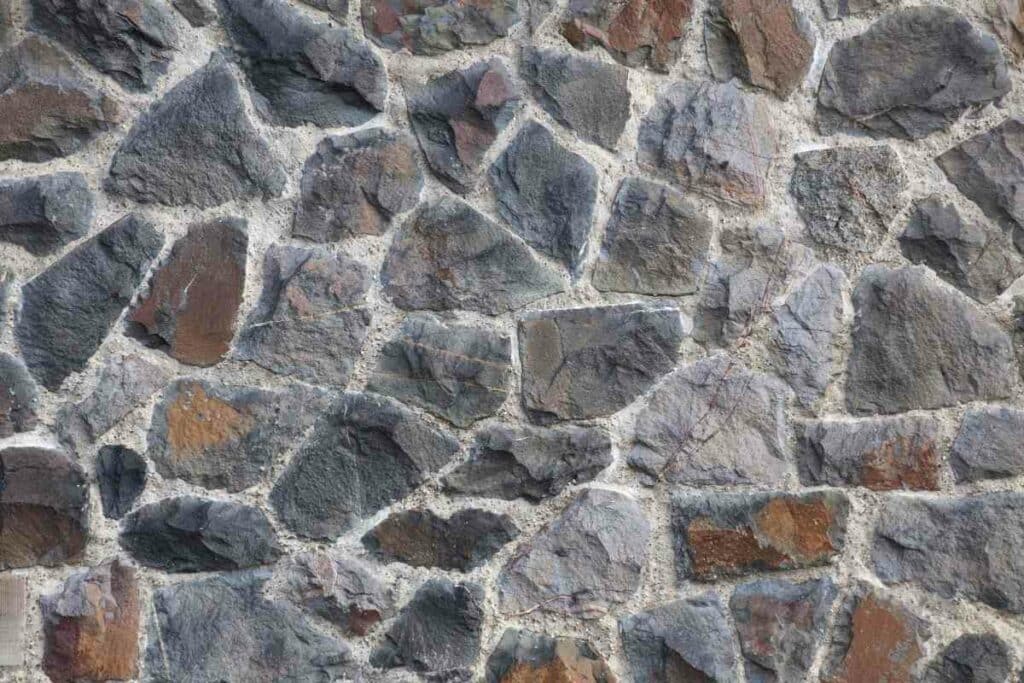 The fieldstone used in this low, stacked border is a charming boundary to the lush vegetation of this garden.
Fieldstone is increasing in popularity as a choice for a rock garden because of its rustic appearance that works in both traditional and contemporary design projects. 
Rockeries
A rockery makes your rock garden the center of attention and adorns it with plenty of foliage for a stunning display.
Rockeries or rock gardens are built on a landscape framework of large rocks, gravel, and stones with plants added that are typical of a rocky alpine environment and love well-drained soil.
Rock gardens often include water features and can be as small or large as you like.
Here are some superb ideas for your inspiration.
7. Pretty Waterfall rock garden landscape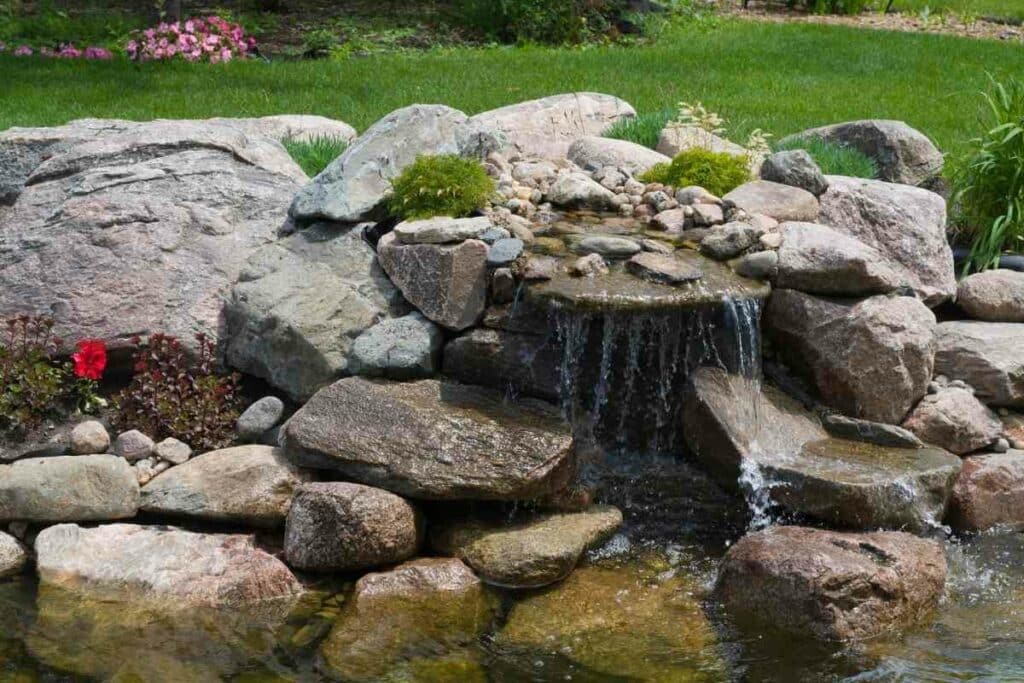 If you're a pond lover, you'll love this gorgeous waterfall rock garden with upper and lower pools.
The large boulders used in this design are key to the scale of this rockery design.
8. Round boulder rock garden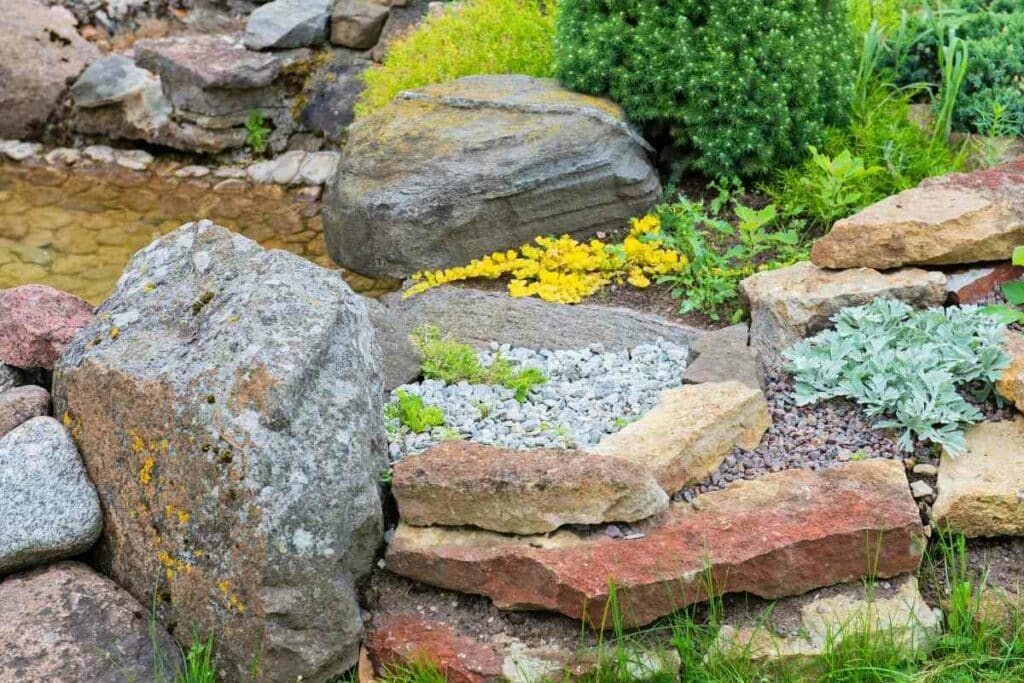 If there isn't much space, a few choice boulders, pebbles, and some colorful blooms are all you need to have a rock garden experience. 
9. Succulent rock gardens
Succulents were made for rock gardens as they will appreciate the great drainage and heat from the sun-drenched rock.
With hundreds of succulent varieties, you have so many to experiment with, and you can easily secrete them between gaps in the rock. 
Zen gardens
This is a Japanese style of rock garden that is plant-free.
Dry gardens, as they are also known, are based on a few large rocks that sit in a tranquil layer of gravel or sand that you can rake into artistic and calming patterns.
The Japanese designed these pretty gardens to be peaceful and promote quiet, contemplative time.
You can reproduce these beautiful Zen garden ideas on your property.
10. Zen garden with planted island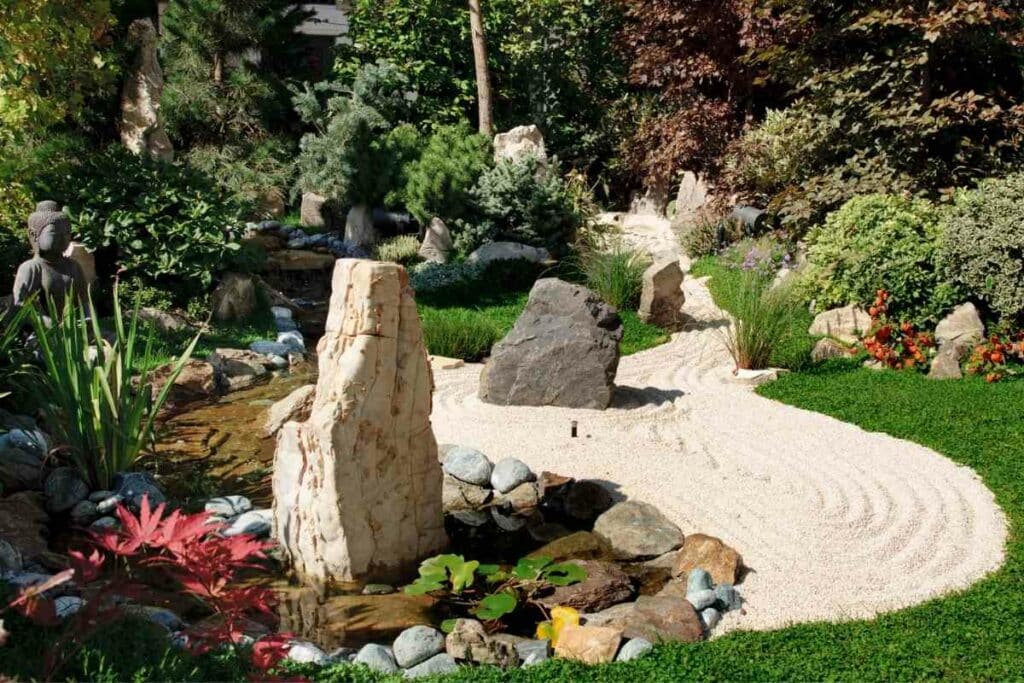 Islands of green sit in an ocean of carefully raked beige gravel, punctuated by larger dark-colored stones.
In the Japanese gardening philosophy, raking the uniform gravel adds movement.
Rake the gravel into classic patterns like the water drop wave pattern. 
11. Zen garden with trees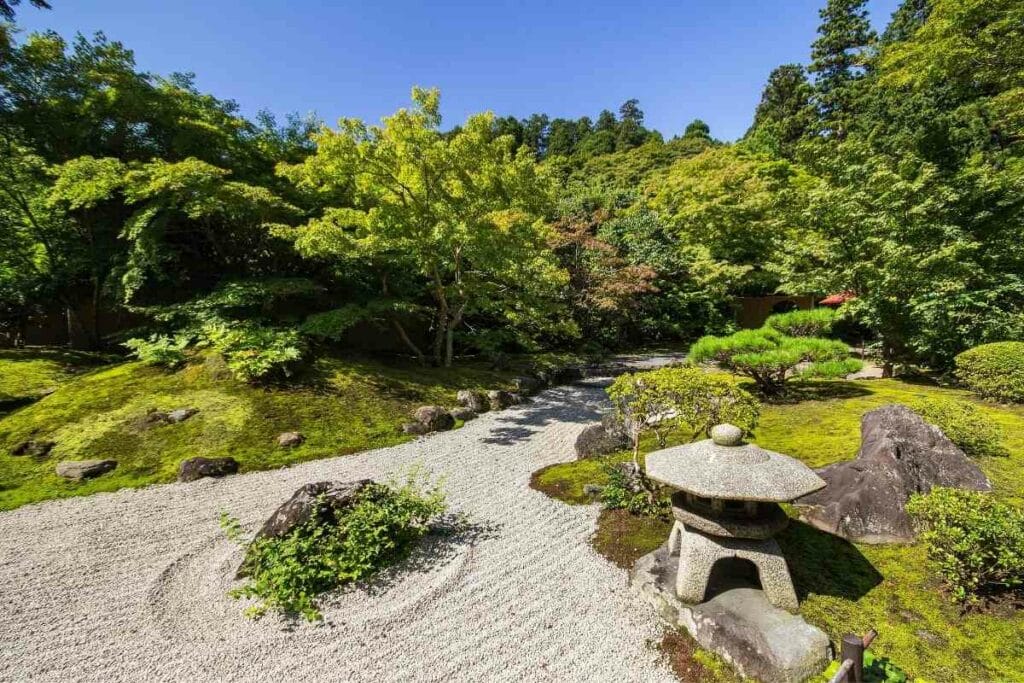 You can work trees into your Japanese garden design by laying the surrounding ground gravel. 
12. Stepped Zen garden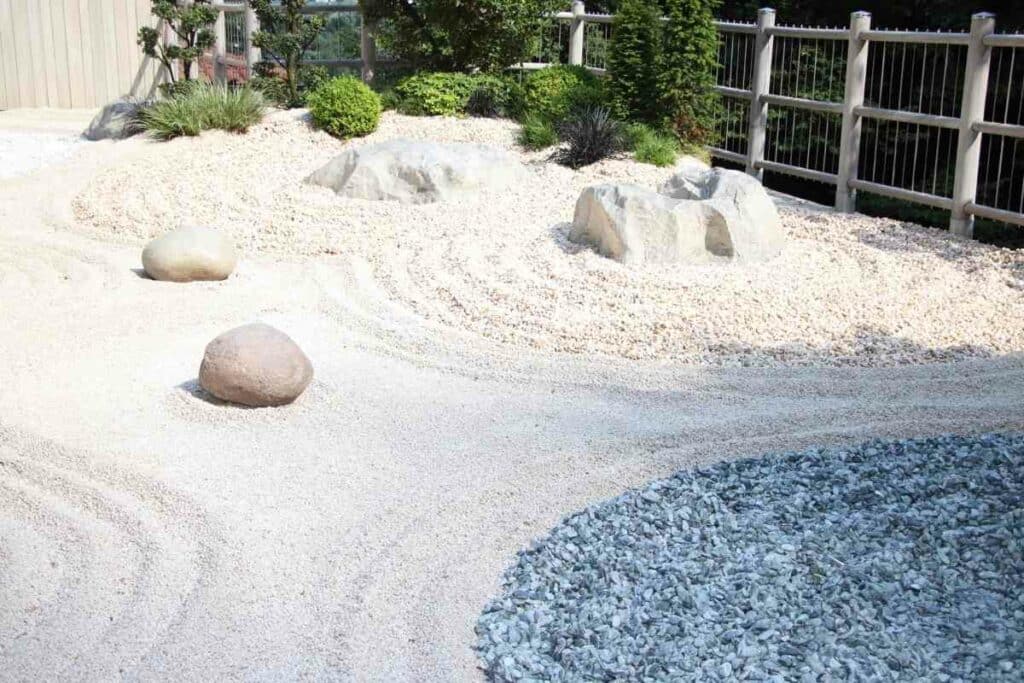 This stepped Zen garden look could work for gardens that aren't level.
Matching the color of the borders to the color of the gravel creates a pleasing visual effect that can coordinate with stepping stones.
Spiral herb gardens
If you love the culinary or health benefits of herbs, you can use your garden rocks to create a beautiful spiral herb garden that will keep you supplied all year round.
A couple of key benefits of building a spiral out of rocks is that the rocks keep warmth and shelter the herbs, prolonging the growing season.
Have a look at these spiral herb garden designs.
13. Spiral herb rock Garden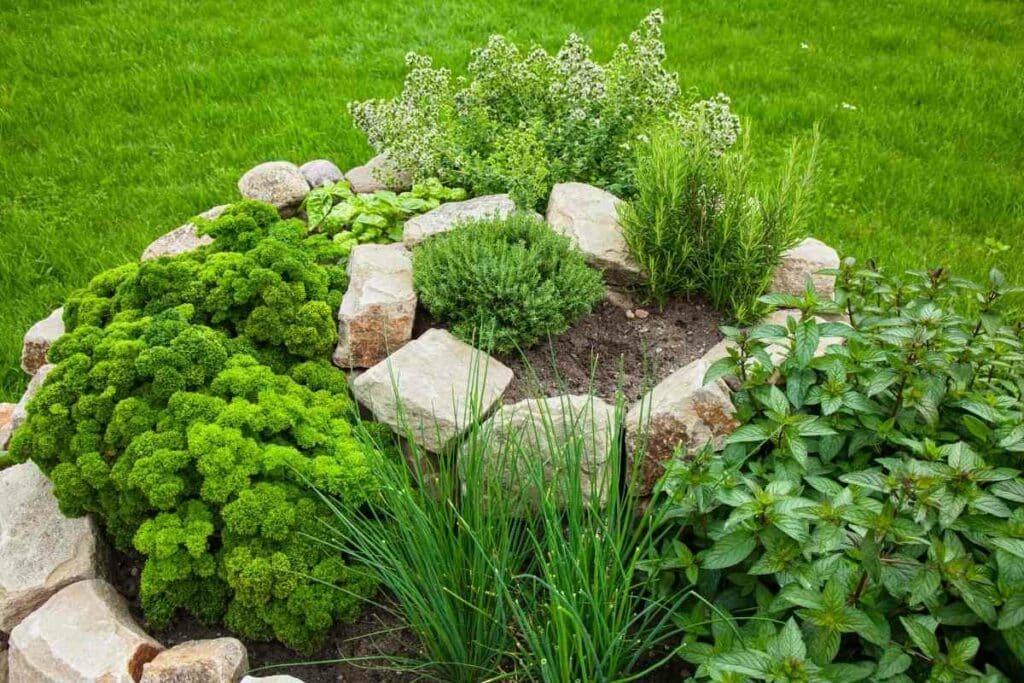 You can mulch the herbs that you plant in the spiral with a woodchip mulch to suppress weeds.
Have favorites like basil, mint, chives, garlic, and parsley in a mini-kitchen garden in your backyard. 
14. Spiral herb Rocks design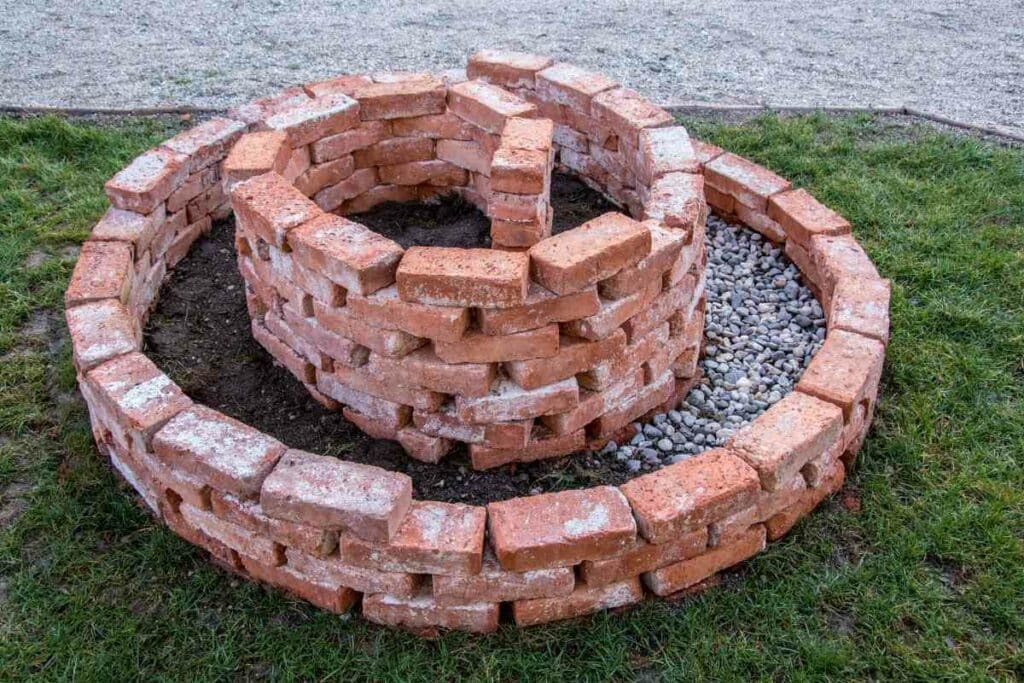 The great thing about using a spiral rock garden to grow herbs is that there are positions with different levels of sun, shade, and shelter.
This means you locate herbs in their best growing position for better growing results.  
15. Slate spiral herb Rock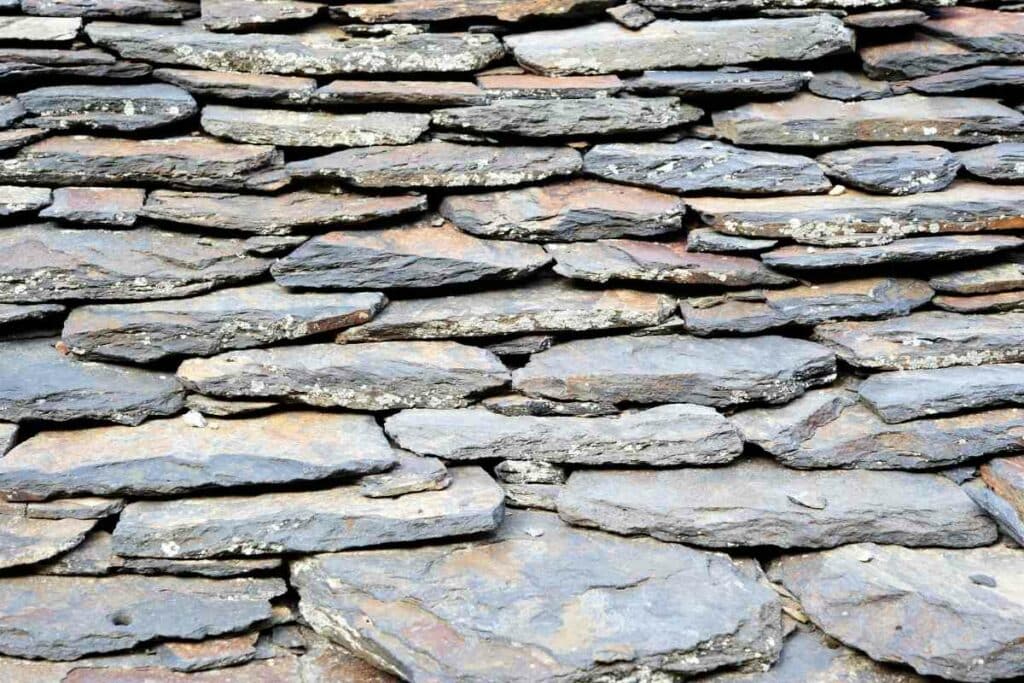 Stacking flat pieces of stone is a cost-effective way to build up the walls of the spiral.
You could even add some terracotta tiles for a pop of color. Just stack one stone on top of another stone, and it will really bring out your landscape.
Decorative Garden Rock Ideas
Use decorative rock designs to make your rock garden look your own.
Display the natural color and beauty of rock, or jazz up some rocks with some funky paints!
Here are some decorative garden rock ideas that are extra sweet.
16. Mosaic river rock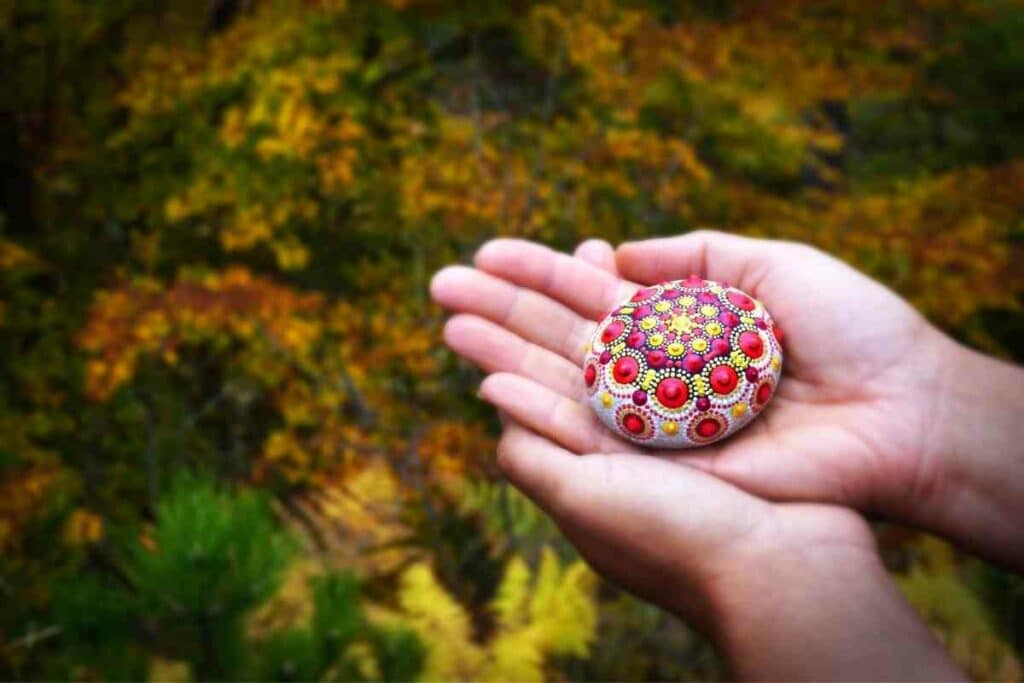 These adorable garden flowers use the color of river rock to create a sweet display. The flowers just look amazing on these rocks.
17. Plant marker stones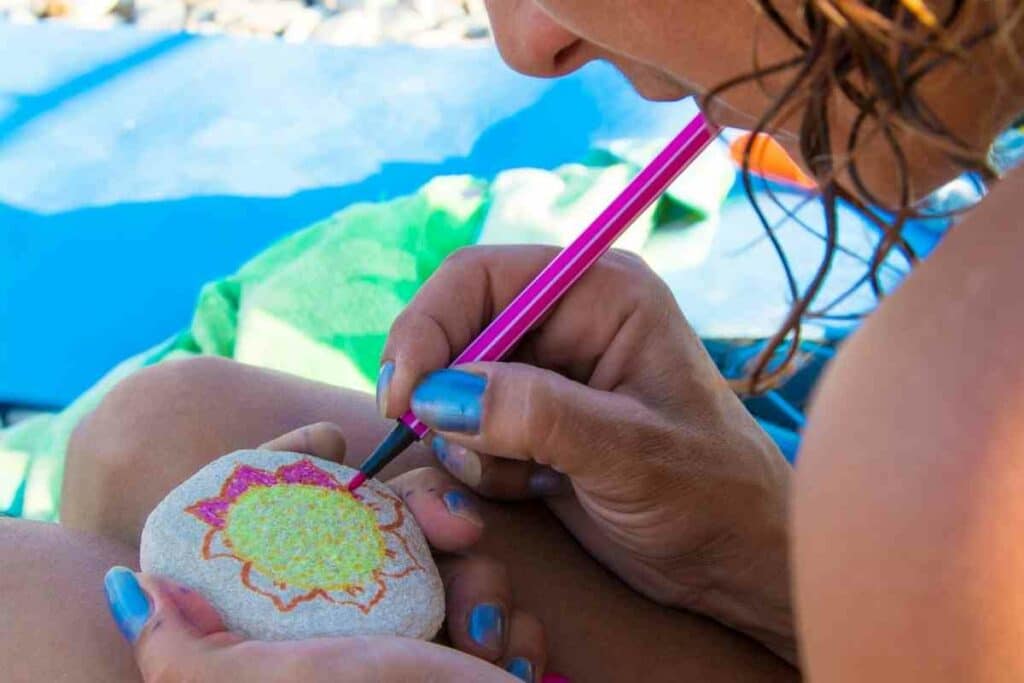 Hand-painted stones make a jazzy addition to any vegetable patch! Add them next to your garden plants and let everyone see your art.
Did you know you can paint stones with any design you want?
You can just start with one part of the stone, then add it to an area surrounded by pebbles. Rock painting is such a small, easy task that will really bring out the space.
Learn how to paint garden rocks in our article "Which Paint Is Best For Garden Rocks?".
18. Cairns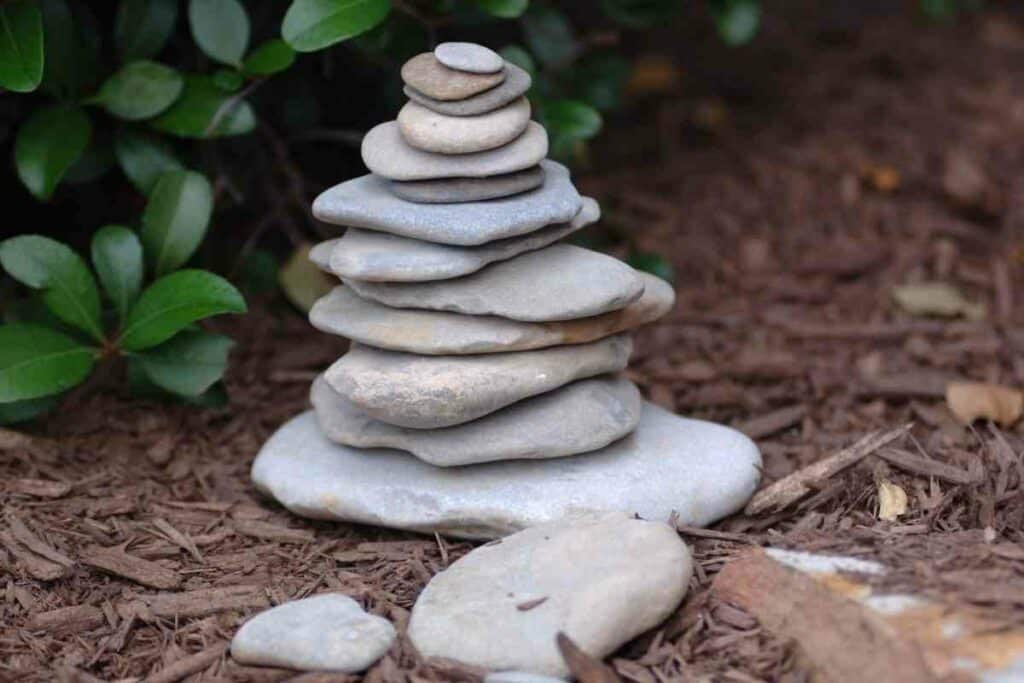 Stacking stones into tall cairns is a simple but striking garden idea that is cheap to complete.
Rounding up
As you can see, there are so many ideas for including rocks, stones, and even pebbles in your landscape.
The versatility of rock means that you can use it in a rock garden of any size.
If you are looking for some rock to get started, read the article "Where Can I Get Free Garden Rocks?" to see how you could get quality garden rock for free.
This may even spark a pretty rock garden idea of your own.
You May Also Like