Bonsai are small trees that, rather than growing in the ground, are kept in small pots, stunting their growth.
They're well known for their Japanese roots so if you want to get in touch with your Asian-inspired green fingered side, then what better way to do it than growing a beautiful bonsai?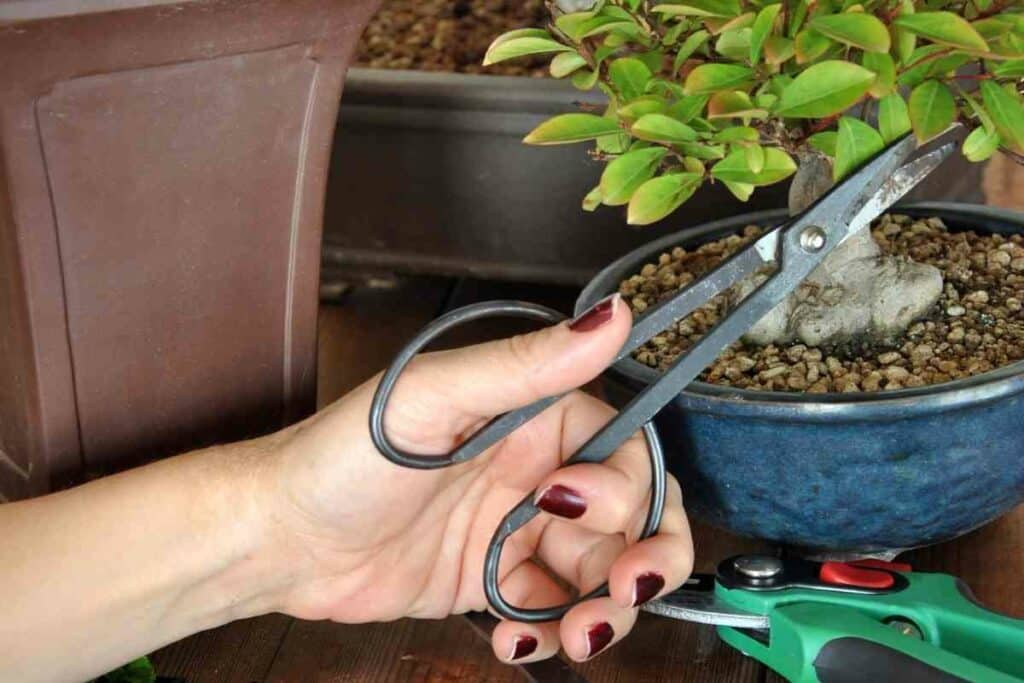 But, before you get started, it's important to keep in mind that there are some essential tools you'll need to care for your tree. 
In This Guide – We'll be introducing you to some of the tools you'll be working with and how you can expect to use them.
A Brief Introduction to Japanese Bonsai Tools
Many people ask themselves whether they really need special tools for taking care of their bonsai.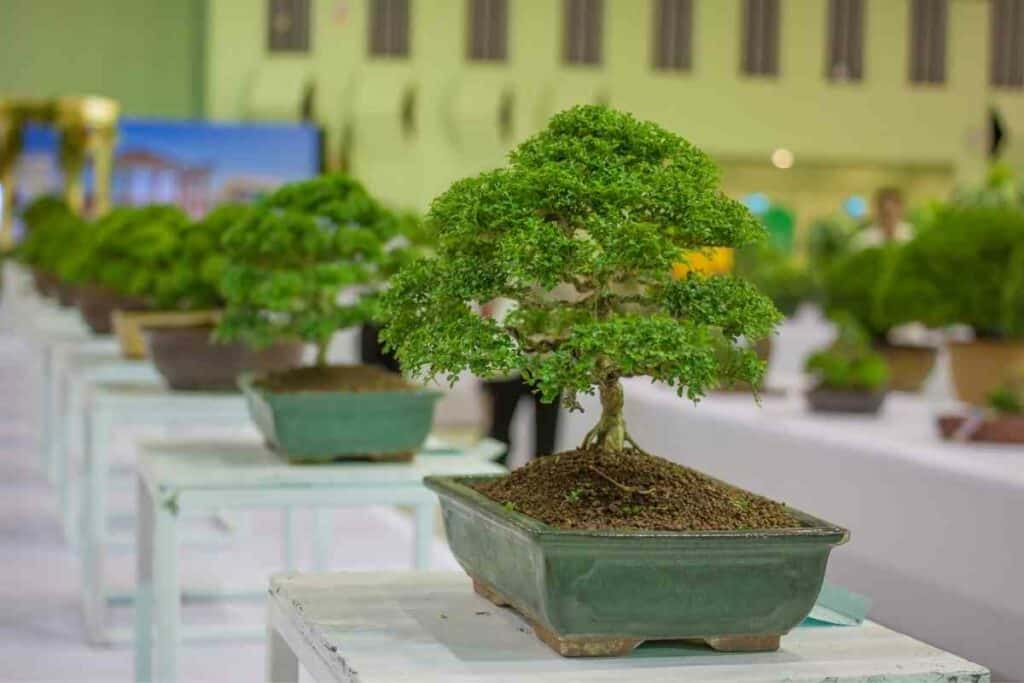 OK, you probably could get away without using them but if you want to do it properly and help your tree to thrive then you'll need to make sure you have the right tools. 
Generally Speaking – Bonsai tools are made from either stainless steel or carbon steel. Which is better? Well, there are pros and cons to each. 
Carbon steel, for example, is incredibly affordable but it is far more susceptible to corrosion so you'll have to replace your tools more often.
Stainless steel is much more durable but this is reflected in the price tag. 
Type of Japanese Bonsai Tools You Have to Have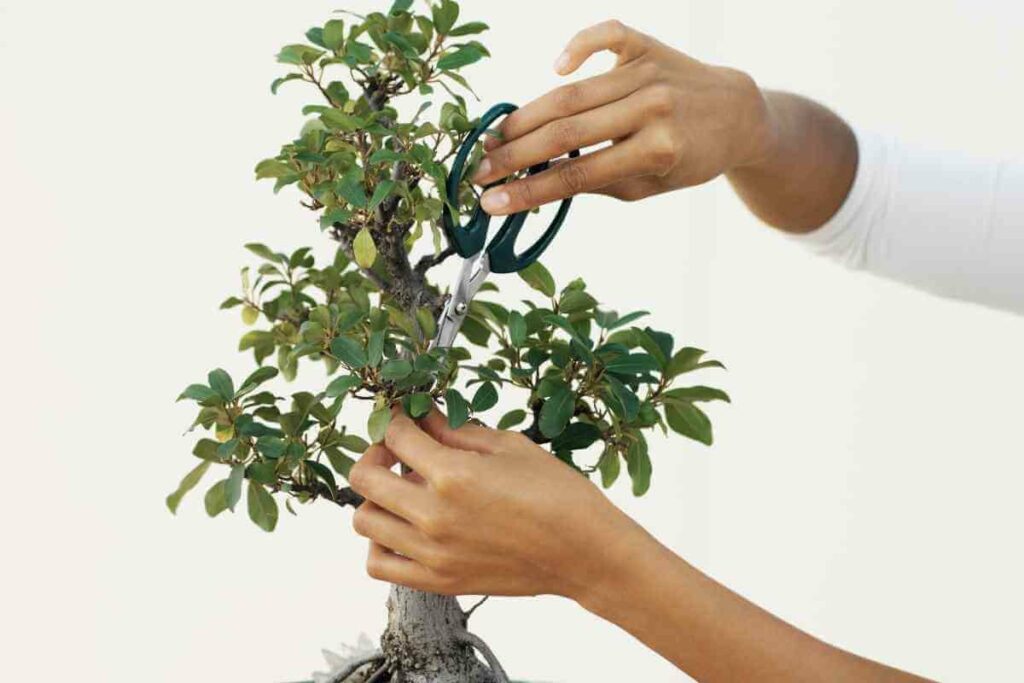 We'll now introduce you to some of the tools that will make caring for your bonsai as easy as manageable as possible. 
Bonsai Shears
While it is a matter of personal choice, a lot of people find that slim bonsai shears are easier to use when starting out.
The other type are the butterfly shears and this relates to the style of the handles. 
Butterfly bonsai shears, sometimes called bonsai scissors, have much bigger handles that look like a loop.
They're often used when pruning the tree's canopy and tend to handle much more comfortably.
However, when trying to prune the inner part of the tree, the large handles can get in the way so slim shears are preferable.
Bonsai Root Cutters
Some people use their butterfly shears for cutting the roots of their bonsai but it is also possible to get a special tool for this.
What's great about them is that they're much more robust and so will do an excellent job at cutting through harder, soil covered roots. 
Hand Pruners
Whether you call them hand pruners or pruning shears, they're all one of the same thing and are an essential tool when it comes to caring for a bonsai.
Many would argue that the hand shears are the most important tool and the first you should purchase. 
Your hand pruners are perfect when trying to tame areas of dense foliage and can also come in handy for getting into hard to reach spots.
---
When Necessary: They'll also double up as root cutters. If you're only going to start out with one tool, these are versatile enough to get you through the early days. 
---
Bonsai Saws
Taking care of a bonsai is vastly different to taking care of any other type of tree, particularly full sized trees.
So, it comes as no surprise that there are tools made specially for bonsai and one of these includes the bonsai saw. 
These saws have fine teeth and a thin blade that is designed for precision. When you need to make a more delicate cut, this is the tool you would reach for.
What's great about these compared to some of the other cutting tools you might use is that they allow you far greater control.
Wire
You will need wires to tame and shape your bonsai tree but since there are different kinds, you will need to think about which you'll use.
The most important thing is the thickness of the wire which must be no more than a third of the branch thickness you intend to shape. 
There are two main types of material for these bonsai wires:
aluminum
copper
The aluminum wires are very flexible and easy to use so are perfect for beginners.
However, copper wires are excellent when trying to shape trees with thicker branches as they're much stronger. 
As well as choosing wires, you will also need to choose an appropriate set of wire cutters.
---
Keep In Mind: If you're using copper wire, then you might need something a little more heavy duty whereas a standard pair of wire cutters will work well for aluminum. 
---
Concave Cutters
There are several different types of cutters that you will need for your bonsai trees and the concave cutter is one of the most important.
This is largely because there is no other tool that you could use in its place. Unlike things like scissors and shears, only a concave cutter will do its job. 
These tools are used to remove branches from the tree trunk as cleanly as possible.
This benefits the tree in that there will hardly be any scarring so you won't end up with unsightly bumps along the trunk. 
Concave cutters are incredibly sharp so should always be used with care. They may also be used for bark removal. 
Other Branch Cutters
While not essential, there are other types of branch cutters that you may find useful when caring for your bonsai trees.
Unlike the concave cutter which has a curved blade, the flat branch cutter features a flat edge and yet still provides a very clean cut.
However, they're more commonly used for branches that sit closer to the trunk.
If you want the best of both worlds, it is also possible to purchase a hybrid cutter which works as both a flat and concave cutter.
---
From Experience: The only real downside to these tools is that they take a little longer to get to grips with so they might not be ideal for beginners. 
---
Knob Cutters
One of the first things you will notice about the knob cutter is its unusual shape.
The blades are shaped like a circle and come together at a point.
This gives them a much more aggressive cut ideal for hard wood or when you need to take off a lot of wood at once.
However, don't be put off because you think these tools may be too harsh on your tree; they're actually incredibly precise and provide a neat cut. 
Root Rakes/Claws
You might hear these tools being called root rakes or root claws but they're the same thing.
They are used for combing the roots of your tree and separating any large pieces of soil. They can come in very handy when repotting your bonsai tree. 
---
Be Careful: Root rakes are also perfect when it comes to aerating the soil but you should be very careful when using them as if you're too rough, it can do more harm than good to the roots. 
---
Conclusion
There is something incredibly rewarding about taking care of a bonsai tree but whether you are just starting out or have a vast bonsai experience under your belt, you're going to need the right tools.
This list gives you a great place to start to put together a bonsai tool kit that'll meet your every need.
In Case You Missed It