When you spend on an expensive garden appliance like a robotic lawnmower, you expect to put your feet up and let your new little helper perfect your lawn all year round.
A robot mower that leaves you reaching for your strimmer after spending $600 or more could easily be perceived as an epic fail.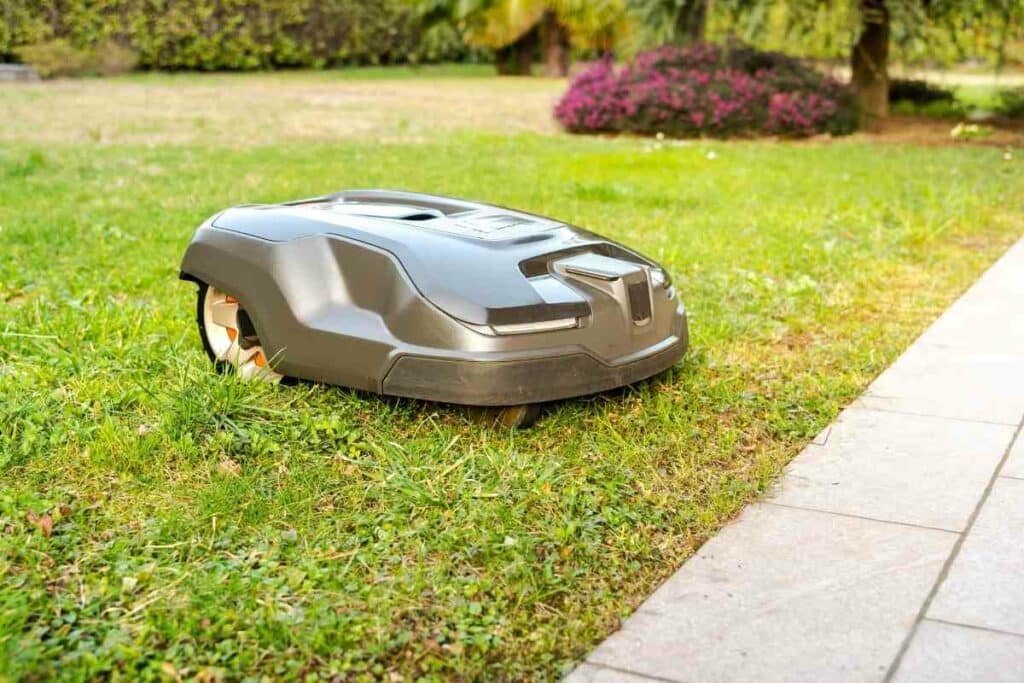 If you are looking for a completely hands-free mowing, a robotic mower with edge-mowing and other detailing features will keep your lawn neat, hassle-free.
In This Article – We will take a closer look at robotic lawnmowers that trim closest to the edge, along with tips to help you enjoy a perfectly cut lawn every time. 
Robotic Lawnmowers save You Time but Don't Always Get Everything Right
Though you'll save a lot of time by having a robotic mower maintain your lawn through the growing season, you may still find yourself touching up edges and other areas that the mower has struggled with.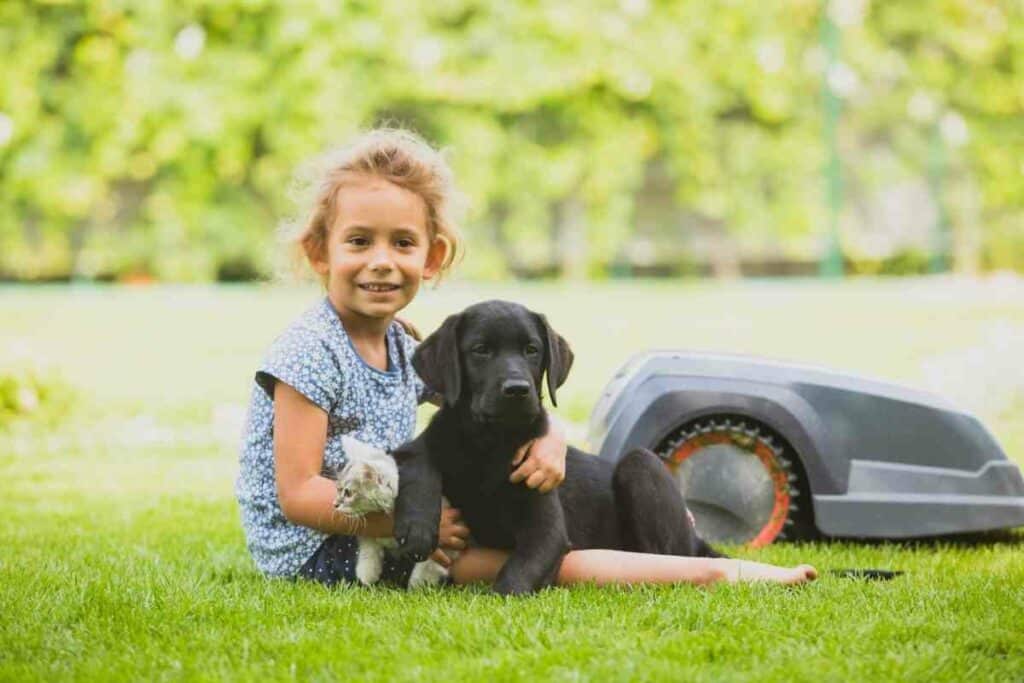 Grass growth at the edge of your lawn tends to be straggly and let down the appearance of the cut lawn.
Narrow passages and corners can have the same problem and have you reaching for the string trimmer or shears. 
Why Can't Robotic Mowers Cut Edges Well?
Edges often remain with robotic mowers because of how these mowers are designed.
The positioning and operation of the cutting blades at the base of the mower.
For Safety Reasons – These razor-sharp blades are under the device and usually do not reach the outer edge of the mower chassis. The blades also stop their high-speed rotation if they are exposed, making edge cutting difficult.
The closeness of the cut to the edge of the lawn is determined by the size of the gap between blades and the mower's housing and can be as much as 20 centimeters wide (depending on the size of the mower), translating into a similarly sized untidy fringe on your lawn. 
The gap is most obvious when the mower runs along a wall, leaving a straight strip of uncut grass in its wake.
Some Robotic Mowers Have an Edge Cutting Function
The following robotic lawnmowers have an edge cutting function.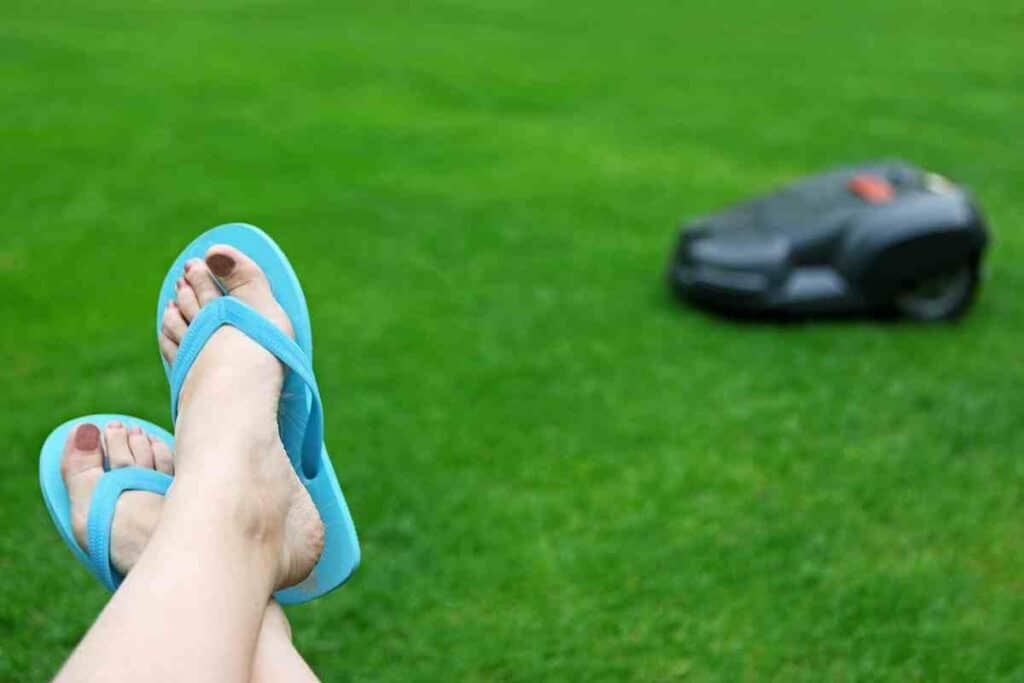 These automatic lawnmowers cut down on the width of the uncut edge strip, typically reducing it to less than 6 centimeters. Though a strip remains, it is less obvious and quick to tidy up.
In edge-cutting robotic lawnmowers, the blades are arranged differently from the standard design.
They are mounted laterally and can even project beyond the wheelbase on one side.
Manufacturers program these mowers to plan their mowing so that the side of the mower that has the more exposed blades cuts the edges.
They often run a specific mowing cycle on alternate days that cut the perimeter of the lawn, keeping the edges down.
Here Are Two Examples of Robotic Mowers with Edge-cutting Function
These mowers, one for small and one for larger gardens, specifically offer edge-trimming as a feature and you can program them to mow your edges regularly.
WORX WR165 Landroid S Robotic Lawn Mower
Technical Specifications
Cutting width/height: 8 in/ 1.5 in to 3 in (20.32 cm/ 3.8 cm to 7.6 cm) 
Maximum lawn area mowed: 5445 square feet (506 square meters)
Maximum gradient: 20 degrees
Battery: Lithium-ion
Working time: 3.5 hours
Weight: 49.9 pounds (9.07 kilograms)
Warranty: 3-year limited warranty
Description
The WORX Landroid is a reputable robotic lawnmower that is an ideal match for medium-sized or large gardens with varied terrain. 
This rugged bot is great for mowing edges as WORX has designed it with offset cutting blades that deliver maximum edge cutting.
For your safety, a guard protects the blades. The blades also automatically adjust their cutting height for uneven or sloped terrain, so you get an even cut.
Run the edge-cutting program for a close shave of unruly grass at your lawn edges. It also features an Artificial Intelligence (AI) algorithm to mow narrow passages. 
Other useful features to look out for in the Landroid S Robotic Lawn Mower:
A brushless motor makes this mower powerful and efficient: A high-efficiency brushless mower extends the mowing time and increases the power of the robot's motor.
Integrated GPS means that you can track your valuable mower: GPS is an excellent security feature as you can receive notifications of your robotic mower's position via the "Find my Landroid GPS function".
Connect to the Landroid robotic mower using Bluetooth or Wi-Fi: You can program and control this robotic mower remotely using your smartphone, the WORX proprietary app, and a Bluetooth or Wi-Fi connection. Stay within a 100-meter distance of the robot to program it. 
Robomow RX20 Automatic Mower
Technical Specifications
Cutting width/height: 7 in (17.8 cm) adjustable cutting height 
Maximum lawn area mowed: 180 square feet (16.7 square meters)
Maximum gradient: 8.5 degrees
Battery: Lithium-ion
Weight: 27.9 pounds (13.5 kilograms)
Warranty: 1-year warranty
Description
This smart little green bot is a great lawnmowing solution for small gardens with lots of compact spaces. It is incredibly nimble and able to tackle crevices and corners.
To make sure your edges stay trimmed, you can use the "edge mode" setting that features a unique "cut beyond the wheel" design to perfect the finish of your lawn.
Outstanding features to look for in the Robomow RX20 Automatic Mower:
Voice command control: You can connect your Alexa or other personal assistants to the Robomow app to program the mower by voice command.
Quiet operation: This robotic mower is extremely quiet, meaning you can run your mowing schedule by day or night disturbing no one. 
Here Are Some Other Things That You Can Do to Achieve a Better Lawn Edge with Your Robot Mower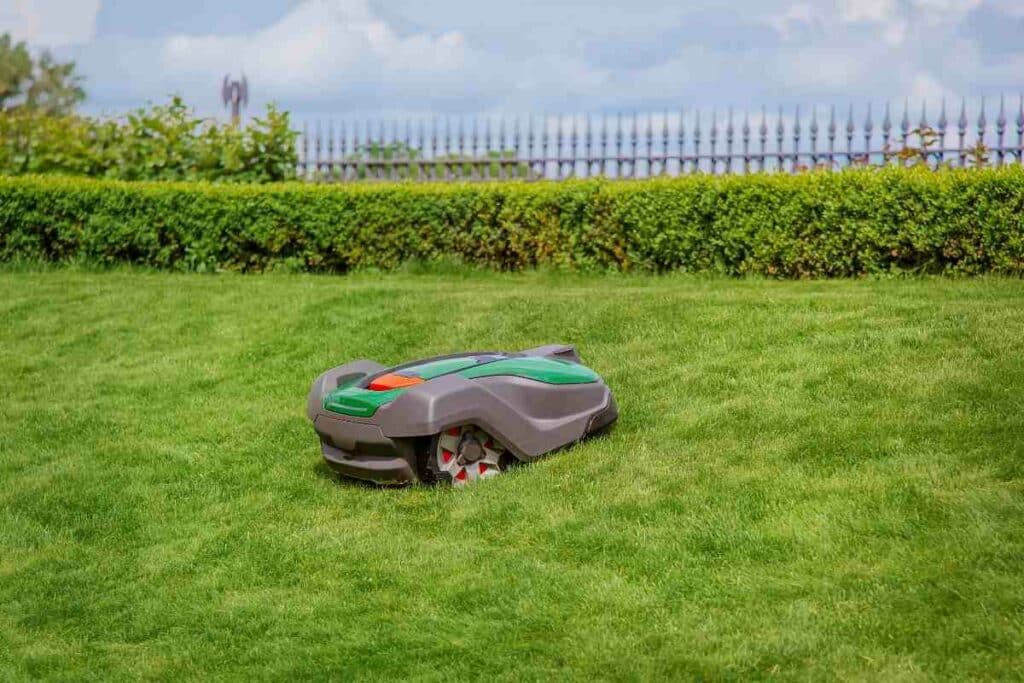 There are ways in which you can eke out a better finish for your lawn edges with a robotic mower.
Some are more effort than others but may be worth it for a great-looking lawn.
Meticulous Installation of Your Boundary Wire Can Earn You Pristine Edges
The boundary wire also influences the size of your untidy lawn edge.
The greater the distance between the perimeter wire and the edge, the larger the uncut edge.
Lay your perimeter wire following the instructions of your robot mowers manufacturers. Some companies provide a ruler to make the necessary measurements.
The manufacturer may also specify the positioning of the wire and pegs by walls or fences.
---
Remember This: You should peg the wire into place on the grass border rather than on the lawn so the mower can cut the maximum amount of grass. It is important to be as accurate as possible, especially when using a robot mower with an edge-cutting function. 
---
Maintain a Clean Lawn Edge by Edging Your Lawn with a Row of Stones
Some strategic landscaping can help you achieve a neat lawn edge with any robotic lawnmower.
Barriers are an effective way of controlling your mower and with this tried and trusted stone technique you can form natural boundaries and barriers that help your mower tame the edges of your lawn.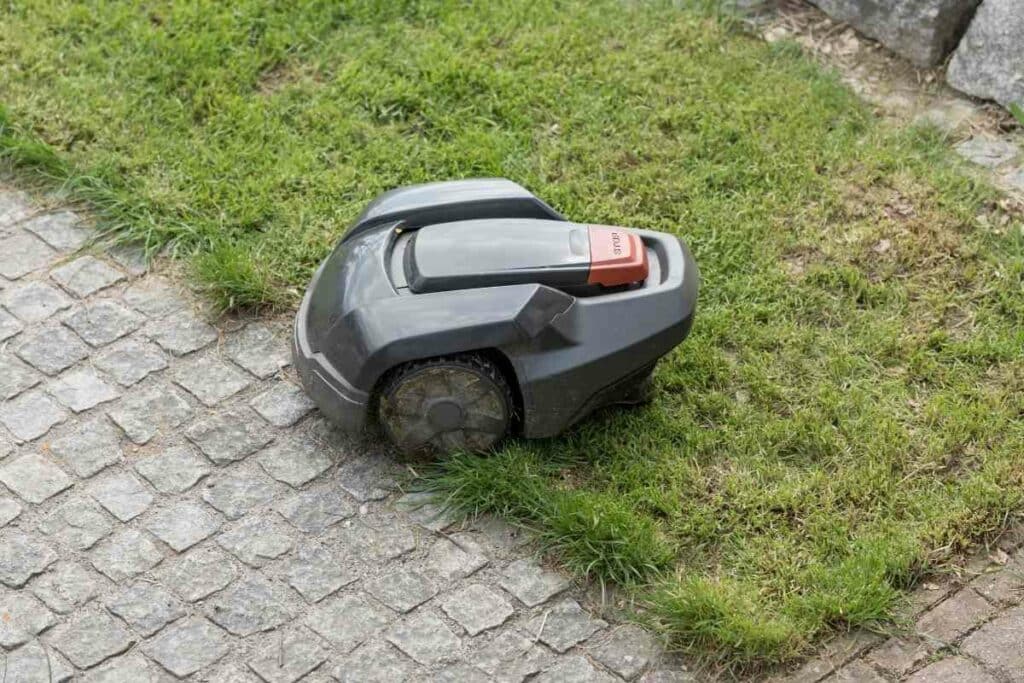 The trick is to place a border of stones or paving blocks around the edge of your lawn and flowerbeds.
Set the stones flush with the ground so that the mower can pass over them.
Works Best – Install your boundary wire at the outer edge of your stone border and the mower will run onto the stones as it cuts, reaching and trimming your lawn edge.
You can also achieve the same effect with wood, metal, plastic, or even bare soil that is kept weed and grass free (perhaps with a mulch covering).
Make Sure That Your Mower Can Cut Grass Well
If you are going to ignore the edge issue, you should at least ensure that your mower cuts most of your lawn effectively.
Look for a robotic mower that delivers an excellent cutting pattern and has high-quality sharp blades that will cut grass cleanly.
Blunted blades damage the grass leaving unsightly ragged brown and yellowing ends.
Good traction on the mower's wheels also ensured that you get a good cut on gradients and uneven terrain. 
…and Yes You Can Always Tidy up with the Strimmer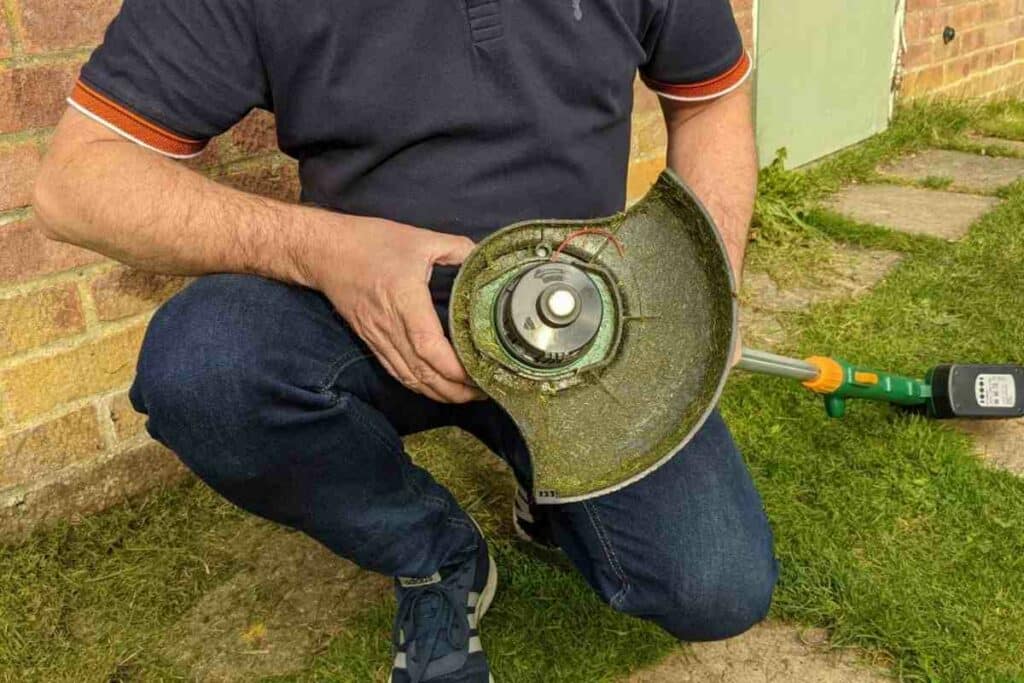 Finishing your lawn with the strimmer that you thought you wouldn't need is a bit of deflating task, but if you are a stickler for a perfect lawn, this is one of the best ways to get everything just right.
Rounding Up
Whether or not the edges of your lawn are smart, the time savings you will enjoy with a robotic lawnmower are hard to ignore.
If edge-trimming is a must for your garden, choose a robotic mower that trims close to the edge.
You also have some practical steps you can take to ensure that your mower gets right over the edge of your lawn for a great cut every time. 
You Might Also Read