If you have a property with lawns, you will know that mowing the yard can be quite stressful, especially during the summer months when grass growth is fastest and there are a million other things you'd prefer to do on a sunny afternoon.
Fortunately, we are in the age of the smart home with a wide range of technology and devices that can relieve the burden of everyday chores including mowing your lawn. 
The robotic lawnmower is a breakthrough invention that is currently on an upward trend. These clever robots will do all the labor of mowing whilst you relax and pour another iced beverage.
These clever automatic mowers are able to be programmed and monitored via smartphone apps for the ultimate convenience.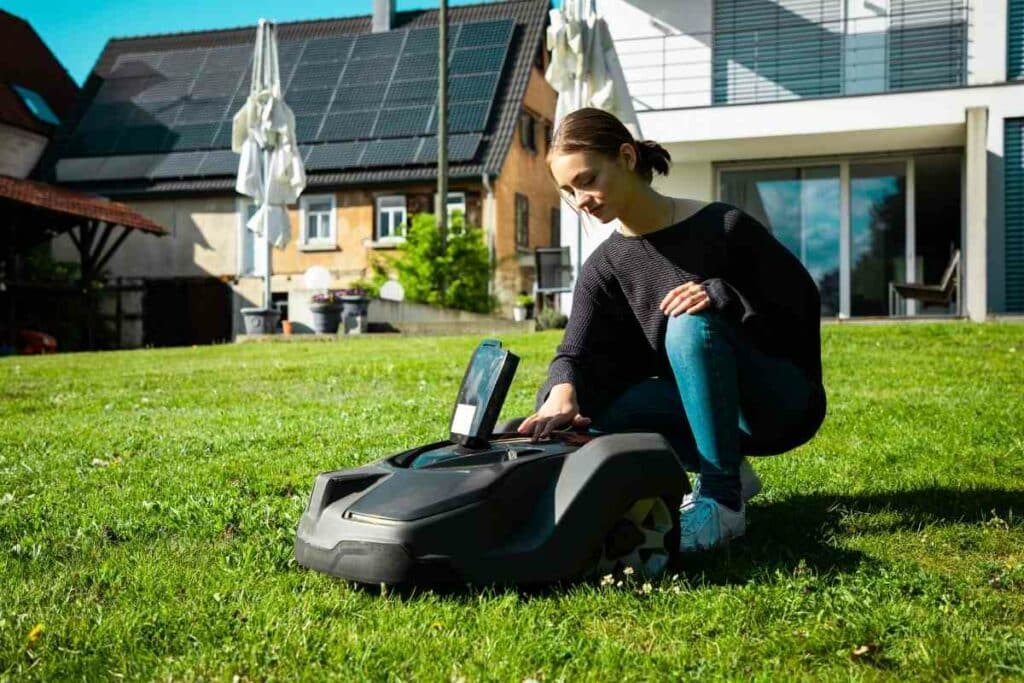 But like most technology, this excellent solution to the most arduous of garden chores comes at a price, prompting the question 'are robotic mowers worth it?'. 
In this article, we explore the benefits of owning a robotic lawnmower and include helpful insights and advice to assist you in making a purchasing decision. 
There are all sorts of reasons why a robotic mower is 'worth it'
To gain appreciable value from buying a robotic mower, it should be making a tangible difference to your lifestyle. A new automatic mower is going to be a great match for you if:
you are taking care of large gardens or ground
have mobility issues and could do with the assistance of robot for yard work
mowing the lawn is a chore you loathe, why not have a machine that does it for you?
you are tech-savvy and want to add new devices to your smart home
a low maintenance garden managed by a bot would suit your lifestyle
However if you actually enjoy mowing your lawn, have a competent mower that you are happy to use, or have a garden with challenging terrain, you might not get the maximum value out of a robotic mower. 
Robotic mowers are a really useful invention
When you think about it, robot mowers are an invention that makes perfect sense.
They are very similar to robotic vacuum cleaners with the only difference being that these smart mowers have blades to cut your grass rather than sucking up your dust and dirt. 
These robots roam your garden as they cut your grass. You have full control over the areas they mow and can program them to mow whenever you want, day or night. 
Though they are the future of garden care, robotic mowers have a long history
Did you know that robotic mowers were one of the first types of robot to be developed and marketed for completing domestic tasks. In 1969, the MowBot, the worlds first robotic mower was conceptualised:
Advancement in the automation technology and cutting engineering led to increased adoption by householders and by the early 21st century, robotic mowers are the 2nd largest category of domestic robots. 
So, what are the benefits of a robotic lawn mower? 
Robotic mowers are becoming popular because they have a whole host of benefits for a busy household. They are one of the most practical smart home devices around. Here is a list of some of the key benefits:
Robotic mowers are energy efficient
They may initially be expensive but robotic mowers can be run cheaply. They are battery operated, with electric motors that are designed to be efficient. 
Robotic mowers save you time
The time savings are a big attraction of these robots, that simply work around the clock to keep your grass at its best. You can use the regained time to enjoy your garden rather than maintain it. 
Robots are probably the safest mowers you can own
Robotic mowers are safer for your children and pets than manual mowers, scythes and shears. They have cutting edge safety features and technology including sensors that shut the mower down if it is touched, tilted or lifted up.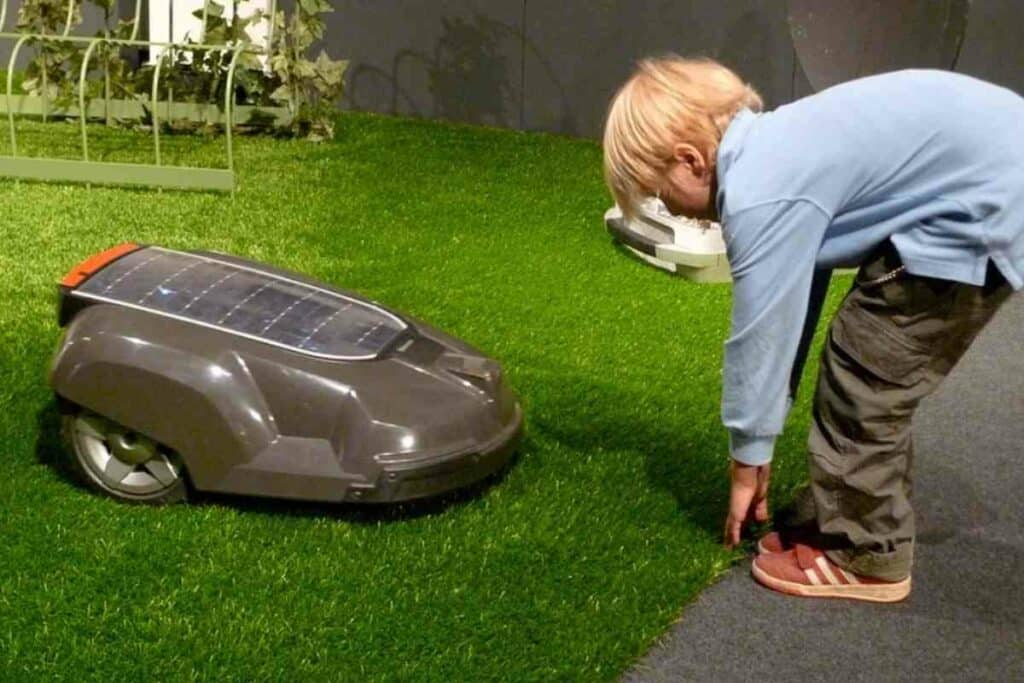 Multiple security features protect robotic mowers from theft
Thieves are already well aware of the fact that these autonomous mowers are GPS-enabled and can be easily tracked. 
In addition most robotic mowers have a PIN code lock on their control panel and may be alarmed. 
Save storage space 
Large machines won't be clogging your shed, and you needn't trip over miles of cable. These robotic mowers can live and work outside all year round, returning to an outdoor charging station to keep their batteries topped up.
If you need to bring them in over the winter, the robots are smaller in size than a standard lawn mower. 
Zero grass cuttings 
Robotic mowers use their sharp blades to cut grass into a fine mulch that does not need to be picked up.
These grass clippings will inevitably fertilize the ground around your lawn and improve the health of vegetation. 
Robotic mowers can handle a variety of terrain
Most modern robotic mowers are capable of mowing grass at a gradient of up to 40%. They have rugged wheels to grip the ground and a mowing deck that adjusts the blade level.
Read our guide to robotic mowers for steep gardens here
Robotic mowers do have their drawbacks too…
These mowers are a great solution for easy garden care, but they are not perfect. Here are some of the downsides of taking on a robotic mower:
It's going to cost you 
A decent quality mower will cost at the very least $500. This advanced technology and engineering have a large price tag that only increases in size with the features and specifications that make them super convenient.
You may still find yourself reaching for the strimmer
The design of robotic mowers creates difficulty in cutting the edge of your lawn. Though they are effective at mowing open areas, they may struggle with narrow spaces, corners, and dense foliage.
Robotic mowers are not fast
These mowers have a random, algorithmically calculated mowing pattern that takes a while to cover your entire lawn. Don't expect a quick job, as these mowers continually operate in your garden keeping the grass at a programmed height. 
Batteries have a finite lifespan
The downside of modern technology, in general, is the battery life. Robotic mowers are no exception.
This can be a cause of concern particularly if you have a very large yard as the repeated cycles of it recharging itself and setting it off again adds more time to mow the lawn.
Also, note the battery lifespan of the mower you choose. Like most smart devices, after about a year or two, it may need to be replaced.
Rounding up
If you have a lot of grass to mow, these smart devices can be fantastic. They free you up to concentrate on other things rather than pushing a mower around, plus they are safe and low maintenance.
Why not read some of our other topical articles on robotic mowers to learn more about what they can do for your garden and the great models that are available?