If you are looking for a pristine lawn to go with your white picket fence, you will understand the hard work involved.
Keeping your lawn growth level through the fast-growth period of spring and summer is time-consuming and tiring, leaving little time to simply enjoy backyard living, grill, or entertain.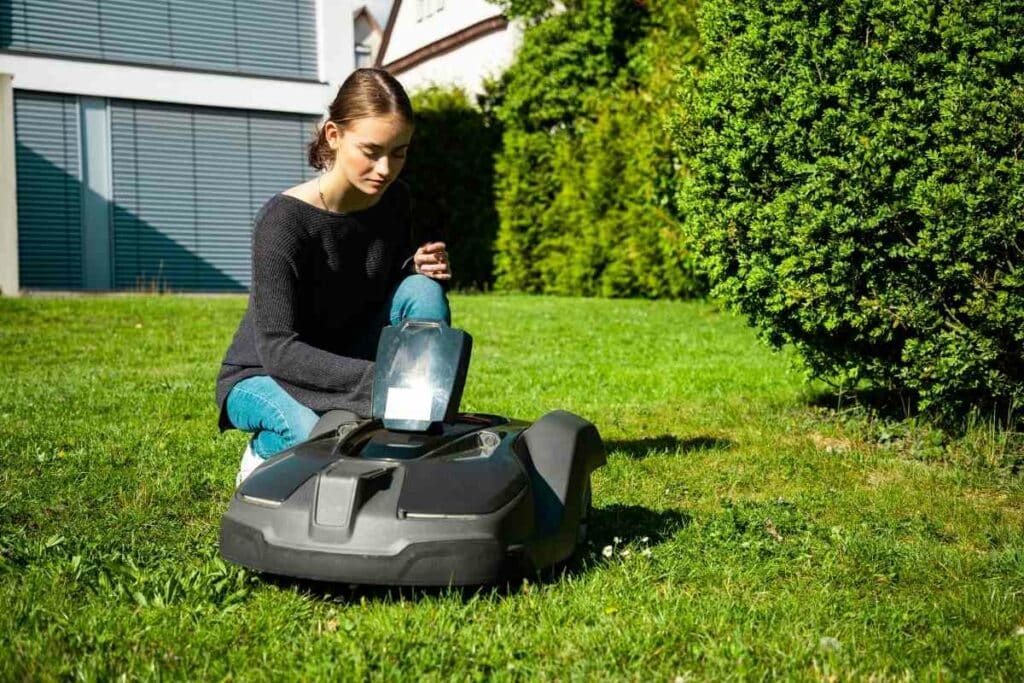 Thankfully technology has come to the rescue to relieve you (or the kids) of mowing duties, in the form of your own household robotic lawnmower.
If you have not heard of robotic mowers, these clever bots will automatically mow and fertilize your lawn. 
---
Sounds Good? If you are looking for a mower for your lawn, we have rounded up seven decent robotic lawnmowers which include mowers for gardens of every size. Read on for a breakdown of the best automatic mowers on the market and some helpful tips for choosing and using the right one.
---
5 Quick Points for Selecting the Best Robotic Lawn Mower for Keeping Your Yard Pristine!
If you are new to buying a robotic lawnmower or upgrading or replacing an existing mower, you will find that there are a lot of options.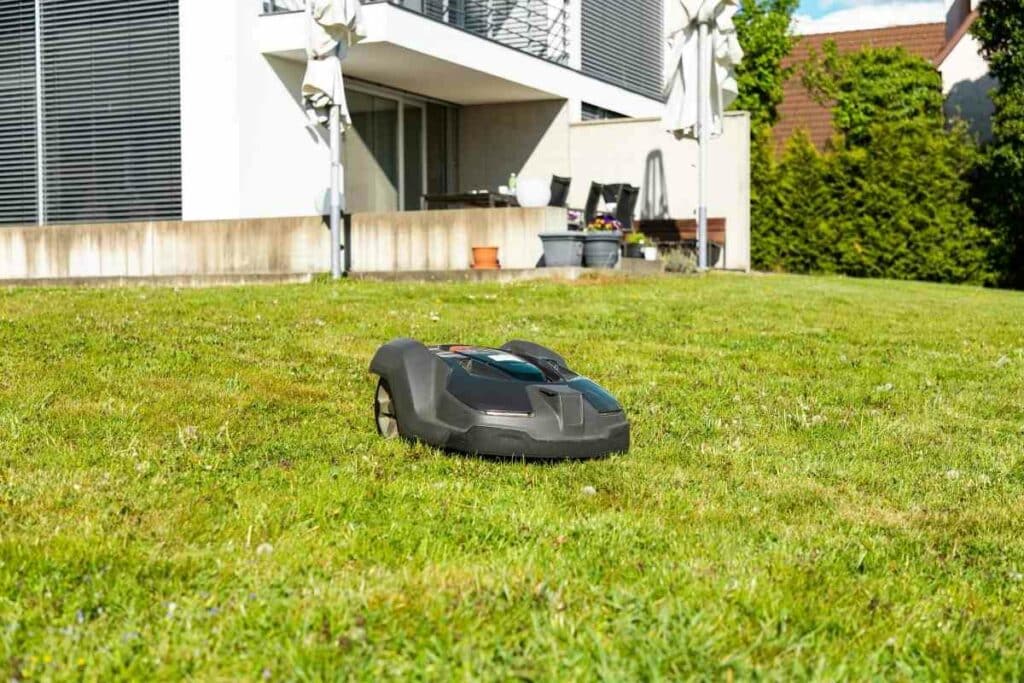 Knowing the key areas to focus on when making your purchase will help you choose the mower that is the best fit for your yard.
Here are some things to look out for when buying a robot mower.
1. The Maximum Lawn Area the Robot Can Mow
Always check the maximum lawn size in the technical specifications of the mower.
Select a mower that is suitable for a small, medium-sized, or large garden by its mowed area in square meters or square feet. 
2. The Robots Ability to Handle Slopes 
Slopes can pose a challenge for many robotic mowers, so be sure to check the maximum gradient of the mower if you have a hilly or uneven yard. 
3. A Mowers Ability to Dodge Obstacles
Robot mowers vary in their awareness of, and ability to navigate obstacles.
Look for mowers with sensors and onboard firmware that alert the mower to objects in its path. 
4. Ensure You Have Everything Needed to Get the Mower Up and Running Immediately
For a fast setup, your robot mower should come with the essential accessories that the robot mower needs to function properly.
These include: 
Boundary wire: a decent manufacturer will supply you with the special boundary wire that you must use to out the boundary of your lawn. The wire sends a signal to the robot that keeps it within your designated mowing area. 
Pegs: are used to secure the boundary wire in the correct position.
Charging station: the charging station is vital for keeping the battery of your mower topped up at all times. It also functions as a base that the mower uses to orient itself. 
5. Connectivity and Smart Mowers
If you are used to using other smart home appliances like doorbells and personal assistants like Alexa, you'll be pleased to know that many robotic mowers can be controlled via a smartphone app or voice command using a 4G, Bluetooth, or WiFi connection.
The 7 Best Robotic Lawn Mowers for American Home and Property Owners
These 7 amazing robot mowers are great value for the gardener that needs to do more than mow the lawn!
Here are our top picks.
1. Robomow RX20 Automatic Mower
Technical Specifications
Cutting width/height: 7 in (17.8 cm) adjustable cutting height 
Maximum lawn area mowed: 180 square feet (16.7 square meters)
Maximum gradient: 8.5 degrees
Battery: Lithium-ion
Weight: 27.9 pounds (13.5 kilograms)
Warranty: 1-year warranty
Description
This compact and cheerfully coloured robot mower will be a cite addition to any small garden.
With its large cutting diameter for its size, the Robomow will get your lawn covered quickly, even on slopes up to 8.8 degrees.
This cost-effective mower is packed with features that make it as convenient as possible.
Robomow also cares for your lawn, with an adjustable cutting height, mulching acting, and rain guard that prompts the mower to return to base if it starts to rain.
Smaller mowers like this are great for tacking edges, corners, and narrow passages.
Outstanding Features to Look for in the Robomow RX20 Automatic Mower
Cuts beyond the wheel: The Robomow to keep the edges of your lawn tidy and detailed. Many larger mowers will struggle with your corners and awkward angular spots. Just use the "edge mode" setting that features a unique "cut beyond the wheel" design to perfect the finish of your lawn.
Bluetooth connectivity: This robotic mower is Bluetooth enable meaning you can remotely control it via the My Robomow app or even connect it wirelessly to an Alexa to have voice command mowing.
Great anti-theft and safety features: Small children and animals are safe from injury as the Robomow mower will automatically cut out if someone bumps, tilts, or lifts it up.
Pros
This is a cost-effective automatic lawnmower for a small garden and can provide detailing that larger mowers may struggle with.
Your neighbors don't have to be disturbed by your yard work as the Robomow has ultra-quiet functioning.
Cons
The lawn size specification of this robotic mower is small, but many people run a smaller robot mower over two cycles in order to cover a larger area. You can only program this mower to run one cycle per day. If you want to start a second cycle to get more mowing done, you can start a second cycle manually.
Some purchasers of these mowers have also found the setup and configuration of the mower more protracted than stated by the manufacturer.
2. Husqvarna Automower® 115H 
Technical Specifications
Cutting width/height: 8.7 in/ 2 in to 3.6 in (5 cm/  to 9.1 cm) 
Maximum lawn area mowed: 700 square feet (65 square meters)
Maximum gradient: 30 degrees
Battery: Lithium-ion
Working time: 60 minutes
Weight: 20.7 pounds (9.07 kilograms)
Warranty: 1-year warranty
Descriptions 
Swedish garden tool experts Husqvarna are a go-to form premium engineering and high manufacturing quality.
They are fast establishing themselves as a world leader in robotic mowing with cutting-edge technology that turns your lawn into a luxurious carpet.
The 115H model is perfect for keeping a small showpiece lawn neat and tidy.
This advanced mower can doge objects and delivers the perfect cut, even in poor conditions.
With 4G connectivity, controlling the mower is ultra-convenient, not requiring you to be even near your property to program it. 
Outstanding Features to Look for in the Husqvarna Automower® 115H 
4G connectivity: This is by far the leading feature of this mower and makes programming you mower highly intuitive and convenient. The Automower® Connect@HOME app is Husqvarnas proprietary app that enables you to control the mower via your 4G smartphone. Send start and stop commands or adjust setting remotely. 
Guided passage handling: The guided passage handling feature is great for the narrow areas of your garden. Use the supplied guide wire to assist the mower in clearing even the smallest passages for a thorough job.
Graphic Display function: The 115H has a smart graphic display that can be navigated for manual control of your robot mower.
Alarmed and PIN secured: This robot is protected against theft by the integration of an alarm and PIN number entry for activation. It also has sensors that will alert you and stop the cutting if the mower is tilted or lifted up. 
Pros
Consistent, reliable performance: Husqvarna mowers are a great choice for reliability because they have been building these mowers for such a long time. With over 25 years of robotic mower development, you are buying an automatic power that has been built with considerable expertise.
A great choice for all-weather mowing: as it has been built to withstand the harsh Nordic climate, the Automower can be left outside in all weather conditions and mow without problems.
Cons
The Automower has been known to chew through its boundary wire.
The height range of this mower can be a little high for some garden owners. 
3. WORX WR165 Landroid S Robotic Lawn Mower
Technical Specifications
Cutting width/height: 8 in/ 1.5 in to 3 in (20.32 cm/ 3.8 cm to 7.6 cm) 
Maximum lawn area mowed: 5445 square feet (506 square meters)
Maximum gradient: 20 degrees
Battery: Lithium-ion
Working time: 3.5 hours
Weight: 49.9 pounds (9.07 kilograms)
Warranty: 3-year limited warranty
Description
WORX is a well-known trade and garden power tool company and their Landroid S is a suitably rugged option for tackling medium-sized to large lawns.
This massive robot mower has a high capacity battery and wide cutting diameter to make sure that it gets the job done every time.
Set up is simple once you have installed the boundary wire around your lawn perimeter and can be completed via WiFi using the Landroid smartphone app. 
This mower uses an Artificial Intelligence (AI) algorithm to mow narrow passages and automatically adjust blade height when it encounters uneven terrain. 
Outstanding Features to Look for in the WORX WR165 Landroid S Robotic Lawn Mower
Bluetooth and WiFi connectivity: This mower is a smart Internet of Things device, using WiFi and Bluetooth for convenient app-based connectivity. 
Brushless motor: Brushless motors are an advantageous feature for an automatic mower because they are high-efficiency and prolong battery life, meaning your mower can work harder and fo longer. The WORX robot mowers moto runs 50% longer and is 25% more powerful than robot mowers with brushed motors. 
GPS integrated: GPS is an excellent security feature for these expensive mowers, especially when they are covering expansive terrain. Alongside PIN controls and alarms, this WORX robotic lawnmower can be tracked via the Find my Landroid GPS function if it moves from its designated mowing area.
Pros
Smart anti-collision ensures that obstacles, children, and pets are safe: this robot mower has an in-built anti-collision system that will sense and steer the mower around obstacles between 5 and inches in height in its path. 
Maintaining a WiFi signal is not a hassle with the Radio Link extender: WiFi connectivity is easy with the radio link system that extends the WiFi coverage of the mower so it never goes out of range.
A weatherproof garage means that you can charge the mower and protect it from the elements: though your Landrois is fully waterproof, the supplied shelter is excellent for UV protection, temperature extremes, and heavy rain.
Cons
Some owners of this mower have had issues with the WiFi connectivity and some of these mowers have been known to wander or become fixated on a specific area of lawn.
4. GARDENA SILENO Minimo Robotic Lawnmower
Technical Specifications
Cutting width/height: 6.29 in/ 0.78 – 1.77 in (16 cm/ 2 cm to 5 cm) 
Maximum lawn area mowed: 2700 square feet (250 square meters)
Battery: Lithium-ion
Working time: 65 minutes
Weight: 13.44 pounds (6.1 kilograms)
Warranty: 2-year warranty
Descriptions 
German garden tools manufacturer Gardena produces quality robotic mowers that will keep a small to medium-sized lawn looking its best.
This robot lawnmower is 100% app-controlled – simply open the smartphone app on your phone, enter your lawn size and mowing schedule and relax! 
The Gardena Sileno Minimo mower will cut your lawn according to sensor-based controls that automatically adjust the cutting height as needed.
The CorridorCut feature can handle narrow passages, corners, and edges.
You will enjoy the crisp, carpet-like finish underfoot and the mulching action will nourish your lawn.
Outstanding Features to Look for in the GARDENA SILENO Minimo Robotic Lawnmower
The Gardena robotic mower has an almost silent function: The Gardena mower will operate extremely quietly; in fact, it's easy to forget that it is there.
An integrated frost sensor protects your lawn from damage: The frost detection function is useful as the mower will automatically stop functioning in icy weather and icy ground that could damage both grass and mower. 
You can wash your robot mower down with confidence when it's done: IPX5 waterproofing means that you can rinse the mower to clean it and let it carry on mowing through the rain. 
Pros
Exceptional navigation that can handle your garden's awkward spaces: this robot mower can tackle extremely narrow passages and always plans the most efficient route to get the job done.
A high-efficiency spiral mowing function: The SpotCutting spiral mowing function is perfect for getting the grass cut underneath obstacles like garden furniture or trampolines.
Cons
Reviews for this robot mower are pretty mixed, but problems that purchasers report include the mower struggling with slopes and docking in its base position. 
The mower also requires firmware updates via USB annually.
5. Robomow RS630 Robotic Mower
Technical Specifications
Cutting width: 22 in (55 cm) 
Maximum lawn area mowed: 21,780 square feet (2023 square meters)
Maximum gradient: 20 degrees
Battery: Lithium-ion
Working time: 80 – 100 minutes
Weight: 86.8 pounds (39 kilograms)
Warranty: 1-year warranty
Description
This mega mower is Robomow's robot mower for large, expansive gardens.
Weighing almost 90 pounds, its dimensions and cutting width are the largest we've reviewed, and this juggernaut has a cutting width of almost half a meter.
After the routine peg and wire setup, you can control your mower via a proprietary smartphone app.
The mower ensures that your grounds are covered by mowing in different zones for its 100 minute cutting time and then recharging itself at the base station for between 90 and 110 minutes. 
Outstanding Features to Look for in the Robomow RS630 Robotic Mower
Alexa can control this mower: If you have a smart home assistant, you can link it to this mower so that voice command can control it, a great addition to the smart home ecosystem.
This big boy will run from the rain: Its integrated rain sensor causes the Robomow to automatically return to base when the rain starts and head back out when things dry off.
PIN control: Secure your RS630 with PIN control to prevent theft. It also has sensors for tilt and lift.
Pros
If your using a ride-on mower this robot can be a great alternative: if you have a large garden and are weighing up using a ride-on, you can save time and money by opting for a robot like this. You will save time, noise, and hassle, especially if you have lots of trees.
Cons
This relatively large robot mower can struggle with obstacles and uneven ground.
6. MowRo Redback RM24 Robotic Lawnmower 
Technical Specifications
Cutting width/ length: 9.5 in/ 1 in to 2.5 in (24.13/ 2.5 to 6.3 cm) 
Maximum lawn area mowed: 10890 square feet (1011 square meters)
Maximum gradient: 30 degrees
Battery: Lithium-ion
Working time: 80 – 100 minutes
Weight: 45 pounds (20.4 kilograms)
Warranty: 1-year warranty (6 months on battery)
Description
The Redback RM24 robotic lawnmower by MowRo is a reliable device that can save you time on your lawn maintenance.
You will be glad of its variable cutting height in the summer months when grass grows so much more quickly and even if you have moderate slopes, this rugged automatic mower should be able to handle them.
Its quieter operation means that you can set it up to mow your lawn by day or night without causing a disturbance.
The brushless motor runs off a 28V lithium-ion 3Ah/4Ah battery and will automatically re-dock and recharge when necessary.
Outstanding Features to Look for in the MowRo Redback RM24 Robotic Lawnmower 
Water and dust resistant enclosure: The IPX4 housing of this mower keeps the cutting components and electronics free from water and dust for maximum longevity. 
Cutting algorithm optimized complete coverage: MowRo uses an algorithm to plot its course across your garden that covers the entire lawn. It is rarely straight up and down, but it is thorough. 
On-deck programming: Set your mowing schedule and manually adjust the cutting height using the basic push-button on-deck controls. 
Pros
The manual programming is great if you do not want to use an app: some property owners do not own a smartphone or download apps, so this mower, with its pushbutton manual programming is a great match. 
Cons
Purchasers of this mower have reported that it can get stuck leading to bald patches on their lawn. 
7. Garden Helper Robotic Lawnmower 
Technical Specifications
Cutting width/ length: 7 in/ 1 in to 2 in (18 cm/ 2.5 to 5.5 cm) 
Maximum lawn area mowed: 10890 square feet (1011 square meters)
Maximum gradient: 20 degrees
Battery: Lithium-ion
Weight: 26 pounds (11.79 kilograms)
Warranty: 1-year warranty (6 months on battery)
Description
Though basic, this robotic lawnmower will take on medium-sized to large lawns with its 3 cutting blades and Li-ion powered 3200 rpm brushless motor.
It has a high cutting speed to assist in delivering a perfect cut along with a 20-degree maximum gradient.
The onboard control panel can be used to program the mower so it runs to the schedule of your choosing.
Outstanding Features to Look for in the Garden Helper Robotic Lawnmower 
Automatic protection from overloading: The Garden Helper robot mower can detect when its circuit is overloaded and will automatically cut out when the mower is challenged by rough or stony terrain.
Grass height detection and automatic adjustment in cutting: Grass heigh can be sensed by this mower with automatic adjustment of the cutting deck to maintain the cutting height you desire. 
Collision avoidance: On-board sensors for objects in front of the mower, help it to change direction and navigate past obstacles. It will also cut out if tipped or tilted.
Pros
You can protect this robot mower from theft or misuse by securing its operation with a PIN number. 
Cons
The WiFI / app-based connectivity of this robot lawnmower is unclear, so it may have to be manually operated.
Frequently Asked Questions for the Best Robotic Lawnmowers USA
Will my robot mower cope with the rainy and damp winter months?
Great question! Firstly, robot mowers can get out and about in the rain to tackle short grass.
In the winter a lawn is barely growing so you really don't need to use it between late Autumn and early Spring. The soft damp ground is not ideal, but a robot is going to be lighter than a conventional mower.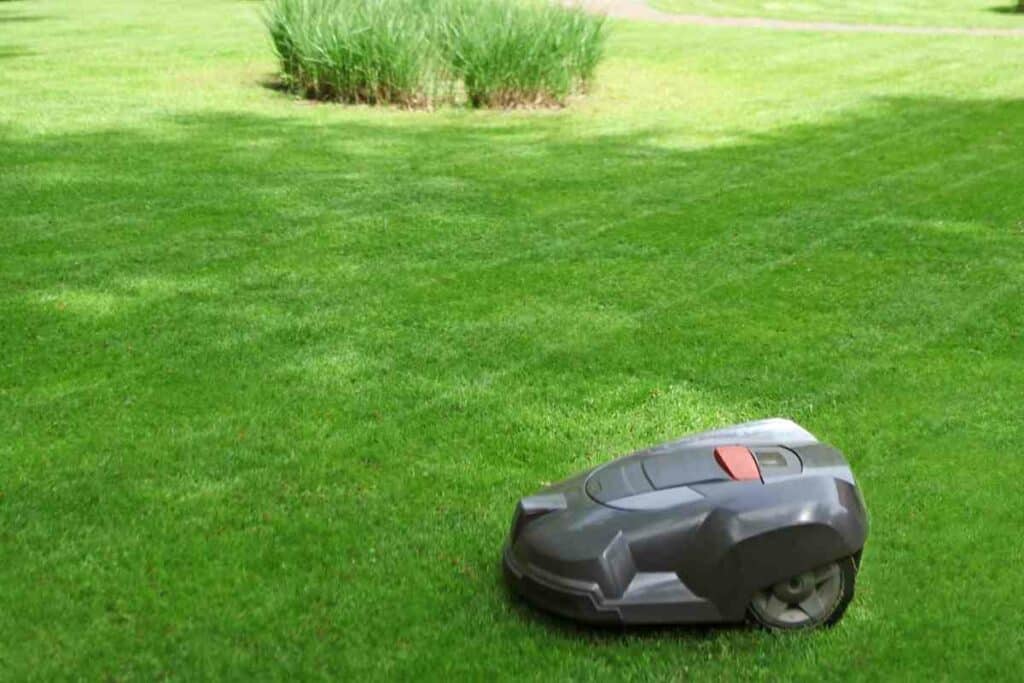 What happens to fallen leaves on my lawn?
Your mower will do a lot for you, but sadly you will still have to tackle your leaves. If the leaves are scattered and grass height, they are likely to be shredded up by your robot.
If you are wondering when to rake your lawn, why not have a read of our helpful article, "When to rake your lawn".
Can a robot mower hurt my pets?
We know that pets and children can be unpredictable especially when outside exploring the garden.
A robot mower is almost certainly going to attract curiosity from animals and ideally, you should train your pet to leave the mower alone.
Thankfully, most mowers have integrated sensors that will stop the blades from rotating if the mower is tipped, tilted, or picked up. Some models also have blade guards. 
Do I charge my robot mower myself before putting it out?
Your mower does not need to be deliberately charged as it will automatically return to its base station to charge when the battery runs low.
The base station is the robot mower's permanent power source. Connect the base station to a mains socket indoors.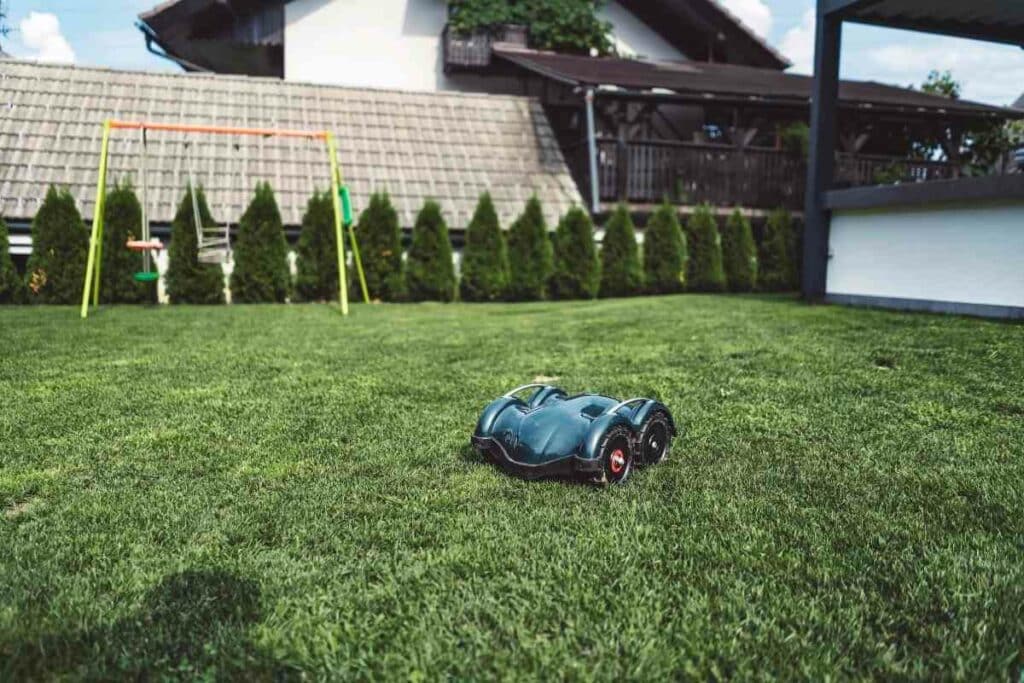 My garden has a lot of slopes. Is a robotic lawnmower worth it?
Definitely! Many robot mowers are able to competently mow steep slopes of up to 45%.
Smooth and level terrain is ideal, but robots will be able to cope with slopes, especially if they are in the center of the garden rather than the edge.
Can a robot mower damage the trees in my garden?
If you have young trees, fruit trees, or exposed roots, the activities of a mower are going to be a logical concern.
Most mowers will bump into trees and change direction, meaning the blades never contact the trunk.
However, if you want to be certain that your bot will not damage your trees, you can surround them with a boundary wire, so it does not approach the tree at all. 
Rounding Up 
With so many options for managing a lawn of any size, it's no surprise that robot mowers are a must-have for the spring and summer months in an increasing number of households across the US.
After all, it is the height of luxury to be able to pour yourself a Coös, put the La-Z-Boy on full tilt, and R-E-L-A-X while your robot mower takes care of things.
So it's definitely time to take a closer look at what these seven robot mowers can do for you and upgrade your lawn care from beta to the 2.0 version!
You Might Also Read