A beautifully maintained lawn is one of the summer's luxuries, but no one wants to be outside sweating and pushing a mower around the garden.
Even the novelty of a ride-on mower evaporates quickly when you have to keep up with a fast-growing springtime or summer lawn…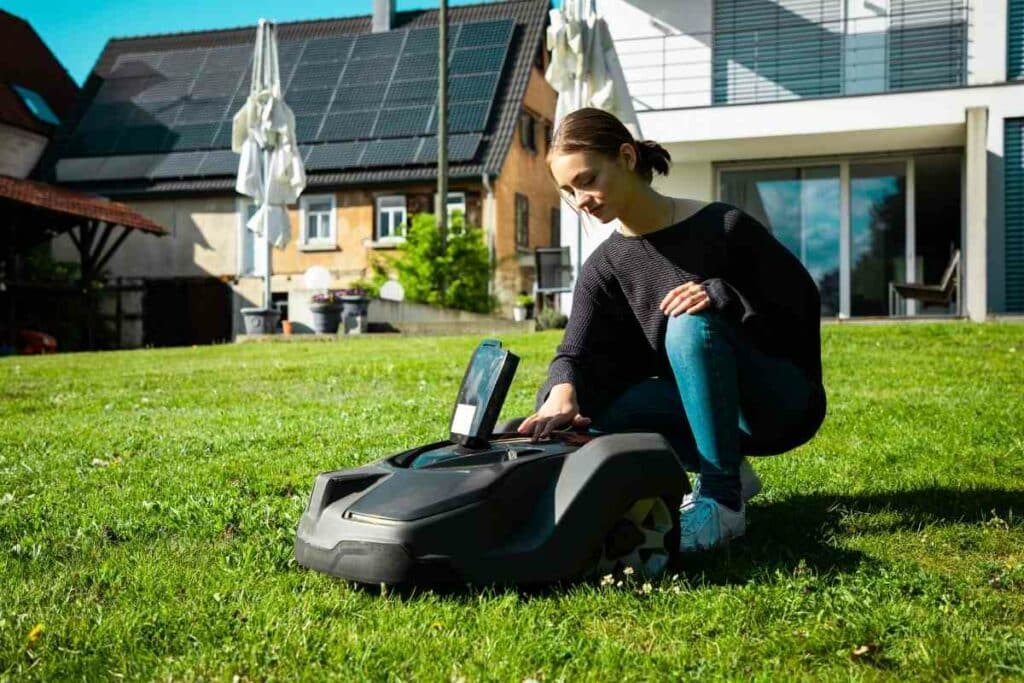 Technology comes to the rescue with a remarkable variety of robot mowers that can get your garden looking as good as the Butchart Gardens in BC.
If it's about time someone else got around to cutting the grass, you need one of these seven robotic lawnmowers that feature the most advanced engineering and tech on the market. 
Read on for an insightful review of seven of the best robotic mowers Canadians can own right now.
We're sure you'll find your little helper among these smart mowing bots that include options for every lawn size.
Enjoy!
6 Quick Points for Selecting the Best Robotic Lawn Mower for Your Little Piece of the Great White North!
Understandably, the advanced technology and engineering of an automated mower are going to be expensive.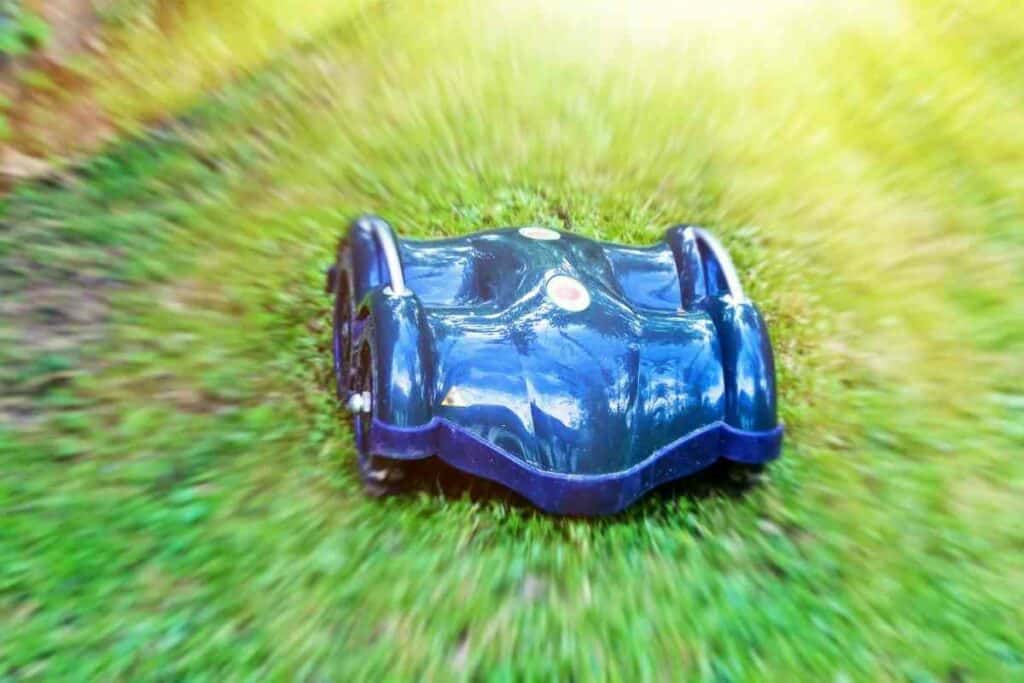 As your robot will be a large investment you want to be sure that you select the best robot lawn mower for your property.
Here are some considerations for choosing a robot mower.
1. Lawn Dimensions
Of course, the size of your lawn should be your first consideration and is a good indicator of the price point of your robot mower.
Many mowers use open-source firmware, meaning the key functionalities and features are common to all of them.
So the main distinction is how much they can cut in a day.
You'll see we have listed the maximum lawn area mowed so that you can select the right mower.
2. Slope 
Check the maximum gradient of your robot mower as many mowers may not be able to copy with mowing a lawn that has a significant gradient. 
3. Obstacles
A garden that is being used by children and pets, or has garden furniture presents obstacles and hazards for the mower.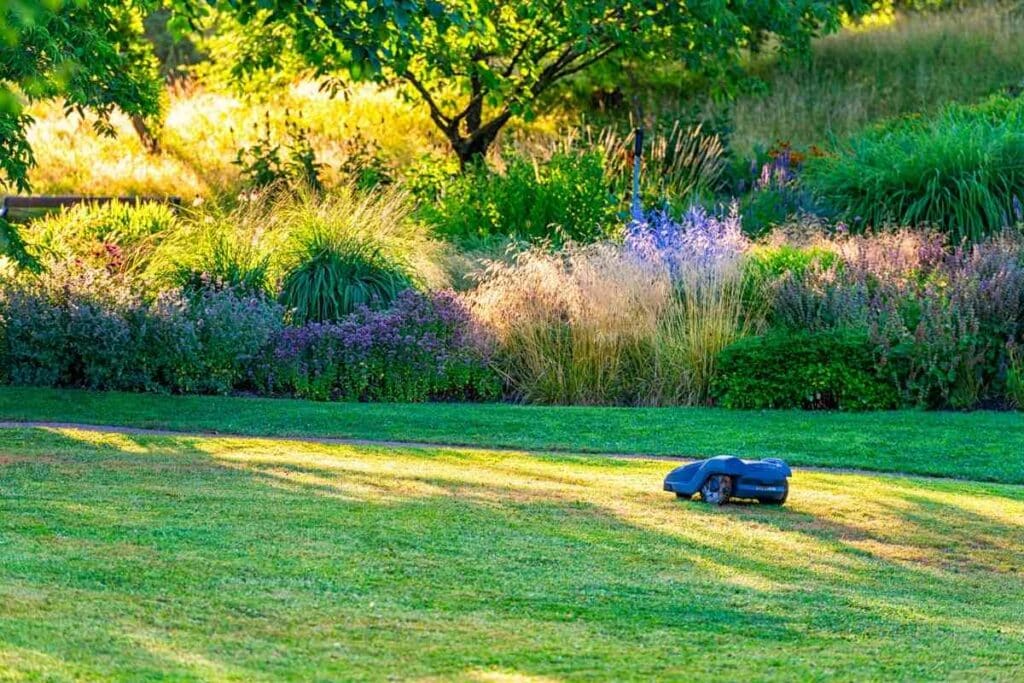 Look for robotic lawnmowers that have a high level of maneuverability and onboard sensors that tell the mower to dodge obstacles. 
4. What You Get with Your Mower
For a fast setup, your robot mower should come with the essential accessories that the robot mower needs to function properly.
These include: 
Boundary wire: is used to mark out the boundary of your lawn and sends a signal to the robot that tells it where it must mow and where it must not. 
Pegs: are used to secure the boundary wire in the correct position.
Charging station: your robot mower should come with a base station that is the home of your mower. It will start its journeys from the station and return t it automatically when it needs to recharge. 
5. Remote Operation
Many robotic mowers can be controlled via a smartphone app using a WiFi, Bluetooth or WiFi connection, rather than manual programming via the robot mowers onboard control panel. 
6. Warranty, Parts and Support
Garden tools of all kinds can be unpredictable in performance at times and you need the reassurance that the manufacturer and retail will assist you promptly with troubleshooting or malfunction issues.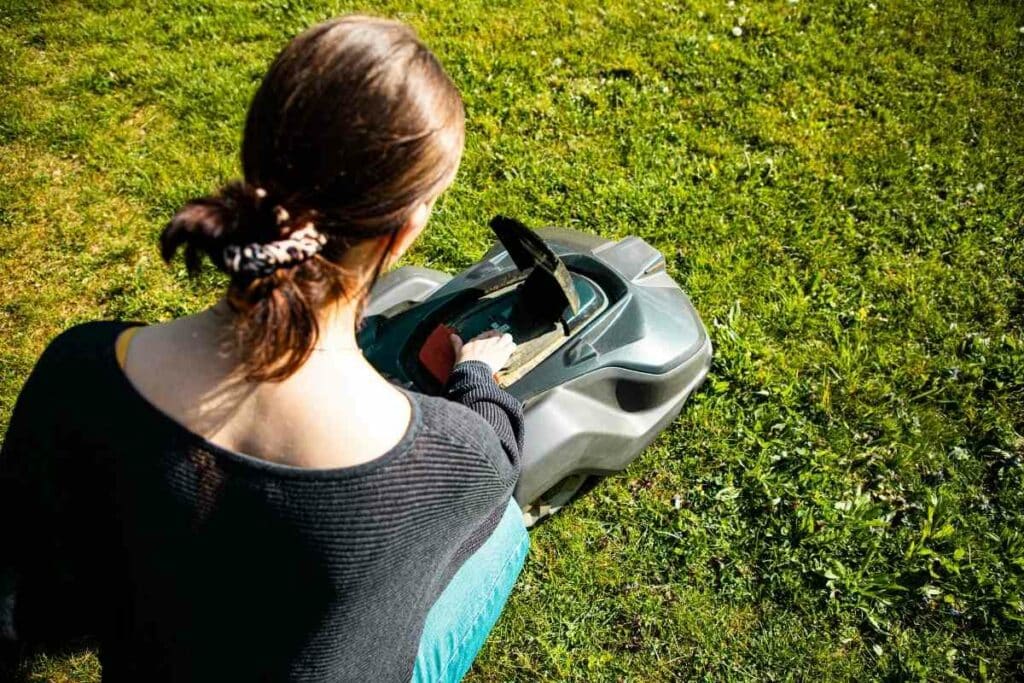 Look for robot mowers that you can find replacement parts for easily for unhassled maintenance of your mower.
The 7 Best Robotic Lawn Mowers for Canadians 
These 7 Amazing Robot mowers deliver outstanding value for Canadian gardens of all types and sizes up to municipal grounds like parks.
Here are our top picks.
1. Husqvarna Automower® 315H 
Description
This high-calibre robotic lawnmower is from the premium Swedish garden tool company Husqvarna.
The Automower has a large cutting diameter and the engineering and onboard technology to give your lawn a luxurious carpet-like finish, as it works on your grounds for up to 22 hours per day.
The rugged 4-wheeled design is sturdy and reliable even on slopes of up to 40 degrees.
Sensors adjust the mowing pattern and quantity to the growth rate of the lawn with mulching to fertilize your lawn and keep it healthy. 
Outstanding Features to Look for in the Husqvarna Automower® 315H 
4G connectivity: The Automower® Connect@HOME app is Husqvarna's proprietary app that you can use to program the mower using your smartphone and a Bluetooth connection. You can use the app to remotely schedule mowing cycles and send start and stop commands. 
Spot mowing tackles those areas of longer grass: The mower has a spot mowing function that allows the robot to focus on mowing a specific area of long or stubborn grass. Onboard technology also guides the mower through narrow passages. 
Style your mower your way with snap covers: This model of Automower can be customized with snap-on covers that come in a range of colours. These can be obtained directly from the manufacturer. 
---
2. YQZ Lawn Mowing Robot
Description
This robot lawnmower has one of the largest cutting diameters and longest working times on the market with mowing coverage of 3000 meters.
The YQZ lawn mowing robot has all the standard features of robot mowers including scheduling of mowing cycles, WiFi remote control command and you can secure it from theft by PIN.
It would be a great choice for mowing expansive lawns and its quiet function makes it unobtrusive, leaving you to focus on enjoying your backyard.
Outstanding features to look for in the YQZ Lawn Mowing Robot
Walking speed of 20 meters per minute: This mower has been designed to work on estates or large grounds with a walking speed that will get the maximum amount of lawn covered.  
A long working time is a great reason to buy: 3 hours of mowing is excellent for getting the job done. When mowing is complete the lawn mowing robot will return to the base to recharge its battery for just under 6 hours. 
---
3. Gardena 4077-CA Robotic Lawnmower R50Li
Description
German garden tools company Gardena has developed a reputation for smart garden appliances that can keep your grounds looking your best at all times.
This hard-wearing, high-spec robot mower can mow grounds of up to 500 square meters.
It delivers exemplary cutting results and the cutting height, mowing schedule and security can all be coordinated via its intuitive onboard control panel.
Its emission-free quiet function means that you can use this mower by day or night.
Sharp blades produce fine clippings that are quickly absorbed into the lawn for optimal lawn health.
The R50Li also has all the expected safety and security features including alarm, PIN lock and tilt and lift sensors. 
Outstanding features to look for in the Gardena 4077-CA Robotic Lawnmower R50Li
This mower will cut your grass unattended in wet conditions: This waterproof and weather-resistant robotic mower can get your lawn cut in all weather conditions meaning you can enjoy crisp, level grass from spring through autumn.
The LCD makes programming simple and clear: The LCD and controls on the R50Li are very intuitive. Just scroll through the settings menu to schedule everything just the way you want it. You can also use the control panel to set a security PIN that means only you can get the mower to operate.
An integrated handle is available to safely carry your mower when needed: If you need to pick up or store your robot mower, the Gardena model has a handy handle so you can lift and move the mower safely. 
---
4. N\W Industrial Remote Control Lawn Mower
Description
If you are looking for a hands and human-free solution to mowing a park, football field or estate grounds, this ultra-rugged industrial mower will exceed your expectation with its powerful 7.5 horsepower, vertical axis four-stroke engine performance.
This unique mower uses a tank tread or caterpillar track to have exceptional mobility even on steep gradients and mountain slopes.
It is large and heavy but offers a cutting width of over half a meter and a cutting height as low as 2 centimetres.
You can set this robot to work during the daytime or at night because it is ultra-quiet.
Outstanding Features to Look for in the N\W Industrial Remote Control Lawn Mower
Smart remote control available: This industrial robot mower can be controlled remotely via the included smart remote control.
Gas-powered robotic mowing: Your unusual mowing robot runs on gas just like the old-school mowers. With an on-board combustion  engine and open frame design, it's clear that this mower is capable of some serious work 
High-toothed track: The rugged toothed track provides superb hold when working at a gradient and all-terrain performance.
---
5. WORX WR165 Landroid S Robotic Lawn Mower
Description
Power tool and garden company WORX is known for its hard-wearing and reliable hardware, so it should come as no surprise that the Landroid S is a suitably rugged option for tackling medium-sized to large lawns.
This robot mower has a variety of features that are designed to meet the challenge of covering a larger lawn consistently and with a great finish.
Simply set up your robot using the attached app and the boundary wire included and get it to work on your lawn!
Outstanding Features to Look for in the WORX WR165 Landroid S Robotic Lawn Mower
Bluetooth and WiFi connectivity: This mower can join your smart home ecosystem via a WiFI or Bluetooth connection for remote control. 
An artificial intelligence algorithm calculates precision mowing: This mower uses a proprietary Artificial Intelligence (AI) Algorithm to plot the most efficient mowing route to cover your lawn. It can also mow narrow passages and automatically adjust blade height when it encounters uneven terrain. 
GPS integrated: GPS is a smart feature for keeping a robotic mower secure and finding it quickly in a large garden. Use the Find my Landroid GPS function if your mower is moved from its designated mowing area.
 Smart anti-collision: Obstacles, children and pets are safe as the WORX robot mower has an in-built anti-collision system. This technology can sense and steer the mower around obstacles in its path. 
---
6. NA Automatic Mower, Robot
Description
This is a basic mower for large lawns that has a comprehensive range of manually operated features and carries an intuitive onboard control panel.
This mower has a blade speed of 3000 rpm and cuts your lawn at a speed of 35 meters per minute.
It automatically detects and cuts the grass, adjusting to maintain the desired cut height. 
As it is not an app or WiFi-controlled robot mower, you can set it up quickly using its visual LCD. The robot also has an emergency stop button if you need to stop it mid-cycle.
Once mowing finishes or the battery becomes drained, it will automatically return to its base for recharging. 
Outstanding Features to Look for in the NA Automatic Mower, Robot
Carefully mounted blade and blade guard: The robot mowers three blades are mounted in a blade guard so that they cut grass and keep pets and children safe.
Safety sensors will shut off the mower if moved: This robot has several safety sensors that stop the mower from cutting if it is tipped, tilted or lifted. Ultrasonic detectors help it to avoid collisions. It will also cut out if the circuit becomes overloaded by the robot trying to move over or mow an obstruction. 
---
7. Robomow RX20 Automatic Mower
Description
Robomow has created a cheery and compact robot mower that will keep the grass in a smaller garden under control.
It is very nimble and effective at cutting edges corners and narrow passages.
For its size, it has a large cutting diameter, meaning it will cover your lawn in a short time.
The mulching action of the blades naturally fertilizes your lawn as it cuts. 
Though cost-effective, the Robomow is packed with features to make your lawn maintenance as convenient as possible.
Outstanding Features to Look for in the Robomow RX20 Automatic Mower
Superb detailing: The Robomow Cuts beyond the wheel with its "edge mode" setting. It does not struggle with corners and awkward angular spots like larger mowers do, so you will achieve a smart finish to your lawn. 
Use the My  Robomow app to control your robot: You can program your robotic mower and create a custom schedule via the Robomow app or even connect it wirelessly to an Alexa for voice command mowing.
A prompt return to base in rain: The Robomow has an integrated rain sensor that will detect rain and make the more return to base until the weather improves.
---
Frequently Asked Questions for the Best Robotic Lawnmowers in Canada
Can a robot mower create stripes?
Most robot mowers do not create the stipes that are made by a weighted roller manually or on the back of a conventional mower.
Your robot does not mow in parallel lines, using a random pattern that is calculated using an algorithm to cover the lawn area.
How often will my robotic mower mow?
Lawns are at their best when they are mowed little and often. Robot mowers are programmed to maintain the grass at a pre-programmed height.
Daily mowing may be necessary for spring and summer, the period of the fastest growth. Most mowers will ensure every area of your lawn is cut every three days.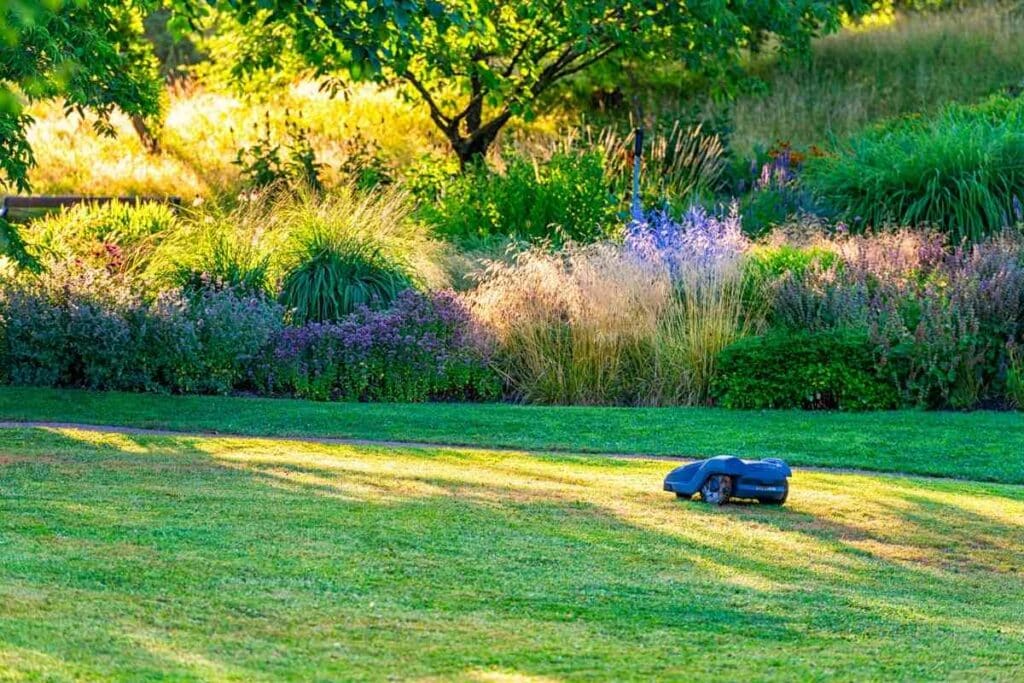 Will this robot mower lose control and mow down my flowers?
The activity of your automatic mower is restricted by the perimeter wire that your lay around the edge of your lawn. When the mower reaches this boundary, it will turn around. 
Where does the cut grass go?
Robotic lawnmowers cut the trimmed grass up into very small pieces and leave it in your lawn where it breaks down and fertilizes your lawn, saving you money on your regular lawn feed.
Will I need to strim?
Edges and around trees and shrubs can be awkward for a robot mower so you may need to detail your lawn with a trimmer.
Look for mowers that are able to mow edges and narrow passages if detailing matters to you. 
Can a robot handle multiple areas in my garden?
The mower can mow as many areas as its maximum moving area allows as long as they are enclosed within a single perimeter wire.
Some mowers are better than others at handling narrow passages and more complex areas.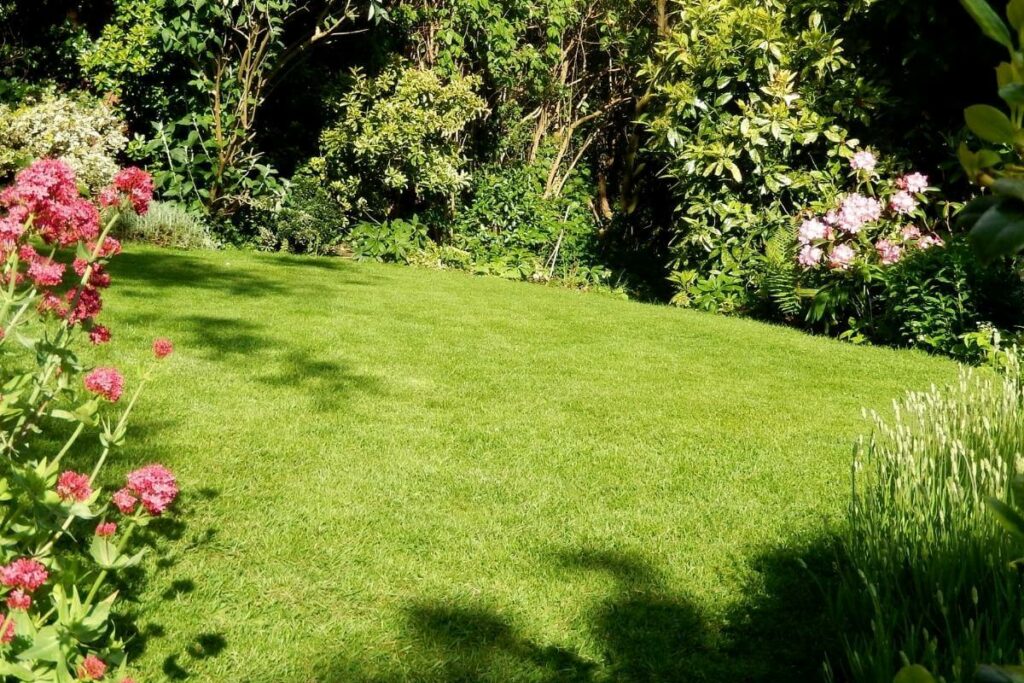 Rounding Up 
Robotic lawnmowers are an ingenious way of keeping your lawn at its best, and this varied selection of mowers offers solutions for all sorts of Canadian gardens.
Research and comparison of features are vital to ensure that you get a mower with the specifications that fulfil your needs.
Once you have found your perfect match, grab the sunlounger and a glass of perfectly iced Sussex Golden Ginger Ale and relax while your robot gets the grass done!
Read Next