Bermuda grass has a smoother appearance than other grass species, and it is generally advised that you use an excellent old-fashioned reel mower rather than a rotary mower.
The grass blades may be damaged if you use a regular rotary mower.
If they are damaged, they become brown and appear unappealing. When this happens, the grass becomes more susceptible to diseases, so you have to make sure your Bermuda grass is mowed correctly every time.
A lawnmower that snips the grass blades rather than chewing, ripping, splitting, or hacking them up is required to cut Bermuda grass.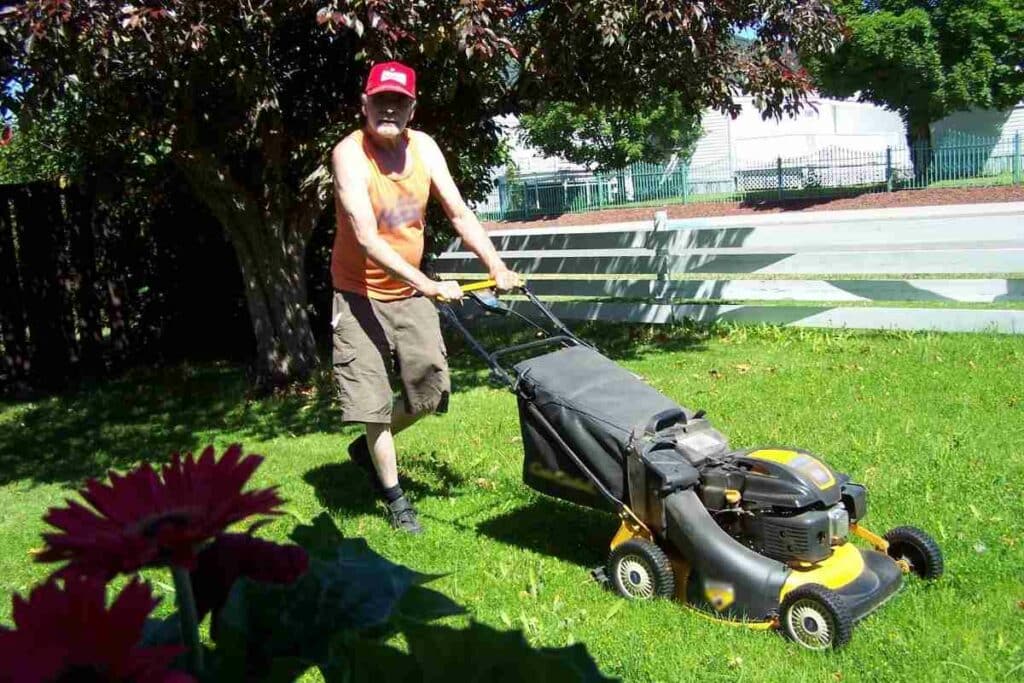 Mowing it too short can result in brown areas in your grass due to scalping. You must get the mowing height just correct.
That also applies to lawnmowers. Bermuda grass flourishes when mowed at the height of 3/4′′ – 1.5′′, so be sure to set your mower's height at that range.
4 Recommended Mowers
---
Best Mower for Bermuda Grass
Fiskars Staysharp 18-Inch Max Reel Mower
This mower is built for all grass kinds. It makes those challenging places much more straightforward to cut because it incorporates the greatest engineering approaches for lawn mowers, such as being up to 60% simpler to push than powered mowers.
It will cut your lawn without any undesired touch, resulting in increased lifespan, dependability and achieving the aim of a beautiful lawn.
This mower provides a cleaner cut without the hassles of fuel, oil, electrical wires, battery charging, or a noisy engine. It provides double the cutting force to rip through twigs, weeds, and difficult areas where ordinary reel mowers would clog.
Another amazing feature is the cutting system. It cuts grass without touching using precision-ground, hardened steel blades, dramatically decreasing friction and blade damage.
Furthermore, a StaySharp Cutting System reduces the expense and trouble of physical blade sharpening.
The cut height is simply adjustable from 1-4 inches, inset wheels allow for ultra-close bordering, and one-touch handle height adjustment increases comfort and control.
Furthermore, a convertible grass chute can guide clippings forward, aside from your feet, or reverse and downward, making it simpler to mow challenging sections while minimizing messiness.
It is highly effective on lush Bermuda grass carpets, especially during summer.
The only issue it has is that it struggles to cut any grass taller than 6 inches. As a result, you'll need to mow your lawn often to keep it from getting too tall.
Key Features
It weighs 52 pounds, which makes it simpler to spin and push.
It has high-quality blades for long-lasting performance.
It has a grass chute with a reversible mechanism.
It comes with inset wheels to reduce uncut spots.
It comes with a three-year warranty.
It has a cutting height range of 1" to 4".
Pros
It has no negative environmental consequences
Inset wheels reduce the number of incidents with uncut patches.
It is simple to use.
It has a long-lasting fixed reel with accurate-ground blades for maximum efficiency
Cons
Weeds that develop into ears may be skipped.
Twigs will obstruct the mowing operation.
---
Greenworks G-MAX Cordless Lawn Mower (best battery powered)
The Greenworks G-Max 25322 lawn mower is a rotary mower designed to cut Bermuda grass.
This is a top-rated lawn mower, with five height adjustment positions and a cutting height range of 1.25 to 3.3 inches to provide the most incredible cuts for your Bermuda grass.
The lawnmower boasts 6" front wheels and 7" rear wheels for mobility.
For a better cutting experience, the machine also has a 2-in-1 deck design with rear bagging and mulching capabilities which is highly versatile.
It is intended for all sorts of grass and can mow up to 1300 square feet on a single charge with a clean and uniform cut.
A fully charged 4.0 Ah battery may provide up to 45 minutes of operation. The battery charges entirely in 120 minutes.
The lightweight 16″ cutting deck helps you traverse more efficiently through small to medium-sized yards. It is ideal for yards up to 1/2 acre in size.
It's lightweight and easy to start, making it an excellent choice for your grass.
This walk-behind lawn mower is essentially maintenance-free with no gas, oil, or pollutants. It starts quickly and quietly yet gives gas-like power for the most demanding applications.
Lastly, the product comes with a grass collecting bag, a 40V 4.0Ah battery, a charger, and an operator's handbook. It also comes with a three-year tool guarantee and a three-year battery warranty.
Key features
It has a cutting deck that is two-in-one.
It includes a charger and a 4ah battery.
It consists of a single lever for adjusting the height.
It consists of a 16-inch cutting deck.
For ease of movement, it has 6-inch front and 7-inch rear wheels.
It includes a vast grass collection bag.
It has a retractable handle.
Pros
It is ideal for cutting in a variety of situations.
Height adjustability in five positions
It all starts with the press of a button.
The 40V battery provides up to 45 minutes of run time.
Capable of cutting 1300 square feet on a single charge
It is less messy, as there are no pull cords, and it requires less maintenance.
Improved maneuverability
It mows silently and emits no fumes.
It is simple to use and dependable.
Cons
The battery does not last very long.
---
Earthwise 1715-16EW 16 Inch Wide, 7 Blade Push Reel Mower for Bent Grass
The cutting width of this mower makes it ideal for Bermuda grass. Essentially, the reel lawnmower has a cutting width of 16 inches and an indestructible steel side plate.
In addition, unlike rotary mowers, which chop the grass and expose it to illnesses and insects, the mower snips the blade without causing any damage or leaving any brown spots; hence this mower will help you achieve your aim of a beautiful lawn.
The mower has a 7-blade ball bearing reel, and 10″ composite wheels with a heavy-duty steel side plate plan. It is ideal for mowing bentgrass in Bermuda, St. Augustine, Zoysia, Centipede, and Seashore Paspalum.
The 7-bladed alloy steel mower maintains its sharpness for a more extended period. These seven blades make it much easier to mow and provide a very accurate and clean cut in one pass.
These sorts of mowers are an excellent alternative to a gas-powered motor if you're seeking a more environmentally friendly solution.
In addition, it features a variable cutting height of 0.5″ to 2.5″, ideal for Bermuda grass turfs.
When it comes to assembling, the whole process is straightforward and does not require any equipment. The mower's handle is well-cushioned and comfortable hence helping to reduce hand fatigue.
Lastly, it's quite maneuverable due to its ten-inch composite wheels and seven-inch rear wheels.
Key Features
Cutting heights may be adjusted from 1/2′′ to 2 1/2′′.
It has a handle with a soft grip
It has a cutting swath of 16 inches and seven blades.
It has 10-inch composite wheels and a side plate made of unbreakable steel.
The blades are comprised of tough alloy steel.
It has an adjustable cutting height that ranges from 0.5 to 2.5 inches.
It includes a 7-blade ball-bearing reel.
Pros
Clean snips of leaves for a healthier and more appealing lawn grass
It is pretty simple to use.
It is low-maintenance — there is no engine to worry with.
It has no negative environmental consequences.
It is lightweight and easy to push.
Cons
It may be challenging to utilize on large lawns.
To obtain an equal cut, you may need to make numerous passes.
---
Scotts Outdoor Power Tools 20-Inch Classic Reel Lawn Mower
If you want a reel mower that is lightweight and simple to manage, this is an excellent alternative. Because it is a manual mower, there is no motor to weigh it down.
The alloy steel blades retain their sharpness for far longer than you may anticipate.
Due to smooth ball bearings, the blades rotate as you shove the mower. Every blade cuts through the grass with fantastic accuracy, leaving fine mulch behind, vital for a healthy lawn.
The 5-blade cutting motion is designed to deliver precise performance throughout the mower, and the robust and heavy-duty steel construction is meant to last.
You may adjust the height from one to three inches, and the handle is padded and ergonomically constructed for added comfort.
You can also bet on it being inexpensive to operate because it does not have an engine and does not require oil, gas, or anything else to keep it going. It is also quite simple to put together and can be done without any equipment.  
The classic Scotts 20-inch reel lawn mower has a 20-inch cutting breadth, a 5-blade ball bearing reel, and 10-inch dual tracking wheels with radial tires, which enhance maneuverability.
This unique twin-wheel tracking system decreases drag and makes it simpler even over the most challenging terrain. The loop-style handle with froth grip adds comfort while operating and improves the mower's mobility.
This classic lawnmower has a quick-snap 1″-3″ cutting height adjustment for a clean and level cut every time. The mower's blades are composed of high-quality with heat-treated alloy steel to last longer.
Finally, it has a two-year guarantee and weighs around 34 pounds.
Key features
It has adjustable cutting heights ranging from 1 to 3 inches.
It weighs only 34 pounds.
Mower's blades are constructed of heat-treated alloy steel.
It has an ergonomic handle with a padded grip.
It has twin tracking wheels that are 10 inches in diameter.                                   
Pros
It is a low-cost operation since it does not require gas or oil.
High-quality blades are designed to endure a long time.
Ergonomic, padded grip for added comfort
It features a cutting blade with enormous breadth.
It is lightweight and easy to maneuver.
It is simple to put together and requires no tools.
It is simple to use and easy to store.
The precision blade is for clean, rapid, and precise cuts.
Cons
It only lasts one season.
Pushing it through overgrown grass is challenging.
---
Frequently Asked Questions
Why should Bermuda grass be mowed at the right height?
If Bermuda grass is mowed tall, it will quickly go to seed, and when it is mowed too low, it will cause brown patches in the lawn due to scalping. Bermuda grass thrives when cut between ¾ "to 1.5".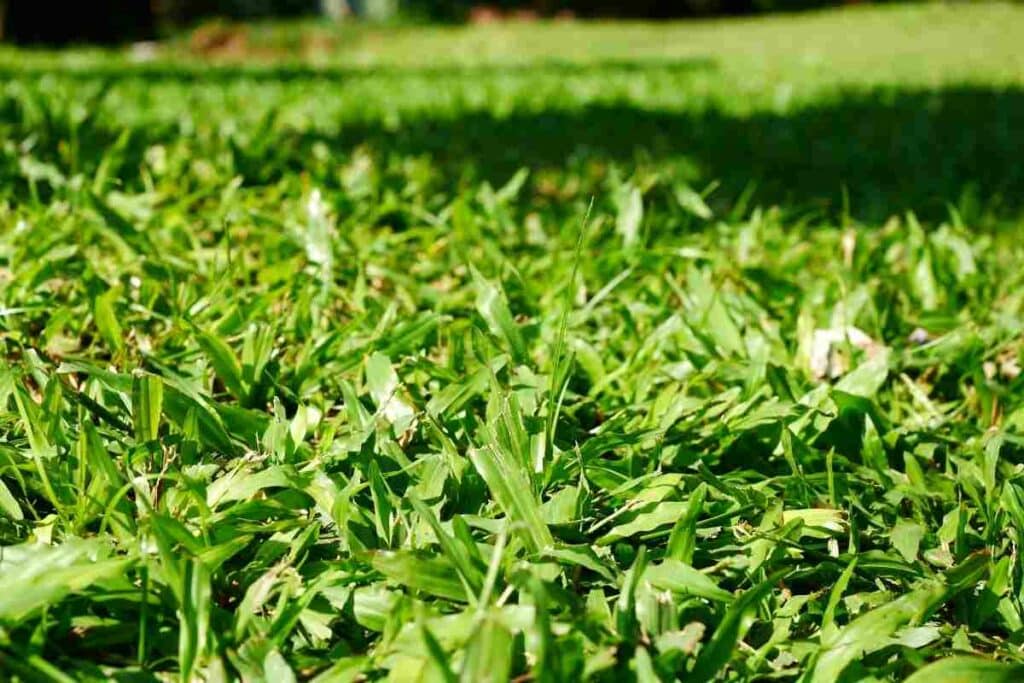 Why are reel mowers considered to be the best for mowing Bermuda grass?
Reel mowers do not scalp, causing brown patches on the lawn regardless of your mowing setting.
Why are rotary mowers discouraged from mowing Bermuda grass?
Rotary mowers tend to heck and chew up grass blades leaving the lawn looking awful after some days.
Why Fiskars StaySharp 18-Inch Max Reel Mower is considered the best for mowing tough Bermuda grass?
It makes mowing more enjoyable because it is easy to push; its new technology makes it cut grass without touching and produces less friction; it also cuts Bermuda grass at the perfect height.
Fiskars Lawn Mowers: StaySharp Max Reel Push Lawn Mower, Eco friendly, 18" Cut Width (362050-1001)
Quality Yardcare Tools: Designed to help you take back your yard, Fiskars lawn and gardening tools are equipped with smart technologies and award-winning, ergonomic features that make it easier and more enjoyable to transform your outdoor space.

Advanced Technology for best-in-class cutting performance: The InertiaDrive Reel boasts twice the cutting power of standard reel mowers, while the StaySharp Cutting System eliminates the cost and inconvenience of manual blade sharpening.

Superior Ergonomics: Reversible grass chute can direct clippings away from your feet making it easier to mow tough patches while limiting messiness. One-touch handle height adjustment enhances your comfort and control.

Ideal for eco-friendly cutting of all grass types: Can even cut tough southern varieties like St. Augustine, Zoysia, Bahia and Bermuda. No gas, oil, charging or cords required like a gas or electric lawn mower.

Includes 1 Fiskars StaySharp Max Reel Mower with 18" cutting width. VersaCut technology offers cut height settings from 1-4 to mow all types of grass cleanly. Limited 3 year warran
Final Thoughts
Bermuda grass exudes elegance and charm; therefore, it's an excellent item to have in your yard. It is a problematic grass that demands the best lawn mower to maintain; otherwise, you will have ripping and shredding leaves, which will make it seem unappealing.
The finest lawnmower should have sharp blades or a firm deck to cut through the Bermuda grass. However, it would be best if you had the greatest lawnmower to guarantee that this grass species looks its best by mowing it efficiently.
Each of the reel lawnmowers listed above will perform a fantastic job on your Bermuda grass lawn.