Gardens require special care and a structured regimen to keep them prolific and lush. A neglected garden can be visually unappealing as it is usually infested with weeds like dandelions.
Thus, one of the tools you should invest in for the maintenance of your garden is the dandelion removal tool, otherwise known as weeders.
There are many types and brands of dandelion removal tools in the market from manual metal tools that will last for years like the Seymour 41045.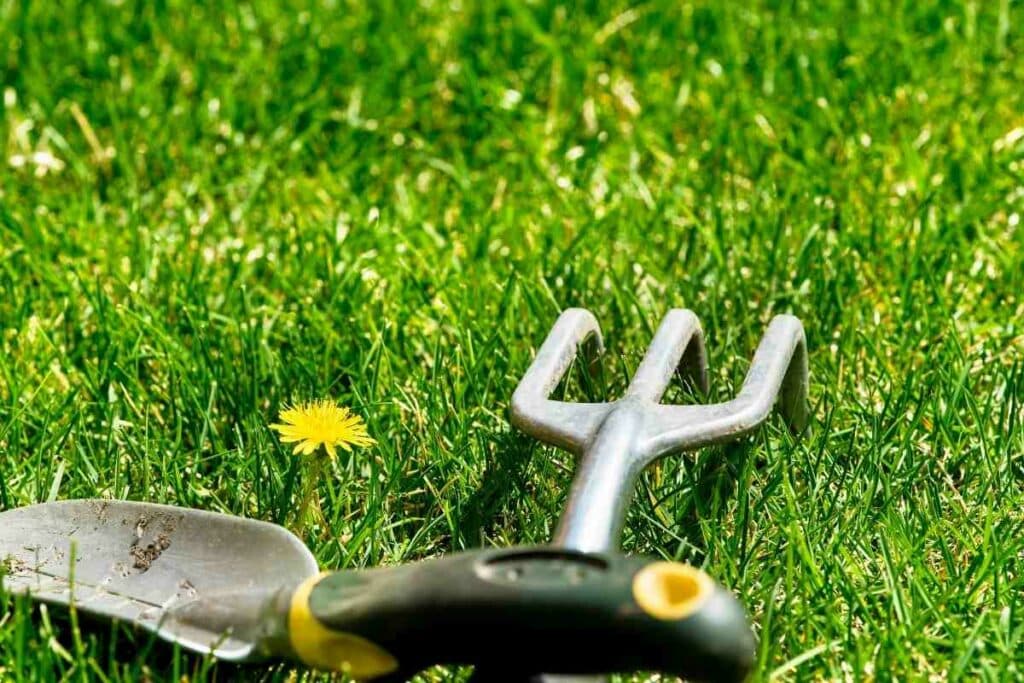 To the advanced futuristic robotic weed removers like the Tertill robotic weeder found here on Amazon.com
This article reviews six of the newest and most amazing of them in detail. Keep in mind that these tools are better than using chemicals, especially if you are planting food.
6 Amazing Dandelion Removal Tools
6. Seymour 41035 Dandelion Weeder
If you are a gardener that prefers compact tools, then this Seymour dandelion weeder is made just for you. It is conveniently small in such a way that it fits your hand perfectly.
The handle is wooden and ergonomic, making it comfortable and safe to use. You are not likely to suffer wrist pains even after using the tool for hours on end.
At only 0.64 ounces, this tool is light and, therefore, portable. You can easily carry it from one place to another.
Despite the weight, this tool is pretty sturdy. It is made with materials of top-notch quality that are bound to stand the test of time. So, you will not have to incur repair or replacement costs during the tool's lifetime.
Due to its size, it does not occupy too much storage space. Furthermore, the handle has a hole with which you can hang the weeder on a wall when you are not using it.
This weeder effectively removes tap-rooted weeds like thistles and dandelions. It brings a lot of value even though it is affordable.
Key Features
Small enough to fit in someone's hand comfortably.
Wooden and ergonomic handle.
Weighs 0.64 ounces.
Pros
It has an ergonomic, wooden handle.
It is lightweight and, thus, portable.
It is easy to use.
It has value for money.
Cons
It may be too small for some users.
It needs manual effort to pull out deep roots sufficiently.
---
5. Peonyfun Stand Up Weeder
As the name suggests, this tool enables you to weed while standing up. This is because it has a long 39-inch handle. A standing-up posture protects your back as you will not have to kneel or bend while working. It also keeps your hands clean as you will not interact directly with the soil.
The handle is built ergonomically to allow for a firm and comfortable grip that does not hurt your wrist. Its material, plastic, also enhances the grip of the handle.
This silver and green weed removal tool is made with tough aluminum material, which makes it sturdy enough for different kinds of soils.
Its triple-thronged claw is made with stainless steel, which does not rust easily. It does a good job of getting rid of dandelions and other stubborn weeds such as thistles, crabgrass, and chickweed.
This tool is environmentally friendly as you would not need chemicals in your garden or lawn. Chemicals can be toxic to humans and pets.
Also, they affect the quality of the soil, usually for the worse. Therefore, it is much safer to use the tool, especially if you are planting food in your garden.
Key Features
Has a long, 39-inch handle.
High quality plastic material.
Silver and green in color.
Has a triple-thronged claw.
Pros
The handle has an ergonomic design.
It is affordable.
It is easy to use.
Cons
You have to assemble it yourself.
It does not work very well in dry or hard soil.
---
4. Amble Weeder Hand Puller Tool
At2.39 ounces, this tool is lightweight, making it easy to carry from one place to another. Its small size makes it easy to hold and use. It features an angle of curvature at the fork, which provides adequate leverage to remove weeds with more efficiency.
The amble weeder also has an ergonomic wooden wood that provides a firm and comfortable grip for anyone using it.
It is suitable for people with various hand types, making it very practical. Furthermore, it is perfect for you if you are an environmentally savvy individual as wood is more environmentally friendly than plastic.
Storage is not a problem with this tool as it is small and does not occupy too much space. Furthermore, it has a hanging rope at the handle with which you can hang the tool when you are not using it.
The forked part of the tool is V-shaped to facilitate easy insertion into the ground where the roots are and pull them out.
This part is sturdy and durable as it is made with high-quality carbon steel, which is resistant to bending and rusting.
Its rust-resistant feature does not mean that it can never get rusty, so it is imperative to observe proper maintenance practices so that it remains in good condition for longer.
Additionally, the amble weeder hand puller tool is multifunctional, meaning that you can use it for more than just removing weeds from the garden.
You can use it to transfer seedlings, loosen the soil, and other forms of garden care. It is also usable in different types of soils, so you can use it on the lawn, courtyard, and even a farm.
Key Features
Small and portable.
V-shaped forked part.
Rust-resistant stainless steel.
Pros
It is lightweight and efficient.
It is made of high-quality, durable materials.
It is easy to use.
It is multifunctional.
Cons
It is too small for some users.
---
3. Petilleur Hand Garden Multifunction Dandelion Removal Tool
The tang and ferrule of this dandelion removal tool are of excellent quality, making the tool durable. While lightweight, it is quite sturdy and can hold its own even with prolonged hours of gardening. The lightness of the tool, along with the ergonomic handle, will make gardening easy and smooth for anyone.
This removal tool is super effective and does a fantastic job of getting rid of pesky weeds that have stubborn roots. It plucks the weeds out without requiring you to dig huge holes to remove the whole root.
To use it, place the curved metal base on the ground. Then, make small holes around the roots of the weeds you are targeting before pulling them out.
The tool has two sharp and pronged fork tips that facilitate the digging and prying of roots, stems, and leaves. In essence, it ensures the permanent removal of weeds and the protection of your garden.
Its high-quality stainless steel material is made of die-cast aluminum metal that will not bend or break.
The steel is also polished and rust-resistant, meaning that it won't catch on rust easily. Still, take good care of it to keep it in as good a condition as possible.
Key Features
Made of die-cast aluminum metal
Has two sharp and pronged fork tips
It has a curved metal base
It measure about 28 x 2.3 centimetres
Pros
It is affordable
It is made with high quality and durable materials.
It is rust-resistant.
It has a light ergonomic handle.
Cons
It is too small for some gardeners.
---
2. Mr. Pen-Hand Weeder Tool
If you love small and comfortable tools for your garden, then this is perfect for you. This dandelion removal tool is small enough to comfortably fit in your hand.
It has a soft, non-slip, ergonomic handle design to improve your control on the weeding action as well as reduce wrist injuries. The thumb area has a small depression to further improve control.
The tool is sturdy and durable as it is made with high-quality products. The fork is made with rust-resistant aluminum and does a great job of getting rid of pesky weeds.
To facilitate the removal of weeds, the base of the tool is adequately curved to provide leverage when digging into the soil.
This tool is easy to use and effectively removes pesky weeds such as dandelions, thistles, and other invasive weeds that are commonly found in gardens.
At only 5.6 ounces, it is lightweight, and you will not strain while using it or carrying it from one place to another. It is, without a doubt, a great investment for your garden.
Key Features
It weighs once 5.6 ounces making it very lightweight
The fork is made with rust-resistant aluminium
It is adequately curved to provide leverage
It has a soft, non-slip, ergonomic handle design
Pros
It is made with durable materials.
It has a curved base to provide leverage when pulling out roots.
It is lightweight and easily portable.
It has a soft, non-slip, ergonomic handle.
Cons
The forked tip is too small for established weeds.
---
Tertill Garden Weeding Robot
This weeding robot is bound to make gardening fun and easy for you. It is extremely easy to set up and put to work for starters.
Once it is assembled, you only need to place it in the garden and press its start button twice. The first press will wake the robot up, and the second will make it go.
For the robot to work efficiently, your garden has to meet certain requirements. One, it should have a border that is at least 4 inches tall, so the robot does not wander off the garden's perimeter.
Also, there should be at least a foot between plants, so the machine has space to move and maneuver.
The garden should be fairly level and the surface sufficiently smooth. It also helps to start the machine off in a weed-free garden.
The robot comes with mechanisms to differentiate between plants and weeds so that it does not destroy your plants in the weeding process.
It uses height to tell them apart- if the plant is tall enough to touch the robot's front sensors, the machine turns away.
If the plant passes under the sensors, the machine cuts it. Plant guards protect small plants, such as seedlings, that are not tall enough to be protected by the sensors.
Since it is weatherproof, this robot can stay in the garden through all seasons- from spring to fall. Thus, you can leave and go on vacation, and the machine will stay working in the garden. Also, it is solar-powered, so you would not need to charge it. 
Additionally, it comes with a free app on android and apple smartphones to help monitor the robot as it works and upgrade software.
It makes a perfect gift for gardeners who do not want to do the hard work or who don't have enough time to weed their gardens.
Key Features
Easy to set up and use.
Weatherproof.
Solar-powered.
Pros
It is easy to use.
It is weatherproof and stays in the garden all year long.
It is solar-powered, so you won't need to charge it.
It is sturdy.
It makes a great gift.
Cons
Relatively heavy.
It is not suitable for lawns.
---
Frequently Asked Questions
What is the impact of the head of your dandelion removal tool?
The head of your dandelion removal tool primarily determines how it performs. There are three types of heads: rake heads, hoe-shaped heads, and knife-edged heads.
Rake heads are perfect for eliminating clustered weeds that had been neglected for a while.
Hoe-shaped heads are multifunctional as they are also used as soil cultivators. On the other hand, knife-edged heads are designed to dig through any type of soil and remove the most stubborn weeds, such as dandelions.
How do you prevent dandelion tools from rusting?
Every tool requires a maintenance routine if you want it to last long. To prevent your dandelion tool from rusting, ensure it is dry at all times. Therefore, it is imperative to air it thoroughly after using and cleaning it.
Also, you ought to use oil instead of water to clean the blades. The most preferable oils for this purpose are motor oil, lamp oil, linseed oil, and tung oil. More importantly, store the tool in a clean and dry place.
Are dandelion removal tools better than chemical sprays?
Absolutely. Dandelion removal tools are more effective as they remove weeds from the roots, ensuring that they do not grow again. Also, the tools do not alter the state of the soil, unlike chemicals which can be unsafe, especially if you are growing food.
How are dandelion removal tools so useful?
Dandelion removal tools improve the state of a garden in several ways. For one, they get rid of weeds like dandelions, which leads to the nourishment of the other plants.
Also, dandelions are known to attract stinging insects such as bumblebees, which may hurt children and pets. Getting rid of dandelions eliminates this risk. Finally, removing dandelions from your garden gives your plants the space to develop and strengthen their roots.
Final Thoughts
It is wise to invest in tools that make gardening easier and more fun for you. Dandelion removal tools will give you an easy time removing pesky weeds from your garden.
They come in many forms, but most are small, durable, and ergonomic. Read our full review on the latest robotic weeders here.
If you have any questions about the tools reviewed in the article or would like to make a purchase, feel free to click on the links provided.