Having a garden attached to your home is one of the greatest pleasures of all time.
Just sitting in that garden, isolated from the world, can bring immense peace, and how that garden looks is your responsibility.
You can always find something that will suit your preference and circumstances, from 4 ft. bushes to trees that stand 75 ft. from the ground.
Subsequently, today, we'll introduce you to some of the best white flowering garden trees and bushes.
That way, you can decorate your garden with as much white as you please.
Different Types of White Flowering Garden Trees and Bushes
1. Dogwood
Dogwood trees have more than 60 species that all offer beautiful white flowers.
The difference here lies in how they grow and how resistant they're to common plant diseases.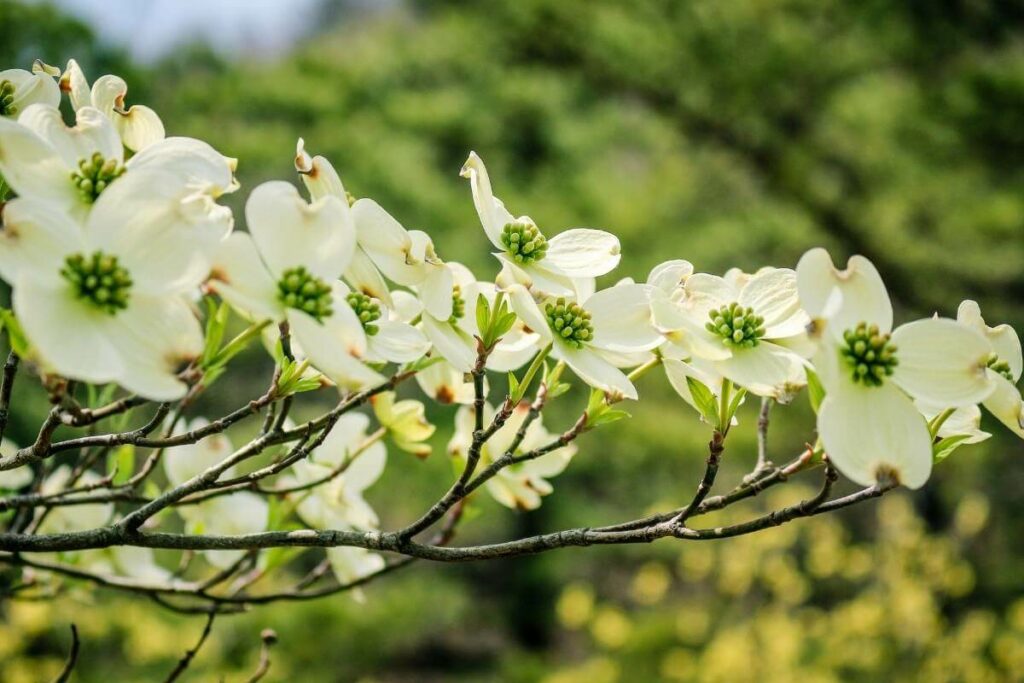 We've found that the Kousa Dogwood is exceptionally resistant to these diseases, which is why it's the best choice for extensive gardens with multiple tree species.
Dogwoods start to flourish around May-June, and they prefer to obtain equal parts of both sunlight and shade. These beautiful trees can grow to 30 ft. and provide vast shade thanks to their extensive branching.
Another great thing about Dogwoods is that their flowers are long-lasting; like the rest of the tree, they're not affected easily by ailments. So, as long as they're not tampered with, they'll stay.
Besides, it's not only the branches and flowers of the Dogwood that are attractive; their trunks are exploding with different shades of brown, creating a sort of camouflage.
---
Even Better: All you need to do to care for this tree is water it once a week and make sure that it's getting enough access to both; shade and sunlight.
---
2. Syringa Reticulata
The Syringa Reticulata is a beautiful variation of Lilac trees.
Some people choose to call this plant a large bush; nonetheless, its ability to grow up to 30 ft. removes it from this category and proudly places it in the tree one.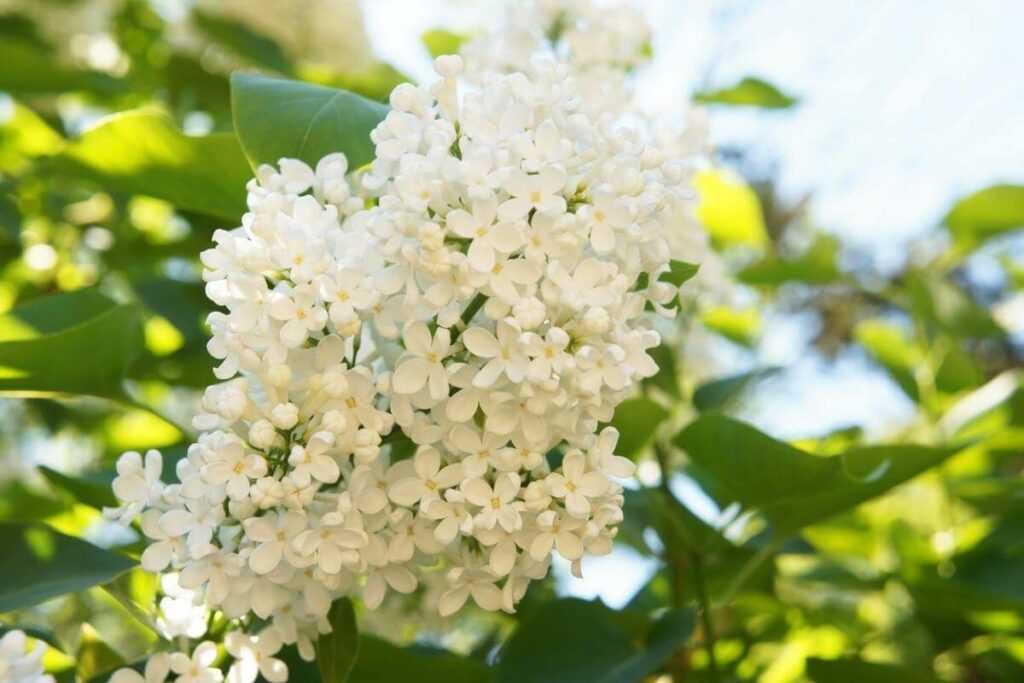 Moreover, its branches are capable of spreading up to a distance of 20 ft. sprouting charming dark green leaves, all adorned with countless white lilacs.
These lilacs vary from being stark white to creamy or off-white, with brownish vines intertwined amidst them. As a result, they give a beautiful vintage look wherever they're planted.
Also, like the normal purple lilacs, the Syringa Reticulata flowers have a sweet aroma that envelops them and anyone who chooses to enjoy the copious shade that these trees provide.
If you're lucky enough to spot a Syringa Reticulata by June, you'll be seeing it in full bloom.
To grow this tree strongly, it'll require a completely sunny environment as often as possible.
Additionally, pruning is an important part of caring for a Japanese Lilac, but nothing extensive is required; you only need to remove the odd branch every now and then.
Plus, of course, you need to water it regularly at intervals of 7-10 days.
3. Horse Chestnut
The Horse Chestnut tree, also known as Aesculus Hippocastanum, is one of those magnificent trees always spotted in children's books.
That is courtesy of its magical appearance with twisted and curved limbs from its trunk all the way up to its spines.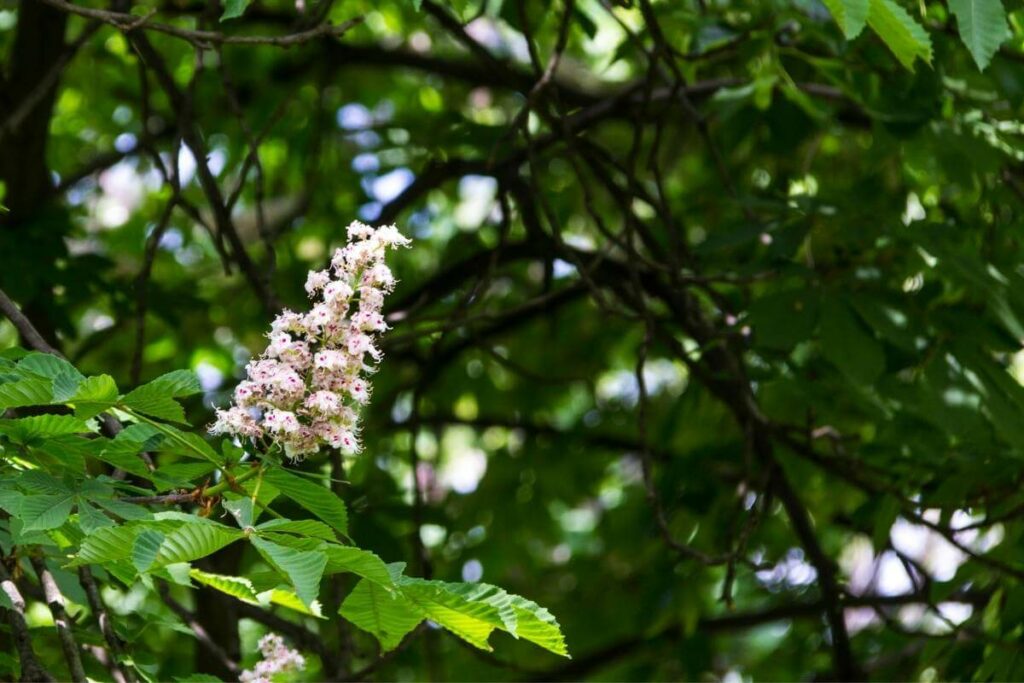 As for the flowers of the Horse Chestnut, they're beautiful and pointed upwards with traces of pink or yellow, which adds a refreshing summery appeal to the landscape.
Nonetheless, don't be fooled by how beautiful this tree is, as it's utterly poisonous to humans.
Hence, make sure that you only admire it from afar and stop at its use for shade. Also, the Horse Chestnut can reach up to 75 ft. when it comes to height, and they prefer exposure to the sun with slight shade.
Moreover, they require a moist environment to grow, as dry soil will slowly kill them. Lastly, if you wish to see the Horse Chestnut in full bloom, you should wait till May.
4. Hydrangea Paniculata
Now, we'll talk about one of the smaller bushes.
This is one of those plants that require very little maintenance and provide an incomparable addition to your garden with the beautiful, almost wild, clusters of white flowers.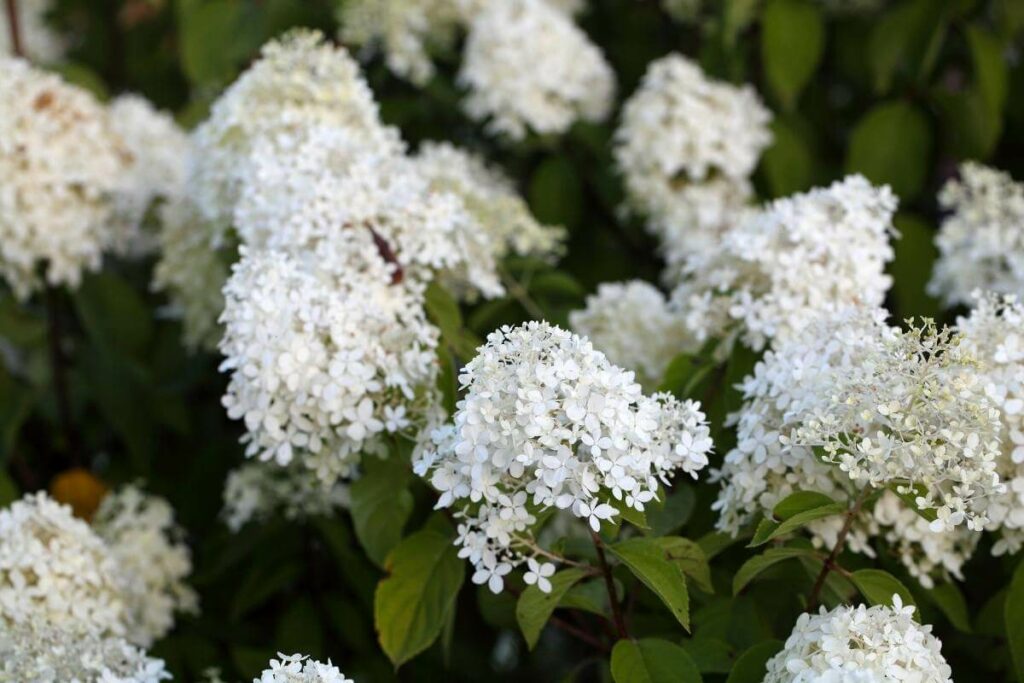 First, the panicles will start to grow with a shadow of green in them. Then, when the time comes, that green fades, making way for a beautiful stark white.
The Hydrangea Paniculata generally flourish in the period between July and September, which means that they boast quite robust flowers that maintain their youth for some time.
Moreover, the Hydrangea Paniculata is mainly native to Korea, China, Russia, and Japan. Plus, they're effortless to grow and require sunny environments with a little bit of shade if the weather is too hot.
They also need moist soil; but, nothing too excessive. Also, this tree slightly resembles the Centella Asiatica, a.k.a. Lucky Leaves!
5. Japanese Andromeda
The Japanese Andromeda also goes by Pieris Japonica or the Lily of the Valley.
Nonetheless, if we've any Harry Potter fans, we know they would prefer the first name in honor of the one and only, Andromeda Tonks!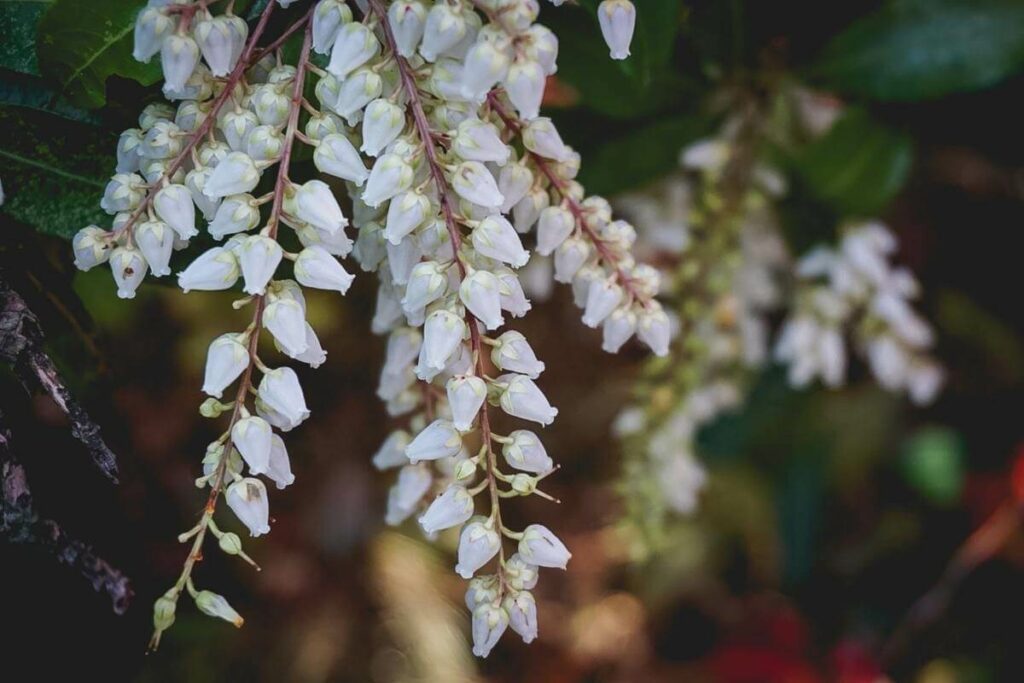 This bush can reach the height of 12ft, and from this height, during the late spring, you'll find beautiful white-colored bell-shaped flowers dangling from above.
Also, this lovely foliage carries on to the fall and winter, bringing with it a light and sweet scent that lasts.
Additionally, the Japanese Andromeda is widespread as it can be grown relatively anywhere. That is courtesy of the fact that it hardly needs any pruning, only a lot of sunlight and moist soil.
---
Watch Out: On a final note, this plant is poisonous to humans, so never try to consume this flower!
---
In Conclusion
To wrap up, there are countless white flowering garden trees and bushes around the world, with flowers of all shapes, types, and scents.
First, you need to know your soil very well, and the weather in which you live.
Next, be consistent in caring for your trees and bushes, even if they require minimum maintenance, and, finally, keep an eye out for weeds and harmful insects.
You Might Also Like