When you are working in the garden, it can take a toll on your body so it's important to have equipment that protects and provides comfort.
Many garden tasks such as weeding, potting and more require you to be on your knees and this is challenging especially as we get older.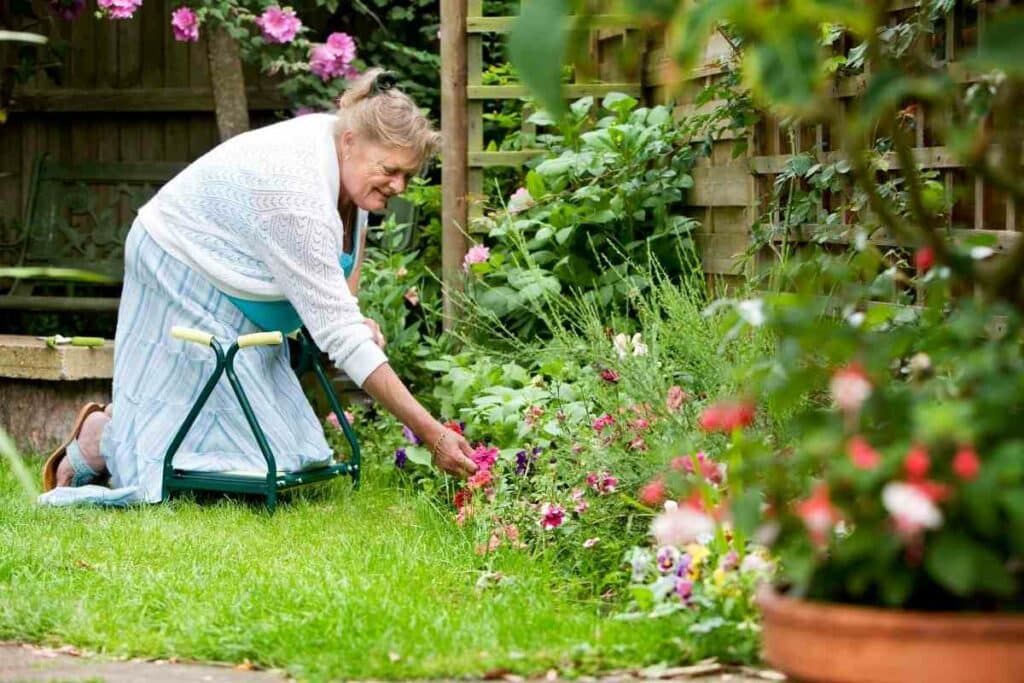 But a garden kneeler and stool could be something of a lifesaver. 
We have been reviewing some products and are happy to say that we have found some of the best garden kneelers and stools out there.
In this guide, we will share these with you and give you some tips for choosing the right kneeler for you. 
What Is a Garden Kneeler?
A garden kneeler is an assistive device designed to provide additional support and comfort for the knees when kneeling down.
While they are called garden kneelers, many people make use of these products in other situations such as when cleaning the house or at a picnic. 
Some garden kneelers are simply a padded mat but in this guide, we want to focus on those that double up as a stool.
In This Case – The kneeler will have handles on either side so that the user can aid themselves getting up and down. When flipped over, these handles become legs and the pad becomes a seat.
Anyone would benefit from using a garden kneeler if they are looking for additional comfort when working outdoors.
However, older people and those with existing joint problems will find them especially useful. 
Best Garden Kneeler And Stool – Our Top 5 Picks
There are currently tons of garden kneelers and stools on the market so finding the right one can be like looking for a needle in a haystack.
But don't worry, we have done the hard work for you and have rounded up five of the best products out there. 
1. BDL Garden Kneeler Seat
This is one of the very best garden kneelers out there, in our opinion simply because of the number of features.
You'll notice that it comes with generous tool storage so you won't have to carry a separate tool box or bag around the garden with you. 
What's more, this garden kneeler is super easy to store thanks to a quick folding mechanism. No messing around just collapse and go.
That said, when you put it up, the BDL garden kneeler is incredibly stable and robust being made from thick steel.
This robust design means that the kneeler will easily support people weighing up to 330lbs. 
The EVA padded seat is fantastically comfortable and durable. Not only will it support your knees but it'll also keep them clean.
However, some users have commented that the foam is very firm. If you like a softer feeling, this might not be the right choice for you. 
2. TOKTOO Garden Kneeler
What we love most about this garden kneeler is the design of the feet.
Rather than just being one bar, like many other kneelers, this one has two feet which means it is less likely to sink into soft ground and it is much more stable on solid ground. 
As well as this, the TOKTOO kneeler offers extreme comfort and support thanks to an EVA foam pad which is supported by a sturdy steel frame.
The robust design can take up to 330lbs so it's suitable for a wide range of adults.  
Where convenience is concerned, it doesn't get much better than this since the TOKTOO kneeler comes with a good sized tool storage bag which can be easily removed when not in use.
When you're finished in the garden, the whole thing neatly folds away for storage.
It's a little heavier than some other kneelers but not so much so that it would be a struggle to move it around. 
3. LYKO Garden Kneeler
If you are looking for a garden kneeler with very generous tool storage then you aren't going to find much else like this.
It comes with two very large tool storage bags that easily attach to the sides; everything you need will always be within reach. 
What's more, the LYKO garden kneeler comes in two sizes so if you need something a little bigger then you've got choices.
That said, both the large and extra large have the same weight limit of 330lbs which is a little confusing. 
A good garden kneeler offers ultimate comfort and that's exactly what you'll get from this one.
EVA foam padding provides firm yet comfortable support whether you are kneeling or sitting.
The steel frame is durable and won't succumb to the elements thanks to being resistant to rust. 
4. UHINOOS Garden Kneeler
A lot of garden kneelers have a very basic design but if you want something that looks as good as it performs then this one will be right up your street.
The UHINOOS garden kneeler boasts a striking black and yellow design that'll certainly catch the eye. 
But more than just looking great, this garden kneeler has everything you would expect and more.
It comes with a good sized tool bag which is easily detachable and features a quick release system for easy folding and storage. 
What we really like about this one is the non-slip cover on the feet which makes it much safer to use.
The frame is made from steel so it's extremely durable and won't warp or weaken.
With EVA foam padding, your knees will be comfortable and supported no matter how long you spend in the garden. 
5. Totriso Upgraded Bamboo Garden Kneeler
We love this garden kneeler from Totriso which, instead of having a foam padded seat, is made from bamboo.
While this won't give you soft comfort like the other products we have looked at, it will give you great support and stability. 
If you need something that is very durable then this is one worth considering as the frame is made from iron which is one of the strongest metals available.
For people who spend long hours working in the garden, this robust design is a must.
What's more, it's incredibly lightweight and easy to move around. 
The Totriso garden kneeler benefits from a folding design and comes with a detachable tool bag.
You have everything you need to hand at all times!
What to Look For In a Garden Kneeler And Stool
When looking at garden kneelers that convert into stools there are a lot of things that you'll need to keep in mind.
It's no good picking the first product you find as this may not meet your needs.
While the concept of the garden kneeler is largely the same, there are slight variations between products. 
Storage
Some garden kneelers come with a handy tools bag or pocket which makes it super simple to access your gardening equipment without having to get up again.
What tools you usually take with will determine the size of the storage you need, if any. 
---
Moreover: You might wish to think about whether or not the tool box can be removed. This can help when storing your kneeler and will allow you to use the tool box independently of the kneeler making it more versatile. 
---
Padding
When you are kneeling on the ground, the whole point of a kneeler is to provide your joints with support and comfort.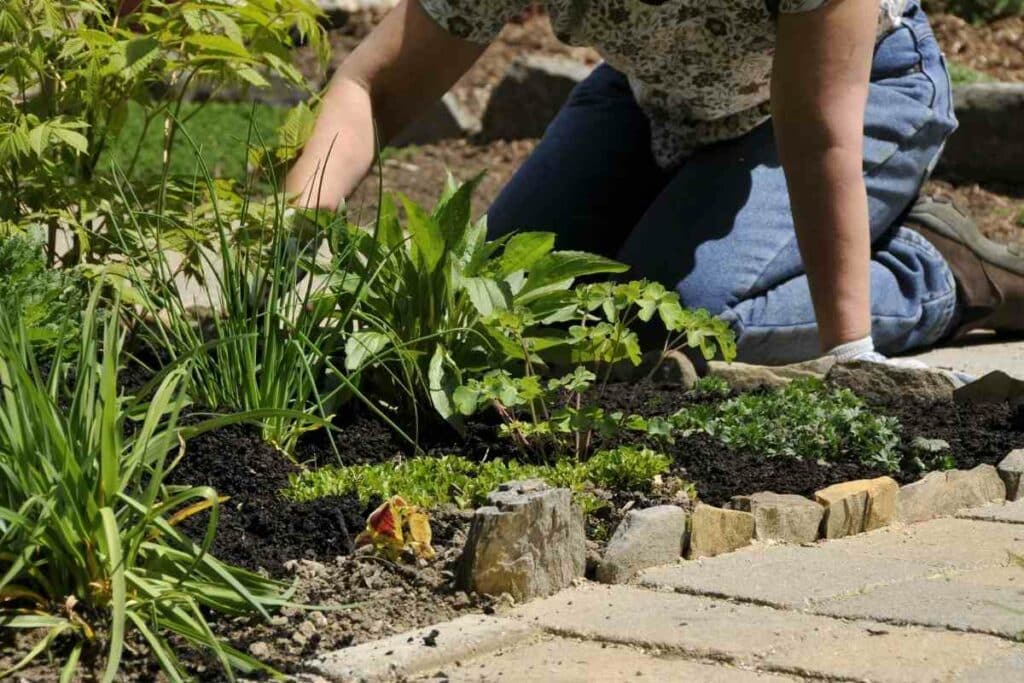 This isn't going to happen if the material is thin and flimsy. This is why it's incredibly important to look for kneelers that feature strong, comfortable padding.
EVA foam is one of the best materials as it offers great support and will retain its shape over time. 
It's also worth looking at what material the cover is made from.
It goes without saying that, when working in the garden, things are going to get messy so a waterproof material like PVC is a great choice. 
Foldability
When your garden kneeler is not in use, you will need to find somewhere to store it.
But many of us are limited on storage space and these kneelers can be quite large when erected.
The good news is that a lot of garden kneelers can be folded down for easy storage and this is a feature that's essential.
---
What's More: When folded, the kneeler will be easier to transport so if you're going to help a friend in their garden, you can easily pop the kneeler in the trunk. 
---
Weight
Your garden kneeler will come with a weight limit and this is something that you should always adhere to.
For the most part, the average weight limit is around 300lbs but there are some heavy duty garden kneelers that are suitable for larger users.
While this may be a sensitive subject, it's important to choose a compatible kneeler for your own safety. 
Easy to Clean
As we have already mentioned, garden kneelers are going to get dirty so it's important to find one that is easy to clean.
Wipeable materials will make this much simpler and if the frame is made from metal, be sure that it's treated so that it won't corrode when exposed to moisture. 
In Some Cases – The cover may be removable and this makes it possible to put it through the washing machine.
The downside of this is that the cover will not be waterproof which means the foam could become wet which will shorten its lifespan. 
Durability
One of the most important things to think about when buying a garden kneeler and stool is how durable it is.
We'll quickly touch back on the weight limit we discussed earlier as this will tell you a lot about the durability of the product but there are other things to consider. 
For Example – The material of the frame counts towards durability. Some frames are made from plastic and are not as robust. However, the advantage is that they tend to be much more lightweight and so are easier to move around the garden. 
On the other hand, there are garden kneelers with metal frames, and while they're a little heavier, they will withstand much more.
To decide which is best, you'll need to think about how and where you'll be using the kneeler.
If you're simply going to be sitting on the patio potting a few small plants, you may find a plastic kneeler is sufficient.
However, if you're in a rocky area of the garden doing more heavy duty jobs, you may need something a little more robust. 
Conclusion
If you find that your knees become sore and achy when working in the garden, it's likely because of the pressure of kneeling on the ground.
With something as simple and affordable as a garden kneeler, your knees will feel supported and comfortable once again.
What's even better is that these products double as a stool so you've got somewhere to sit and enjoy a refreshing drink when the hard work is done!
In Case You Missed It