Working in the garden is a joy for most of us.
It gets us out into nature, gives us a chance to get creative, and is super relaxing. However, while many plants are easy to work with, others can give you a nasty prick.
Yes, we're talking about thorny plants.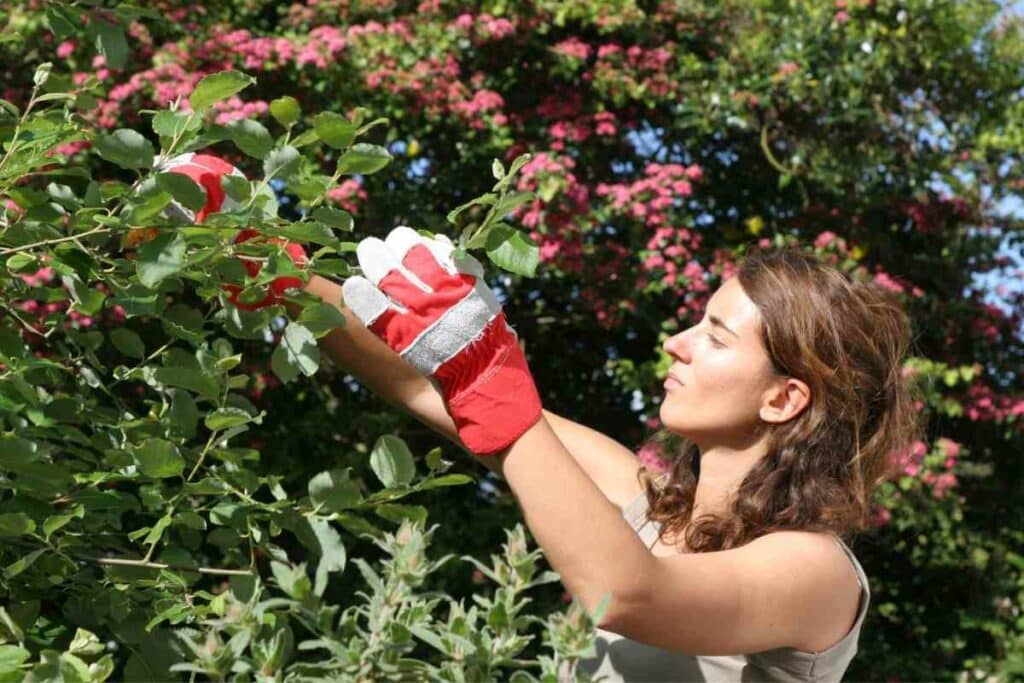 Short of taking extra time and being ridiculously careful, a good pair of gardening gloves will make the work much safer and more pleasant. 
When you're looking at the best garden gloves for thorns, you will need to check out a few things to make sure you're getting the best value for money and a product that will do what it promises.
In this guide, we'll be sharing some top buying tips as well as introducing you to our favorite products. 
Best Gardening Gloves For Thorns – Our Top 7 Picks
You'll notice that there are hundreds of products to choose from when it comes to garden gloves so it can feel a little overwhelming.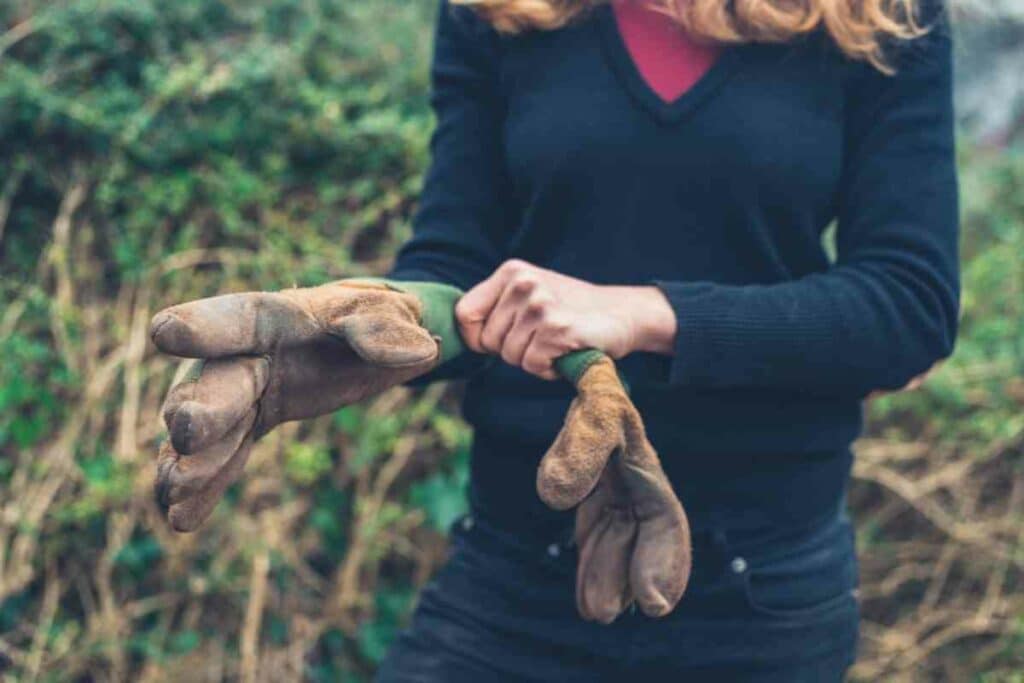 But we've done most of the hard work for you and have narrowed it down to seven of what we firmly believe to be the best pairs. 
1. GLOSAV Cactus Gloves
Made from cowhide, these are super tough gloves that are designed for hard work.
They come in a range of sizes and colors so are suitable for men and women. What's more, they have an adjustable cuff so you can find the most secure fit for you. 
The sleeves of the glove extend well down the forearm so you can reach into rose bushes to your heart's content without worrying about scratching your skin.
Furthermore, the palm section of the glove is extra thick for maximum protection and the durable materials mean that these gloves will see you through plenty of gardening sessions. 
One of the most important things that a pair of garden gloves can offer is retained dexterity and you can feel confident that you'll still be able to move your hands and fingers without an issue when wearing these gloves. 
The only downside to these gloves is that they will require re stretching after washing to ensure that the leather does not lose its shape.
You'll do this by wearing them while wet. 
2. Vgo Natural Goat's Skin Gloves
If the beautiful floral pattern doesn't catch your eye when looking at these gloves, their practicality certainly will.
The gloves are made from goat's leather which offers a great balance between everything you'd expect from a good pair of gloves; breathability, dexterity, and comfort. 
The material is thick enough to protect the hands from cuts and scrapes and with long sleeves, your arms will also benefit from this protection. 
The gloves also feature a fabric cuff which will keep dirt and bugs out of the gloves, further enhancing your comfortable experience while gardening.
As with other leather gloves, you will need to step up your maintenance game but provided you take good care of them, these gloves will last you a very long time. 
3. Baidasy Gardening Gloves For Women
For ladies who want to show off their style when working in the garden, the stunning design of these gloves will certainly help you achieve that.
But much more than just looking the part, these gloves offer great protection and comfort. 
The palms are double padded with foam to create a barrier between your skin and anything sharp.
Plus, the fingertips offer protection thanks to extra thick material so you can work in confidence.
The only issue we found is that these gloves don't offer full forearm protection so they might not be ideal for getting stuck into dense bushes. 
However, they do offer amazing durability and are made from very high quality materials. Moreover, the gloves feature elasticated cuffs to keep out any nasties. 
4. FZTEY 2 Pairs Heavy Duty Gardening Gloves Men & Women
We love these unisex garden gloves that are perfect for couples since they come in a pack of two pairs.
Aside from being convenient, they're also one of the most protective pairs on the market and are suitable for a wide range of tasks including working with thorny plants. 
The gloves are made from leather which makes them incredibly durable as well as being able to offer the utmost protection from thorns, dirt and much more.
Of course, they aren't suitable for use with chemicals as the material is porous. For this, you'd need something with a rubber coating. 
That said, if it's comfort you are looking for then there's not much else we'd recommend as highly as these.
The super soft leather feels amazing on the skin and offers good breathability to prevent your hands from becoming sweaty. 
If all of that wasn't enough, you'll likely be very pleased to hear that the material moves with the hands so your dexterity won't be compromised. 
5. COOLJOB Rose Pruning Gloves
These gloves are designed for both men and women and come in a choice of two sizes to suit.
What's more, they boast a stylish, contemporary design that'll keep you looking your best when working in the garden. 
The COOLJOB garden gloves have a range of features to help protect the hands including reinforced fingertips and knuckle guards.
The thick materials keep your skin safe from cuts and scratches and the addition of rubber grips on the index and middle fingers is a nice touch. 
Inside the palms, there is a puncture proof padding and every piece of material is super durable so provided you look after them, these gloves should stand the test of time. 
What's more, they offer full forearm protection.
However, the cuffs are not adjustable so there's more of a chance of dirt and debris getting inside which can be a pain. 
6. FEISHDEK Leather Work Gloves
These affordable garden gloves for men have everything you'd expect from a good pair of gloves and offer durability and protection by the bucketload.
Being made from leather, you can feel confident that thorns and other spiky plants won't be an issue.
That said, it is important for us to point out that these gloves only come down to the wrists so aren't suitable if your arms are going to be exposed. 
What's more, since the cowhide used to make these gloves is super thick, they'll stand up to heavy duty use without becoming damaged.
If you're looking for something long lasting and robust, these are highly recommended. 
The design of these gloves with seams that are set away from the palms is intended for improved dexterity.
If you've ever struggled to work in garden gloves then let that be a thing of the past because these allow for excellent freedom of movement. 
7. SAWANS Gardening Gloves Leather For Men and Women
We simply had to include these super affordable gloves on this list because not only will they not break the bank, but they'll also perform beyond expectation.
The palms are fully padded so there's no risk of thorns breaking through and the fingertips are reinforced for added protection.
On top of all of that, you're getting full arm protection so these are great for more heavy duty work. 
What's more, these gloves are so easy to work with thanks to an anti-slip design and superb flexibility.
You won't even realise you're wearing gloves! But do be careful as the sizes of these gloves tend to run small so we would advise sizing up to get the best fit. 
These are an excellent choice for working on hot days since they offer superior breathability.
What's more, the light color won't attract the sun but the tropical design will certainly keep you looking stylish!
What to Consider When Choosing Garden Gloves for Thorns
One of the most important things you will need to look for when choosing a garden glove for working with thorns is that the gloves are indeed designed for this purpose.
There are several different types of garden gloves, all of which are intended for different jobs.
For example, you might buy gloves that are merely designed to keep the hands clean whereas others will protect against things like insect bites and chemicals. 
The best way to choose between products is to look at the materials from which the gloves are made.
Thin gloves made primarily from fabric are usually only made to keep the hands clean and will offer little protection against thorns.
However, gloves made from leather are much thicker and more durable and are an excellent choice for this type of work. 
You might also notice that there are neoprene gloves out there and these tend to offer the best of both worlds.
They'll protect your hands when using chemicals in the same way that rubber garden gloves would but offer much better breathability.
What's more, their thickness and robustness mean they're ideal for protecting the hands from cuts and pricks from thorns and other objects. 
The last thing you should look at when choosing garden gloves is how well you are able to move your hands while wearing them.
There's very little point in choosing a pair that restricts your movement as you won't be able to complete half of the tasks you set out to do.
If possible, try before you buy!
Conclusion
Working with thorny plants can leave you susceptible to some nasty cuts and scrapes.
The best way to protect against these is to wear a suitable pair of garden gloves but you must make sure that they are designed for use with thorns.
Our selection of some of the best garden gloves for thorns introduces you to the most incredible products on the market!
Read Next