Gardening clogs and sloggers are necessary to protect the feet from muck and dirt.
They are sturdy and reliable, guaranteeing maximum protection. However, not all can offer precisely what you need as they come in various sizes, types, and designs.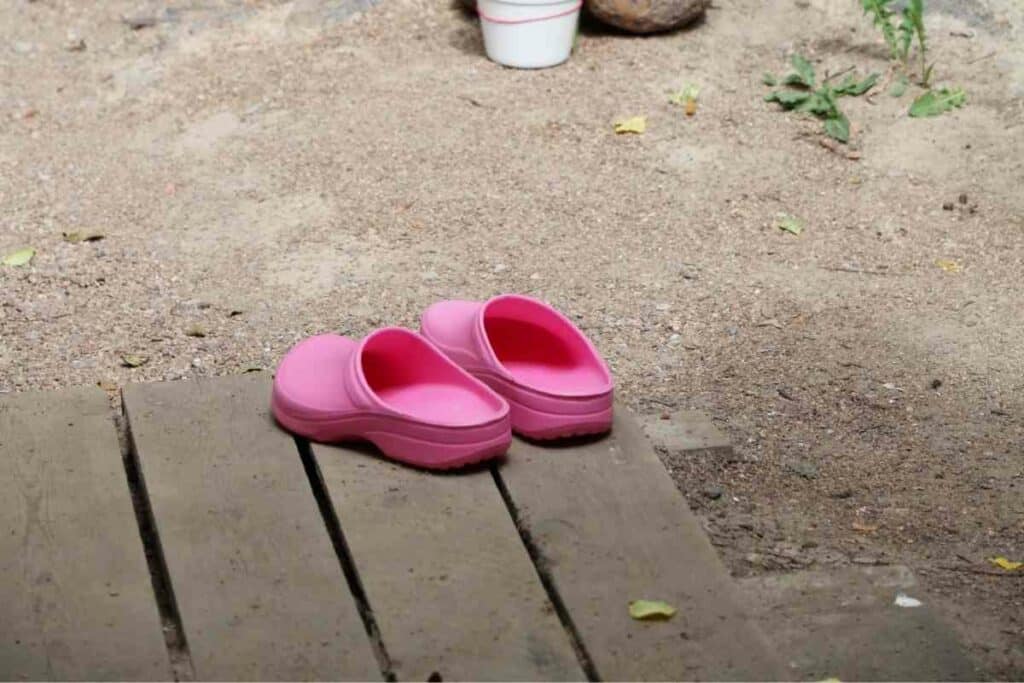 Women prefer something that is both protective and aesthetically pleasing.
Therefore, many companies have designed and released models that are both protective and stylish to women.
---
As a Result: Finding the best clogs or sloggers may alleviate a lot of anxiety. But to make a reasonable choice, you need to know the product's essential characteristics and one that suits your personality.
---
What to Look for When Buying Women's Gardening Clogs and Sloggers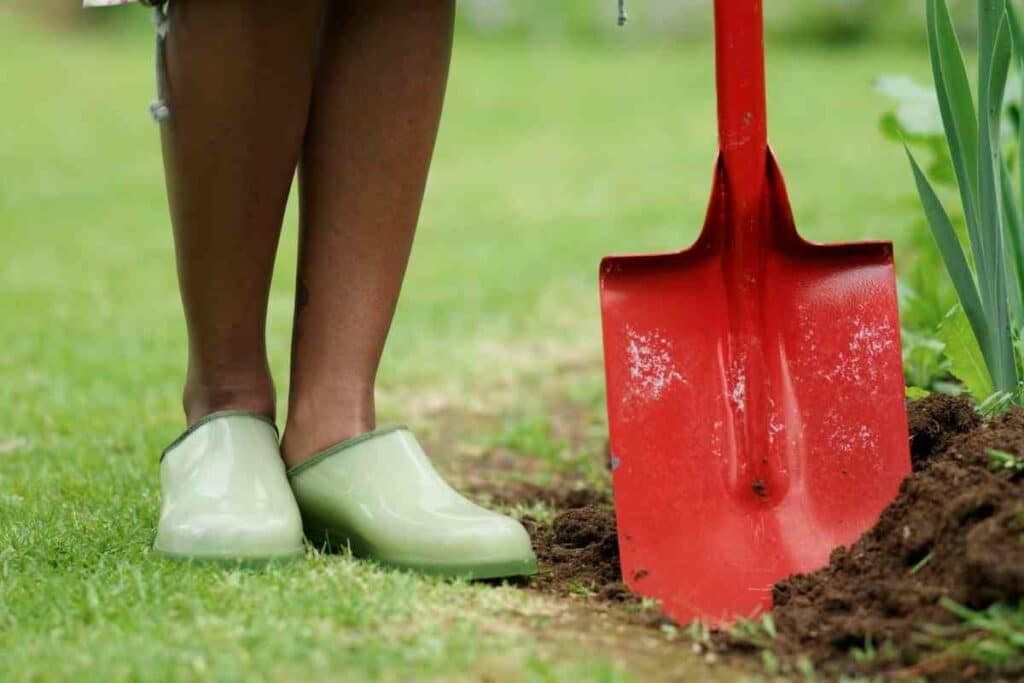 Sole
Before purchasing any clogs or sloggers, the type of sole is the first thing you should look at.
You don't want a completely flat and smooth bottom like a flip flop, but you need one that gives a good grip on grass and soil while using gardening tools especially when digging.
Buy one with a sole arch at the center of the foot to prevent you from slipping or, better yet, one with a thick sole keeping you elevated and out of the mud while preventing excessive slipping in wet conditions.
Furthermore, the thick sole will protect you from the various hazards such as sharp tools that you can encounter while gardening.
Breathability
If you are planning to spend a lot of time in the garden, choose shoes made from breathable material (polyurethane) rather than traditional rubber.
You can also opt for features like ventilation holes or a low-back design that allows for air circulation.
This helps prevent sweat from accumulating inside the shoe, leading to fungal or bacterial infections of the foot and foul odor.
Comfort
Another thing to consider when shopping for gardening shoes is comfort, especially since gardening can take up an entire day.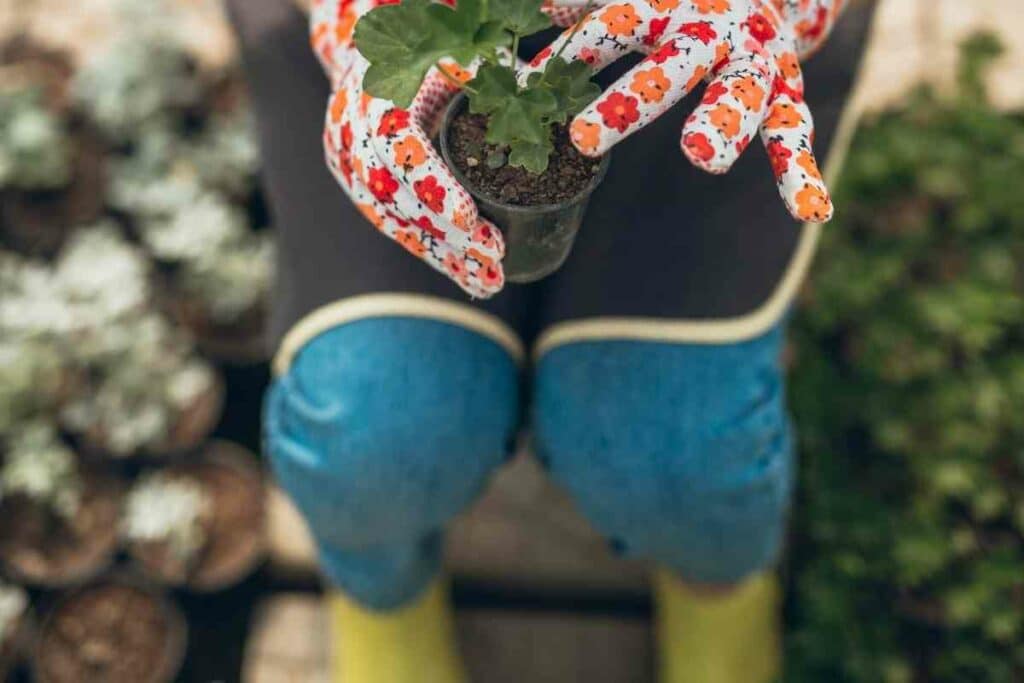 This can take a massive toll on your feet if you aren't careful.
Wearing uncomfortable clogs or sloggers can cause common foot problems such as blisters, foot arch issues, and gait problems.
The most significant determinant of comfort is the design of the clogs.
---
Best Strategy: When shopping for garden clogs, look for the one with a firm sole made of natural rubber material or PVC, a mid-height sole, and a soft and flexible midsole.
---
Waterproof
Waterproof clogs can be expensive, so you should buy them if you need them.
If you are gardening in summer or gardening casually, you may not need entirely waterproof clogs.
Furthermore, because 100% waterproofing adds thickness and warmth, they may not be ideal for summer gardeners who require breathability.
In that case, look for water-resistant shoes. They are typically lighter in weight and significantly more breathable.
On the other hand, if you're out in the garden, watering your plants by hand, working in the morning dew, or walking in areas where it rained the day before, you'll need a good pair of waterproof gardening shoes made from rubber or polyurethane.
Design
Look for something that meets your comfort needs and catches the eye when working in the garden.
Some brands offer a variety of color choices and patterns that are beautiful to wear and suit different tastes and preferences.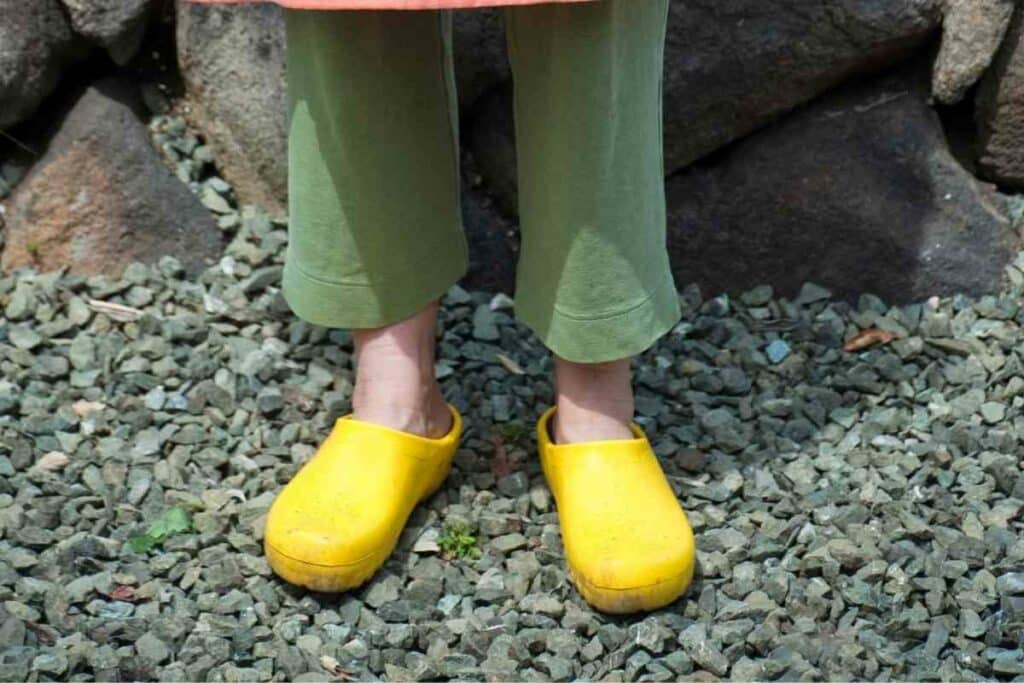 Furthermore, being so stylish, you can take them from the garden to running errands.
Also, they should have a simple design to make them easy to put on and take off.
Therefore, try to choose a model with a low back design as they are easy to put on at all times.
Ease of Cleaning
Garden shoes get muddy and dusty quickly.
There's no way around it; no matter what type of gardening clogs you need, the most important thing is the ability to clean them easily with water coming from a hose, or they should wipe with a damp cloth with ease also dry quickly.
Therefore, it's advisable to buy water-resistant, slip-resistant, and even stain-resistant.
Size
Your gardening clogs should always have a very snug fit.
Clogs that fit snugly around your feet protect you from mud, water, and other debris that can easily seep in.
That said, to know your foot size, measure the longest and the widest parts in both inches and centimeters and compare with the sizes offered.
Furthermore, manufacturers usually provide measuring guidelines.
Durability
Your outsole is the outside of your sole and is the part of your shoe that will touch the ground.
If you want your gardening shoes to have the most longevity possible, it is necessary to look for durable materials.
You'll likely want to look for an outsole made with natural rubber material or PVC, as these are incredibly durable and water-resistant.
The Best Garden Clogs and Sloggers for Women: Our Top 3 Picks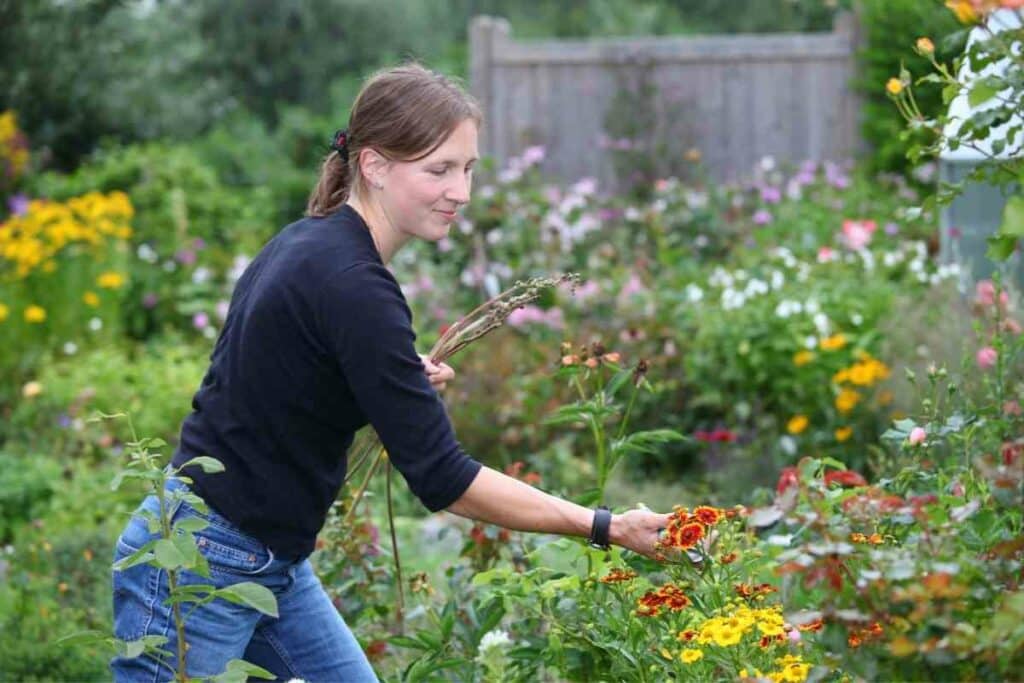 1. Sloggers Women's Waterproof Rain And Garden Shoe 
Key Features
All day comfort insoles are included
Heavy duty lug tread that provides excellent traction
Durable sole that contains up to 50% recycled material
Heel Kick for Easy Off
The Sloggers Women's Waterproof Rain and Garden Shoe demonstrates that gardening can be done in style.
They come in a variety of bright and vivid hues, animal-inspired prints, plain options, and floral-inspired motifs.
The modern look makes them great for gardening activities and a rainy weekend out. They have different size options 6-11.
They are not only practical and lovely to look at, but they are also safe for the environment as they are 100% recyclable. 
Because the sole contains up to 50% recycled material, when you're done with the shoes, you can send them back to Sloggers and they'll repurpose them into a new pair.
The clogs bear the brand's signature heavy-duty deep lug-tread outsole, offering superior traction in wet and muddy conditions and protect the feet when walking on rocks or hard, bumpy surfaces.
They are excellent at support, as each clog has a 7mm thick heel, a 5mm thick ball, and a molded arch to fit the natural contours of the feet.
Pros
Comfortable
Easy to hose off clean
Recyclable
Multifunctional
Waterproof
Available in attractive designs
Cons
Heavy
They are not breathable
The low-back design means that you can easily slip the clogs on and off. They also feature all-day comfort insoles that can be removed for washing.
As the material is waterproof, cleaning is a breeze as you can wipe it off with a wet cloth or hose them down after use and air dry quickly.
---
2. Amoji Unisex Clogs Gardening Shoes
Key Features
Arch support
Hole-filled design
Wide width at the front
If you want a shoe that can serve all gardeners regardless of age and sex, consider these incredibly comfy unisex gardening shoes.
They have different color choices and prints and also men and women's size options.
The shoes are versatile enough; they are suitable for both outdoor activities and house activities.
They can function as house slippers for relaxing in the house also for gardening or running errands.
They have Ethylene Vinyl Acetate sole with unique shock-absorbing properties, thus providing premium cushioning and enough grip.
They are also made from a durable molded-resin material that repels water and won't get damaged if you get them wet.
In terms of comfort, the arch support of this shoe ranges from moderate to low, and the shoes are wide (like Crocs).
This provides plenty of space for the feet when working, and there are pea-sized nubby bumps on the inside surface massage the foot while working in the garden. 
The shoe's center underside heel is recessed, so the weight of your step never makes contact with the ground, but instead sinks into the airspace created by the recessed heel and the ground.
These clogs' classic, simple low-back design makes them easy to slip on and off in seconds.
Their hole-filled design ensures they're ultra-lightweight (100-200g) and breathable making the feet remain odorless even after spending the whole day in the garden in them.
Pros
Lightweight
Breathable
They are non-slip
Cons
They shrink in the sun
Not suitable for avid gardeners
Stuff gets in through the holes
They are entirely waterproof as they're made of rubber, meaning they dry quickly; this comes in handy if you accidentally soak your feet while you are watering the garden.
Furthermore, they don't become slippery on the inside.
Clean-up is also fast as it's just a matter of hosing them down quickly and then propping them against a wall to air dry.
---
3. Sloggers Women's Premium Garden Clogs
Key Features
Traditional" Backless Clog Design for Easy Slip-On
Premium Insoles are Moisture Wicking and Anti-Microbial
Closed toe design
Breathable air vents
100% recyclable
The beauty of these shoes is that they are versatile; they can be worn pretty much anywhere.
They are made from medical-grade, soft, and flexible vegan-friendly material with rubber as its main component, created using a sophisticated injection molding system.
Therefore, they are lightweight and comfortable for all-day wear, thus making them perfect for the garden.
They come in a variety of color choices; kiwi, black, deep lake blue, sangria red, and cactus green with a variety of fit sizes (6-10) and includes an exclusive ½ sizer insole.
With an option of a manufacturer's warranty that can be requested from customer service.
It is made out of 100% waterproof material, which will help to keep the feet from getting soggy and wet while in the garden and make it easy to hose the clogs off or wipe clean.
They have closed-toe design that helps prevent mud, pebbles, and water from getting in.
As much as their top is closed, they are still breathable as they have four vents on each side which help with air circulation.
Pros
Easy to slip on and off
100% waterproof
Lightweight
Versatile
Breathable
Cons
They are not the most stable or secure fit
The bottom features a deep lug that provides good traction and prevents slipping.
While the design isn't low back like some clogs, there is a heel kick tab so one can still slip them on and off easily.
If you're someone who cares a lot about the environment, you'll love the fact that Sloggers are 100% recyclable.
---
Frequently Asked Questions
Are Garden Clogs The Best Choice?
Garden clogs are an excellent option for many people, but they aren't the best gardening shoes for everyone, only casual gardening.
If you occasionally do garden work or work long hours in healthcare, retail, or restaurants, they could be a good fit for you too.
Is Buying Garden Clogs For Women Worth It?
One of the most critical aspects of gardening is to protect your feet while working. It only takes a split second of distraction to end up badly injured.
A misplaced tool with a sharp tip, a weight that can slip from your grip, and slippery or damp terrain are all potentially hazardous situations that endanger your stability and safety.
Why not garden in comfort and treat your feet with a pair of gardening clogs that are nearly indestructible, flexible, light, and waterproof.
Can Garden Clogs Be Worn anywhere?
Garden clogs remain proactive footwear in agriculture and some factories and mines. They are comfortable enough to turn from one task to another.
Clogs with a closed-back design and rubber outsoles, and a heel height of at least an inch are ideal for indoor and outdoor use and durable enough to be worn just about anywhere and by anyone.
Final Thoughts
Gardening clogs and sloggers can protect you from thorns, dirt, and other debris found in the garden.
Before purchasing gardening clogs or sloggers, women should consider the comfort, style, material, design, intended use, size, breathability, and sole type.
When you consider these features, you are more likely to make a good decision.
You May Also Read