Using a rollout garden wooden walkways is not only an attractive way to add a pathway to your yard, but it also works well to hide any untidy patches or areas that frequently get muddy or damp.
Most walkways are built from semi-flexible planks that fit the curvature of the ground.
Additionally, it looks fantastic with any existing landscaping, and you can set it up in seconds.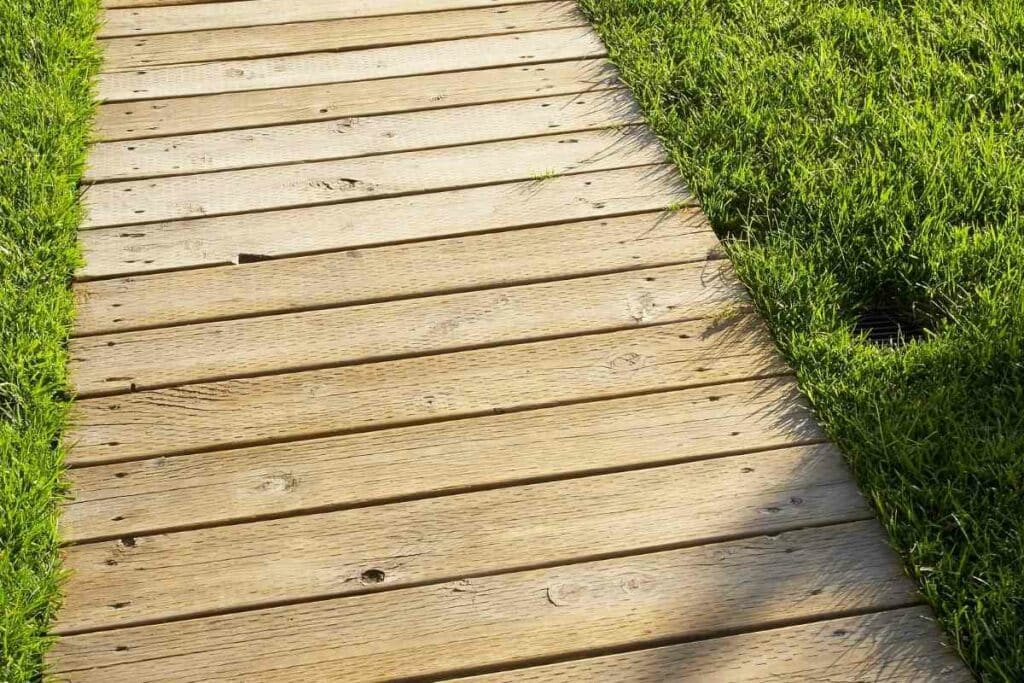 It's an amazing idea for anyone wishing to spruce up their yard on a shoestring budget.
These walkways are not only helpful in adding a beautiful touch to your outside surroundings, such as a garden, balcony, and patios.
---
Did You Know? They are also ideal for the beach, camping, ocean-front homes, catering services, shower stalls, weddings, and most outdoor activities. 
---
How to Make a Rollout Garden Wooden Walkways
To build a rollout garden wooden walkways, you require 1″ x 2″ piece of scrap wood, 1″ x 4″ pieces of wood, staple gun, Nylon strap, glue, and two strips of Velcro.
Here is the process:
For starters, you have to determine the length of your pathway to help you tell how many 1x4s to buy.
Cut your 1x4s to 30″ or have the hardware store cut them for you and arrange them on a level table.
Use the 1×2 as a template or reference to determine how far apart your boards should be.
Wrap the nylon strap around the boards approximately 5″ in from each side. Starting at one end, use your glue to stick the nylon to the board and secure it with a staple gun.
When the glue has cured, it will perform most of the job here, but it takes time to dry, and the staples will keep it in place while you work on it.
Please continue the same process down your pathway until it reaches the required length. Leave about 6″ of nylon strap dangling from the ends. Roll your walkway up to notice where it naturally comes to a halt, and then you can put your Velcro.
To keep the nylon in place, use one Velcro strip on each side to keep your walkway from collapsing.
Finally, you can take your portable walkway anywhere you want it to be. 
Benefits of Having Rollout Wooden Walkways
The main advantage of having wooden walkways is their aesthetic value. There are different types of wood with unique colors and patterns.
The shape of wood changes depending on how it is sliced.
Depending on your color and style preferences, you may select various wooden materials. It can be painted or varnished in deeper hues and have bright or mat accents.
Wooden walkways are simple to repair and maintain.
While ancient timbers may be revitalized with delicate touches, other materials are tough and expensive to preserve and restore.
As a result, they are frequently discarded.
Another amazing feature about these pathways is how they respond to elements such as heat.
Wooden walkways do not practically expand in response to heat. On the contrary, heat causes it to dry out and grow stronger.
They also barely expands when the humidity level falls below 0%, which is very important.
Even in the driest climates, the humidity content of the wood does not go below 5%.
How to Maximize the Durability of Rollout Wooden Walkways
One of the ways you can increase the durability of your walkways is by coating them.
The coating protects wooden walkways that are used both outdoors and indoors.
Coating minimizes quick moisture uptake, loss, swelling, and shrinking, which can cause surface cracking and other issues.
Coating, however, does not entirely prevent fluctuations in moisture content.
Coating wood with a rigid color or pigmented stain shields it from UV radiation. Addition of fungicides to the coating safeguard against the growth of rot and mold fungus.
You can prevent your walkway from rotting by treating it with wood preservatives.
However, some wood preservatives may be dangerous to humans and some animals.
---
As a Result: If the rollout wooden walkway is used outdoor in conditions where it is frequently wet or close to water, it must be treated with wood-preserving chemicals to guarantee long-term durability.
---
Best Rollout Garden Wooden Walkways to Purchase
1. Reliancer 8′ Wooden Garden Pathway 
Key Features
Made from natural pressure-treated cedar boards are joined with two rows of solid duty wire and high-density rubber spacers
Overall dimensions are 96″ L x 17.5″ W x 0.7″ H
The size of each board is 17.5″ LX2″ W
The wood thickness is 0.7."
This roll-up wooden walkway is 8ft longx17inches wide.
It also comes with 40 boards and drainage spacers to help you build a beautiful and rustic route through your yard at a low cost.
It comprises pressure-treated cedar planks that are anti-UV, fade-resistant, and weather-resistant, not only to exceptionally sunny days but also to damp weather, and can be used in all seasons.
Cedar planks are denser and have a higher carrying capacity than fir wood, making them more resistant to decay, cracking, and splitting.
It is adaptable enough to accommodate any ground shape, including uneven terrains like a beach, gravel road, or muddy road.
It keeps dirt, mud, and grass away from the bottom of your shoes or bare feet when crossing moist, swampy, or muddy ground.
Each plank is linked with heavy-duty wire and high-density rubber spacers, which are more robust and last longer than nylon ones, allowing you to walk around without fear of breaking.
Hence, it may be coiled up to a tiny size for convenient transportation and storage.
Pros
The roll-up design saves space and is low-maintenance
You may easily rearrange, delete, or replace the route
There is no need to remove, disassemble, and rebuild like standard decks
No nails, screws, or hardware will need to be replaced
The roll-up design saves space and allows for convenient storage
Cons
It covers a limited space
Additionally, the product does not come with nails, screws, or hardware that must be replaced. It is simple to clean and maintain by spraying it down with a hose or power washer.
In wet or severe areas, you are recommended to put a wood sealant on your outdoor route. You may also use non-toxic mineral oil or coconut oil for interior installations.
---
2. Plow & Hearth Weather-Resistant Straight Hardwood Pathway
Key Features
Dimensions of the pathway96 x 17.75 x 1.5 inches
Weight of the pathway 12.1 pounds
It is an 8′ wooden garden walkway
Made of  weather-resistant Hardwood planks
Connected with wire and rubber spacers
Use this Straight Hardwood Pathway to keep elevated and dry when traversing wet or muddy terrain.
These portable, easy-to-use pathways are made from naturally weather-resistant hardwood planks linked together with wire and rubber spacers. 
Use one or more to build a visually appealing walkway anyplace. The flexible pathway bends to the ground and fits in seamlessly with your landscaping.
It is the epitome of convenience, with an infinite number of ways to use this vital channel. 
You can use it in your garden for a clean route that will also aid in keeping weeds at bay or use it on a low-lying terrain area that is consistently damp.
Pros
Easy to maintain by rinsing with a hosepipe
Rolls up for easy movement or storage
Cons
One-piece covers a limited area
You can roll it out near your water spigot to lower excess splatter or use it indoors in your garage or basement to raise storage boxes off the floor—ideal for a beach home, a lake cottage, a mountain cabin, and other uses.
---
3. i frmmy Outdoor Weather Resistant Straight Pathway for Garden Walkway
Key Features
Built with PS wood, strong stainless steel wire, and aluminum spacers
Pathway measurements 8ft long x 17.5inches wide
I frmmy wooden walkway is one of the most long-lasting garden pathways.
It measures 8ft long by 17.5inches wide. The slats are sturdy and durable, measuring 1.46 inches thick.
The garden path is built with superior PS wood of 8'L x 18″ W, connected with strong stainless steel wire and aluminum spacers.
PS Wood substance seems to be more like wood and has a more accurate wood-grain feel.
It is simple to clean, has a high strength-to-weight ratio, and will survive with minimum maintenance or refinishing for many years.
Pros
Incredible build quality for usage in a variety of environments, 
Highly durable
Simple to clean.
It's simple to use- roll it out where you want it.
It can roll up for simple storage or transportation.
Unlike wood, this material will not expand, splinter, fracture or distort when moisture and humidity levels fluctuate over time. 
It is simple because no assembly is required; roll out the route where desired.
You can roll up the garden walkway for simple storage or transportation.
---
4. KS Kabells 10′ Wooden Garden Pathway
Key Features
The dimensions of the pathway are 10 feet long by 17 inches broad
Made from weather-resistant hardwood and stainless steel, and aluminum spacers
It is flexible hence can be used in curved places
The wood sealer is applied to the surface for protection from harsh climate changes
The Ks Kabells 10′ wooden Garden Walkway is one of the longest in the market. It measures 10 feet long by 17 inches wide.
With this walkway, you can make your garden more attractive, elegant, and perfect, providing the unique finish you desire for your home compound.
It is made from weather-resistant hardwood and sturdy stainless steel and aluminum spacers' link solid wood. 
The rustic decorative garden boardwalk-brown wood is perfectly connected for a long functional life, with wood seals glued to the surface for protection in harsh situations.
It does not crack or distort. It is also simple because it does not require assembly and is simple to clean.
Because it is held together by steel wire, aluminum spacers, and wood protection, all you need to do is clean it with water, and it will be ready and lovely as always.
Pros
It is long enough to fit most gardens
It is very durable
It may be used in both straight and curved places
No assembly is required
Cons
It is one-sided: the finish is on one side only
The wood is more durable since it is shielded from climatic changes thanks to its protection.
Depending on your needs, you can use it in two ways as a straight road or as a curved path.
You can store it in small areas since you can roll it or fold it.
---
Frequently Asked Questions
What is the ideal width for a wooden walkway?
Walkways are typically 36 inches wide and can run from a porch to the sidewalk, border the sides of a home, or cut through a garden.
Shorter walkway parts on sloped terrain can step up or down to the next segment.
Is it possible to use a rollout wooden walkway?
A rollout wooden walkway is an appealing and affordable garden path that is easier and less grueling to construct than concrete or a stone path and works well in sloping or rainy regions.
Which is the best wood for a rollout walkway?
Modified wood, such as the Kebony, is the most acceptable option when purchasing a walkway to your yard.
A quality walkway allows you to enjoy your home more without requiring much maintenance, and the natural wood suits any location you're creating in.
Final Thoughts                                   
Whether you want to lead guests to a specific section of the yard or provide a space for natural exploration, a wooden walkway may help you achieve your goals while also improving the aesthetic and function of your area.
Cedar or pressure-treated timber is ideal for a wooden walkway since they resist water damage such as mold, mildew, and decay.
They are also more resistant to pest infestations, which can weaken and eventually cause a building to fail.
In Case You Need It