It can be frustrating to constantly fix kinks, untangle, and repair holes of a garden hose.
A metal garden hose is excellent in eliminating these issues as they are meticulously crafted, and made of highly durable metal that will not tangle or kink.
With so many different metal hoses on the market, choosing the right one can be confusing.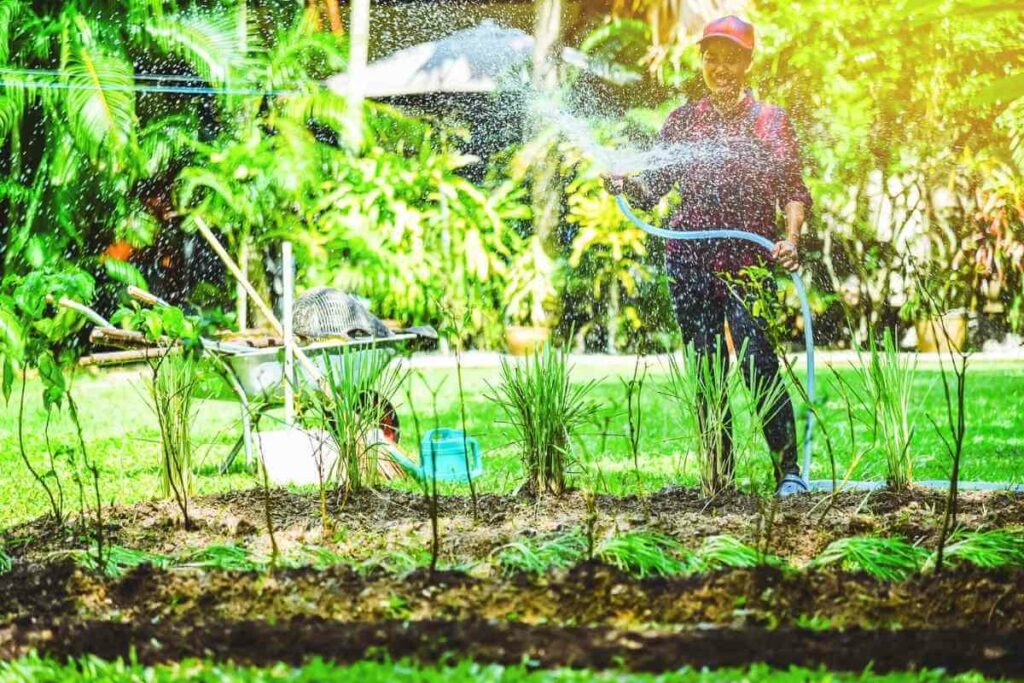 They may all look alike at first glance, but they are not all the same. Some are made of low-quality metal, making them prone to kinking, raptures, and rust.
---
What to Expect: Metal hoses made of 304 stainless steel are superior and an excellent option for numerous projects requiring a garden hose.
---
Best Bionic Garden Hose And Metal Hoses
1. Bionic Steel Pro Garden Hose
Key Features
Built-in On/Off Valve
Comfort Grip Handle
Strong Stainless Steel
The Bionic Steel Pro Garden Hose is best known for being extremely lightweight and flexible.
It weighs about 4 pounds, and due to the unique interlocking flex design, it easily bends and curves.
Thus, it has the ability to maneuver around trees, tight corners, and other obstacles while remaining significantly lighter.
This makes it easy to handle even for those with limited physical abilities, the elderly, and kids.
The hose has solid brass fittings and a stabilizer collar designed to withstand high pressure. The included on and off valve allows you to control the output easily.
The inner rubber Tube is 5/8inch in diameter, which allows a lot of water to flow freely no matter the pressure.
It is available in 25, 50, 75, and 100-foot lengths. Which25 – 50 feet is perfect for small lawns, and 75-100 feet is used for large backyards.
When it comes to withstanding the adverse effect of wear and tear, this garden hose is made of commercial-grade 304 stainless steel, which is extremely durable.
This material doesn't rust, is resistant to punctures, leaks, and drags over rough terrain, thus increasing the hose's stability and lifespan.
This makes it great for simple garden work to more complex tasks.
It is built to withstand harsh weather conditions. It can be used with minimal issues even when left in the sun as it does not overheat.
This makes it perfect for those living in hot areas. It is also ice-resistant, can withstand freezing conditions, and remains fully functional with no damage.
This makes it suitable for use in regions experiencing frequent cold winters. With this, you can't worry about leaving it outside.
Pros
Crush resistant
It withstands extreme weather
It is easy when storing as it coils easily
Corrosion & rust proof
It is lightweight thus easy to use
Cons
It leaves a black residue on hands during the first few uses
It is kink-free as the patented design does not get tied up, tangled, or twisted.
Furthermore, if it gets tangled, it will still produce the same amount of water pressure as before without any issue.
---
2. Beaulife 304 Stainless Steel Metal Garden Hose
Key Features
100% 304 stainless steel
Solid brass nozzle
Rubber Gasket on each Fitting
User manual
Warranty card
The Beaulife 304 Stainless Steel Garden Hose is made of 100% 304 stainless steel that is intrinsically durable, rustproof, puncture-proof, and slash-resistant.
The material and design of the hose makes it Lightweight, Flexibility, Kink resistant, puncture-resistant, and weatherproof properties.
It is designed to withstand harsh conditions, such as wear and tear from dragging around the garden and animal bites. So, you don't have to worry about damage.
They also feature less heat sensitivity, so you can still use your hose even after exposure to ice or the hot sun.
The new version of this hose is very strong, and is capable of maneuvering around sharp corners and withstand animal bites.
It also features a larger diameter (3/8″) of the inner hose and an outer diameter of 5/8″ that can now support higher water flows (Maximum Working Pressure: 2MPa) than ever before and is also compatible with 3/4-inch water fixtures.
Pros
It is kink and tangle free
Animal chew proof
Easy to Maneuver
Durable
It coils up easily for storage
Cons
It has a possibility of leaking
Another great thing about this garden hose is that it comes with a solid brass nozzle featured with an adjustable twisting barrel for adjusting water from a fine mist spray for delicate plants to a powerful pressure jet stream for removing caked-on mud.
---
3. Tardigrade Steel Hose
Key Features
Aluminum crush-resistant fittings and stabilizer collar
Large 9mm opening
304 stainless steel
Spirosheild outer layer
The name of this stainless-steel hose says it all.
The Tardigrade steel hose outer shell is made from tough 304 stainless steel fabrication.
This steel is rated as highly durable and resistant to the normal wear and tear that a garden hose endures, so it is ideal for use outside on a variety of home applications.
It is not only resistant to physical damage, but it is also heat and cold resistant.
The rugged steel exterior makes the hose remain cool to the touch even on hottest summer days. The same goes for freezing temperatures.
The hose will not be damaged by ice if left outside.
The advance engineered design of the spiro-shield outer layer of the stainless steel makes it highly flexible and easy to maneuver around obstacles, and tight corners in the garden while remaining significantly lighter than commercial rubber hoses.
It is also this same shell design that makes it kink-proof, tangle-proof and also makes it coil easily for easy storage.
The aluminum crush-resistant fittings and stabilizer collar are easy to connect and disconnect as needed, and also they are engineered to withstand extreme force.
Therefore, they are leak-resistant and crush-proof. That is, they will be resistant to harsh conditions and will not waste water by directing it only where it is required.
The diameter of this hose is 5/8 inch (16mm) which is perfect for performing a large number of tasks.
For best water pressure, the opening of the Tardigrade Steel Hose metal garden hose is a large 9mm opening.
Compared to the smaller 1/4-inch opening of other hoses that restrict water pressure.
Pros
It is kink-proof
Puncture proof
It is tear and crack proof
Corrosion and rust proof
Uv resistant
It is available in different sizes 50 Feet, 25 Feet, 10 Feet, 5 Feet, 3 Feet, 1 Foot to meet your requirements.
If you require a longer hose, you can connect these sizes to achieve the desired length.
This is useful if you don't require a long hose, it will be easier to store and carry them with you and extend the hoses when need be.
---
4. Specilite Stainless Steel Metal Garden Hose
Key Features
Length measures in at an impressive 100ft
Included sprayer nozzle
304 stainless steel materials
High-quality rubber gasket
Specilite offers excellent value for money. Even though the hose is highly affordable, it is still of high quality as it is constructed from a commercial-grade 304 stainless-steel material.
Which is perfect for its anti-corrosive and durability properties.
It is guaranteed to be rustproof, weatherproof, and has a much longer life span than other types of hoses.
The rugged stainless steel outer shell is strong enough to maintain its shape and integrity, making it very resistant to most physical damage like puncture, fraying, and rip.
It is also kink-free due to the sturdy metal.
This allows for consistent water flow as it will lay flat, resist the twist, and provide steady and high-pressure water output while remaining memoryless, coiling quickly for storing effortlessly. 
Another good thing about this hose is that it comes with ten-way spray nozzles, cone, flat, shower, mist, 1/2vert, rinse, jet, angle, center, and soaker.
This allows you to perform and carry out a lot of watering jobs. You can efficiently water your plants, trees, as well as grass quite quickly.
With the slip-resistant feature around the handle of the spray nozzle, you'll be able to hold the hose with ease and comfort.
The grip is also firm. There's no way it'll slip through your fingers.  It also features a high-quality rubber gasket on each end of the hose for a tight water hose seal to prevent the hose from leaking.
Pros
It is durable
Slip-resistant, rust-resistant, weatherproof
Affordable
Cons
Some nozzles offer more spray modes
It comes in different sizes, 25ft, 50ft, 75ft, and 100ft; hence can cater for both small and long gardens and lawns.
The hose has a width of ⅝ inch that allows you to use various hose fittings with this one easily.
---
5. Veragreen Stainless Steel Metal Garden Hose
Key Features
Brass nozzle
Made out of 304 stainless steel
1-year warranty
If you're on a tight budget and need a garden hose for your backyard, Veragreen is an excellent option.
It is affordable, yet it offers the best build quality service as it is made of more robust 304 stainless steel-a puncture-proof material, and cannot be torn or cut off.
Therefore, you won't have to worry about extra expenses for maintenance. Despite its low price, it also comes with a 1-year warranty.
Since it has rigid material in its construction, it is virtually indestructible.
The stainless-steel material makes it kink-proof, rustproof, corrosion-resistant, lightweight and flexible.
In addition to that, it can work with a high-water pressure output and still ensure no leaking.
This is ideal for those who require a strong stream of water from their hose.
Not only is this product super tough, but it is effortless to use as well. Its kink-resistant properties enable it to remain untangled even when in use.
It is also UV resistant; thus, it can be used even in hot or freezing temperatures.
The diameter of this hose is 5/8''(16mm), meaning it works well in a large number of tasks. It is available in different lengths 25ft, 50ft, 75ft and 100ft.
Since it is connectable, you can easily find many fitting lengths for this hose without any issues, as you can connect it with another hose to make it longer to reach the intended length.
Due to this, it offers a decent size for easily watering most backyard lawns.
Pros
Lightweight and easy to store
Extremely durable and flexible
Puncture proof
It is multi-functional
Cons
Not suitable for large gardens
It comes with an additional brass nozzle with two distinct patterns and a range of adjustments from a fine mist to a blasting stream.
This makes it very versatile for many applications, like washing pets or cars, and helps you enjoy gardening in your spare time.
---
Frequently Asked Questions
Are Metal Garden Hoses Any Good?
Yes, metal garden hoses are ideal for every gardener as they are resistant to breakages and punctures, so they will not leak thus preventing spillages and waste.
Therefore, no more interruption of the water flow and the need for fixing it.
They can also withstand more extreme conditions than standard hoses, such as animal bites and wear and tear from dragging around the garden.
How Long Do Stainless Steel Garden Hose Last?
Because stainless steel is a metal, it does not decompose like organic matter.
It instead corrodes. It can take up to three to five years for them to rust before you even notice the problem.
However, this depends entirely on the garden hose type as each brand uses its construction material and has different standards.
What Is a Metal Garden Hose?
Metal Garden Hose is a metal hose used for gardening and cleaning.
It is made of 304 stainless steel, which provides multiple solutions that one can encounter.
It gives guaranteed flexibility, lightweight, puncture and Kink resistant, weatherproof properties, and a longer lifespan.
Final Thoughts
If you enjoy gardening or are particular about having lush lawns or backyards, a suitable water hose is essential.
Metal hoses made of 304 stainless steel are dependable. They are not only beautifully sleek, but they are amazingly durable while remaining inexpensive.
They can be used in many different projects as they are resistant to corrosion and stains coupled with low maintenance and can withstand high pressure and stay intact.
You Might Also Read