A garden cart can boost your gardening game to another level, whether cultivating beautiful flowers, tasty vegetables, or simply cleaning up a lawn.
The best garden carts should be long-lasting, easy to move due to solid wheels and handles, and be the correct size to carry all gardening necessities.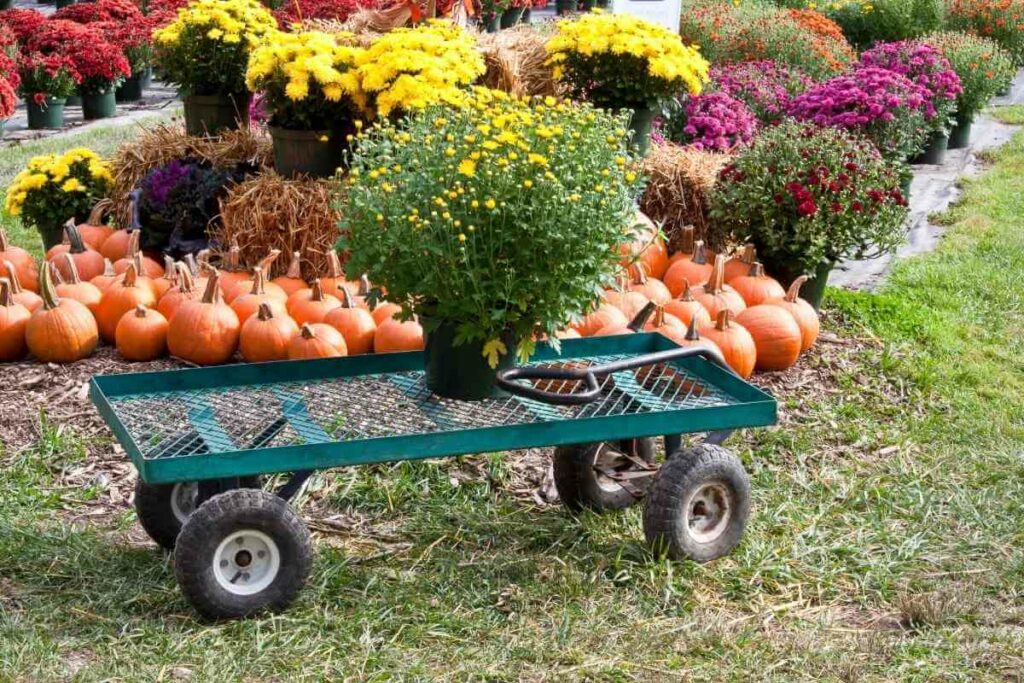 The Gorilla Poly Cart from Amazon is perfect for most jobs. Strong, Lightweight and hardwearing, and backed by a good guarantee.
While looking for a garden cart, there are several things to consider. Choose a cart that is easy to move and has a tilt function.
If you have a tiny yard, search for a sleek and compact cart that can go through tight spaces.
However, if you have a larger piece of land, a large-capacity alternative that can carry hundreds of pounds would be a better fit.
7 Best Garden Utility Carts For 2022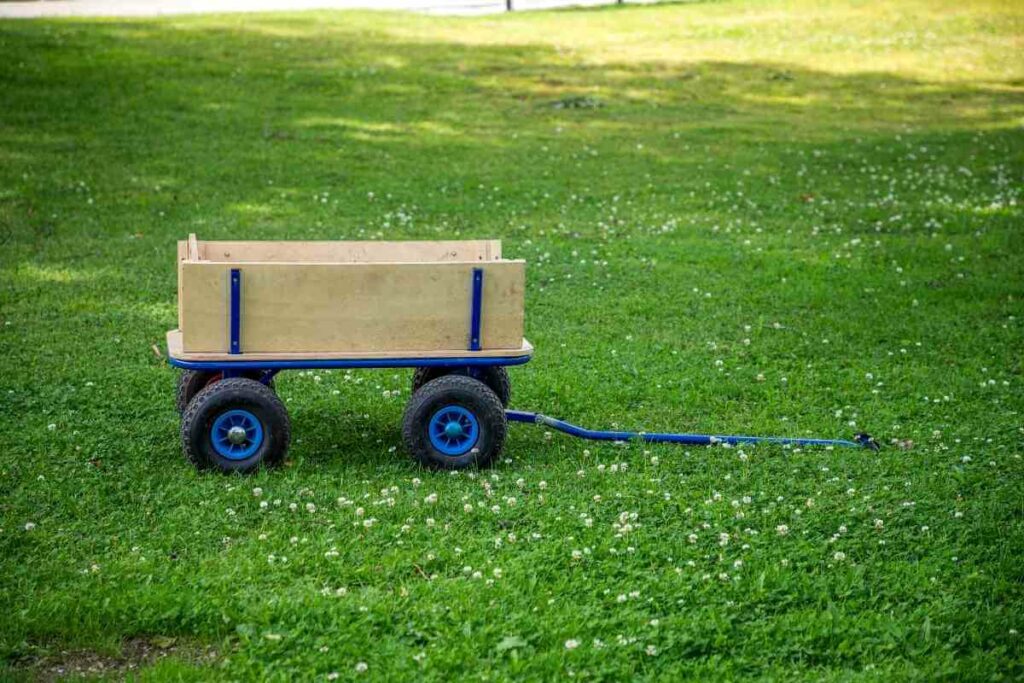 1. Gorilla Carts Poly Garden Dump Cart
Key Features
The Gorilla Carts brand is well-known for its quality and durability.
Most of their carts come with a Steel-plated Frame for sturdiness and 10-inch Pneumatic tires.
This cart in particular has a new frame design that minimizes assembly time while increasing agility and ground clearance.
It can haul up to 600 pounds. It is also equipped with a patented fast-release dump mechanism that effortlessly tilts the bed downwards.
Its narrow design allows it to be used for urban gardening. This also makes it versatile for almost any use be it hauling tools, compost, or fresh plants.
The weight of this cart is 32 pounds with dimensions of 38.7″ D x 20″W x 19.5″H.
The bed of this cart is vertically formed, making it easier to unload the dump. In addition, a paddled pull handle is connected to the cart, allowing you to use it anywhere.
Another great feature is the pneumatic tires that make it effective on uneven terrain.
Lastly, this cart is made from quality materials that are not only waterproof but can withstand a wide array of extreme weather conditions.
---
2. Collapsible Mac Sports
Key Features
Mac Sports has been around since 1993. Therefore, you can be guaranteed of their impressive track record.
Storing carts can be quite hectic, especially if you have limited space. That is why Mac Sports created this fordable garden cart that is ideal for most small-scale home gardeners.
The exterior dimensions are about 35″ x 20″ x 23", approximate inside dimensions of 32.5 x 17.5 x 10.5 and weighs 22.48 pounds.
Despite being collapsible, this cart is very durable and will serve you for a long time.
Additionally, it comes with a UV- and mildew-resistant cloth liner that can support a weight capacity of 150 pounds.
While this is a bit low when compared to traditional wheelbarrows, it can still be used for most gardening requirements such as hauling light tools, transporting seedlings, and much more.
Since it is collapsible it is very versatile.
You can use it for transporting equipment to outdoor athletic events, concerts, and outings to the park and within the house.
Another great feature is how easy it is to set up. The cart does not come assembled; – however, you do not need to be a DIY expert to put it together.
Just follow the instructions and you should be done in minutes.
The cart is available in various colors, including pink, blue, and green, to allow you to select your favorite, which can fold down to only 8 inches wide.
The cart also includes an adjustable handle and two mesh cup holders, allowing you to keep hydrated while working.
---
3. Suncast Poly Rolling Lawn Cart
Key Features
You should consider this lightweight Suncast poly rolling lawn cart if you need a smaller garden cart that can hold tools without taking too much room.
It has two wheels and a deep bed, ideal for the garden.
The wheels are made from durable polypropylene; therefore, they perform well on soft ground like smooth concrete but struggle on rockier or more uneven terrain.
The cart has a smaller bed but can still haul up to 15.5 gallons of mulch, soil, and compost. It also has an adjustable handle, which means you will not strain to pull or push it.
This is one of the most miniature carts suitable for transporting very modest goods around the garden.
When you put it away for storage, the handle telescopes may retract, hence taking up less room in the store.
Finally, it is an excellent choice for essential household use because you can use it indoors and outdoors.
---
4. Worx Aerocart
Key Features
The Worx Aerocart is a garden cart that offers a modern take on the traditional wheelbarrow.
You may use it as a tote, dolly or purchase a wagon kit with it, which allows you to attach a handle for convenient transportation.  
It converts fast from a lightweight wheelbarrow to a yard cart, bag holder, extended dolly, dolly, rock/plant mover, cylinder carrier, and trailer tote.
It features two wheels in the front and a stand in the rear, rather than two wheels in the back and one in the front.
This means you can push or drag it ahead or behind you precisely like a wheelbarrow, but with more solidity.
It can carry up to 200 pounds, may transport potted plants, mulch, or equipment. Unfortunately, you won't be able to haul enormous amounts of heavy items to your yard.
The cart includes two extension arms that make carrying a hefty load like a piece of cake. The bed and its frame are both made of stainless steel, which is terrific for making it water-resistant and robust.
The Worx Aerocart detachable dolly plate aids in heavy lifting, while the bag holder function is ideal for gathering leaves and other yard trash. Wheelbarrow legs support the cart itself.
Despite having two front wheels, the cart glides easily. It has tough tires that never need to be inflated; you'll always have a smooth ride.
The cart is also great because of its adaptability, which is uncommon in other garden carts.
It is excellent in the garden and may be used to transport heavy furniture or other objects in the home.
---
5. Maxworks 50500 Garden Dump Cart
Key Features
The MaxWorks Garden Dump Cart is constructed of strong and long-lasting materials and has a steel frame, assuring a durable and trustworthy garden cart.
It is an outstanding cart with an eye-catching black finish.
You may effortlessly tilt the bed to transfer and dump garden equipment and supplies, decorations, sand, or gravel, and the locking mechanism locks it securely in place.
The garden dump cart comes with 3.5″ – 4″ pneumatic wheels that can be utilized even on the most unstable surfaces.
It has a maximum distributed weight capacity of 500 Lbs. and a bin capacity of 75L; therefore, is suitable for heavy-duty labor.
The cart has 37″D x 20″W x 35″H dimensions. Because the cart is made of plastic, it will not rust and is easy to clean.
It also has cushioned handles, making it very comfortable to use and to effortlessly maneuver it.
---
6. Vivohome 1100 Lbs Capacity Mesh Steel Garden Cart
Key Features
This fantastic cart is available in various colors such as green, black, blue, gray, and red. It's also a meticulously crafted multifunctional garden cart with a great design.
It weighs 39.9 pounds, but a maximum weight capacity is 1,100 lbs., which is more than double that of other carts; you can move anything with this cart.
The measurements of this cart are 38.19×20.86×9.84 inches. It is built of heavy-duty iron, which is quite durable.
The cart body is entirely welded, high-quality metal, and is anti-rust, sturdy, and long-lasting. This cart is also very convenient because it has an all-iron mesh bed that is incredibly durable and difficult to break.
It has pneumatic tires that can withstand a lot of pressure; the hinges between each rail are strong and securely welded to ensure long service life.
You can remove the mesh sides and utilize it as a flatbed trailer if the object is enormous; this enhances adaptability.
This cart is of massive assistance in general yard maintenance, transferring anything too big or uncomfortable to carry.
The pneumatic tires are characterized by high flexibility, versatility, impact resistance, and noise reduction.
Large wheels can adapt to different road conditions and have better weight-bearing capabilities than tiny wheels.
The casters determine the load-bearing, shock-absorption, and noise-reduction capabilities of the cart.
Thanks to excellent materials and skilled construction, this garden cart outperforms a wheelbarrow in uneven and hilly terrains.
Thanks to the flexible handles with a 180° turn design, this cart is straightforward to alter. You can modify the orientation of these handles to correspond with your present location.
It may also be used as a flatbed garden cart because the sides are detachable.
Note: The tires are not entirely inflated owing to transit safety concerns.
---
7. Rubbermaid Commercial Products Plastic Yard Cart
Key Features
The Rubbermaid commercial garden cart's most significant feature is its bigger plastic wheels, with zero puncture danger even on rocky terrain.
The cart has only two front wheels with 20-inch pneumatic tires, which provide a smooth ride and effortlessly traverse rugged terrain even while carrying a large load.
Rubbermaid's Plastic Yard Cart is a wheeled cart designed for heavy-duty use in the yard.
The maximum load capacity is 300 pounds hence can transport heavy loads. It can hold up to 7.5 cubic feet of landscaping material.
The cart features a robust built-in handle that allows you to hurl the waste anyplace outside.
Furthermore, the cart is composed of high-density material to withstand harsh outside circumstances.
The structural-foam structure resists rusting, denting, flaking, and peeling for long-lasting durability.
The seamless pan is made entirely of plastic and is resistant to leakage and cracking. The molded-in one-piece handle offers stability and requires no maintenance and will not loosen over time.
---
Frequently Asked Questions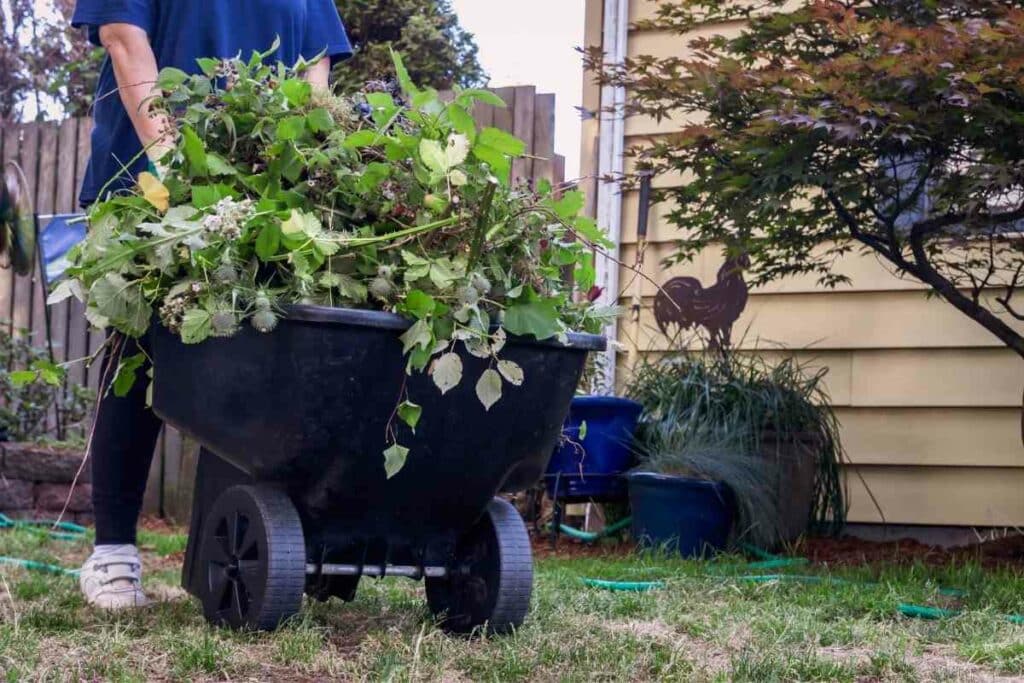 What is the maximum weight capacity of a garden cart?
Different garden carts carry different weights. However, the recommended weight capacity is 300 pounds.
What should I look for in a garden cart?
When purchasing a garden cart, look for long-lasting materials, such as pneumatic tires, a heavy-gauge steel frame, and UV-protected plastic. Determine how much weight a cart can support.
What is a garden cart used for?
Garden yard carts are two-wheeled vehicles with straight sides to transport equipment and garden materials such as soil or plants. A garden cart wagon is more stable, but you cannot drive it as readily in and around small places as a wheelbarrow.
Final Thoughts
A skilled gardener understands the value of a cart for transporting gardening equipment such as tools, trash, soil, and so on to the garden.
For me, the Gorilla Poly Cart fits the bill perfectly. It's simplistic, versatile, and hard-wearing and will last for years.
On the other hand, you have to go through them one at a time, which makes no sense. That is why a garden cart is essential for completing gardening duties fast.
The disadvantage of gardening is the amount of equipment you must transport to complete the task.
Making frequent excursions to and from your garage may be time-consuming and physically taxing.
A decent garden cart can make the procedure a bit less complicated; you can buy a variety of them in various sizes.
In Case You Missed It