Children are always eager for a bit of excitement; therefore, investing in a zip line kit is a good option.
Ziplines can be an excellent way of diverting your children's attention away from their screens.
This type of play provides kids with a feeling of adventure, fresh air, and exercise.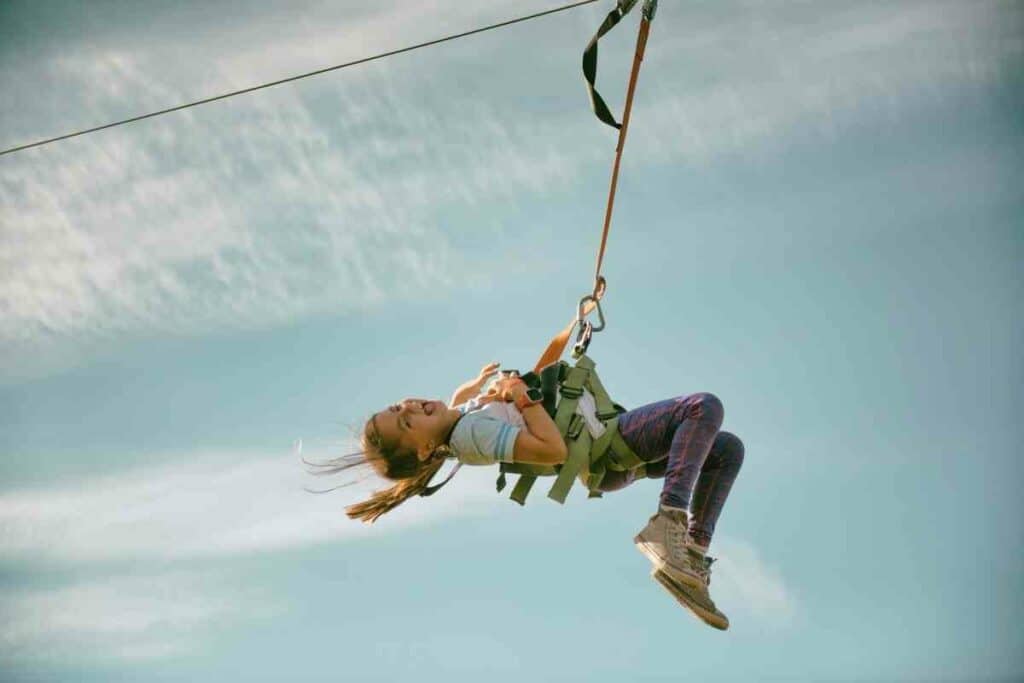 It is one method to make the backyard appear more enjoyable to children, and it's also a fantastic approach to give kids more control over their zip lining setting.  
A zipline in a backyard does not require a slope. Instead, make one end of the zipline taller than the other. The length of the zipline will determine the height difference.
The zipline as a whole should have a 3% gradient. However, because it is a risky sport, selecting the best ziplines is advisable to ensure their safety.
Factors to Consider When Purchasing the Best Garden Zip Lines for Children and Backyard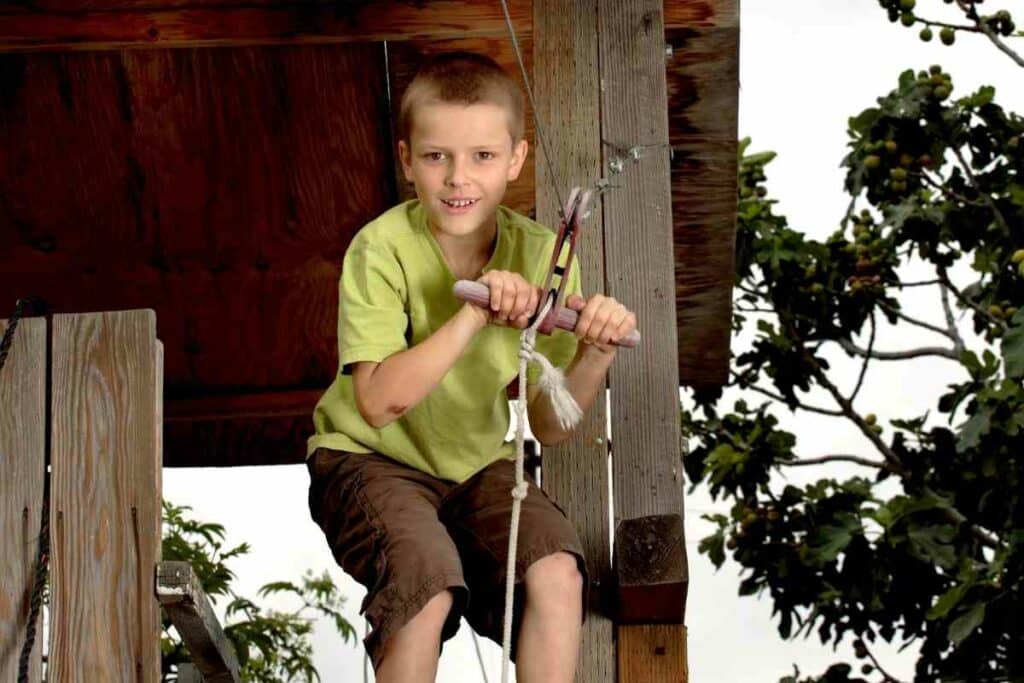 Length
Please measure the length between the trees you'll use as anchor points and multiply it by the diameters of your trees.
Then purchase a zipline that is longer.
Recheck the parameters because some zip lines are designated according to the useable length- while others are labeled according to the entire length.
Backyard ziplines typically range between 35 – 90 feet in length and may be placed from tree to tree without requiring a significant drop in height.
The cable sag allows for a nice slide down to the low point, pausing or stopping just close to the end.
Price 
A zip line kit costs between $100 to $1,000 on average.
For $100, you'll get the most basic zip line kits for small children. A $100 zip line is 100 feet long, the trolley is made of a plastic disc, and the cable is steel.
This is ideal for children from five to seven years.
However, teens will most likely enjoy a zip line costing roughly $600 but has a high-quality harness rated for adult use.
It consists of a stop block, nylon lanyard, bungee brake kit, two carabiners, three clamps, one thimble, two turnbuckles, and two cable slings.
Your children will outgrow a $100 zip line in a matter of years, but a backyard $600 zipline will last them for years.
---
As a Result: Even though it costs six times, the added lifespan makes the investment worthwhile. You can also utilize the Backyard Zipline yourself if you want.
---
Quality
As earlier stated, ziplines can be pretty dangerous; therefore, it is essential to go for the best quality.
For instance, if the zip line you're considering has a stainless steel cable, you should reconsider.
Stainless steel is excellent for other uses; however, it lacks tensile strength compared to galvanized metal.
You'll have to replace the steel line regularly, which will cost you money each time.
What Are the Accessories of a Zip Line?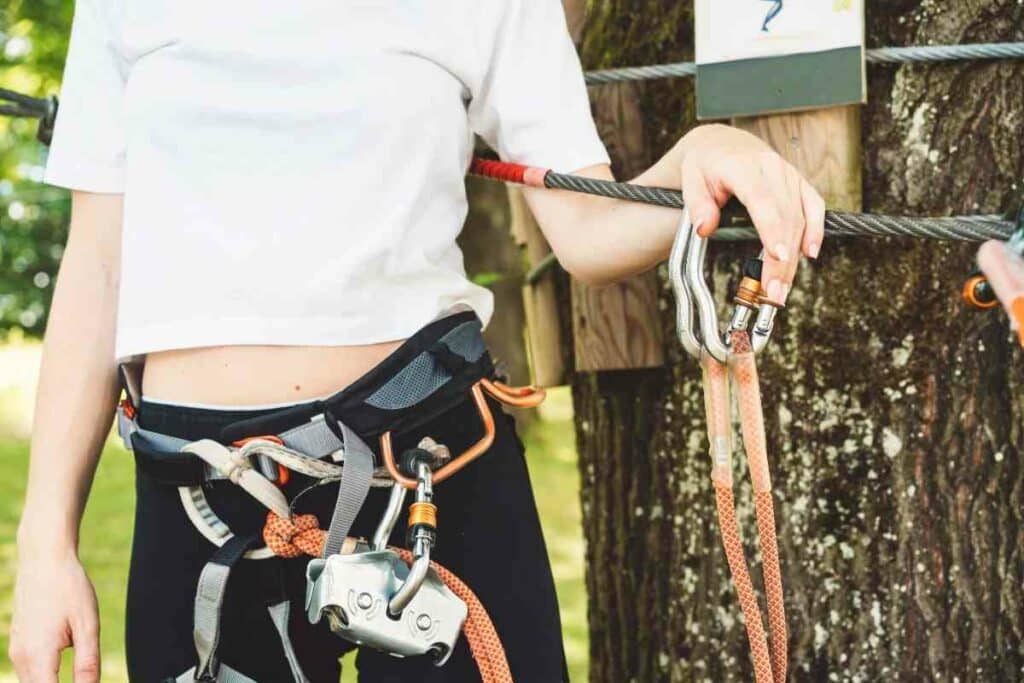 Trolley
The trolley serves as a seat; thus, it is built of high-quality materials, such as stainless steel casing.
The most basic has merely grips to grasp and hang onto when ziplining.
This is dangerous to use because the rider must maintain sufficient arm strength to grasp the handles during the ride.
As for the swing or disc, chairs provide a platform for the rider to sit comfortably during the trip.
They support the entire weight, so there is no dangling.
Durable bearings that are dual-layered, sealed, or both will keep the trolley operational for an extended period.
The ball bearings may provide a smoother and quicker ride, appealing to children.
Brake System
The manufacturer determines the type of braking mechanism included in a piece of zipline equipment.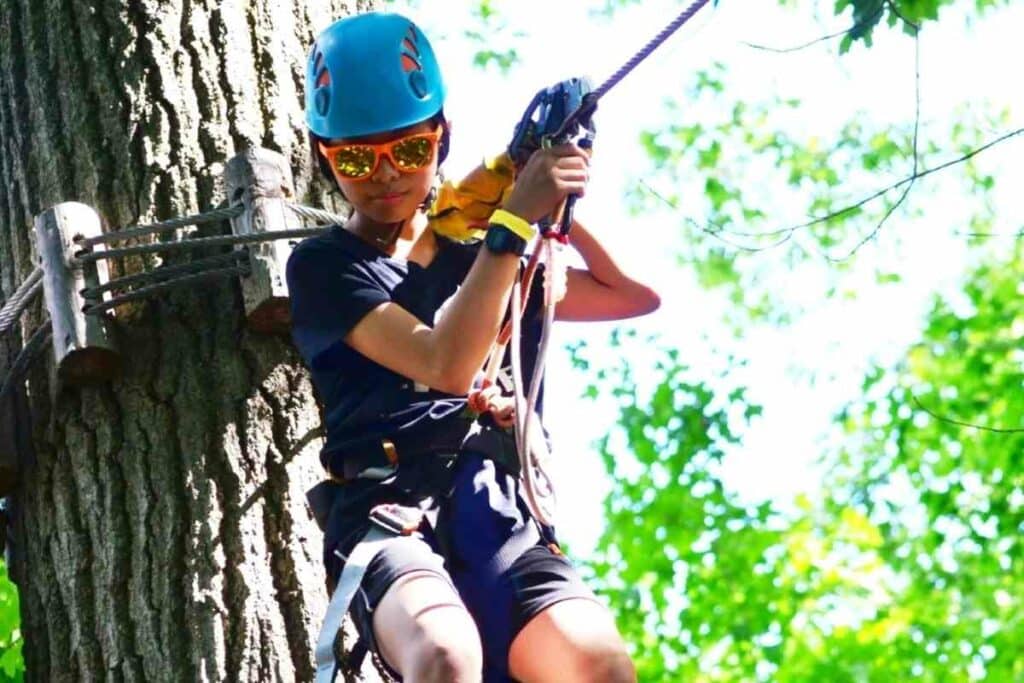 Your children will need to stop their zip line somehow, which is where the brake mechanism comes in.
Active braking systems such as gloves and pads, which require the rider to stop physically, are ineffective for children.
However, the most typical alternative is a bungee brake system with a 30-foot cable that only allows your children to travel so far before the cord pulls them to a halt.
Because it's a bungee, the cable has plenty of stretches, so the halt isn't abrupt or harsh.
Harnesses
Harnesses link each rider to the zip line cable; therefore, you should expect to find them in the box with your zip line equipment.
The kid-size harness is designed mainly to carry a smaller body size safely.
If your zipline comes with one trolley, it will most likely come with one harness; however, the manufacturer may include another one.
Child harnesses come in several styles, ranging from full-body to kid-sized waist harnesses.
---
In Most Circumstances: An adult harness is too big to support a young rider properly. Most harnesses include carabiners and foot lanyards to ensure your children's safety.
---
Handlebar
A handlebar is what the zip line rider grips for the duration of the trip.
The handlebar should undoubtedly be made of durable material, such as plastic.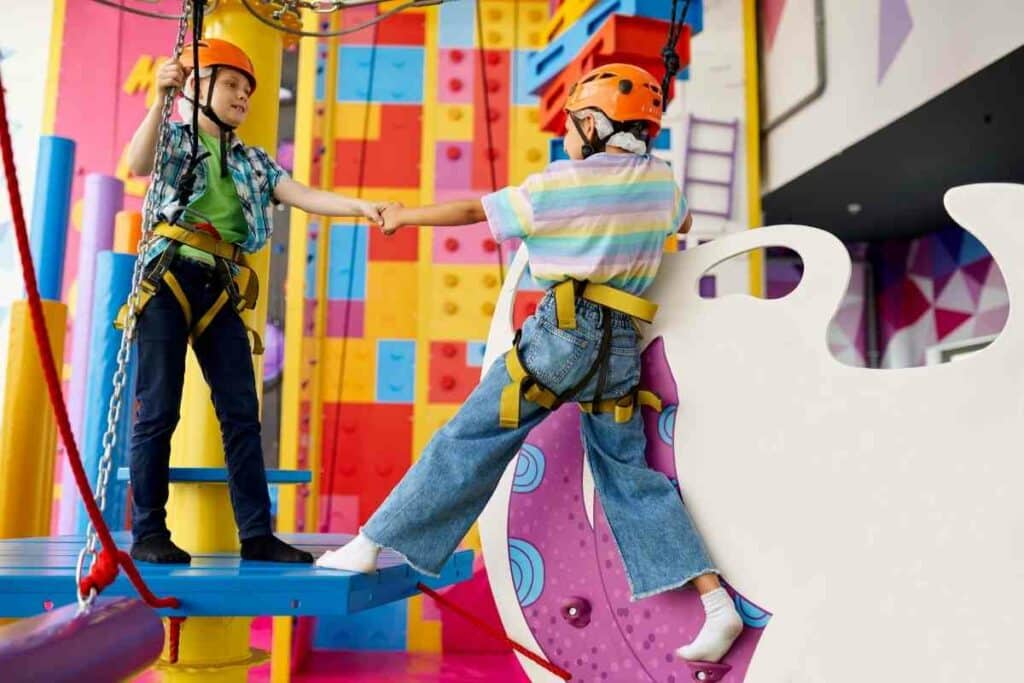 A good handler should have a powder-coated steel finish and be explicitly designed for zip lining.
It should have an ergonomic design that has a powerful grip.
This implies that the operator arranges their fingers to work together to optimize hand capacity.
It may include cushioning for grip, but because most amateur zip line rides are so brief, the handlebars may not have any padding.
Cable
The cable is the most critical component in the zip line.
Therefore, it needs to be robust and solid to withstand wear and tear.
Galvanized aircraft metal is usually preferable to stainless steel since it is more robust, adaptable, durable, and reasonably priced.
An aircraft cable is a wire rope constructed with a spiral of wire strands wrapped around a central wire.
Ziplines under 100 feet in length should be between 3/16 inch and 1/4 inch in diameter.
As the length increases, so does the diameter. A 5/16 inch diameter is suitable for lengths of up to 500 feet for riders of weight under 250 pounds.
---
Good to Know: A coated cable increase friction and heat. A plastic coating will slice and peel off, causing the trolley to operate erratically.
---
Turnbuckles
Turnbuckles allow a rider to adjust the tension of the zip line wire so that it is either looser or tighter.
The majority of turnbuckles are 5/8th inch by 12 inches in size. You'll most likely get two of these in the box, one at each end of the cable.
5/8 turnbuckles have a load capacity of 3,500 pounds and are suggested using 1/4″ or 5/16″ diameter cable.
Turnbuckle of 3/4″ x 18″ has a load limit of 5,200 lbs.; suggested for use with 3/8″ and bigger diameter cable.
Turnbuckle bolts might be nut and bolt, cotter pin and bolt, or both.
Other things you might find in the box: 
There is a thimble, and various cable clips to conveniently cut and shorten the zip line cable.
Slings of a cable attached to trees or poles are also included.
4 Best Garden Zipline for Children and Backyards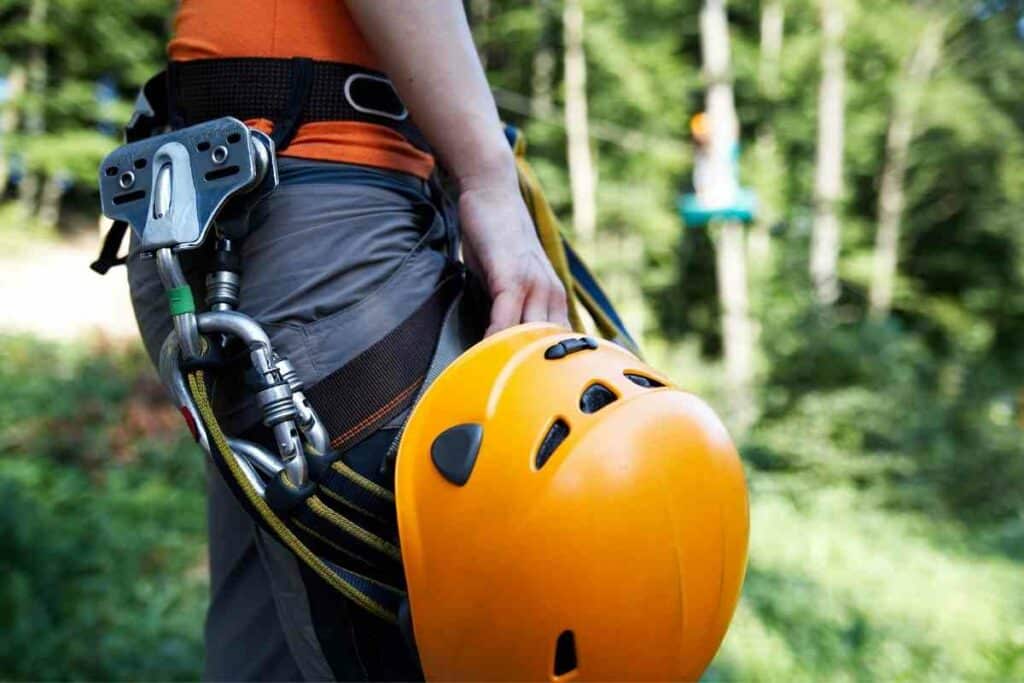 1. Jugader 160 Foot Zipline Kit
Key Features
The weight capacity is 250 pounds
Dimensions of the zipline Package 14.65 x 14.65 x 8.65 inches
The weight of the zipline is 24.4 pounds
Recommended age is eight years and up
This is arguably one of the best ziplines available in the market.
The Jugader's zip line comes with everything you need for a complete installation.
It comes with a tensioning wrench and a cable tensioning kit. It even comes with soft tubing that attaches to the cable anchor points to safeguard your trees.
One of the things I like most about this zipline is that it gives you control over when the children can use it.
Without dismantling the complete zipline, you may remove the steel trolley from the rope.
This makes it simple to remove the trolley and prevent the zipline from being used without your awareness.
Detachable trolleys can be inserted and removed at any point along the cable, while others can only be installed and removed from the beginning.
The main cable is 160 feet long, and the sling cable is 6.5 feet long to fit around your higher anchor tree.
Both are made of stainless steel for durability and weather resistance. They both have soft pipes to protect the trees.
Pros
It comes with a safety harness
It has a trolley that can be removed
There is a tree-protection function
Cons
It might be longer than you require
The adjustable harness provided enables you to attach the rider to the trolley, keeping them from falling to the ground if they let go of the handles or slide out of the seat.
The 160 Foot zipline provides a speedier ride and an increase in height. The upgraded seat has a plastic collar that decreases friction and protects the child's legs.
The package also includes a spring brake system for the zipline.
---
2. American Ninja Warrior 50 Foot Zipline
Key Features
50-foot ride length
Weight Capacity of 200 Pounds 
Has no brake system
The American Ninja Warrior Zipline Kit is ideal for children and teenagers weighing less than 200 pounds.
Its adjustable rope length of 50 feet is suitable for tiny backyards and enables shorter rides for less-experienced riders.
It allows the rider to soar through the skies.
It adds a thrilling riding experience, imaginative play while improving motor skills and agility and encourages children of all ages to keep active in your backyard fun experiences.
The American Ninja Warrior Zipline Kits are built to last for years of dependable, safe, and enjoyable activity.
If two adults work on it, the zipline takes roughly 30 minutes to set up. However, before you begin, you must go through all the instructions.
The 50-foot figure can be misleading. It's a 45-foot cable with a 5-foot sling cable that wraps around a tree.
Pros
Outperforms U.S. safety regulations
It is simple to set up
Cons
To ensure a smooth set-up procedure, you must first read all the instructions
The rideable line is 45 feet long rather than the 50 feet indicated
This is something you should keep in mind while measuring your distance.
It is a good start for young or inexperienced zipliners.
However, if you have a kid that watches American Ninja Warrior and is already immersed in this sort of activity, and you have the room to set it up, consider a longer zipline.
---
3. Slackers 70 ft. Hawk Series Zipline
Key Features
Weight capacity of 200 pounds
Zipline weights 14.5
The material used is Alloy steel
Recommended for kids and teens of 7 years and above
It has a 70ft ride length
The Zipspring brake system is powder-coated
When it comes to safety, this should be your go-to zipline.
This is because the unique Zipspring Bake system is included with the slackers 70-foot Hawk Series Zipline.
With a smooth, safe conclusion to each trip, the powder-coated steel spring brake system protects the line, the trolley, and the rider.
The plastic seat is comfortable and easy to climb on and off. The height of the seat is easy to adjust. A spring on the cable slows the rider down as they get to the end.
This means you don't have to worry about your child coming to a sudden hard stop.
The slackers' Hawk Series Zipline is built with the best materials to last for years of dependable, safe, and enjoyable activity.
Slackers Ziplines meet or exceed rigorous U.S. safety requirements for quality and durability.
Pros
The zipline comes with clear instructions for installation
It's made of excellent quality materials
The spring brake is included
Cons
The cable is not the 80 feet it claims on the box
It is straightforward to install (it takes approximately 30 minutes to put up, as long as you have two people to take on the job).
You will need a pair of pliers and a wrench to install.
Note: The box shows that it has an extra foot, but that might not always be the case.
---
4. Joymor Backyard Zipline Kit-200Ft
Key Features
Length size is 200ft
It is made from a stainless steel
Weight capacity of 250 pounds
If your backyard or garden has a slope, this 200-foot Joymor zipline is ideal.
When connecting two trees on a level surface, you must create a slope by positioning one end higher than the other.
The top-end must be about 3 feet taller than the lower end, with trees far apart.
For smaller kids, this might result in a dangerously high starting position.
The set contains a 200ft main cable and a 6.7ft sling cable made of SUS304 with a looped eye and a tree protection tube to keep trees safe.
The seat comes with an adjustable length rope that you can adjust in two ways to fit your child's height. The maximum weight is 250 pounds.
Only one zip line rider at a time. At all times, adult supervision is essential.
It has a safety belt and straps to keep the rider safe. When riding, wear and fasten them.
Assembling the zipline is entertaining and straightforward if you follow the instructions step by step.
Please ensure that the rope tie under the seat is sufficiently sturdy. Before each usage, inspect and test the line.
Connect the safety belt to the strap and trolley using carabiners. A U-Clamp is supplied and helps increase cable tightness.
The Tri-wrench Tool is used to tighten screws and transport them with the provided travel pouch.
Pros
The seat height is adjustable
Included is a wrench tool
It comes with a safety harness
Cons
It isn't easy to install
A slope is required
The trolley is simply detachable from any cable section; parents may readily dismantle it.
They last longer because less movement and velocity are passed from the rider to the trolley.
To avoid falling and injuring others, do not leave the handle on the cable independently.
The Joymor zipline is of high quality. The only concern with a zipline of this length is that it requires the assistance of several individuals to erect.
A two-person team may need four hours or more.
---
Frequently Asked Questions
What Does the Zip Line Trolley's Speed Rating Mean?
This rating relates to the maximum speed that the bearings can handle without overheating or being damaged. The pace is determined by the slope of the ride rather than the pulley employed.
Is it possible to leave the zipline up in bad weather?
Yes, you may leave your high-duty zipline out in the elements for a few days; wipe dry before use.
If the trolley is left unused for an extended time, it should be removed. It is advised that you take the zip line down for the winter and keep it inside for the Slackers kits.
Is the zip line safe for children?
The likelihood of a zip line breaking is one in a billion. A zipline course for kids will be one of the safest activities if properly constructed, equipped, and trained.
Final Thoughts
A zipline requires an open space between two healthy, sturdy trees at least 18 inches in diameter.
The area must have at least seven feet of clearance on both sides and be free of anything that might injure your child if they fall off the zipline.
If they fall off, you don't want them to tumble down into ornamental landscaping rocks.
Turnbuckles allow you to change the tension on your zip line cable at any moment. Turnbuckles can also be used to tighten guy wires.
You Might Also Read