Herbs are useful for a wide variety of things. Some help with treating diseases, and others, such as rosemary and thyme, are flavor saviors.
Having home-grown herbs is super convenient as it saves you time and money, and you can access them whenever you want.
However, it can be frustrating to grow them without the right medium.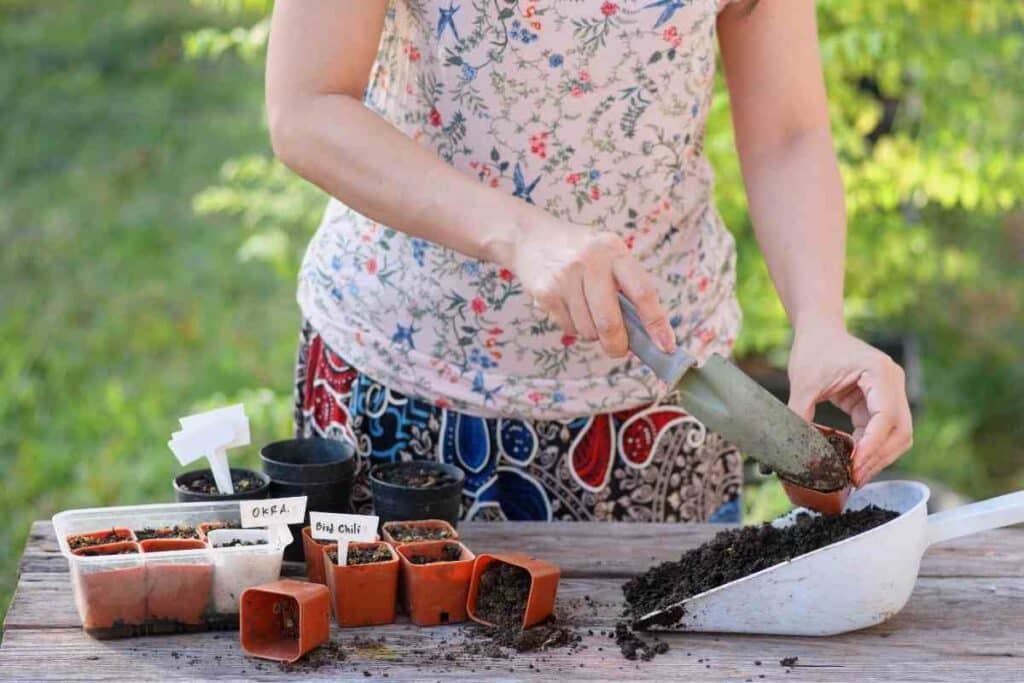 Thus, it is advisable to grow your herbs in organic potting soil. This is a type of soil that is specially mixed for plants grown in pots.
There are many of them in the market today, which can be confusing.
Worry not, though, as this article reviews five of the best organic potting soil for herbs and provides pointers on how you can choose the best for yourself.
---
In My Opinion: Miracle grow soil is perfect for most indoor plants and especially herbs. Plus it's available delivered to your door from Amazon.
---
So, no carrying heavy bags home from the garden center. Win, Win.
Why Potting Soil Is Better Than Garden Soil for Herbs
Both potting soil and garden soil can be used to grow herbs.
However, they have completely different qualities, and ultimately, potting soil is better than garden soil.
For one, potting soil does a better job at absorbing water than garden soil.
It is designed to retain just the right amount for the potted herbs and drain the excess.
On the other hand, garden soil spreads over a large surface area and tends to retain too much water.
Retention of excess water can be detrimental to the well-being of potted plants.
---
Additionally: Some types of garden soil contain clay. Soil that contains clay does not easily pull away from the side of the pot and ends up turning into hard concrete. This causes clogging, and nobody wants that for their potted herbs.
---
Factors to Consider When Buying Organic Potting Soil for Herbs
Choosing the best organic potting soil for healthy herbs is not exactly a simple task.
There are too many of them in the market, and each type has different features.
The following factors will help you settle for one that works best for you.
Price
There are as different price ranges for organic potting soil as there are types in the market.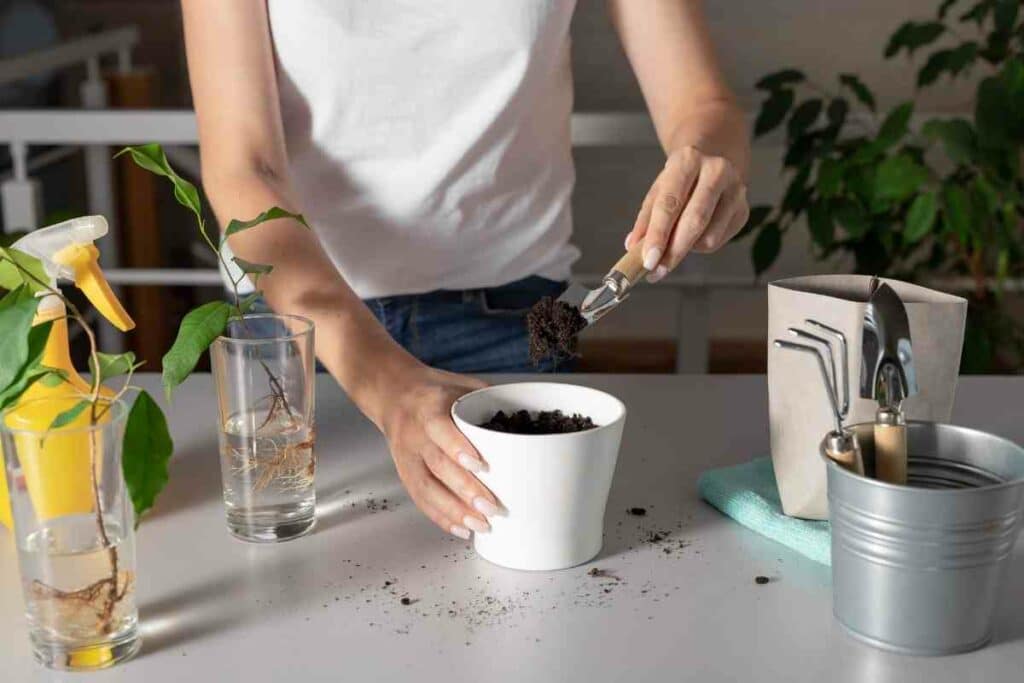 This means that there is a high probability that you will find one that fits your budget.
You ought to be careful not to overspend or underspend on this product.
Quality
Quality is an important factor to consider if you want good results.
Some organic potting soils are of excellent quality, while others are quite mediocre.
You should check if it has been tested and approved by the concerned authorities.
Also, note that quality comes with a higher price, so you should be prepared to spend.
Ingredients
Different types of potting soil have varying ingredient mixes.
The ingredient mix you choose should depend on the type of herbs you are growing.
For instance, the ingredient mix that works perfectly for thyme may not be suitable for rosemary.
So, conduct research to determine which ingredients are the best for the herbs you intend to plant.
Brand
There are so many brands that manufacture potting soil for herbs.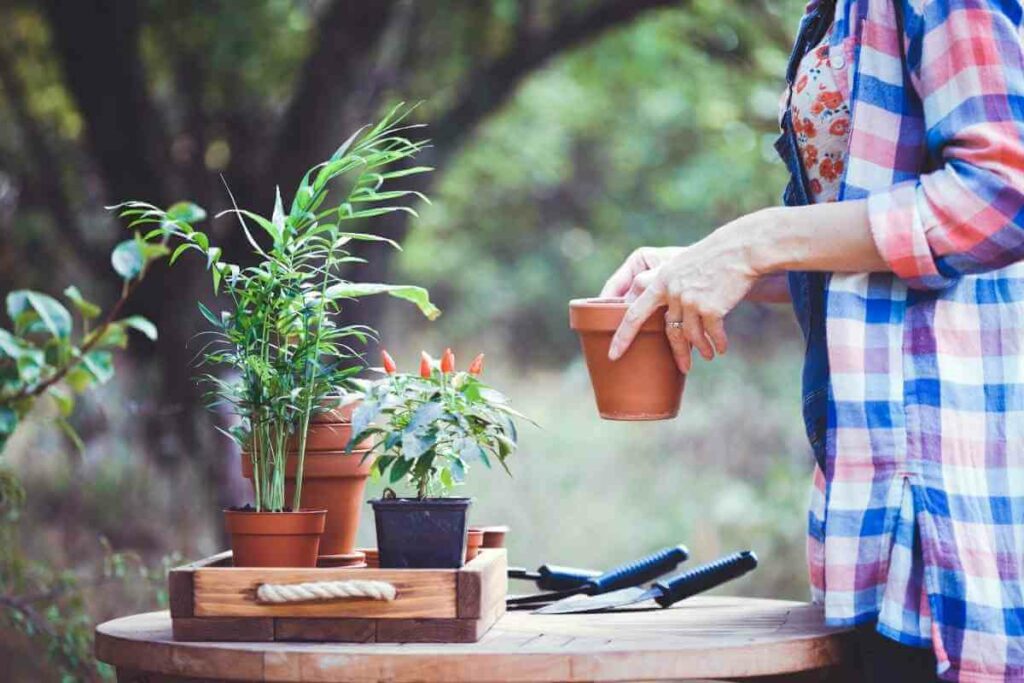 So do your due diligence to determine which brand is most likely to satisfy your needs as far as potting soil goes.
It helps to check reviews and ratings of consumers that have previously used the product.
Water Retention Power
You want soil that can control the amount of moisture it retains between waterings.
The soil should also be able to drain excess water to avoid flooding and destroying the herbs.
pH Level
Most herbs grow well in soil with a pH level between 6.3 and 6.9- in other words, a slightly acidic environment.
This is because acidic soils tend to have nutrients that the herbs require. Therefore, it is wise to check the pH of the soil before making a purchase.
If it is not indicated, consult with the manufacturer or test it at home if you have the necessary kits.
Best Organic Potting Soils for Herbs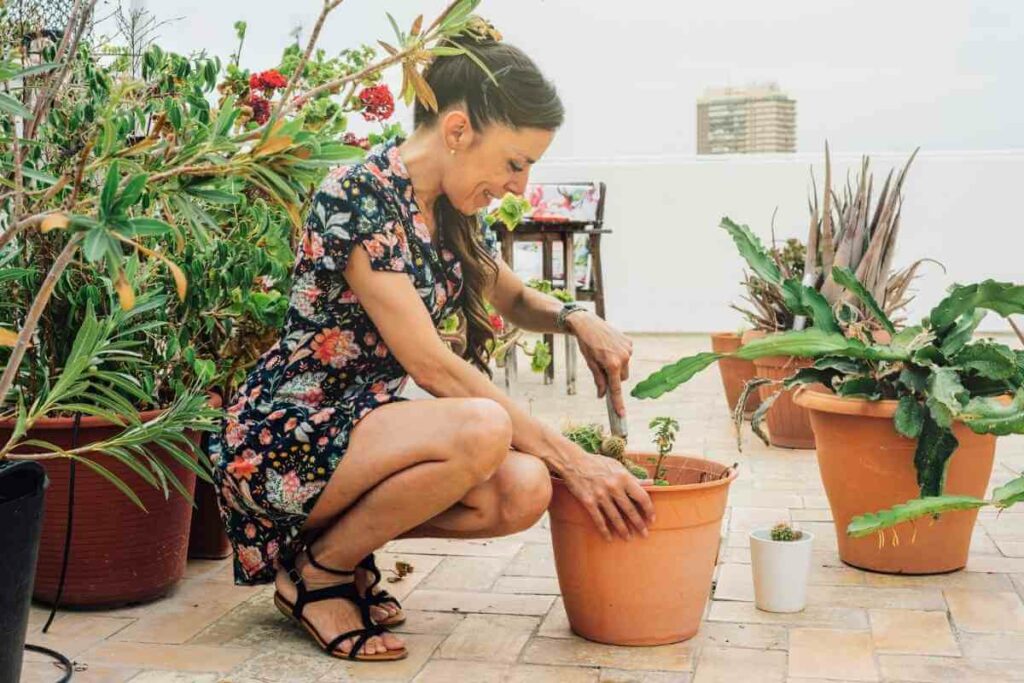 1. Foxfarm FX14053 Ocean Forest Organic Potting Soil
Key Features
12 quarts of a blend of ingredients
pH levels of between 6.3 and 6.8
Weighs 9.28 pounds
This potting soil by Fox Farm is of excellent quality and has all the ingredients that you would need for the healthy growth of your herbs.
It is a 12 quarts bag containing a mixture of sphagnum peat moss, earthworm castings, forest humus, and bat guano.
This mixture gives the soil a light and aerated texture that is perfect for growing your herbs.
The organic soil has a pH value of 6.3 to 6.8, enabling the soil to intake fertilizer optimally. Thus, your herbs will have an adequate supply of the supplements it needs.
Ultimately, your plants will grow sturdy with strong branching, which you would aspire for in a containerized plant.
Pros
Excellent quality
It leads to the growth of strong and sturdy herbs
It has a pH of 6.3 to 6.8, allowing the soil to absorb fertilizer optimally
It is made of many essential ingredients
Cons
It is not completely devoid of bugs
Note that you would not need nitrogen at first.
At 9.28 pounds, this is a good size, especially if you are planting just a few herbs.
Remember to replenish it in good time if you run out.
---
2. Black Gold 1302040 8-Quart All Organic Potting Soil
Key Features
High quality plastic material
Rich loamy soil for all gardening applications
Can use in various places- patios, hanging baskets, herb gardens
With a rich and loamy mix, this organic potting soil is rich and black, which earns it the name 'black gold.'
It is made up of a 100% organic base consisting of quality tested ingredients: Canadian Sphagnum Peat Moss, aged bark, earthworm castings, horticultural grade perlite, cinders, and organic grade fertilizer.
This soil has an impressive track record of performance, so you can rest easy that your herbs will grow and flourish.
Furthermore, it is approved by the organic materials review institute for the production of organic food and fiber.
While it is affordable, it will bring you a lot of value.
Additionally, this potting soil contains both pumice and perlite to promote adequate pore and air space that your herbs would need for optimum growth.
Pros
It is of excellent quality as it is made in the United States
A rich, loamy mix
Affordable
Cons
It easily gets infested with bugs and the growth of mold
It also gives you the luxury of choice whereby you can use it in a variety of ways – as a hanging basket, in the patio, and any other place where you can use organic soil.
It is, without a doubt, a wise purchase to make.
---
3. Miracle-Gro Indoor Potting Mix
Key Features
Feeds for up to 6 months
Are not prone to gnats and other pests
Has water retention power
Thispotting soil is perfectly blended for a wide variety of container plants but is best suited for indoor ones.
So, if you prefer planting your herbs inside your house, it is a perfect fit for you.
At 21 pounds, it will feed your plants for up to 6 months, which is conveniently long enough.
With it, you will not have to keep worrying about pests as it does not have compost or bark, both of which are known to attract and shelter fungus gnats.
Moreover, it has coconut coir, which holds and releases water and helps the soil rewet easily.
This ensures that your herbs are always adequately moisturized.
Pros
It lacks compost and bark, which attract pests
Blended for a wide variety of containers
It has coconut coir, which enables the soil to rewet easily
Easy to use
This soil is extremely easy to use.
First, choose a container that has a drain hole and fill a third of it with the soil.
Next, loosen the root ball and place your herb in the container. Proceed to add more of the mix until it is an inch from the top of the container and press it lightly.
At this point, water the container and give it time to drain. For best results, feed the herbs with miracle-gro plant food 30 days after planting.
---
4. Espoma AP8 8-Quart Organic Potting Mix
Key Features
Can use it with indoor and outdoor containers
Has water retention mechanisms
Manual power source type
You can use this potting soil to plant your herbs indoors or outdoors as it is suitable for both.
It has an 8-quart mixture of ingredients to nourish your herbs into strong and healthy plants.
It has also been enhanced with myco-tone water-saving formula that ensures that the plant is always adequately moisturized without over-watering it.
The formula achieves this by improving moisture retention and reducing the stress of drought.
Pros
Free of pests
It is suitable for both the indoors and the outdoors
It has myco-tone water formula to control the moisture retention capacity of the soil
Affordable
Cons
It has super fine particles that tend to retain water
What's more, it does not attract pests, so you will not have to deal with the likes of fungus gnats and other similar bugs.
For its price, it is an extremely fair deal.
---
5. Burpee Organic Premium Potting Mix
Key Features
High quality plastic materials
Formulated with coconut coir, which is renewable and sustainable
Enriched with Burpee plant food
This soil is enriched with burpee plant food for healthy, vibrant, and delicious herbs.
It feeds the plants instantly and continues to do so steadily for up to three months.
It provides a slow release of plant food the entire time.
It is suited for both container and raised bed gardening, so it depends on your preference.
It also has coconut coir, which is responsible for maintaining moisture between waterings, so the soil has enough to keep the herbs healthy.
If you are concerned about the quality of the soil, then you can relax as it is listed in OMRI for organic food.
Pros
Enriched with burpee plant food
It feeds the herbs steadily for 3 months
Suitable for both container and raised bed gardening
It has coconut coir to keep the soil adequately moisturized
This soil will give you such an easy time growing your herbs.
It is also bug-averse, so you will not have to worry about dealing with gnats and other plant pests.
---
Frequently Asked Questions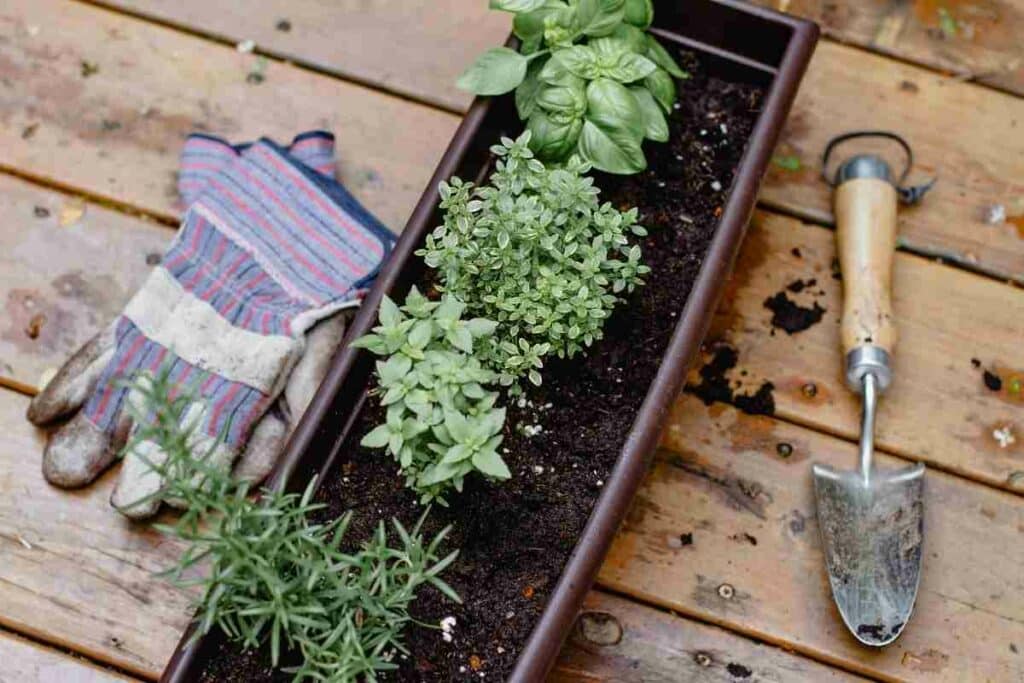 Is there a downside to using potting soils?
General potting soils do not contain adequate organic ingredients. So, you would have to mix them up to obtain the right proportions of these ingredients. Fortunately, most brands sell the already mixed-up soils saving you all that trouble.
What pH is most suitable for herbs?
Most herbs do well in slightly acidic soils. Therefore, the potting soil for herbs should have a pH of somewhat less than 7, preferably between 6 and 6.5.
Still, herbs such as lemongrass, oregano, and chives thrive in more acidic soils and enjoy a lower pH of about 5.
Which containers are the best for planting herbs using organic potting soil?
It is recommendable to use well-trained pots for this purpose.
Still, most containers can get the job done satisfactorily. Plastic, wooden and metallic containers are a good fit provided they are in good condition and have drainage holes at the bottom.
You can also choose the container according to size. Naturally, small containers are perfect if you are planting individual plants.
If you are going for a garden bed kind of plan, it is best to go with large pots.
Final Words
It is very advantageous to have home-grown herbs as you can access them whenever you need them.
If you intend to start planting your own, it is necessary to get organic potting soil, especially if you want an easy time growing your plants.
In my opinion, you can't go wrong with the Miracle grow soil from Amazon.
It's one of the best-selling soils and has a great reputation to match. Plus it's delivered to your door so no carrying heavy bags around.
This article provides relevant information about the soil and reviews some of the best in the market.
Feel free to click on the links provided if you have any questions or are interested in making a purchase.
Good luck!
You Might Also Read