Dogs are the friendliest and most loving creatures, so they must be well cared for; however, it is not always possible to keep them inside the house all of the time.
This is why an outdoor dog kennel is so essential.
They are the best way for owners to keep their dogs safe and healthy while away from home or sleeping at night.
The best outdoor dog house ideas incorporate aspects of the dog's and the owner's personalities and always enhance an outdoor space.
Today's dog kennel designs go far beyond the basic.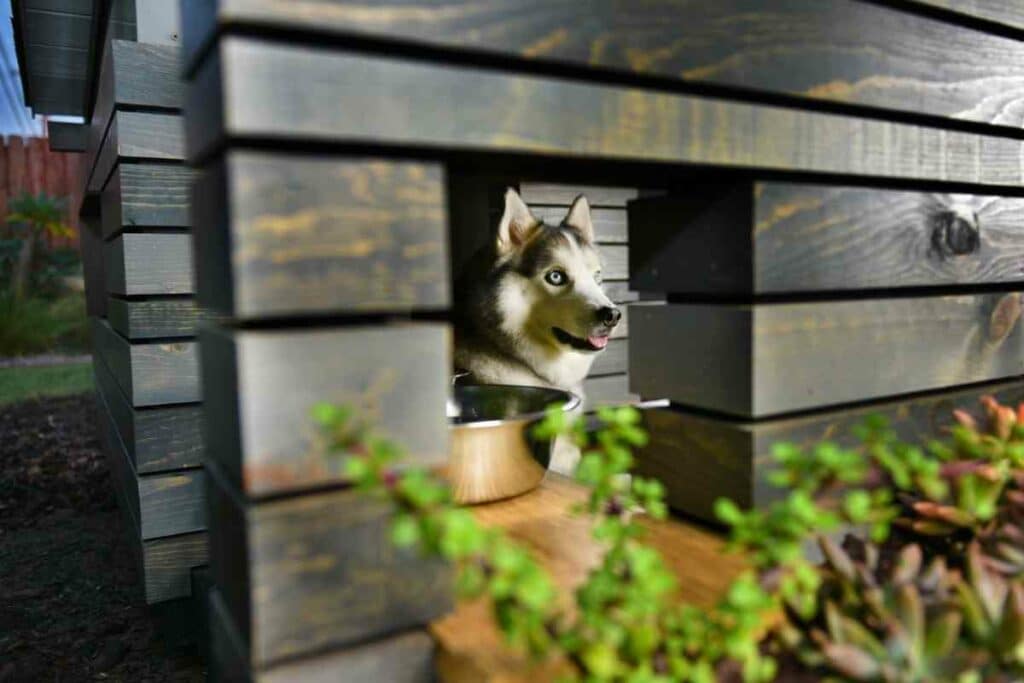 When looking for something more artistic and unique, consider the wide range of styles that designers have introduced that are anything but ordinary.
Think of beautifully painted dog houses, highly polished wood, and innovative shapes.
---
Looking for ideas? Peruse the stunners listed below for some inspiration. All ideas include perfect investments with standard features that make caring for a dog easy.
---
Amazing Backyard Dog Kennel Ideas
1. Villa Dog Kennel Idea/Modern
Your dog's house should not detract from the design of your main home but rather enhance it.
Today's modern dog kennels are not only surprisingly sophisticated but also of high quality, allowing your dog to enjoy the backyard elements in safety and style.
They are pretty high class and artistically designed to be as stylish as modern houses with simple design, angled roof, bold colors to complement your property.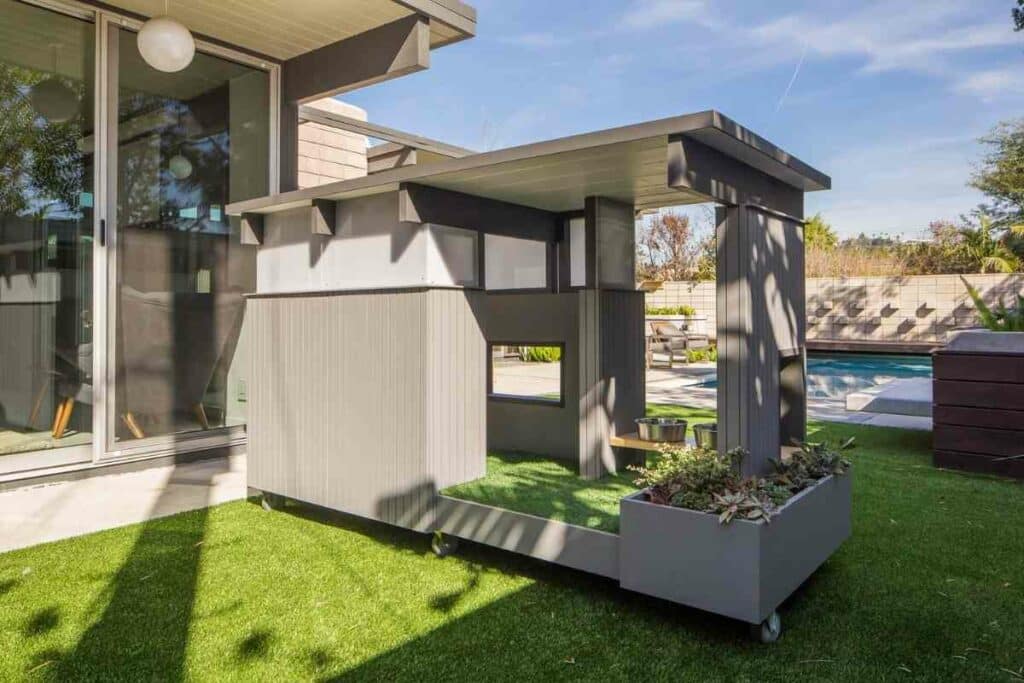 Don't just give a dog a home, give him a fashionable and comfortable home, and villa kennel designs are an excellent choice.
They come with a wide range of architectural styles to ensure that you will find something that complements your home and your dog's personality.
These designs are for those who wish to spoil their dogs no matter what.
You can also add a doggie pool, especially if you live somewhere warm; your dog friend will undoubtedly adore you if you give it the chance to cool off whenever it feels like.
2. Mid-Century Modern Dog Kennel Idea
Dog love runs deep, and it's not unusual to see a dog owner pamper their pup with treats, toys, and cushions for them to lay their paws.
They also take their dog dedication to the next level with luxury houses for pooches like mid-century designs.
Gone are the days of standard four walls and a roof; apparently, dogs are also crazy about Mid-Century modern models, just like their owner.
These aren't just dog houses. These are architectural masterpieces for canines with a 1950s touch.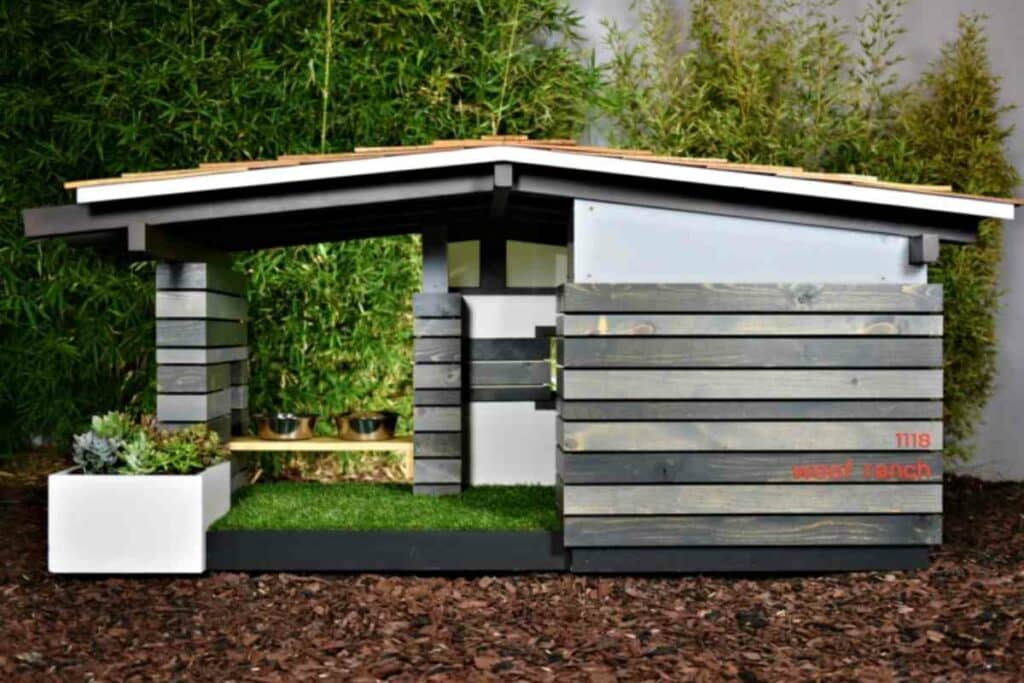 This style is known for its flat planes, expanses of glass, and an excellent connection to nature.
They have very wide, low footprints with large, open spaces, floor-to-ceiling windows, or portals for your dog to keep track of what's going on both inside and outside his retreat.
Places for food bowls and an emphasis on indoor-outdoor connections in their simplest form allow your dog to soak in some rays. 
They also employ logical structural details such as clean lines and more natural, organic feeling materials like wood.
They also feature exposed posts and beams, allowing more open, inviting spaces.
These types of dog houses would add a wow factor to your outdoor space while offering your dog a comfortable hideaway and still tailoring your stylish taste.
3. Deck/Lodge Dog House Idea
All dogs regardless of their breed will instinctively want to guard their owners as well as their territory.
That is why this design is ideal for your furry buddy. This design incorporates a deck that allows your dog to keep an eye on everything going on around them.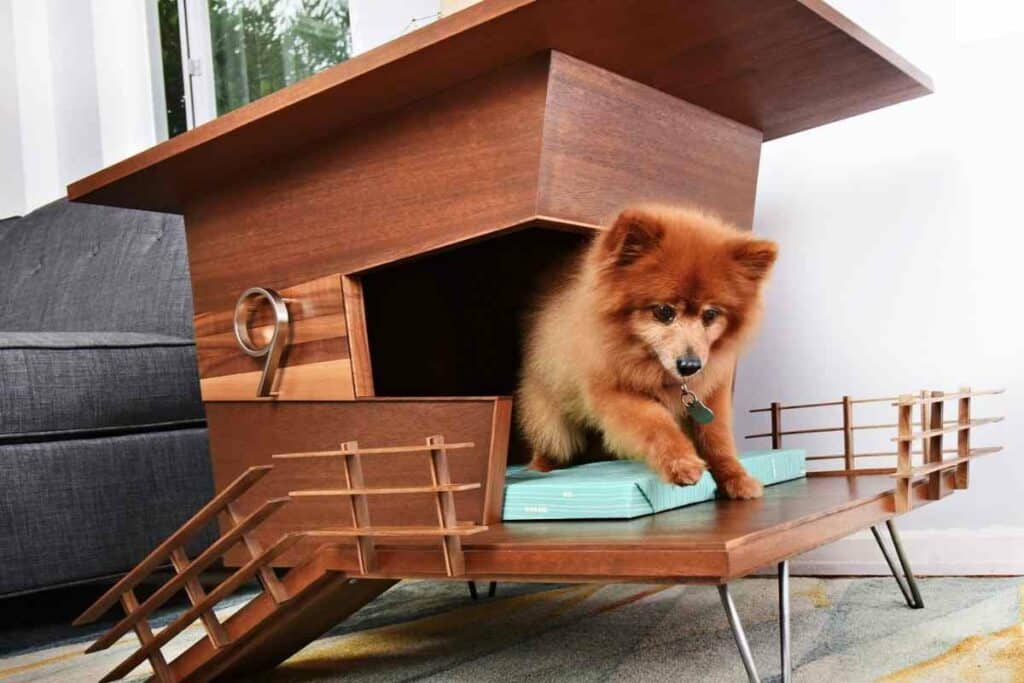 When it comes to weather exposure, the deck is also reasonably practical; consider how muddy the ground would be after a heavy rain, and then imagine your dog walking and sleeping in it.
Having a deck would keep your doggies mud-free. They would have somewhere to sit and wait out the rain.
A sturdy structure resembling a lodge and an extended deck for napping in the sun is the perfect addition to your backyard.
The exterior is constructed of solid fir wood with dark trim accents. Your pup will love the spacious interior, too.
4. Duplex Dog House Idea
Are you a multi-pet owner or have an extra-large dog with insufficient space for two dog houses?
A duplex dog house can be a good choice and give a significant aspect to your backyard.
It is stylish and provides a comfortable space for both of them at once.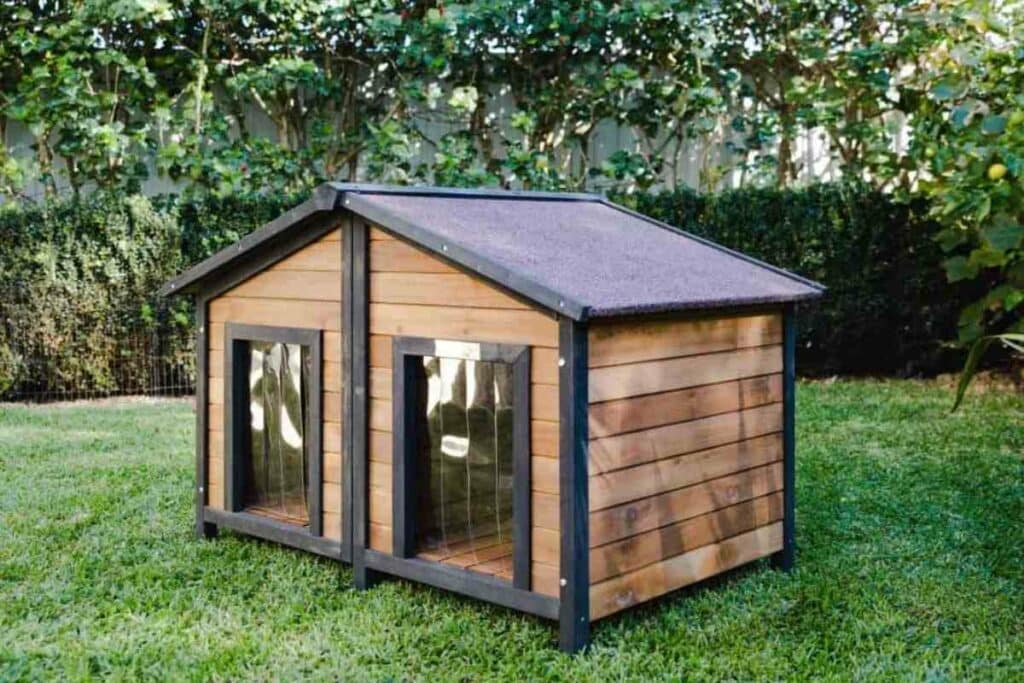 A properly pampered pet requires a properly pampered home as well. It's easy to think of a duplex dog house as being a smaller-scale version of a real duplex.
They are also fairly large when compared to other dog houses.
It features two compatibles and two doors, side-by-side where two dogs can share the house without getting in the way of the other, and it also comes with a removable center partition to accommodate one extra-large dog.
---
Always Good Idea: You can add soft mattresses inside each room and place some food and water nearby for easy access while they lounge.
---
5. Air-Filtered Dog House Idea
While the ideal place for a dog during poor weather conditions is inside the house with the family, sometimes that's not possible.
So, dogs are often left out in the yard, the luckier ones with a dog house.
Although it can protect from the wind, a basic dog house can become unbearably hot during the warm summer months, making your dog's hideaway a hated place.
Dogs that play hard on a hot day can quickly become overheated and suffer from a heat stroke. If you love your dog, your top priority is to make him feel at ease and safe.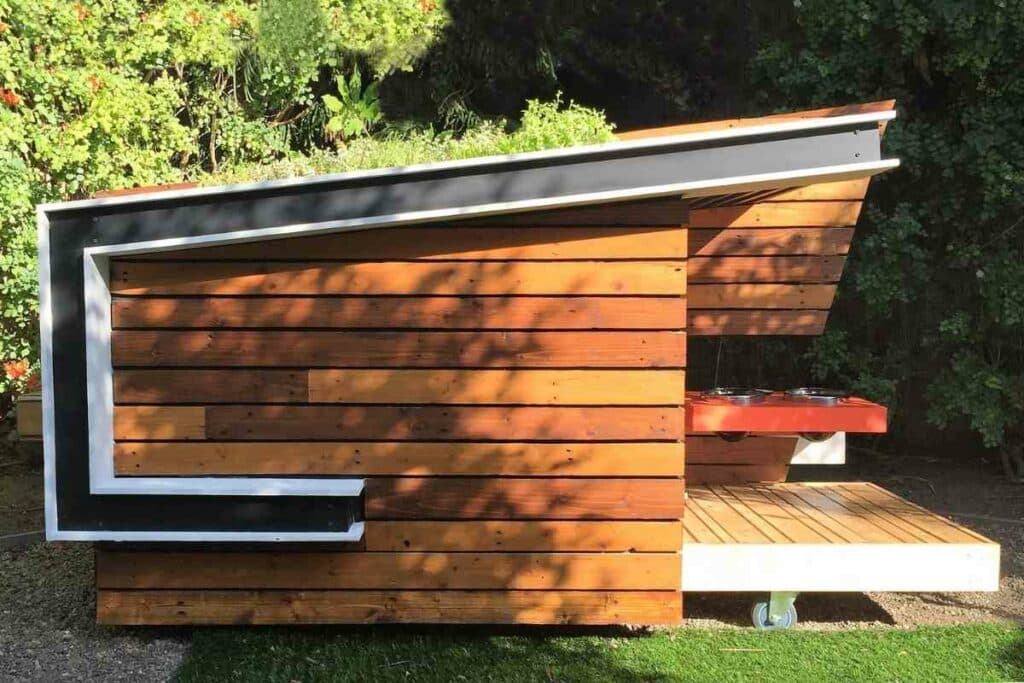 Give them the same climate control that you enjoy in the house with air conditioning and even some heating so that your pooch can be pampered outside and be happy.
These air-filtered dog houses perform flawlessly, with an energy-star-rated unit that meets all of the requirements of a dog house with AC.
Models with remotes make thermal regulation easy.
Also, consider going for a model with a timer to ensure no energy is lost. A program function can also make it easy to set the climate for optimal comfort and take care of your dog while you're away from the house.
Furthermore, these dog houses are available in appealing architectural designs for simplicity, ensuring that your dog enjoys and enjoys living in them.
6. Balcony Dog House Idea
A dog can provide you with numerous benefits, ranging from unwavering loyalty to unconditional love.
This is why they are deserving of only the best in life.
A Pet dog house with a balcony is designed to complement and enhance your current surroundings with a classic and appealing design that both you and your pets will enjoy.
Dog houses can have more than one level. If you're looking for a unique crib for your pet, consider a beautiful, cozy castle with a two-story structure.
These models feature an adorable balcony lounge area as the top-level where your pup can sunbathe, play, and enjoy.
They also have stairs, allowing your dog to climb up to the top with ease, giving your furry a new height for surveying the land.
There are insanely cozy models available in the market today with this style that will also protect him from the elements and provide him with a home that is truly his.
Your dog will surely enjoy it and have a good time on it.
7. Pallet Dog House Idea
If you consider yourself as being handy and great with DIY projects you can consider making a pallet dog house.
Pallets are excellent building materials for a variety of DIY projects. Additionally, they are a cost-effective option.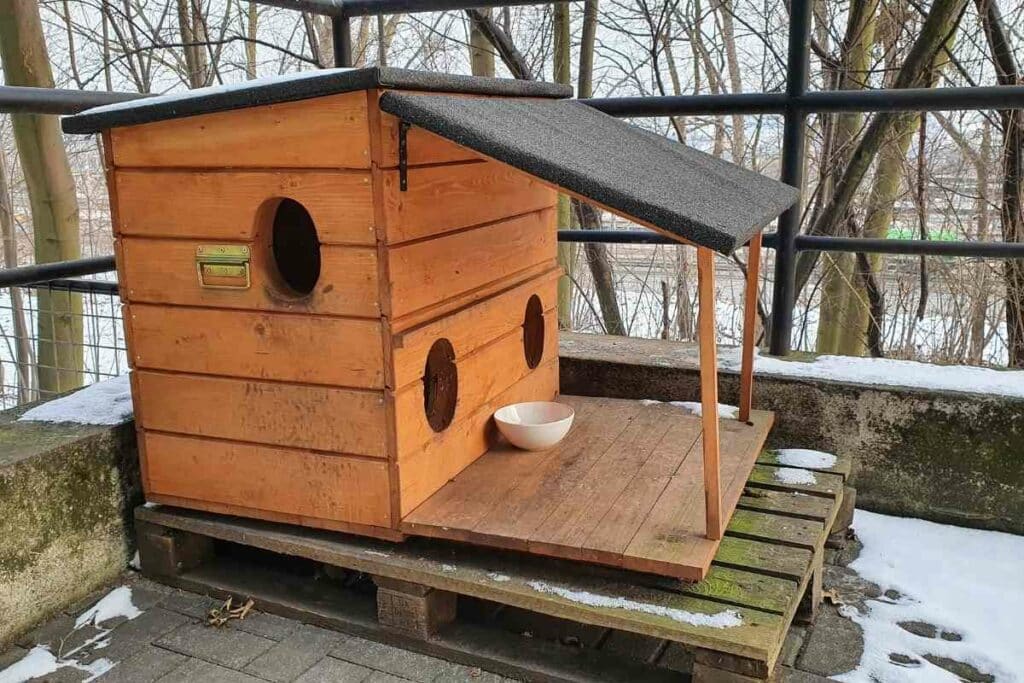 A pallet dog house is easy to make. All you need is a few extra pieces of plywood, wooden pallets, and screws to build your own inspired dog house design.
The size and structure of pallets enable you to put together a sturdy yet eye-appealing doghouse.
Because pallets are simply slabs of wood, they are safe for dogs. They can prevent the dog from staying under the cold weather.
It can be decorated with paint and various designs, but it should be wide enough from the inside so that the dog does not feel suffocated.
Final Thoughts
All dogs love spending time outside, whether they prefer to sunbathe or chase squirrels.
Although the outside world is exciting and fun for dogs, it is not always the safest.
Without a fenced-in yard or electric dog fence (or one of many other effective dog fence ideas), owners will need outdoor dog kennels to keep their canines safe and secure while he enjoys the sun and fresh air.
Furthermore, dogs are territorial by nature, therefore having their own tiny homes is good for them.
There are endless shapes and designs for dog kennels that you can decide to make from home or purchase.
You Might Also Like