If the thought of a robot mower conjures up images of Daleks patrolling your back garden, you need to read this informative buying guide to the 7 best robotic mowers on the market.
Robot mowers are at the leading edge of the 4th industrial revolution and are a great solution for taking over the time-consuming and mundane task of mowing the lawn.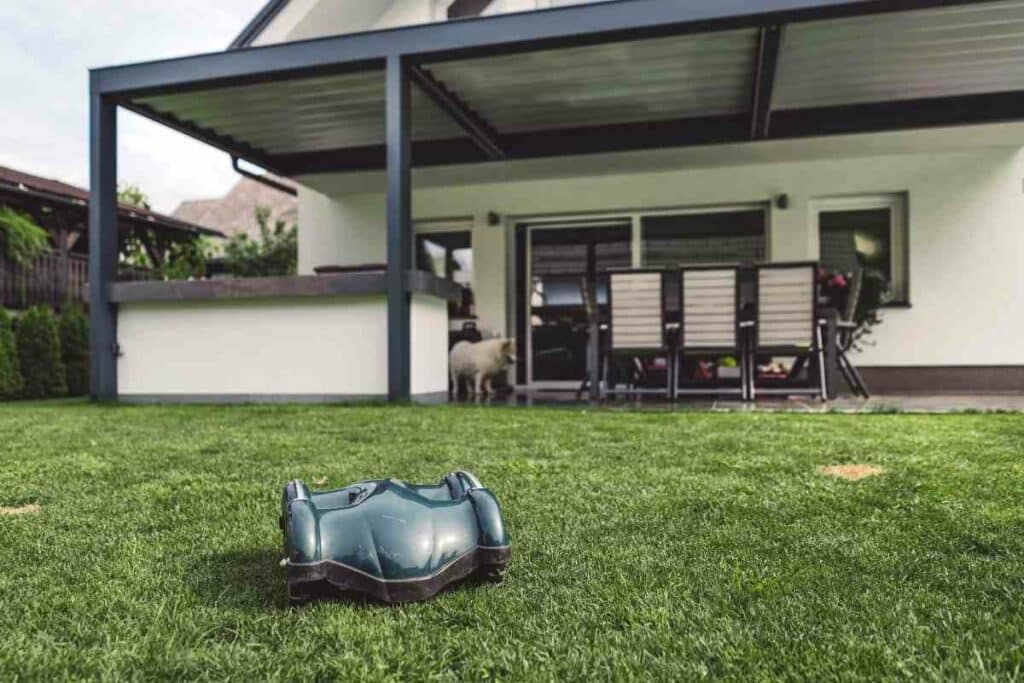 With your own robot lawnmower, you never again have to worry about nagging spouses, curtain twitchers or parents getting you to do your chores!
These clever bots are able to keep a small, medium-sized or large garden looking like a luxury carpet.
Read on for our breakdown of 7 of the best robots to buy to mow your lawn.
5 Quick Points for Selecting the Best Robotic Lawn Mower for Keeping Your Yard Pristine!
Before we check out these seven outstanding robot mowers, let's take a look at five essential features needed for a robotic mower that is going to give reliable service for a long time.
1. The Maximum Lawn Area
The maximum lawn area is the maximum amount of lawn that your mower can competently mow.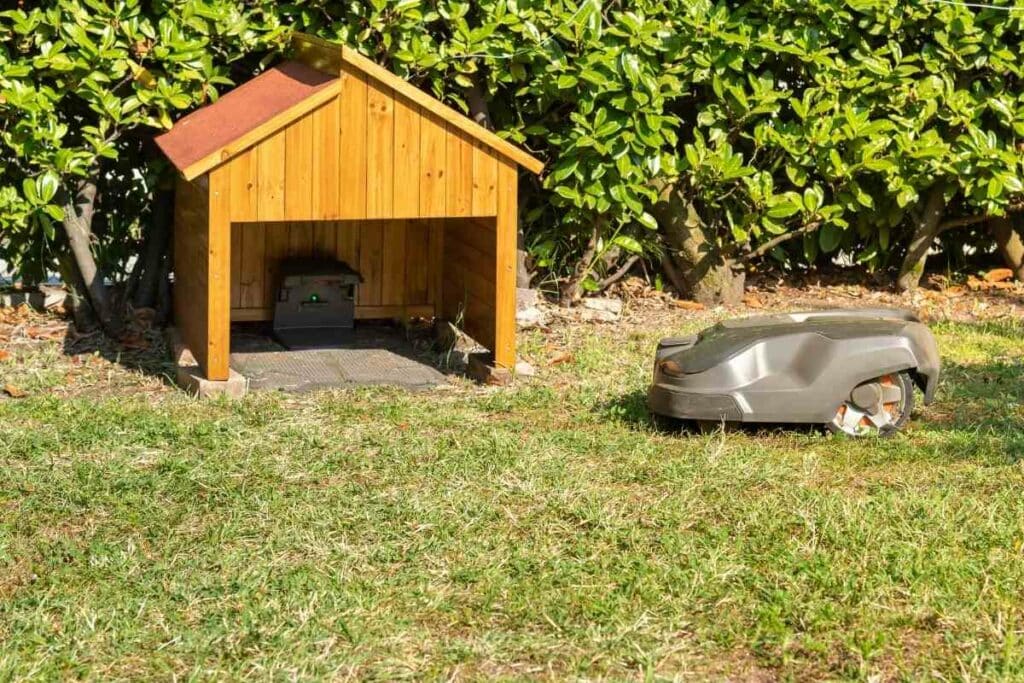 This is given in square metes or square feet and should be compared to the size of your lawn.
It's helpful to know especially if you are weighing up a robotic mower versus a ride on. 
2. The Robot's Ability to Handle Slopes 
Slopes will either make or break your robot mower, especially if it is three-wheeled with poor tread.
If you are in a hilly part of the UK, look for a mower that can handle a slope greater than 20 degrees.
3. Onboard Sensors to Help Dodge Obstacles
A family garden is an obstacle course for a robot mower.
Balls, rackets, garden furniture and trampolines all have to be navigated.
The best robot mowers do this by using sensors and changing direction when it encounters objects.
4. Make Sure the Mower Comes with These Essential Accessories
Without these key items, you'll be delayed in setting up your new robot mower.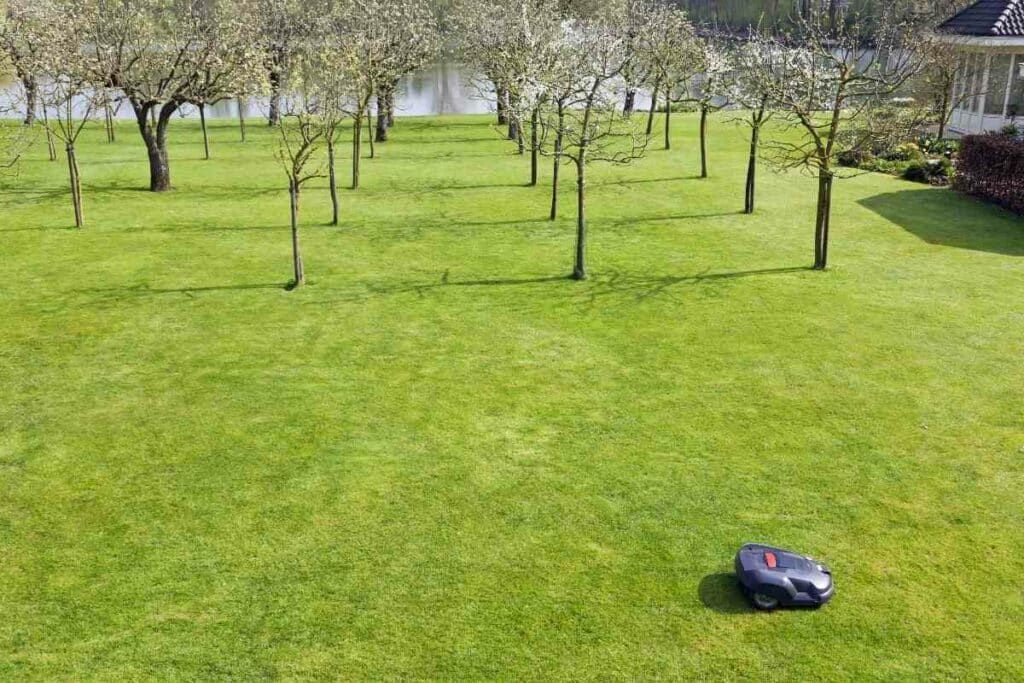 Manufacturers usually supply them with the shipped automatic mower.
They include: 
Boundary wire: this is a special wire that is used by the robot mower to sense the margins of your lawn. 
Pegs: the boundary wire is held in position by pegs that hold it at a height the mower can detect.
Charging station: this is your mower's base station where it starts its journeys and automatically returns to charge itself.
5. Manufacturer's Warranty and Replacement Parts
Look for a warranty period of at least a year that covers both the mower and it's battery.
You should also select a mower that you can get replacement parts like blades for easily.
The 7 Best Robotic Lawn Mowers for UK Gardens
These 7 amazing robotic lawnmowers make a great addition to any garden.
Here are our top picks.
1. Stihl iMOW Robot Lawn Mower Model RMI 422 
Description
STIHL are a world-class brand for domestic power garden tools and it would be remiss to not include their foray into the robotic lawn mower market: the iMOW robotic mower.
With this smart and powerful robotic mower, achieving the lawn you want is hassle-free. The STIHL iMOW mower takes care of keeping your lawn under control.
At the touch of a button or with the app, the iMOW will cut your lawn automatically with surprisingly intuitive operation.
It's highly programmable, meaning your lawn gets mown wherever and whenever you want.
We have featured the RMI 422 PC model for large lawns, but STIHL creates mowers for medium-sized and large gardens too.
Outstanding Features to Look for in the STHL iMOW Robot Mower
Bright and clear removable LCD control panel: Stihl has integrated a large LCD display in the mower's housing, which you can also remove for convenient programming. Use the control pattern to record your custom settings, access all functions and review the performance data of your robotic mower. 
Mulching mowing deck: STIHL are renowned for their blade engineering and the mulching blade of this robotic mower offers reliable performance, with a rotational direction and cutting pattern that can deal with higher grass growth without becoming clogged. A cleaning disc in the deck keeps the blade clean and ensures that it wears evenly.
Smart docking station: iMOW mowers include a docking station home where it can be conveniently recharged. This dock is also the position from which the device starts its mowing journeys and it will automatically return to this hub.
Wheel traction: Wheel traction and adaptive slope speed male this an automatic mower for all sorts of lawn terrain, including gradients of up to 35 degrees
---
2. Hyundai HYRM 1000 Robot Lawnmower Smart Mowing Functionality Robot Mower
Description
Hyundai has a great reputation for the quality engineering of its garden products and this well-built mower provides a reliable service for small gardens.
It has a Lithium-Ion battery that delivers up to 16 hours of cutting time before the robotic mower automatically returns to its charging station.
With an 18-centimetre cutting width, this robot can quickly mow a small lawn to a height between 1 to 2 inches.
The Hyundai robotic mower is self-mulching, dropping clippings back into the lawn. 
Outstanding Features to Look for in the Hyundai HYRM 1000 Robot Lawnmower
Multiple mowing patterns and start point: The mower is programmable with four cutting patterns and seven cutting heights to get the job done as efficiently as possible.
Mows slop gradients of up to 35 degrees: Cheaper mowers are often limited in the ability to tackle and incline, but superb holding and traction means that even if you have a gentle slope, your entire lawn can be cut.
PIN code protects against theft: The HYRM 1000 automatic mower is pin code protected. You can set a pin code of your choice via its onboard control panel.
---
3. Lawnmaster L10 robot mower
Description
This reliable robot mower is easy to set up with included boundary wire and charging station. It is sturdy, and IPX5 waterproofed for longevity and reliable performance.
The manufacturers have designed this robotic mower to be easy to programme and maintain and you can manually programme it for mowing daily or on alternate days.
This mower has 3 pivoting cutting blades that mulch your cutgrass to fertilize your lawn as the robot mower mows it.
Other essential features like lift, tilt and bump sensors keep the robotic mower from becoming damaged and protect pets and garden furniture. 
Outstanding Features to Look for in the Lawnmaster L10 Robot Mower
Automatic charging: As soon as the automatic mower runs out of power, it will make a beeline back to its charging station to recharge and resume its programmed journey. 
Adjustable cutting height: You can manually adjust the cutting height of this mower by turning the large dial under the hood.
Great handling of gradients and slopes: The HYRM 1000 automatic mower is pin code protected. You can set a pin code of your choice via its onboard control panel.
---
4. Flymo 1200 R Robotic Lawn Mower
Description
Flymo is a trusted garden band and creators of the classic hover mower over 50 years ago.
So it is no surprise that they have developed a robot mower that has all the features you need to keep your lawn in great shape.
This mower is Bluetooth-enabled, but also rough and ready enough to wash down with a hose.
It is a great accessory for a small garden and should keep your lawn healthy with its mulching function. 
Outstanding Features to Look for in the Flymo 1200R Robotic Mower
EasiLife app programming: Once you have set up your new Flymo robotic mower, you can download the EasiLife proprietary app to remotely control this mower. You can use the app to schedule mowings, check the status of the mower and get assistance with troubleshooting.
Multiple start points and guide wire technology: Your lawn will look great, thanks to the patented guide wire technology and multiple start points that ensure that your lawn is always completely mowed without unsightly track marks. You can also spot cut and use other programmes to meet your exacting requirements for your lawn.
Lawnsense prevents damage to your lawn: You don't need to worry about your lawn getting wrecked in bad weather. This mower is sensitive to both the weather and conditions of your lawn and will pause its function if it is too cold or wet to operate.  
---
5. Yard Force SA650ECO Robotic Mower
Description
A mid-size lawn is a beautiful garden feature, but through spring and summer you will have your work cut out for you if you manually mow.
For the price, this large robot mower delivers great value and will save you hours of hard work under a hot sun!
Yard Forces mower has a 28 volt Lithium battery-powered brushless motor that provides excellent coverage over inclines up to 40 degrees.
The setup is easy and the lift, tilt and turnover sensors ensure that both mower and garden plants and furnishings do not suffer damage. 
Outstanding Features to Look for in the Yard Force Robotic Mower
All-weather resistant: Happy customers of this cost-effective mower leave it out in all weather (except thunder and lightning). It will happily cut in the rain and appreciates a surface wipe down if wet.
The brushless motor is energy efficient: The deliberate use of a brushless motor achieves better durability, efficiency and a welcome increase in battery runtime. When the mower's battery runs low it will automatically head to its included dock for recharging.
Safety features like PIN code and alarm are standard: No one is going to run away with your prized mower as it comes with a PIN-controlled lock and alarm to alert you if the mower is disturbed.
---
6. AYI DRM3-600i Robot Lawnmower
Description 
The AYI DRM3-600 robotic mower is another decent choice for keeping the lawns of a medium-sized garden under control.
Its powerful 3,500 rpm cutting power and mulching action efficiently maintains laws even during the fast growth of late spring and summer.
The blades are razor-sharp, double-edged and can be reversed when they start to blunt.
Setup is simple and the boundary wire and pegs are supplied for you to mark out your lawn. 
Outstanding Features to Look for in the AYI DRM3-600 Robot Lawnmower
On-board control panel with LCD display: Programming the AYI robot mower is easy to program with an integrated control panel with LCD display and dial to adjust the cutting height. 
Carrying handle and compact design makes storage simple: The carrying handle on the robot mower is a great feature that enables you to move the mower safely and store it through the winter months.
This robot mower will automatically run from the rain! Once the rain starts to fall, the mower will head back to its dock and wait for better conditions to resume mowing.
---
7. Flymo EasiLife 150 GO 
Description
If you have a small garden, this is the compact robot mower for you!
This smart and stylish robot mower from Flymo is great for lawns up to 150 square metres, with a simple set-up and streamlined controls.
Just place your boundary wire and charging station where you need it to be and the handy phone app can get your robot mower working.
Alternatively, use the embedded controls on the mower to get your settings just how you want them.
Outstanding Features to Look for in the Flymo EasiLife 150 GO 
PassageSense means your mower can cover the tiniest gaps: If you have narrow strips and passages of lawn, the nimble Flymo EasiLife 150 GO can cope with passages that are a minimum of 60 centimetres wide using its proprietary PassageSense technology. 
Complete Smartphone control: Program your mowing and schedule and troubleshoot problems all from a convenient downloadable app.
3 pivoting blades not only cut but mulch your clippings: The mulching of your cuttings is great for the health of your lawn, as it returns the nutrients from the growth to the soil to nourish your lawn.
---
Frequently Asked Questions for the Best Robotic Lawnmowers UK
I have a lot of trees and shrubs surrounded by lawn. Will the mower damage them?
You can safely use a robotic mower in a garden that has trees as most models have the onboard technology to sense and avoid them as obstacles, changing direction.
If a robot does bump into a tree while mowing it is unlikely to cause damage, but to be certain your plants and trees are protected you can enclose them in boundary wire so the bot avoids them.
Can I install an automatic lawn mower myself?
Setup for a robot mower does not require professional installation.
You will need to install the base station supplied with the mower and connect a perimeter cable around the area where you want the robot to mow.
Some property owners hire a professional to install a boundary wire for large and complex lawns.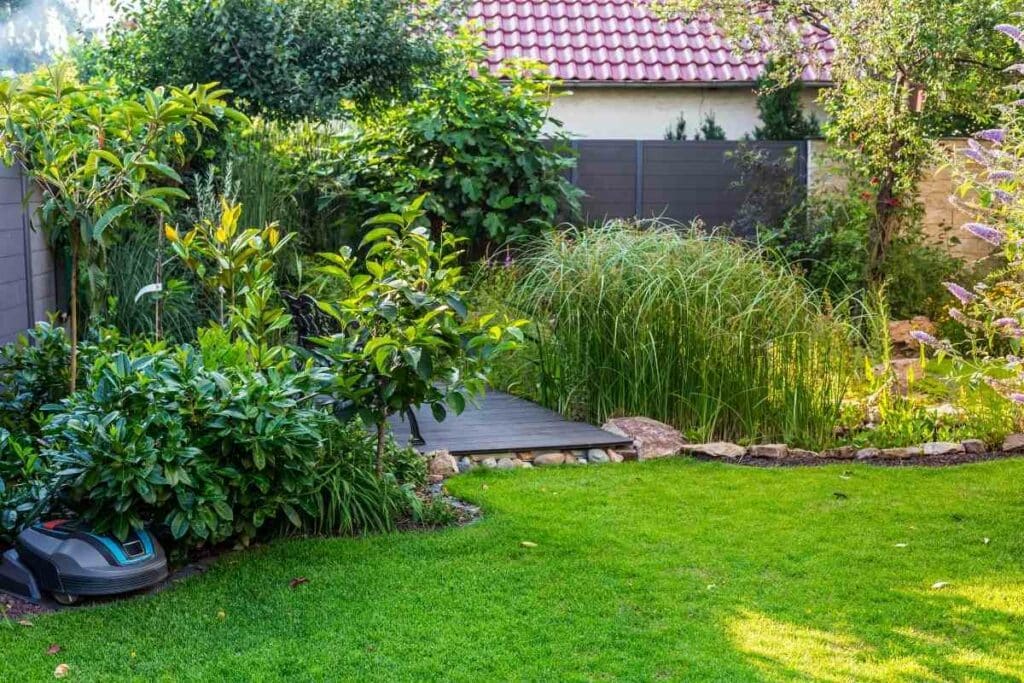 Will the robot mower hurt my pets?
The lawnmower can be safely used in a garden that has both pets, and children present.
This is because the robot will stop its mowing function if it is tilted, tipped, or lifted up. Many models are also alarmed with PIN code activation to prevent it being switched on accidentally. 
Can someone steal my automatic mower?
Thieves will take a chance on just about anything and a shiny new mower in a garden is a potential target.
However, most mowers come with security features like PIN access, alarms and GPS tracking and a useless without their base station. 
What happens if my boundary wire breaks?
A snapped boundary wire is more common than you'd think, often chewed through by rabbits, weasels or deer. If the cable is broken the robot will not mow.
Walk your lawn perimeter to look for breaks in the wire. Joints in your boundary wire are the most vulnerable point and can be repaired using a generic connector.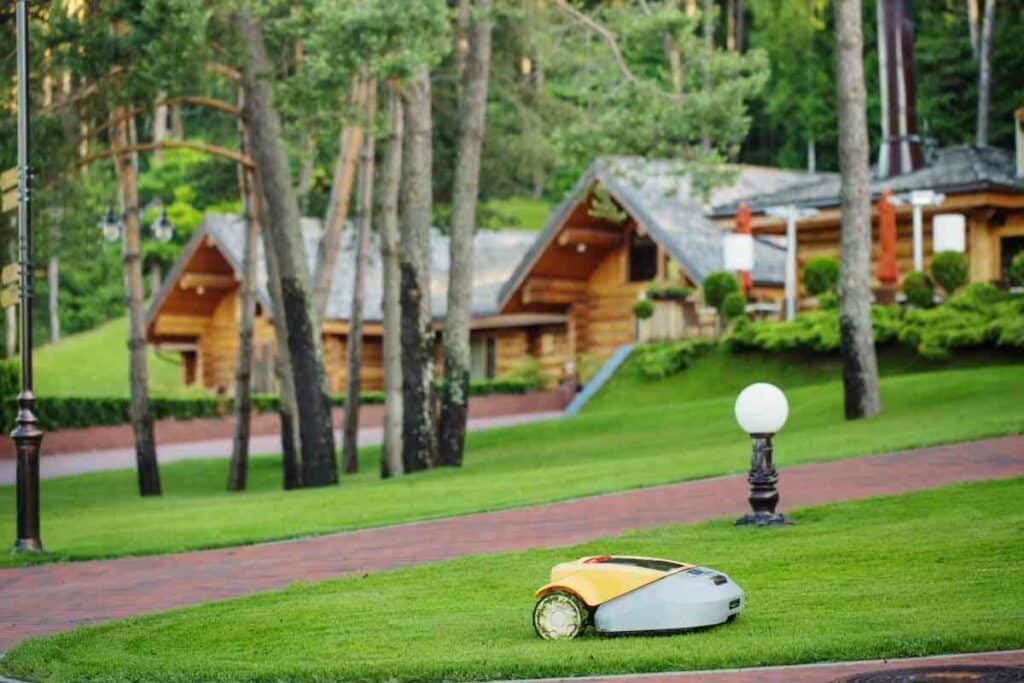 Do I need to cover my mower when it is not in use?
Robot mowers are designed with waterproof housings that are usually weather resistant. They will happily mow in the rain if required.
You can protect the mower from exposure by purchasing a kennel, shelter or storage bag to keep the mower through rough or excessively hot weather. 
Rounding Up 
Robot mowers are fast becoming the ideal garden accessory.
They are just so convenient and do a great job of making your lawn a healthy green carpet that feels great underfoot. We hope you find a great little bot to keep your lawn neat and tidy.
After all, while your robotic lawn mower whirrs away on a hot summer's day, it's the perfect time to put the feet up, open the parasol, and have a Pimms o'clock!
You May Also Read