Bamboo is a popular choice over other wood types because it grows fast. As such, it's cheaper to produce and requires little care.
The species has an attractive grain that's also versatile. However, bamboos have one significant drawback – they aren't easy to cut.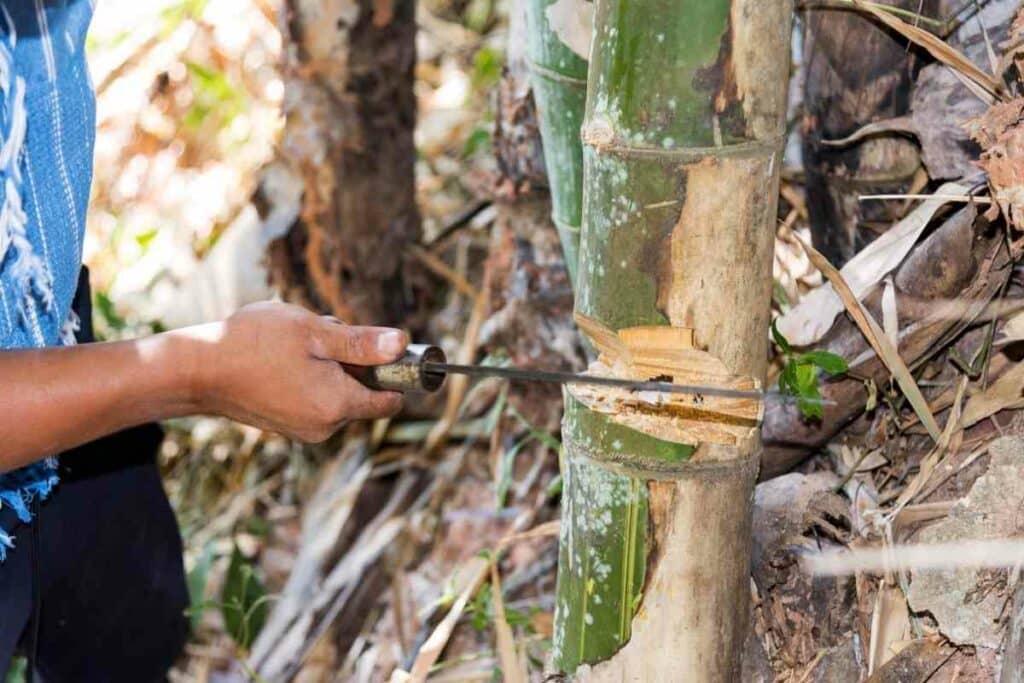 It would be best if you had the best saws for cutting bamboo to make it usable. 
How to Cut Bamboo
When harvesting or cutting bamboo for timber, choose green ones because they're easier to use.
If it's cold, heat the stalks before cutting to prevent splitting. 
Then, mark the cutting point using masking tape. The tape also prevents splintering.
Next, use a sharp pruner if the stalk is less than an inch wide.
Otherwise, use a sharp handsaw. Ensure that the saw has straight teeth to avoid tearing the fibers.
Why You Should Cut Bamboo
Once your bamboo plants mature, pruning can help improve their overall health.
If you leave them unattended, the groves will overcrowd the area, resulting in an unhealthy competition for limited nutrients.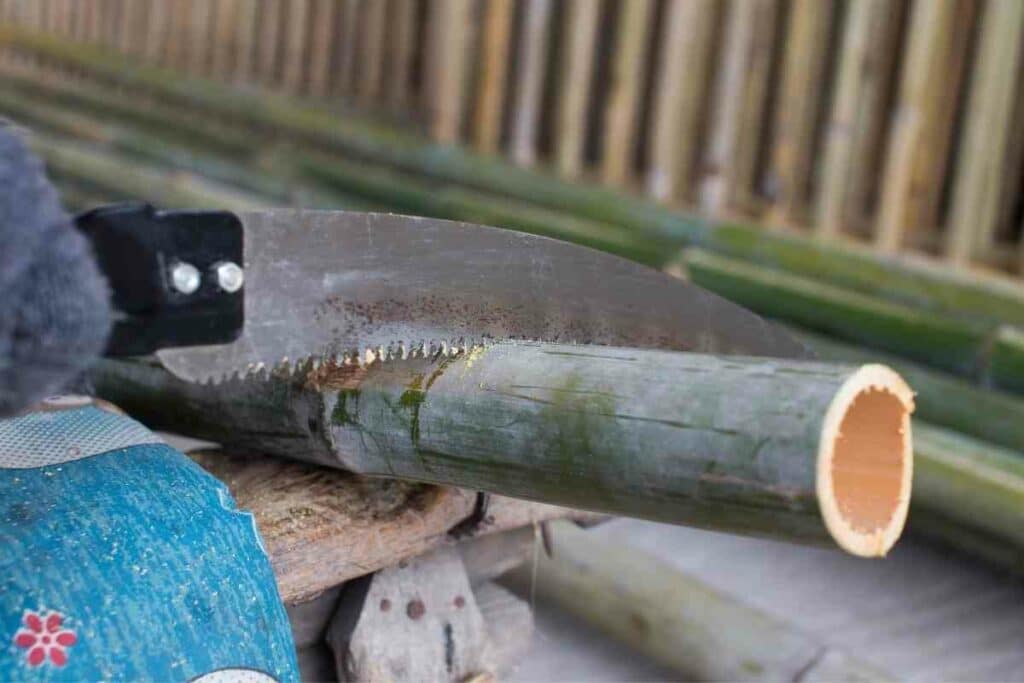 Cutting also helps to remove plants approaching the end of their lifecycle, which is ten years.
By removing old plants and pruning nature groves, you create space for new growth.
When the groves become established, the best time to cut your bamboo is between the third and fifth growing seasons.
Several factors affect bamboo growth rate, including the:
species
soil
moisture
sunlight
general climatic conditions
If you're unsure of your bamboos, cut a few and see how they respond in the following season. 
What to Consider When Choosing a Handsaw
Here are the factors to consider before purchasing a saw for cutting bamboo.
Construction
Like other hand tools, your handsaw's construction is crucial to its usefulness.
Ideally, it should be made using hardened steel to last long. It should also have an ergonomic design for ease of handling. 
The blade's material correlates with the handsaw's performance.
Hardened steel blades are popular because their sturdiness guarantees a long lifespan with little maintenance.
Keep In Mind – The handle is also important. If it has an ergonomic design, comfortable material, and tight grip, you'll find it easier to use the saw. 
Length
Saws for cutting bamboo are available in different lengths – some are short, others are long.
Long handsaws require you to move the whole hand, while sharp saws require the lower part of the arm.
Generally, longer handsaws are quicker and more efficient. However, this varies with application.
When cutting bamboo, medium-sized handsaws are best. Remember, bamboo stalks aren't large, making long saws impractical.
On the other hand, a short handsaw will require you to apply too much effort. The ideal length range for bamboo handsaws is 6 to 9 inches.
Tooth Count
If you need fine, intricate cuts, you will need a different handsaw than someone after rough cuts. Remember, each handsaw has a specific use. 
Different handsaws have a varying number of teeth. More teeth guarantee a cleaner cut and more precision.
Conversely – Fewer teeth don't produce neat results, but such saws are faster. 
Although long handsaws have more teeth, some don't guarantee a clean cut. A longer blade doesn't always mean more teeth per inch. 
Besides tooth count, you also have to consider the cut's feed rate and thickness. Handsaws with fine teeth give cleaner finishes because each tooth takes a small bite.
However, if the feed rate is too high or the material is too thick, it produces a poor-quality cut. Fortunately, bamboos aren't too thick. 
The Best Saws for Cutting Bamboo
Here are the best handsaws for cutting bamboo stalks.
1. EverSaw Folding Handsaw 
If you want a handsaw that offers value for money, look no further than the EverSaw Folding Handsaw. Despite its modest price, this pull-cut saw is robust and built to last.
It has an adjustable 8″ medium-tooth carbon steel blade to help you cut through wood and plastic.
In addition, you can adjust the blade to suit the job at hand. Plus, the ribbed rubber handle boasts an ergonomic design that guarantees a firm, non-slip grip as you work.
The blade consists of triple-cut razor teeth, designed for pull-cut sawing style. The exact tooth count is nine teeth per inch, guaranteeing smooth and fast sawing.
Moreover, the hardened teeth can easily cut through bone, PVC, and wood provided the diameter doesn't exceed four inches.
Another perk of owning the EverSaw folding handsaw is its versatility. Besides cutting bamboo, you can use it on various tasks like landscaping and camping trips. If you like hunting, you can add it to your set.
Cutting instruments are a safety risk. The blade can cause severe injury and infections if mishandled.
Pros
Easy to hold and use
Reliable safety gear lock
Hardened steel blade
Compact and lightweight design
Cons
It's prone to quick rusting
Not recommended for heavy duty work
However, this handsaw comes with a gear lock for securing the blade. The lock hides the teeth when closed, making it safe to carry the saw.
Lastly, this product comes with a lifetime guarantee. So if you experience any issues, you can contact the manufacturer through Amazon messaging system for a replacement.
2. HARDTWERK Zen Japanese Pull Saw 
The HARDTWERK Zen pull saw is a blend of traditional Japanese forging and American artistry, explaining its sturdiness and dependability.
Unlike European saws that cut through the material by pushing, this saw cuts by pulling. As a result, you apply less force, and the cuts are much cleaner.
Additionally, this handsaw has a hardened carbon steel blade built to last. The blade holds extra-sharp trapezoidal teeth that guarantee clean cuts with little effort. 
Pros
Ergonomic rubber handle
Hardened carbon stainless steel blade 
Foldable compact design
Easy to use
Since it's a pull saw, this product has a lightweight rubberized handle that guarantees a firm grip. In addition, it's serrated, ensuring the saw doesn't easily slip even if your hands get sweaty.
After completing your tasks, you can store this saw in a drawer or throw it into your bag. Unlike typical Japanese handsaws, it's small, compact, and foldable.
3. SUIZAN Japanese Ryoba Pull Saw
The SUIZAN Japanese Ryoba Pull Saw has a double-edged blade, making it a versatile addition to your DIY toolbox. On one side, the high-quality Japanese steel blade has sharp cross-cut teeth that easily cut through wood and plastic.
On the other hand, it has a sharpened razor edge with finer rip-cut teeth to deliver cleaner and more precise cuts.
At 6.4 ounces, this handsaw is one of the lightest in its category. It uses electricity, which saves you the energy required to cut through large pieces of wood.
You can switch the blade using a button located at the handle's intersection with the blade.
Pros
Extreme cutting precision
Easy to switch blades
Cross-cut and rip-cut teeth on one blade 
High-quality Japanese steel blade 
Cons
Can't work without electricity 
Moreover, this handsaw is comfortable. Its rubber handle is serrated to give you a firm grip and withstand the vibrations caused by electricity as you cut through wood.
Also, it's long, reducing the effort required to hold it in place.
Uses of Bamboo 
After cutting, here's how you can use bamboo.
Fuel
Bamboo is a better fuel source than typical wood.
First, it grows on slopes and uneven terrain, allowing you to utilize spaces that would otherwise have been left idle.
Moreover, bamboo is a fast-growing plant. Unlike other trees, it doesn't take decades to become economically viable. 
Also, bamboo products have a higher biofuel yield than hardwood. Due to this, they produce less smoke and greenhouse gases, reducing their environmental impact.
Furthermore, the fast growth means they use fewer nutrients, allowing you to grow other edibles. Bamboos, therefore, are a valuable fuel source for local economies in developing countries.  
Construction
Bamboo is a popular building material because it's robust and lightweight.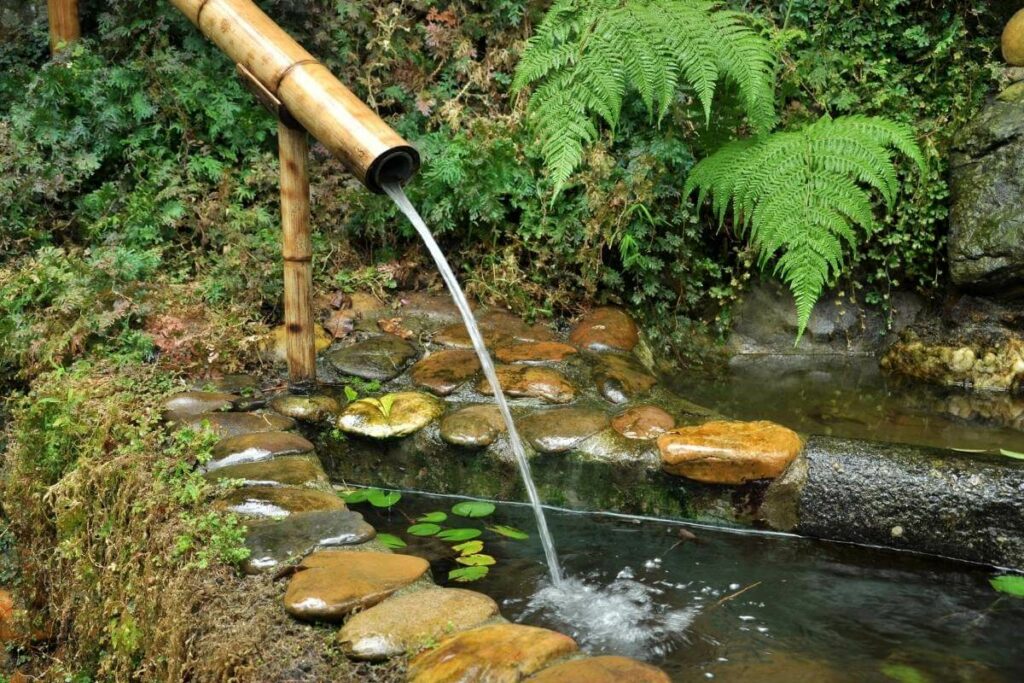 Traditional and modern architectural designs use bamboo to construct bridges, floors, roofs, scaffolding, and other structures.
Besides Strength – Many constructors like bamboo due to its flexibility. You can bend it into any desired shape without breaking it.
However, before using it in your construction project, you must treat the plant. Treatment prevents rot and bug infestations.
If you're planning to build, you might want to consider bamboo. Its elasticity makes it ideal for construction in earthquake-prone regions.
Moreover, it's resistant to fires. Even better, it has a stronger tensile strength than steel because its fibers are aligned axially.
Wrapping Up: Importance of Sustainable Bamboo Harvesting 
Unfortunately, bamboo is facing possible extinction due to global warming.
Scientists predict that the species will go extinct in the next century if human beings don't change their habits.
Bamboo trees will likely find their current habitats inhabitable sooner than the estimated 100 years, which is saddening. 
Although some areas might become suitable for bamboo growth, they'll likely be human settlements rather than areas occupied by wildlife.
Animals that depend on bamboo for survival, like Pandas, will become endangered species because they can't easily adapt to alternative food sources.
When harvesting bamboo products, consider the environment. Use sustainable harvesting methods and the best saws for cutting bamboo so your trees can shoot up again.
Don't cut more than you need; allow the plant to regenerate before cutting again. Remember, wildlife and future generations need clean and healthy surroundings as you do.