Extension cords are used to provide power and connectivity to various electrical items, including lamps, vacuum cleaners, clothes dryers, and tools.
You may want to use an extension cord under your backyard if you are looking for a convenient way to power appliances.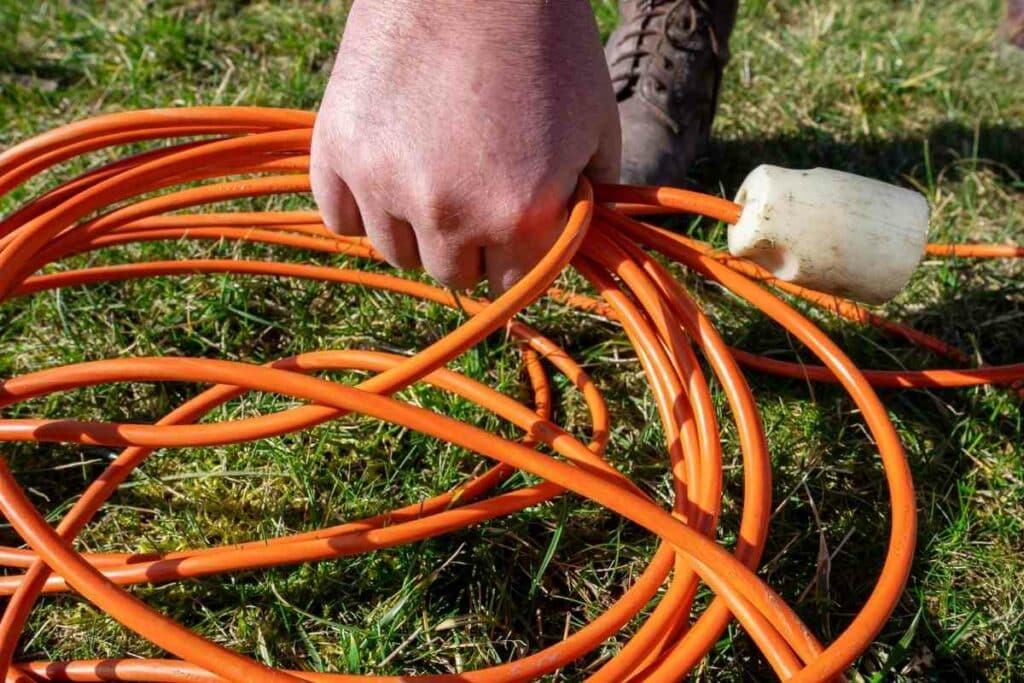 Essentially, putting an extension cord under your backyard is not always safe. It is even illegal in some states.
Many people do not understand exactly how risky it is to bury an extension cord in the backyard, so they do it without taking precautionary measures.
Running a cord under the backyard could potentially cause a fire, especially if the cord is exposed to moisture, UV light, chemicals, equipment, and power tools.
Safety Tips When Using an Extension Cord Under Your Backyard
Many people in America live in homes that have limited spaces and may not be able to secure a septic system.
Therefore, they resolve to bury extension cords under their lawns or backyards.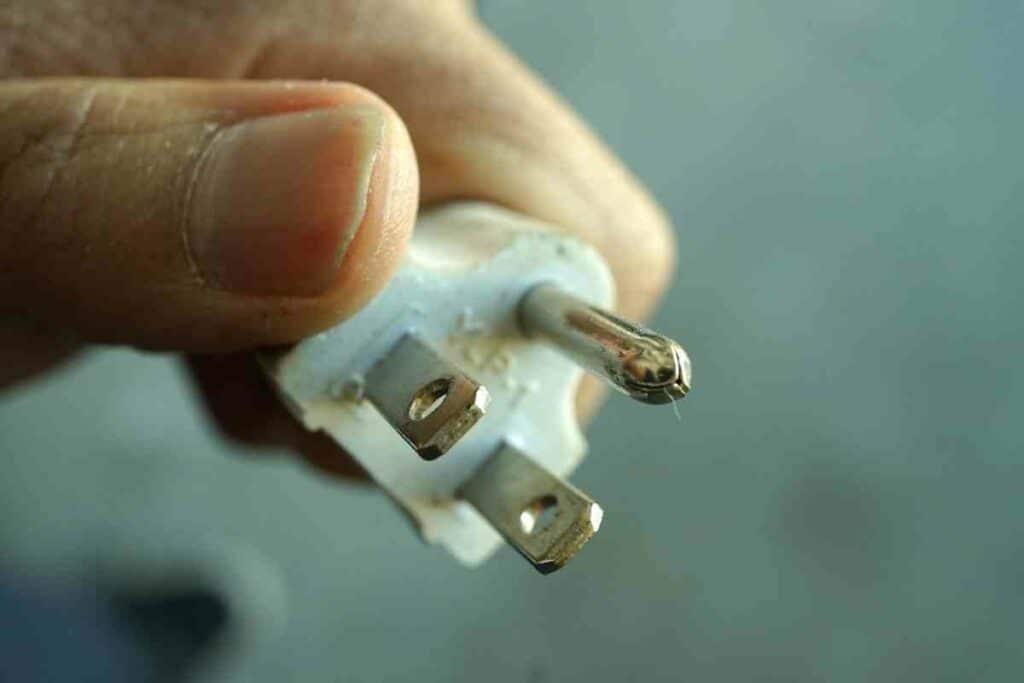 Unfortunately, many people do not apply the necessary measures to avoid accidents and hazards.
In the United States – About 9% of electrocutions happen in the backyard. If an extension cord is set up without proper safety measures, it could potentially lead to severe injuries or even death.
There are a few tips to follow when using extension cords in the backyard.
These safety measures help ensure that a home is as safe and secure as possible, including keeping children and pets safe from any electrical shock or fire hazards from extension cords.
Use The Appropriate Extension Cords
There are extension cords built for indoors and the outdoors.
You want to ensure that you use cords made explicitly for the outdoors. They are easy to identify because they are always labeled "for outdoor use."
Also, note that extension cords are not one-size-fits-all when it comes to their uses.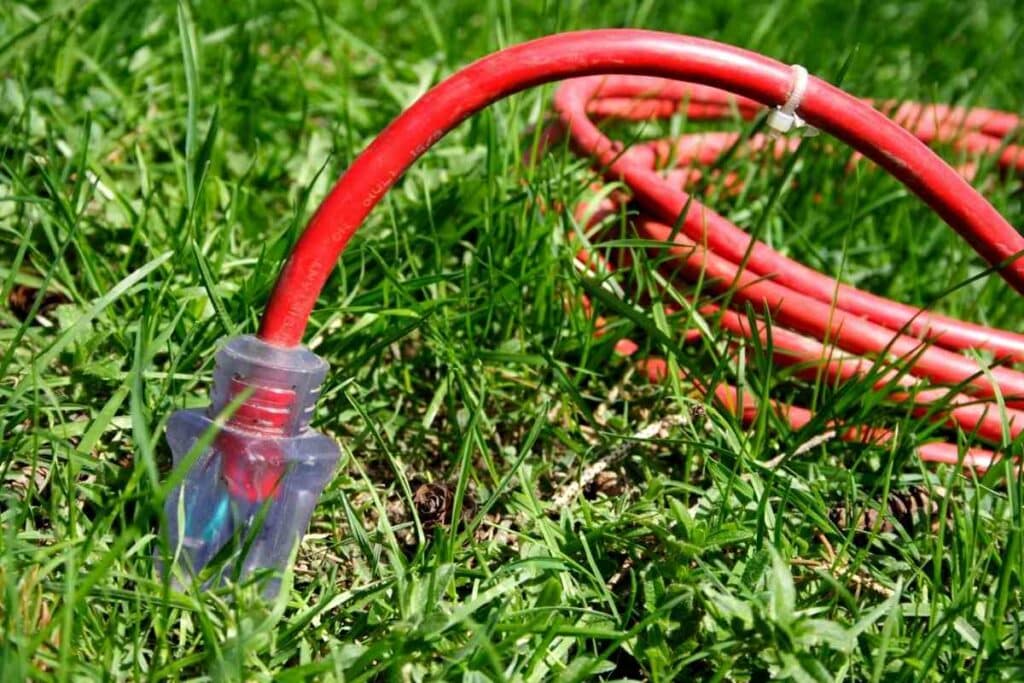 Therefore, you ought to choose one that is suitable for the specific task you intend to use it for.
For Instance – Cords with larger wires have more current and are more suitable for heavier tasks.
Additionally, check if the cord is meant to be buried underground.
Ordinary cords are not safe when buried, as the earth is an excellent thermal insulator. So, an unsuitable cord may harm or even kill you.
In the United States, the only cable that is suitable for the underground is an underground feeder (UF).
It is made to withstand elements such as moisture, lighting, heat, and chemicals that could cause a shock or fire.
Also, the appropriate cord for the outdoors should be heavy-duty and adequately insulated to protect fragile wires.
For one, the insulation should be weather-resistant to shield the wires from sunlight, moisture, snow, temperature changes, chemicals, and pressure from physical elements.
Examine The Cords Before Setting Them Up
You want to ensure that the extension cord is in top tier condition before setting it up outside.
Therefore, you ought to do a thorough examination to see if the wires and insulation are okay.
A broken wire or flimsy insulation could be a recipe for trouble.
So, it is imperative to make sure that the cords are in good shape before burying them in your backyard.
Unplug And Store the Cords Inside When Not In Use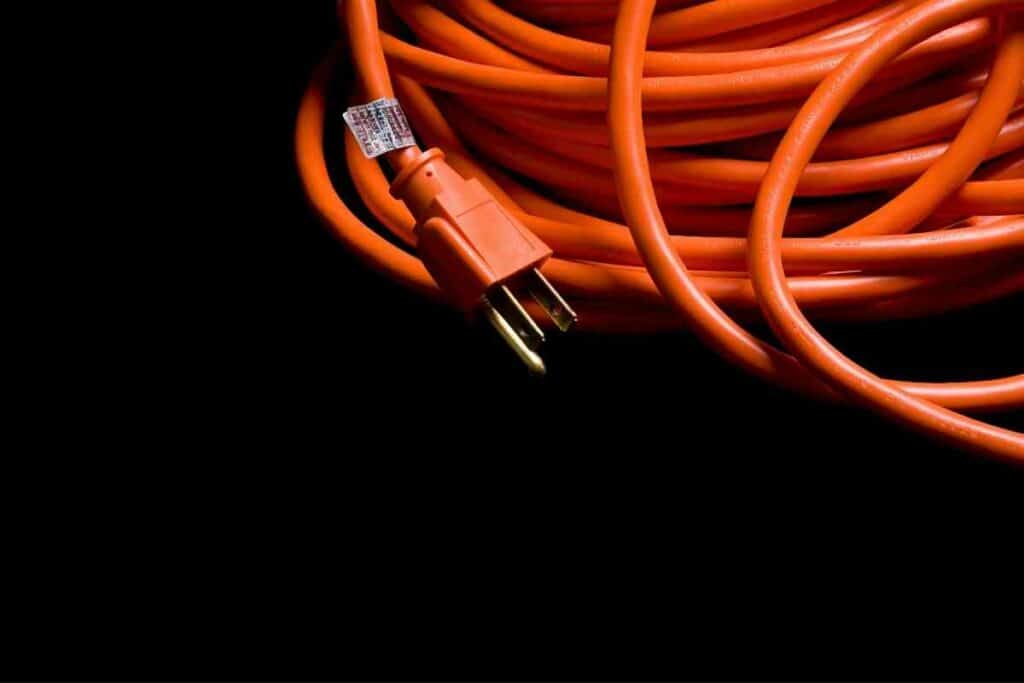 Like most other electrical appliances, it is wise to unplug them whenever they are not in use.
This minimizes the chances of accidents happening.
Also, leaving the extension cord outside for too long may wear down its insulation, making it more susceptible to shock and fires.
So, unplug the cord and put it away in a safe place as soon as you are done using it.
Prevent Overheating at All Costs
Overheating can cause the cord to spark and cause a fire.
So, as you bury it in your backyard, ensure that there are minimal chances of it overheating:
Do not cover the cord with any materials such as cloth or paper.
Ensure that the cord is fully extended when in use.
The cord can overheat easily when the cables are twisted. Also, note that extension cords are meant to be temporary wiring solutions.
Therefore, replace them as often as required because overusing them can also lead to instances of overeating.
If possible, upgrade the electrical system around your home for better convenience.
Burry The Cord to The Recommended Depth
The last thing you want is someone tripping on the extension cord, or worse yet, someone digging into it with a sharp object.
These will happen if the cord is too close to the surface.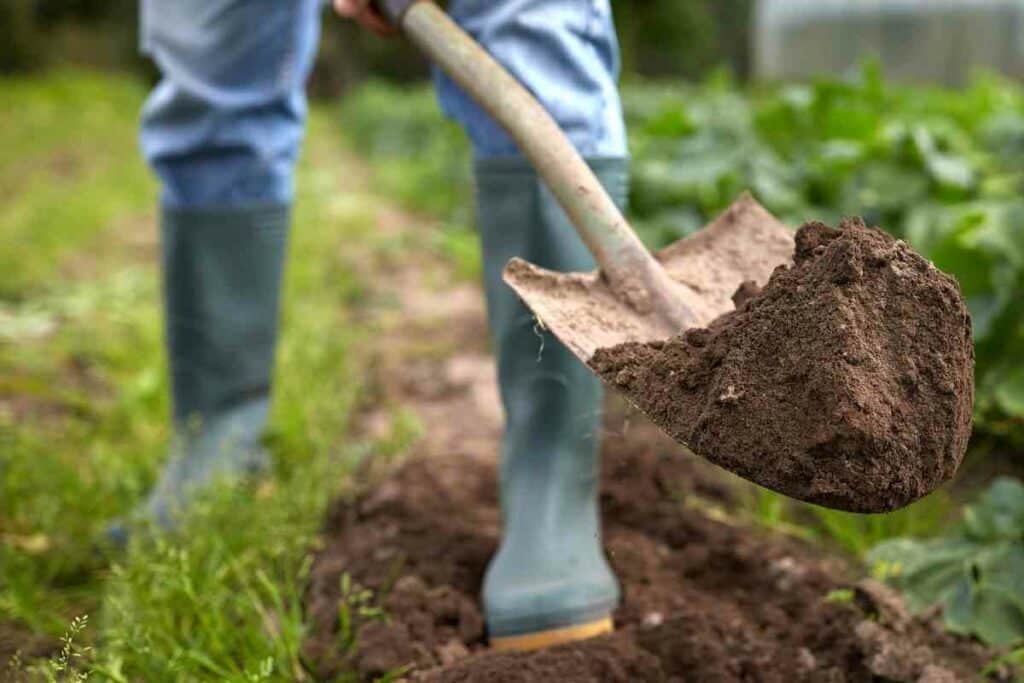 Therefore, you want to ensure that the code is deep enough into the ground that people will not interfere with it as they carry out their daily activities.
Usually, the recommended depth is at least 14 inches into the ground.
The United States electrical code recommends cords between 120 and 300 volts to be buried 24 inches into the ground.
Essentially – The deeper the cord is in the ground, the safer it is. Even so, it should not be too deep that it does not serve its purpose effectively.
How To Tell That an Extension Cord Is Fit for Outdoor Use
The Cord is Marked UN or OUTDOORS
Outdoor cords are specifically designed for outdoor use, and some safety standards require a cord to be labeled as such.
This type of cord can handle higher temperatures, such as those in the backyard on a hot day.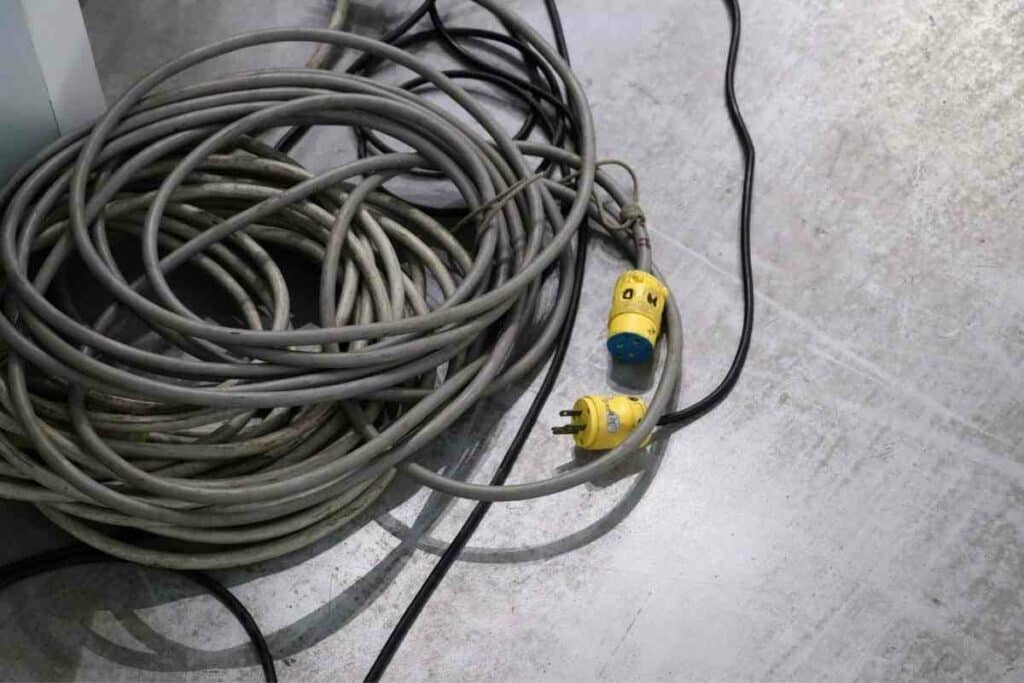 It will typically be rated for 240 volts with enough amperage to effectively do the job and will not get too hot when in use.
Outdoor cords also have thicker insulation, which makes them more durable than standard indoor-rated cords.
The Cable Contains a Woven or Braided Sheath
When the cable has a braided sheath, it is very unlikely to get damaged by rough handling.
It is also very flexible so that you can move it easily. The cord's outer sheath must be twisted to determine whether the cord can handle a sharp bend like an elbow or knee.
If the sheath twists freely, then the cable is fit for outdoor use.
If the sheath does not twist easily, this indicates that there may be a problem with the insulation in your cord, in which case this extension cord should not be used outdoors.
The Outer Jacket Is of a Nonconductive Material
Nonconductive materials such as PVC act as excellent insulators because they do not conduct currents.
So, the outer jacket will protect the wires from external elements.
The Cord Is Resistant to Chemicals and Moisture.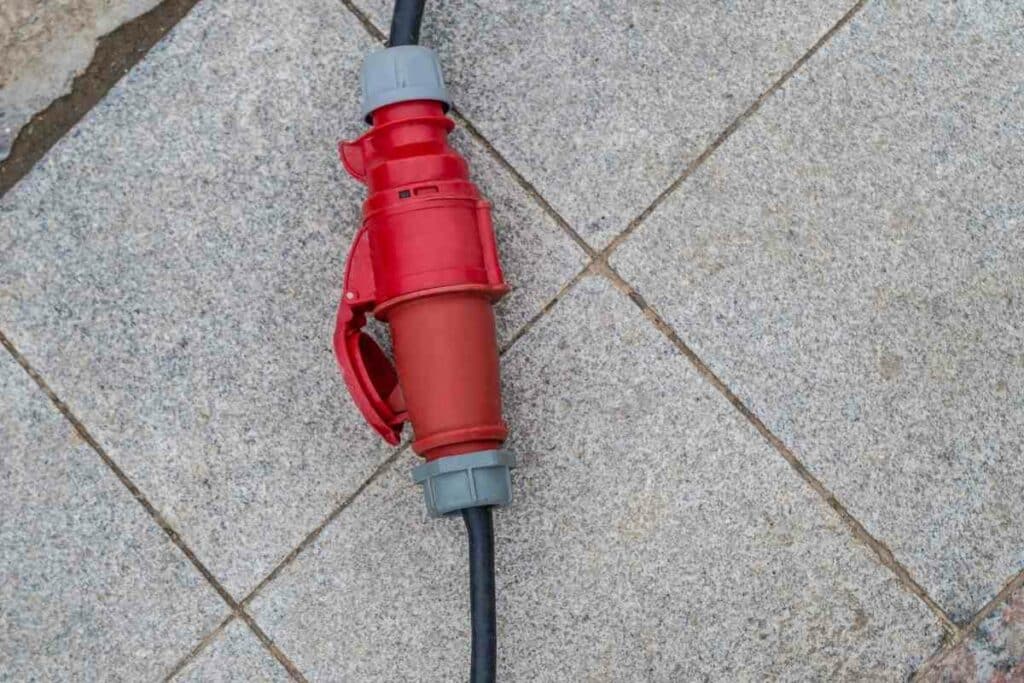 Cords made for the outdoors should not react to moisture and chemicals.
Therefore, if the cord is resistant to moisture and chemicals, then it is certainly safe for your backyard.
The Wires Are Tightly Twisted, Color Coded, and Insulated with A Rubber Slipper
When selecting extension cords for outdoor use, look for one that has tightly twisted wires and a rubberized coating.
There should also be color-coded insulation to protect you from electrocution.
These characteristics will ensure that your extension cord is fit for outdoor use and safe for everybody.
The Rating on The Cord's Plugs Should Be Higher Than the Rating of The Appliance
This is to prevent overloading.
If the rating on the cord's plugs is less than the rating on your appliance, you will need to buy an adapter.
The wire gauge should also be at least 12 American Wire Gauge (AWG).
Best Extension Cords for The Backyard
The following are our recommendations for some of the best outdoor extension codes to use in your backyard.
Still, it would be helpful to conduct due diligence and choose one that best suits your needs.
Woods 50-Foot SJTOW Agricultural Outdoor Extension Cord
Key Features
It is oil resistant
It weighs 4 pounds
It has a voltage of 125 volts
It has a Type B plug format
It is black
It has an input current of 15 amps
This extension cord is covered with a thick vinyl jacket, which makes it perfect for outdoor use.
The jacket shields the cord from external elements like moisture, dust, chemicals, and abrasion.
It is also versatile so that you can use it to power various farm tools, including saws and compressors.
It has a voltage of 125 volts, a wattage of 1875 watts, and a current of 15 Amps.
The all-weather cord is tangible-free, meaning that it will not stiffen, especially when the weather is cold.
Pros
It is versatile
It is durable
It is powerful
It can withstand moisture and chemicals
Cons
Its conductors are undersized
Durability is guaranteed as it is made with good-quality products. Also, its extension is 3-pronged, and its blades are dutifully reinforced.
UltraPro 25 Ft Extension Cord
Key Features
It is black
It has a voltage of 125 volts
Its plug format is type B
Its input current is 13 Amps
Its weight is 1.83 pounds
It has a wattage of 1625 watts
If you are looking for a safe extension cord for your backyard, this is definitely it.
The UltraPro 25 Ft cord is double insulated to withstand external weather conditions.
It also boasts one-piece molded plug construction that makes it durable- the 25 feet cord has a long life span.
The cord has PVC insulation and jacket that makes it suited for the outdoors.
Pros
It is sturdy
It is durable
It has value for money
It has a warranty
Cons
It is not suitable for cold weather
At 13 amps and 1625 watts, it is powerful enough to operate a variety of yard tools.
With 3 total power outlets, the extension cord is UL listed for safety.
Amazon Basics 100-Foot-3-Prong Vinyl Extension Cord
Key Features
It is orange
It has a voltage of 125 volts
It has an input current of 10 amps
It has a wattage of 1250 watts
It weighs 6.3 pounds
It has a type B plug format
This heavy-duty extension cord is perfect for the backyard for various reasons.
For one, it has a heavy-duty construction that renders it durable.
Therefore, it will not wear down easily even after exposure to moisture, heat, and chemicals.
The cord is covered with a 16-gauge vinyl that shields it from abrasion, moisture, and lighting.
It also has insulated conductors for enhanced safety and a 3-pong plug.
Pros
Durable
Well-insulated
It is versatile
The Amazon Basics Extension cord has 125 volts, an input current of 10 amps, and a wattage of 1250 watts.
Final Words
Putting an extension cord under your backyard is risky and is only safe when you follow the recommended safety measures.
In this article, we have discussed what safety measures you ought to put in place when setting up an extension cord in your backyard.
Most importantly, you should be able to identify extension codes made for the outdoors.
Usually, they are clearly labeled 'outdoors,' so it is easy to set them apart.
Other features to consider have been highlighted in the article. Remember to do your due diligence before settling for an extension cord and prioritize your safety.
Also Helpful